Myung-wol the Spy: Episode 4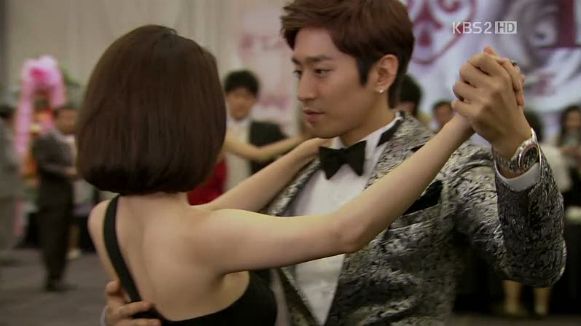 Such a fun, quirky series that mixes spy farce with rom-com elements. It has some lighthearted silly moments, treasure-hunting spy moments, but also characters with interesting mysterious layers. And the funny pretty much kills me.

EPISODE 4 RECAP
Kang-woo grabs In-ah's hand on its way to slapping Myung-wol across the face. He tells her like one of his drama heroes, "Don't mess with her," followed directly with: "She's crazy. Crazy in love. She's not right in the head, so don't mess with her." HA. So much for romantic declarations of heroism.
He walks away and In-ah seethes, deciding to put her in her place by saying that there are two kinds of trees – the ones you can climb, and ones you can try your hardest but never gain a foothold on. Without skipping a beat, Myung-wol tells HER to stop flailing around on a tree she can't climb. Heh.
In-ah raises her arm yet again, and Myung-wol blocks her, reminding her of Kang-woo's words not to mess with her. I could watch her annoy In-ah all day. Except then I'd have to stare at In-ah's face all day.
In-ah stalks off, calling her a whack job. Myung-wol looks after her curiously, repeating the word to herself. I love this running gag of her trying to learn South Korean slang every time someone calls her something new.
Dae-kang decides that if he is to battle with a tiger, he's got to go into the tiger's lair. What? You mean battle Kang-woo for Myung-wol's affections? Pwahaha. This is awesome.
So to that end, he shows up on the set to wash Kang-woo's car, introducing himself to the agency president as a die-hard fan. Kang-woo's agent decides he's the perfect trial-run replacement for his manager, and Dae-kang bows fervently that he'll die for Kang-woo.
Kang-woo sighs, "Why are there so many crazies about these days?" Heh.
Ryu packs a bag, and the parent spies ask if there's another objective in this mission that he's not telling them. He doesn't deny that there is, but pulls rank and tells them that it's confidential.
Ok-soon admits she's got a bad feeling, and he gets defensive, reminding her that this is all for the sake of their country. He tells them to make sure that Myung-wol advances on her mission because there's not too much time left.
She later timidly asks Kang-woo not to call her crazy in front of other people, and he asks her brusquely if she's embarrassed. She admits that it's not something she's proud of, and he just tells her it's good that she knows that.
She asks him what "whack job" means, even though when he asks if she doesn't know the word, she backpedals and says that of course she knows – she was just wondering if it was worse than "crazy." He confirms her suspicions.
NSA agent Yoo Da-hae gets word that Hallyu star Kang-woo was involved somehow in the Singapore book deal. That piques her interest – "What's a Hallyu star doing at a black market book deal instead of partying at a nightclub?"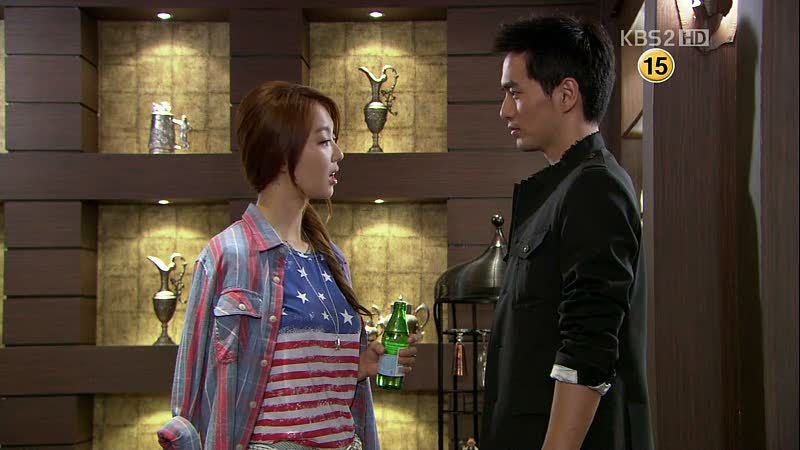 Ryu moves into Chairman Joo's estate, to begin phase two of his mission, to get his hands on one of the books in the Ancient Quartet of Mystical Secrets. He discovers a locked room leading to a massive walk-in safe that pretty much screams, All of my hidden treasures are here, please steal.
In-ah runs into him walking around in the hallway, and tells him that nobody but Grandpa goes into that room. But the only thing she really cares to talk about is herself, so she asks if he likes her. Ha. I would say that your ego is astounding, but I'm in no way surprised.
She tells him that he ought to get over it, since she only has eyes for brand name things, and he throws back, amused, that she doesn't really know whether or not he's "brand name." I love that the cold calculating spy is actually messing with her a little.
Myung-wol gets to practicing her seduction techniques, and today it's the OPPA~. Hee. She says it over and over again, trying to get her pitch up into Oppa Squeal Zone, and her hands curl up in disgust at the over-cute. "How is this supposed to attract a man? The only thing it's attracting is my gag reflex." HA.
He comes downstairs so she jumps up at the chance to try it out, asking timidly, "Is there anything you need… oppa?" He stops dead in his tracks. She remembers Ok-soon's words that if he shows a reaction of any sort, it's half a success already.
She smiles, buoyed by the thought that it's working. She follows it up with, "Would you like a cup of coffee, OppA~?" He shoots back: "Wanna die?" That's…not the reaction she was hoping for.
He mocks her, lips out to there, "OppA~ … If you do that one more time, you're dead." Hahaha. Overreact much? She frowns, but ten to one he's gonna be plagued by it later.
She steals out to meet Ok-soon for a debriefing, and tells her that Operation Oppa was a failure. Ok-soon gasps, "But… men almost always lose their minds at the word oppa." Ain't it the truth. The power of a word.
Ok-soon sighs in frustration that she can't figure out what Kang-woo's taste is, if he's immune to The Cute. Myung-wol narrows her eyes, "I think he's a total whack job." Haha. Way to use your new word of the day.
NSA agent Da-hae stakes out Kang-woo's place and sees Myung-wol, wondering curiously if she's his girlfriend, since his profile says that his parents died young, so he has no family and lives alone.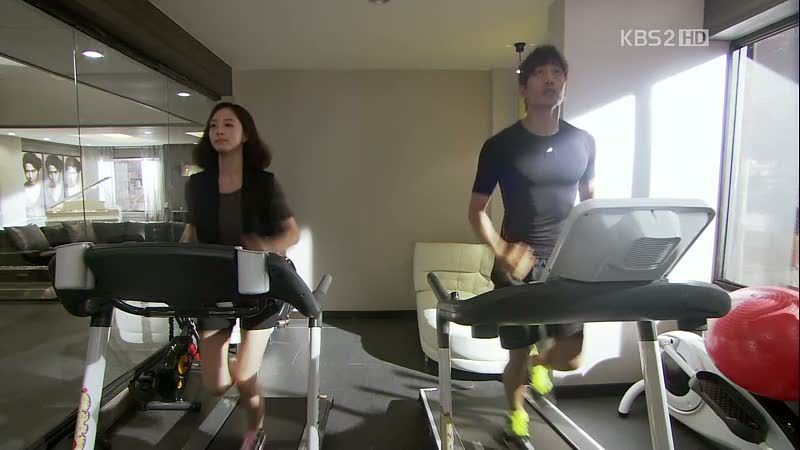 The next day Myung-wol tries again to engage Kang-woo in conversation while he's on the treadmill, and refuses to leave his side. So he tells her to run alongside him then, which leads to a hilarious competitive race where she totally outruns him, and he keeps upping his speed to try and keep up.
His pride refuses to let him back down, until he nearly trips. He barks at her that he can't concentrate because she's making too much noise, and walks off in a huff. Hee hee. I love when his pride gets injured.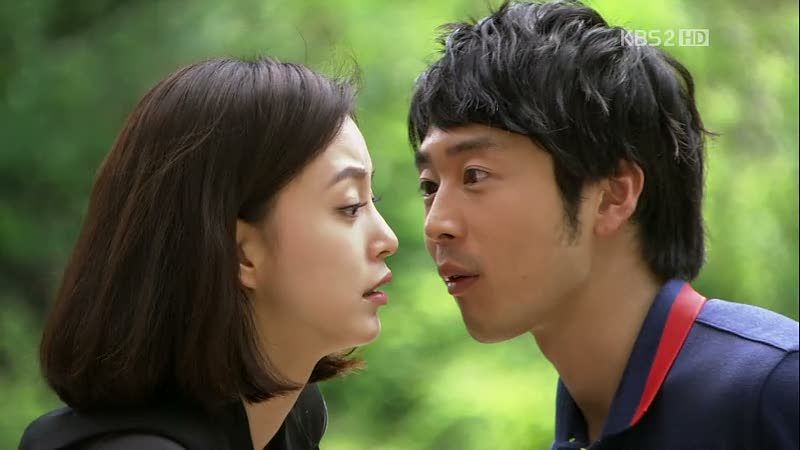 Dae-kang fills her in on Kang-woo's past with In-ah, calling theirs a classic push-and-pull relationship. She asks what that means, so he takes the opportunity to hold her hand and demonstrates by literally pulling and pushing. Ha. That just confuses her more.
He explains that Kang-woo is no idiot, and that he pushes her away when she's too close, and pulls her back in, just when she's about to let go. In-ah is a secure future for him (when he retires from showbiz), so Dae-kang puts his money down on the fact that he'll eventually marry her. Myung-wol grumbles, only now realizing that In-ah is a threat to her in the larger sense.
Ryu lifts the Chairman's fingerprint easily that night over dinner, and makes his way into the secret treasure room. But once inside, he encounters yet another safe with a passcode he has to crack.
Myung-wol loses sight of Kang-woo and walks around the house looking for him, and finds a baseball and glove peeking out from a closet. She picks it up to put back, and he flips out at her touching his stuff.
She wonders how she'll ever get anywhere with a guy whose temper is so high, but then peers back to see him holding the ball and glove with a stricken look. He puts it down and picks up a picture of him with Dad, in his little league uniform. Aw.
Over the coming days, Dae-kang grits his teeth and takes the abuse of his new manager job so that he can stay close to Myung-wol noona (aw), while Myung-wol does her bodyguard job with zeal.
She and Kang-woo have to fight through a horde of screaming fangirls on their way out of the studio, and when one of the girls grabs his hair, she unlatches her, inciting the fangirls' rabid ire.
Once Kang-woo is out of harm's way, she meets them out back in the alley for a little lesson, only fangirls… are not like fanboys. Apparently, they are MUCH MUCH scarier. Like organized mob scary.
At the signal of a bobby pin, the girls pin the hair out of their faces and approach like a pack of hyenas. Myung-wol gulps, realizing that she may have underestimated the love of the fangirl.
She comes stumbling out of the alley torn up and bloody. Heh.
He orders Dae-kang to stop by a shop and buy her some new clothes since they have to go straight to a party for the launch of a jewelry line that night. Aaaaand, evening gown it is. Myung-wol laughs at her own reflection as she changes in the bathroom, still bloody from the fangirl scuffle.
In-ah sidles up to Kang-woo and tells him to go ahead and impress Grandpa tonight, who arrives with Ryu by his side. That makes In-ah stick closer to Kang-woo, as the two men exchange stony looks.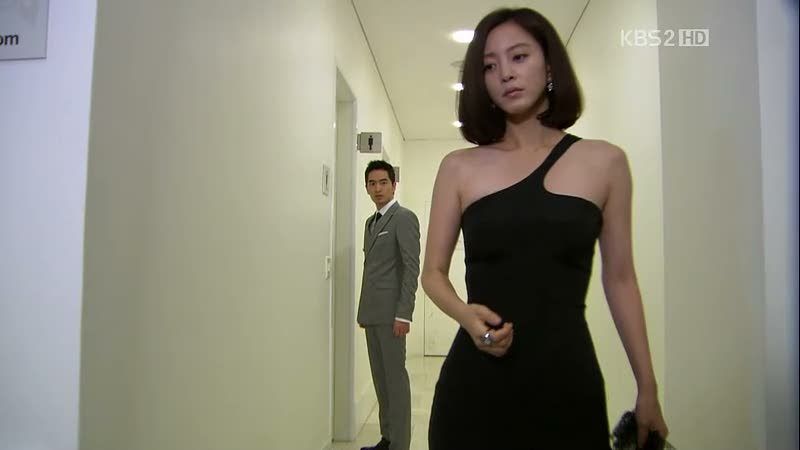 Ryu heads to the restroom and walks right past Myung-wol, barely recognizing her. He turns back and calls her name hesitantly. 'Bout time you saw her as a girl. Only he's such a singleminded robot that he can't even take a second to go gaga over her in a dress, and simply reminds her to stay focused on the job and that they're putting their lives on the line for their country. Yeah, yeah. But she looks so purty! Tell her she looks purty!
Myung-wol makes a big entrance with all eyes on her, mostly because she trips a waiter on her way in. Heh. But it's enough to catch the jeweler's attention, and she ditches In-ah mid-sentence to go talk to Myung-wol and compliment her beauty.
Kang-woo goes googly-eyed at the sight of her in that dress, which is so satisfying. It still doesn't explain why you're wearing shiny brocade curtains as a dinner jacket, but at least it's in character that the bigger the star, the weirder the clothes. Seriously, it's like math. Think about it. He perks up when he hears her use perfect English to reply to the jeweler that she's not an actress but a bodyguard.
A little later, a man walks up to ask Myung-wol for a dance, and at first he asks politely and she declines because she's working. But the dude is apparently not a fully formed hominid, because he grabs her wrist and yanks her onto the dance floor. Because THAT somehow puts a girl in a shake and shimmy mood?
I'm dying for her to break a few fingers, but Kang-woo steps in first. (Probably a good thing, though I'm sorely disappointed in the lack of finger-breaking.) He cuts in, firmly enough to make the creep go away.
I don't know what makes me happier—that now they're dancing, or that In-ah is standing four feet away and forced to watch it.
He puts his arms around her and they begin to dance, and Kang-woo asks curiously where she learned to speak English if she grew up in the country. She points out that living in the country doesn't preclude learning English.
She steps all over his toes and he tells her with his totally straight face: "If you step on my toes one more time, you're fired." Ha. He dips her and says, "Stop trying to get ahead. Just follow me."
She finally gets the hang of it and they whirl around the dance floor for a while, until he gets a call and then suddenly rushes out. She runs after him and In-ah sees a chance to be a petty bitch, and steps on Myung-wol's dress train as she runs past her.
But Myung-wol simply tears the rest of it off and keeps running as In-ah fumes. So… you inadvertently got her through a quick-change from evening gown into sexy black spy dress by being evil. Thanks.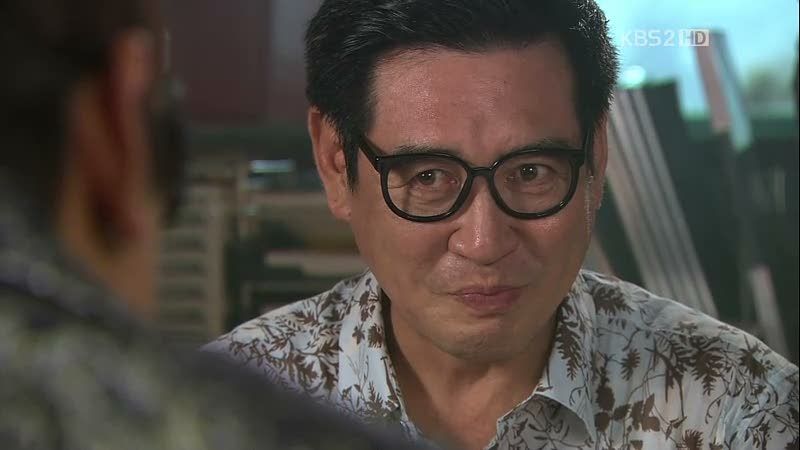 She runs after Kang-woo but loses him just as he takes off in a cab. Turns out his big meeting is with Hee-bok. Ha. Hee-bok keeps him on the ropes in his hunt for the Goblin, and tells him that he's disappeared again.
Hee-bok: "But I've figured out why he's called the Goblin. It's because… he's preternaturally elusive… like a goblin." Pwahahaha. Thank you for your powers of deduction there, super-spy.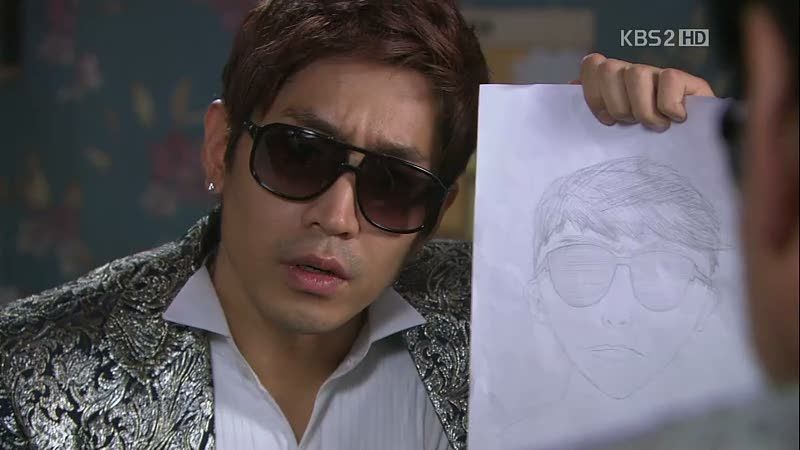 Kang-woo gives him a look like, are you fucking with me, so Hee-bok quickly tells him that's not all he's got. He takes out a sketch of the Goblin's face… with dark sunglasses on. Pffft.
Kang-woo holds it up to his own sunglassed face in mockery, but Hee-bok insists that it's a start. Kang-woo gives him more money and gets up to go, and when a news report comes on about him and In-ah, Hee-bok asks if he's really going to marry her.
He asks what type of women he likes. Kang-woo: "I have no interest in women." Anyone smell a gay misunderstanding around the corner? Hee-bok doesn't think much of the statement, beyond his rudeness.
Myung-wol comes home and remembers the dance wistfully, and Kang-woo comes home, bursting her bubble with his actual personality. She asks him worriedly why he ran off in the middle of their dance, and he says coldly, "Don't think because I held your hand that you've become something. Don't overreact."
He stops mid-sentence when he notices her dress, and has another fit, complaining that it's expensive. "Are you normally a clumsy character? That's coming out of your salary."
He turns to go, but then Myung-wol mutters angrily under her breath, calling him a rat bastard. He half-hears her and whirls around, but she quickly covers it up and runs off.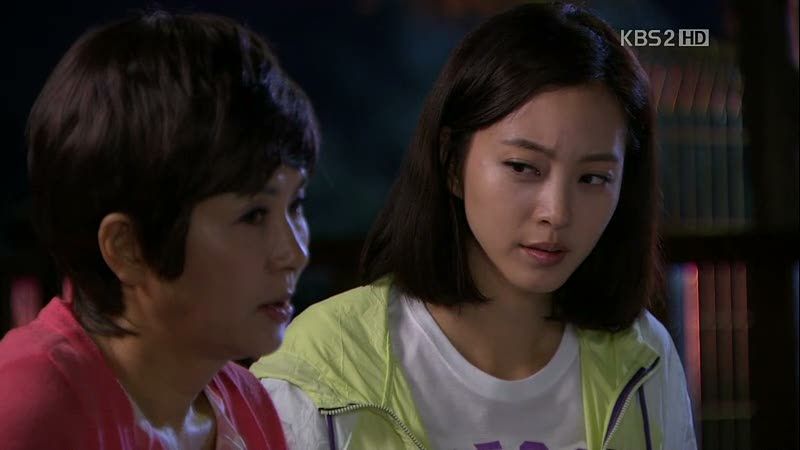 Ok-soon finds her working out in the park, and decides that leading with Myung-wol's feminine wiles is like "beating a rock with an egg," (HA) and suggests they change their tactic.
She tells Myung-wol to forget coming at him woman-to-man, and focus instead on person-to-person. She tells her to figure out what his weakness is – that is, his deepest pain.
Myung-wol wonders if going for his weak spot isn't cowardly of them, but Ok-soon tells her that everyone feels pain. (Yeah, maybe except for Kwon Sang-woo.) "Make him feel like you are the only one in the world who understands his pain."
Well it's a good thing his pain is daddy issues, because so are hers. Nice that she doesn't even have to fake it, right?
She heads toward home but finds a fangirl (the same one who led the scary alley fight earlier) asleep on the front stoop. She's been there three nights in a row, just dying for one handshake or an autograph from Kang-woo.
Myung-wol comes in to ask him because she feels so bad for the girl, but he refuses. She doesn't see why he's so adamant about not giving away his autograph when it takes such little effort, and he tells her to go out and sign one then.
She tells him that an autograph from her means nothing. He points out that this is exactly the difference – his is worth something, while hers is not, and he's not going to run around depreciating the value of his own stock by being so commonly available.
Wow. He's like his own functioning mini star system, image-as-commodity economics, all wrapped up in one body. So Myung-wol goes down and gives the girl one of Kang-woo's favorite t-shirts, telling her that he sleeps in it, and told her to give it to her. HA. Awesome.
It turns out he's not a total ass though, as he almost heads out with a cd, until he sees Myung-wol give away his shirt.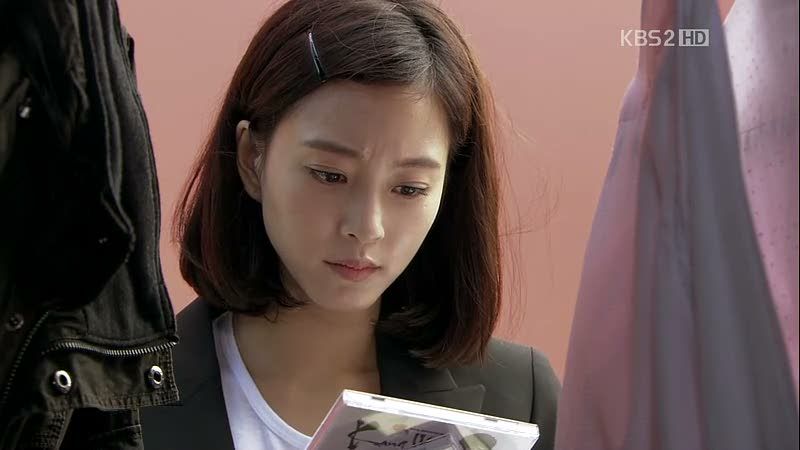 In-ah decides to retaliate in this push-and-pull game by asking Grandpa for Ryu to be her bodyguard. So transparent. The you-have-a-hot-bodyguard-so-I'm-gonna-have-a-hot-bodyguard ploy? She thinks Ryu perfectly suited to drive Kang-woo crazy with jealousy.
Kang-woo drives Myung-wol crazy with his insanely particular diva antics, he of the mineral water from minimum altitudes and tissues made of organic fibers. Though his retort when she hands him a roll of toilet paper to wipe his mouth is hilarious: "Do you want to clean your mouth with what you use to clean your bottom?!"
He yells at her for not doing her job and letting fangirls write all over his car, and orders her to clean it up. While rooting around for something to clean with, she finds a box of cds in the car – the same cd he was holding the other night. Perhaps a failed album and a sore spot for him?
Myung-wol reports to Ok-soon that she needs more time to figure out his weakness, and Ok-soon suggests she start digging into his past.
Kang-woo watches himself give an interview on tv and scoffs at his fabricated backstory of living abroad because of his doctor parents, and falls asleep on the couch. Myung-wol finds him there and notices him having a nightmare.
He's a kid in his baseball uniform, and he goes running through the woods, calling out "Daddy! Daddy!" Kang-woo struggles in his sleep and Myung-wol tries to wake him. He calls out, "No! Don't go! Don't go!"
She shakes him hard enough that it startles him awake, and he shakes her off, covered in sweat and anxiety. She wonders to herself if he's lost someone important in his life. "Maybe someone he loved left him? Or maybe his first love died?" Heh. Tragic death of first love is what comes to mind? I thought you weren't familiar with the Hallyu wave.
In-ah makes sure to show off her new bodyguard to Kang-woo, who doesn't give a damn, but Myung-wol does, and she exchanges glances with Ryu.
There's a problem on set that day though, because the stuntwoman is unavailable, but then the producer perks up at the sight of Kang-woo's bodyguard. Next thing you know, Myung-wol is strapped to a pulley and standing on the ledge of a building.
Kang-woo watches dissatisfied and secretly worried about her, but he can only express it in his exasperated way, saying that they shouldn't use someone so inexperienced. But it's shoot or bust, so Myung-wol does the jump.
It goes well at first, but then while she's hanging in midair, the rope pulley breaks and she starts to fall…
And Kang-woo reacts with his lightning-quick reflexes. He races over to catch her, just as she's about to land splat on the ground.
Startled, she looks up at him, and in that split second while he holds her in his arms, wearing that black mask, he gets a flash reminding him of that mysterious woman at the costume auction.
Uh-oh. Does he recognize her?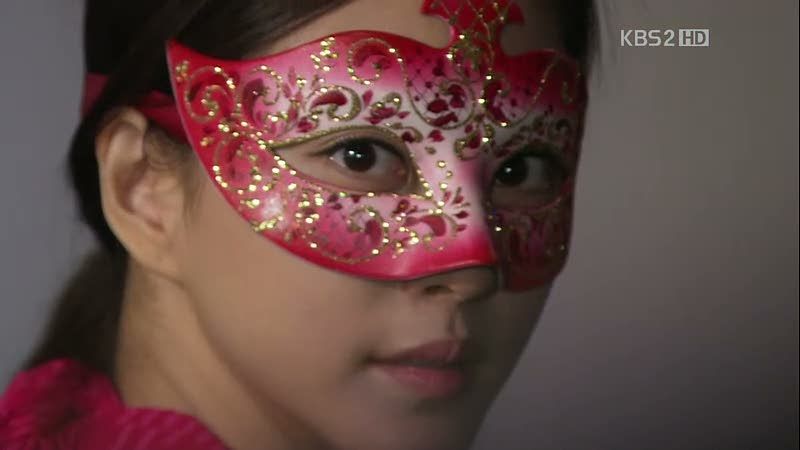 COMMENTS
I like that Kang-woo is such a prickly diva, but that he's also just hiding a soft underbelly for a lot of different reasons. His crazy fast reflexes are definitely curious, especially if you consider that he got to Myung-wol before Ryu even budged from the same spot. Curioser and curioser…
I think the leads have some fantastic chemistry, both romantic and comedic, and I kind of can't wait until he's so in love with her that he goes crazy too. Hee.
Myung-wol's newness to everything is kind of hilarious, because it's not just movies and tv, but actual words. I like that she's prideful enough to fake her knowledge of things around Kang-woo, but then has to ask Dae-kang what words mean. It's adorable, and that kind of childishness is so in sync with Kang-woo's pettiness that it's pretty much a perfect match.
I hope he actually falls in love with her still thinking that she's a few marbles shy. How funny is that going to be?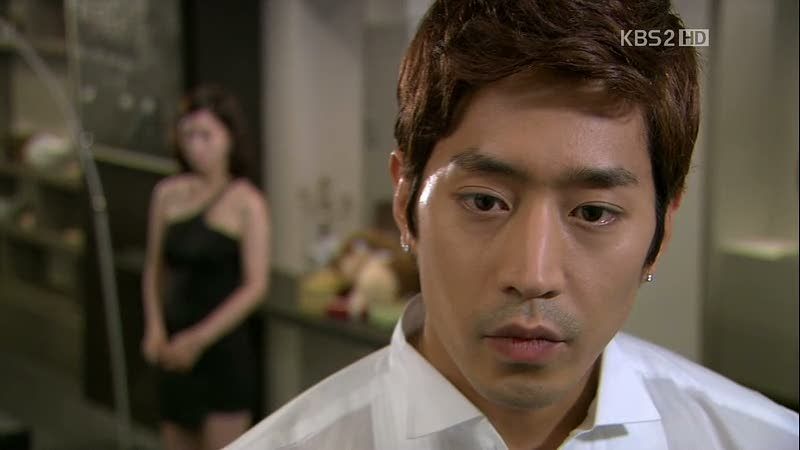 RELATED POSTS
Tags: Eric, featured, Han Ye-seul, Jang Hee-jin, Lee Jin-wook, Myung-wol the Spy