Scent of a Woman: Episode 4
Okay, THIS is the episode. The one that made me fall for this drama, taking me from pleasant amusement to love. The one that got me excited and giddy and wrung a few tears as well. I loved the carefree, airy tone (and look!) of the Okinawa scenes, but it's when everyone's back in Seoul that I'm finally excited about the story.
SONG OF THE DAY
Scent of a Woman OST – "Bluebird." What a great song to capture the flavor of this drama. [ Download ]
Audio clip: Adobe Flash Player (version 9 or above) is required to play this audio clip. Download the latest version here. You also need to have JavaScript enabled in your browser.

EPISODE 4 RECAP
In the hotel lobby, Sae-kyung approaches the other two, eyes blazing, bitch dial set to 11.
Ji-wook admonishes Sae-kyung for her rudeness toward a stranger, to which Sae-kyung replies that she's met Yeon-jae before. And here she was, thinking he was on a business trip, only to find him with one of his female employees — what is she to make of this scene? Sae-kyung refers to the firing; Yeon-jae corrects her, saying she quit. Ji-wook has had no idea who Yeon-jae was all this while, and asks why she pretended not to know who he was.
Sae-kyung takes in Yeon-jae's fancy clothes and insinuates that she'd obviously followed the company heir here to seduce him, dressing up just for the occasion. Yeon-jae speaks up for herself, countering that they met entirely coincidentally, and that she has no reason to stand here listening to this.
Sae-kyung provides that reason: "I'm the person he's marrying." Tellingly, Ji-wook avoids looking at Yeon-jae as he confirms that it's true.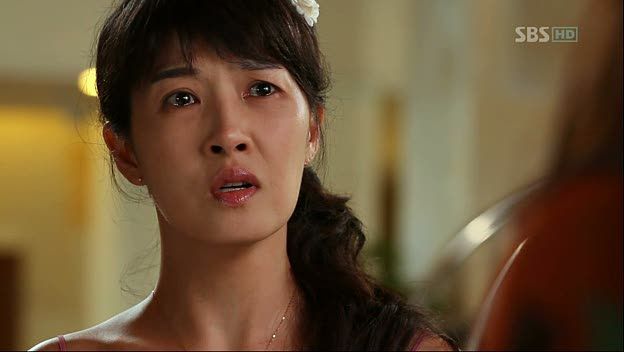 Sae-kyung notes that Yeon-jae didn't seem the type to be able to afford a trip like this — perchance she funded it with the stolen ring? That's too much, and Yeon-jae says in a voice shaking with anger that she paid for it with her own, honestly earned savings. Sae-kyung smirks that it looks like Yeon-jae might slap her again, to which Yeon-jae yells, "You hit me first!"
Ji-wook instructs her to lower her voice, and Yeon-jae says with bitterness, "You must be feeling ashamed because of me. Sorry to cause a disturbance." With a bow, she wishes him a happy trip and walks off.
Sae-kyung makes a snipe about Ji-wook's "absurd" choice of traveling partner, and he reminds her of their agreement not to interfere in each other's personal lives.
Yeon-jae walks along the street in a funk, and answers a phone call from the hospital. It's Eun-seok's nurse, asking when she's going to come in for treatment. Just as she starts to explain that Yeon-jae's condition is pretty bad, Yeon-jae hangs up on her without a word.
She comes across an older couple tangoing on the beach, watching with teary wistfulness. The man asks Yeon-jae for a dance, and she lets him lead her in a tango, crying into his shoulder as she does.
He doesn't understand her — he speaks Spanish, she speaks Korean — but he pats her kindly and tells her not to worry. Yeon-jae cries, "I want to live. I want to meet someone and fall in love, and live with him for a long, long time. I want to get old and gray like you…I want to live like that. I want to be by my mother's side when she dies. I want to marry, and have babies, and live until my child marries…"
Ji-wook is distant throughout dinner — not that he was ever friendly with Sae-kyung, but he's particularly cool as he tells her he doesn't want her popping up unannounced like this. Figuring that she didn't come because she missed him, he asks why she's here. Sae-kyung bristles at his unfriendliness and goes off in a huff. I believe the term "good riddance" was invented for situations like this.
Yeon-jae gets a call from her fickle mother, who's in an affectionate mood today and asks her to come home soon. She tells her she will, and leaves the next day.
Ji-wook spends the night and next morning mulling over recent events. The concierge stops him to say that the woman he was with left behind something in her room, and asks if he can give it to her once he's back in Seoul. It's the necklace she won in the beer drinking contest, and Ji-wook replies that he won't have cause to meet her again. The employee says he'll handle it then, but Ji-wook reconsiders.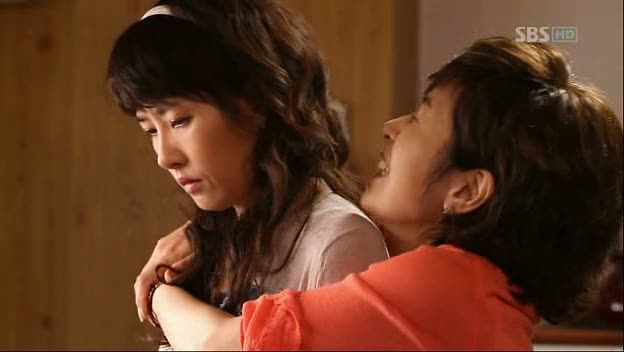 Yeon-jae comes home to dirty dishes and an excitable mother, who looks through her luggage eagerly for gifts. Already in a sour mood, Yeon-jae vents her frustration by telling her mother to clean up after herself.
The words are annoyed but they're rooted in care; she asks, "How are you going to live without me?!" When Mom sees her new expensive clothes and wonders how she bought it, Yeon-jae snaps that she used the money she earned — is it a rule that she can only wear cheap things?
In a presentation about upcoming travel products, one annoyed executive makes the pointed comment that Ji-wook's subordinate, Sang-woo, seems to have done all the work and asks what Ji-wook did on his so-called business trip to Okinawa.
Ji-wook replies, "I played." Hackles rise and frowns emerge, until he adds — using Yeon-jae's argument — that if he's supposed to create a package that people will enjoy, he ought to test it out to see if it's indeed enjoyable. Dad smiles, relieved and impressed at the answer.
Ji-wook's bored and distracted at work as he contemplates the necklace, which he ended up taking after all, and looks up Yeon-jae's resumé in the employee database.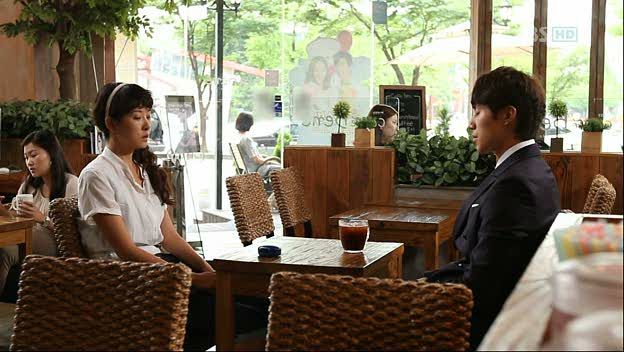 He calls her for a meeting, and she arrives at the cafe eyeing him warily. He gives her the necklace, which she says was hardly necessary for him to return, as it isn't very expensive. He notes the difference in her attitude and style, and she tells him that this is how she really is. Without elaborating, she says merely that she had a reason for the fancy clothing and top resort in Okinawa.
Ji-wook supposes that she'd assumed the Okinawa version of her would appeal to his tastes, and wonders how she found out where he was staying. Did she hire the yakuza so they'd get thrown together? And that ring — why'd she take it?
Wow. Just, wow. He says this all in a non-accusatory way, but it's almost worse that he's just accepted it all as truth, without even considering that there could be an alternative explanation.
Yeon-jae feels the indignity and replies, fighting tears, that contrary to all the snooty beliefs of his chaebol set, she hasn't actually lived such a deprived existence that she'd need to steal, you know. And what does he want her to say, when clearly he won't believe it if she says she didn't do it? It would be stupid of her to steal the ring when it would get her fired, and Line Tours was actually a job she really valued. "As for running into me in Japan, why don't you take it up with the Guy Upstairs? Because I can't believe in such coincidences, myself."
With that, she gets up and leaves, and I applaud. I love that she stands up for herself, but doesn't do it in a defensive, outraged way. She lays out her view and leaves it to him to have faith or not, which frankly is gonna make him feel even more the ass later on.
Just a few steps out of the cafe, Yeon-jae starts to feel pain in her abdomen and slumps over on the street. Ji-wook finds her and asks what's wrong. She tells him not to involve himself and starts to walk away, but stumbles again.
He ends up driving her to the hospital and stays with her while she's admitted, until Eun-seok arrives.
Eun-seok, meanwhile, has been dealing with the fallout of his cancer patient death, and tries not to show that he cares when other doctors smirk that all his patients have jumped ship to them. He rushes to Yeon-jae's bedside when he hears of her admittance and asks if Ji-wook is her guarantor.
Yeon-jae's huddled over and panting in pain, but she musters enough energy to say, "No, he's not. He's not anybody." Words that shouldn't sting, but do. She tells Ji-wook to go away, with enough force that he feels miffed and complies.
Eun-seok quickly jumps into action to transfer her to the oncology ward, but Yeon-jae grabs his arm and says pleadingly, "Eun-seok-ah. I'm scared. I don't want to die like this." He tells her firmly that he'd given her six months: "Before then, you won't die." The words carry the connotation, "I won't let you."
She undergoes tests, and Eun-seok worries that perhaps the cancer has spread from her gallbladder and liver to her large intestine. The results make his expression darken, and he goes to Yeon-jae with a grim face.
She asks hesitantly if it's that bad, but actually it's the opposite of that. She's constipated. HA! (Gives me Dal Ja's Spring flashbacks, hee.) The girl in the bed next to her bursts out laughing, and Yeon-jae just about dies of mortification. At least until the girl reminds her that embarrassment never killed anybody.
Yeon-jae advises the makeup-crazed girl to ease up on the cosmetics, since overdoing it now will make her age like crazy in ten years. The girl cheerily replies, "I won't live that long." She giddily shares the two things she's going to do when she gets out of the hospital this time: eat ddukbokki, and sleep with a man.
It's a sobering thing to hear a 21-year-old speak so matter-of-factly about her impending death, but it seems to give Yeon-jae a lift in spirits as well. Stepping outside for some air, she tells herself reassuringly, "Yeon-jae, you're not dead yet."
As she's leaving the hospital, she runs into Eun-seok, who asks her if she's feeling better and whether she'll be starting her cancer treatments. His attitude is softer now, and she nods agreement.
Still embarrassed, she excuses herself, but turns back at the last minute and calls his name. She thanks him and gives him a wave, which makes him smile back at her.
Yeon-jae's feeling much lighter and optimistic on her way back, and visits her mother at her friend's store to take her for a special mother-daughter spa day.
Mom balks at the extravagance, but Yeon-jae tells her that all her friends have experienced the spa, and from now on, she wants Mom to enjoy the things other people enjoy.
Sae-kyung's assistant reports to her regarding a lawsuit for damages. Hey, it's City Hunter's McCreepy! I guess I'm gonna have to find a new nickname for him, since he's not lurking or killing anymore.
She's intent on suing for damages for the Wilson case (the debacle resulted in him canceling his concert), and she tells Ex-Creepy to go for the largest amount in compensation they can demand: 300 million won (about $250K). Ex-Creepy asks why she's changed her mind when she was previously content to let it go, and Sae-kyung bites out that "that woman" has pissed her off.
Ji-wook finds himself preoccupied with thoughts of Yeon-jae. He's annoyed that he bothered with the necklace in the first place, then worried about her health, then annoyed that he's worried. Ha.
He arrives in Yeon-jae's old department to invite the group out to dinner, declining a dinner invitation from Sae-kyung along the way. When she tells him to cancel with the officemates, he points out, "This is the prior engagement" and tells her no.
Yeon-jae's friend Hye-won has been transferred to this department after Yeon-jae quit, and she's curious whether Ji-wook and Yeon-jae met in Okinawa and asks how his trip went. He calls it a "turbulent" trip, then asks about Yeon-jae, wondering what kind of person she is. Oh, I love that you went to such elaborate extremes to find out info on her. And it's not just to ask about her, but also to cover up the fact that he's asking about her.
Manager Noh proceeds to insult Yeon-jae as incompetent and useless. His account of her doesn't quite mesh with Ji-wook's, but he takes this in silently.
Yeon-jae and Mom come home from the spa in high spirits, such that not even their cranky landlord can kill the mood. Yeon-jae tells her mother that she's going to take some time off for herself — she'll use it to do all the things she'd been too busy working to do, including talking more with Mom.
With that settled, Yeon-jae gets out her bankbooks, setting aside her savings and retirement accounts for Mom. That gives her one personal account to use for herself. The Okinawa trip made a dent in that, but she still has approximately $24K and figures, "I'll be rich until I die."
Taking out out a notebook, she starts compiling her "bucket list" of the 20 things she wants to do before she dies.
1. Make Mom laugh once every day.
2. Take revenge against the people who tormented me.
3. Learn to tango.
4. Don't hold back on the things I want to have, eat, or wear.
5. Try on a wedding dress.
Skipping forward through some that we don't get to see right now, we land on her last couple of items:
19. Do all these things with someone I love.
20. And, lastly, to close my eyes in the arms of the one I love.
Oh, man. There's this split-second between reading "close my eyes" and realizing she means "close my eyes forever" that makes my heart lurch. This ending of this drama's going to be a doozy, isn't it? I can feel the tears welling already…
While Ji-wook showers, he hears Yeon-jae's voice whispering something — it's the punchline to the rain joke he'd said in Okinawa, and the shower spray reminds him of their run through the sunshower. (The corny pun: What's the name of the skinniest person in Japan? Bisayiro makka. The answer sounds Japanese, but in Korean it means Run Between Raindrops.)
Ji-wook looks around, confused and alarmed to be suddenly hearing things. Ha! (Also: Best narrative use of a gratuitous shower scene, which I suppose makes it not-so-gratuitous after all. Hey, I'll take it either way.)
(You're welcome.)
Yeon-jae gets a haircut and upgrades her flip phone for a smart one, wondering why she'd stuck with her old thing for so long. The hateful Manager Noh's number is the first to get deleted.
Hye-won calls, however, bringing Yeon-jae back to her old office. She hasn't been told why, and Manager Noh jumps right to the point by telling her that their project to open a scenic rural road as part of their travel package has run into a problem, with one of the locals now refusing to allow the road after all. He's a cranky old man who doesn't get along with anybody but Yeon-jae, so now she's been called back to lend a hand.
Manager Noh doesn't help things any by assuming she's the same old pushover as always, ordering her to do it like she still works for him. Yeon-jae doesn't see why this is her problem, so he says dismissively that he'll pay.
Yeon-jae refuses, saying that she won't do it for a hundred bucks or two, or even a thousand — although she might consider it if he got on his knees and apologized. Telling him she's a very busy person with no time to waste, she turns to go. And stops short to come face to face with Ji-wook, standing there at the entrance.
Without acknowledging his presence, she pushes past him and leaves. He catches up to her and insinuates that she's pretty mercenary after all, demanding money like that. His irritation (with himself, I suspect) pushes him to take a shot at her trip to the hair salon — so her valuable time is spent on her hair?
Yeon-jae tells him that there's nothing wrong with her getting a haircut, and anyway, "To me, that's much more important."
Getting into the elevator, she leaves him with this lovely parting shot: "I was clear that the apology was more important than money. You must be slow on the uptake." Hee! I don't actually think Ji-wook's an ass, but I do enjoy how she calls him out on his crap and treats him with cool indifference. It's her reaction that fuels his and makes him even more preoccupied with her, which in turn tickles my fancy.
Manager Noh is left sputtering at the change in Yeon-jae's behavior, and when Ji-wook comes back to face him, he's in a bad mood as well. He points out that the employee Manager Noh had derided as useless is the one they're appealing to now to fix their situation, and demands a portfolio on this scenic road project. He flips through the pages, his attention caught on one photo in particular, which he recognizes — a large tree in a field.
The engaged couple have dinner with their fathers, who chuckle indulgently over their kids and are oblivious to the tensions between them. Sae-kyung's father asks about her trip to Okinawa, so she answers, "He was working so hard when I appeared out of the blue." Ji-wook replies tightly that Sae-kyung has "a gift for surprising people."
Sae-kyung breaks the news to Chairman Kang that she won't be able to let go of the Wilson matter after all. But she won't be suing company to company, but rather an individual. The implication is not lost on Ji-wook, and he fumes as she drags him shopping after dinner.
He demands, "Do you think you're the only one annoyed with this marriage? If you're going to be like this, best you call it quits. I don't like you much either." He storms out.
Yeon-jae arrives at a dance studio, ready to start learning how to tango. She watches as a couple dances to a rapt audience, with bystanders marveling over the male partner "Ramses," wishing he'd dance with them but knowing that he's very select about his partners.
The dance ends, and Yeon-jae squints as she looks closer at Ramses…and recognizes…coin-collecting Bong-gil?
He wears a wig and an entirely different, much more confident persona while he's dancing, and commands the admiration of many of the women here. The moment he sees Yeon-jae he cringes and the timid, dorky persona comes back, and he asks her not to tell anybody of his dancing, because they might think he's a pervert. Hehe.
Ji-wook hears from Sang-woo that Sae-kyung's lawsuit will demand damages of 300 million won. They muse that it's unusual to sue only an individual, not the company. It smacks of spite, is what it does, and Ji-wook wonders if he ought to tell Yeon-jae, annoyed with himself for even caring so much.
Deciding he needs Yeon-jae to smooth over this project, Manager Noh calls and offers her even more money. She gets up right away, but he holds her back and tries to negotiate with her. She thinks to her bucket list item regarding revenge, and decides that okay, she can find something in this scenario to salvage. She tells him to apologize.
Meanwhile, Ji-wook heads out to the scenic path to try to handle the situation himself, and sees the tree from the project portfolio. That brings up old memories, and he imagines a mother-and-son pair — it's him and his dead mom — burying a time capsule at the base of the tree to open in ten years.
But it turns out the image is a mirage, tree and all.
Ji-wook introduces himself to the crotchety man in question, but the old man refuses to talk to anybody other than Curly Hair. Ji-wook understands that he means Yeon-jae, and asks him to explain why it has to be her.
Yeon-jae comes back to the Line Tour office with Manager Noh, having come to an agreement. She sits in his chair and tells him to begin.
With a grimace and a whine, he turns his back and grabs his ears, then commences butt-writing. HA! The great thing about "writing" out letters with one's butt is that aside from the humiliation factor, the words are somewhat readable, and the employees make out his message: "Lee…Yeon…jae…sshi…"
The apology session is interrupted by the arrival of Ji-wook, who explains that he's just come back from meeting with the old man.
Immediately Manager Noh orders Yeon-jae to leave. If the boss took care of the problem, then there's no reason to be nice to her anymore, and he takes it one step further by telling her to stop loitering around the office — as if she's the one who keeps coming back. He laughs to Ji-wook that Yeon-jae came in all hoity-toity, offering to fix the tourist road issue while making stupid demands of him.
Protesting won't help her any, and Yeon-jae sits there feeling unjustly attacked. At least until Ji-wook tells Manager Noh, "But what can we do? Those stupid demands Lee Yeon-jae made — it looks like you'll have to do them. Go ahead."

COMMENTS
The first three episodes set up the characters and relationships with a leisurely calm, but with Episode 4 the conflicts got kicked into gear, with Ji-wook unable to deny his curiosity about Yeon-jae and Sae-kyung going off her rocker with her possessive, pissy attitude and that petty lawsuit.
Speaking of which: Wilson's got to make a comeback, no? I expected him to return right away, but I can see a man of his inflated pride finding it difficult to offer a mea culpa. I fully expect him to come back to clear up the misunderstanding, which does sap some conflict out of the lawsuit plotline. However, since it's a plotline I sort of hate to see — it's effective, but it's bound to bring Yeon-jae such grief — I'm happy to watch Sae-kyung being hateful and snide, because I have total confidence that she's gonna get her ass served to her on a platter. Eventually.
I really, really hope Eom Ki-joon is able to resolve his pending issues, because I completely love his character. If he were merely cold and unfeeling, I'd chalk it up to a familiar cliché, but Eun-seok shows these tantalizing glimpses of vulnerability, and I find that immensely compelling. It's not that familiar setup where the guy's an ass just because some old trauma made him an ass — he's pretending to be an ass to cover up the fact that he's sensitive and afraid, and overcompensating by acting like he doesn't care is the only way he knows how to deal with it.
(For the record, nobody's arguing that drunk driving is to be condoned — clearly he should face the consequences of his actions, which were stupid and unnecessary, and his consequences should be in keeping with the law. I just don't assume that a DUI and immediate dismissal from a role necessarily go hand in hand.)
Also, the preview for Episode 5 made me squeal out loud:
[SPOILER ALERT!] Yeon-jae goes to a fanmeeting with Eun-seok, who's called out during a question and answer session with the comment, "Apparently after 25 years, you met your first love at the hospital…" Eeeeee!
RELATED POSTS
Tags: Eom Ki-joon, featured, Kim Sun-ah, Lee Dong-wook, Scent of a Woman, Seo Hyo-rim