I know it's four weeks since Can You Hear My Boss Protect the New Gisaeng's Heart began airing, but better late than never, right? Especially since Dramabeans has been assailed by "Please recap this drama!" pleas from many of you. I'm not at all surprised by the fandom because the first episode is a blast with its adorable leads, zippy pacing, and intriguing story arcs (just look at that title!). Also, the drama is chock-a-block with eye candy. Total win!
[For the confused, first a primer: Parts one and two. –javabeans]
SONG OF THE DAY
Shin Jae – "심장이 미쳐서" (Because my heart has gone crazy) from the Warrior Baek Dong-soo OST. [ Download ]
Audio clip: Adobe Flash Player (version 9 or above) is required to play this audio clip. Download the latest version here. You also need to have JavaScript enabled in your browser.
EPISODE 1 RECAP
The drama opens with a flashback of our heroine and her best friend beating the crap out of a group of bullies from another school. Not for nothing is No Eun-seol (Choi Kang-hee) known as Legend No. 1 in Balsandong. Miff her and expect to have your body parts rearranged in a most unbecoming manner.
Yes, she was loud and fearsome then, but at least she lived with no regrets. Not only did she learn to fend for herself and to persevere, she studied harder than anyone else so that she could finish university. Surely all that resolve and toil will pay off now? A job with good pay and prospects must lie ahead!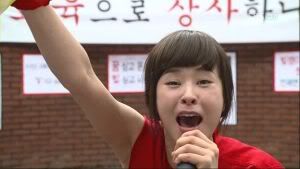 But countless interviews yield nothing. Years ago, fresh out of high school, she and BFF Bong Woo-ri had made a pact. No matter how tough the going, they would never grow despondent; they would always stick together. Even when Woo-ri lost so much weight she was barely recognizable except to the people closest to her, everything else about her remained the same. The same mental fortitude. The same mushroom hairstyle.
"Hang in there," says Woo-ri to Eun-seol now as the latter recounts yet another failed job application.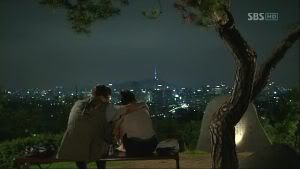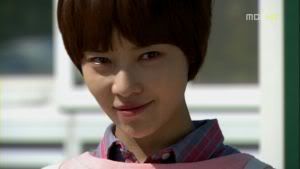 We leave the two friends and cross over to another part of Seoul where our hero Cha Ji-heon (Ji Sung) is about to commit murder most foul.
"Treatment? What stupid treatment?!" he yells at his doctor. "I was fine before, but after watching those loonies in your program talk about their symptoms, I've become like them! See this tissue on the ground? Now I've become obsessed with picking up stray tissue on the ground!"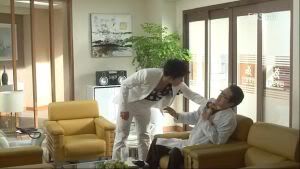 The good doc does not know it, but all that raging is merely a front for the tumult of emotions that Ji-heon has been experiencing since last week. Was it only five days ago that he had stepped inside Buyonggak, the country's foremost gisaeng house, and found his life changed forever?
It was Ah Da-mo who had invited him.
"There's a girl that I like and she's working there. It's a long story and I'll tell you the details another day. She doesn't want to see me now but I'm going crazy just thinking about her. Help me out, Ji-heon. Make the reservation in your name. I'll gather the other guys."
So that was how he saw her.
How can he tell Da-mo that he's now in love? With a gisaeng! With Da-mo's gisaeng! He, Ji-heon, who had always laughed when people talked about falling in love at first sight, could not take his eyes off the vision of loveliness standing in front of him. He was smitten with everything. Her fine features. Her flawless complexion. Her funny way of pronouncing the English lyrics of the song.
Following that night, not a day has passed that he does not ask his secretary to drive him to Buyonggak. Oh yes, he would go to the bar first so that he could at least tell a half-truth if Da-mo should ask. And then he would slip away… to Buyonggak… and to Dan Sa-ran. Of course Da-mo has no idea.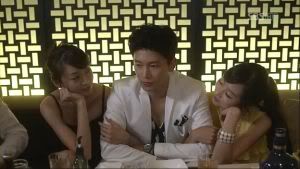 The consecutive nights of staring at Sa-ran as she sings and spins (the girl is a traditional dance major) take their toll. Not just because she's batting him off (something about being unworthy and unready but thankfully no mention of being in love with Da-mo), but because there are always food crumbs on the table that he wants to pick up but can't. Wretched OCD!
On the 6th day, as the lovelorn and sleep-deprived guy stumbles through an important company presentation, it becomes clear to his father that something is wrong with Cha Ji-heon.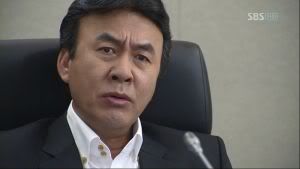 The son receives an earful in the elevator when he attempts a getaway.
Ouch, Father, that hurts. Stop, stop. That's how Hyung became deaf! Because you kept pulling his ears!

Shut your trap. Your brother fell from the second storey after he thought he saw your great-grandmother's ghost inside his room.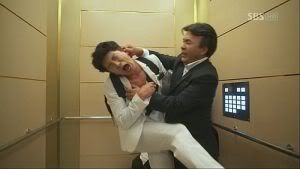 Dong-joo's hearing impairment. Must Ji-heon keep harping on that fact? Sixteen years now and still it feels unreal. His beloved younger son—so full of promise and so gifted on the piano—now hidden from sight because his warring parents blame each other for his accident.
Both his flesh and blood and yet they couldn't be more different. True both of them were exceedingly pallid when young (and Dong-joo apparently still is, judging from the recent photos that he sent to his dad). But Dong-joo was always the gregarious one whereas Ji-heon walked with his eyes constantly peeled to the ground, as if he was afraid to step on ants or something. After their mother took Dong-joo to the States for medical treatment, Ji-heon withdrew even more.
The older man sighed. "Why must Ji-heon take after his mother so much?!"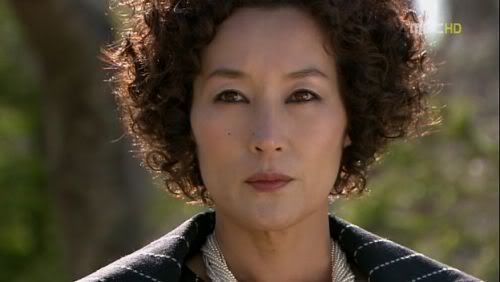 Meanwhile, Eun-seol has received the happiest of news. A finance company wants to hire her, hurray! But when she arrives the next day, she is shocked by how seedy everything looks, from the office setup to the spittle-spewing man who is presumably boss over his thuggish-looking underlings.
That night, in the same bar that Ji-heon has taken to frequenting on pretext, Eun-seol is given the once-over by her new boss. As he checks her out with his eyes and fingers, she can't stand it anymore. "This is sexual harassment," she says. "You're a psycho," he replies, before proceeding to empty a glass of red wine on her face.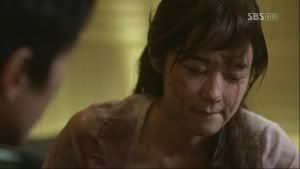 Roving Fingers is inside the toilet and in mid-stream when She Who Is Majorly Pissed enters. Startled, he shakes off the pee on his fingers and turns to smile at her wine-stained face in bemusement. What now, psycho?
How opportune that his tie is all she needs to teach the lecher a few unforgettable lessons.
You know what's coming up next, don't you? That's right. Our two leads finally meet.
Eun-seol walks out of the toilet just as Ji-heon is leaving the bar to go to Buyonggak. As they approach from opposite sides, each absorbed in getting away as quickly as possible, Ji-heon receives a call from Da-mo. A mutual friend's mother has passed away and Da-mo is calling to let Ji-heon know.
Before he can answer the call, Eun-seol bumps into him and his phone falls to the ground. As they argue about whether or not she has apologized, the lecher's underlings emerge.
What ensues is the second time in the episode that one of the leads is channeling City Hunter, a drama that recently ended to wails of "Nooo! We want MOAR!!"
Her job done, Eun-seol scoots off. The thugs, still smarting at being so soundly beaten up by a woman, and also forgetting that their boss is still tied to the faucet in the restroom, take it out on the still-flabbergasted Ji-heon.
Fifteen minutes later, by which time the lecher is likely to have departed for the land yonder, Ji-heon staggers outside to his waiting secretary.
"Squeak a word to Sa-ran about what those bastards did to me and I'll skin you alive, you hear?"
His father is stunned to see a formerly pale Ji-heon now all red and blue.
What happened? An accident, you say? Because of a woman? You take after your mom in personality and hair; the only place where you resemble me is your handsome face. Must you lose that as well, you good-for-nothing bum?!

Who says I look like you? I don't look like you, I look like Mom!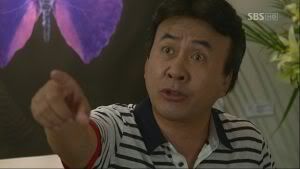 It's that time of the year where the luminaries of the business world laud their own. Receiving the "Entrepreneur of 2011" award is a beaming Chairman Cha. As he goes up on stage, his nephew and sister-in-law watch intently and with barely concealed disdain. Ji-heon, on the other hand, is paying scant attention to the proceedings. His face now miraculously back to normal, thanks to the power of positive thinking (heal, face, heal; for Sa-ran's sake!), he's on the phone with his secretary.
"Tell Buyonggak I'll be there tonight. Of course no detouring to the bar this time, are you stupid? And have you found the woman who caused me to get beaten? What do you mean, she disappeared into the night like some secret agent? Shut up and find her!"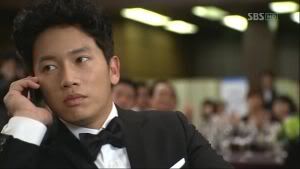 As the guests mingle and make awkward small talk, a commotion suddenly erupts. Reporters are gathering outside the banquet hall after receiving a tip-off.
Soon it's all over the news. "Chairman Cha assaults 10 thugs to avenge his son's bashing!" "The chairman of Cha Enterprises is a thug wannabe!" "Disgraced Entrepreneur of the Year sentenced to do community service!"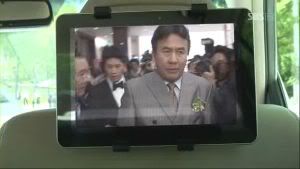 Thousands of miles away, the chairman's younger son watches the news clip on YouTube, one of several dozen clips that have been speedily and gleefully uploaded by the thugs who were on the receiving end of the chairman's revenge assault.
As the tears roll down Dong-joo's face, he says softly to his iPad screen: "Dad, you're my hero. You protected Hyung."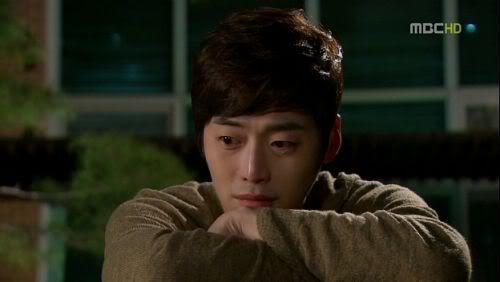 That "Hyung," incidentally, is livid with his secretary.
First, the dolt is the accidental news source that has resulted in the esteemed chairman wearing an apron and washing the feet of elderly residents at a home. Forget about trying to pass the cleaning buck; undercover policemen are watching his every move to make sure he complies with the sentencing. Second, it's been days and still no sighting of the long-haired woman in the bar. What must an aggrieved one do? Just sit at home and stew?
But his secretary has had enough. "I'm out of here!" he yells, energized by a boldness he never knew he possessed. "I'm your age but you treat me like shit. The hours I stand outside Buyonggak waiting for you while you pursue a gisaeng. A gisaeng! You know your good friend likes her and yet you court her. You have no morals! And what's your father going to say when he finds out, huh? You're a lousy boss. You're an ungrateful son. Go find yourself another secretary!"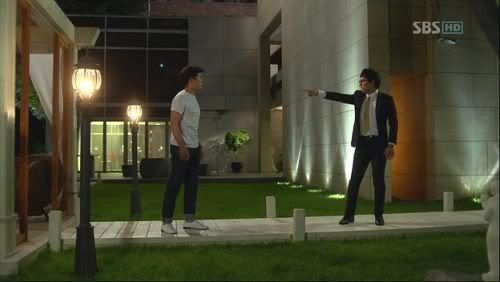 And so Cha Enterprises is hiring again, a secretary this time.
As Eun-seol sits facing the panel of interviewers, the questions fly across the divide but not one is directed at her. She listens to the other interviewees and wonders what she must do to get some attention. Sing like the Wonder Girls? Show them some kickboxing moves?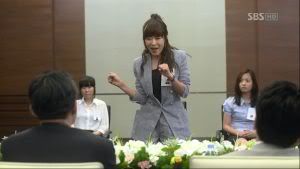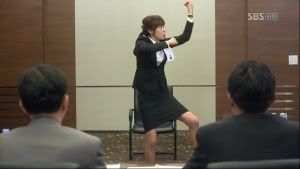 Nah, not going to work. Since she's not going to get the job anyway, might as well lay it on and then walk away with her head held high. So she lashes out.
"How can all of you treat me like I'm invisible? You call me here and then write me off, without so much as a question. I prepared the application, I came here. My time is precious too. How can you manage a large organization if you can't even treat people with decency? I shudder at the implications for our society and country."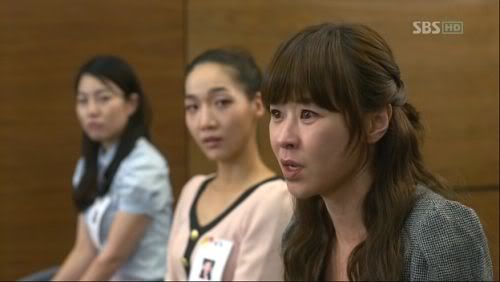 One of the interviewers looks up, curious at first and then increasingly attentive. We saw him earlier at the award ceremony and even earlier than that, when Ji-heon was making an embarrassment of himself at the project presentation.
Hero Jaejoong. Oops, I mean Cha Moo-won. Ji-heon's cousin. The one who will say, "Yes, let's hire No Eun-seol."
Unaware that the woman he's seeking (for revenge, not revelry) is close at hand and will soon be working for him, Ji-heon is parked in front of his computer and waiting impatiently for Sa-ran to reply his email.
Since she's not answering his phone calls ("no contact outside of Buyonggak" is her staunch principle), and since he's sans secretary, he's not sure if saran@buyonggak.com is the right address but he must try, mustn't he?
On her end, she's thinking: "Do I respond to Cha Ji-heon's email? What if Da-mo finds out and misunderstands?"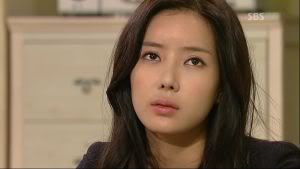 The minutes pass and still there's no "incoming email" peep from his computer. Damn! He'll have to resort to begging at Buyonggak tomorrow. But how would he get there? He does not even know the way!
A knock on the door. Two knocks in fact. Ji-heon looks up as the door swings open. He can't believe his eyes.
"Mom! Dong-joo! I had no idea you were coming back!"
In a supermarket some miles away, Eun-seol's phone rings. It's Cha Enterprises. "Report to work tomorrow," a voice says.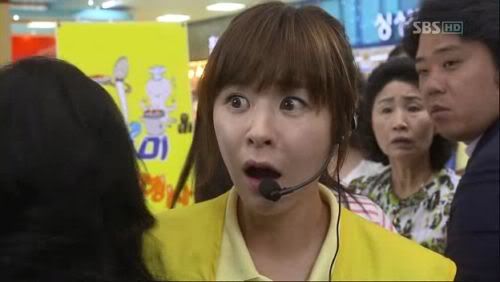 COMMENTS
Oh, crackling start! Despite Ji-heon and Eun-seol not having a lot of screen time together, I see the potential for sparks aplenty between them and am already rubbing my hands in anticipation. He obviously has some daddy-son and self-confidence issues to work through, in addition to the OCD, but he's established himself in this episode as a somewhat naive but endearing man-child who's prone to being overbearing but in an unobnoxious way. As for her, she is utterly appealing as a character. Sweet and spunky, she exhibits a tenacity and hopefulness that make us just want to root for her. Together they should be awesome.
Looking ahead, I bet the next episode will be jolly good fun. Can't wait for him to learn that she's officially his secretary, bwahaha! Not that his grievances against her are so deep-seated that they can't be resolved and forgiven. After all, he really was in the wrong place at the wrong time. And with so many failed interviews in her bag, and with her savings rapidly dwindling, I'm sure she's going to make sure she stays in Cha Enterprises for as long as she can.
However, with a new secretary and with his mom and brother back from America after so many years, how will that affect Ji-heon's ardent courting of Sa-ran? Will the new relationship dynamics deepen his obsessive-compulsive disorder? Will our boss be able to win and protect his gisaeng's delicate heart? We haven't seen much of Buyonggak yet and we still need to know the backstory behind Sa-ran's entry into the gisaeng house and her outward coldness toward Da-mo.
With fifteen more episodes (or is it twenty-nine or fifty-one?) and with the multiple plot lines criss-crossing and even colliding for our winsome leads (how many of them exactly?), we're in for an exhilarating ride. You might even be pinching yourself repeatedly and muttering, "This is too wild to be true."
Well, you know what to do. Just hang on tight!
Can You Hear My Heart
,
featured
,
New Gisaeng Story
,
Protect the Boss