Makgulli, the drama: Shaken, not stirred
javabeans: Hey, did you hear? Makgulli drama!
girlfriday: An entire drama about makgulli? Is it not gonna suck, like Cinderella's Sister did?
javabeans: Not if we watch it drunk.
girlfriday: Truer words, about most dramas in fact. What's the story about?
javabeans: Dunno. Makgulli, apparently. No, I'm not being a smartass. That's all the article says. Oh, and it's 16 episodes.
girlfriday: Sixteen episodes about the merits of rice wine? So it's a really really long liquor commercial?
javabeans: A commercial with product placement opportunties? What does that become?
girlfriday: A CF masquerading as a drama, masquerading as a CF?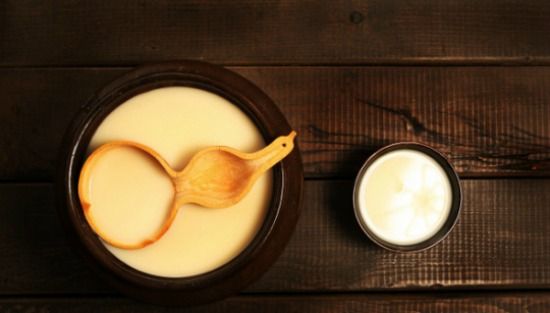 javabeans: What do you call a drama with an identity crisis?
girlfriday: I Am Legend.
javabeans: Touche. So, you gonna watch Tak-bae-gi? (Apparently that's the working title, another word for makgulli. I'm like, why not just call it Makgulli?)
girlfriday: It's 'cause it's an old country drink, right? So it has different regional names, like dong-dong-ju? Or is that just a brand?
javabeans: I think you're right. But makgulli is the standard word, no? I guess it's like calling a drama Firewater rather than Whiskey. (By the way? I'd watch that drama.)
girlfriday: Sign me up for that drama. I think Santa would get dibs on recaps though.
javabeans: That ornery bastard? Sigh. I guess so. You don't fight with Santa.
girlfriday: How can we turn this drama into a drinking game? Do we know anything about the plot? Drink every time someone cries?
javabeans: I don't think there IS a plot yet. Would it be a bad idea to drink every time they drink?
girlfriday: I like your style. (And yes, it's a bad idea. I want this on the record for when you blame me later.)
javabeans: But then you'll have to confront the fact that you have it in writing, and yet still did it. What does that say?
girlfriday: That I am easily led astray by friends with bad ideas?
javabeans: Great! I have LOTS of those!
girlfriday: I know. It's pretty much the bedrock of our friendship. I entertain your nutty schemes.
javabeans: Every good partnership needs visionary leader to lead…visually.
girlfriday: Yeah but I'm still not going to wear that Robin costume.
Via Sports Chosun
Tags: conversation post