Myung-wol the Spy: Episode 8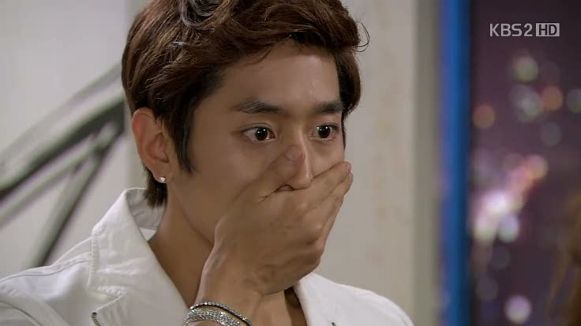 Twists, feelings, and fisticuffs! And yes, that look on Kang-woo's face is the very first time he's awed by someone's beauty… other than his own. I may have squealed out loud on more than one occasion in this insanely hilarious episode, but I swear, it had nothing to do with the shower scene. Scout's honor.

EPISODE 8 RECAP
It finally dawns on Kang-woo that he likes Myung-wol. But of course that will never do, so instead of confronting his feelings, he attempts to avoid. He does everything including yoga in an attempt to clear his mind, but he keeps seeing her everywhere he goes.
He decides that going to see some art will get his mind off of his crush, only he simply starts to see Myung-wol's face in all the paintings. Ha. Okay, let's put aside the question of why a Vermeer, a da Vinci, and a Millet are hanging side by side in a Korean gallery (Did France have a garage sale or something?) but it's downright hilarious. As is Kang-woo's face every time it happens.
The topper is Myung-wol sitting there, posed like The Thinker, smiling up at him. I do love how sassy imaginary Myung-wol is. She taunts him much more than the real Myung-wol does.
She's currently busy brooding, feeling like she's finally hit rock bottom with Kang-woo. She tells Ryu that opening that man's heart seems impossible. But he tells her to get her head in the game in the only way he knows how—by waving a stick at her and yelling. Sometimes a girl just needs a hug, okay?
Kang-woo convinces himself that this is just a blip, and feels assured that there's no reason he'd have to see her again. So if he doesn't see her, his feelings will fade. Uh-huh.
But what he doesn't know yet is that he and Myung-wol are back in the headlines, for her second big rescue of the Hallyu star. It looks like someone snapped photos from the kidnapping, and now they're everywhere.
Chairman Joo gets a report on Ryu's activities, and his lackey tells him that Ryu often goes in and out of a private investigation agency, which is run by Myung-wol's parents. Eeep! He's finding out an awful lot about you!
Kang-woo cools his heels for a while and then shows up at the airport for another trip to Singapore, and sees Myung-wol standing at the edge of the crowd. He sighs, "I thought I was all better, but I'm seeing things again." Heh.
Only it's not imaginary Myung-wol this time. His agent informs him that after the kidnapping went public (which saved them from fans lashing out over the no-show at the showcase) they had to reinstate her. Plus he's in more danger than ever, so Myung-wol has been ordered to stick to his side at all times.
This infuriates him, which he claims is because he wasn't consulted. Yes, it's definitely that and not because she's going to make it impossible to not feel your feelings. I love this.
He treats Myung-wol brusquely, playing his part as Hallyu star Kang-woo so that she can't tell he's really turned into Lovesick Puppy Kang-woo. She heeds Ok-soon's advice and plans to make the most of this trip, despite the fact that In-ah and Ryu are also going. Grooooooooan. Can't they ditch her somewhere?
In Singapore they go straight to a photo shoot, where Kang-woo starts out distracted and staring at Myung-wol. In-ah complains so he obliges, saying, "I forgot that you're so simple that you have to have everything handed to you." HA. It cracks me up that he's constantly insulting her, but she's too stupid to realize it.
She whines later about him reinstating Myung-wol, and plants a seed of doubt – could Myung-wol really be risking her life for him time and again, just because she likes him?
Meanwhile Dae-kang enjoys some time off while Kang-woo goes to Singapore, and lounges around Hee-bok's office. He watches a spy movie and starts to rattle off all the telltale signs of an undercover spy, realizing that it describes Hee-bok to a tee.
Hee-bok gulps as he wonders if he's been made… as Dae-kang breaks into laughter. "How can a spy have such a large belly? If you're a spy, then I'm Hallyu star Kang-woo!" They're interrupted when Chairman Joo walks in, unannounced.
He comes by under the guise of wanting to thank Myung-wol's father for Kang-woo's sake, since she save his life twice. But he mostly asks questions about Ryu, and catches Hee-bok in a series of contradictions—yes they did know him before he arrived, no they didn't, yes he and Myung-wol are close, well actually only recently…
He hands Hee-bok an envelope of money as a thank you, and leaves with a smile, but tells his lackey to look into this agency more closely.
Kang-woo gets antsy and decides to sneak out of the hotel, and Myung-wol catches him in the act. She tells him that she was warned to stick to him at all times, so he just shoves her in the taxi and takes her along. Or you could just ASK the girl on a date.
He ends up basically taking her on a tour of the sights, cozying up next to her and putting his arm around her on the bus, and offering her flowers… and then sticking one in her hair (to indicate that she's crazy). Ha.
He comes across some costume masks and takes the opportunity to try and test out his theory about her being the same girl from the auction, (sneaky) but she turns away to avoid it. I like that he's constantly questioning this, because he should. She's way too skilled a fighter to be a random fangirl-turned-bodyguard, and he knows it.
He finally says, "There's something strange about you." He takes her hand.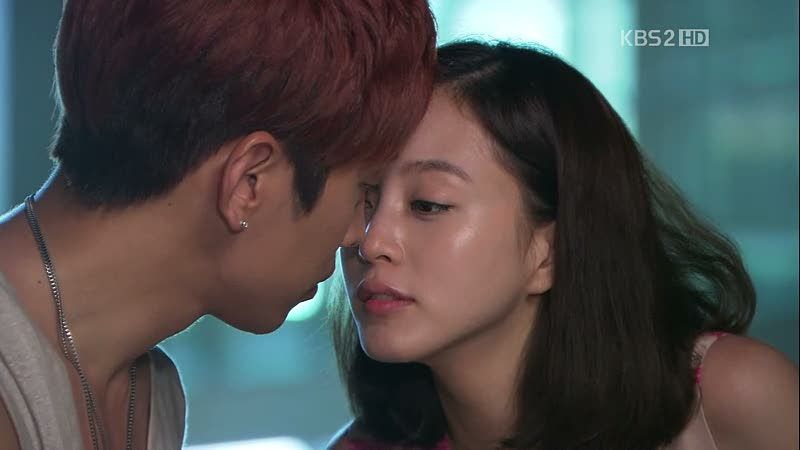 Without looking up, he continues, "You're a little strange. You strangely make people confused. Is there some other reason? Or do you really want to stay by my side because you love me? You confuse me."
Aw, it's a sweet confession because it's not flowery or more than the simple truth—he's just confused. On impulse, she just plants a light little kiss on his lips.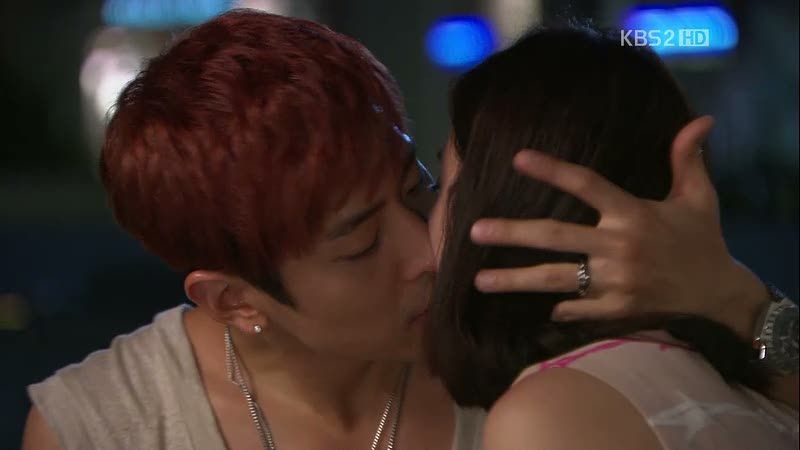 He looks up at her, wide-eyed (RAWR) and pulls her in for another kiss. Swoon.
And then they take the world's most awkward elevator ride together afterwards. Oh, please tell me it's extra awkward because you're taking her up to your room, right? RIGHT?
I guess we'll never know, because as soon as they get to the hallway, In-ah and Ryu are standing right outside, waiting. In-ah is peeved (what else is new) and Kang-woo just tells her she's overreacting and walks past her into his room. Damnit, you squash-faced ninny!
Ryu asks Myung-wol hesitantly if anything has developed. Aw, I love how he simultaneously wants her answer to be "yes" and "no." He reminds her that Kang-woo is no angel, that he's someone who strings In-ah along because of her wealth, and she says she won't forget.
It's really sad if you think about this mission from Ryu's perspective, because he's just hoping against hope that Myung-wol succeeds but doesn't give her heart away in the process.
Myung-wol returns to her room still swooning from the kiss, while Kang-woo takes a cold shower. He tells himself that he doesn't know anything about her, or her true motives, so it can't go any further. Bets on how long that lasts?
They return home, and it's even more awkward now, because neither of them knows how to act. Kang-woo fidgets nervously, and when Myung-wol brings up the subject of "yesterday's thing," he just blurts out over-casually that it's no big deal.
"I just did it because I was curious how it would feel, with you, but it didn't mean anything, so…" She just tosses back that it's a good thing, since she feels the same way. Oh, good. Complete agreement then. Oh, you two.
Later he finds her in the kitchen with a milk mustache, and has a conniption at the flaunting of kissable lips, only what comes out of his mouth is more like, "You're so messy! Can't you eat without getting it all over yourself? Don't ever eat in front of me again!" Pffffft.
When she tries to straighten up his scripts, he gulps at the sight of her exposed collarbone and yells, "Hey, you're… standing in front of the tv!" Myung-wol: "But the tv isn't on…"
Kang-woo: "The tv isn't on… because it's going to be turned on right now, so don't stand in front of it!" Omg, this is cracking me up.
So she turns to leave, but he sees her cute little bum in her short shorts, and freaks out again, this time taking issue with her wardrobe choices. Oh, 'cause THAT's the reason you can't keep your eyes off of her body parts. She tells him she's wearing the same exact stuff she's always been wearing, clearly not catching on to his behavior.
Even he realizes it's ridiculous, and mumbles to himself, "I'm getting worse. Petty, petty, king petty." Hee. No argument from me.
He decides to nip it in the bud, and shows up the next day with Myung-wol's new wardrobe, filled with ajumma flower pants. She hesitates, but he insists that he's a fashionista, and tells her to change.
So she puts it on and he looks up expecting this to do the trick… and totally goes googly-eyed anyway. His inner monologue pretty much drools as he says, "She's purty…" HA.
Okay, you've got it pretty bad if you're still going gaga over her in ajumma pants. He shakes his head, "No. No no no. What is it? No, your hair's all wrong!" Omg, how hilarious is it that he's trying to uglify her to try and squash his own crush?
He gets up to fix her hair, tying it up in pigtails, but that only makes her look cute, so he turns her back around in a panic. He musses it up thinking that'll do it for sure, only she turns around and he literally goes, "WOW" out loud at her sexy bedhead. Hee.
He's totally cracked out like a loon by now, trying desperately to blame it on something, anything except real feelings. He finally decides, "It's your face. Your face is the problem," and just covers her entire head and walks away. HAHAHAHA.
His last resort? "I'll just have to ignore her. Pretend she's not there." So he literally pretends he can't see her, even when she's standing right in front of him. Ha. I just thought he meant he'd avoid her, but this is hilarious.
He keeps using Dae-kang as a conduit, telling him to tell Myung-wol this and that, all the while she's shouting, "I'm right here!" And he just pretends she's invisible.
Chairman Joo takes the entire crew out to party that night, and takes the opportunity to gauge Ryu's reaction when he asks why he lied about not knowing Myung-wol. He gets by making excuses about not wanting to mix his personal and private life, but realizes that Chairman Joo is digging around.
Meanwhile Kang-woo takes every effort to avoid Myung-wol, unscrupulously using In-ah to keep her at bay, just like he'd done in reverse before. Well, at least he's a consistent ass?
Dae-kang convinces Myung-wol to sing a song, and she chooses an old-fashioned totally unhip song, but while everyone else tunes her out, Kang-woo gets completely entranced. He imagines her standing up there alone, singing just for him, and gets so lost in his fantasy that he doesn't even realize he's stood up in the middle of the room.
That brings the whole room to a stop, and he's finally shaken out of his reverie. Trying to recover, he just shouts at her for her poor song choice and stalks off angrily. She chases him out to ask what's going on with him, and he just yells at her to stop buzzing around him.
She goes to consult the parents on what to do about his bitter hatred, but Ok-soon and Hee-bok catch on right away that these are signs of Kang-woo liking her. She doesn't understand since all he does is annoy her. Did you skip the first grade? Were there no boys to pull your pigtails in North Korea?
They convince her that this is a good thing, and there's just one way to be sure… And thus begins my favorite portion of the drama: Operation Jealous Outrage. *clap clap*
They bring Ryu in to be her partner, but of course he's the stiffest board around, and can't even manage to put his arm around her for practice. (And that's not even a screencap mid-arm-slinging. He literally stops right there.) Hee-bok finally has to push them together, and Ryu gets so flustered that he leaps to his feet and has to go outside for air. Hee.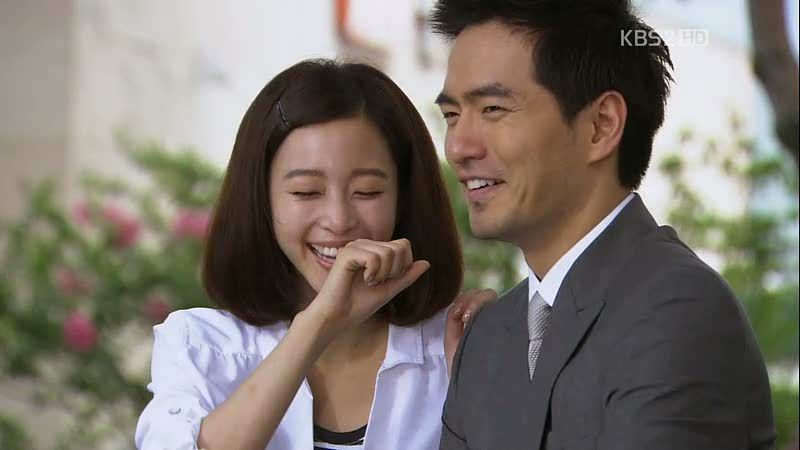 Myung-wol tells them that Ryu has always disliked her. Ha. Well I guess you're consistently clueless.
The next day they follow Ok-soon's instructions to the letter, making sure to laugh and smile together within Kang-woo's line of sight. It works like a charm. Kang-woo tries to ignore it, but his irritation just grows bigger by the second.
Dae-kang even helps unknowingly, by musing that it must be true what Myung-wol's parents told him—that they really are dating. Kang-woo's like, but she likes ME, she likes ME, remember? Dae-kang figures that when he mistreats her so, there's got to be a limit to her love.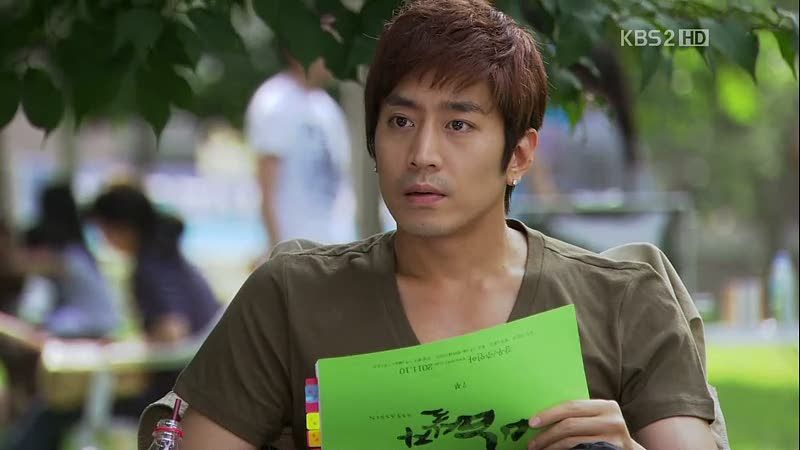 They come home that night and he finally mentions peevishly that she sure looked cozy with what's-his-name (I love that detail—it's a dead giveaway that he refuses to call him by his name). She sighs that the more she gets to know Ryu, he's such a kind and wonderful person, unlike someone she knows.
He snaps that he didn't ask, so then she whips out her phone, adding that the charm was a gift "from oppa." Kang-woo flips. "Oppa? Is everyone an oppa to you?!" HEE.
He rips the charm off her phone and rants about it looking cheap and throws it down in a fit. He stalks off and tries to calm himself down, repeating over and over that he has to be cool about it and just wish them well. He kicks the closet in response, landing him crouching on the ground, trying to suppress the screams of pain.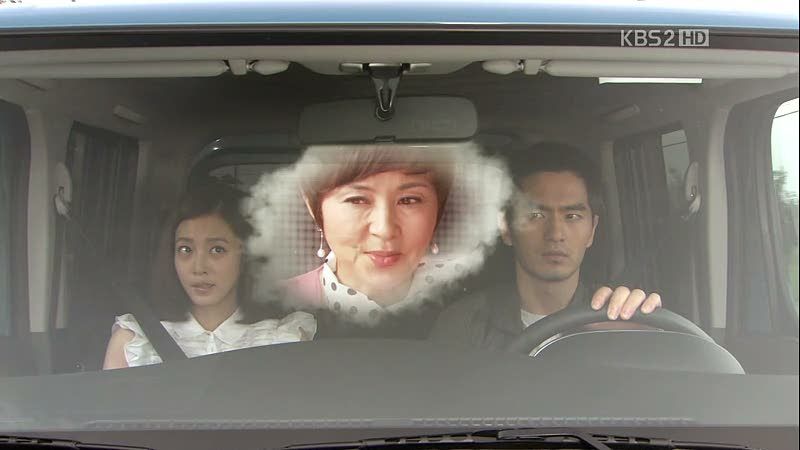 Time for the final stage of Operation Green-Eyed Monster: an overnight trip, sharing one room, in plain sight of Kang-woo. They head to one of Chairman Joo's resorts, where Kang-woo is shooting a commercial.
In-ah shows up on set and they each note that the other's bodyguard isn't around. They each say that theirs asked for time off, and then In-ah wonders if it isn't a coincidence. And then like clockwork, they appear on the beach.
Kang-woo and In-ah gape, as Myung-wol and Ryu do their best to look natural. They purposely sit nearby on the beach, and the way they go about skinship is hilarious. Ryu: "I'm going to make contact with your shoulder now." Heh.
He puts his arm around her, and Kang-woo gets so mad that the director has to interrupt, "No, no, you're giving me angry. I need happy." When she leans on Ryu, he has to force his face into a smile.
And then when they get up to walk away, he calls for a break. I love that he complains that they're right in front of him, but then when they walk away, the torture of not seeing what's happening is worse than having to see.
He finds Ryu and they have a stand-off, only it's not quite as fake as Ryu would like to believe. Kang-woo accuses him of playing with a naïve kid, and Ryu calls him out for doing the same, warning Kang-woo to stop hurting Myung-wol.
He adds that he knows "Myung-wol-ie" better than anyone, and Kang-woo's face twitches at his saying her name with such familiarity. It seems he's lost this round.
In-ah finds Ryu later that night on his way up to his room with a bottle of champagne, and has it out with him, but he calmly reminds her that logically speaking, if she likes Kang-woo, this works in her favor.
She agrees, only she's still pissed but she doesn't know why. I wonder if it's as far as liking Ryu and not knowing, or just her princess nature in wanting to possess everything and everyone. Not that it changes how much I hate her or anything.
She finds Kang-woo drinking at the bar and tells him that the Myung-wol ship has sailed, since she saw Ryu heading up to her room with a bottle. Kang-woo starts seeing his horror version of the makeout session in his glass of scotch, and calls Myung-wol in a panic, with some lame excuse about the gas being left on.
When she doesn't answer, he runs out after her.
Myung-wol and Ryu sit awkwardly and wait, and Myung-wol nervously wonders if Kang-woo will really come. Ryu can't stamp down his jealousy, and wonders if she'd be disappointed.
She tries to say that it'd be because of the mission, but he wonders if it's really that, or Kang-woo's heart that matters to her. He asks if she regrets it (this mission), and she asks if he's never had thoughts of regret.
Ryu: "I regret it. Always. Every time I see your face." Eeeee! Confession!
But then they're interrupted by Kang-woo, knocking incessantly on the door for them to open up. Ryu tells her that everything he's about to do is for the mission…
Kang-woo bursts into the room, and Ryu goes in for the kiss. This is So. Awesome. Myung-wol and Kang-woo both go bug-eyed at the same time, and then Kang-woo peels Ryu off of her and punches him.
He tries to drag Myung-wol out, but Ryu gets all fired up and hits him back, mission be damned. Hahaha.
It turns into an all-out brawl, and In-ah runs up just in time to see it, pouting that all the men in the world only like Myung-wol. Well next to you, yes. All the men would.
After the fight, Myung-wol sits down with Ryu for a debriefing. She puts her hand up to his face to ask if he's okay, and he quickly knocks it away insisting that he's fine. She asks if he had to take it that far, since Kang-woo isn't like them.
That only fires up his jealousy again, and he asks her directly, "Do you like him?" Taken aback, she answers quickly, "No, absolutely not. My objective is but one thing: marriage."
He seems relieved at her answer and reminds her not to forget her objective. She sits in her room, her head swimming with kisses and fisticuffs, not knowing what's what. She almost runs out to find Kang-woo, but heeds Ok-soon's advice to just stay put and wait it out.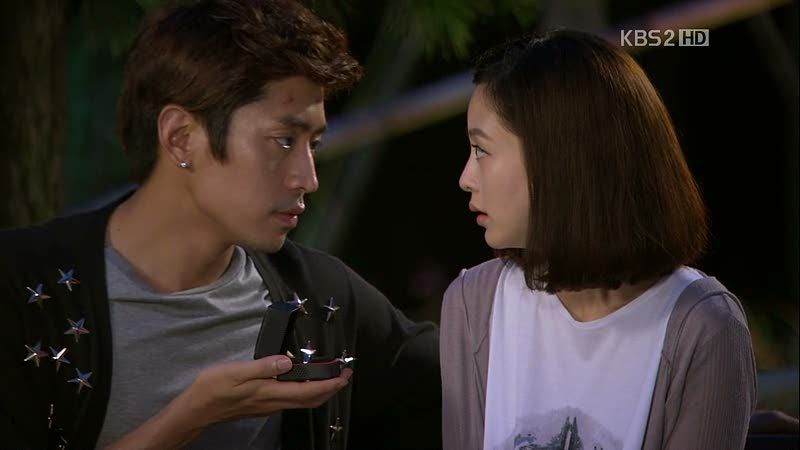 Kang-woo meanwhile paces back and forth with his bruised up face, trying to sort out his feelings. He wrestles with it for some time, finally texting her to come meet him outside.
She sits down expectantly, and he starts out saying that he's given it a lot of thought, and he's figured it out…
"I think I love you." He takes a ring out of his pocket. OMO! "Let's get married…" He leans in closer for a kiss. She closes her eyes in anticipation…
"…Is what you thought I'd say?"
Huh? Waitaminute…
He snaps the ring box shut and takes out his phone. He plays a video for her – it's her conversation with Ryu, where he asks if she likes Kang-woo, and she says, "No, absolutely not. My objective is but one thing: marriage."
HOLY CRAP. He knows!
Kang-woo: "I think it's time you take off your mask now."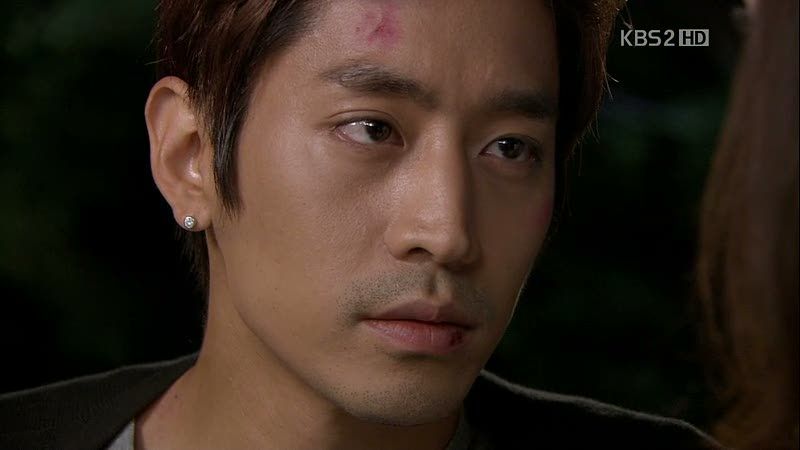 COMMENTS
Wow, I really didn't expect him to find out so soon! This changes everything, and just when we thought their relationship might gain some traction! Such a cruel, cruel twist, but a great way to subvert expectation. Both the timing and the way the moment is played is so fantastic – I love you. Marry me… is what you thought I'd say? GRWAR! *shakes fist*
Now his extra-long brooding session makes sense in a totally different light. That was him wrestling with the fact that he's fallen in love with her, PLUS her betrayal, all at once. Aw, poor Kang-woo, just when he was ready to finally confront his LUUUUUURVE!
I wonder what conclusion he's come to in his head. Proabably something like golddigger plotting to marry him for the money/status? Although her fighting skills are still suspect in that scenario. This doesn't necessarily blow her spy cover, but it certainly puts the brakes on the love train.
I love that the entire episode was build-up for the couple, with growing feelings, constant denial, even an entire plot to make him jealous, only to actually culminate in that jaw-dropping twist. How great is it that Kang-woo isn't an idiot? It makes the job that much harder for Myung-wol, but all the more complicated and interesting for us.
And how insanely awesome is it to finally have Mr. I-will-now-make-contact-with-your-elbow to be all fakey fakerson, this kiss is purely for the sake of the mission, I swears it! Pffft! Good one.
It's been pretty predictable up until now, but from here on out it's anyone's guess how severe the blowback is going to be. I really want it to be extreme, like Myung-wol ends up deported back to the North and about to be executed or something, and Kang-woo has to cross the border to rescue her. Because why not go all out? I think this show is stronger the zanier it gets, so let's just go all the way.
RELATED POSTS
Tags: Eric, featured, Han Ye-seul, Jang Hee-jin, Lee Jin-wook, Myung-wol the Spy