Myung-wol the Spy gets an extension, sort of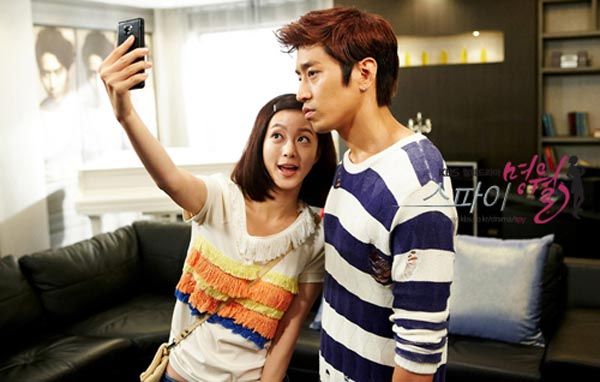 If you hear one source tell it, KBS's Monday-Tuesday comedy Myung-wol the Spy is getting two more episodes added to its initial 16-episode order. Another source says it's not an extension, because the drama was always meant to have 18. Yet another says that no, it's not an extension, because the drama's length was meant to be fluid from the start, so it's not that it has been lengthened so much as it has now been decided.
Bottom line: The show will end with Episode 18.
Despite struggling in the ratings — sageuk dramas Warrior Baek Dong-soo and Kye Baek are both performing better — Myung-wol even went as far as considering a longer extension that would have placed it at 20 episodes. The possibility of 20 had been on the table from the start, so the cast's contracts actually are for 20 episodes, meaning that no additional negotiations were necessary in making the decision.
A rep from KBS stated that the extension doesn't have anything to do with its follow-up show, action drama Poseidon, although given all of Poseidon's troubles getting off the ground and the extreme lateness of its casting, I smell PR bull in that answer. Of course they'll want to give Poseidon more time, and it's not like Myung-wol was doing well enough in the ratings to justify the addition on its own. The numbers have climbed a bit with the latest episode, netting a 7.6%, but it's still single digits.
As it happens, the timing actually gives Poseidon two extra weeks: With Myung-wol the Spy ending the week before Chuseok, Poseidon will have till the week after that. (Chuseok is one of Korea's biggest holidays, a big event for family gatherings — and movie openings — during which currently airing dramas are usually postponed in favor of family-friendly holiday programming.)
Eep! I'm enjoying the farcical wacky comedy — and the newest dramatic twist that this week's episodes brought — but I'm pretty much always going to argue against an extension. We've already seen the show recycling some story beats to keep the two leads together, and I don't want them to increase the number of plot points they reuse. That would take away from the zany charm that got me in the first place.
On the upside, though, the story did take a huge turn at the end of Episode 10, which effectively puts the kibosh on any more plot recycling — the bickery dance is basically over now, and we're getting to the meat of the romance. I do think there are plenty of story possibilities built into the world that have gotten pushed aside, and maybe now will be the time to tap into those. Like making the North Korean officials (SO weird and funny) more of an antagonistic presence, and heck, the South Korean ones, too. Remember that feisty NSA agent on Kang-woo's tail? Whatever happened to her dogged pursuit and insistence that Kang-woo's up to shady deals?
Or, you know, the drama could always just go meta-upon-meta-upon-meta and give Myung-wol amnesia. The idea makes me groan, but then I think of how Kang-woo's drama-in-drama character gets amnesia, and how Han Ye-seul starred in Fantasy Couple, and the joke potential IS sort of killer. Hee!
Myung-wol the Spy ends September 6, and Poseidon premieres on September 19.
Via Joy News, NTN Seoul, 10 Asia
RELATED POSTS
Tags: Myung-wol the Spy