Running Man: Episode 56
Gone are the girl group idols – they've been replaced/transformed/hi-jacked/dragged away. We find out what exactly happened to cause this radical change and see how the boys react to the new and improved versions! Will their hearts skip a beat for these ladies? Will they wail over what is already lost? It's another day of chase and games and havoc in RunningMan Land!
EPISODE 56. Broadcast August 14, 2011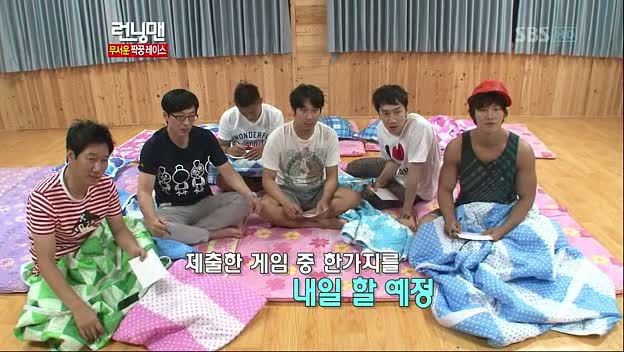 Everyone heads to bed after a wonderful day of cherished memories. Mr. PD asks the boys what couple games they would like to play the next day and the boys gather together to draw up some ideas. Jae-suk peeks at Gary's card and notes that Mr. Gary resorts to the game's description versus its proper name, such as, "Ankles tied together race" in place of, "Three-legged race." Heh. The boys drift to sleep, content.
In the girls' dorm, however, they drink a strange tea before falling asleep. Cue Secret Garden transformation music.
The boys are awoken the following morning, still drunk with sleep despite their full night of rest. Time for a morning mission: Deliver milk to the girls. If they accept, you're in the clear, if they don't, tough luck – you'll be paired with someone else. As far as I know, milk is still distributed in classrooms in both the States and Korea. Furthermore, to give your milk carton away is a sign of affection or interest to someone of the opposite sex (See Coffee Prince for an example).
And um, guys, I'd worry more about your disheveled appearance than whether or not they'll accept your milk. Just sayin'.
Haha heads out first and his heart skips a beat as he's sweetly called in by Suzy's voice. He happily scurries to where Suzy is sleeping and pulls back the comforter…and actress Ahn Moon-sook (Sign) reveals herself from under the covers.
A fear-stricken expression of panic and legitimate surprise envelops his entire being as one by one, the other three ladies arise: comedienne and actress Kim Sook (Manny), comedienne Shin Bong-sun, and finally, actress Yang Jung-ah (Romance Town, The Man Who Can't Get Married).
Haha's choice? Ji-hyo, of course. She's the least threatening out of the rest of them. HAHAHA. I love it that in front of four powerful noona sunbaes, he has no choice but to cower like a helpless puppy – a complete reversal from last week. Ji-hyo uses the opportunity to voice that the boys snubbed her when the girl idols were guests, and the unnis respond, "We'll make sure you get your revenge!"
Jae-suk is equally surprised at the unexpected revelation of the four women, and he joins Haha to mourn for their lost idols, yunno, before they're quickly shushed by the same four women. Jae-suk asks when they arrived, and when they respond, "Yesterday," he calls them out on it, saying their Botox is 'too fresh.' Jung-ah sticks to her story and replies, "We grew a lot overnight." Heh.
I'm torn between laughing and crying knowing that the boy's excited faces will deflate as they happily skip towards their doom. Kwang-soo enters the room and gets four noonas instead of his team partner, Luna. Play on words – it's simply puntastic. He hands his milk to Moon-sook who revels in her popularity, but Kim Sook deflates her bubble, "Maybe they're just scared of you…"
Gary hands his milk to Ji-hyo (long live the Monday Couple!) and points to a lump on the floor, "Who's that one with two milk pints? With her forehead sticking out?" At which Moon-sook gets up and he immediately gets down on his knees, arms raised like a kid ready to receive a scolding.
The ladies anxiously await for Jong-kook, the most popular cast member among the guests who refer to him as a "2PM Taec-yeon in his 30's." He's completely shocked to see Bong-sun in particular (Bong-sun previous guest-starred on RM and her love for Jong-kook is no secret to us nor the cast).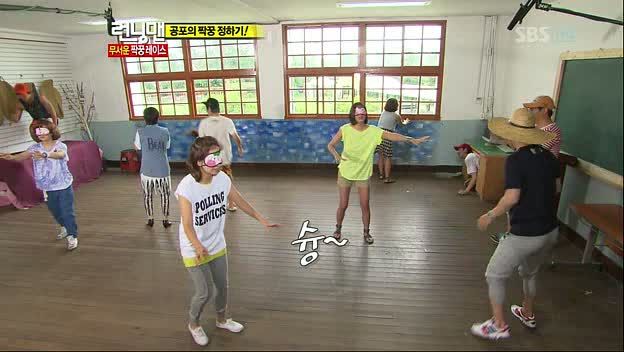 Time for some new couples! It's Hide-and-Seek time where the ladies seek the men. The ladies wander around the room cautiously, blindfolded and the boys weasel through, scared to be captured by any of the ladies. The ladies eventually find their match, except for Suk-jin who is paired off with the maknae FD.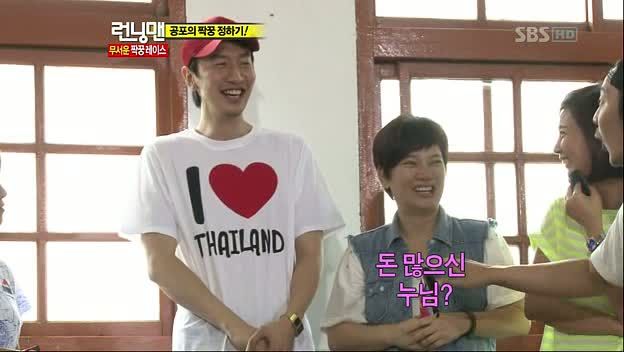 I enjoy how the cast parallels the awkward pairing between Kwang-soo and Moon-sook to the pop culture Demi Moore and Ashton Kutcher couple reference: She's the woman with big bucks, and he's the man with big dreams. Moon-sook doesn't even bat an eyelash at a huge bug in the room and comments, "Hey that's medicinal!" She puts Jong-kooks bravery to shame.
The first couple game is a piggyback game: piggyback the ladies and then rest the basin of water on the guy's head back to the finish line. The boys gripe to Kwang-soo since it was his idea (before he knew the guests would be noonas instead of idols). All that matters is that they don't place last.
The Monday Couple are the first to clear and then, people start playing dirty – kicking water basins and knocking it out of each other's hands. But you don't mess with Moon-sook and poor Suk-jin is doused in water. To top it off, he places last.
The last game is a Couple Hide-and-Seek, and as long as one person of their team survives, they'll win! The best part is the name tags that get progressively bigger from tiny diamonds to those big ol' plastered ones we saw in Thailand. As each team enters the small town, the captions read their team descriptions. For instance, Jae-suk and Kim Sook reads: Extremely Scared Comedians, while Haha and Jung-ah's reads: …the Same Height Couple.
Each couple strategizes their next moves and Moon-sook declares that they'll chase the others instead of running away. However, Kwang-soo replies that he's known to hide rather than chase. Aw, maybe today you'll get your courage…under the shadow of Moon-sook's tough armor of meanness.
As a strategic move, Bong-sun suggests an alliance to tag the other teams out first before they attempt to eliminate each other and Moon-sook accepts, with a warning, "If you betray (us), you're no longer a man!"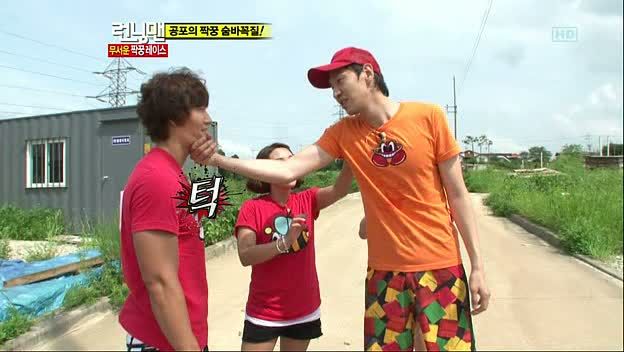 With a newfound confidence, Kwang-soo boldly steps in for Moon-sook, claiming to act as her agent to speak on her behalf. He even grabs Jong-kook's chin as an act of defiance and solely lives to see another day because of Moon-sook's presence.
News of the alliance makes the other teams uneasy and they confer what they know about the teams: Everyone is strong apart from Kwang-soo and they're particularly afraid of catching Bong-sun. Quite the spirited character, she's known to kick and Jung-ah says she's heard that Bong-sun is strong enough to break bones. Ha! I think that's only true if Jong-kook's safety is in danger.
The teams split off and Jae-suk runs into Moon-sook trying in earnest to lure him towards her. But this is Yooruce Willis you're talking about! He senses that Kwang-soo must be somewhere in the area to eliminate him! And right you are Jae-suk as we spot Kwang-soo hidden in the cornfield. He starts to calculate his moves when Jong-kook zooms in his direction, giving chase.
At the same time, Bong-sun is chasing after Kim Sook but they both tire out quickly and Kim Sook manages to slip away by hitching a ride from a local.
Haha and Jung-ah walk into jail, too exhausted to find a hiding place and Haha comes up with a plan: they'll send out a fake announcement of their elimination so they can safely take out the other teams. They decide to head back out and just then, Suk-jin walks into the jail for a break…and his name-tag is easily ripped off, revealing a very pale backside.
A miscalculated move from Kwangvatar to rip off Jong-kook's name-tag leads to an untimely end. Both he and Moon-sook are simultaneously eliminated.
Kim Sook and Jae-suk tearfully reunite, sharing stories of their almost captures and Gary almost slips away before being noticed by Jong-kook and Bong-sun. But he's got something up his sleeve and points towards to where the others are. He gleefully rides away, telling Jae-suk, "Take your time, hyung!"
Something's definitely up. Jae-suk thinks on his feet, borrows the car keys, and they slip in before Jong-kook and Bong-sun can grab them but…the car won't start. Um well, crap. He gives it a couple of more goes and luckily, it starts.
In jail, Moon-sook voices that Jong-kook and Bong-sun should get together and have kids already – their genes would pool together to make incredible hunters children. She's astounded that Haha and Jung-ah are still in the game…
Jae-suk and Jong-kook's teams confront each other in the street and as per Jong-kook's style, he tries to distract Jae-suk, "Isn't that Haha…?" and Jae-suk replies, "You think I'll fall for your tricks twice, you weasel?" And how much do I love that when Jae-suk calls the two a "Weasel Couple," that Jong-kook is offended being called a "weasel," and Bong-sun blushes at the mention of "couple."
But this Weasel Couple is not to be trifled with and they inch towards Jae-suk and Kim Soo, separating them with a literal fork in the road. They pounce and just then, the Monday Couple appears from behind them. It's a tussle between guys and girls. On the girls' side, Kim Sook is easily eliminated and from the guys' side…
Jae-suk rips off Jong-kook's name-tag and congratulates Gary on a good job…until they both reach for each other's name-tag and Jae-suk is ultimately eliminated. Bong-sun squirms and puts up a good fight, but it's the Monday couple who reign supreme – or so they think.
They skip around the village in a victory lap, without a care in the world – which creates a perfect opportunity for Haha and Jung-ah to sneak up on them and rip off Gary's nametag.
It's the Ace against Haha and Jung-ah and Ji-hyo reaches over to rip off Haha's name-tag…but she gets eliminated at the last second. It's Haha and Jung-ah who are the winners of a restaurant gift certificate and couple rings!
RELATED POSTS
Tags: featured, Haha, Ji Suk-jin, Kang Gary, Kim Jong-kook, Lee Kwang-soo, Running Man, Song Ji-hyo, Yoo Jae-suk