Running Man: Episode 57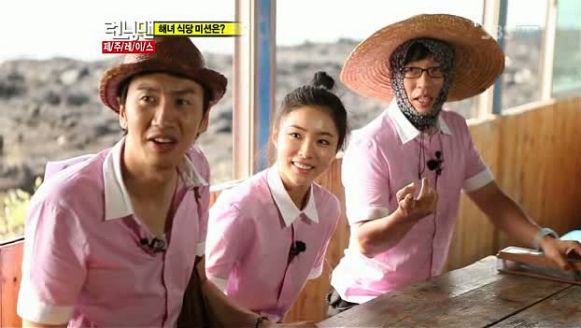 It's never too late to take a summer vay-cay and our cast is in Jeju Island for a well-deserved break. Wait a second…a break for Running Man? Hold on, this is no ordinary laid-back trip – it's a hectic, adventure-driven ride filled with bribery, mischief, and thievery. Let's get going already!
EPISODE 57. Broadcast August 21, 2011
The cast gathers together at Jeju Island, taking in the beautiful scenery and warm delicious sunlight, topped off with a cool ocean breeze. Everyone is super excited to be here — especially Kwang-soo who has traveled by plane only twice in his entire life (Thailand and today). Gary and Haha carry in cakes to celebrate Ji-hyo and Jae-suk's birthdays and the two blow out the candles via CG.
Time to hear the — Mr. PD say what? We're already in a mission? But it's the opening! Nothing's happened yet! Or has it?
Roll the clocks back to introduce today's guests: actress Shin Se-kyung (High Kick Through the Roof) and actor Cha Tae-hyun (Speedy Scandal). Their mission is to stay undetected throughout the opening (10 minutes) in order to score extra cash for their team.
Se-kyung is confident that she'll stay hidden whereas Tae-hyun worries that his good friends, Jong-kook and Jae-suk, will spot him. Se-kyung: "We're not on the same team, right?" Commence undercover makeover!
Is it okay that I love Tae-hyun cross-dressed in ahjumma clothing complete with guyliner? RM, you can be so cheeky sometimes.
Back to the opening with just under four minutes remaining. What could the mission be? Crossing a line, a keyword? Perhaps someone's a hero today and Jong-kook is put in the hot seat – by chance, he didn't steal from them again, right? And the day Suk-jin can become a Running Man hero is when pigs can fly. All this yappin' isn't going to find the guests! Go and find them before I pull my hair out!
The timer ticks down and now there's less than a minute left. And then, Jong-kook notices a strange ahjumma who looks a lot like Tae-hyun in the crowd. Haha steps forward to get a closer look and points out another odd staff member – Haha: "Shin Se-kyung." And of course, all the boys rush over to confirm. Both guests are discovered with just a few seconds left – the cast wins!
It's up to the guests to select two team members and Se-kyung meekly chooses Jae-suk (to Haha's dismay at failing at creating a loveline yet again) and Kwang-soo. It turns out that the two became good friends while filming High Kick Through the Roof and Se-kyung clears up their relationship as "hyung-dongsaeng." As in, completely platonic.
Tae-hyun picks Mung Ji-hyo and Jong-kook and the others grumble that he stole the best two players in the game. That automatically leaves Gary, Haha, and Suk-jin as the final team and they immediately throw in the towel. Jong-kook notes that Suk-jin looks like the odd one out and Sukjin responds, "Then where do I fit in?" Oof.
Today's mission is aptly entitled "Jeju Race" and the teams will travel across Jeju, completing missions, and spending custom RM currency (RMC). Each team receives 200 RMC to use and Haha and Jong-kook's teams earn an extra 50 RMC for finding the guests.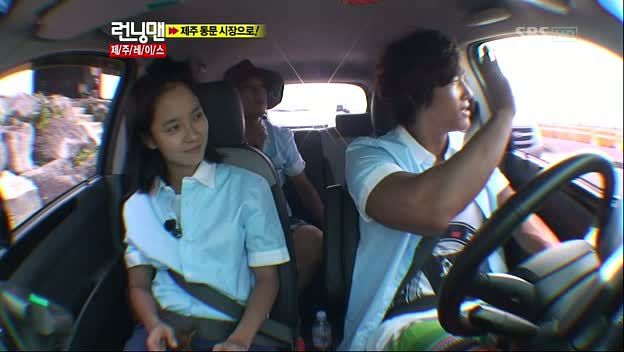 Off to Dongmoon Market for all of our teams! Jong-kook's team climbs into one of the cars, but something is amiss…
Jae-suk's team pulls up to their car and asks if anything's the matter. Ji-hyo sweetly responds that they're just chatting and the others can go on ahead. Except that Tae-hyun screams, "We're out of gas!" So Jong-kook's team is forced to make a pit stop and Jae-suk's team gleefully zooms ahead.
How cute is nervous Se-kyung trying to adjust to filming a variety show? It's entirely different than what she's used to in dramas with multiple cameras and no director to shout "Cut!" It's like entering a new world built with its own rules and method of success. She's totally out of her element but manages to loosen up after joking around with the camera… by fake-punching Kwang-soo. Heh.
Jae-suk again questions Se-kyung's close friendship with Kwang-soo and she replies that though they're not best friends, it's not awkward either. She then turns and asks him questions like, "How have you been doing? What are you filming now?" Heh. Poor guy can't catch a break.

They arrive first to Dongmoon Market and the mission is to buy and match three of the most popular items to take on a vay-cay… while entrapped in a tube together. HA! All the teams struggle to squeeze into their tubes and are unhappy to be in such close proximity with each other. How am I not surprised that Mung Ji-hyo forgot the money in the car and her team had to retrieve it together in a tube?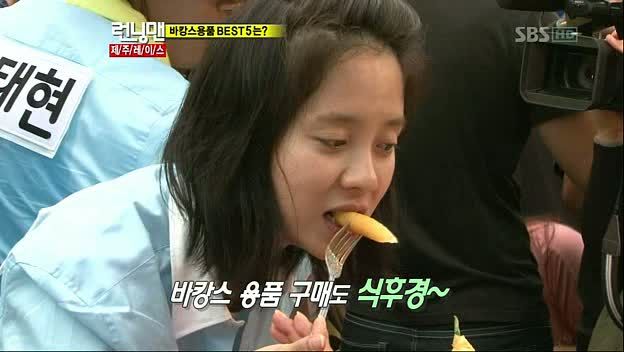 It's absolutely hilarious as each team comes up with their own kind of teamwork. But that doesn't mean they can't play dirty between teams right? Like how Tae-hyun tries to steal items from Jae-suk's team or how Jong-kook's team eats the rest of the ddokbokki (spicy rice cakes) Haha's team bought?
Jae-suk's team succeeds first and they jump in the car to their next location: a restaurant. They think of other popular items to take on an outing and Se-kyung enthusiastically answers, "Chicken and Beer! Soju and Samkyupsal!" You're so not the flower girl people make you out to be!
The Running Men have their mission blinders on as they approach the restaurant. Jong-kook warns Tae-hyun that he needs to completely focused once inside and Tae-hyun assures his team that he's got his eagle eye (guyliner) to look out for them. LOL!
Once the plates are set, a Jeju diver lists the order in which they must eat their food — in the Jeju dialect. The cast is dumbfounded and so am I. The Jeju dialect is exclusive to Jeju Island and vastly differs from the Korean used on the mainland, so no wonder they (and we) are so confused!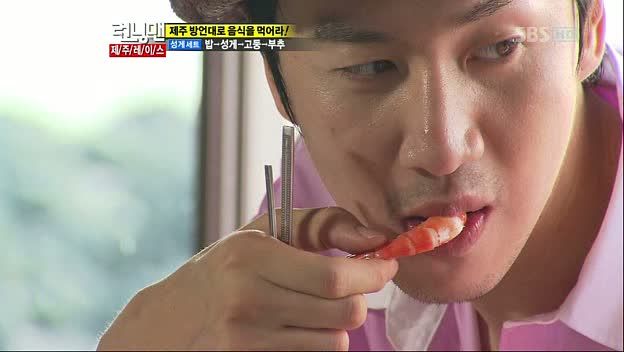 What can you do if you don't understand anything you just heard? Try and compare it something you DO understand! So the members decide to use homonyms between standard Korean and the Jeju dialect. The idea isn't too farfetched, but their guesses are still amusing.
For instance, Jae-suk assumes that sae-woori (chives) must be linked to sae-woo (shrimp). Mr. PD says it's incorrect, so Se-kyung wonders if the "-ri" is linked to "-kkori (tail)" and then forces Kwang-soo to eat the shrimp whole – tail and all. Hahaha!
Both Jae-suk's and Haha's team (who ordered the same set) are so convinced in this connection, that when they run out of shrimp, they're told to order another set. Darn – and slightly sadistic, Mr. PD. Can't people just eat for pleasure anymore?!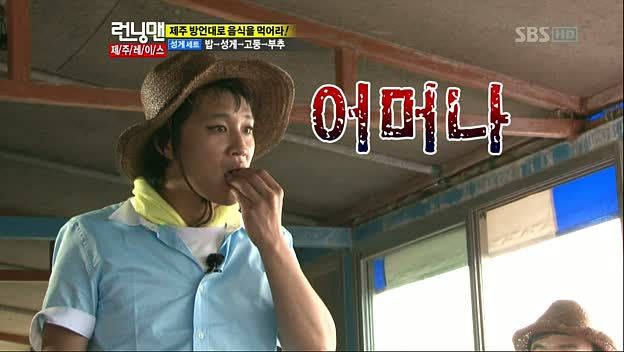 I can't tell which member in Jong-kook's team is the most devious – Jong-kook who sneaks off to ask the Jeju ahjummas for a hint? Tae-hyun who grabs the last mackerel from the other team so they're obligated to order another set? And to this, a disappointed Se-kyung sighs: "Wow, that's really not right…"
In any case, round after round everyone goes, stuffing the wrong combination in their mouths. And again, it's Jae-suk's team who wins first and they head to the harbor.
When they get there, the staff tells them they must first select a method of transportation that range from a tube (10 RMC) to a power speedboat (170 RMC). The other teams arrive and Tae-hyun runs over to rip off Jae-suk's name tag. Oho, look who has been watching their Running Man episodes!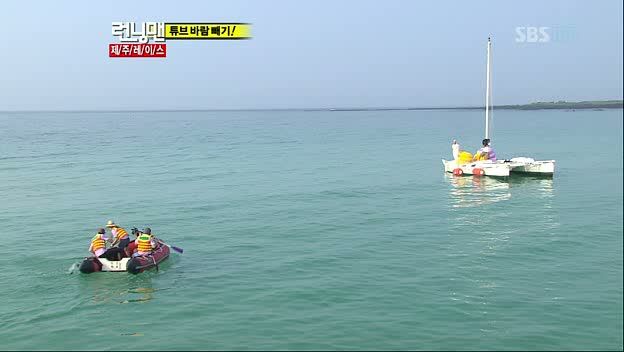 Everyone makes their choices: Jae-suk's team with an inflatable boat, Jong-kook's team with the wooden raft, and the power speedboat for Haha's team. The mission: retrieve an inflatable tube from a yacht and deflate it within 5 minutes. Mr. PD, did you think this was actually possible?!
How can such a relatively short distance seem so far away? It takes a few strokes to get going for Jae-suk's team and it doesn't look like the wooden raft is going anywhere. At this rate, none of them will ever get to finish…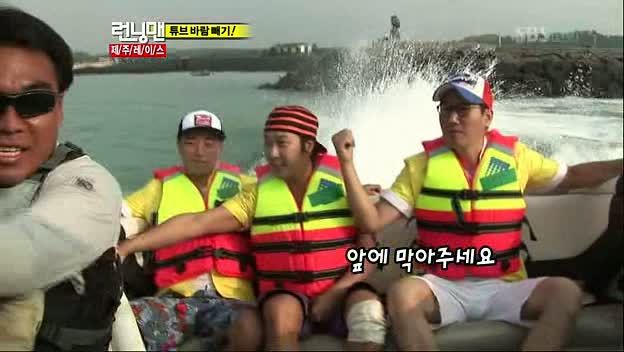 Enter Haha's team in their speedboat as they power through the waves, causing a ruckus by roughing up the water for the other teams. Se-kyung rebukes them by mentioning Haha's team abandoned the mission for their petty fun and even yells at them to go away. Hehehe. Her impatience blows through the roof when the tube doesn't deflate fast enough: "Should we just stab it with a knife?"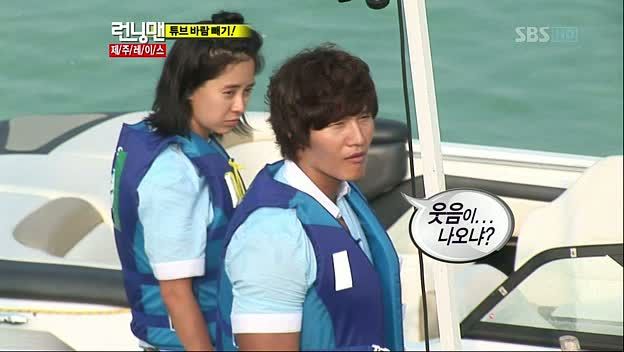 The wooden raft is deemed a failure and Jong-kook's team resorts to bribery, asking Haha's team for a ride. Tae-hyun tosses a 10 RMC coin as deposit … until it deposits into the sea. Oops. Slightly embarrassed Tae-hyun says, "Hey, let's just take the tubes." You're laughing, Tae-hyun but Ace and Spartakooks are not amused.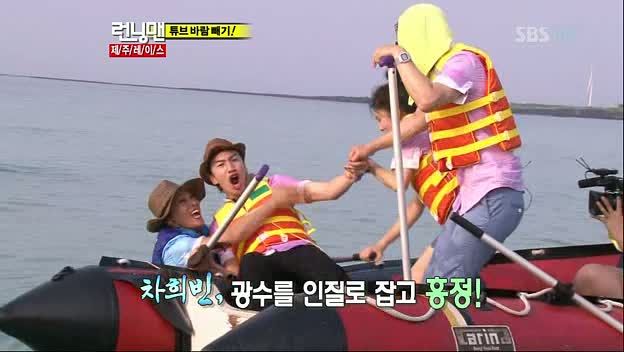 But Tae-hyun won't go down without a fight and he holds on for dear life onto the inflatable boat, demanding that they take him along. A few propositions and several near dips into the ocean, both teams reluctantly agree to travel together for 15 RMC.
Leave it to Tae-hyun to bend the rules when he floats back towards the harbor with the tube already half-deflated. But it's no use against Haha's team, who succeeds and runs off to the next mission. When all the teams finally succeed, they're physically and mentally drained.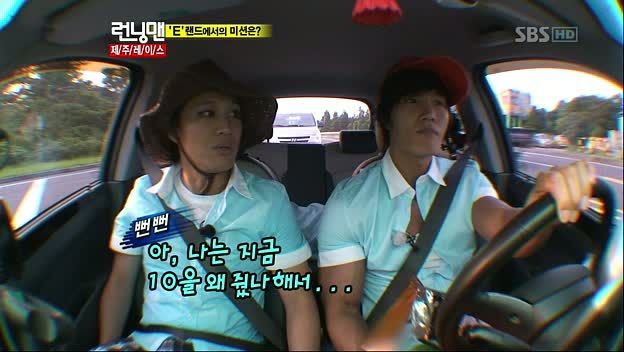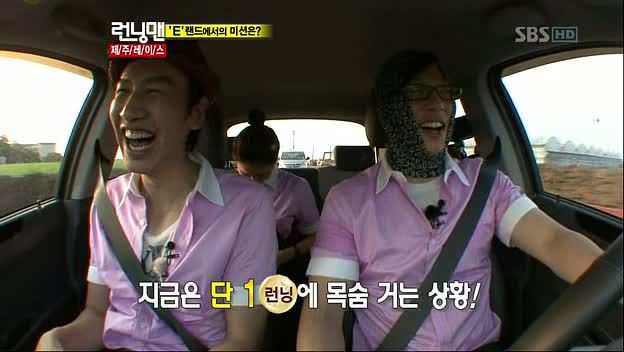 Each team reflects on their remaining RMC coins in their cars. Haha's team wonders if they'll have enough for the rest of the race. In Jong-kook's car, the captions read that they feel bad for handing over 10 RMC instead of the agreed upon 15 RMC to Jae-suk's team, until Tae-hyun mentions that he didn't feel the need to fork over 10 RMC in the first place.
Conversely, Jae-suk's team grows concerned about the 5 RMC they haven't received yet. Jae-suk: "This is so childish. 5 RMC doesn't even equate to cash outside [of this show]!" Glad to know you still possess some realistic perspectives.
At the amusement park, each team must collect at least 900g of dirt with their feet in order to move on. Haha pulls out the pile of dirt from under Jong-kook's foot and earns a well-deserved furious stare. Didn't you learn anything from Kwang-soo's near death experience last week? One by one, each team succeeds and heads to their final destination.
Jae-suk's team pulls ahead despite a few lost turns and arrives just seconds before the other teams. They're told that whoever grabs the flag at the finish line is the winner and everyone darts inside – the race is on!
The flag is in sight and Jae-suk's team is in the lead – until Gary suddenly catches up and crosses the finish line. But it's Jae-suk who grabs the flag, making his team the winners! They relish in their victory with a Black Pig BBQ. Mmm…yum…
Hold on to those RMC coins, Running Men – you'll need them next week!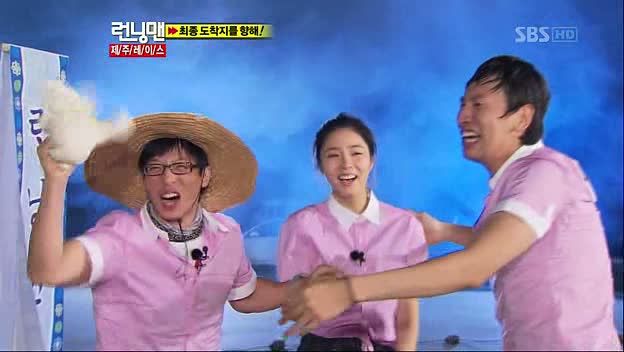 RELATED POSTS
Tags: Cha Tae-hyun, featured, Haha, Ji Suk-jin, Kang Gary, Kim Jong-kook, Lee Kwang-soo, Running Man, Shin Se-kyung, Song Ji-hyo, Yoo Jae-suk