Scent of a Woman: Episode 11
This drama is playing havoc with my man-loyalties. One second my heart bleeds for heartbroken Ji-wook, and the other second it's cheering on adorable Eun-seok. The drama has the curious ability to make me root for whichever character it's focusing on in any given moment…only to have those desires flip the other way once the scene shifts to the other character. It's wonderful, and horrible.
SONG OF THE DAY
Standing Egg – "휴식" (Rest) [ Download ]
Audio clip: Adobe Flash Player (version 9 or above) is required to play this audio clip. Download the latest version here. You also need to have JavaScript enabled in your browser.

EPISODE 11 RECAP
Standing outside Yeon-jae's hospital room, Ji-wook asks Eun-seok to confirm whether it's cancer. He refuses to move until he hears the answer, threatening to step inside and ask her himself if Eun-seok doesn't tell him.
Inside, Hye-won visits with Yeon-jae, asking how she's holding up through her chemo treatments, as well as how long Yeon-jae will hide this from Ji-wook. Yeon-jae says she broke it off with him before he could find out about her cancer; she couldn't leave him with a huge scar just so she could be happy while she's alive.
Eun-seok doesn't give away any details about Yeon-jae's condition (finally, a K-dramaland doctor who cares about doctor-patient confidentiality!). He doesn't even say whether the cancer guess is correct, only that the patient is indeed Yeon-jae. Eun-seok warns that if Ji-wook thinks he can't handle the truth, he'd best shut the lid on that Pandora's box and walk away.
Ji-wook leaves in a daze and thinks back to all of Yeon-jae's comments about dying that he'd overlooked before, which now make sense — like how her Okinawa vacation might be her last. Yeon-jae may have hid the truth from people, but she's actually been quite frank in her mentions of death — it's just that people assumed she was being figurative.
After taking his time to contemplate the situation — and, I suspect, asking himself whether he can handle knowing — Ji-wook heads back to the hospital with new determination. He enters the grounds just in time to come face to face with Yeon-jae and gets straight to the point, asking what her condition is, and if it's the reason she broke things off.
She confirms the cancer, and that she found out before meeting him. Ji-wook asks, hurt and accusatory, "And you still approached me? Then why did you change your mind now?" She answers that she only has a few months left to live: "Do you think you can handle me in this situation? So go."
Struggling with his tears, he grits out, "Then you should never have approached me in the first place. You should have told me this before I fell so crazy in love with you!" She says, "I didn't know that would happen."
He calls her cruel, adding, "I hate myself like crazy for liking you." With that, he leaves and heads to The Place Of All Brooding, the Han River, which I am convinced must have grown to its size purely from the tears of all its visitors throughout time.
Chairman Im tells Sae-kyung that per her wishes, he's backed off his assault on Line Tour. Sae-kyung finally confesses a more rounded version of the truth (though still incomplete): That Ji-wook found out about her blackmailing ex, but refrained from mentioning it when he broke the engagement.
Dad understands that this makes it much less likely that Ji-wook will change his mind, but Sae-kyung asks to handle this herself, because marrying him is better than finding someone altogether new. (Ah, how romantic! "I'm too lazy to find a new fiancé!") But she also betrays a sign of her own developing feelings by admitting, "I don't dislike him."
Eun-seok finds Yeon-jae listless in bed, having skipped all her meals today. She tells him dully that she told Ji-wook the truth: "It's all over now."
Now that the truth is out, Eun-seok tells Ji-wook that he hopes he'll stay with her, because he's worried for her. Ji-wook faces him with a mix of irritation and male pride, asking if the fanmeeting story about his first love is true.
Eun-seok doesn't understand Ji-wook's sudden change of heart, reminding him that he liked her enough to call off his engagement. Ji-wook admits that he's not sure he has it in him to watch a woman die, and says he's regretting his choice now — that if he knew about Yeon-jae's cancer, he wouldn't have "done something as stupid as call off the engagement." Oof. And ouch. He's not wrong when he says he'd be losing a lot of things for the sake of a few months together, but it sounds callous nonetheless. He tells Eun-seok to step in and be with her instead, both as doctor and the guy who's been in love with her all this time.
Poor Poopypants — you get the sense that he'd give his eyeteeth for the chance Ji-wook is tossing aside, but he knows that swapping out men is hardly the same thing to Yeon-jae. I think that's what kills me about his character — he's always thinking of her first, though not in a stupidly noble way.
Eun-seok challenges Ji-wook, asking if he means it. Ji-wook leaves without answering, so Eun-seok follows him out to warn him not to come 'round no more: "You don't have the right to be with her."
To the liquor bottle it is. Eun-seok's last words land with him, and Ji-wook seems upset with himself for proving that statement true.
Hee-joo bounces into the room to begin her own set of treatments, just as Yeon-jae's about to be released. She confides that she was so inspired by Yeon-jae's bucket list that she started a list of her own, including confessing to her crush on Eun-seok. She may have been instantly rebuffed, but she cheerily says that she intends to keep trying until she's successful.
Next, Yeon-jae turns her attention to Item #14 on her bucket list: Ask for forgiveness from "S." Apparently this is a long-standing grievance, and Hye-won wonders why she's curious about "teacher" all of a sudden, advising her not to look him up. I smell a misunderstanding, because Hye-won is under the impression that the teacher was in the wrong, while Yeon-jae feels the need to make amends.
Yeon-jae asks if Hye-won decided on her proposal, and Hye-won sighs that she's not sure, but that because of Yeon-jae's comments, she's reconsidering. While I totally get why Yeon-jae snapped at her previously — Hye-won's concerns skewed largely materialistic — I can also see why Hye-won's torn, because she feels that marrying this guy would be settling. She's coming around, though, and is starting to look more favorably on him.
Hee-joo ducks to see Eun-seok in the hospital and tries to slide past him unseen, recalling that their last encounter ended with him yelling at her (for her webtoon, which she has pulled offline). Today, however, he asks to talk with her, to her delight, and she's happy to answer his question of how a cancer patient would prefer to be treated. (Aw. Again Poopypants warms my heart.) She says that pity and sympathy are to be avoided, and that the most comforting comments she received were the normal ones, the ones that treated her the same as usual.
Despite her date offer going ignored, Hee-joo sighs happily that this feels like a date — it's the longest they've ever talked together. Well, without him insulting her or yelling, I'm sure.
Mom notes Yeon-jae's weight loss and looks at her suspiciously…then asks if she's dating. Who was that good-looking man who came looking for her? Yeon-jae says he was just her old boss, wanting to drop the subject, and kicks Mom out of her room to receive a phone call. Mom tries to eavesdrop, suspecting a call from a man, but hears nothing.
It's Eun-seok, who's waiting outside and psyching himself up by telling himself, "Treat her normally, like usual." He reminds her that tonight is tango class, and that she promised to be his partner. They stumble through new steps, with Yeon-jae distracted and fumbling the moves.
Chairman Kang drops by to check in on Ji-wook, clucking disapprovingly to see him in bed, hungover, the signs of his bender strewn around the house. Assuming that women troubles are the cause, Dad issues the ol' "I told you so" and tells him that it was obvious things weren't going to work out with someone of such a different class — might as well be caste, as far as he's concerned — and that Ji-wook ought to nip it in the bud and come to his senses.
Ji-wook dully asks him to please leave him alone, and heads into the shower, fully clothed, lost in his misery.
The tango class goes for drinks after the lesson, and Yeon-jae zones out, thinking of her sizzling tango with Ji-wook while the others pout that he isn't coming back to class. With Eun-seok's dance performance just a week away, instructor Veronica offers to choreograph the steps and tells the pair to come by every day to practice.
Afterward, Eun-seok takes Yeon-jae back to their old school, making her smile in reminiscence. She thinks the reason he remembers it is because of his traumatic pants-pooping incident, but he tells her with a smile that there's something he hasn't been able to tell her for 25 years: "Thank you, that day. If you hadn't taken off the sweater you were wearing and tied it around my waist, I might not have been able to make it home."
He cheerily challenges her to a race, reminding her of how she used to poke fun at him for being so slow, and he draws a starting line in the dirt.
And…they're off! He easily outpaces her and exclaims that he's winning, but trips over his feet halfway through, letting her claim victory. He smiles up at her and acknowledges her win, while she jumps up and down in glee.
As they sit outside the school, Yeon-jae confides that there's somebody she needs to ask forgiveness from, but has no idea how to locate the person. Eun-seok offers to show her how, and guides her to a particular function on her smartphone, telling her that she can ask a question, and people will respond with advice. (Think Yahoo Answers.)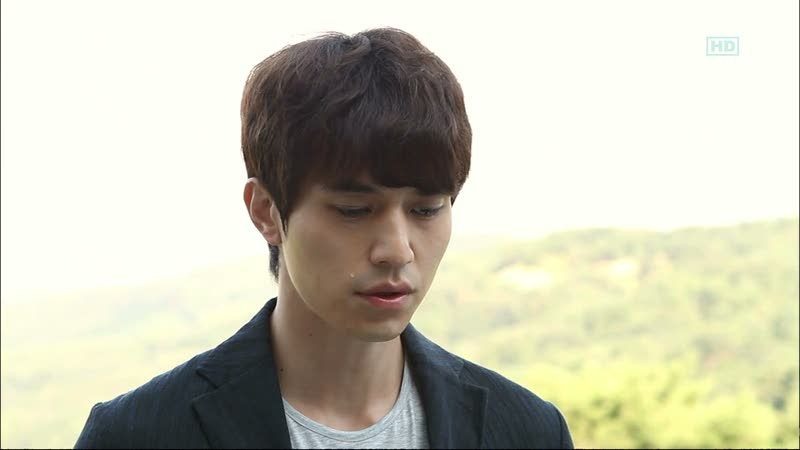 Ji-wook visits the grave of his mother, asking her what he ought to do. Haltingly, he confesses, "I'm afraid. I'm so scared of having to say goodbye to someone, like with you. But…she's probably even more scared, isn't she?"
In the morning, Yeon-jae is awakened by a call from Ji-wook, which she doesn't answer. But he stands outside her gate until she comes out, and tells her that he can't break up with her: "I don't care what sickness you have, or how long you have to live. I want to be with you."
She tells him flatly that she doesn't want him with her, and that he ought to go find someone he can be happy with for many years to come. He counters, "But you don't care if you have to be unhappy?"
She says bitterly that it's only for a few months. Ouch — she's used his own words, which basically treat her like she's already dead, like those months are so few in number they don't even count. She tells him she doesn't want to show him her dying process, and sends him away.
As she steps away, he cries and tells her, "I love you."
She's not unmoved, but she won't let herself weaken yet and tells him that his love is a burden. Once inside the gate, she allows herself to sob silently, just feet away from a devastated Ji-wook.
Chairman Kang assures Sae-kyung in his smug, premature way that Ji-wook's women complications are at an end. He calls Ji-wook a soft-hearted boy who fell prey to the manipulating female's wiles, saying that there's a difference between love and pity. Funny how he knows that, despite appearing unacquainted with either emotion.
Ji-wook returns to his time capsule tree, where he writes Yeon-jae a text message to tell her he has re-buried the old ring, intending to keep it there until she takes him back. Telling her that it's been there 20 years and can stay there another 100, he asks, "But please don't make me wait that long." Yeon-jae cries as she reads the message.
Sae-kyung calls Yeon-jae to meet, which works for Yeon-jae snice she has something to say as well. Sae-kyung asks right off the bat whether it's true she's broken up with Ji-wook. On top of everything else that princess hates about Yeon-jae, she's particularly incensed that the woman who "stole" her fiancé was so quick to then break up with him.
Asked if this was all her revenge, Yeon-jae replies, "Yeah, I guess so." Agreeing that Ji-wook is to be pitied, Yeon-jae tells Sae-kyung to comfort him: "You two seem like you'd be good together. You're just right for him. You're rich, young, pretty — and healthy."
She has one more thing to say: "Have a son and a daughter that resemble Kang Ji-wook, and live happily for a long, long time. That's what I wanted to say." And she gets up and leaves.
Eun-seok actually inquires after a patient's condition with consideration for once, then finds his feet sliding in a tango walk as he heads down the hallway. Looking around to ensure he's alone, he closes his eyes and lifts his hands to guide an imaginary partner, practicing the steps replete with turns and slides. Omg. I am so in love with you right now, you dorkypants.
He finishes and smiles, only to find he's not so much alone anymore. Hee-joo flashes him a great big thumbs-up, while the nurse looks gobsmacked. Eun-seok whirls around, cringes all the way down to his soul, and hurries away.
Over the next few days, Eun-seok and Yeon-jae continue their private sessions with Ramses and Veronica, and enough of the rumors have spread that even the hospital patients wish him luck for the upcoming performance.
Ji-wook and his team go out to celebrate the Wando tour project, which is looking like it'll be a hit. The ladies fawn over Ji-wook for leading the project, while Hye-won speaks up to say that technically, Yeon-jae should be here since it was her idea.
Hye-won clocks Ji-wook's reaction carefully as she offers to call her, but Ramses/Bong-gil pipes up that Yeon-jae's awfully busy these days, practicing tango nightly for the hospital show with that Schweitzer fellow. He's forgotten that Ji-wook is the only one who knows of his secret identity, and upon realizing the slip, he fumbles that he heard the news somewhere.
Meanwhile, Ji-wook drowns his sorrows in drink, to the extent that a designated driver is called to take him home. He finds the car in front of Yeon-jae's house, however, and is told that he'd given this address as his direction.
Ji-wook steps outside for a moment to look out at the house, just as Mom walks up to the gate and recognizes him. Telling him that Yeon-jae should be home, she offers to call her out, but he declines and gets back into the car with his driver.
Mom hurries inside to tell Yeon-jae that the "kkot-minam" (pretty flower boy) came back, prodding for juicy details. Yeon-jae brushes it aside with vague denials, though it does nothing to change Mom's mind.
Yeon-jae checks the question she'd posted online about her old high school teacher, and finds a response from one of her classmates saying that he runs a bakery in her neighborhood. She calls Eun-seok to tell him the good news, and that she'll drop by to see the teacher before their performance later.
Yeon-jae makes her way to the store, working up her courage to approach the man at the counter. It's clear from his cool reception that he remembers her, and not in a good way. Averting his gaze, he tells her he'd like her to leave: "I don't want to look at your face." Eep! Whatever she did, it must've been a doozy.
Eun-seok finds her in low spirits outside the hospital. She says that forgiveness seems unlikely, and asks while on the verge of tears, "Why is this so hard? I don't have much longer to live — why is it so difficult?"
Eun-seok looks at her with sympathy, then says in his usual matter-of-fact way (which I love) that she'd once told him about meeting an old man when she'd been feeling utterly alone, and that dancing the tango with him had provided her with comfort: "Tonight, will you think of me as that old man?" Aww, that is so sweet, it brings tears to my eyes. He pats her shoulder consolingly, and she leans on him.
Ji-wook and Sae-kyung have a business meeting, after which she suggests having dinner together. He flatly rejects the offer, but she assures him that she's asking as a Seojin Group executive — it's not a personal date.
Over dinner, the mood is actually cordial between them and Sae-kyung says she's glad to see him looking okay, because she was heartbroken for quite a while after her failed romance.
He replies that his father must have told her about his breakup, adding that Dad has jumped to conclusions. But she says that she heard it from Yeon-jae, who essentially gave her her blessing to pursue a relationship with him. A shocker to Ji-wook, who's hurt by the blow.
At the hospital show, Eun-seok and Yeon-jae await their turn backstage, and he breathes uneasily as he admits that he wants to run away. When his turn arrives, he nervously takes his place onstage and leads Yeon-jae into the dance.
After the initial sequence, they both start to smile and enjoy the show, performing to loud cheers and an enthusiastic response.
Halfway through, Ji-wook arrives in the auditorium and watches the tango, his expression reflecting his turmoil. After they exit the stage, Ji-wook follows the couple outside, and arrives just as Yeon-jae assures Eun-seok that she feels good, despite the physical strain.
Ji-wook butts right in and tells Eun-seok to leave them alone, leading to another brief glare-off until Yeon-jae tells Eun-seok it's okay.
Eun-seok reluctantly steps aside, though not out of earshot, as Ji-wook asks one last time: "What is it you want? Is it for me to leave you?" She nods and replies, "Yes."
Frustrated but with no other recourse, Ji-wook has to comply: "You're saying that it can't work. Fine, I'll do as you want. I won't see you again."
He walks off, and she watches his departure tearfully.

COMMENTS
Over the years, we've had second leads who've been ineffectual (you know, the ones with no shot in hell but who cling and interfere and cling some more) and those who've been so engaging they overshadow the hero. For me, the most appealing scenario, from a storytelling perspective, is when the hero and the second lead are equally matched.
A recent example of this is Best Love, where Pil-joo (Yoon Kye-sang) was so sweet and adorable that you couldn't help feel a little crushed for him when he didn't win his love. But I recall reading a particular comment back in the shipping debates of that show that sums up the conflict succinctly: A person can't deserve someone's love more than someone else. It's sort of the nature of the beast, that love is given freely and without condition, regardless of whether you've "earned" or "deserved" it.
And that's usually enough for me to concede to the OTP, aka the two that were set up to be our main couple. If she loves the hero, who am I to wish otherwise? Yet what works especially well in Scent of a Woman is that I think she does love Eun-seok, too, in a different way. He's not just a handsome man who developed feelings for her while she was off falling in love with another guy; he's her friend and moral support, her confidant and guide. Moreover, he's the guy she leans on when she can't lean on the hero. So my heart twists just a little extra for this guy, especially every time he puts his own feelings aside to do what she needs or wants. Gah, just kill me now, why don't you.
As for Ji-wook: I like that the drama had him go through the betrayed, accusatory phase — asking, How could she approach him knowing full well of her condition? — before he decides he loves Yeon-jae anyway. I admit feeling that same mix of sympathy and irritation with her for that, and while ultimately I'm rooting for Yeon-jae in this drama, that was enough to mar how I felt about her.
It's one of those tricky gray areas, and I can tell from the comments that opinions are fairly split on the issue, of whether it was right or wrong for Yeon-jae to act as she did, or if the dying person in the scenario always gets carte blanche. I think Yeon-jae's entitled to do whatever she wants with her time, and doesn't owe anybody explanations for her behavior. It's her life; it's up to her to decide what is a meaningful use of the remainder. On the flipside, I can't see a person of her character being able to die peacefully without also reaching a measure of closure with her loved ones.
But the fact that Ji-wook is angry about her choice — and that she recognizes it was selfish of her to initiate the relationship knowing she was dying — actually mitigates my own conflicted feelings, and lets me move past them. If Ji-wook could feel betrayed and then forgive her, at least it reflects some amount of inner conflict on his part. Whereas, if he hadn't felt betrayed at all and been painted with a saintly brush, I would've felt dissatisfied with the unrealistic, out-of-touch reaction.
RELATED POSTS
Tags: Eom Ki-joon, featured, Kim Sun-ah, Lee Dong-wook, Scent of a Woman, Seo Hyo-rim