Scent of a Woman: Episode 6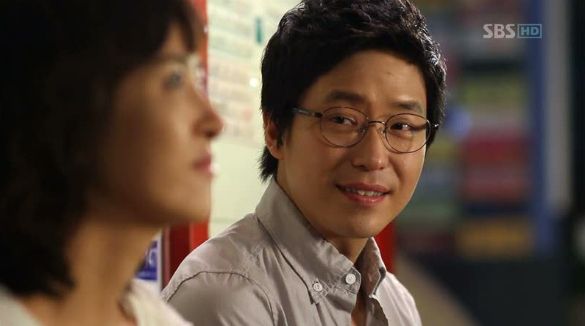 Yay, so cute! Now the race between the two boys finally begins, and one makes more strides than expected, while the other crashes and burns. There's cuteness, aggravation, and dancing, but the real adventure involves a dog and a quick getaway. I wonder if the Dog Days are really coming to an end, or if they're just beginning…

EPISODE 6 RECAP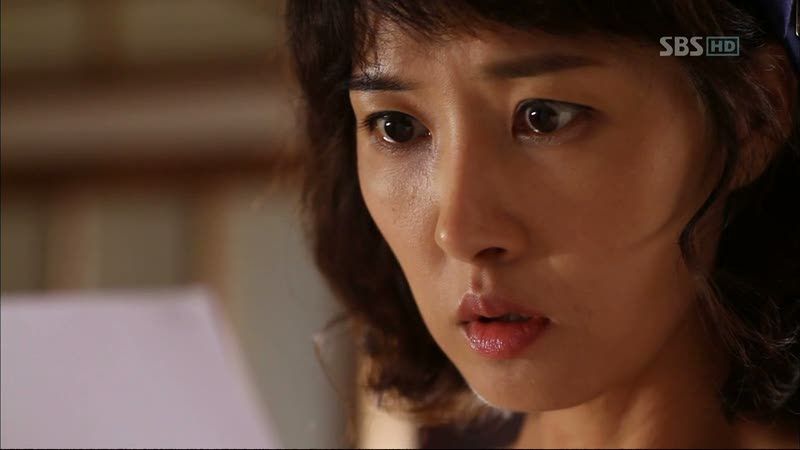 Yeon-jae opens the letter from the court and finds that Sae-kyung is suing her for a cool 300 million won. She tamps down her shock to keep Mom from freaking out, and assures her that this is some kind of mistake, and promises to clear it up soon.
But once alone, it sinks in how much this situation has blown up, and right in her face no less. She heads over to Sae-kyung's office the next day (I love how direct and confrontational the new Yeon-jae is.) but she finds that Sae-kyung is busy with the new merger presentation.
The two families have gathered for the big event, the two fathers proud and happy, and Sae-kyung's older brother who seems to enjoy being bristly and sarcastic. Ji-wook and Sae-kyung make their presentation in front of all the employees and board members, as Yeon-jae shows up in the back of the room.
They introduce Sae-kyung's father, who announces that this is an extra happy day for both companies, and then announces his daughter's engagement to Ji-wook. Uh… surprise?
No one's more shocked than Ji-wook, who clearly wasn't warned that this was going down, while Sae-kyung smiles and all the women in the room sigh the big another-chaebol-lost sigh.
Poor Yeon-jae. As if the lawsuit isn't bad enough, she walks in to hear Ji-wook's engagement to the bitch?
Sae-kyung makes her rounds in the room and discovers Yeon-jae. She walks right up with a smug look, and comments that this isn't the sort of place for "people like you." Yeon-jae counters, "Then shall we go someplace that isn't here?" Ooooh, let's take it outside?
Yeon-jae starts by being civil and asking her to drop the suit, but Sae-kyung just lays on all the damages suffered on her end. She has no qualms about admitting that this is simply a power play, brought about because Yeon-jae refuses to treat her like she's supposed to – like she's better than.
This time can there be kicking?
Sae-kyung says that she's totally willing to drop the lawsuit if Yeon-jae apologizes… on her knees. Yeon-jae: "What to do? My knees aren't attached for me to kneel in front of things like you."
That just makes both women dig their heels in deeper, as Sae-kyung promises to make her pay and Yeon-jae promises to win and show the world what she's really like. Then for some reason, the entire party of important people shows up right at the tail end of their conversation, and Yeon-jae gets dismissed as a disgruntled former employee, and the fathers request her to be ousted at once.
Ji-wook steps in to say that it doesn't seem necessary since the conversation seems over, and turns everyone's attention away. Sae-kyung agrees that this is supposed to be a happy day, and walks off with Ji-wook and the rest of the party.
Yeon-jae stands there, completely cut down to size, and having to watch Ji-wook turn and walk away from her with Sae-kyung at his side. Ugh, would it have killed him to not walk away with her?
Sae-kyung's father buys his son-in-law-to-be a new suit, while her brother remarks that Ji-wook didn't seem very pleased with the engagement being announced. Sae-kyung covers up by saying that on a day like this the families should let them be alone.
Once alone, she asks him to at least pretend like they get along in front of her brother. He asks if she knew about the engagement date. She scoffs that it shouldn't be a surprise; they are getting married after all.
And then she wonders, "Or are you upset about that woman?" Ji-wook: "You're right. I'll think about it – whether I'm upset about our engagement, or that woman," and walks off leaving her stewing.
He immediately calls his company lawyer, who tells him that they can't take on a case for an individual, especially when the plaintiff is Sae-kyung's company. Well duh. I hope your big heroic plan wasn't to throw your company lawyer at her.
Yeon-jae sees a lawyer of her own, but finds that he can't take on the case either, because of his firm's affiliation with Seojin Group. Okay, there's gotta be some lawyer somewhere who isn't affiliated with either of these companies. This is a stupid problem.
Okay thankfully, Ji-wook isn't totally useless, and calls a lawyer friend for a favor. He asks him to take Yeon-jae's case, and when asked if he's sure she didn't steal the ring, he says, "I don't think she's the kind of person who would ever do that." Finally, some trust thrown her way.
Lawyer friend: "So… you want me to take this case, against your fiancée? Do you like this woman?" Ji-wook insists it's nothing of the sort. His friend just gives him the ol' wink-wink, nudge-nudge. Ha.
Ji-wook heads to tango class and waits outside for Yeon-jae, expectantly. She walks up and sees him up ahead, but she stops. He calls her (for the millionth time that day) and she finally picks up. Ji-wook: "Where are you?" Yeon-jae: "Behind."
She asks if he's waiting for her, and he just awkwardly blurts out that he found a lawyer, so he'll give her the phone number. "But I'm not doing this because of any feelings, so don't misunderstand."
She tells him blankly that she's not, and suggests they go in. He stands there confused, like this isn't how it's supposed to go. Haha. I love it. He desperately wants her to misunderstand, but she won't.
Their tango class finally starts to learn some dance steps, eight of them to be exact, and he's so bad that he gets singled out by the class. He fumbles through it, but once he gets paired with Yeon-jae, he loses himself in the moment and actually manages to dance.
He smiles, so pleased to finally get the steps, which she points out everyone else learned on their first try. Her thoughts are all a mess, as she remembers running with him in the rain, and then his cold dismissal earlier that day with Sae-kyung.
Their chemistry when dancing is just too hot for words. I love it when a simple touch shoots electricity like that. Sometimes handholding is indescribably hotter than kissing.
At the same time, Eun-seok sits at his desk in the hospital, reliving the fanmeeting from the night before, where his 25-year crush on his first love was outed to everyone but the girl who wrote the words. He slumps over his desk in mortification. Awwww.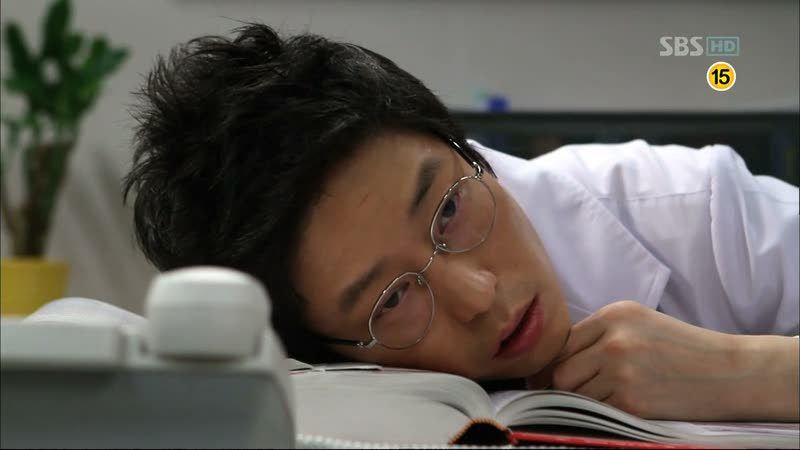 He goes home and takes out a children's book, where he keeps an old photo of him and Yeon-jae from grade school, where she's striking a dance pose and he's looking up at her all geeky and adorable. GAH. His crush on her is already killing me. Why do I love Poopy-seok so?
The dance class heads out for drinks together, and Ji-wook gets stuck on the other end of the table from Yeon-jae. One of the women starts to ask him questions, clearly interested in him, and he just mechanically rattles off everything you would on a first date, including height, and shoe size, just to shut her up.
He spends the entire time staring over at Yeon-jae, as she gulps down a beer and tells everyone about how cathartically she quit her job and told her ass of a boss to shove it.
It comes time to pay, but when Yeon-jae opens up her wallet, she finds that she's a little short on cash. Thinking quickly, she tells everyone that they needn't pay because she heard Ji-wook say he was going to treat everyone tonight. Ha. I love her petty revenge.
Everyone starts thanking him, so now he's forced to pay, and she just thanks him along with everyone else and walks out. He chases her down and says he doesn't remember saying that he'd pay, but she just breezes that he's rich, so he oughtn't be so stingy. Heh.
He tries to give her the lawyer's number, but she just tells him that she's going out for Round 2. He follows her of course, and they end up at a swimming pool. She looks out at the water in the moonlight and takes a deep breath.
He looks over at her incredulously, "You're not going swimming in there, are you?" She hands him her purse and takes off her shoes. "Yeah, I am."
She stands at the edge and closes her eyes, and stretches out her arms in the air as she takes in the moment. She takes a giant leap right into the water with a big scream of excitement, as Ji-wook gapes.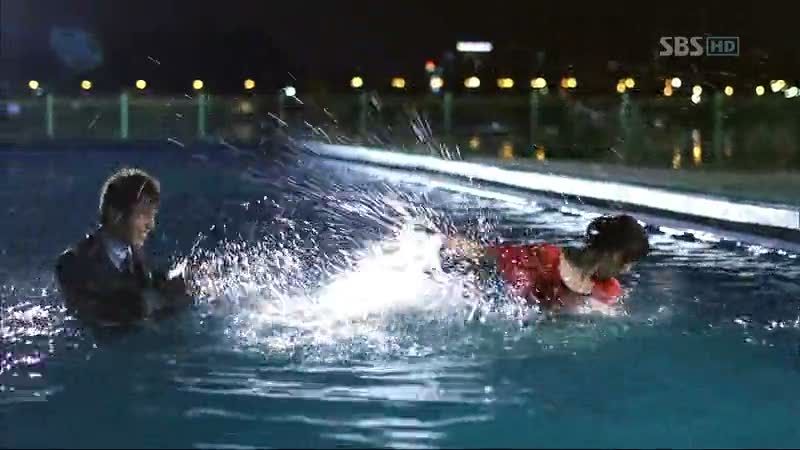 She asks if he doesn't want to join her, and he shakes his head with a firm no, so she asks for his help to get out of the pool… and yanks him right in. Haha. They splash around and she finally sucks him into her fun.
Later they sit around and she muses that this reminds her Okinawa and how happy she was there. He thinks she seems pretty happy now too, and adds, "Do you know that you're a very strange person?"
He thinks she must be very happy, if she always does what she wants. Yeon-jae says that she's lived her whole life denying herself the things she wanted, but not anymore.
Yeon-jae: I think I'll regret it when I die. I realized that after always saying, 'Tomorrow, I'll do it tomorrow,' that tomorrow might never come.
He counters very literally that tomorrow will here in an hour, and they laugh. He asks if she's really not worried about the lawsuit, and she tells him that she's decided not to worry about it because she's innocent, but she does feel angry about the precious time it'll waste.
He tells her to call his lawyer friend in the morning, since he's a trustworthy guy. She turns to him, "Do you like me?" Taken aback, he answers defensively, "Does that seem likely?"
She tells him to stop concerning himself with her then, and adds that he should stop coming to tango class too. He bristles at the rejection (despite not actually having the balls to admit that he likes her, bah) and asks what she means, grabbing her arm.
Yeon-jae looks up at him, her eyes welling up with tears. She tells him in banmal, "I thought it would be nice to date you once before I die. So I thought I'd maybe seduce you."
He takes it the wrong way, perhaps supposing that she really did go to Okinawa to run into him on purpose. He scoffs, "If you did, do you think I'd fall for it? At your level?"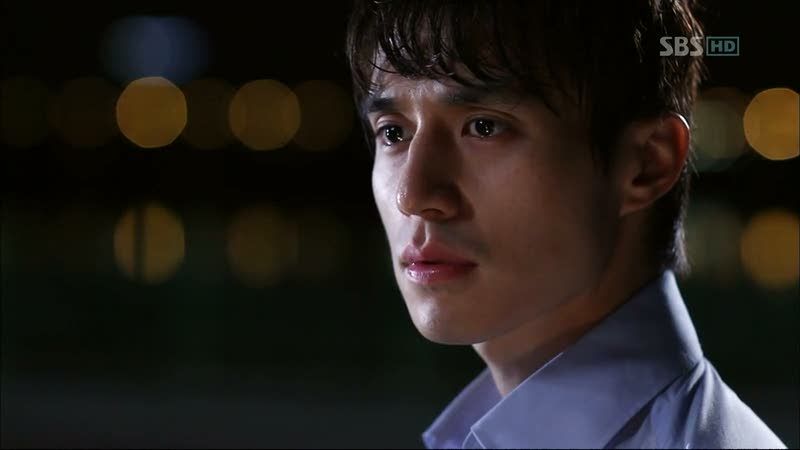 A tear falls from her eye. She keeps up the breezy façade, despite her tears: "So I'm thinking of quitting. Congratulations on your engagement."
At that he finally lets go of her arm, and she walks away. He watches her go, completely at a loss. The look in his eyes just about kills me.
The next morning he gets chewed out by his father for looking into lawyers to defend Yeon-jae. Dad reminds him that he should be taking Sae-kyung's side in all this, asking if he's forgotten who he's supposed to marry. Ji-wook sighs, "I know. Im Sae-kyung, Korea's most expensive woman."
Yeon-jae spends the day getting advice from public defenders, and does the legwork on her own to defend herself against Sae-kyung. She comes home and makes friends with the landlord's new dog, telling him that he's got a pretty sweet life since no one's ever going to sue him for money.
Crotchety old grandpa comes out and shoos her away from his dog and feeds him, calling him Malbok. She says that's a cute name (Malbok is a day on the lunar calendar that means "End of Dog Days," signaling the end of the hottest time of year.)
He sighs that the dog eats well enough but won't fatten up. She gasps, "You're not… going to EAT Malbok-ie, are you?" He snaps at her to worry about her own life, meanwhile totally plotting to eat his own pet dog. NO!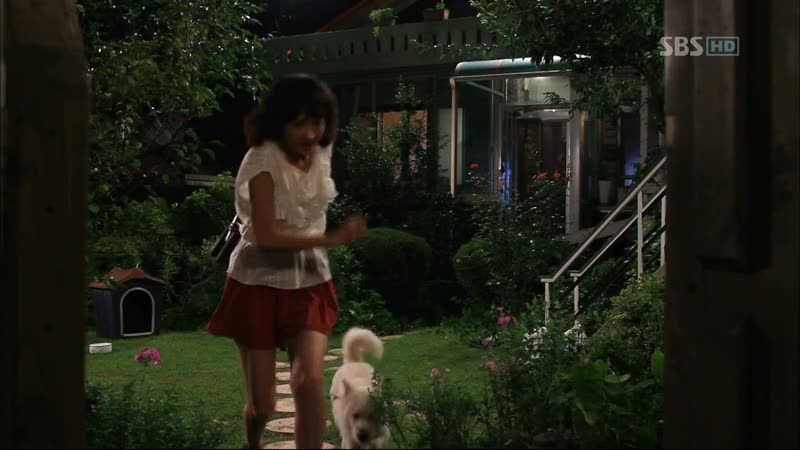 She heads upstairs, his evil plot still weighing on her, and she looks at her calendar. Malbok is only a week away. She sneaks back out, and while the landlord goes back to get the dog some water, she runs over and frees his chain, and runs off with Malbok-ie in tow. This is so awesome. RUN!
Meanwhile, Eun-seok sits in his office staring at his cell phone, remembering Yeon-jae's words that she'd take him out to eat because he helped her out with Junsu's fanmeeting.
He stares at it silently, and then picks up his office phone with purpose… He dials and waits… and his OWN PHONE rings. Pfffft! He called himself!
He picks up, putting both phones to each ear, as he speaks into them like a mic test. To his utter disappointment, he finds his phone is in working order. Hee. I cannot get enough of his geeksplosion.
His colleagues are all headed out to the farewell/congratulations party for the guy who got chosen to transfer to his dream job over him, and he makes the excuse that he can't go because he has a prior engagement.
One of his coworkers calls him out on his sour grapes, guessing correctly that he's lying, and Eun-seok just squirms uncomfortably in front of everyone. Just then, Yeon-jae calls, wanting to take him out to dinner. Yay!
He purposely repeats her words out loud for everyone to hear, and asks where she wants to meet. "H-house? At MY house?"
He waits for her nervously at home, adorably going over his greeting about a thousand times. It consists of two sentences: Come on in / Are you feeling well? (More literally, is your body feeling okay, which sounds less weird in Korean.)
But then she rings the doorbell and in his nervousness he answers the door with: "Your body can come on in." HAHAHAHAHA. Omg, I'm DYING.
He's like a nine-year old, but that sentence sounds so pervy. She looks up at him confused. But then thankfully Malbok-ie runs in and cuts the awkward. Eun-seok just looks at the dog, Uhhhh.
She explains Malbok-ie's situation, and how it's so much like hers, except she's got months while he only has a week. She asks if maybe he could watch him for a few days until she finds him a more permanent home.
He doesn't seem happy about it, but agrees readily since it's Yeon-jae asking. Oh, he's totally gonna end up keeping him. I'm already so excited at the future conversations he's going to have with this dog about his unrequited love.
Yeon-jae tells him that she's really grateful, for this and the fanmeeting, and she gets up, ready to take him out for a nice meal. Eun-seok doesn't want to lose this opportunity though, and suggests that they eat here, since he doesn't want to leave the dog all alone. Uh-huh. Sure, blame it on the dog. Maybe you're not such a child after all.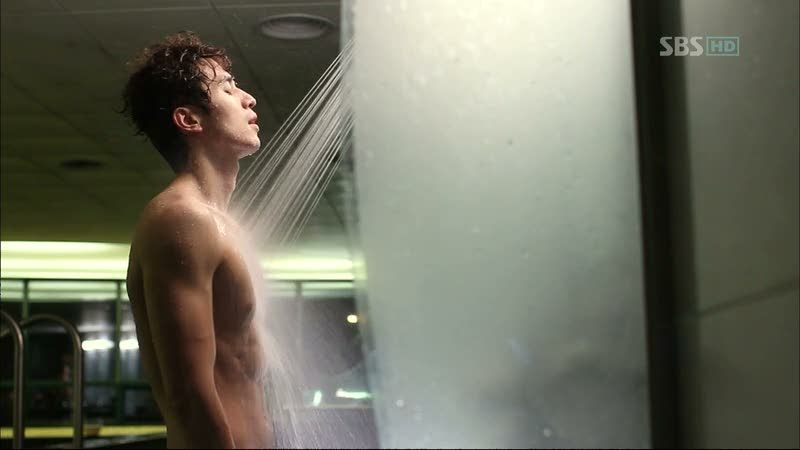 Ji-wook works out his angst and broods in the shower over Yeon-jae's words at the pool. Is he going to have a broody shower in every episode? This is in no way a complaint, mind you. Just wondering.
Eun-seok cooks dinner, and Yeon-jae watches him measure out his ingredients with exact precision, like the neurotic that he is. She asks if maybe she should help, explaining that cooking is really all about sohn-mat, or cooking to taste.
But when she gets close and reaches to take the measuring spoons out of his hand, he jumps back from the proximity and tells her to step out of his kitchen. Ha.
She peruses his books while he cooks, and recognizes the children's book (with their picture inside) right away as a book that she lent him. Aw. She picks it up and starts to flip through it, and he starts sweating bullets.
She can't believe he's kept it all this time, and remembers fondly that she loved something the heroine said in the book: "The world doesn't go the way you want, but the fact that it doesn't is really amazing, because then there are surprises that you never imagined."
I love that she's totally lost in nostalgia, while he's completely on edge, just waiting for his super secret crush to be found out at any moment. He manages not to run and flail, but calmly snatches it out of her hands before he's discovered.
Over dinner she tells him that she's learning to tango because she went on a trip that went from the height of perfection to a nightmare by the end, and when she was feeling her worst, she came across a grandpa who danced with her.
"And in that moment, my heart became warm and calm." She asks him to come learn too, and he's quick to retort that he has no interest in things like that. She digs at his pride a little, thinking it obvious that he can't dance anyway. She mumbles to herself about Ji-wook being a terrible dancer too, and dismisses it.
He walks her out to the bus stop and sends her off, and then turns back to look after her longingly when she's not around to see it.
He comes home to a happy Malbok-ie, and then immediately starts sneezing when he pets him. Aw, you're allergic but you still took him in? Why are you being so cute?
Meanwhile, Ji-wook tries a new mode of brooding, since you can only take so many long showers a day before people start asking questions, and joins some old friends for a night of clubbing, but he gets bored with that pretty quickly.
The cranky landlord comes barging into Yeon-jae's house the next morning, demanding his dog back. He searches the whole place and warns her that he knows she did it, while she challenges him to go ahead and search. I love that she's taking a stand for the dog.
She heads to the bank to withdraw some money, but finds that all her accounts have been frozen because of the lawsuit. She gets the runaround all day, and finds that the only way out is to get Sae-kyung to back off.
She sits outside the bank, completely trapped and feeling all alone, as she cries to indifferent people on the other end of the phone.
Ji-wook gets a call from his lawyer friend that Yeon-jae never called, and he tells him to forget it, that he shouldn't have concerned himself in the matter. And then he calls Sae-kyung to make a date for the opera that night.
He heads out to pick her up, when Yeon-jae calls. The way he lights up to hear her voice is so adorable. He pulls over right away to talk to her, and she asks to see him. Thinking quickly, he tells her to come to his place, since she's the one asking to meet, which cracks me up because he's not even home.
He races home to beat her there, and fusses with his living room, picking some books to put out to make it look like he was reading. Haha. He lays out possible outfits and can't pick one, and races to change when the doorbell rings.
He takes a deep breath and opens the door with excitement…
…And finds Sae-kyung on the other side. Damn, there's a way to ruin a night. He totally can't hide his disappointment, but can't figure out a way around it either. She comes in with the suit from her father, and tells him to change for the opera.
He runs back into his closet to call Yeon-jae, and abruptly tells her to turn around, and that he'll hear what she has to say some other time. She's already in front of his house by the time he calls so she starts to text him that it'll only take a minute.
But then she sees him walk out with Sae-kyung. She hides as Sae-kyung gets into his car, and then he walks around it and meets her eyes. They look at each other, and then without a word he gets into his car and drives off. Arrrgh!
He sits in the opera, his agitation slowly building until he can't take it anymore and walks out in the middle of it, ditching Sae-kyung without a word. He drives back in a fit of anger, and comes home to find Yeon-jae still waiting outside his house.
He greets her icily wondering that whatever it is, it must be important for her to wait around for hours. Her voice shaking, she tells him that there's been a freeze on her accounts, and all of her assets are tied up, and she doesn't even have more than 10,000 won in her wallet because Sae-kyung is playing hardball.
He OF COURSE jumps to the dickish conclusion that she's here to borrow money. She tells him that she's here to ask him for a favor, to try and talk Sae-kyung into releasing her accounts since it doesn't need to go that far.
He turns the entitled bastard on full force, asking why she's asking him instead of talking to Sae-kyung directly. Is it because he's a man? Did she think he'd pity her more?
Blech, did you take an extra dose of scumbag serum today?
But he doesn't relent, and calls his bank to have them wire Yeon-jae the 300 million won needed to settle the lawsuit. She demands to know what he's doing. He tells arrogantly her that this takes care of it all, and she needn't thank him.
She shouts that paying the money is the same as admitting her guilt for stealing the ring, a thing she refuses to do. She asks if this is his idea of taking care of things, and she shouts, "What about that money? Am I not supposed to pay you back?!"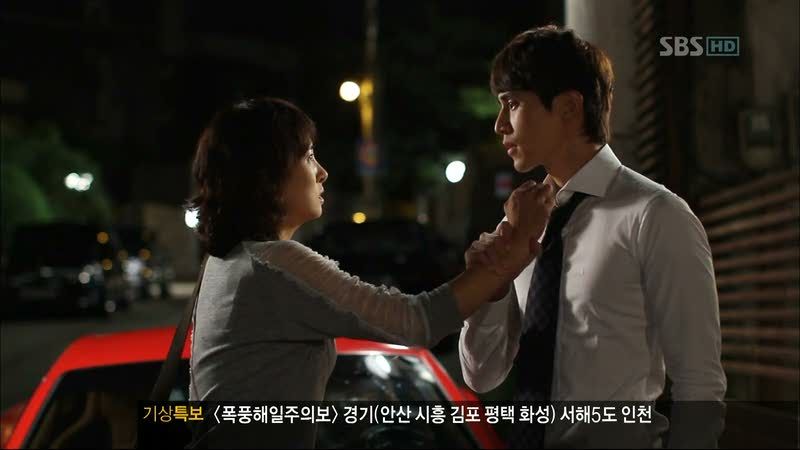 He screams back at her: "Don't pay it back then! Don't pay me back, and stop showing up in my sights. I don't want to be involved with a woman like you in this kind of matter anymore!"
She reaches up to slap him, but he blocks her hand and holds it in midair.
Ji-wook: "Take the money and go. And don't show up in front of me again. Because of you… I think I'm going crazy."

COMMENTS
Ugh, what's with the assy declaration? Yes, he's finally admitting that he's going crazy because of her, but it's not exactly a swoon-worthy moment, since it's laced with such arrogance and entitlement.
The only thing that saves him is his pre-Yeon-jae freak out when he was setting up his apartment for her arrival, which finally showed some vulnerability and geekiness on his part. But then following it up with his rich boy speech about pity and money and "people like her" made him sound exactly like Sae-kyung, only worse because he's supposed to like her.
I know, he's overcompensating for his true feelings. But whatever. That's not an excuse for his actions. He's just being a coward, and worse, throwing money at her, which means he actually doesn't know that human beings don't have monetary value. Sigh, I'm just going to have to wait until next week when Yeon-jae knocks him off his high horse. I hope she rubs his face in the dirt too, for good measure.
On the other hand, Poopy-seok is totally winning right now. I hope they have endless adorable geeky times with Malbok-ie, and make Ji-wook froth at the mouth with jealousy for a good long while before he wins her over.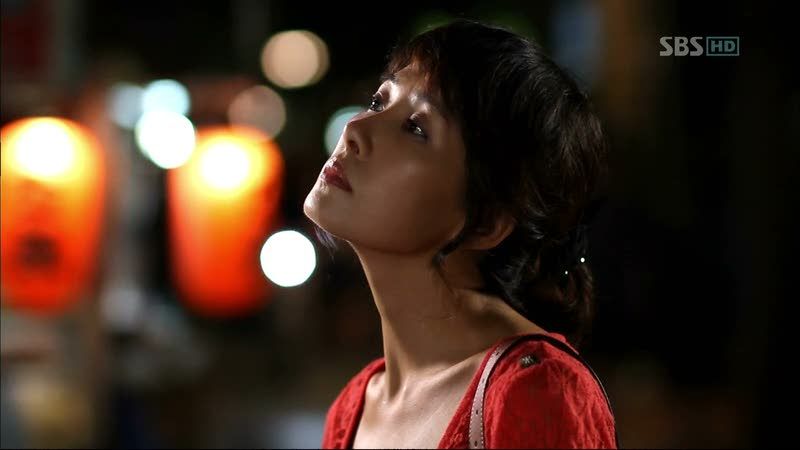 RELATED POSTS
Tags: Eom Ki-joon, featured, Kim Sun-ah, Lee Dong-wook, Scent of a Woman, Seo Hyo-rim