Scent of a Woman: Episode 8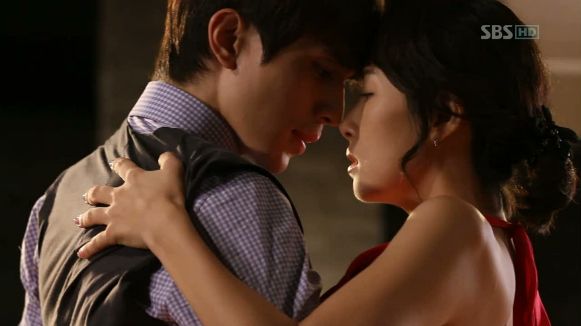 I think before this episode, the tango was a stand-in, a euphemism for a lot of things, but there are no longer any spaces to read between the lines now. I think the appropriate expression is: Oh, get a room already. YOWZA.

EPISODE 8 RECAP
Yeon-jae confesses to Eun-seok that despite trying not to, she likes Ji-wook. Eun-seok sighs, masking his own heartbreak, and tells her that she should be saying this to Ji-wook, not him.
Ji-wook, who's been eavesdropping this whole time, gets caught up in her confession and starts to take a step towards her… but then Yeon-jae replies: "It doesn't mean anything. He's marrying someone else." That stops him in his tracks, and he watches Eun-seok turn to see him, and then take her away.
Meanwhile Mom's date is going swimmingly, as they sit down to dinner. Mom puts a piece of live wriggling octopus in her mouth and it gets stuck in her throat (Ew, worst nightmare).
The doctor has to give her the Heimlich so she'll spit it back out, which sends her packing immediately. This is why I don't eat things that are still alive. Recently alive is good enough for me.
Yeon-jae promises to return the favor if Mom's date went well, and Eun-seok starts to ask about Ji-wook. She clarifies that he wasn't the one to sue her or give her the money, and he wonders if maybe he didn't butt in where he shouldn't have. Aw.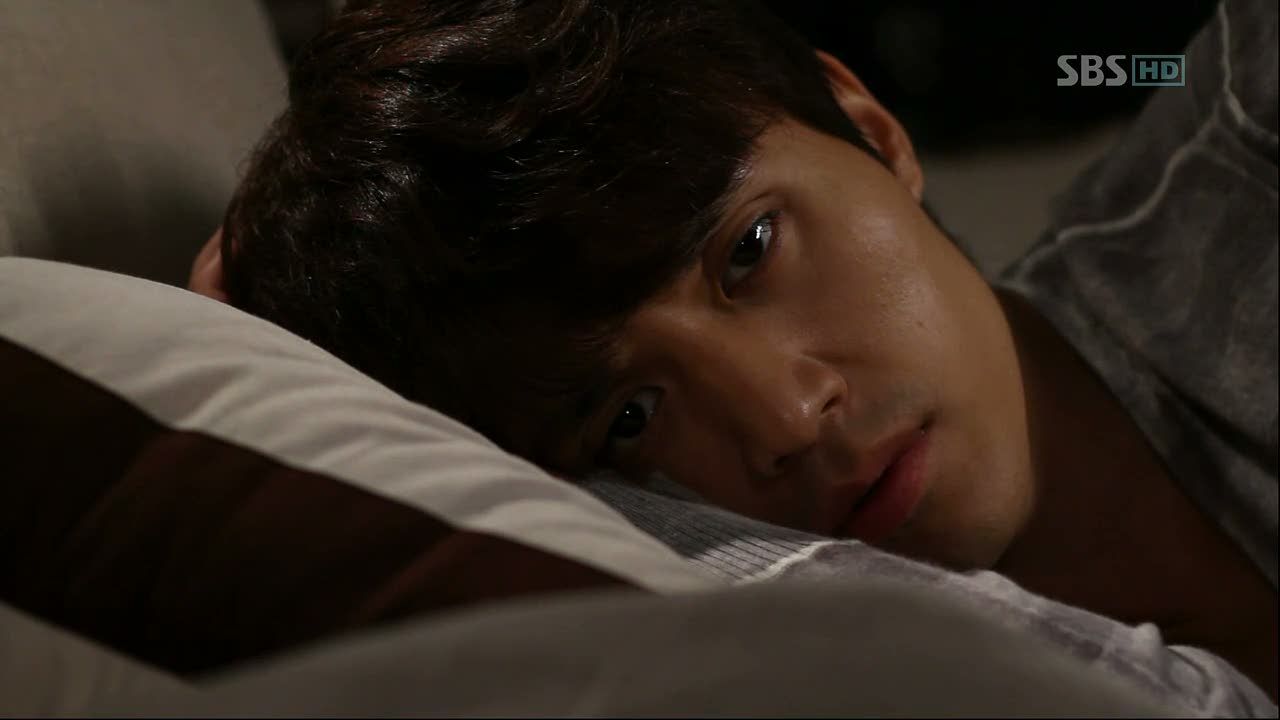 Yeon-jae sits in the dark for a while to brood, and Mom comes home, burying herself in bed out of mortification. Meanwhile Ji-wook tosses and turns all night, unable to sleep after hearing Yeon-jae's confession to Eun-seok.
He heads to work the next day and after another round of uninspired ideas, decides that Yeon-jae's last unfinished project with the planning team is the best they can come up with. He also announces (out of nowhere) that Yeon-jae wasn't responsible for Wilson's ring because it was never lost. Uh, did anyone ask?
He has his secretary call Yeon-jae in to see him, though he adds not to tell her that he asked her to come. So… someone else called her to your office? You're dumber than I thought.
He fidgets nervously like a big dork as he waits for her to arrive. She remains aloof as she sits down to ask what he wants, and he explains that they're seeing her project through, and asks her to come back to work.
She turns him down, and he reminds her that she said it was a job that she wanted to protect for a long, long time. Without explaining further, she tells him that even if she were to return, she wouldn't be able to do that.
He's clearly not getting the answer he wants, so he starts yelling at her to just listen to him. Oh, okay. Pffft. He even tries apologizing for the other night.
She turns him down flat and gets up to go, so he finally yells, "You said you wanted to see me! So I'm giving you that chance!" Aaaaaargh, what the hell is with you and your asshat remarks? I'm getting tired of it.
Shaking, she asks if he heard what she said. He confesses that he heard everything. They share a charged silent moment, which gets interrupted by Dad's untimely entrance. He interrupts them to ask Ji-wook about when he's going shopping for engagement rings, which is pretty much the worst possible thing he could say.
Yeon-jae excuses herself and walks out, and Ji-wook runs after her, but can't catch up to her in time.
After having being so totally crushed, Eun-seok goes back to his grumpypants ways to cover up his big bleeding heart. He finds the other doctors and nurses laughing at the latest webtoon starring him, and they tease that he must have some hidden manly charm.
They show him the cartoon, and it features him dancing the tango with Yeon-jae. He storms into the room to yell at Yeon-jae's bunkmate Hee-joo (the one with the crush on him), and totally takes all his anger and frustration out on her, demanding her to take them all down at once. Aw, you big meanie.
Yeon-jae walks up to hear the tail end of his yelling, and when they talk he's still in a sour mood. She asks if he knows what happened on Mom's date because she won't talk about it, and he coldly tells her that she choked on some live octopus, and wonders if it was necessary to come all this way to ask him that.
She gives him some doggie treats for Malbok-ie, saying that she realized she hadn't paid him enough attention since leaving him in Eun-seok's care. He softens a little at that, but then she tells him that he was too harsh with Hee-joo, who's young and sick with cancer.
Back on the defensive, he asks if being a cancer patient excuses you to do anything you want. He snaps at her to stop concerning herself with him and figure out her own mess — liking a man who's going to marry someone else. Ouch.
Angry tears brimming, she says, "I must look pathetic in your eyes." He doesn't relent: "Well aren't you?" and walks away. Aaaaaargh.
He stops to look back at her, probably realizing that he's lashing out, but turns and keeps walking ahead with a sigh. Oh, Poopy-seok. You have the emotional maturity of a nine-year old.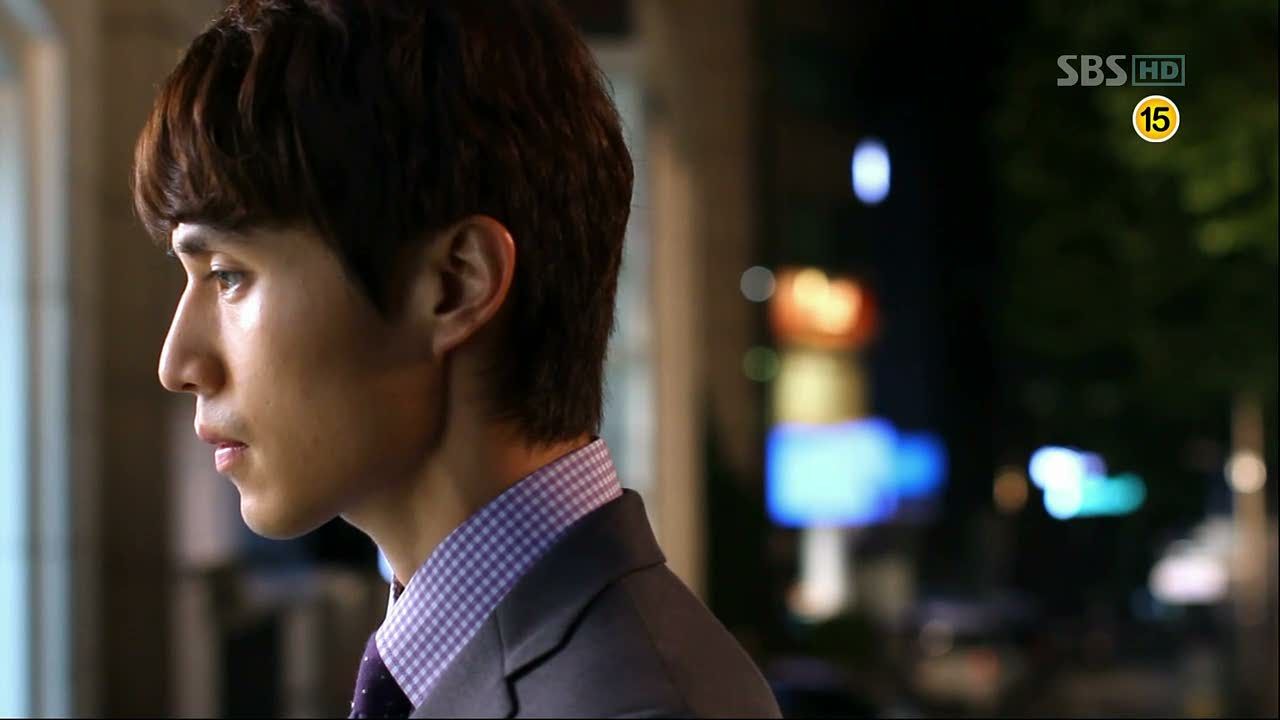 Yeon-jae heads to the tango studio to clear up her crappy mood, and asks her instructor Veronica how long it'll take her to dance like her. She sighs to hear the answer six years, but Veronica adds that it can be shortened if she dedicates the time to it.
At the same time, Ji-wook arrives outside the jewelry shop. He looks inside and sees Sae-kyung sitting there, and as his hand comes up to open the door… he stops. He can't face it, or her, and whirls around and leaves.
He calls Yeon-jae, who doesn't hear her phone because she's dancing. Veronica answers for her, and doesn't let him talk to her, but now he knows where she is. He spins the car around and zooms to the studio.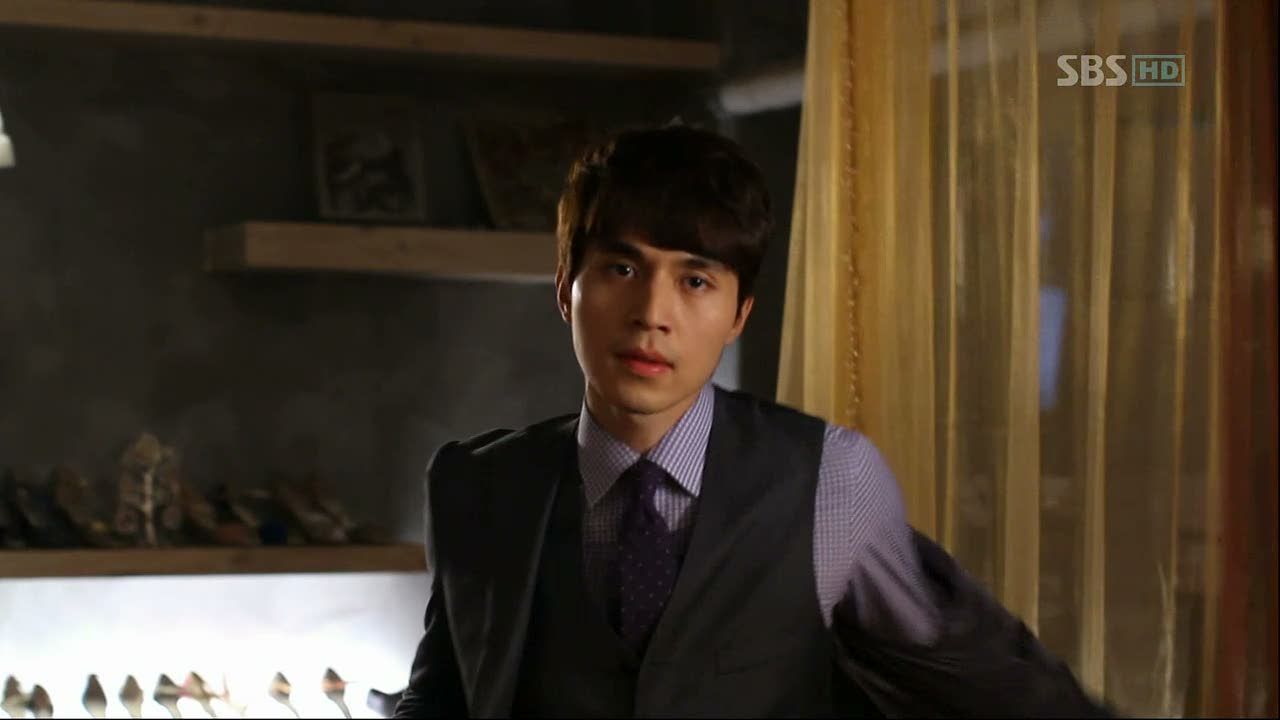 Veronica slyly leaves Yeon-jae alone while she and her partner go out for dinner, so when Ji-wook arrives, he sees her dancing all alone.
He walks up to her, intense with focus, tearing off his jacket and rolling up his sleeves in one fluid movement. Without a word, he puts his arm around her waist and pulls her toward him. Rawr.
She takes a step back, so he moves forward, in that same step they learned in the beginning, now fraught with all their unfulfilled longing. He takes the lead, maybe for the first time ever, and they dance.
Good grief, so this is why they invented tango. I'm pretty sure she's gonna drop a baby, any minute now. Seriously, all that denial of feelings now seems worth it, for the tango foreplay alone. Hot damn.
They finally get to kissing distance, and he starts to lean in. He closes his eyes. She closes hers. He inches forward and they stay frozen like that.
He stops, noses touching, lips just barely apart. Trembling, he says, "How are you going to stop your feelings, when you're like this?" It's unclear whether he's saying it to her or himself, maybe both.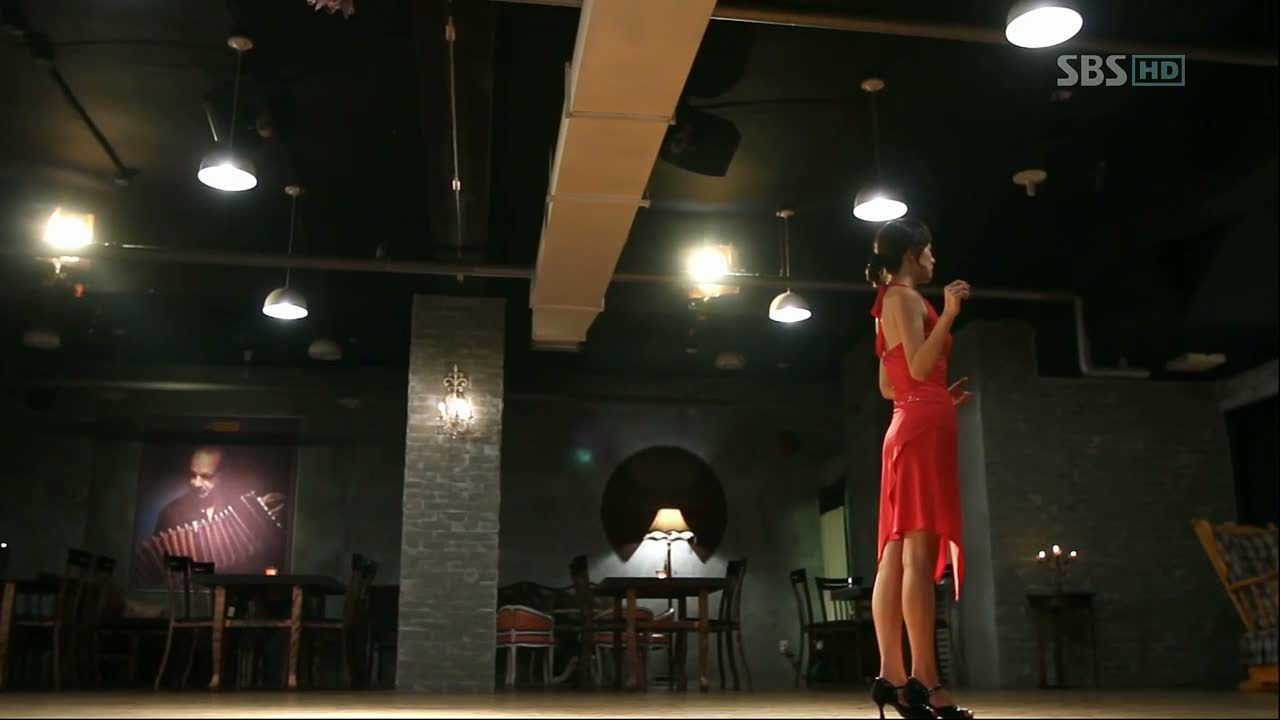 And then he walks out, leaving her with her arms held out in the space where he used to be. Gah, it's so much worse than if he'd never shown up.
He goes straight to Sae-kyung's place to wait for her outside, and she screams at the top of her lungs, insane with rage at having been made to wait around for him. He tells her to break the engagement, and the wedding too of course.
That catches her off-guard and she counters that she has no intention of doing that, since it doesn't matter which guy she marries; it's all the same to her. Wow, that's a sad statement on your life, princess.
But he tells her that he's trying to be nice – if he breaks the engagement it'll wound her pride, so he's offering her the chance to break it herself. How come you can manage to be a gentleman to the girl you hate, but you can't ever manage to be more than a total ass to the woman you love?
Anyway, she threatens him with the only real thing she has in her arsenal—money. She tells him that when Daddy hears about this, he could crush Ji-wook's company and take everything away. He doesn't even flinch: "I don't care. Do as you like." Ha. I suppose his indifference comes in handy at a time like this?
Ji-wook broods and then gets all hot 'n' bothered thinking about their tango. Yeah, you're not the only one, buddy. Yeon-jae takes out her bucket list, sighing as she looks at the last two on her list, to do all this with the person she loves, and to close her eyes in the arms of the one she loves.
She heads out in the morning, shocked to find Ji-wook parked out in front of her house, sleeping. Ha, did you spend the night there?
He doesn't deny that he's here to see her (Perhaps asking Sae-kyung for the breakup has FINALLY launched him firmly out of Denial Land?) and gives her Wilson's ring as his excuse for stopping by. He conveys Wilson's message that it's a lucky ring, but it's stopped bringing him luck, so he's passing it on to her. How lucky are we talking here? Like beat-cancer lucky?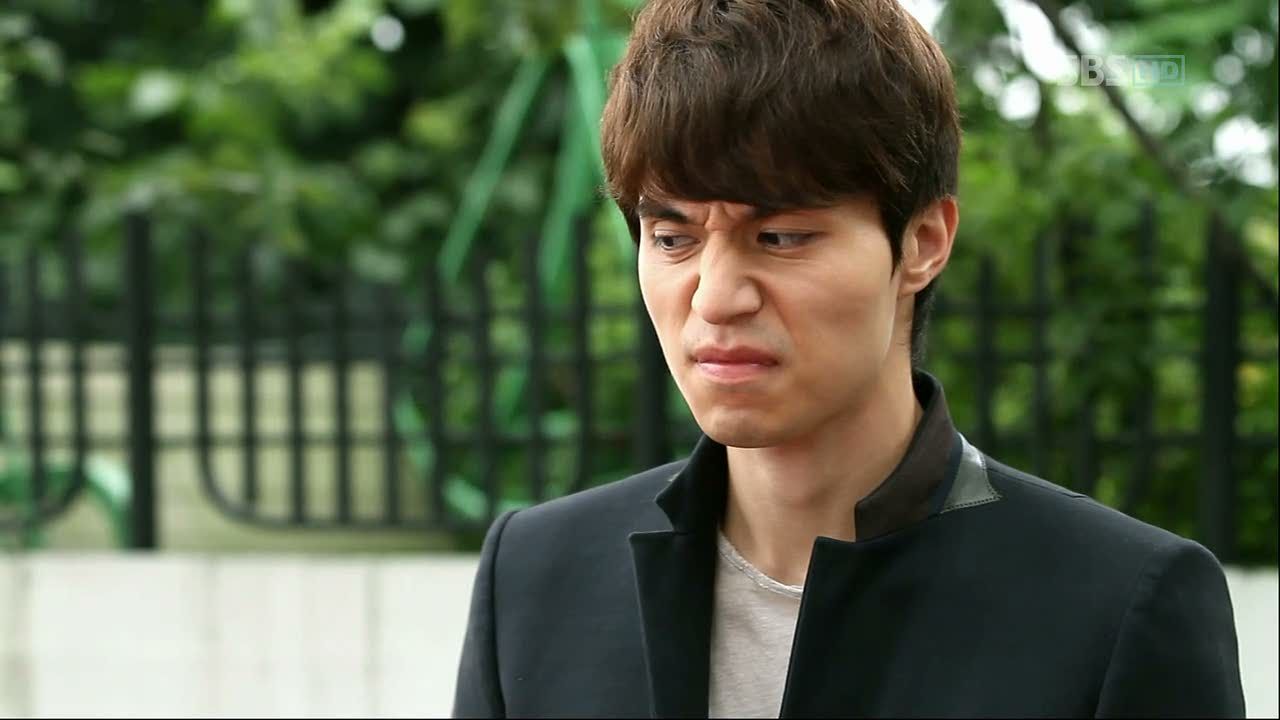 He offers to drop her off wherever she's going, with the lame excuse that he's headed out of her neighborhood anyway, and then to cover up his own awkwardness, he quickly says, "Or don't, whatever," way too quickly, before she can even consider it.
Hahaha. His crinkle-face at his own stupidity is priceless. She ends up getting in the car anyway, and says her destination is the amusement park. He gets out with her, and muses that it's a good thing he came along, since it's a little weird to go to an amusement park alone.
But she's not here to ride the rides. Ji-wook: "Then why are you here?" Yeon-jae: "To find someone. My first love." LOL. How's that for payback?
At the hospital, Eun-seok's colleagues tease him about the tango, meanwhile secretly jealous that he seems to get attention from women despite being such a jerk. One of them points out that it can't be helped—women like bad guys.
Eun-seok stalks off, not the least bit amused, but then Hee-joo appears like clockwork to prove the point further. She tells him about having given up her impractical dream of becoming a cartoonist, and then picking it back up once she found out that she had cancer.
She tells him that she started to draw him because he was so mean, and he guesses that she did it to try and stick it to him. She totally floors him by answering that it's because she likes him. She doesn't want to regret never trying or saying anything, so she asks him if he'll take her out on one date.
He quickly answers no. Hee-joo pouts, having expected as much, "You've never had a one-sided love, so you'd never know." Oh, if you only knew how his monstrous one-sided love could crush yours like a little bitty bug.
Yeon-jae looks for her first love who works in the amusement park, while Ji-wook is totally put out by it, trailing her the entire time. He asks accusingly if she has a cheater's disposition or something. He reminds her that she said she wanted to date him once before dying, then had to meet Junsu, and now it's her first love?
She tells him that a first love is simply that: a first love, and says that there's something she's always meant to tell him. He gets increasingly petty and jealous (hee) and asks what's the deal with the doctor then – was she introducing him to her mother that night?
God, I love that he's finally stewing in some jealousy. She laughs at him and explains Mom's blind date and the double date to provide the social buffer. Dissatisfied, he murmurs, "Still, couldn't you… not look for your first love?" Hahaha.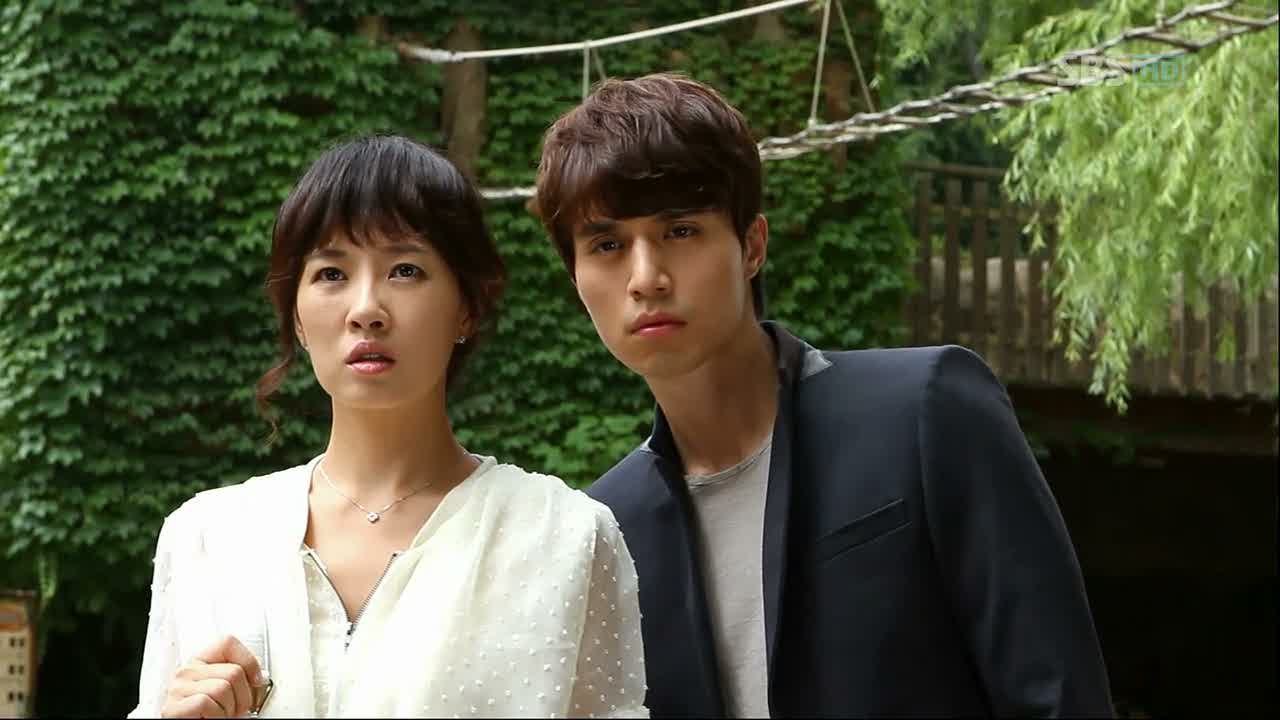 They walk into the zoo and find the fabled first love, holding a baby lion of all things. Awwww. They both light up to see each other, as Ji-wook looks back and forth between them warily. Can we just have this go on forever? Like he accompanies her to find all her ex-boyfriends and say the things she meant to say?
He can't take not knowing what they're talking about, so he moves closer to eavesdrop on their conversation. She tells First Love that she always liked him, and she never showed up that night because her father was really sick, not because she didn't like him.
First Love's response? "Uh… actually I liked Hae-won." HA. Ji-wook goes from scowling to snickering at his words. He's suddenly all lightness and joy, thinking the weather's lovely, and the sun is shining, as he convinces her to go on some rides with him.
She tells him that she's scared of heights, so he whines that they'll just ride the not-scary ones. They end up on the carousel, which he rides like it's Space Mountain or something, as she looks over at him thinking he's off his rocker.
She finally gets into it when they ride the bumper cars, and they have a good time crashing into each other, much like their very dysfunctional relationship.
But then they run into Hae-won who's there with her sister and her nieces, and she happens to see them when Ji-wook is brushing the hair of Yeon-jae's face, making them look unequivocally like lovers on a secret date.
The thing is, I don't understand her reaction, dripping of judgment, when she was the one who told her to seduce him in the first place. I suppose it has to do with his engagement announcement since then, but still, it's not like he's married, and she's your best friend, for crying out loud.
Suffice it to say, the run-in kills the mood, and Ji-wook drops her off at home, both of them in subdued spirits.
Meanwhile, Eun-seok eats a lonely dinner, and when he sees that Malbok-ie has gathered a fresh pile of books to snack on, he brings him a chew toy instead. He picks up one of the books, and the title reads: "Twenty thing you'll regret when you die."
Hahaha. Is the dog a psychic dog? How awesome would it be if lonely Eun-seok had a dog that spoke to him through book titles? Like a magic eight ball that gives advice, but a cuddly BFF too.
He ends up in front of Yeon-jae's house, false-starting a few text messages. But then before he can decide which one to send her, Ji-wook's car pulls up and he sees them get out together. Aw. Poor Poopy-seok.
Yeon-jae comes home to find Mom half a bottle of soju deep, feeling down about being single at her age and looking like a fool on her date. Aw.
Across town, Sae-kyung's busy getting wasted too, and she calls Ji-wook, who shows up to get her. He asks why she's drinking so much, thinking she can't possibly be upset about him wanting to end things.
She tells him that the truth is that he's not guarding her pride—he's scared of what her father will do if he breaks the engagement first. She tells him that they'll get engaged and married as planned, since she has no intention of breaking things off, and he doesn't have the courage to.
You know, as much as I hate her, she's not a total idiot. He does seem like a passive patsy, in pretty much all things. She's not wrong in thinking that this will be really hard for him to do, but I want him to grow a pair and just do it already.
He drops her off at home, where the sleazy ex-boyfriend who's blackmailing her is waiting for her. He just tells her that since Daddy isn't taking his calls, he came to her, and tells her to deposit the money into his account.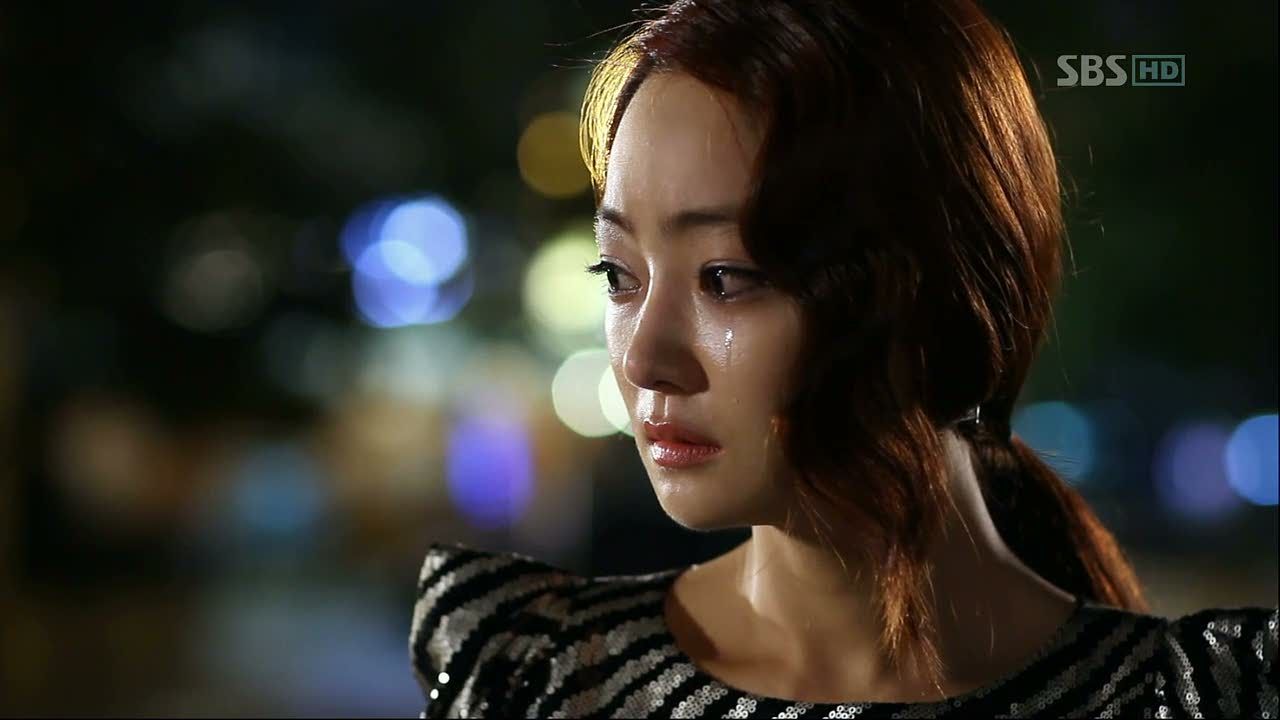 Ji-wook asks who he is, and she turns away as a tear falls, "The man I loved with my whole life. The man who is now using that to extort money from me." She then adds bitterly that he's got the perfect out now – he can tell her father that he found out about her tainted past and can't marry her, and this way he'll be free of blame and any consequences.
Oh, no. Does that mean he's NOT going to do it, just to be noble? Gah, if he sticks with this engagement out of pity for her, I'm gonna SCREAM. To make matters worse, his friend tells him that she's also got a suicide attempt under her belt, just to make him feel extra guilty. I could not possibly hate this girl more.
Yeon-jae crosses another thing off her bucket list: Find First Love. Check. Too bad it ended with bursting your bubble about how he loved you back, which I think provides the take-away lesson here: leave your first love where it belongs… in the past.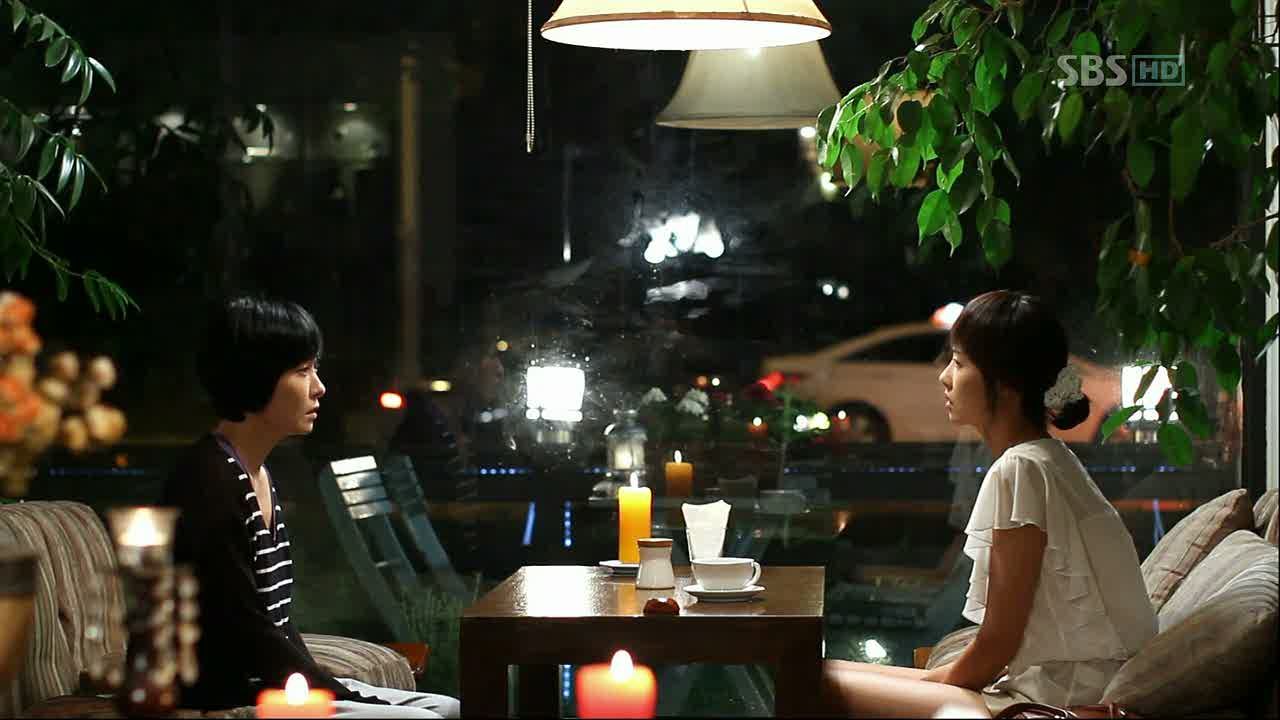 She tries Hae-won over and over, but she won't answer her calls. Yeon-jae finally gets her to meet for coffee, where she shows up still angry and stick-up-her-ass about what's right and wrong. Gah, seriously, Bestie?
She talks to Yeon-jae like she's some goldigging whore, scoffing that she didn't know her friend had such a talent for seducing men. Blech, are you kidding me with his high and mighty bullshit? I'm quickly losing faith in this friendship.
She reminds her that Ji-wook is someone whose engagement is in days, publicly announced all over the place. But Yeon-jae just says that she likes him and wants to see him, whenever she can. She doesn't expect any more than that.
Hae-won tells her to do as she likes, as long as she doesn't come crying to her about it. She announces that their twenty-year friendship has now come to an end. Seriously, imma cut a bitch. What the hell is her problem?
Hae-won gets up to leave and that's when Yeon-jae blurts out, "They say it's cancer."
Hae-won stops in her tracks. Dumbfounded, she turns back slowly, asking again in disbelief. Yeon-jae tells her that she has six months to live… "No, is it five months now? I want to fall in love… before I die…"
Ooof. To her credit, Hae-won crumbles with genuine heartbreak when she learns the truth. I still contend that you should be understanding and loving without the terminal illness, but whatever.
It's Yeon-jae's first confession about her cancer to someone in her life (Eun-seok doesn't count 'cause technically he told her), and it's crushing to watch her finally admit it to someone.
At the same time, Sae-kyung and family have gathered to finalize engagement plans with Ji-wook and his father, and when Ji-wook doesn't show up for a good long while, she thinks it's over and starts to explain to her father… just as Ji-wook walks in. Drats.
But to my surprise, he really does screw up the nerve to break the engagement, and to her father's face no less. He doesn't sell out Sae-kyung's past to save his own hide though, and just says that he's not good enough for her, and that she'll find someone else who's right for her.
His father predictably freaks out and smacks him, and rushes back in to try and do damage control in whatever way he can. Please dear Daddy, do not try and put that egg back together again. It took us this long to get it broken.
Back at the coffee shop, Hae-won holds onto Yeon-jae for dear life and cries her heart out. She finally tells her to go, and do whatever she wants. "No matter what you do, I'm on your side." THANK YOU. Geez, I thought I was gonna have to revoke your BFF card.
Yeon-jae ends up outside Ji-wook's house, wondering what to do. He calls her and she says she's outside the house. He tells her he'll be right there, and she clarifies, "No, not in front of my house…" Helloooo, nurse!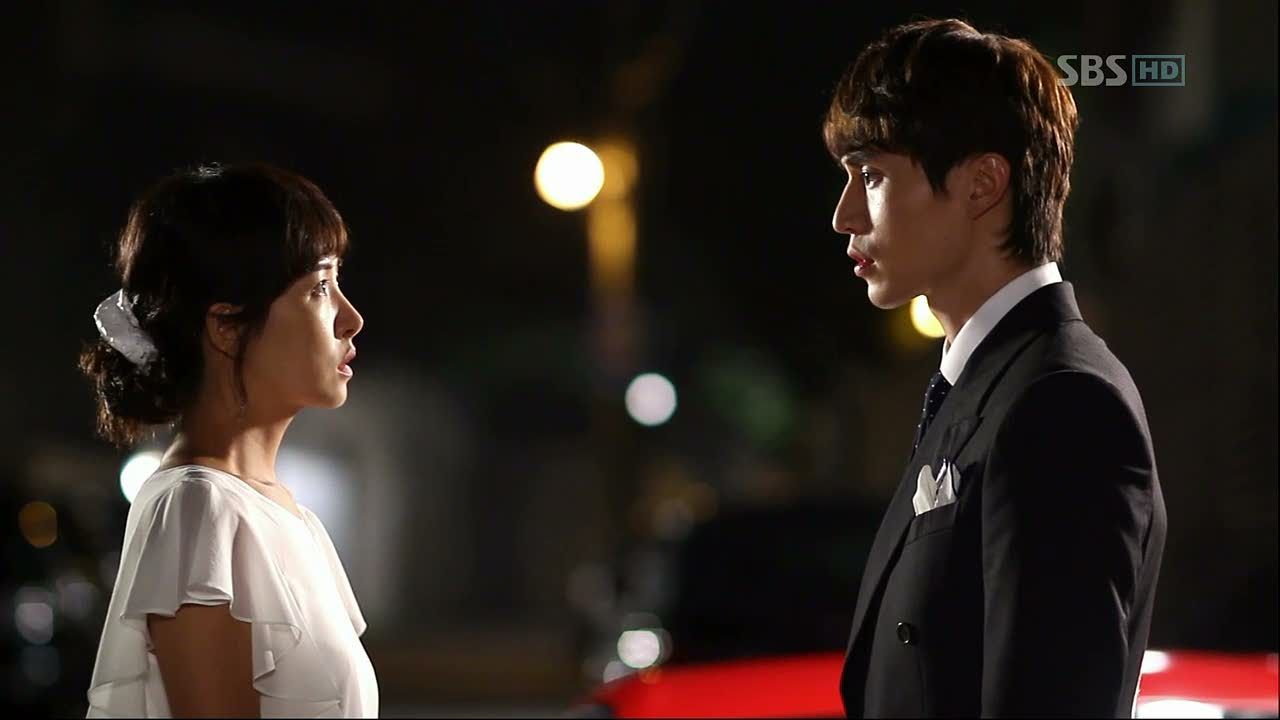 He double-times it home. They greet each other silently with charged looks, and then when they're standing face to face, she asks, "Do you want to date?" Aw, it's cute. Like she's back in high school or something.
He grabs her in a hug, as a tear rolls down his cheek.

COMMENTS
Cute. Cute, cute. This drama has a knack for being infuriating, but then solving the source of my anger quickly so that I'm swept along in the ups and downs, but not left stewing over any one thing too long.
It's a nice balance because with the cancer premise, it could've ended up in full-on melodrama territory, with wailing and gnashing of teeth, but the story manages to move along quite nicely without too many Big Misunderstandings, at least not ones that last for more than an episode or two.
I love both boys' fits of jealousy and each of their growing pains in learning how to express their love (they're really equally stunted in this respect). And because this story isn't necessarily about who gets to be with her forever and ever since there IS no forever and ever, I'm looking forward to watching how loving her changes them both for the better.
I like that expecting her to die changes our perspective on the happily-ever-after issue too. Because why are we always so fixated on love having to last forever and a day? Her impending death actually frees her from looking beyond what she wants in the moment, which is beautiful and enviable.
This is one of the reasons why Eun-seok's love for Yeon-jae is just as interesting a story, and not just pathetic, in light of how it all ends (according to expectation, anyway). His love might be unrequited, but he loves her all the same, and that's going to change him as much as it changes Ji-wook.
I hope that Yeon-jae gets to spend a good amount of time dating Ji-wook happily before he finds out about her illness. I want to see her fulfill her bucket list with the man she loves, and not in some lame montage either. I want to see her live her last five months as if they were her last fifty years, dancing the whole way.

RELATED POSTS
Tags: Eom Ki-joon, featured, Kim Sun-ah, Lee Dong-wook, Scent of a Woman, Seo Hyo-rim