Scent of a Woman: Episode 16 (Final)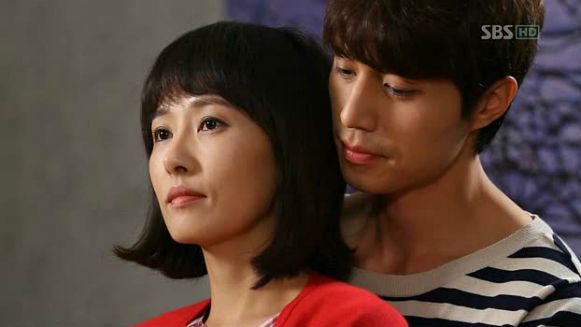 It's the end of the road, and time for Yeon-jae to say her goodbyes and tie up all her loose ends. Normally I loathe finales that are a lineup of all the players, saying goodbye like a checklist, but when you're talking about going to the big dance floor in the sky, everything takes on heightened meaning and each hug and kiss feels precious. I guess that's what makes a bucket list different from a regular list.
SONG OF THE DAY
Kim Sun-ah, Lee Dong-wook – "우리 다시" [ Download ]
Audio clip: Adobe Flash Player (version 9 or above) is required to play this audio clip. Download the latest version here. You also need to have JavaScript enabled in your browser.

FINAL EPISODE RECAP
It's Mom's wedding day, and Yeon-jae smiles brightly at the sight of her looking pretty in her wedding dress. Mom sheds tears, overcome with emotion, but Yeon-jae asks her to be happy: "You have to be happy, so that I can be happy." I love that she marries Mom off. That makes ME happy.
Teacher Kim's jaw drops appropriately at the sight of her, and they all gather for a family portrait, and include Ji-wook who joins them happily. Yeon-jae gets to cross "Get Mom remarried" off her bucket list with a big sunny smiley face.
She heads out of the house, and pauses when she sees Mom and Teacher Kim washing dishes together, overcome with happiness at a glimpse of Mom's future, filled with support and love.
It's the little stuff like this that really gets me in this drama. One look filled with such a wave of emotions – happiness at Mom's future, sorrow at being unable to stay, gratitude that someone will be her security.
After Yeon-jae leaves, Mom wonders if living together in one house was a good idea, and wonders if sending her to Ji-wook would be the right thing to do. Yes, please.
Yeon-jae goes to visit Eun-seok, and he asks how her bucket list is going. She's surprised he knows about it, and he says that Hee-joo told him about it once. She says that there's still a lot she wants to accomplish, and hopes that her body will hold out till then.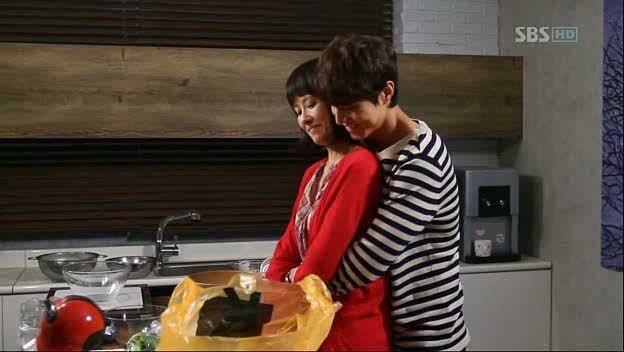 She comes over to Ji-wook's place to make good on her promise to make him dinner, and refuses to let him help. He decides that he'll just backhug her the whole time then, since it's not considered helping. Why so cute?
He asks again why she's not living with him, especially now that Mom's happily remarried. But she tells him he knows why. He assures her that he loves Lee Yeon-jae, not just Healthy Lee Yeon-jae. But she throws back that he ought to love the Lee Yeon-jae who doesn't live with him as much as the Lee Yeon-jae who does.
Manager Noh goes about his usual business, taking credit for the Wando Tour in interviews and such, and is startled to get a call from Yeon-jae. He apologizes again for the way he treated her, but reminds her that he already made amends with his butt. HA.
She's not here to roast him anymore though, and hands him a tour package that she's been working on. The proposal is called "A Trip Mom Likes," described as a mom-and-daughter date, as friends and family. Aw.
He asks why she's giving it to him, and she tells him that she started working on it when his mother passed away, and he regretted so much that he never once took her anywhere. She asks him to turn it into a tour if he can.
Back at the office, he proposes it to Ji-wook, who okays it right away, impressed that Manager Noh came up with it himself. At the last minute he caves and says it was Yeon-jae's proposal, not his. Wow, he's growing a conscience!
Yeon-jae takes Mom and Stepdad out for a fancy lobster dinner, and I love that already she and Stepdad have this teasing, knowing rapport with each other, while Mom continues to be overly cautious and wary Mom.
She for instance complains that they're paying too much for oversized shrimp, but then immediately changes her opinion at the sight of the tasty lobsters. Heh.
Ji-wook comes by to ask why she handed the trip proposal off to Manager Noh instead of doing it herself, and suggests that she come back to work. She knows there are no assurances that she'll be able to finish what she starts, and doesn't want to start a project that she can't complete.
He promises that he won't let that happen, and sets off to put the plan into action. He asks Eun-seok first if he thinks it'll be okay for her, or too much of a physical strain. (I love that he thinks to check with the Doc first.)
Eun-seok is honest and says that it could provide strain and be hard on her, but he approves of the plan, because giving her purpose is good. So Ji-wook goes to Dad next, and shows him the proposal.
Dad balks at the idea of bringing Yeon-jae in when there's no guarantee that she can finish the job, but Ji-wook stands up to Dad, asking how he'd feel if he were diagnosed the same and Ji-wook told him he couldn't go anywhere or do anything.
And by some miracle, as if empathy just now entered his life, Dad relents.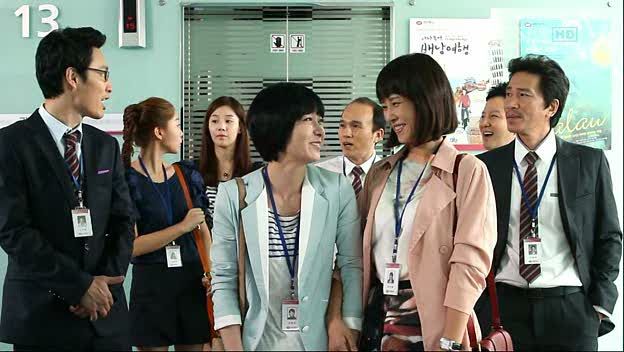 Mom and Stepdad see Yeon-jae off on her first day back to work, and Mom frets, but Stepdad assures her that it's good for her, and that he hasn't seen her so lively in weeks. He even tries to make friends with crotchety landlord, eliciting an almost-smile from the man, possibly for the first time in his life.
Yeon-jae heads back to work to mixed reactions from the planning team, but takes it all in stride. The only thing that rattles her is running into Ji-wook's father, who gives her a cold dismissal.
The jealous girls at work guess that he must disapprove of her, and she actually manages to win them over slightly by just being honest that she's not exactly a perfect catch. She tells them that she came back because she really wanted to launch a tour with her name behind it, and assures everyone that she's here to work hard, not date.
Sae-kyung turns down offers from Dad to go on a blind date (Gah, are you two still here?) and begs him to let her live her own love life like normal people. She goes to see Ji-wook for work, and he thanks her for the save last time, and says he's sorry.
She tells him to take care of his father on his birthday, since she can't do it herself anymore, and he offers up a handshake as she leaves. She muses that it seems like goodbye forever, and takes his hand and walks out with a bittersweet smile.
I don't know if you were supposed to grow on us or something, but good riddance.
Yeon-jae calls Ji-wook over that evening and gives him a present. He opens it up and smiles, saying that the sweater isn't really his style, but he'll wear it for thirty years. She laughs, clarifying that it's not for him; it's for his father.
He's shocked she knows it's Dad's birthday, but she reminds him that she worked for Line Tours for over ten years. He tries not to accept it, feeling guilty about how his father has been treating her, but she insists he deliver the gift.
She comes in and lies down in bed, and Mom sweetly tells her not to fret over Ji-wook's father, since she's dating Ji-wook, and not his dad. Yeon-jae just asks to rest since she's feeling tired, and Mom worries, wondering if they should go to the hospital.
Yeon-jae insists she's fine, and when Mom nags her about going back to work and tiring herself out, she tells her that going back to work makes her happy. She asks for a hug and Mom holds her.
Ji-wook contemplates the gift and heads over to see Dad, who's drinking soju alone on his birthday. Sad. He makes it clear why he's alone though, as he asks why his son is even here and pushes Yeon-jae's gift off the table in anger.
Ji-wook brushes it off and puts it right back, telling Dad that he wasn't going to come by, but Yeon-jae insisted he bring her present over, so he's here. Dad grumbles that his only child has turned his back on him for a woman who's dying, and offers snidely that he must be happy.
Ji-wook: There are times I'm sad, and times I want to cry. And there are times it hurts so much it rips my heart. But I'm still happy. Every day used to feel tedious and meaningless. I even thought that I wouldn't care if I died. But now it's different. I want to live fully… because of that woman.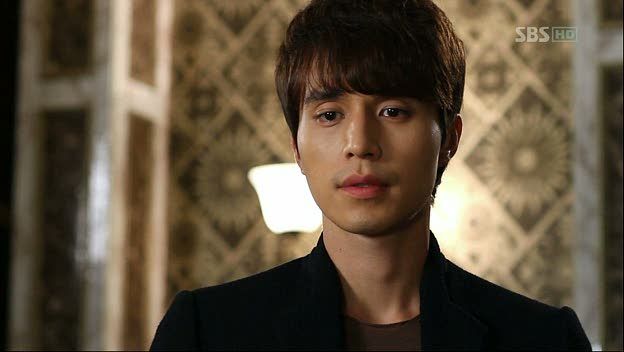 ["Live fully" is a broad translation, because he means to live life full of effort, like the equivalent of "work hard," as in "live hard."]
He takes out a piece of paper and puts it down. He tells Dad that this is his present – it's the time capsule letter from Mom, that Yeon-jae helped him find. He tells Dad that in it, Mom asked him not to hate his father. He wishes him a happy birthday and leaves.
Yeon-jae leaves the house for her last day of work, and Mom happily tells her that starting tomorrow, she's to stick to Mom's side 24 hours a day. They hug each other and Mom worries that she's feverish, but she says it must be nerves.
The trip launch is a success and Ji-wook takes the team out to dinner to celebrate. Yeon-jae steps out, not feeling well, and when Ji-wook comes out to check on her, he's shocked that at her fever.
He picks her up and races to the hospital, and even in her feverish state, she puts a hand on his arm to tell him to drive safely. The co-workers wonder where the pair have gone off to, and Hye-won finally tells them the truth, that they left for the hospital.
Eun-seok races down to them in the emergency room, and with a silent look, reassures Ji-wook that he'll do what he can. Mom and Stepdad have arrived, and Eun-seok sits all of them down to tell them that they've managed to get her fever down, but now they face a choice.
The chemo she's been receiving has stopped working, so they can choose to stop the meds, where they can regulate her remaining days at best. The other option is to try the experimental drug instead, which has an unknown outcome and greater (also unpredictable) risk.
Ji-wook asks Eun-seok privately what the right decision is, and Eun-seok says that as a doctor, he can't say that one is better than the other. But he does know that Yeon-jae will get through it, no matter which route they take, because she got through the last trauma.
Aw, his childlike faith in her to get through it just breaks my heart for some reason.
Yeon-jae wakes up and asks Mom if it's bad. Mom tells her no, she got past her fever so she's better now. Ji-wook offers to stay with Yeon-jae for the day, and suggest the parents go rest.
He sees them out, and Mom tells him that she can't bring herself to make the decision. He says that he'll decide, together with Yeon-jae, and that relieves Mom. He asks that they give him till tonight to decide.
Eun-seok comes in to check on Yeon-jae while she sleeps, and he clasps her hand as he thinks of their past adventures. Aw, is it weird that I'm worried most for Eun-seok? I feel like he's going to take it harder than Ji-wook. Even the quick flashback to the scene in the corridor just makes me cry all over again.
Everyone in the office worries about Yeon-jae's condition, and Sae-kyung comes by for her meeting with Ji-wook but finds he didn't come to work. His father tells her that he's at the hospital.
And then she goes there, for some crazy reason. She braces herself before opening the door, and can't hide the sting to her ego when she sees Ji-wook and Yeon-jae sitting together, hands clasped, so obviously in love. Well it's not like anyone invited you to their lovefest.
She asks for a moment alone with Yeon-jae, and then proceeds to tell her that she came by because she felt guilty that the last words she said were vengeful ones. She even apologizes for the ring incident, with the giant caveat, "But it was only logical I reached that conclusion."
Pffft. So lemme get this straight. You came to visit a dying woman to clear your OWN puny conscience? Hahahaha. Even Yeon-jae has to laugh that Sae-kyung is consistent, which she says may be her only good trait.
Yeon-jae guesses that she likes Ji-wook, and Sae-kyung asks what she'll do if that's the case. Yeon-jae tells her cheekily, "Give up. As long as I'm here, you can't [have him]." Hee. They both laugh.
Oh, I friggin' LOVE that she's not relinquishing her claim on her man, even in the face of death. I got scared she was going to ask Sae-kyung to wait around and comfort him or something, which would have made me pull my hair out. Yay for Yeon-jae, finally adopting Hee-joo's brand of living to the last minute as if she's going to live forever.
Ji-wook looks over the bucket list and we see a few more: "Become someone meaningful in someone else's life," "Leave an impression of my life," "Be remembered as an awesome woman by the people I know," "Make a snowman on a white Christmas and get a kiss."
The desire to leave an impression, some evidence that you were here, is what kills me the most. It's probably the most universal of all dying wishes, other than leaving with no regrets.
She apologizes to Eun-seok that they had to meet this way instead of just as old friends. She wonders why of all the hospitals she came to this one. He just smiles and says if she feels bad then she should keep her promise.
Yeon-jae: "To live?" He nods. Aw.
Ji-wook asks Eun-seok for permission to take her out on a date, so they head out, and he covers her shoulders with a blanket and tells her that it's Christmas. She thinks he's loony, but he wheels her outside, and on cue, a snow machine sends snowflakes down on them.
She guesses that he's seen her bucket list, and he tells her not to misunderstand – that he's just doing this because it might not snow this Christmas, so he's covering his bases is all. How cute.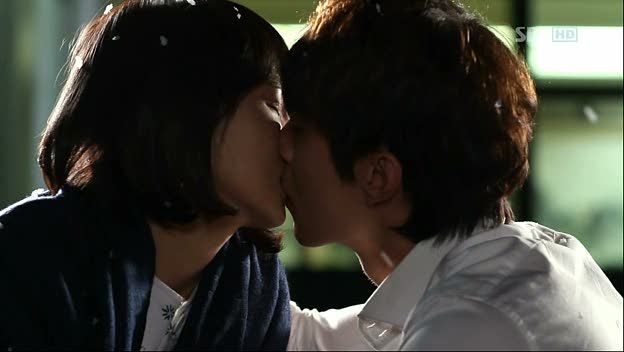 He tells her that this concludes sixteen of her wishes, and says that she can do the last four much, much later, and they can go dig up the ring together. He gives her a kiss, and she hugs him.
He wheels her back inside, and they're both surprised to see Ji-wook's father, standing next to Yeon-jae's parents. He finally gives a silent nod and smile, and Ji-wook smiles at him gratefully.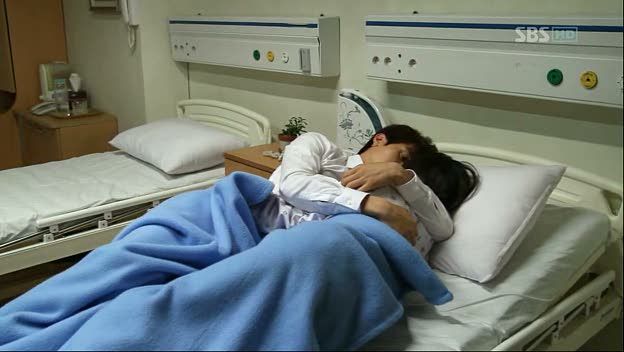 That night he holds Yeon-jae as he sleeps next to her in her hospital bed, and he says that they have a choice to make. Ji-wook: "I'm going to choose the one that hasn't lost hope. Is that okay?"
She tells him it's okay, and falls asleep in his arms.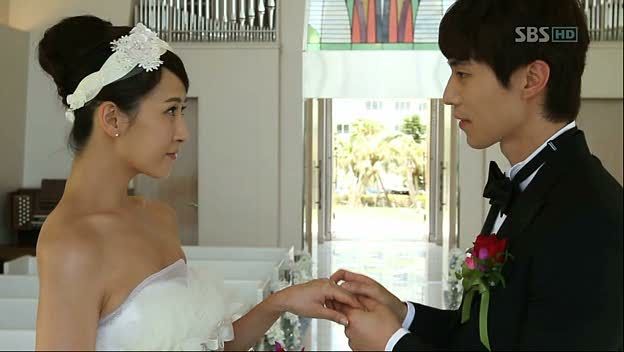 In that chapel in Okinawa, Yeon-jae and Ji-wook walk down the aisle and get married to each other. It's beautiful, but dreamlike, and as we cut back to Yeon-jae lying in Ji-wook's arms, in voiceover she says, "This must be a dream, right? But it's a happy dream, so I'll sleep a little longer…"
Aw, she fulfills the last of her wishes to fall asleep in the end, in Ji-wook's arms.
Sometime later, Stepdad gets a package in the mail, from Yeon-jae, which surprises him. He and Mom open it up to find couple tees, each one half of a big heart. They smile to read the card that says she's sending small gifts the important people who were with her in her life.
One by one, people receive gifts with notes. Hye-won gets baby clothes and a note that says she hopes baby takes after Mom and not Dad. The mean girls in the office get clothes and accessories, and a note that says it'd be nice if they were as pretty on the inside as they are on the outside. Heh.
Ramses gets a note that says he ought to be as confident at work as he is at the dance studio, and inside is a toupee! Haha. To Veronica and the rest of the dance class, she sends a box of dance shoes, and a note that says, "They say good shoes bring you happiness. I spent some money!" Cute.
Manager Noh gets a jar of taffy (it's not creamy like taffy, but I can't think of how else to describe it – it's like a sticky, sweet caramel-like substance), but the gift is more of a word pun than anything else. The stuff is called yeot, and when you tell someone to "Go eat yeot," it's like a putting a hex on them to have a hard time, like Eat dirt or thereabouts.
Crotchety landlord gets a stuffed doggie (HA) with a note that says: "They say Malbokie is living well somewhere." That's the best present of the lot.
Sae-kyung gets Wilson's ring, and the message says that it's a lucky ring, so that she can snare a good man. Heh. And Ji-wook's father gets a tie pin, with a note saying that Ji-wook insisted on picking it out, and she probably should have stopped him.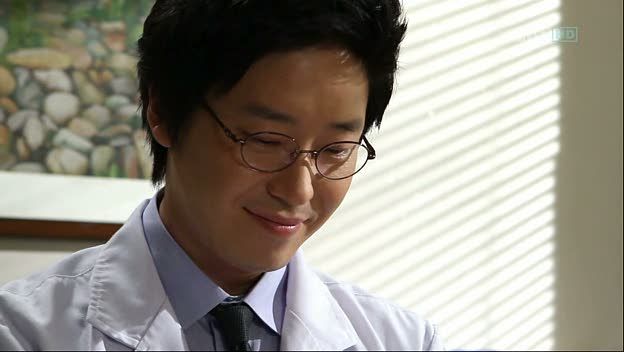 Eun-seok's note is another pun that says: "Wow, Poopy-seok's [ddong-seok] become a warm man! [dda-do-nam]" His present is a new doctor's coat that has "Warm Man Choi Eun-seok" stitched into it. So cute. Congratulations on graduating from being identified as a pants-pooper.
He smiles as he reads her thank you. And in voiceover she continues:
Yeon-jae: The time that I spent with all of you…in the end that was my life. Thank you for being by my side.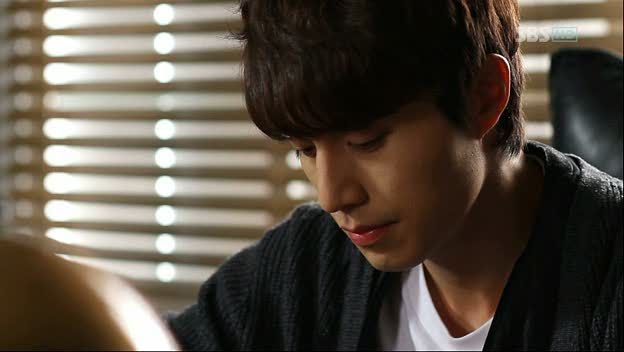 And in the house that he bought for Yeon-jae, Ji-wook sits at his desk, slowly filling out the last of Yeon-jae's bucket list with smiley faces, as she had done. He gets to number 20: "Fall asleep for the last time in the arms of the one I love," and draws a happy face.
Wow, that's heartbreaking.
And then he goes outside…to join Yeon-jae? She didn't die? Fakeout! Show, you fakey fakerson. She's totally not dead!
She replants the potted plant she once gave him under a big tree, and he asks if it's because it has to endure a harsh winter before flowers will bloom. She nods.
He says it's time to go and he leads her by the hand. They go to see an organ donation organization to seek a transplant, but get denied because of her condition. Ji-wook begins the paperwork to be a direct organ donor.
At the hospital, Ji-wook and Eun-seok sit together and watch Yeon-jae from afar, and Eun-seok says that since the experimental treatment worked, they'll keep her on it. Ji-wook wonders how much longer she'll get to live, and Eun-seok says it's a miracle she's made it this far.
Ji-wook: "It's rare, but another miracle will happen, right?" Eun-seok: "Of course."
Yeon-jae comes up and asks what they're talking about without her. Eun-seok: "We fought over you. You said it was your fantasy." Hahahaha.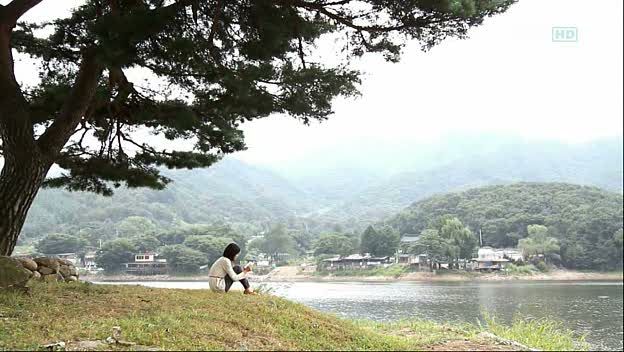 Yeon-jae and Ji-wook come by to visit her parents, and she watches happily as Mom dotes on Ji-wook.
Later, Yeon-jae sits under their tree and looks out at the world as she says in voiceover:
Yeon-jae: It's been over six months since I was diagnosed with terminal cancer. And I'm now living my seventh month and second day. How much time will be given to me, I cannot know. Whether days or months, or more days beyond, it's not important. I just have to live each day that I'm alive, this moment right now… without regret.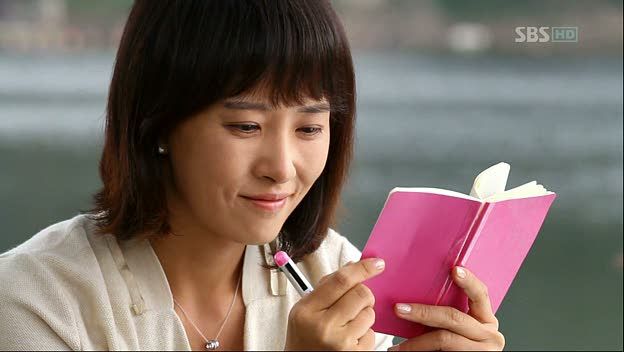 She flips through her bucket list and gets to number 20, and finds the happy face Ji-wook drew, along with an addendum at the bottom: "This is being fulfilled every day. Because every day you're falling asleep in my arms."
She reads it with a smile, and then she flips to the next page, and begins to write number 21…
Ji-wook sits down next to her and asks if she would have been much happier if she had never been sick. She contemplates the old curly-haired Yeon-jae who was so meek she never said a word, and muses that she never would have taken a trip, never thought to get her mom remarried, never would have gotten close to Ji-wook.
She guesses that she would've just continued to barely get through each day, "only dreaming of happiness."
Yeon-jae: "But me… right now… I'm happy." She asks what they should do tomorrow, and they sit together and contemplate what they'd like to do, on the seventh month and third day since Yeon-jae began truly living her life.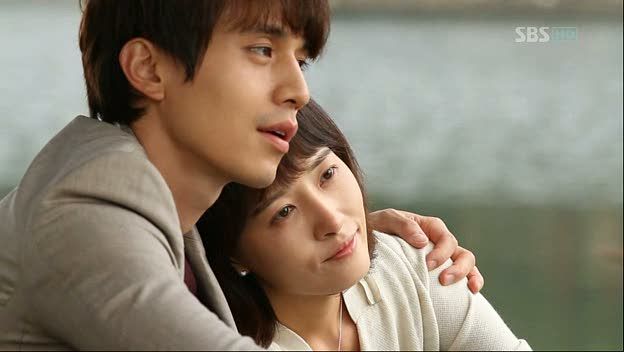 GIRLFRIDAY'S COMMENTS
What a sweet and surprisingly angst-free finale. I didn't initially understand why she went back to work, only from a finale point of view. I like it for the character, but I regretted wasting precious finale time on her going back to the office and dealing with inane people, when she could've done more with Poopy-seok or Ji-wook or her parents.
But I realized that the finale was about Yeon-jae rounding out her life and filling it with purpose, rather than just preparing for the end. That's what I was doing, bracing myself for the end, forgetting about how she'd spend her days.
I like that the drama stays realistic, despite subverting expectations that she'd die. It's not a miracle cure, but a chance at lengthening her life, and as she says, it doesn't matter whether it's days or months. She'll still die, but so will we all. What's important is that she learned to consider each day precious. I thought the message of this drama was to live each day as if it were your last, but really, it's the reverse: Live each day as if you have a tomorrow.
She learned the first in the beginning of the drama and the arc for her is that she learned to do the second. The people in her life — Eun-seok who childishly made her promise to live and put his faith in her word, and Ji-wook who dared to hope when she didn't – taught her to hope and dream for her future against all odds.
I love the moment when she writes 21 on her bucket list. It's such a simple way to indicate that she's learned to think of a future, regardless of how much time is given to her. Rather than try so doggedly to live out her first 20 wishes knowing they were her last, she's willing to dream new dreams, which is maybe the biggest triumph of all, and why the ending is happy and not bittersweet.
Usually shows end with a message thanking viewers for watching, but Scent ends with a message for viewers to be happy, which is the sweetest little send-off, and feels like it comes straight from Yeon-jae herself.
JAVABEANS' COMMENTS
Now this is my idea of a perfect ending — one that doesn't shy away from the topic of death, doesn't introduce deus ex machina miracles, but doesn't hit you over the head with its sadness, either.
It seems fitting, in an oddly backwards way, that a drama where we knew from minute 1 that the heroine was going to die didn't actually have the heroine die. Diagnosis to decline to death — that's what we expected. And I do think there are ways to make that trajectory work fine, although the danger of that arc is that it gives the drama an unintentionally macabre cast because then the narrative arc mimics the progression of her disease. (I find that idea rather morbid, that as the character grows, so does the cancer.) But I like the unconventional way the drama worked out Yeon-jae's character arc, so that it becomes much less about her physical condition and more about her emotional progress.
We still know she's going to die, but I love that she continues on. Adding to her bucket list was a particularly awesome detail, because she did everything she wanted to accomplish before dying, and some people may take that as their cue to sigh peacefully, "Ah, now I can go without any regrets." But not Yeon-jae, who just figures that she can accomplish more. Like she told Eun-seok, she's going to keep living life to the fullest until she can't anymore. It's also reflected in Ji-wook telling his father about having once thought that he'd be fine with dying, but now he's changed his mind and prefers to live his life diligently.
While Yeon-jae has been making an effort to make the most of every minute for the last six months, there's extra poignancy to the fact that she has exceeded her six-month life expectancy, because every extra day is a day she's defied the odds. She gets her miracle after all, like Eun-seok mentions, and every day she survives and feels complete contentment is another little miracle.
The drama wasn't flawless throughout, and there were a few real downer episodes that supplied a certain amount of frustration, but the last couple I give perfect marks, and I'll put it up there with Flowers For My Life in terms of uplifting endings that deal with death. I know a lot of people liked the resolution of 49 Days, but for me that was the opposite of Scent and Flowers. [SPOILERY] 49 Days was a drama that emphasized the fight to survive, then sprung a death on us in the last episode and tried to temper it with the life-and-death-is-a-cycle motif. That totally didn't work in my book, mostly because I thought the execution was labored and unsatisfying, and it felt like the drama took an uplifting message and managed to convey it in the most depressing way possible. Scent (and Flowers) takes a depressing topic but leaves us with an uplifting sense of hope, in showing us that while there's no way to triumph over Death, we can still have our daily victories by filling our lives to the brim.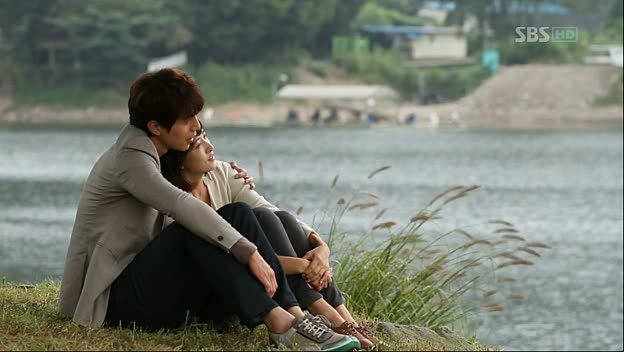 RELATED POSTS
Tags: Eom Ki-joon, featured, Kim Sun-ah, Lee Dong-wook, Scent of a Woman, Seo Hyo-rim