Running Man: Episode 71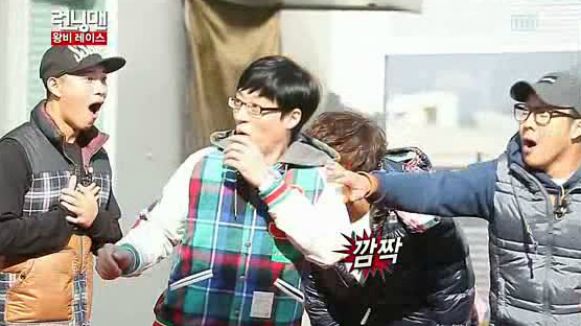 Today's mission takes us all around Seoul, and when you've got three lovely leading ladies as royalty for the day, you better be in it to win it! Ahem. All hail Queen…
EPISODE 71. Broadcast on December 4, 2011.
Mr. PD introduces today's episode as a Queen Special, and the boys wait with great anticipation, hoping the floral entryway is an indication of another SNSD-like episode. They try to guess among actresses who have had previous roles as queens: Oh Yeon-soo? Go Hyun-jung?
Cue our first queen with an elegant walk and sway to her step. Mung Ji-hyo reveals herself to a chorus of compliments from the boys, and Kwang-soo narrowly misses a beating for making an earlier comment about her hands having wrinkles. Finally – she looks so pretty today!
Our second queen is actress Oh Yeon-soo (Gye Baek, Bad Guy). The boys are genuinely surprised and nervous, clasping their hands together in front of the pretty lady. Haha jokes that he felt so betrayed when she got married to her husband (actor Son Ji-chang), and that it isn't too late to change her mind. Curb your playboy charms Haroro – she's married with kids!
HA! I love that our third queen has the grandest entrance but the cast can recognize her right away by her burly arms. It's actress and TV personality, Jo Hye-ryun, who tells them that her son, Woo-joo, is a Running Man fan (He's a little star on Star Junior, a quiz variety show with celebrities and their kids). What's funny is his strong resemblance to Gary. Heehee.
Thus, the teams are divided as follows: Green (Yeon-soo, Jae-suk, Gary), Blue (Hye-ryun, Jong-kook, Haha), Red (Ji-hyo, the Easy Brothers). Today's Queen Race is delivered by none other than Joong-ki, in his sageuk attire. Through a series of various missions, only the best Queen will receive the highest honor.
Everyone scrambles into their cars and we're off!
Inside the car, Yeon-soo marvels at the vast array of cameras hanging in the cars, even snapping a sel-ca. As it's the first time filming an outdoor variety show, everything is new and exciting to her, her eyes wide with wonder.
She's also worried about being savvy with market prices, and the boys put her mind at ease, but also ask teasingly, "But you do know a bit, right?" Heh, and she even unbuckles herself as soon as they pull up to the market.
The Green Team arrives first, and their mission here is to pick from different cities and buy food items they are particularly known for. Their only clue? An illustrated map of Korea they get to glance at for a few seconds. Well, glance is an understatement since the PD moves it around so they barely peek at it before he swipes it away. Meanie PD.
I love it when RM gets enthusiastic guests, because Yeon-soo gets so caught up in choosing the cities that she ends up ripping one of the papers in her haste. As an added rule, the boys must carry their Queen around the market, making sure their feet don't touch the ground.
This task is easier for some, like the Capable One, than others like the Easy Brothers, whose height difference makes it difficult to balance Ace Ji-hyo.
What's great is that while the Running Man cast is running around trying to hunt down their items, the vendors feed them snack food, to make sure they eat up during filming. How sweet, and so unlike what you'd see on 1N2D – Na PD would snatch it away before you could get a whiff of it. Because the boys have got their hands tied up carrying Ji-hyo, Kwang-soo sneaks a bite from Suk-jin. HAHAHA!
Carrying their Queens around is a grueling task and when the Easy Brothers try to re-shift their position, Suk-jin basically lifts Ji-hyo into Kwang-soo's arms, and gets caught red-handed. Hehe, mat-hyung's trying to get off easy.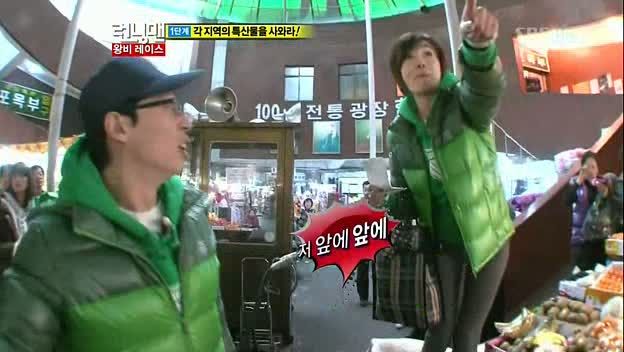 I'm quickly learning that you don't underestimate Yeon-soo's competitive streak and her impatience peeks through. For instance, while Jae-suk tries to ask an ajumma about one of the items, they hear an answer in the distance and Yeon-soo goes *tap tap tap tap* on his jacket. Lady's on a mission damnit – get going!
The Green Team presents their items to the PD, getting four out of the five correct. That earns them one smart smack to the rear, Joseon-era punishment style.
Gary steps up to the plate, the crowd looks on… but jumps a foot as he's about to get it. SMACK! That sounds like it hurts.
This PD is cheeky (the same one from a market mission a few weeks ago), this time waving around a larger poster, and you can almost see the Green Team's blood boil before your eyes. I giggle knowing that he's referred to as the PD you want seize by the neck because he can be so infuriating.
So Yeon-soo pulls out her hidden card, "Oppa," and now I'm dying in laughter. The PD is younger than her, but we all know the hidden powers behind the word, "oppa."
It earns them another glance, just enough for Jae-suk to yell that he's got a sense (gahm) for the answer (persimmon = gahm).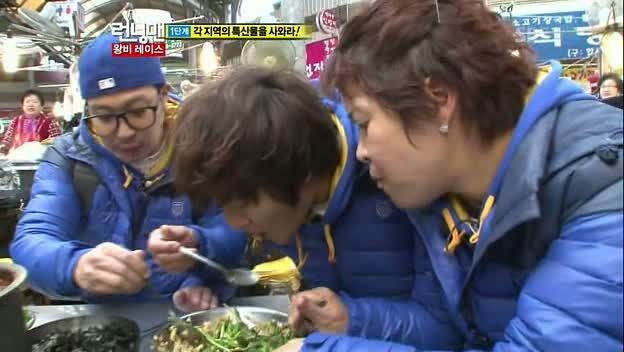 Meanwhile, the Blue Team is busy snacking, even stopping to eat some bibimbap at one of the vendors. Um, what about the mission, guys? … Hello?
Yeon-soo sweetly thanks "Oppa " PD when her team passes the second time around. It's the Blue Team you don't want to mess with, Oppa PD. They scare weasel their way to convince him that their fresh squid is "currently drying," and grab the large map to get a better look.
The Red Team lugs back their five items and they're the first team to succeed. With a new sense of confidence, Kwang-soo vows to replace the brawny image of Spartakooks with the lesser Kwangvatar. The captions read that he's better off working on his own character. Teehee.
They arrive at Itaewon, Seoul's international district where many foreigners congregate, and now their mission is to barter their bought goods with a foreigner from a specific nation. The Red Team must find people from Russia.
If their limited English wasn't enough, when someone replies he's from the U.K., Kwang-soo racks his brain and guesses, "Uzbekistan?" Close, but no.
After a few short exchanges, it boosts up Kwangvatar's confidence and he finds himself in a dance-off. Robo-boy Kwang-soo, meet true Italian b-boy, who shows off some legit moves. And then there's Jae-suk, who slips back into Korean whenever he speaks with a foreigner. Hmm, this is going to be tough.
In fact, the mission to find a specific nationality is so difficult that they change up the rules – exchange your items with any five foreigners.
The Green Team runs into a pastry chef who recognizes Jae-suk and invites them inside his shop to exchange an item for one of his pies. Chef Pie jokes he'll charge extra when Gary slips away to the bathroom, and this leads to an awkward conversation between the Chef and Jae-suk, rapidly stirring his coffee to deflect the constant English questions. Lol.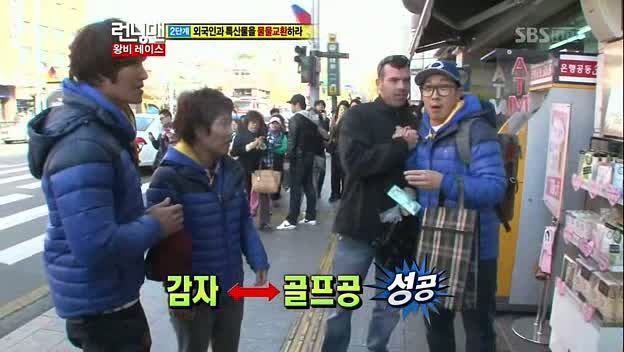 I think it's worth noting that Haha is the one to speak to the foreigners for the Blue Team, rather than Hye-ryun. At first, I was a bit surprised since Hye-ryun is fairly well-versed in foreign languages, such as Japanese and Chinese, but she's also a veteran in the industry. So I gather she stepped back (even if her English was limited) to raise the overall entertainment value. But Haha manages just fine on his own, so yay!
Onto the next location – the riverfront, where maknae FD greets them to trade in their bartered items for coins. Math geeks beware because the complicated economic algorithm in this exchange… is by weight. HAHAHA.
The Green Team fights for every gram, particularly Yeon-soo, and Jae-suk reminds Gary about his theory of how their female guests have short fuses. The total weight earns them 97 coins and when the maknae FD tells them they can't round up, Yeon-soo says, "Oppa!" and swipes three more coins without notice.
Here, the cast is tasked to bet their coins, and complete mini-games chosen from a spinning wheel. If they succeed, they can win up to four times their ante.
The first game is to play ping-pong with a tiny paddle attached to the end of a braid and both the Green and Blue teams fumble to score even one point. Although I think the more important point here is that Spartakooks in a braid is both hilarious and scary.
The Red Team lands on the task to kick a hacky sack 10 times while piggybacking their Queen. Suk-jin grabs Ji-hyo's shoulders and she sends a bizarre look of 'Are you serious?'
Not surprisingly, Suk-jin kicks a measly two and Kwang-soo catches nothing but air. And the Green Team lands on the same spot, but aren't able to kick it more than once.
Round after round they go, betting (and losing) at each game. The next noteworthy task is a taste-test, and the Green Team is given similar glasses of what appears to be persimmon juice.
Jae-suk and Gary both luck out with real juice but Yeon-soo's glass is filled with the mustard-persimmon cocktail. She clamps down and drinks it like a champ.
The cast is impressed by Yeon-soo's desire to win at any cost. Hye-ryun compliments that Yeon-soo's acting (with the juice) is the mark of a true actress and Haha asks what kind of image she's trying to portray today, bouncing around from aggressive to loopy to gentle.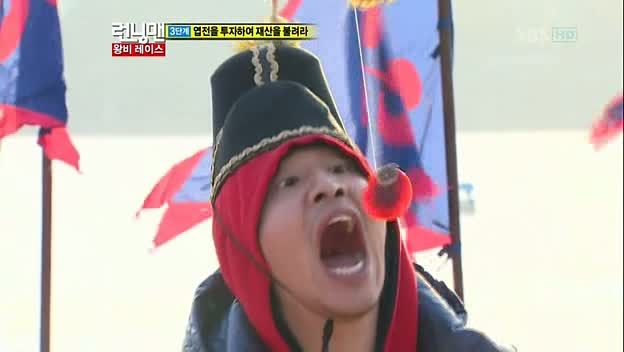 The Green Team leaves for the final location and the Blue Team follow them soon afterward. The last team is left to finish up the game: lure a dangling piece of persimmon into one's mouth. Like a bone a dog can barely reach. But a few silly rounds later, they finally pass and drive to the final location.
To everyone's surprise, the Red Team arrives first, earning an additional 20 coins, and the Green Team pulls in last, delayed because of the rush-hour traffic.
Their final mission is a 10 minute time limit to eliminate the other teams. Their team will earn 10 coins for each opposing team member they tag out. Oh yeah – let the craziness begin!
The weakest team is the Red Team, with the Easy Brothers, and everyone targets them. The Red and Green Teams call for an alliance, but it doesn't deter Hye-ryun to hunt them down like a lioness after a pack of gazelles down the field.
But those gazelles start to turn on each other once Suk-jin is eliminated and it turns into utter madness. Once the dust settles a few minutes later, it's lone Gary against the Blue Team. He's no real match for them, and they easily rip off his name tag.
Time to round up the final tally. The Red Team finishes with 55 coins, the Blue Team 100, and the Green Team with 140 coins. Queen Yeon-soo is celebrated with fanfare, and given a jewelry set to commemorate her Running Man victory.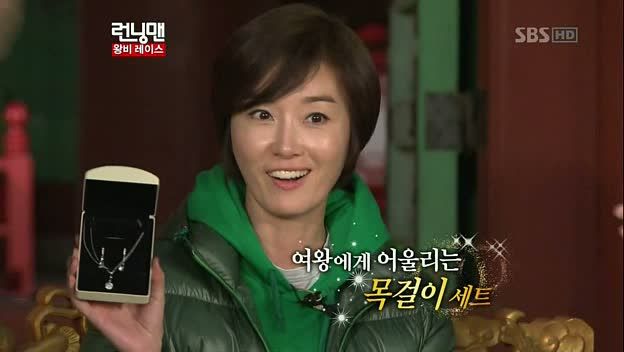 RELATED POSTS
Tags: featured, Haha, Ji Suk-jin, Kang Gary, Kim Jong-kook, Lee Kwang-soo, Oh Yeon-soo, Running Man, Song Ji-hyo, Yoo Jae-suk