SNL Korea picks Gong Hyung-jin as its second host
Cable channel tvN has announced the next host of its newly unveiled Saturday Night Live Korea, which kicked off its run this past weekend with actor Kim Joo-hyuk as the inaugural host. Number 2 honors go to Gong Hyung-jin, who I think is a perfect choice: The guy is hilarious, fast on his feet, and has sharp comic timing.
I'm also betting he was already signed on to do the show a while in advance, because he had a bit part in the first episode. If you'll recall, Kim Joo-hyuk started off his monologue by expressing his pride in being picked as the first host — only to have the screen shrink, his voice drowned out, and a string of other celebs turning down the gig, which included Gong Hyung-jin (refer to pic below).
Because Gong is such a strong supporting comic performer, you probably recognize him from something in his long resumé, which actually includes a few projects with Host No. 1 (he and Kim Joo-hyuk were both in Bang-ja Chronicles and the more recent romantic comedy Couples). He's also part of the Jang Jin crew, having acted in Good Morning, President as well. (Other projects: The Duo, Chuno, Runaway Plan B, Dal Ja's Spring.)
Gong said, "Although I'm incredibly worried about acting in a live broadcast, I'm also really excited at the idea. I'm working on an acting performance that'll startle people who've never seen this side of me. Please look forward to it."
His episode airs this Saturday, December 10.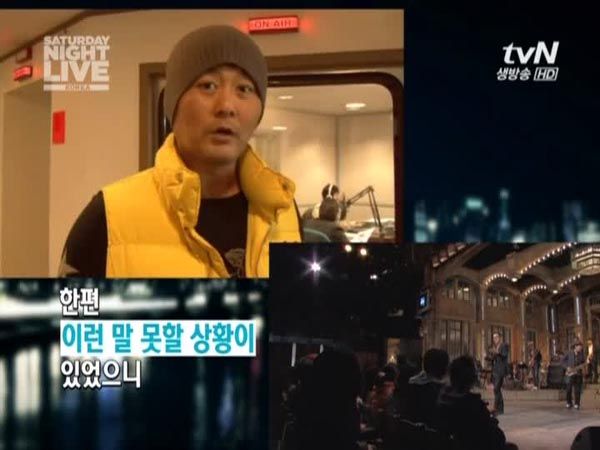 Osen
RELATED POSTS
Tags: Gong Hyung-jin