Thousand Day Promise: Episode 19
What do you mean you didn't want your heart broken into a million pieces? There's no backing out now, not this close to the end. As we prepare for the finale, the worst of it hits like a ton of bricks, with no mercy for Seo-yeon or for the people who love her. We've been dancing around it for most of the drama, but the breakdown finally happens, and boy is it heart-wrenching, as promised.

EPISODE 19 RECAP
Ji-hyung narrates that Seo-yeon had the baby, and cried silently all the way home, while looking at her little face. She has since "dipped her two feet into depression, then back out again," describing the number of mood changes she goes through on a regular basis. Seven months have passed that way.
They hired a nanny, but Seo-yeon hated having someone else around her, and so they went though another, and another, until finally Ji-hyung had to cut his workday in half and spend more time at home. He says that Seo-yeon doesn't seem very interested in the baby that she had so fiercely wanted to have, often looking at her with a far-off gaze.
"That my wife is taking one step away from us every day, is something that I know. The woman I love told me as she laid her head in my lap last night, that she is terrified of the day when she cannot recognize me or her brother. She asked what it is not to know yourself."
He says all this as he leaves the office… and meets Hyang-gi? What the hell, dude? At least it's clear from the awkward greetings and small talk that they haven't seen each other in the interim. She mentions having seen his baby when she would stop by to visit his parents. He hems and haws for a bit, and then comes out with it…
He tells her that Seo-yeon has asked to meet her. He knows it's crazy to ask, and he thought she'd let it go, but lately she's been relentless about it. Taken aback, Hyang-gi admits that she did wish to meet Seo-yeon just once, even catch a glimpse of her from far away, to satisfy her curiosity and know what she was like, why he did what he did. That kind of breaks my heart.
But she says that's not the case anymore. Oh, I'm so happy for you that you're over him. He knows it's way too much to ask, but pleads with her to consider it anyway. "I want to do anything I can to give Seo-yeon what she wants. Other than sit by and watch, there is nothing I can do." Oof. That twists me up inside. And he looks wrecked as he says it too, just desperate to have some agency against this tidal wave that's been beating him down for months.
He says it again, that he knows it's crazy to ask this of her, but Hyang-gi good-naturedly tells him it's okay, and that she has no ill will towards him. When it happened it hurt like hell, but now it's in the past, and she's got her parents' love and her health, and she's wont for nothing in this world. She is almost impossibly plucky. I'm proud of her though, for coming out on the other side of her heartbreak as a better person.
At home, Aunt shows Seo-yeon the new hanbok she's wearing to a relative's wedding today, and Ji-hyung's mom arrives to take over baby/Seo-yeon duty in her place. Mom takes the baby up in her arms and attempts to turn her over to Seo-yeon, but she freezes.
Mom tells Seo-yeon that she won't drop the baby, that the baby won't break, that it's okay to hold her. Augh, what a terrible fear to carry—that you'll drop your own child in a moment's mental lapse. She seems so terrified that she's basically shut herself off from the baby altogether.
Myung-hee calls Aunt to pick her up for the wedding, and asks after Seo-yeon. She says to her husband afterwards that watching the once smart and strong-willed Seo-yeon lose her mind makes her feel… Her husband finishes the sentence: "Sorry? Do you know you should feel sorry?" Hahahaha. The way she looks up at him shows that she does know.
Mom tells Seo-yeon about a family trip planned to go see the flowers in bloom, and Seo-yeon answers everything with a far-off look in her eyes, like she's just repeating words but not taking them in. Mom's heart sinks in disappointment every time Seo-yeon answers her.
The house is covered with memos, naming people, labeling items and what they're for. That alone tells us that Seo-yeon has passed a certain point in her daily functionality. Over dinner, Mom asks Ji-hyung if there's something else they should be doing, something they missed to treat her illness and slow it down.
But Ji-hyung tells her that Seo-yeon's accepted the things she cannot change about what's to come. She reads about Alzheimer's daily, preparing herself, often reading aloud to him to prepare him too.
While he steps out to see Mom off, the baby starts to cry, and Seo-yeon runs over to the crib in a panic, not knowing what to do. She stands there frozen, until Moon-kwon comes running in to hold the baby and stop her tears. He asks why she's crying, and Seo-yeon answers, "I don't know," in this way like she feels like she ought to know the answer and hates that she doesn't.
He asks Seo-yeon to take her and feed her, and she backs away. He urges her that nothing will happen; that she won't drop her. But Seo-yeon fires back that she can't – what if she drops her? Kills her? Imagines her as a monster and stomps on her?
Moon-kwon says that makes no sense, but Seo-yeon shouts back, "I make no sense!" Gah, this is crushing. She's basically all first parents' fears magnified a thousand times, so much that she can't bring herself to hold the baby once, for fear that she'll snap and lose her mind for just that one millisecond.
She turns to walk out of the room, and finds that Ji-hyung has overheard. She complains that Moon-kwon is belittling her, and he just holds her close and calms her down. She tells him that she thinks they should send the baby to his mother.
Seo-yeon: I feel like I'm trapped in a glass box that's so dirty I can't see out of it. Or like the sun has set and I'm in darkness, like a cloud of fog so thick that I can't see ten meters in front of me. You know how much I like things to be clear, defined. How much I tried to keep it so. I packaged my inferiority as pride, and tried to stay awake, so as not to be detected. Before, the world, and my thoughts were cruelly clear. But now so many things have become ill-defined. I've lost confidence in everything. I've become dull, clothed in layers of tattered rags, like a giant mound of snow. I have confidence in nothing. More importantly, I can't trust myself.
She cries sorrowfully, and then in a moment, forgets what she said. Ji-hyung reminds her, and she reiterates that she doesn't want to have the baby here while she's crapping herself. Ji-hyung reminds her that they are her father and her mother, and that it doesn't matter. But she insists, and so he says he'll bring it up with Mom.
In the middle of the night, Seo-yeon paces back and forth reciting another poem, and then suddenly walks out to the balcony. She takes off her slippers, steps up onto a stool, and peers over the edge, contemplating ending it all. Oh god oh god oh god…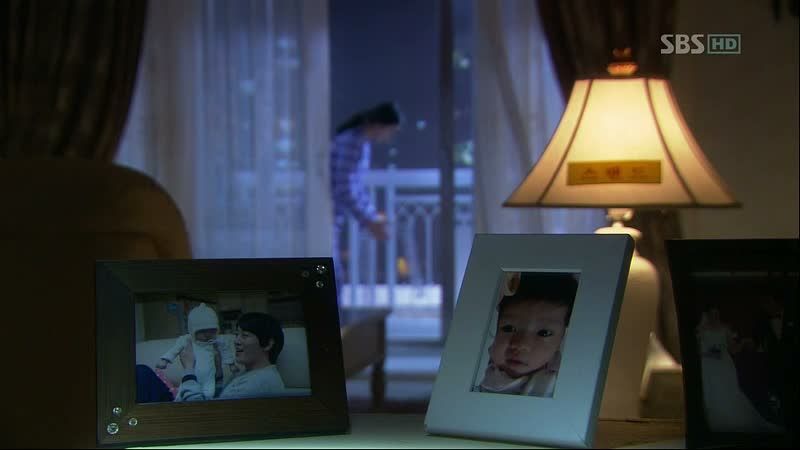 She leans over the edge for a long moment, and then falls back with a cry. Oh phew. I think my heart just lurched out of my chest. She heads back inside, choosing to write than to end it all.
But Moon-kwon wakes up a little while later, and sees the scene she's left behind – the open door, the stool, the slippers. He stares dumbfounded at first, and then runs to Ji-hyung's door. He hesitates, like he doesn't want to face it, but then starts calling for him, tears streaming down his face.
Ji-hyung stirs awake, with Seo-yeon sleeping soundly next to him. Moon-kwon tells him that Noona jumped, and Ji-hyung asks if he had a nightmare, 'cause Seo-yeon's sleeping in bed. Moon-kwon doesn't believe him at first, and runs inside to see for himself.
Ji-hyung wonders what he's so upset about, and then sees the evidence on the balcony, stricken to see what must've passed through her mind, what almost happened, all while he was sleeping.
He tells Moon-kwon that they'll clear all things out of the balcony, and Moon-kwon nods, sniffling back his tears.
In the morning, workers are there, putting up a metal railing to cage in the whole balcony. Seo-yeon complains to Ji-hyung that they're locking her up, and he tries to deflect that it's to keep them safe from burglars. But she tells him not to treat her like an idiot, and that she knows it's because of her.
He sighs and tells her that she's right, and that last night she stepped up onto a stool to consider jumping over the ledge. That sends her spinning in shock. She says she's sorry, that she doesn't remember.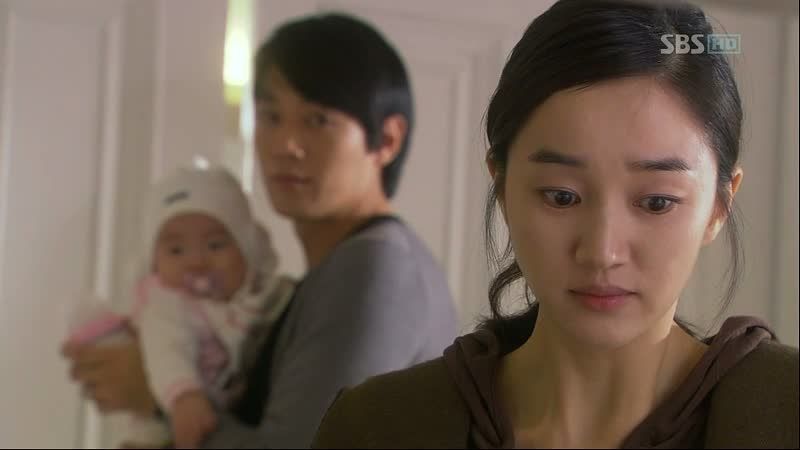 He tells her that he knows what she was thinking, but that she can't ever do it. He pleads with her to stop thinking that it's what's best for him, and that what he wants is to sit here like this, look her in the eye, and talk to her, and be with her.
She just repeats that she's sorry, and he tells her to stop. Ji-hyung: "Because I'm you, and you're me. We're one person. Sorry is what you say to another, not yourself." She says that she hates herself, that she wants to disappear.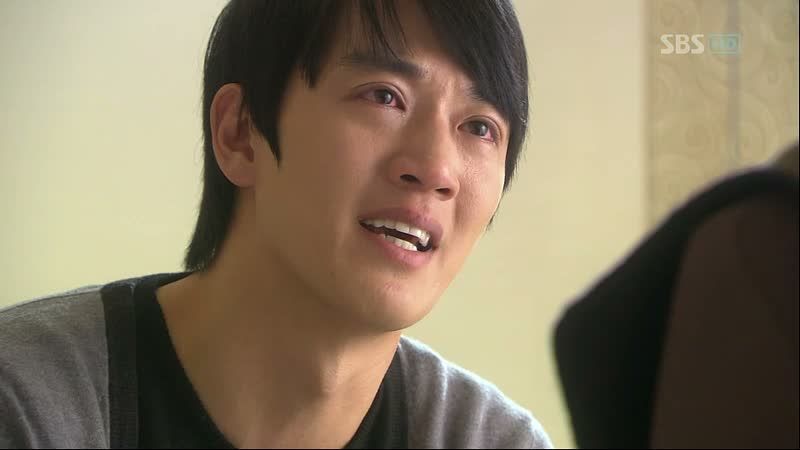 But he pleads with her that she can't: "If you disappear, I disappear." She says they shouldn't have married, that she thought they'd be happy. In tears, he says, "We are happy."
Seo-yeon: "They say I've become an empty house with no owner." Ji-hyung: "To me you're still my wife and Yeh-eun-ie's mother. Don't run away from me." He kisses her hands, repeating that he loves her.
Ji-hyung and Hyang-gi's parents are on happy well-adjusted terms, the dads cooing over pictures of the granddaughter, and the moms back to their usual banter. Hyang-gi's mom has had it up to here with Hyang-gi's excuses for all the blind dates that she's rejected – he's too tall, too thin, too fat, too bald, too hairy, etc. She swears that Ji-hyung has ruined her, because now she's just searching for another guy like him, and where do they have those lying around?
I know a guy. His name is Oppa, and I miss him sorely. I'll even consider giving you to Hyang-gi if you show your face around here, Oppa!
Hyang-gi heads out to meet with Seo-yeon, and both women prepare for the meeting full of nerves, Seo-yeon fretting over what to wear and wanting to be as alert as possible. Ji-hyung asks Moon-kwon to watch his niece for a while, and he has this spastic burst of adorableness, flapping like a chicken at the baby. She just stares at him like, what's this wacko doing? Heh.
Hyang-gi arrives, and it's a tense beginning, mostly because I'm on pins and needles about Seo-yeon keeping it together in front of her. But she manages to be composed and clear.
She pauses as she searches for a way to begin, and Ji-hyung comes to her side, handing her the notes she wrote down earlier, the things she wanted to say to Hyang-gi. But she smiles and says she doesn't need them, and thanks him anyway. Hyang-gi looks at Ji-hyung with this sudden realization, like watching his love for Seo-yeon in action feels so different from just knowing of it.
Seo-yeon wonders how much she must've hurt, and Hyang-gi says it was like being struck by lightning, but that it took that strike to make her realize that Ji-hyung never loved her. She calls him oppa still, and Seo-yeon responds calling him oppa too, and then laughs at herself for parroting her. And then she turns to Ji-hyung, "Oppa." It's adorable.
Once Ji-hyung leaves the room, she starts to say what I feared she'd say – that she's not long for this world, and that if Hyang-gi still had feelings for Ji-hyung, that perhaps she could be by his side, that maybe she knows him better than anyone. Dude, I get why, but that's just… WRONG.
She knows she shouldn't ask it, but it's like she can't handle the guilt of what she's doing to him. But as she says it, her head starts to ache, and she struggles to hold it together. Suddenly she clutches her head in agony, "I'm sorry, my head is shattering."
Hyang-gi calls out for Ji-hyung and he rushes to her side with pills. He holds her close as she cries, shaking. "What do I do? I'm so pathetic and low. It makes no sense. What do I do? What do I do?" She bawls into his chest, as he tells her it's okay.
Crying uncontrollably, she says to Hyang-gi: "I'm sorry. I'm sorry. I'm sorry. I ruined it all. I'm sorry." Hyang-gi kneels by her side, assuring her that she's not unhappy, and that it's okay. "Please don't cry, unni." Aw.
Ji-hyung walks her out and apologizes, thanking her for coming by to meet Seo-yeon. Hyang-gi tells him it's okay, and that it just hurts to see her in such pain. She asks him to tell Seo-yeon that she was glad to meet her, and that it's a given that Ji-hyung loves her so.
Aunt is nursing a cold at home, and Jae-min finally shows his face in this episode to bring her medicine and tuck her in like the perfect son that he is. She says that Seo-yeon has a visitor and wonders if it's the youngest of her co-workers, the nice one that Seo-yeon likes. She muses that maybe she'd be good enough in Seo-yeon's eyes for Oppa to marry, and Jae-min just smiles and dismisses it.
Aunt confesses that perhaps Seo-yeon shouldn't have had the baby, because she won't even feed her, or hold her just once. She sighs that the universe should've taken her instead, a tear rolling down her cheek.
Moon-kwon puts the baby down and checks on Seo-yeon, and hears the bath running. He calls after her but she won't answer, so he opens the door, to find her sitting in the overflowing tub, fully clothed and staring off into space.
He runs to stop the water and tries to get her out, and she shrinks back, yelling at him not to touch her. She storms out of the bath, trailing water everywhere, and then plops down in the bed sopping wet, on top of all the clothes she had laid out earlier.
Gah, Moon-kwon's heartbreak is really hard to take. His whole world is crashing, hard and fast. Ji-hyung finds him in tears and calmly puts a hand on his shoulder, and takes care of Seo-yeon. He puts her down for a nap in the living room, and the boys clean up after her.
Moon-kwon asks who the visitor was, and Ji-hyung tells him about Seo-yeon wanting to apologize to Hyang-gi. Moon-kwon reassures himself by saying that she must've overstressed herself, trying so hard to stay alert.
Jae-min comes by and Moon-kwon tells him about what happened, and he finds Ji-hyung just about teetering on the brink. He holds it together long enough to get to his office, and then buries his head in his hands, crumbling under the weight of it all. Jae-min comes up behind him and silently puts a hand on his shoulder, and Ji-hyung breaks down and cries.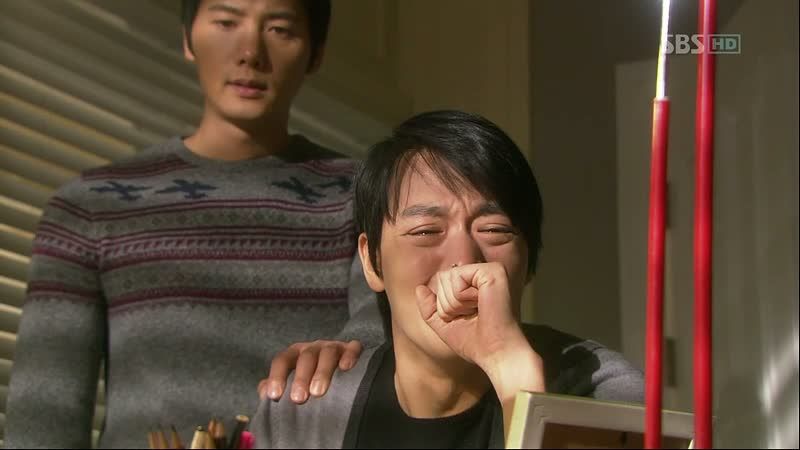 Outside, Seo-yeon wakes up and goes to the kitchen. She reads the series of memos on the refrigerator, and finds that the lunch menu is curry, so she dutifully takes the rice and curry out of the fridge.
She unwraps them, and then pours the curry over the rice, letting it overflow. And then without cooking it, she dips her hand in the bowl and begins to shovel it into her mouth, over and over again.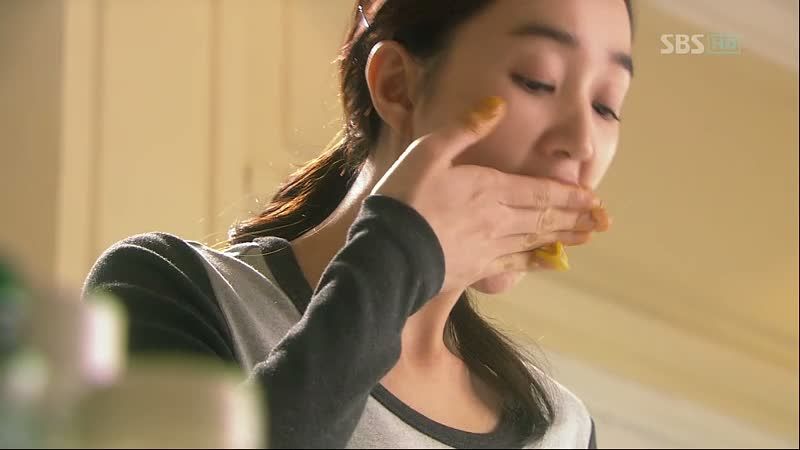 COMMENTS
Oh man, we all knew it was coming, but watching her break down is harder to take than I thought. That final scene – that shot of her picture when she was, as she says, still Lee Seo-yeon, and then her blank expression as she eats cold curry with her hands – just guts me. It kills me that it's finally happened – her turning stupid, as she so feared. And to Seo-yeon, she's as good as dead if she's lost her mind.
It's only in these last few episodes that I've finally come to understand why Kim Rae-won was cast, because the focus has now shifted so that we're more emotionally grounded with him than with Seo-yeon. She's still the source of our collective heartbreak, but he's the one we cry with, that we feel empathy for when he holds her desperately and tells her it's going to be okay when he knows it's not. The way he handles her and Moon-kwon with calm and resolve is such a quiet heroism. He felt so listless in the beginning, so it's nice to see that he has an arc of his own, and a chance to be the hero of the story, if he's the only one left to tell it.
Park Yoo-hwan has successfully made me cry more than anyone else in this drama with his noona-love. Seeing her breakdown in the eyes of the one who looks up to her the most is unbelievably crushing. And of course, Su Ae continues to carry the whole show on her amazing shoulders. She's un-fucking-real.
Is it stating the obvious to say 'Prepare the tissues' for tomorrow's finale? I went ahead and bought the jumbo pack. Bring it on, Show. I'm armed with 3-ply.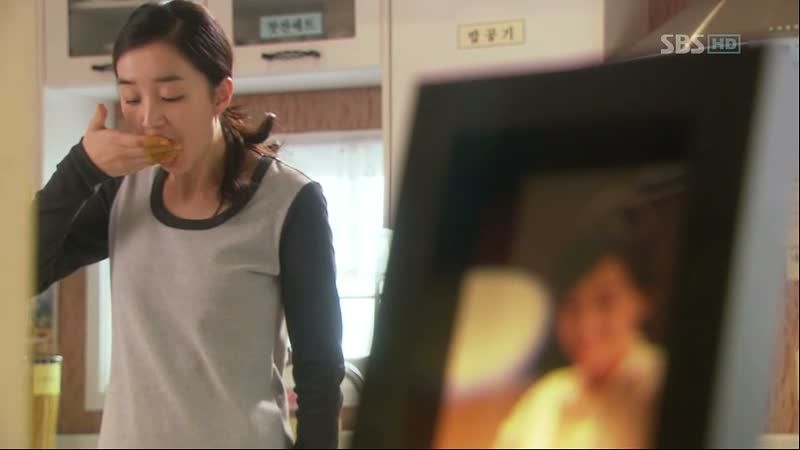 RELATED POSTS
Tags: featured, Jung Yumi (2), Kim Rae-won, Lee Sang-woo, Park Yoo-hwan, Su Ae, Thousand Day Promise