History of the Salaryman: Episode 6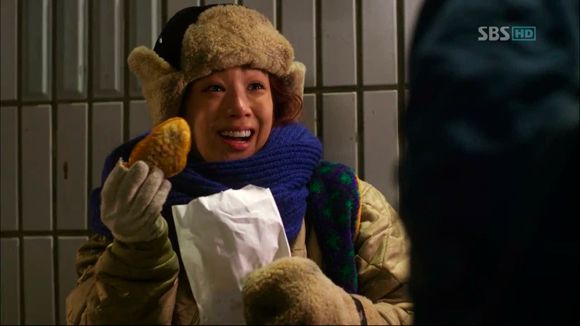 Feelings! Character growth! Jealousy! Situational comedy! Lots of exclamation points! It shouldn't surprise me that History of the Salaryman continues to get better and better in balancing its raucous brand of comedy with plenty of heartfelt moments – and it's something I can't help continuing to notice, because this show really has made that delicate balance into an art form. When the comedy happens, I'm laughing like a loon – and when the serious moments come, I'm riveted to the screen. That's pretty much a win-win, isn't it?

EPISODE 6 RECAP
Upon seeing Bang, Shin makes a run for it – and the two men end up in a hilariously slow uphill chase. Visual jokes like this only work with tight editing, so props to the show for delivering every time.
When Bang catches up to him and accuses him of framing an innocent man for murder, Shin obnoxiously pretends not to know him. It's useless for Bang to go to the police when he doesn't even know Shin's real name, and Shin swears that he'll just claim up and down that the two have never met. Nearby patrolling police end up scaring Bang away, and he goes to the Han River to have a well-deserved cry about life's injustices. He apologizes to his father when he sees that he got dirt on the dress shoes he once bought for him, and it's a nicely touching moment (despite the terrible wig).
Bang finds Yeo-chi attempting to sleep on a bed of newspapers, and her face lights up when he gives her hot food. She's not as bad as she seems, as she offers him some once they're outside – and for a girl who seems like she's never given away a thing in her life, this is a big move.
He tells her point blank that she should return to her grandfather and stop all this useless suffering. Her response is to simply yell at him, decrying the fact that she put her faith in him to clear their names. So why is he sending her away now?
"Because it's hard!" he replies. "It's hard as it is by myself, but having to carry baggage too, I'm just so sick and tired of it. Now do you get it?"
She claims she does and puts on a tough exterior, but it's becoming clearer and clearer that she's a big softie inside. Obviously, she doesn't want to be left alone – and though she considers calling Grandpa Jin, she decides against it.
Coming across an adult-themed van outside, Yeo-chi remembers how Bang described Shin as having operated out of one just like it. She decides to do some sleuthing of her own, and cautiously approaches the tinted windows. A man inside asks her if she wants to peruse the merchandise, and becomes forceful when she declines.
As if called, Bang appears to save the day – and I'm a bit shocked, because he literally kicks ass. He saves the damsel in distress before they're forced to make a run for it, ending up in close quarters as they hide behind some rubbish. He has a moment where he looks at her lips first before he looks at her eyes, and she has a moment where she looks at his lips first before looking at his eyes. Awkward.
Yeo-chi's smile at Bang's return is just the best, and she's as giggly as a schoolgirl while she simultaneously tries to chide him for ever leaving her in the first place. "I'm sorry," he admits. "I followed you all day. And I thought a lot. I thought I was the only one suffering. Just how hard things are on you… I didn't realize it before. I'm sorry. I mean it, truly." He then tells her he's not giving up, and he's going to clear their names.
She accepts this, and then orders that he take his clothes off. It dawns on him that she just wants an extra layer, and the two exchange cute smiles as she cuddles up in his coat. When they both fall asleep sitting up, Yeo-chi's head inevitably leans onto Bang's shoulder. He shakes his head, wondering what kind of guy would ever end up living with her. In fact, he already feels sorry for that unnamed poor soul… which is funny, because I'm getting the feeling that it might be him later down the line.
Asleep, Yeo-chi has a nightmare about finding her uncle dead in his house (but also sees Hang-ryang's resignation letter burning in the fireplace). This causes her to grip tightly onto Bang, whose mind starts to travel in the direction of the gutter. To control himself, he starts to sing a song, becoming more uncomfortable the more comfortable she gets. Ha!
Chun Ha is going under, and Chairman Jin is looking for any lifeline he can find. He even goes to see a congressman who may or may not owe him some favors, but it's no dice. Instead he ends up in an unwanted meeting with Chairman Oh and Hang-woo, who both urge him to sell them part of his security holdings to get out of debt.
But Chairman Jin is no fool, and knows that what Jang Cho would really obtain is management rights. This seems like a no-brainer to Hang-woo, who claims that Chun Ha's management team was incompetent anyway, so it would more so be like Jang Cho just offering some 'personnel support'. Chairman Jin scoffs at this option, and leaves the meeting. He laments to Gabi later that he wouldn't be in this mess if he just had some Eternal Youth.
Jobless, Woo-hee is forced to return to an old job with a boss that she'd previously reported for sexual harassment. The other women in the office make it clear that she's not wanted, and even Chief Kim urges her (in voiceover) to do what she can to persuade Hang-woo into a more suitable job at Jang Cho. He gives her a wink and a nudge (along with the address for Hang-woo's gym) and she peps herself up for what she'll have to do.
Cut to: Hang-woo working out, before he does a slow stop and turn…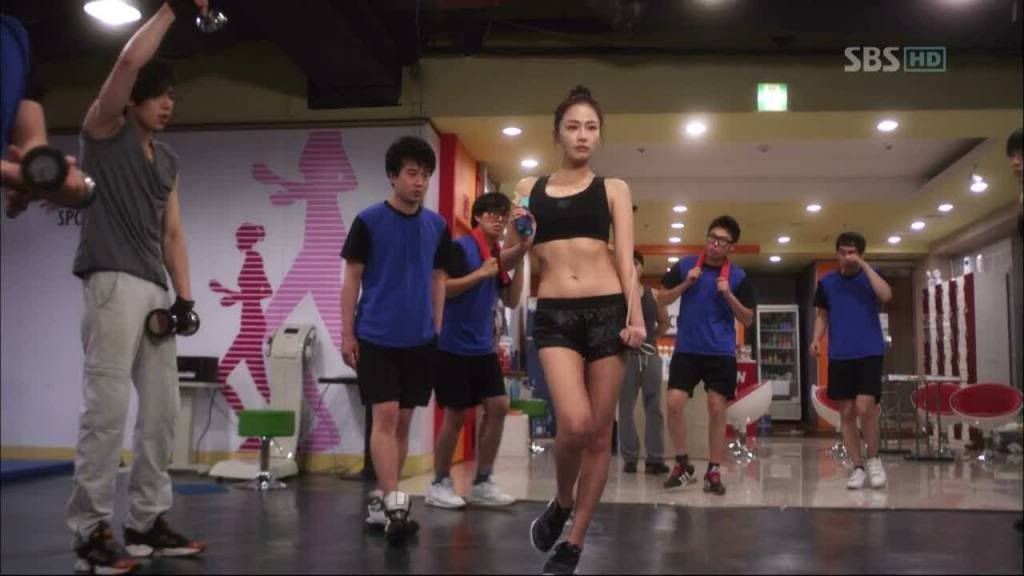 …As Woo-hee walks into the gym in nothing but a sports bra and short shorts. Oh my goodness, this is too funny. She's got the attention of every single man in the gym, and it's hilarious to see Hang-woo try to resist her wiles even as she makes it a point to work out right in the middle of the gym (and look good while doing it), acting all hapless and girly. I have to admire her cojones on this one.
At the water cooler, Hang-woo takes the opportunity to call her out on coming to the gym just for him. She plays dumb convincingly, and claims that it's all just one crazy coincidence. In fact, she would prefer that he not talk to her anymore, because a petty man who tries to take revenge because he was dumped by a woman is a a waste of her time.
He blusters, that errant pride of his coming to the forefront. "Dumped? Who was dumped?" But he does show that he's petty by taking a cheap shot, basically implying that she has a talent for seducing men (it seems like he's calling her out on acting like a loose woman) and her reply is priceless. "Even if I do have that talent, I won't waste it on you."
Oh, it is on. He runs into her at the elevator, and likewise calls her out on her wet hair. Is she trying to seduce someone? Woo-hee once again dismisses him, and this gets a rise out of him as he drags her to a dark room and traps her against the ropes of a wrestling ring.
She threatens him with screaming, and he responds (somewhat creepily) that he thought women liked stuff like this. Okay, I'm not as creeped out by this scene as I could be, precisely because Hang-woo isn't being a creep – he's trying to show her that he's not falling for her methods, while kind-of-sort-of still falling for her methods. I get what he's doing, is what I'm trying to say here.
He leans in for a kiss, and she closes her eyes like she's going to allow it… but then he calls her out on that too, and tells her to stop being a brat and open her eyes. Haha! But he took a purposefully-creepy whiff of her hair earlier, and we found out only moments ago that the shampoo in the shower contained peanut oil, and that Hang-woo is allergic to peanut oil…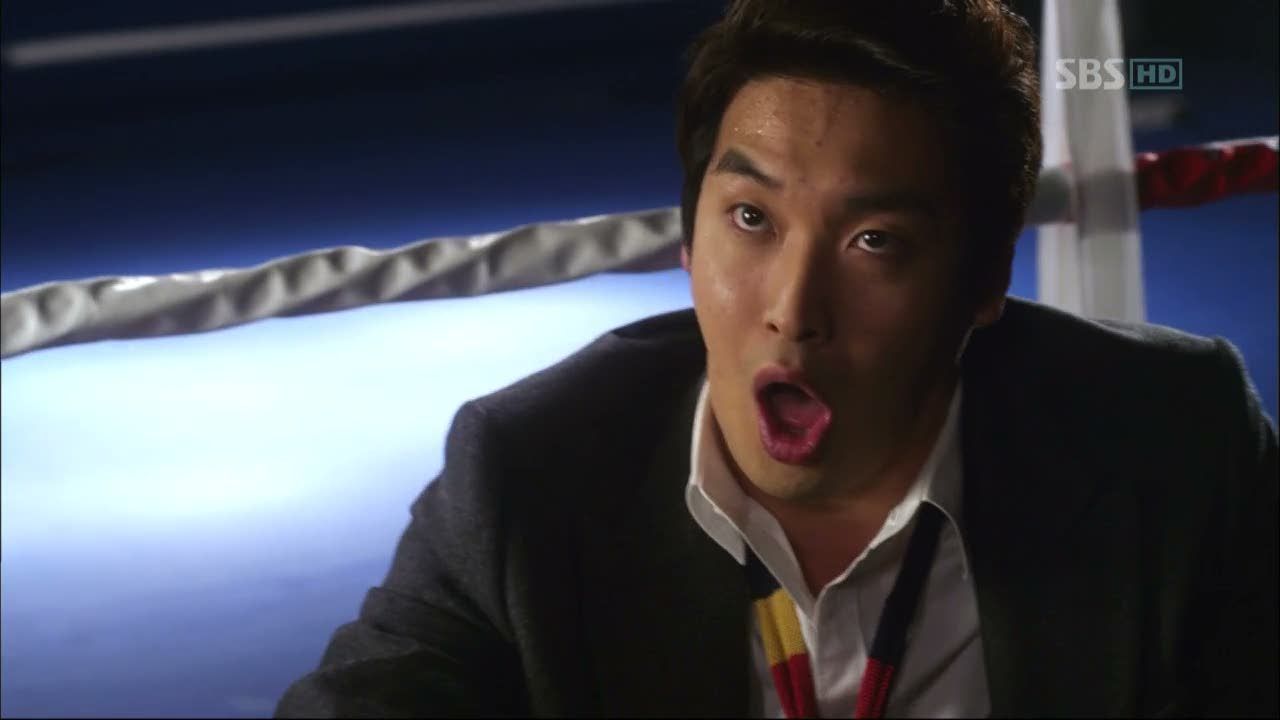 Ha! Well there goes his seductive, cool image. He has an allergic reaction to smelling the product in her hair, but Woo-hee freaks out because she thinks he's coming on to her. He's left alone to inject himself with a shot to cure his reaction, and it's pretty funny when he yells her name as he flails on the floor in rage.
It's bad news when Hang-woo returns to the office to find the analysis on the supposed-Eternal Youth, explaining that the pills he submitted were a bunch of vitamins. He calls his hyung for an emergency meeting a the church, but finds Bum-jeung there first.
Bum-jeung explains that he was at this church once for a funeral of a man that committed suicide, and that the image of the man's son holding back his tears left a sizable impression. "Now I see that you resemble your father quite a bit," he tells Hang-woo. Ooh, I love a good reveal.
By the time Hang-ryang arrives, Bum-jeung is already brandishing the security camera footage that places Hang-ryang in the car with Ho-hae right before the murder. However, Hang-woo knows he wants something since he didn't go straight to the police – and of course, he does. Bum-jeung wants Eternal Youth, which Hang-woo claims to have.
Later, as Bum-jeung drinks alone, he tells himself, "There's no law that says I can't be the owner of Chun Ha Group. This is my last chance."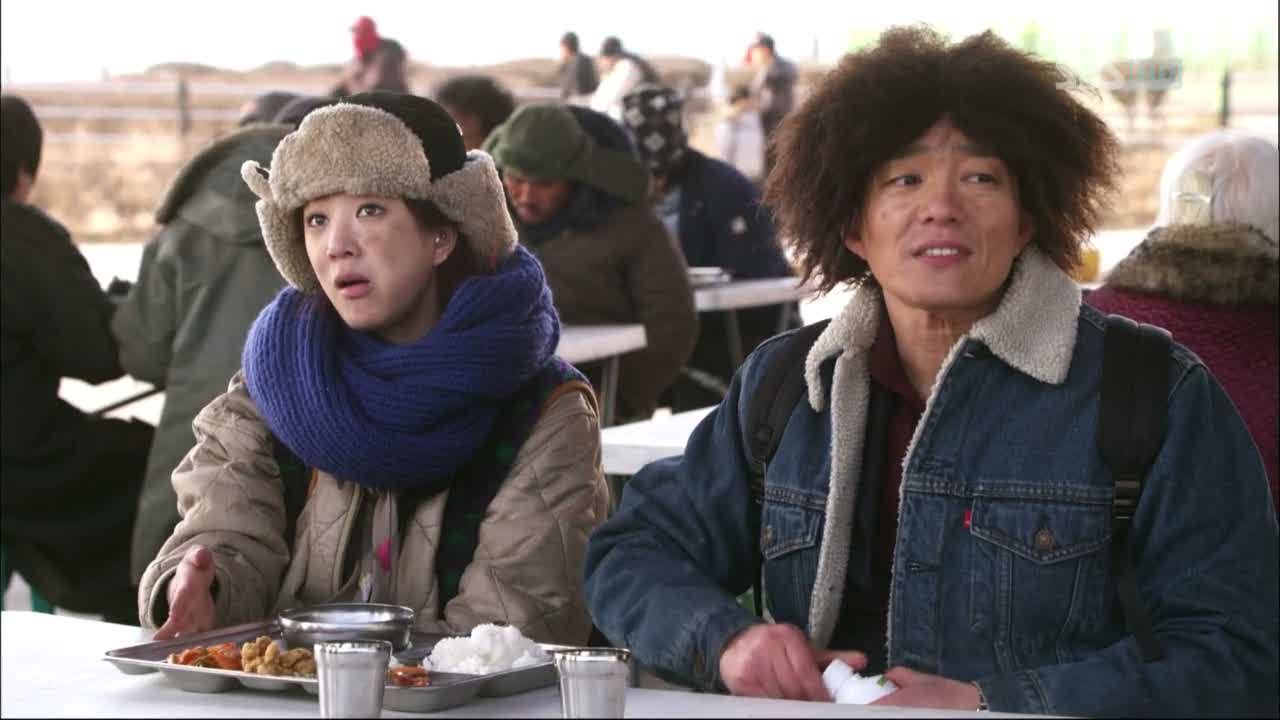 Bang and Yeo-chi are left with no choice but to eat at a soup kitchen, and the last of the rice is given to Bang while two children behind him in line go without. It seems like he's not going to give it to them, which isn't very heroic of him, but then he feels guilty and gives the starving children his whole tray. Aww. With nothing to eat, he takes another pill of Eternal Youth (which he still believes is a multivitamin).
Yeo-chi's growing up fast, and cautiously slides her tray over to him so that they can share. (Aww, Yeo-chi! Look at you, growing as a person!) She also takes a look around her and realizes the sorry state of people with no money, to which Bang tells her, "Later on, when you go back to the company, do a lot of good deeds." They share the tray, bicker adorably, and he smiles at her again. I love these two.
Bang insists on helping the staff load boxes back into the food van while Yeo-chi looks on with a mix of admiration and pride. It comes to a great shock to her when he gets his thumb slammed in the door – but instead of crying, he laughs like a lunatic instead. There's the side effect of Eternal Youth rearing its head again.
Through his laughter, he pulls out the bottle of multivitamins, explaining that there's something strange about the pills. Yeo-chi is mostly concerned over his bizarre reaction to pain, and embraces him in an effort to help him. Her words and her actions are soothing as she blames herself for his plight. It's a great moment all around, but an especially great one for her character.
Hang-woo's been doing his best behind-the-scenes to bring about Chun Ha's downfall, and wins over one of the stockholders to do some rabble-rousing at the assembly. It works, as everyone present conveys their advice to Chairman Jin – and that advice all boils down to getting Chairman Jin to sell the company.
Of course he adamantly refuses, which causes the man Hang-woo planted to declare that Chun Ha should undergo court receivership (which is fancy business-speak for allowing an outside party to take control of a company's assets). In this case he's calling for the management rights to be forcibly taken from Chairman Jin's hands. Things are looking pretty bleak.
Woo-hee gets to hear all about Chun Ha's crisis at work, and gets quite a shock when she finds both Bang and Yeo-chi huddled outside her door. She takes them in and feeds them, with Yeo-chi eating voraciously. It's only when she's gone off to take a shower that Bang brandishes the bottle of Eternal Youth to Yeo-chi, "This is the new drug, isn't it?"
He knows that she must have placed it in his bag, and wants to make sure she knows that a person died over these pills. According to his line of thinking, whoever actually killed Ho-hae must have taken the vitamins, thinking they were the real thing. Woo-hee gets nervous, and asks him to continue the conversation outside.
Over some soju, Bang urges Woo-hee to tell him everything. She explains that she really needed the money, and Ho-hae offered it to her in return for running an errand. "But a person gets greedy," she explains, as she starts to cry. "Do you know the feeling? You won the lottery, but it feels as though someone is going to snatch that lottery from you." She was looking forward to that money because it could have eased so many of her woes, and her disappointment is palpable.
To atone, Woo-hee says she'll turn herself into the police station to clear Bang's name. This isn't the solution he's looking for, and he suggests that they all work together to find a mutually beneficial solution instead.
Bang and Woo-hee return to her apartment to find Yeo-chi dead asleep in Woo-hee's bed, so the two of them decide to sleep in the living room. He can't sleep, though, and wonders if insomnia is one of the new drug's side effects. He asks Woo-hee what all the recorded side effects were, and she responds with what we've already seen: inability to control emotional responses, inability to control appetite… and a new one, which is an inability to control sexual desires. Uh oh.
As she explains that side effect (once she's made the initial realization), she slowly starts to inauspiciously put on more layers of clothing, which definitely qualifies as the funniest moment of the episode – because it's just played so straight and quiet. Bang is determined not to jump Woo-hee in her sleep, however, and uses the handcuffs Yeo-chi used on him earlier to tether himself to a nearby table.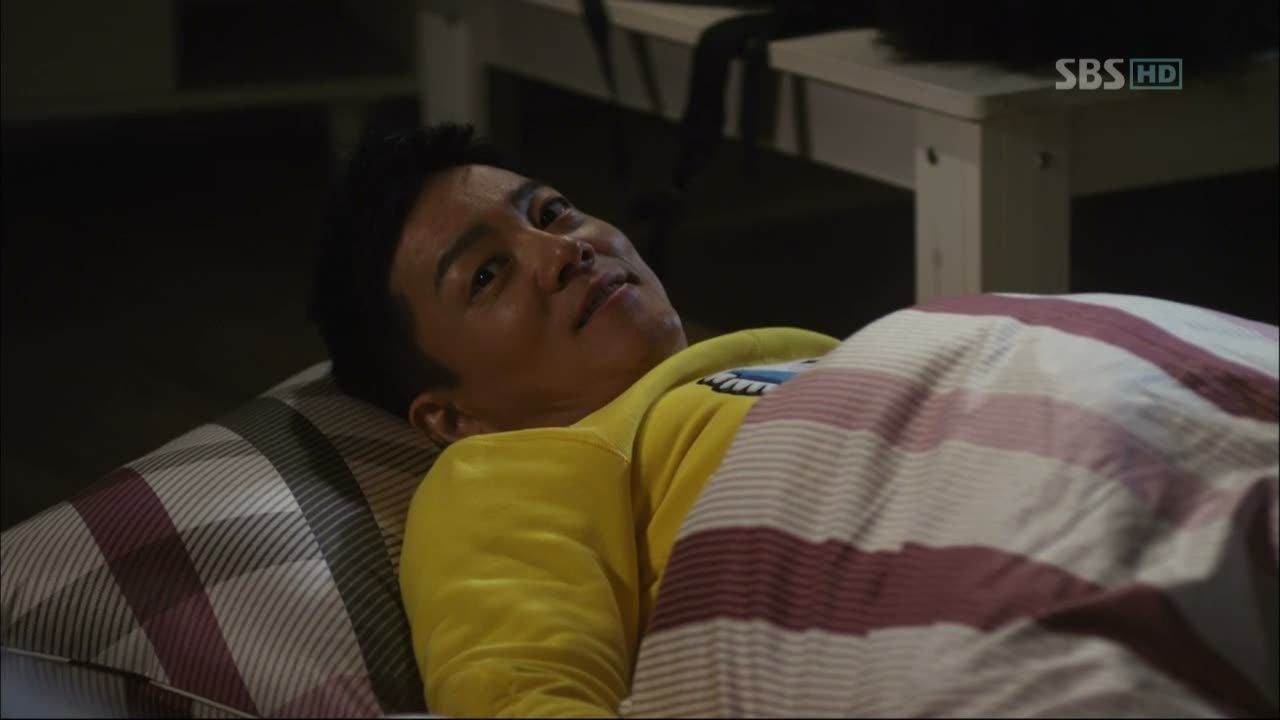 Okay, maybe the face he makes here takes the funny cake for the episode. Either way, the whole scene is funny until Yeo-chi barges into the living room – simultaneously wanting to put some space between Bang and Woo-hee and explain her dream at the same time. She tells them that her dead uncle keeps appearing in her nightmares, to which Bang replies, "Then you should have asked him who killed him." HAHA. Zing!
She goes on to explain that she saw a resignation letter in her dream, and she remembers the name – Hang-ryang. Now all the pieces start to come together, as Bang knew that someone had to be inside Chun Ha in order for him to get the annual test answers ahead of time. They call Bun-kwae to their team, and ask him to check the security camera footage of Ho-hae leaving the building.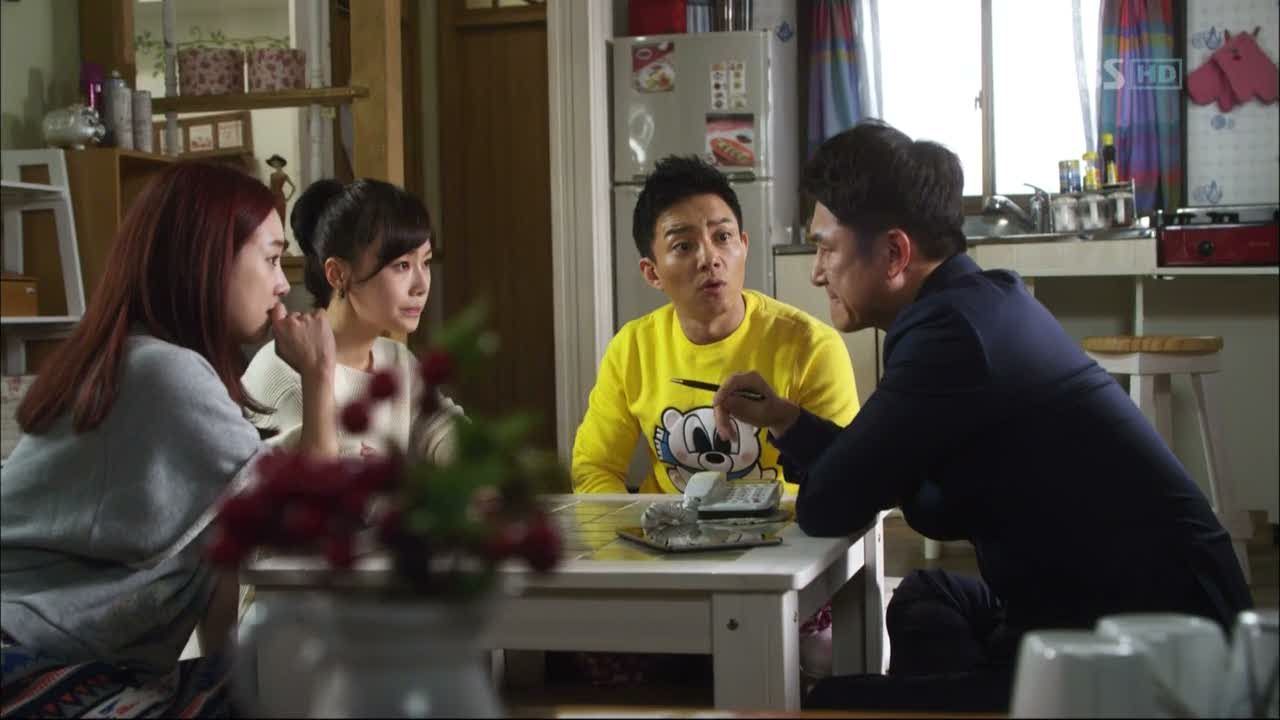 Bun-kwae does as he's asked, but finds that the tape documenting Ho-hae and Hang-ryang leaving the building is missing. Next thing we know, he's at Woo-hee's house, and it looks like he's been officially inducted into the team. Hooray!
He has a small moment where he wonders if Bang really did perpetrate the crime, but Yeo-chi jumps to his defense… by verbally jumping all over Bun-kwae. Aww, Yeo-chi, stop being so awesome.
There's a lot on Chairman Jin's plate as he attends a meeting with his executives. This time they propose another stratagem from the Thirty-Six Strategems, an essay of ancient Chinese methods used for politicking and war. This time they suggest "sacrificing the plum tree to preserve the peach tree" – which basically boils down to sacrificing short-term objectives in order to achieve the long-term goal.
Therefore, he's told to hand his stocks over to Chairman Oh, who practically squeals in delight over the latest development. At long last, Chun Ha Group will be his.
Gabi finds Chairman Jin drinking alone, and he freely shows his vulnerable state to her. She bravely tells him that the Chairman Jin she knows wouldn't have made the stocks decision, to which he replies sadly that he just doesn't have the energy anymore, especially with all of his children now dead and Yeo-chi missing. "Not because it's hard. Because it's lonely. Because I feel hollow. I don't have the power to fight."
She puts and arm around his shoulder and literally pulls him to her bosom in order to comfort him. "You have me by your side," she tells him. "No matter what others say, I believe in you, Chairman." She smiles, and it seems like she genuinely cares about him… until the smile fades, revealing an evil glint in her eyes. Iiiiinteresting.
Bang has come to a pretty brilliant conclusion to lure Hang-ryang out – by threatening him with the resignation letter he left at the crime scene. They don't have the original copy, but Bang has gotten his hands on some official Chun Ha paper and plans to fabricate it. The ruse works, as he tells Hang-ryang over the phone that he has the new drug, and he's willing to sell.
Hang-ryang fully plans on meeting him, but he calls Hang-woo first to relate the news about Bang.
Yeo-chi remains hidden in Woo-hee's car, watching as Hang-ryang arrives for the scheduled meeting. When our hero holds out the bottle of Eternal Youth Hang-ryang seems dubious, and Bang assures him that he can get these pills tested just like he tested the multivitamins. Hang-ryang tries to exert a little muscle in checking Bang for bugs, to which Bang surprisingly responds to with even more force.
He throws Hang-ryang against the car, saying that it's their turn now. Yeo-chi looks on with a proud smile as Bang declares, "You provoked the wrong guy. Do you know that?!"

COMMENTS
Go, Bang, Go! And here I was worried that Bang was coming off too silly in the previous episodes to ever be believable in dramatic moments like these. It's a testament to the actor that he delivers superbly – because above all else, I definitely believe he's capable of kicking some ass and clearing his name.
It's a little surprising that we're getting so much character growth so fast – especially in terms of Bang and Yeo-chi. She might take the Sudden Maturity Cake out of both of them, and I'm still floored that just a few episodes ago she was just a spitting, cursing, kicking, and crying force of nature. Her circumstances have changed and she's adapted, but she's not a totally different person, either. It's still Yeo-chi going through these changes, and not like the actress or writing suddenly switched gears. Most of all, I can believe that underneath her snobby exterior, Yeo-chi is a good person. It's just hard to see sometimes.
Things that I normally find endearing in one of the staples of drama heroes – The Arrogant Douche – are characteristics that are exhibited the most in Yeo-chi. She sort of embodies the female version of that brand of male lead to me, displaying both the thick-headedness and that emotionally soft underbelly… the kind that leads us all to feel bad for our heroes because they usually go all in with matters of the heart. It's a nice bit of gender reversal for the drama landscape, because normally girls as outrageous as Yeo-chi are left only to meddling second lead territory. Now we get her as our heroine – and I just love her to pieces.
I was pleased to discover that the war strategies being quoted in this show are from the Thirty-Six Strategems, which I became familiar with due to their use in Tree With Deep Roots. I love that this show can evoke so much laughter one minute, while switching to sageuk-seriousness and war strategies the next. Normally a change like that would leave my head spinning, but it's handled deftly by the production team. This is really shaping up to be one of my favorites, though if I had to voice one complaint, it would be about the seemingly excessive length. This episode made it to the seventy-minute mark, but could have just as easily done with even five or ten minutes less. The corporate politicking is fun, but it just can't be as fun as our leads.
RELATED POSTS
Tags: featured, History of the Salaryman, Hong Soo-hyun, Jung Kyeo-woon, Jung Ryeo-won, Lee Beom-soo