Kim Sung-soo hosts SNL Korea
I haven't posted on every host of the new Saturday Night Live Korea, but Kim Sung-soo (Bad Love) is a name I haven't seen a lot of lately so I figured fans might want the heads up. (He has been around, but I don't watch dailies like More Charming By the Day, which is his last TV role, and he hasn't done that much else in the past couple years.)
That means Kim's hosting gig will air this Saturday, January 14, as he takes his place as SNL Korea's latest host. I wonder how he'll do in the gig, because unlike some of the other hosts who have strong comedy roots, Kim has a rather chic, cool image. Then again, Kim Joo-hyuk (Bang-ja Chronicles) went against his own image and turned in a pretty great performance as the show's inaugural host in Episode 1.
In Episode 2, I thought Gong Hyung-jin (Chuno) did an okay job hosting, but because the material was a cut below, there just wasn't as much funny. While I enjoyed that first episode, truth be told it was the best outing I've seen (though I haven't watched them all). That's no huge surprise, since SNL is notoriously uneven anyway, and it makes sense that the best episode would be the one that had time to prepare, compared to the ones they're churning out on a week-by-week basis.
Kim Sung-soo said of his upcoming appearance, "I'll be showing everything that I as an actor can show you. I'll take on everything, from the sci-fi 'Vectorman' [from Kim's 1999 movie] to comedy and horror and satire. I've been so busy laughing that the time has flown."
Below are the hosts who have taken on the gig following Kim Joo-hyuk, such as Gong Hyung-jin for the second show, then comedy actor Kim In-kwon (Quick, You're Beautiful) for the following episode, musician and music professor Kolleen Park, theater and screen actor Kim Dong-wook (Coffee Prince, Partner), and movie/drama actor Kim Sang-kyung (My Country Calls).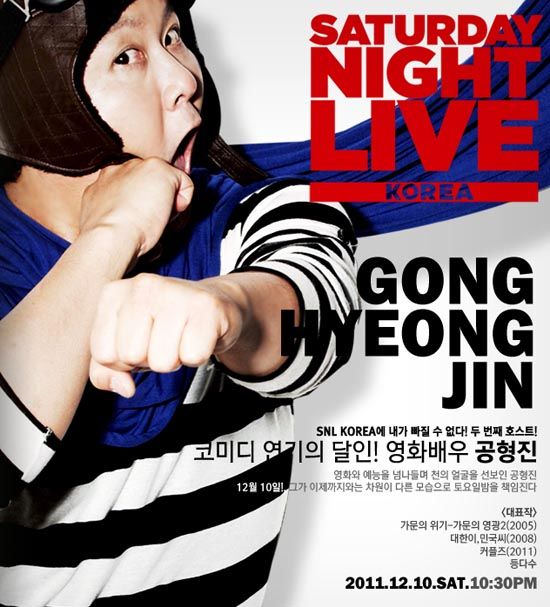 Via Osen
RELATED POSTS
Tags: Kim Sung-soo