Running Man: Episode 75
We're kicking off 2012 with an Idol Special on Running Man. Huh, when did Idol = Math? I did not sign up to solve square roots or deal with dividends. Don't you know that arithmetic is a writer's kryptonite?
EPISODE 75. Broadcast on January 1, 2012.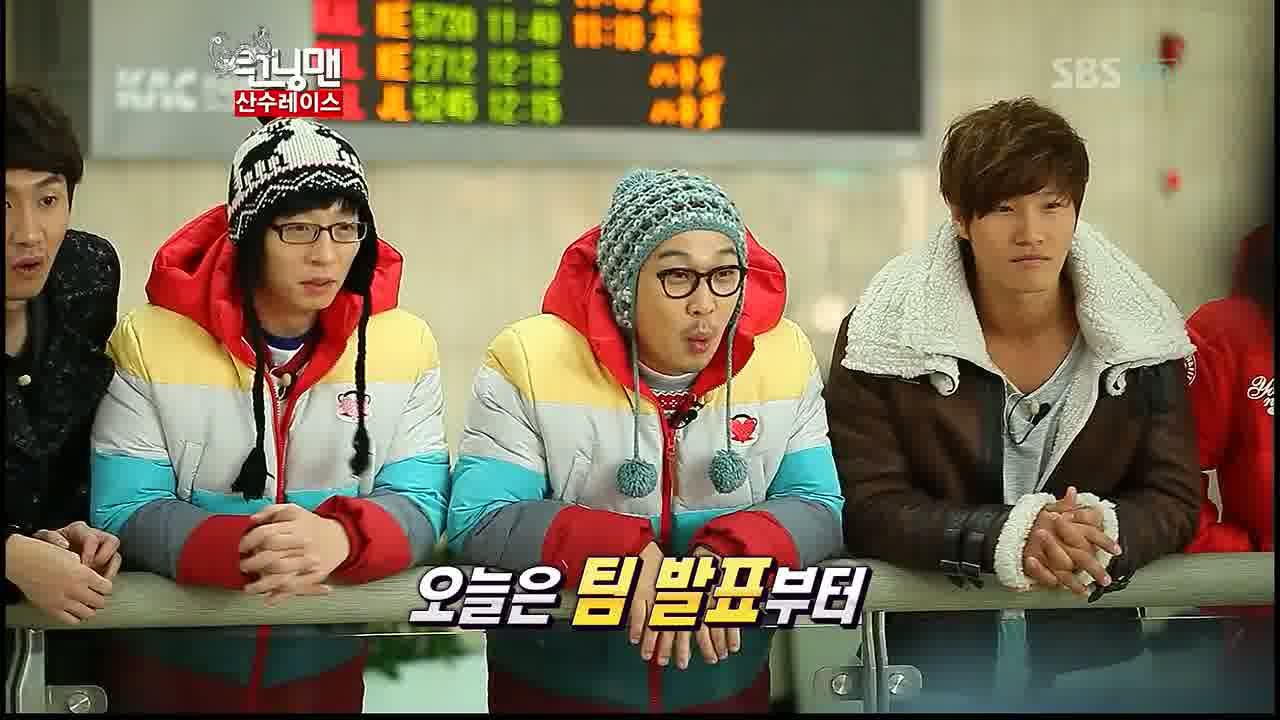 We start off at Gimpo airport where our cast eagerly awaits their guests. Just because it's the new year, however, doesn't mean our cast has changed any. Today, Jae-suk and Haroro jokingly snipe at each other, still trapped in their superhero voices, about their twinsie attire. Hahaha – they do look like a couple today.
If any Monday Couple fans were hoping that Gary's Europe trip would involve Mung Ji-hyo, your hopes are dashed – he'll be going alone.
Mr. PD announces today's teams, four in all, before the guests make their grand entrance. Gary and Haha are paired together, then the Easy Brothers (and the captions read they're an inseparable package like shampoo and conditioner, keh), Jae-suk and Jong-kook, former team leaders (Jae-suk: "Me with a guy who can't see 5m in front of him?!"), and lone Ji-hyo.
Time to introduce our five (!!) idol guests to be teamed with the Running Men, respectively (and the homemade placards are too cute): enthusiastic Sulli (f(x)) with Gary and Haha, Sohee (Wondergirls) with Jae-suk and Jong-kook, Hyo-rin (SISTAR) and the Easy Brothers, and the two boys, Minho (SHINee) and Siwon (Super Junior) with lucky Ji-hyo.
I'm particularly afraid for Sohee who I've seen in a previous Family Outing episode and barely spoke three words there. And here, she just bows awkwardly when she greets her two teammates. Is she even going to talk? Then there's Hyo-rin who can't hide her disappointment and honestly blurts out to the Easy Brothers, "I hoped I wouldn't be paired with you." Heh, and aw.
Siwon's already got his game face on (he's an avid RM fan as well as a returning guest) and Jong-kook wraps the two idol boys in a warm hug. It turns out that they all work out at the same gym. Um, where can I sign up?
Today's mission is a Math Race, which means there are numbers and functions involved. Cannot… compute. Anyway, through a series of missions, the first team who reduces their numbers down to 1 will be declared the winner. And we're off!
Everyone rush outside (with Gary one step ahead) towards the parking lot. Kwang-soo yells to hang a right and all of them dutifully follow, with Minho in the lead…and we hear the confused staff say, across the street, "Where are they going?" The swarm doesn't stop until a VJ catches up to them to tell them they're going the wrong way. HA.
Haha and Sulli, however, frantically wait for the light to turn after they spot the RM staff. Here, they pick their first two numbers. Sulli's team chooses (7, 9), and lightning fast Minho picks for his team (3,6).
Hyo-rin decides on "Deathly 4" and 1 (the Chinese characters of four and death are homonymous, and considered unlucky), and slightly surprised Sohee selects (2,8) for her team.
The matter of age comes up in Ji-hyo's car, and Min-ho cautiously asks after how old she is. She tells him that they're a decade apart (she's 31 and he's 21), and her two princes exclaim, "What you're not in your 20s?… You definitely don't look like [you're in your 30s]." They add that they especially wanted to be on her team. Gah, these noona-killers.
Meanwhile, the two team leaders bark at each other in the car, arguing over square roots and whatnot that could appear in today's mission. Sohee just smiles politely and Jae-suk astutely points out that she's probably hoping these oppas would just stop talking. And when they do for a minute, she breathes a sigh of relief.
At their first mission location, a miniature world of sorts, the PD tells them they'll be going on a "world tour," since they're Hallyu stars, and all. They'll need to carry their female teammate and complete their mission on the other side.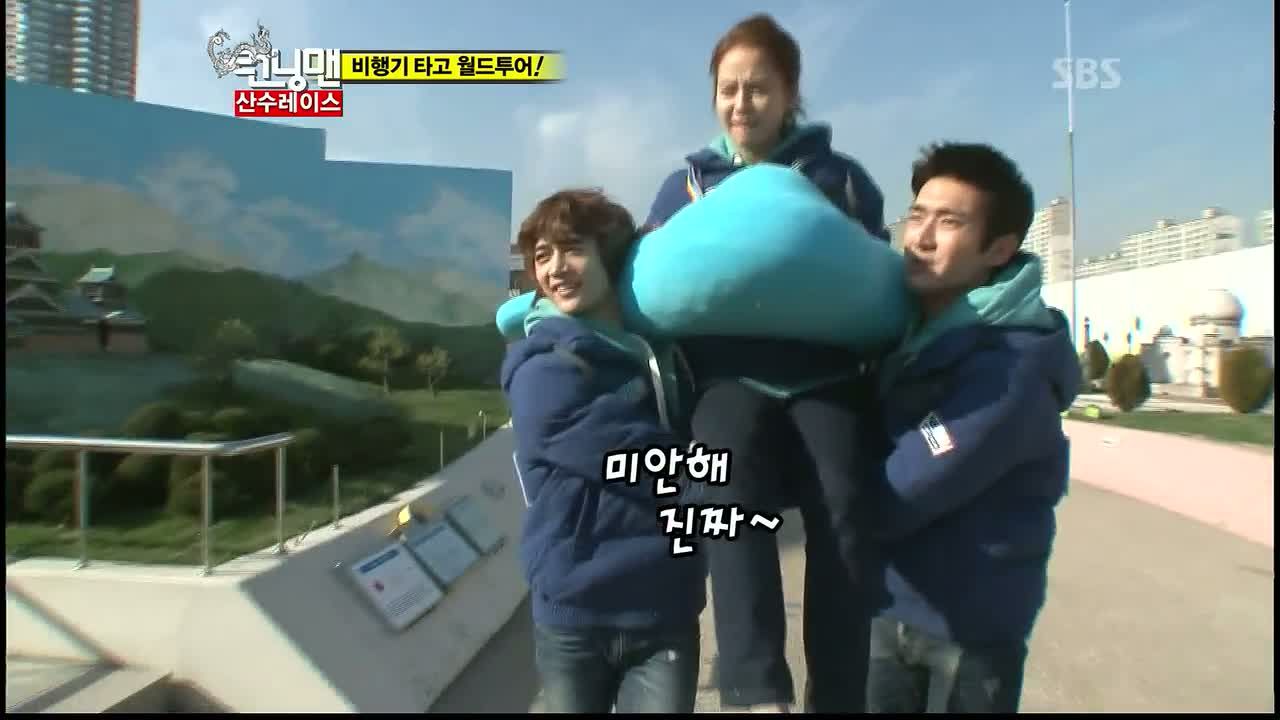 So this is the ideal noona treatment you'd get as the boys easily lift Ji-hyo into the air, constantly telling her how light she is, and then gently putting her down. I'm pretty sure that would never happen with her regular cast members. Well, maybe except Gary.
Mr. PD, did you just ask what I think you asked? How many miniature models are shorter than Haha? Needless to say, they look back at him dumbfounded, and get it wrong.
I love how Ji-hyo rubs in her princess treatment to Jong-kook and Jae-suk, that it must be the young blood pumping through their veins. Heh, I don't blame her. Cut to the Easy Brothers, who can barely lift Hyo-rin off of the ground. Incriminating Kwang-soo: "I think you've got more muscle than Jong-kook." Keh.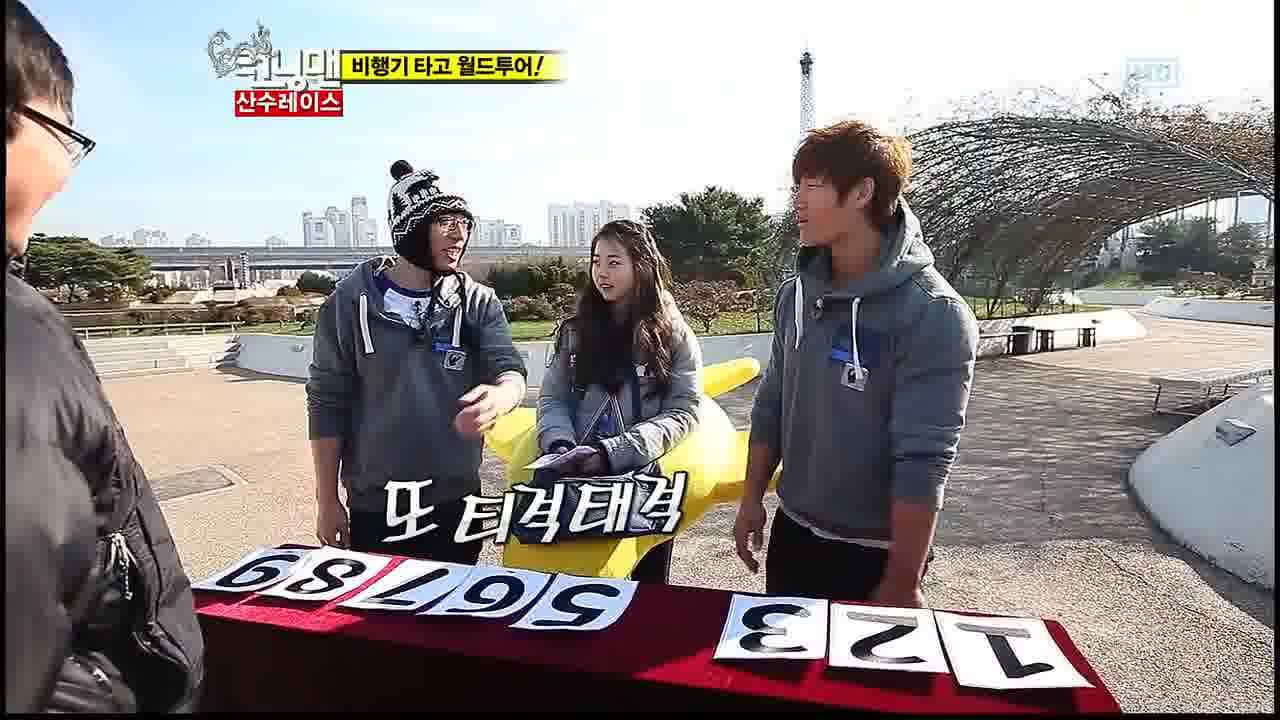 The teams are sent back for a few more round until Sohee's team finish first. Jae-suk and Jong-kook go at it again over the numbers, and Sohee silently reaches for one, and then flickers her eyes back and forth before taking the other.
She explains her choices (they're easy to subtract and divide) and this is the first time I've heard her utter a complete sentence.
Sohee's got a softspoken, boil-under-the-surface competitive spirit, but her is directly opposite to Siwon and Minho, whose aggressiveness nearly jumps off the screen as Ji-hyo prompts them about the possible food missions at their next location: a restaurant.
The teams order to their hearts' content and Mr. PD explains the mission: list off as many complaints about your opposing team members until they've finished eating. Sulli's team start rambling right away about Jae-suk's glasses, Jong-kook's muscles, what have you.
Then Sohee quietly mutters, "I'd wish you'd throw away your shoe lifts, Haha oppa." Hehehe.
Sulli's actually pretty good at this, spitting out the teensiest of things like rapidfire and Haha gives the kicker about how he wishes Jae-suk would stop being holed up in his room, watching videos early in the 'morn. HA. If memory serves me correct, Haha made this reference before in a previous episode and Jae-suk admitted to his love for his movies, though the implication is of a special kind.
Both teams finish and the mission here is to rid themselves of their "complaints" represented by post-its by dance. This ought to be interesting.
The caps here don't do the dances justice, 'cause I'm dying of laughter watching Haroro try to blow off the notes stuck on his glasses. And poor Suk-jin crashes to the ground trying to shake off the ones stuck on his shoulders.
The next mission card leads them to the SBS building. They'll need to collect at least eight functions (e.g. plus, minus, divide, etc.) before they're allowed to leave. But be careful, other teams can steal the ones you find!
Sohee's team track down their first (a square root) pretty easily and sneak in whilst another show, 1000 Song Challenge, is filming. Gary runs into a few comedian guests and asks if they've spotted any other Running Men. In shock, he whispers to the camera, "He hasn't seen them!" Hehehe.
Jae-suk discovers that one of the MCs, Jang Yoon-jung, knows about the clues, but she won't give in so easily. When she asks what she'll get in return, Jae-suk tells her he'll dedicate his victory to her, but she has a better idea: Jae-suk can sing for them, and they'll hand over a clue if he scores higher than a 92.
He's reluctant, but gets called on stage by Tae Jin Ah. If you've got a sunbae like him who tells you to sing – you sing. Jae-suk fails just shy of a few points at which they immediately call up Jong-kook, busy trying to grab a clue stuck on one of the cameras.
And if impromptu singing wasn't enough pressure, Lee Hwi-jae, the other MC, instructs him to retire should he fail – and Spartakooks promptly sings and dances to his previous hit "Loveable."
Yoon-jung hands over their well-earned clue (a multiplication sign) and Jae-suk jokes: "We don't need this…" Doesn't spontaneous public singing at least earn you a minus sign?
Jong-kook discovers that coveted minus sign a moment later. The only drawback is that it gets captured on camera for the other teams to see. But no worries – Sulli's team picks one up for their own.
Kwang-soo corners Ji-hyo outside a bathroom. She totally plays it cool until Kwang-soo spots the clue and there's six people fighting over a sign in a cramped corner. Once it's all said and done, the clue disappears…into Kwang-soo's mouth. HAHAHA.
Okay, Sohee is freakin' adorable. Her team scours the place for clues, and she discovers hers without making a peep. When her oppa teammates praise her, she simply giggles in response. That is, if you can even hear her laugh.
Ji-hyo and Sulli's team decide to join forces to take on Jong-kook. Haha runs into them a minute later and Jong-kook offers to trade for clues the other needs and Haha replies truthfully, "We don't know how to use square roots."
A seemingly peaceful trade-off spirals into chaos as Jong-kook grabs a clue out of Gary's hands and runs. But that leaves his other teammates defenseless and they get their clues snatched away.
While Jae-suk steps away to reclaim his stolen goods, the two idol boys circle around Jong-kook…
Dost my eyes deceive me? Did Minho just overtake Spartakooks? The other teams crowd in, picking off clues like a pack of hungry hyenas, leaving Jong-kook bare. Just like that, Ji-hyo's team's luck turns around as Minho hunts down clues all across the building.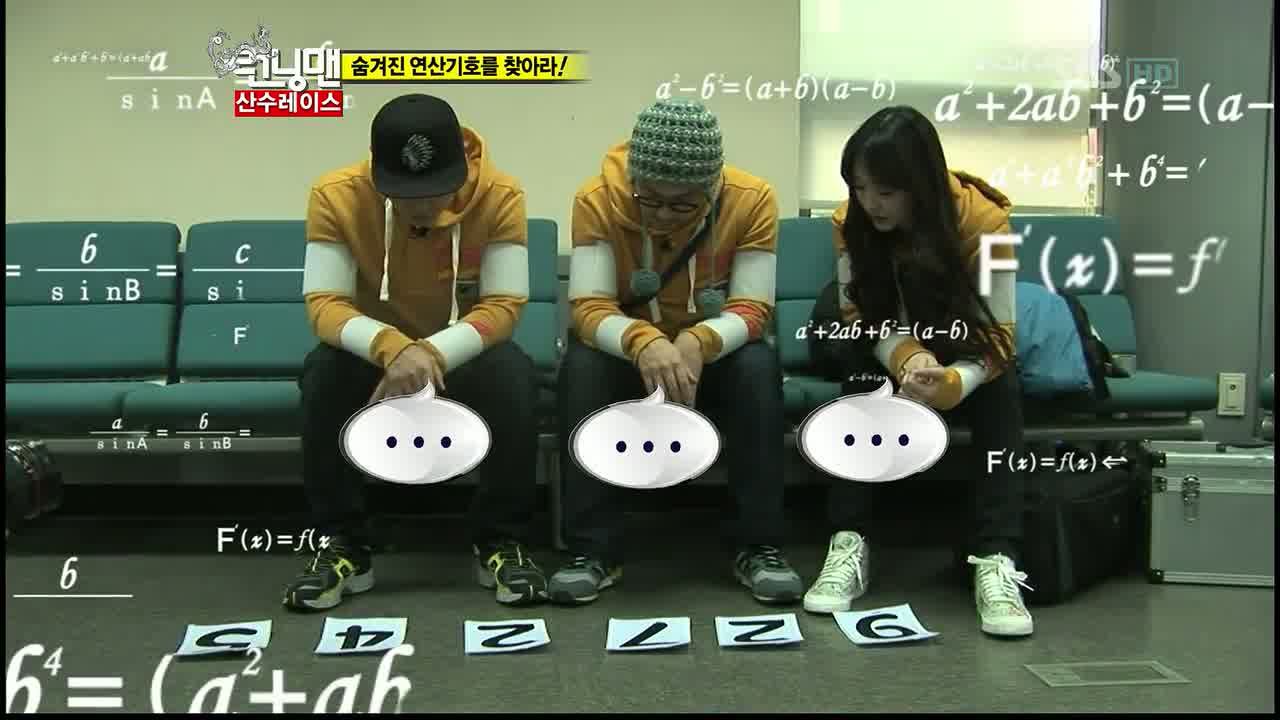 Meanwhile, Sulli's team is stumped over their numbers. I especially enjoyed the computer "ding" in the beginning of the episode. They still crack a few math jokes – singing a parody of Yim Jae-bum singing "Everyone" to, "I'm your [function]…" and also, ("Who'll comfort us when we can't solve a math equation?") Answer: f(x) (mijukbun = calculus).
Jae-suk gripes after he watches Ji-hyo's team leave first, and is slightly startled when Sohee suddenly heads outside. Thankfully, she's spotted another clue, and like her usual self, silently hands it off. She discovers another one masking itself as a decoration and darts for the door now that her team has collected eight.
But Kwang-soo notices right away and he runs to catch her. But before he can, Jong-kook pushes him out of the way. Keke.
Ji-hyo's team arrives first and quickly work to assemble their equation, with Sohee's team pulling up soon afterward. Ji-hyo's team presents their equation, but sadly they end up with negative 1 instead of positive 1.
Sulli's team runs in last, filled with confidence, as they start pulling out their numbers and clues. With all the teams now working on their equations, now it's a race!
Haha declares that their team is finished and the staff checks their work… and the sign lights up, confirming that their equation equals 1.
The PD belatedly tells Ji-hyo's team that they could have won (by simply moving a parenthesis) and Minho explodes, victory stolen under his nose.
The other teams look at Sulli's team in disbelief and Haha declares: "We don't need any fancy stuff [like square roots and parentheses]!!" Congratulations Sulli's Team!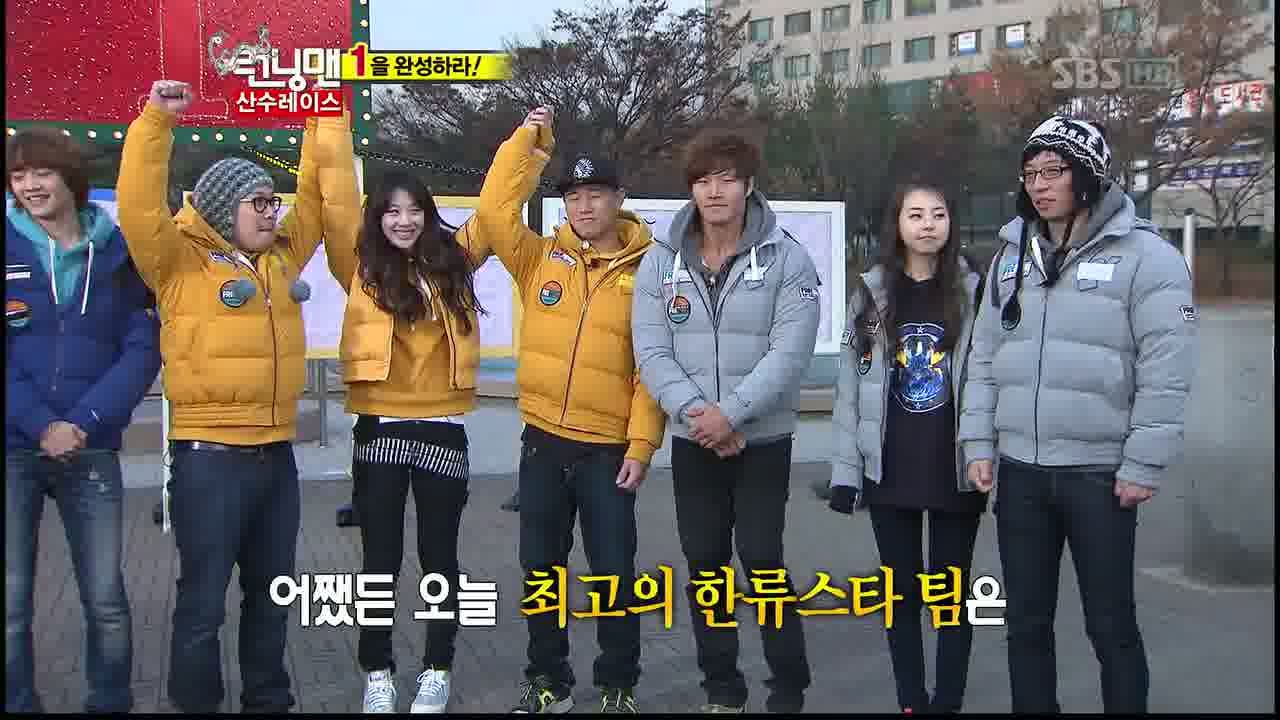 RELATED POSTS
Tags: Choi Siwon, featured, Haha, Ji Suk-jin, Kang Gary, Kim Jong-kook, Lee Kwang-soo, Running Man, Song Ji-hyo, Yoo Jae-suk