1 Night 2 Days: Episode 371
EPISODE 371. Broadcast on January 29, 2012.
javabeans: Su-geun is the first to arrive at basecamp, since his Winter Dinner Table segment was situated nearest.
girlfriday: Seung-gi joins him and confesses that this whole eating thing felt so foreign for 1N2D, and he was concerned for the first time about how much usable footage they'd get.
javabeans: Plus, there's the fact that his ajumma cooked everything in 2 minutes and barely spoke.
girlfriday: He repeats his earlier fear that it only means there's something massively bad around the corner.
javabeans: I hope so, for the sake of this trip. I haven't even been watching this show that long and I'm tiring of the split missions. With so few episodes left, is this really the way to go out? I can see that it makes it easier to fill up an episode with five separate little narratives, but they're not all interesting.
girlfriday: That's what I was thinking too — that it's such a waste with so few trips left. Separate mission episodes really make me miss the old school 1N2D. What I want to see is the boys interacting WITH EACH OTHER. It's not rocket science. If you really want to split them up, ditch one on the side of the road!
javabeans: Or at least split them up with a partner, so we still get interaction. Anyway, Ji-won, Tae-woong, and Jong-min have longer commutes to basecamp so we catch up with them en route. Ji-won hears that his car is headed for the harbor and is deeply suspicious.
girlfriday: Seung-gi and Su-geun arrive on the dock to a crowd of screaming fans. Suddenly someone fights through the crowd and it's Jong-min, trying to squeeze past all the ajummas screaming for Seung-gi. He looks like he might lose an eye.
javabeans: Did those fans just follow them, or was this a planned event?
girlfriday: I'm thinking the town heard that they were coming ahead of time and just set up camp. The bigger the operation, the more fans they attract, and I'm pretty sure they just moved a crane into position. That amount of effort always fascinates me. If I were a camera crew always on the move, I'd be like, let's go handheld!
javabeans: Na PD calls an end to their homage to the TV show Dinner Table, and explains that Part 2 will follow a different documentary show… EBS's Extreme Job. Seung-gi: "I don't like that title." Na PD adds, "And also, Discovery Channel's Life and Death Capture." Ji-won quips that this program has returned to its roots.
girlfriday: Su-geun turns to Na PD, "Oh yeah? Well the program I'm obsessed with is called Crying Fists. C'mere." HA.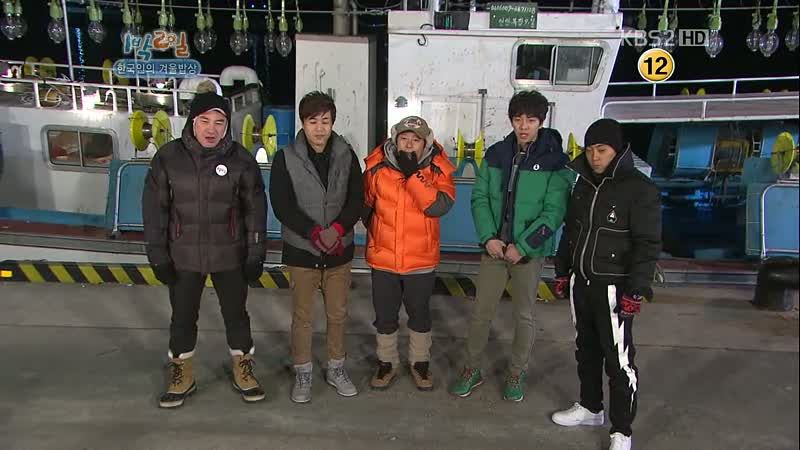 javabeans: Na PD tells them that first off, one member will have to take a little trip, and indicates the squid boat they're standing in front of. Do you enjoy the undisguised look of loathing on Tae-woong's face?
girlfriday: He says all the members will have to go on fishing trips tonight (since they ate for free, natch) but that the squid boat has the longest journey — 12 hours roundtrip. Holy. So they're going to send one severely unlucky member off right now, in the boat behind them.
javabeans: They'll choose via one round of the Strawberry Game, using fish names, and Tae-woong immediately groans, then bursts out, "Then you're basically telling me I have to go!"
girlfriday: Aw, it's pretty much true though! I mean, at least with rock-paper-scissors he'd have a fighting chance. But maybe with an all-night fishing trip on the line, he'll get it together to outlast Jong-min?
javabeans: Already Ji-won's thinking up his fish name with this crafty smile on his face. I just want somebody to lose who isn't Tae-woong or Jong-min, because they're just the obvious picks. But no, Tae-woong loses and has this look of pure aggravation on his face. Aw, I actually feel bad for him this time. Isn't this what you call entrapment?
girlfriday: He resigns himself to his fate and they get ready to send him off, and then suddenly Na PD says he has to go with him, and takes the main writer along too. I love that he nags the boys even as he's getting on the boat, "Don't mess around!" like they'll just play if he's not there. I'm confused though, 'cause Na PD's not one to go on rough trips.
javabeans: What I love about the reasoning is that Na PD basically has to go because when booking passage on the boat, they were asked for representative names and he just gave his own and the main writer's — probably assuming they'd just send some newb later — and now they're stuck going for realsies. That makes me giggle.
girlfriday: Well that's karma for ya.
javabeans: I love how cheerfully the boys send him off. It's like saying goodbye to your parents who are going on a weekend trip and you're totally trying not to give away the glee of having planned a huge house party after they leave, but you're all excited and your parents are in danger of catching on to the master plan. Not that that's happened to me, of course. I learned all this from cheesy teen movies like any good American, naturally.
girlfriday: Naturally. What makes it worse is that the boys go back to basecamp… and eat some more! They get the chance to share the dishes they had with each other, which means they get to feast while Tae-woong suffers. They talk about him like he's gone to the afterlife, but then perk up as soon as the clams hit the table.
javabeans: Ha, Seung-gi takes the first taste, makes his reaction face, then declares that the person who got to eat all these clams really does need to balance that out by making a trip on the squid boat.
girlfriday: Gah, I knew that was the tastiest dish. Even Ji-won's eyes bug out in shock when he tastes it. Jealous.
javabeans: Su-geun's dish is next, and he tries to build up the anticipation by saying they'll all retract their reservations about this fishy fish after tasting it. Only to have Ji-won sitting there stone-faced, not buying it. Su-geun offers the first taste to birthday boy Seung-gi and says that if it's fishy, he can slap his face. Ji-won jumps on that and says he'll do the tasting/slapping.
girlfriday: And Su-geun agrees? Was he born yesterday? Ji-won cautiously takes a taste… chew… chew… and then the look comes. It's the scrunchy face of fishiness. Wait, where's the slap? Maybe he's saving it for later.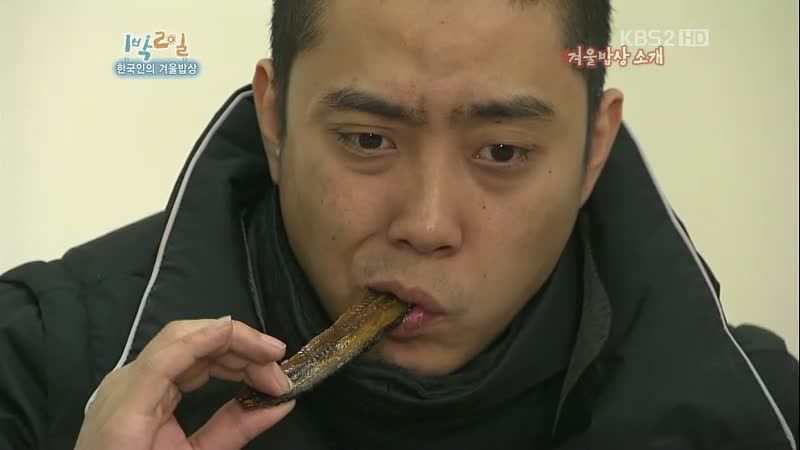 javabeans: Seung-gi takes a taste and likes it, so our two ajusshis clap hands in affirmation. Ji-won grumps that of course Seung-gi would like it. Ji-won tries a second version of the fish, which Su-geun promises is good — because it tastes like a different fish, ha — and at least Ji-won gives this one a nod of approval.
girlfriday: Tae-woong starts getting the hang of squid-catching, which mostly involves spinning a wheel until they pop up. Seems fairly easy, compared to some of the rougher fishing trips they've gone on. I love how he giggles in glee every time one comes up spraying water in his face.
javabeans: The head fisherman says they'll be taking a dinner break soon, and Tae-woong perks up at the mention of pork, having assumed he'd be skipping dinner tonight. Na PD has to speak up and tell the fisherman that if Tae-woong isn't working hard they don't have to feed him, and Tae-woong retorts, "What are you talking about? I'm working hard!"
girlfriday: Back at basecamp it's Ji-won's turn to introduce his seaweed soup, which I'm sure tastes good, but it looks like they're drinking ectoplasm. *sluuuuurp*
javabeans: And then for the one that gives ME food cravings… Jong-min's sweet potato gruel. Can I just say that after last week's episode, while I didn't have the patience to look for a recipe or try cooking it, I have been eating sweet potatoes daily.
girlfriday: Apparently Jong-min went on a food bender and tried every new dish he could find in that town.
javabeans: Okay, udon-jajang is just weird looking. Are you udon? Or jajangmyun? Make up your mind! I bet that's an accident dish, like one where somebody dropped a ladleful of jajang sauce into a bowl of udon and went, "Eh, might as well eat it." I recognize this because that's the majority of the cooking I do.
girlfriday: Whereas I wouldn't even get to that stage because that would involve cooking two dishes at the same time. Jong-min unveils all the things he brought and the boys get anxious to try them, with Seung-gi even dancing in the back. He uncovers the big one — the sweet potato porridge — and everyone's faces go HUH, that looks weird. That was so not the impressive intro he had in mind.
javabeans: Ji-won asks if it's mud. Haha. And Seung-gi demonstrates the super-thick, dense consistency by pressing in with the ladle. But then they each take a bite and their eyes bug out at the deliciousness. See, I knew it would be awesome! Lol, Jong-min starts to introduce his other dishes, but this involves that pesky speaking exercise he's so bad at.
girlfriday: Hahahaha. I'm dying. Seung-gi has to translate everything he's saying, and the other guys are literally like, Ohhhhhh, THAT's what he meant!
javabeans: He cracks me up. Jong-min says that 70% of Korea comes from Tongyeong's oysters. Or something. And Seung-gi has to unravel that to understand that 70% of Korea's oysters come from Tongyeong.
girlfriday: He stops Seung-gi mid-bite with an oyster to describe them: "If I'm honest… Don't even ask!" Pwahaha. What does that even mean?!
javabeans: While they're wrapping up the eating with Seung-gi's fried fish, Tae-woong is learning how to gut squid, eating them raw right off the cutting board. Damn, now I'm hungry. I love raw squid. Okay that sounds weird. I love squid sushi. Na PD takes a taste and tries to describe how good it is, and just stutters.
girlfriday: Ha, maybe he goes to the Jong-min school of expression. Damn, that fisherman is fast with the knife. His chef skills are impressive.
javabeans: After teasing Tae-woong about his big appetite, the camera catches Na PD inhaling his bowl, marveling at the deliciousness. Damn I'm hungry.
girlfriday: I love that super high-pitched tone that comes out of Na PD: mmmmMMMM~~mmmm.
javabeans: At basecamp, the remaining four members are briefed on their upcoming "Extreme Job" mission — Tae-woong got the hardest pick, but they each have parts to play too. They'll start at 3am, and Seung-gi asks if the schedule has factored in any sleepytime. The PD: "You slept on your way over here."
girlfriday: Ji-won suggests they look it up on the internet: "What is there to catch at 3am?" Su-geun: "There's only one thing you grab at 3am — you drink and you grab someone by the collar." LOL.
javabeans: The PD outlines the missions: The shortest job will only take about 10 minutes on the boat, and they'll be catching monkfish, and everyone gets excited. Until she adds that they'll be out for three hours. Octopus-catching will be a five-hour trip, snow crab will require six hours, and puffer fish is the big one at eight hours. Seung-gi says that since it's a female PD instead of the usual Na PD, he can't even protest freely. Hm, that sounds kind of sexist but she's also a junior PD, and also not the evil genius in charge. Can't shoot the messenger, and all.
girlfriday: I think it's also the fact that she's smiling all sweetly as she tells them to spend eight hours on fishing boats instead of sleeping.
javabeans: But when she says all cheerily that they can feel free to enjoy the waves, Seung-gi points out her smile, which contradicts the sadistic tone of her words. Now the boys fight it out to claim their trips, and predictably everybody wants the 3-hour monkfish mission. Su-geun volunteers himself for the six-hour one, and the other three rock-scissor-paper for their picks. Seung-gi tactically chooses the second-best option instead of the best, which means he scores the five-hour ride while Jong-min and Ji-won are left fighting over the 3-hour one.
girlfriday: Ji-won and Jong-min play Nonsense Koong-koong-ta to see who gets the easiest trip. Okay, now this game totally brings back old school memories of this show. It's basically a version of the end-syllable word string game, except you can only say words that are NOT words. If they even closely resemble real words, then someone can pause the game and challenge you, make up a meaning, and then if it makes sense, you're out.
javabeans: Jong-min loses by fumbling for an appropriate nonsense word starting with "hong" and can only come up with "hong-chul-ee," which everyone busts a gut over because it brings to mind Noh Hong-chul, and he's given the 8-hour mission.
girlfriday: Hahahaha. Jong-min's cracking me UP today. What's with the one where he's suddenly sing-chanting his nonsense word to buy time?
javabeans: The guys head out to their respective boats, with a crowd of excited fans cheering them on. Aw, Jong-min picks up a young kid who holds up a sign: "My love, your love, Kim Jong-min."
girlfriday: Ji-won's PD makes the mistake of telling him that his fish has razor-sharp teeth. You can literally see the dark cloud descending, "They have teeth?" He gets all serious, "You must know… why we must catch this fish." Ha, are you getting existential on your way out to sea?
javabeans: Aw, Jong-min hears that his crowd waited for him all this time, till 3am, and says, "No way!" not beliving it. He asks his crowd if they really did wait, and they cheer, "Yes!"
girlfriday: Oof, Jong-min's ride out to sea does not look pleasant.
javabeans: It looks downright perilous. He looks worried at the rough waves, like maybe they'll be forced to go back home. Or, you know, maybe they'll die. And then he's hit with seasickness and hurls over the side of the boat. I actually think it looks fun, but I recognize that that is my eccentricity, and everybody looks miserable.
girlfriday: I strangely think it looks fun too, but I've never really been that prone to seasickness. I have a feeling it's the tininess of their boats too, and not just the size of the waves that are doing them in.
javabeans: Ji-won tries to wriggle his way out of fish duty and asks his ajumma if there's something, anything else he could do. "If only I don't have to touch the fish, I could do anything else!" But she shakes her head no, so fish duty it is.
girlfriday: Ha, what other kind of duty would there be on a fishing boat? The first monkfish finally comes up, and all Ji-won does is scream at it. Wow, those things really are ugly.
javabeans: But tasty! Ha, Ji-won yells, "It's a monster!" And the cheeky editors play a track from The Host (the Korean title means simply "monster").
girlfriday: He sees the little fins on the fish's underbelly and screams, "They have feeeeeeet!" Hahaha he's being childish, even for him.
javabeans: "Ah! No, I can't! I won't! Please! No! It's gonna eat meeeee!" At least Su-geun looks like he's having fun, and holds up a monster crab that's about ten years old. Seung-gi heads out last, suiting up for his octopus hunting trip.
girlfriday: He totally doesn't hide the absurdity of going octopus fishing at 5am on his birthday, and practically screams it at the camera. Hee. Meanwhile the entire interview he does with the captain looks like they're standing on a tilt-a-whirl or something.
javabeans: He's staggering around the whole time, trying to stay upright, while the captain calls it "fantastic weather," which does not compute with Seung-gi. Apparently 3 meter waves are his sweet spot, but he says that when they're 4 meters high they don't go out because it's dangerous. Seung-gi: "Uh, isn't 3 meters also a bit dangerous?" He mentions that it's his birthday and the captain congratulates him, then apologizes. Haha.
girlfriday: Ji-won finally manages to get over his initial fear and make himself useful, though he's still not touching any fish. He drags the net up endlessly, and soon enough there's this mountain of netting beside him, which must've taken hours to do.
javabeans: Su-geun measures each crab and throws the little ones back into the water. He calls a little one Su-geun-ee and throws it overboard. Finally he heads indoors, exhausted, as do the others on their respective boats.
girlfriday: Jong-min has the worst of the seasickness, but he struggles to help out and be useful. Poor thing just runs back and forth, catch a fish, throw up, catch a fish, throw up.
javabeans: I know, it's so sad! Especially since at the beginning of the night, he was so encouraged by the fans who came to see him off that he promised he wouldn't get sick, using sheer force of will. But you can't keep your body from reacting to physical stimulus, no matter how hard you want to. But there's a silver lining in that the captain declares the weather too bad to continue, so Jong-min's 8-hour ordeal gets cut short. He was supposed to be out till 11am, but it looks like we're around dawn.
girlfriday: Seung-gi's boat is just heading out as Jong-min's boat comes in, and it's kind of ridiculous watching him and his VJ slide around on the deck trying to shoot in this insane weather.
javabeans: It doesn't help that they're editing this together like it's some kind of big climactic movie moment, let's say The Perfect Storm, with a moving flashback of Seung-gi back on land in happy times, like he's about to go meet his mysterious end.
girlfriday: And then we get a montage of all the delicious things he ate today… as he heads to the side of the boat to throw them all back up. Gross.
javabeans: Ew… Especially the caption that reads, "Return what you've eaten." I'm sure the ocean is saying, "I don't want it." I've never been seasick, but I imagine it must be the worst kind of nausea. The kind you didn't earn. Like a hangover, except you had no fun getting it.
girlfriday: The boat rocks so hard that it brings Seung-gi to his knees, but he just goes with it, "I'm not kneeling because I've done something wrong, but…" heh.
javabeans: Haha, while Seung-gi's trying to show us a conch, the fixed camera view shows him staggering around the deck from the force of the waves. The captions tell us he's doing "the twist of joy" over his discovery. Hur hur.
girlfriday: He wails at the PD, "Must we really do this? On my birthday?!" But his spirits are quickly lifted when they catch the first octopus. He grabs it with his hands and tells it to stop trying to hug him. Hee. They point out that poor Jong-min looks like he aged about ten years overnight. Damn, when they show what he looked like just three hours ago, it's shocking.
javabeans: I think Tae-woong had the most fun on his trip even though it was the longest, probably because he didn't get sick, and he seems to enjoy productive work. And he also seems happy to do physical labor. He says that after doing the work firsthand, he won't be eating fish thoughtlessly anymore, now that he's seen what it takes. As the sun rises he gets a bit philosophical/sentimental, wishing for luck in the new year, success for his projects, health for his mother…
girlfriday: The other boys return to basecamp first, and Su-geun worries that Tae-woong had the worst of it. But Ji-won says no — there's no way, because Na PD and the head writer went on his boat. It may have been the longest trip, but it wasn't rough like theirs. I think that has to do with the size of his boat, mostly, but that seems right. Perhaps the evil genius put his name on that log for a reason.
javabeans: After twelve hours at sea, Tae-woong comes back and says, "Mom's back!" Ha, he is kind of like mom, returning to the roost. Everybody conks out at basecamp, including Na PD, and the room fills with snores. In the morning the staff lays out the breakfast table, and when Jong-min gets up a staffer asks, "Are you still alive?" The other boys see that Tae-woong's here now and ask how his day went. He says he was fine because his boat was the biggest, and that the other fishermen said that octopus-fishing was going to have it the hardest. Seung-gi reacts: "What?!" He says he was telling himself that he couldn't give up when he had "an easy boat." Aw.
girlfriday: Aw, at least Na PD finally gives him the birthday spread he forgot yesterday.
javabeans: That breakfast spread looks amazing, but the guys look too miserable to enjoy it properly.
girlfriday: Jong-min looks like his soul is… elsewhere. Seung-gi sighs at himself, "I threw up everything, and now here I am, happily eating all over again," like he should've learned his lesson but didn't.
javabeans: Ji-won won't even get up to eat. Su-geun tempts him by dangling crab over his face, but Ji-won is dead to the world…. and then at the last moment snaps it up in his mouth. Seung-gi asks Jong-min what he learned from this trip. Jong-min: "That seafood is precious."
girlfriday: Seung-gi adds with hilariously gritted teeth and crazy eyes: "1N2D gave me an unforgettable birthday. I sincerely thank you." Na PD just smiles back proudly. Ha.
javabeans: Once an evil mastermind, always an evil mastermind.
RELATED POSTS
Tags: 1N2D, Eun Ji-won, featured, Kim Jong-min, Lee Seung-gi, Lee Su-geun, Uhm Tae-woong