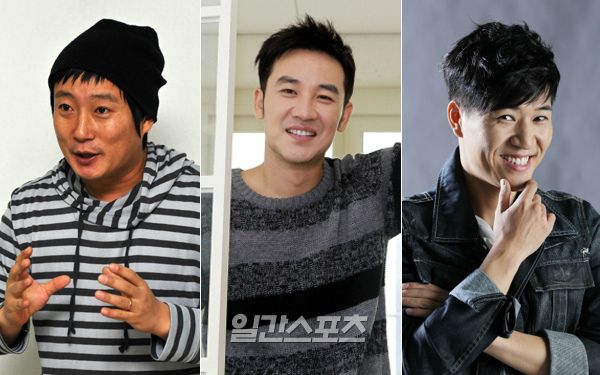 Rumors have been circling, but mouths kept hushed about whether some members of hit variety show 1 Night 2 Days would stay for the upcoming second season, scheduled to start filming in two weeks. But Friday marked the current cast's final trip, where the announcement was made official: longtime members Lee Su-geun and Kim Jong-min, along with last year's addition Uhm Tae-woong, will remain on the show's second season.
There is still no official word on the remaining members of the new cast, but in all likelihood it'll be the three names that have been thrown around for a while now: Win Win host and actor Kim Seung-woo, ballad singer Sung Shi-kyung, and actor Joo Won. Season 2 will be helmed by PD Choi Jae-hyung, a variety PD with Happy Sunday and Yoo Hee-yeol's Sketchbook. He's stated in multiple interviews that the show will retain its format, and has promised not to mess with the winning formula of its big brother. Well yeah, 'cause that'd be stupid. I certainly don't envy that guy's job, because all eyes are on him, ready to pounce if he takes one misstep. People get sensitive when you mess with their variety shows, yunno.
So we've known for a good long while that it'd soon be goodbye for Lee Seung-gi and Eun Ji-won, (Seung-gi's still got a full dance cart with Strong Heart, dramas and singing, while Ji-won has joined one of Yoo Jae-suk's talk shows, Come to Play, and has stated he wants to focus on his music.) as well as evil mastermind Na PD, who will reportedly remain at KBS and develop new shows. *sniff… sniff… WAAAAH* It was reportedly a tear-filled goodbye for all on their last outing (pictured below).
Perhaps the members who are staying will be enough to float your boat, or were your favorites anyway. Sadly, these three leaving (along with the premature exit of original host Kang Ho-dong last fall) marks the end of the 1 Night 2 Days that I loved for over five years. That's not to say that I can't or won't love its little brother, of course. It'll just be a different beast, no matter how much you dress it like big bro. I'm not sure I'm ready to say goodbye, but here it comes anyway, like a stubborn ol' mack truck.
The final trip with Seung-gi and Ji-won will air February 19 and 26, and March 4 will mark the first broadcast with the new cast.
Via Star News
RELATED POSTS
1N2D
,
Joo-won
,
Kim Jong-min
,
Kim Seung-woo
,
Lee Su-geun
,
Sung Shi-kyung
,
Uhm Tae-woong