Running Man: Episode 82
What happens if everyone is the spy and they all believe that they're the only one? Confusion, deception, and hilarity of course! Just when you thought that the staff ran out of ideas, they still manage to spin a new twist that leaves this episode as daring, exciting, and a rollercoaster ride of fun.
EPISODE 82. Broadcast on February 19, 2012.
We start at Gimpo Airport and Jong-kook is mysteriously absent to which they wonder if he's been issued a secret spy mission. Maybe he's with Yoon Eun-hye? I love how some pairings in the variety world never dies.
Gary hopes that it works out for those two with a strained expression. Well, it was about time they addressed the news of Ji-hyo's (real-life) relationship. Gary denies that this isn't the end of the Monday Couple. But still sorrowful, he adds: "I drank by myself for three days straight!"
Mr. PD explains that the guests have been waiting for them, directing their attention to three vans parked behind them. The teams will be divided according to which car they pick and the cast rush around to stand in front of one.
Time to reveal the teams and Ji-hyo, Suk-jin, and Jae-suk wait in front of the first car and out steps… Myuk PD. You know him by now: he accompanied Gary to Europe and is the one who the cast wants to grab by the collar. Then he oh so casually just puts on the same lip balm you saw a few weeks ago. So no guest on their team.
Jong-kook and Kwang-soo wait with anticipation as their door opens… and it's none other than maknae Dongwan FD. Which means that this unlikely duo is stuck together and I'm legitimately frightened for Kwang-soo today.
Haha and Gary do a happy dance since that means they're paired with today's guest, who is none other than Lee Da-hae (Miss Ripley, Chuno). The range of reactions among the boys varies from complete disbelief to jaw-dropping surprise. It should, however, alarm no one that Haha starts comparing their guest to Ji-hyo who shouts, "You're shorter than she is!"
Jae-suk tries to act as if he's on friendly terms with Da-hae, which annoys everyone and Ji-hyo tells him to call her by her full name, since dropping the surname hints a familiarity with each other. And Haha delivers another blow when he says that of course, Ji-hyo is older than Da-hae, which earns him an airkick.
Unfortunately for the other men (and for scared Kwang-soo), the teams will stay put as is today. Man, if this wasn't awkward for the Kwangvatar and Spartakooks already, they'll have to be holding hands. Jong-kook overcompensates by interlocking fingers and Kwang-soo jokes that his hands must be muscular as well.
Arriving in Busan, all the teams clamor into their cars to head out to the first mission location. Haha tells Da-hae that she's the prettiest guest they've had but she's not deceived one bit – she's seen the episode with Sohn Ye-jin and knows all about his playboy confession tactics.
Da-hae shares that her ideal man must be understanding and the boys immediately pipe: "I totally get you! I can be understanding about everything!" Caption: "We're cool, please understand us…
I'm pretty sure that Kwang-soo's fear is pretty real right now. The sound of the car revving is louder than their voices which alarm thems. Then Kwang-soo finally shifts out of first gear and it immediately becomes quiet.
Da-hae and her Lol Lols (Gary and Haha) arrive first and because it's rainy out, Haha can't let the opportunity to mimic a scene from The Classic with Da-hae. It doesn't have quite the same effect, however, since the height difference between them isn't much.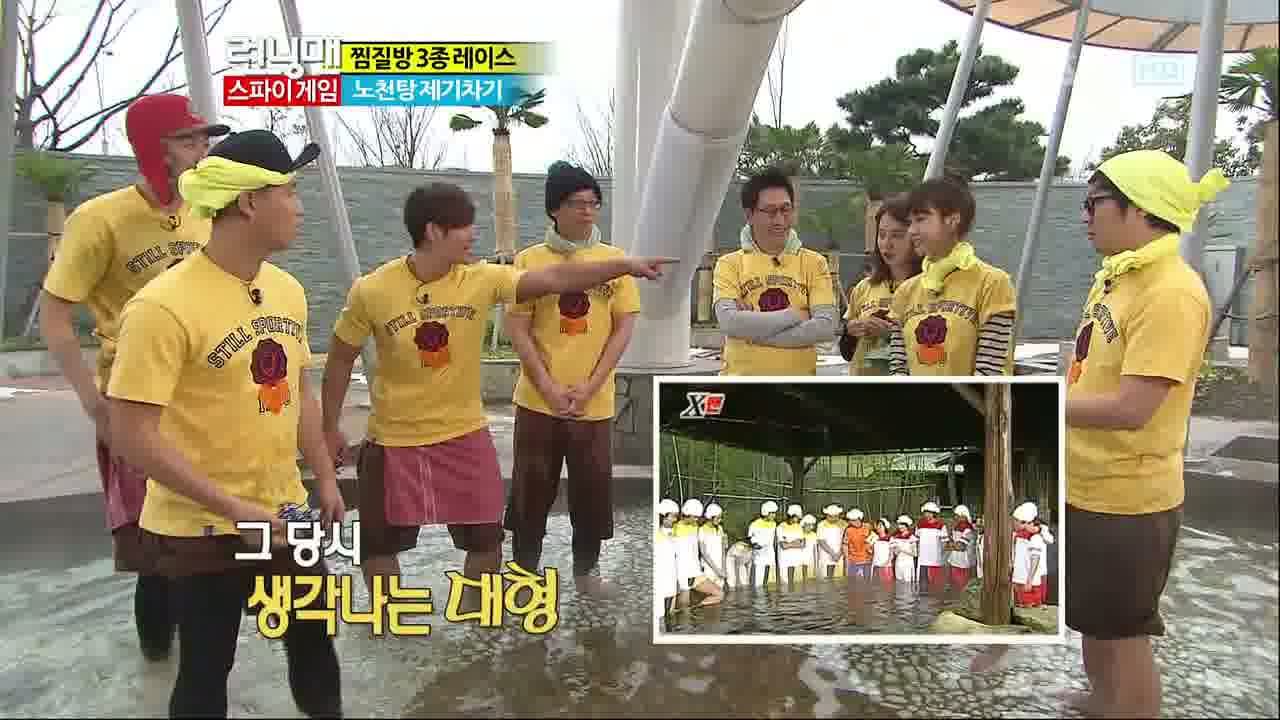 Their first mission is to collectively juggle a hackysack at least 10 times. But before they do, Jae-suk takes the opportunity to poke at the Lol Lol sore spot about their height, stating that Da-hae is the tallest on their team.
Haha's the one who's most sensitive about the subject, so when Da-hae says she's 170cm, he states at the same time he's 175cm. Then Gary clears up the issue by saying his buddy doesn't even reach 170cm. HA – I guess it's harder to hide if you're standing in six inches of water.
Da-hae flops her first attempt which spikes Jong-kook's suspicion radar: "Are you a spy today?" She evades the question with an innocent face that she was unaware that they'd be picking so early. But the whole "It's you, isn't it?!" is reminiscent to the X-man days and Jae-suk declares, "Yoon Eun-hye!"
How much do I love how Jong-kook goes to great lengths to prepare to show off his hackysack skills? Too bad it goes *plop* into the water after he kicks it once. And then he tries to rally with Kwang-soo, "Kook! Soo!" and Jae-suk adds, "Eat it!" Hahaha since gooksoo (noodles).
The rally's ineffective and he just sends a wave of water straight into the VJ's face. But Kwang-soo quickly learns that utilizing that tactic against Spartakooks when he gets punished is a bad bad idea. Needless to say, he cowers in fear.
Okay Haroro, you are way too easy. Da-hae bends over to dry off his feet and he simply flushes red at the attention, which is when Jae-suk kills off any hint of romantic overtures by telling him it's old news – Jong-kook and Eun-hye's already done it on X-Man. I'm never going to get sick of these.
Surprisingly, Gary kicks the hackysack seven times on his own which allows the rest of his team members to pick up an easy win. Their second mission is to burst at least 30 water balloons from above within half a minute.
Gary's had experience in boxing, so he doesn't hesitate punching the oncoming balloons with the Rocky theme busting out in the background, but alas, it's not enough to pass.
It's really the slo-mo sequence of this mission that really gets me cracking up. Like how Suk-jin cannot for the life of him punch a balloon and the mat hyung just miss altogether.
Then there's Kwang-soo's record that goes something like this: bounce-miss-bounce-bounce-block. He and Jong-kook collectively burst 29, no thanks to the last block by Kwang-soo.
Things look good on their second run, but Jong-kook yells why he's getting so wet. Slow-mo tells us though Kwang-soo's been hitting his mark, he constantly sends a shower of water in Jong-kook's direction. Kwang-soo picks up a new nickname in the animal kingdom and the staff depicts him as a kangaroo bathing the tiger, Jong-kook.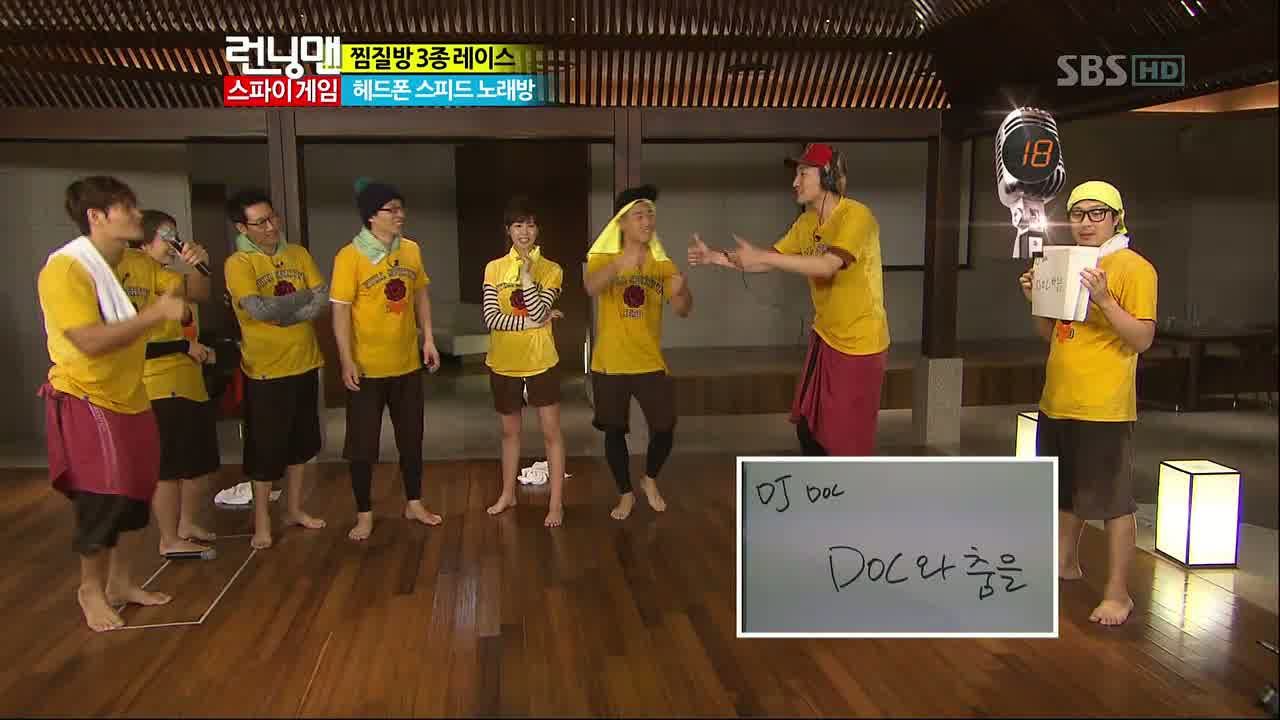 Their third mission is a speed quiz to guess five songs within a minute while wearing headphones. It's harder than it looks and Kwang-soo gets so caught up with the song that he ends up singing the chorus of "Dance with Doc" by DJ DOC, as the timer runs over.
Jae-suk is seriously a trivia bank, answering one song after another in quick succession. Isn't there anything this man doesn't know?!
Each team are given a curious box, with the smallest given to the first place team. In it contains name tags, and Da-hae's team has cutesy wings attached to theirs. Oh boy, this must mean that Kwang-soo and Jong-kook are stuck with monstrous ones…
BAHAHAHAHA!!!! Jae-suk takes them out as everyone doubles over in laughter, telling them that they can fly away with these.
Mr. PD announces that today's final mission is to track down the spy hidden among them and the immediate suspicion falls onto Da-hae. They enter one by one and Jae-suk gapes at the spacious location, unable to comprehend what the details of the mission is.
Which is when a PD starts to lead him down a corridor. Jae-suk: "Are you going to make me a spy again? I don't wanna do it!"
But when he sits in front of Mr. PD in the secret room he starts, "Well if you make me… and want me to, I'll just have to do it." Admit it Jae-suk – you love to be singled out. He's delivered his mission: Find the employee with an R-sticker. The password is the baseball cheer, "Come Back to Busan Harbor" (a cheer for the Lotte Giants). Pass all three rounds without being detected to become the winner.
Jae-suk is less than thrilled at this task – he's a horrible liar and the others will suspect him since he hasn't been the spy for a while. "After I heard that, I thought it was about my time too!"
I love it how this is EXACTLY what the others think because five seconds after being enlisted, Ji-hyo says those precise words, slightly wary. Her face lights up, when she too receives the same spy mission…
Eh? One by one, each of the cast members meet with Mr. PD in their own separate "secret room." The best part is the speechless, "Oh me?!" expression written on their faces when they each find out.
So all seven Running Man members are a spy but they all think they're the only ones. This ought to be good.
What about Da-hae you ask? She's busy pumping herself up and declaring that she's going to take everyone out. Rewind time! Her meeting reveals what we already know – though she's not a spy, her mission is to eliminate them while they run around busy with their own fake task.
Initial suspicions get tossed around whenever the castmates meet each other to shift attention off of themselves. Jae-suk runs into Da-hae and confronts her – surely she isn't the spy today? She simply laughs, knowing the situation fully, pulls the innocent ignorance act, turning the question right back at him.
Running into Gary, he rightfully has his guard up too. But innocent Gary doesn't necessarily equate to genius Gary as he hums the cheer. Having overheard Jae-suk sing it to a few employees, Da-hae simply follows along. She asks,
"Is it yours too?" and suggests that there must be two spies. Gary falls for the lie and wonders how she knew about. Um, you sang it first?
Da-hae uses the same line about two spies with Kwang-soo. But before it can register in his brain, she reaches over and rips his name tag cleanly from his back. Gary takes him aside (stuffing him a dressing room) and Da-hae muses how Gary is foolish to think that they're spies together since she'll eventually eliminate him.
Kwang-soo's elimination sends everyone into confusion – if I'm the spy, then who took him out? Kwang-soo murmurs, "Then is filming over?" Caption reads: Nope, there are lots of spies besides you…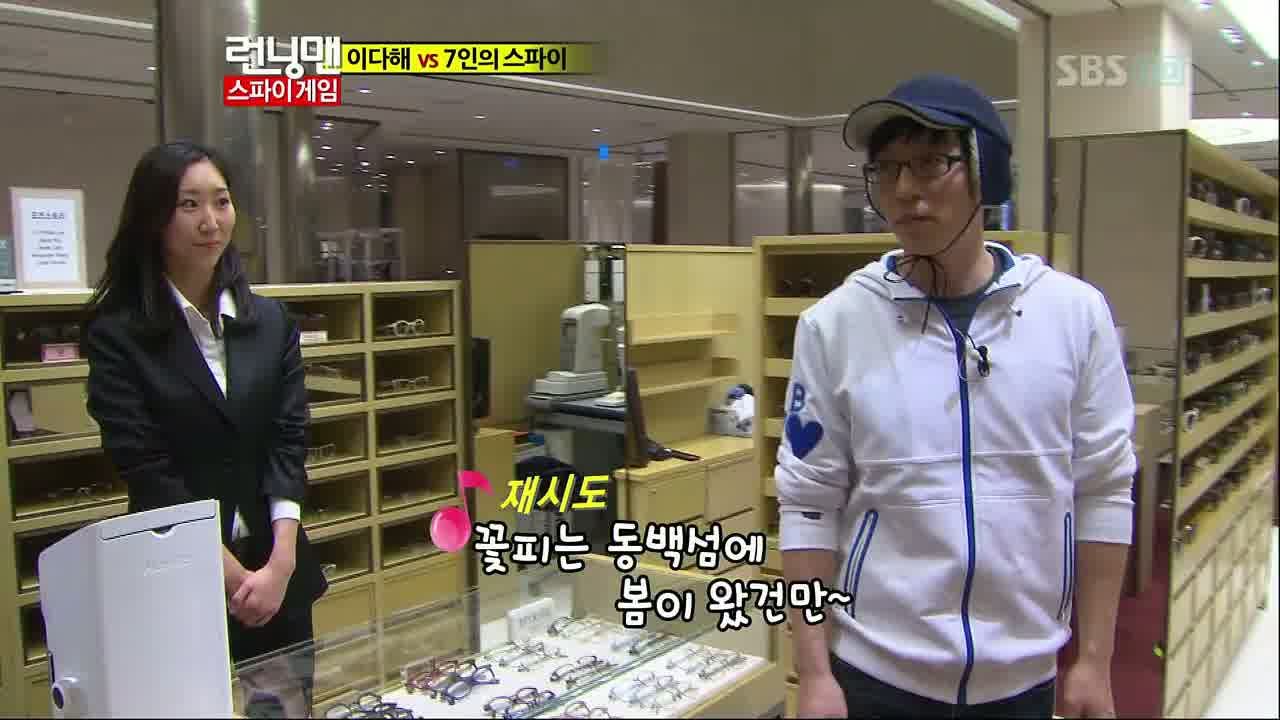 Jae-suk tracks down the employee who hands him the next step of his mission. His voice quickens as he asks why they've been given a cell phone because it will be a dead giveaway that he's got a different mission.
So he resolves to stuff it under his hat but little does he know that the others have also picked up their spy items.
Realizing that she'll need some extra help to take out the Running Man, Da-hae finds Jae-suk and admits that like him, she's a spy too. For Jae-suk who's been suspecting her all day, he calls her out for being too obvious (speak for yourself). He tries to drill her for information, but she keeps repeating, "We have to kill them off quickly."
With Gary in the distance, she pantomimes Jae-suk to eliminate him, but it's all too much for Jae-suk to comprehend at the same time, and is left dumbfounded by her blunt spy methods. He says that she's basically pointing all fingers of suspicion at them by calling out to him so loudly and she retorts that it's all part of her plan.
It's pretty hilarious how Jae-suk tries to inform her that she needs to work under the radar to be a successful spy and she just simply dismisses it with a, "Sshh!" sending his heart rate through the roof. Or maybe it's just her repeated use of, "We have to kill them."
They break up for the time being and she calls after him, "Oppa, fighting!" Jae-suk: "Stop saying stuff like that!" And I'm going to use Jae-suk's phrase describing Da-hae, "OMG…Awesome."
In a surprise twist, Suk-jin manages to take out Gary which is when he notices a curious sight: the 'spy' label inside. Baffled, he's left awestruck more at the fact that he's not the only spy than caring that Da-hae eliminates him a moment later.
Jae-suk and Haha watch Gary being escorted to jail, confused about what exactly is going on. With his back turned, Jae-suk uses the opportunity to eliminate Haha. But while he drags Haha to a corner, he fails to notice the 'spy' tag.
The third clue leaves Jae-suk quietly complaining up a storm – it took him two hours to find the second worker and now they want him to track down another one? He places the battery into the phone he acquired earlier, but what do you know – he needs to go and charge it using the third clue. Dang.
Jae-suk and Da-hae run into each other once more and she insists that they have to go and eliminate the rest of the members, and Jae-suk caves into the idea. He heads out to find Jong-kook, and she muses, "Jae-suk will set the table and all I have to do is take my spoon and dig in."
Speaking of whom, Jong-kook appears at the escalator, stepping right into Da-hae's hands She tries to whisper that she's a spy too, but Spartakooks is keener than most and knows that something's up.
He backs away from both Da-hae and Jae-suk, looking for an escape route, leaving his back completely vulnerable… and Jae-suk lunges forward to rip off his name tag.
But somehow, yet again, Jae-suk doesn't notice the attached 'spy' label.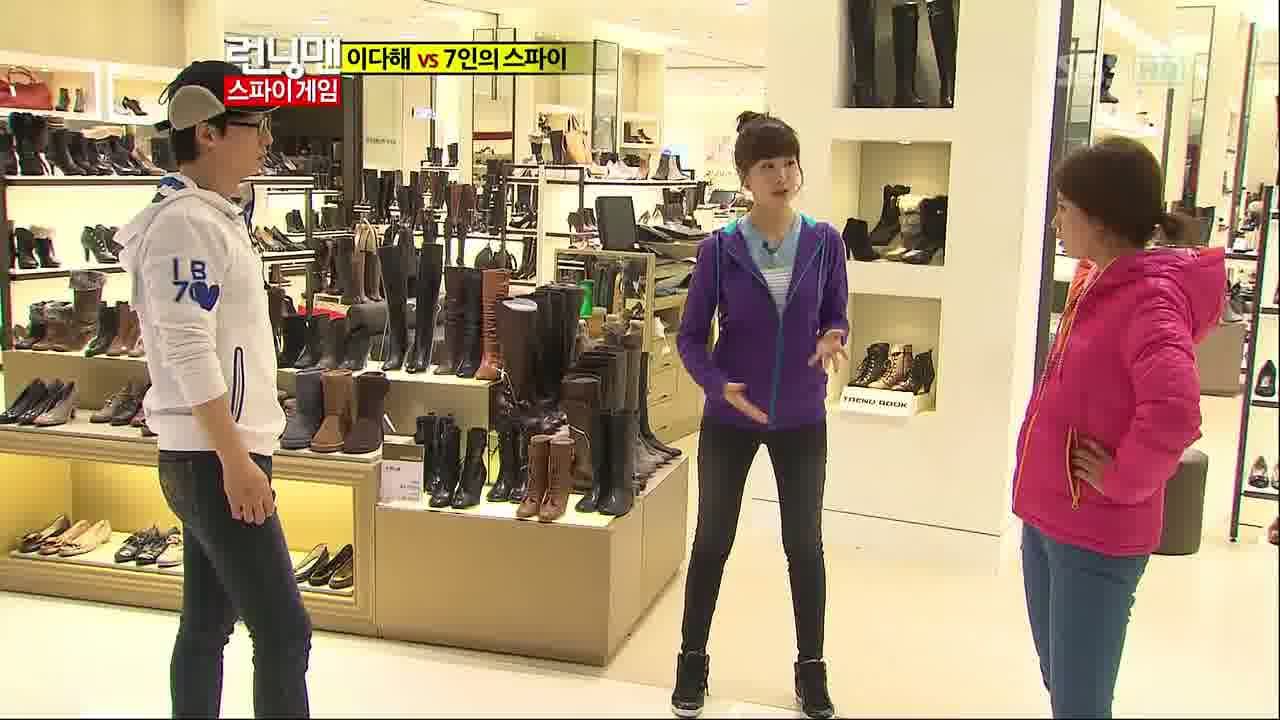 With just Ji-hyo left in the game, Jae-suk explains that in a worse-case scenario, he'll eliminate Da-hae since all that matters is that their team wins. Just then, Ji-hyo appears and a brilliant idea pops into Da-hae's head. If you're going to enlist someone's help, who would you choose: Yoo Hyuk or the Ace?
Easy choice and Da-hae accuses Jae-suk as the spy, telling Ji-hyo that he was the one to take out Jong-kook. He gets worked up, and she counters, "Then did I do it?" Poor Ji-hyo is caught in the middle of this accusation battle, confused since she's been wandering on her own.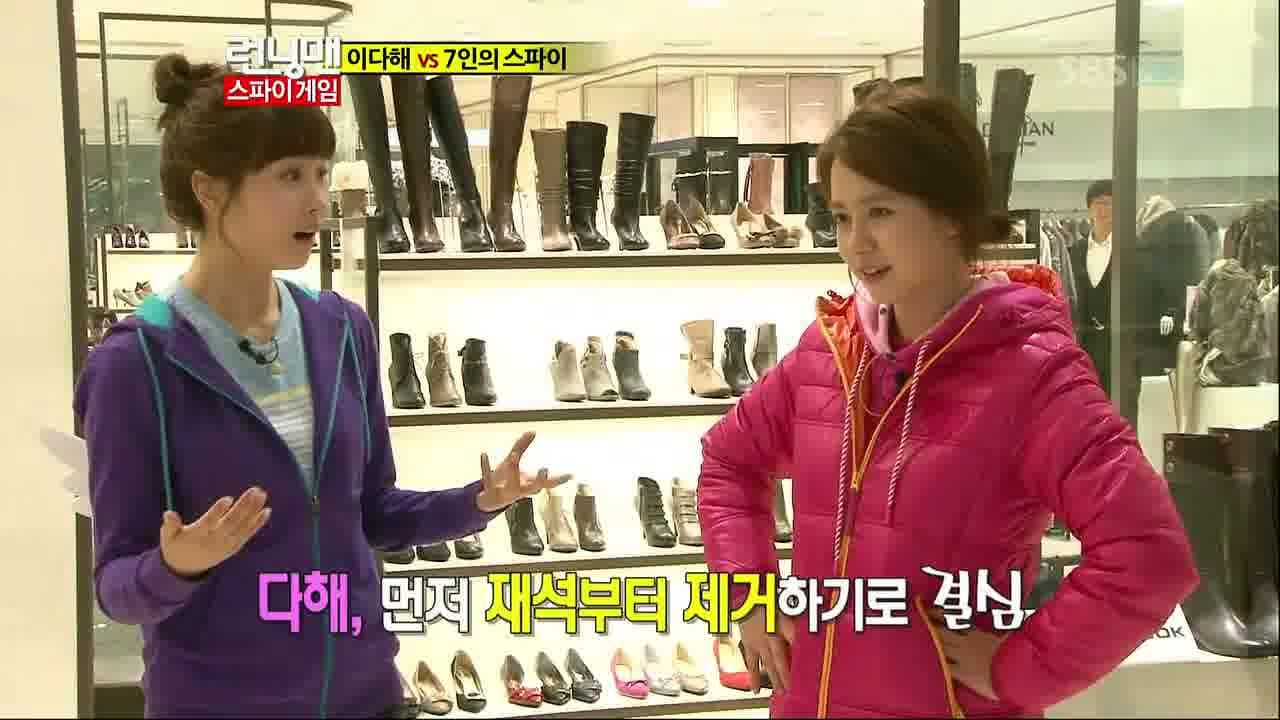 Da-hae calmly explains to Ji-hyo the details of the final mission and then names Jae-suk as the spy. Ooh, you're using his inability to lie to your advantage. Smart girl.
She offers up herself in case she's wrong and then tears off Jae-suk's name tag showing the 'spy' written inside to prove her point. Jae-suk is dragged away and Ji-hyo is left absolutely stunned.
Jae-suk arrives in jail and the boys greet him with feigned surprise and astonishment. They ask if he was a spy with Da-hae to which he admits. They continue to feed his ego, pretending that Jae-suk's involvement is news to their ears. As Jae-suk explains everything from the beginning, they try their best to hold back their laughter, clearly aware of the whole situation now.
Mr. PD announces that the final mission is over. Jong-kook suggests that they sing something before they head up to shoot the closing. They all sing the same cheer, but Jae-suk doesn't suspect a thing. So they all take out the phones they received during the mission, waving it in his face, until finally he realizes he's been duped.
So what happened between Ji-hyo and Da-hae? As soon as Jae-suk was eliminated, Da-hae snuck up behind her and eliminated her before she could make another move.
As the last woman standing, Da-hae is the winner of the Spy Game!
RELATED POSTS
Tags: featured, Haha, Ji Suk-jin, Kang Gary, Kim Jong-kook, Lee Kwang-soo, Running Man, Song Ji-hyo, Yoo Jae-suk