Running Man: Episode 85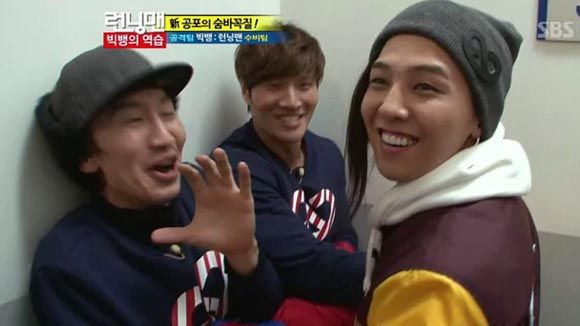 We had to wait an entire week to see Part 2 of the Big Bang vs. Running Man Hide-and-Seek, and boy was it worth the wait. This time, the boys are on the hunt and they're quick, ruthless, and blood-thirsty… for name tags. Who knew that an hour of run-chase-run-chase could be so entertaining and adorable?
EPISODE 85. Broadcast on March 11, 2012.
Big Bang arrives at the second mission location, their blood boiling from the loss in the first half. This place is freakin' huge and the members stare in awe. It's going to be a tough second half for these fellas.
To make it worse, the Running Man Team can utilize all 12 floors to hide and Taeyang immediately turns to Professor Variety Daesung that they should have chased first, still haunted by that small museum they were forced to run around in, chased around at every corner.
With a wide smile, GD instructs the others to let him know if they run into Haha. His strings tugged like a marionette earlier, he's got personal vengeance to exact. "Don't forget!" he adds gleefully.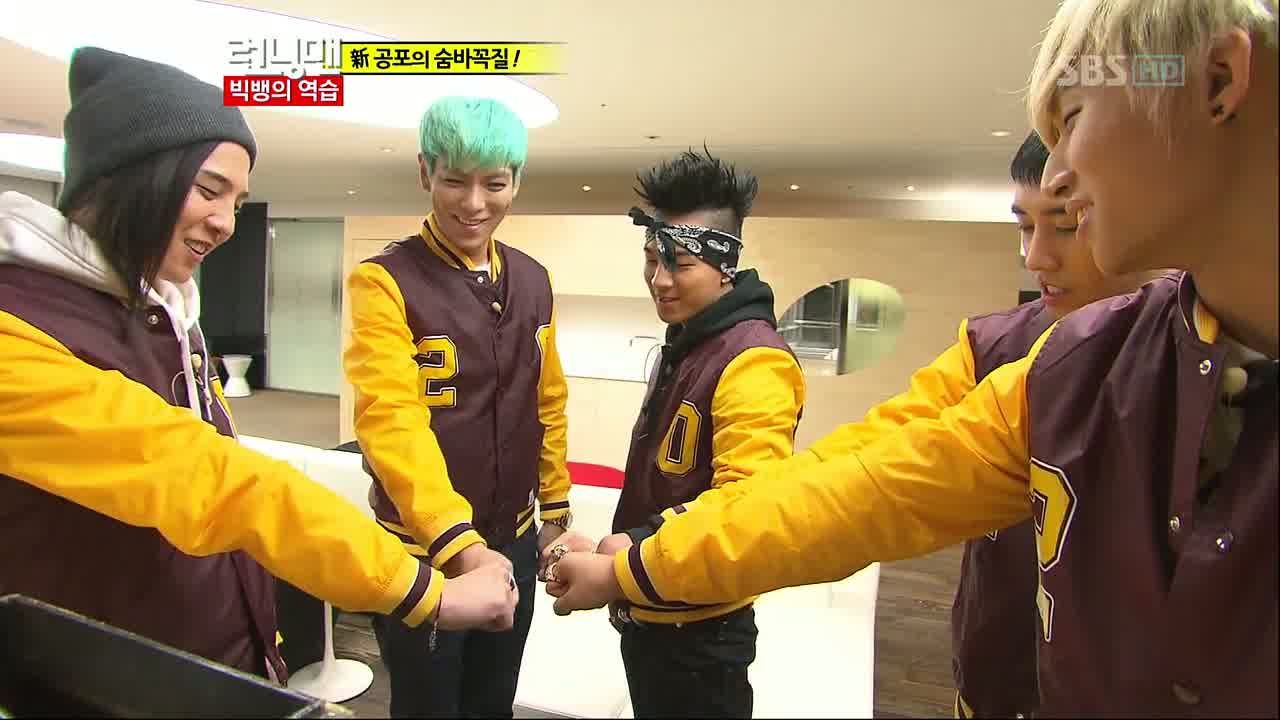 In this second half, Mr. PD introduces the boys' superpower – they can summon a cast member with their rings by collectively calling upon the Variety gods… with that now-famous line: "By power of our rings, we wield power over space!"
They try it out, and you can see the embarrassment of the cheesy line sink in (TOP barely whispers his own name), and they stumble through the phrase itself. I guess even big-time idols shrink at corny comic book declarations. Where is your confident stage presence, boys?
Mr. PD reassures them that they don't have to use it if they're too embarrassed and TOP says, "We're more ashamed at ourselves [for losing before]." They practice once more, but I don't think magical incantation is quite as cool as powerful rap on stage.
Meanwhile the Running Man cast saunter in, puffed up by their early victory. Their mission is to collect 5 signatures before they're caught.
Before they forget, Spartavatar attach their flimsy paper bracelet. Will these two bicker, er, will Kwang-soo be dragged around again this time? It's pretty likely and they interlock fingers, securing their grip to each other like it or not.
They can't even go five minutes without Jong-koo scolding him for making too much nose, and then blatantly ignores him when Kwang-soo asks him to fasten his hat so he can hear better. I just hope all this roughhousing doesn't get you two caught.
Sometimes Ace Ji-hyo doesn't need to try to be awesome – she just is. With a keen eye, she spies one of the folders and jumps with glee. One down, four to go.
Big Bang scour the floors for the Running Man and I love how TOP is so earnest, checking every nook and cranny to make sure he didn't forget anything. GD, however, issues his warning to Haha, "You've disgraced me…" But they don't have time to waste because the speakers soon blare that the Running Man are on the move.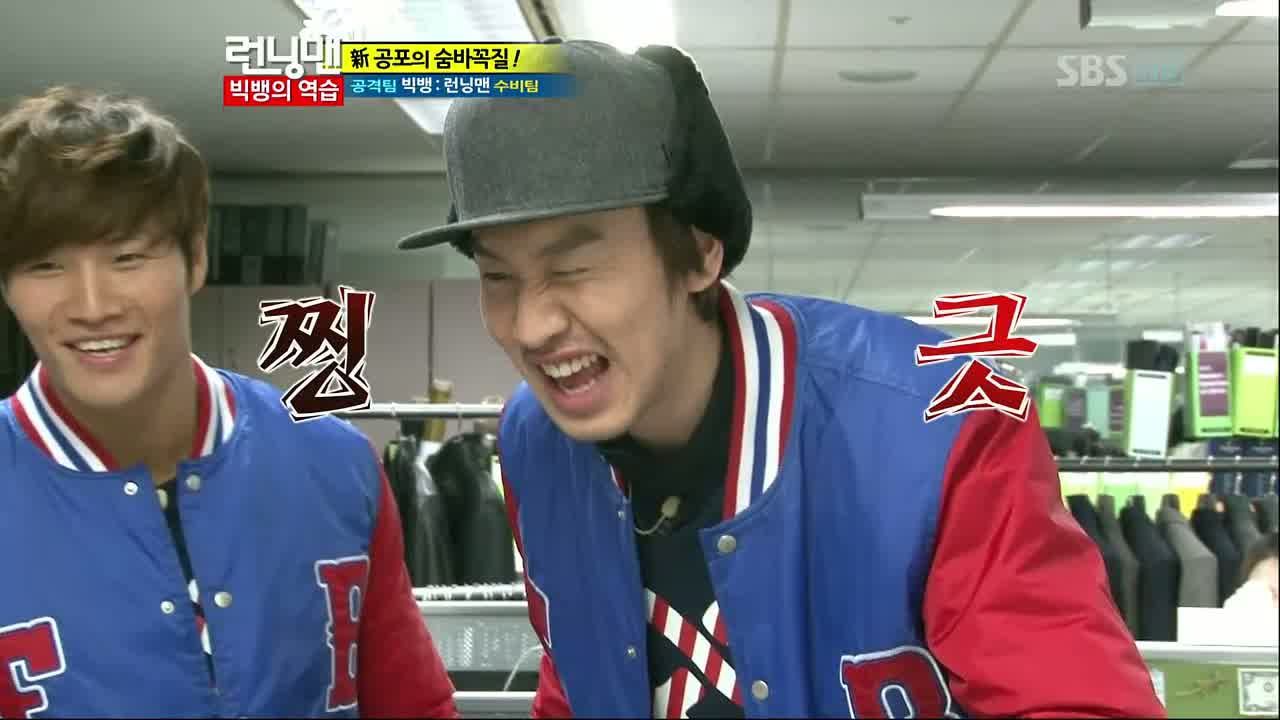 In another part of the building, Spartavatar roam around on their toes, asking around for hints. Heh, Kwang-soo tries to weasel information from a female employee that they're on the same team, they're spies! And adds a wink for good measure. But she doesn't know of the mission and Incriminating Kwang-soo asks bluntly, "Then what are you doing here?" Pfft.
Then poor Kwang-soo gets scolded again and pretends to grab Jong-kook's hair in anger. Yeah, I'd like to see you do that again when your hyung watches this broadcast. They run into Jae-suk and listen into the walkie-talkies with Kwang-soo parroting whatever is said.
He gets a little carried away with his action movie lines and gets immediately shushed by Spartakooks. Oof, it's going to be a long day.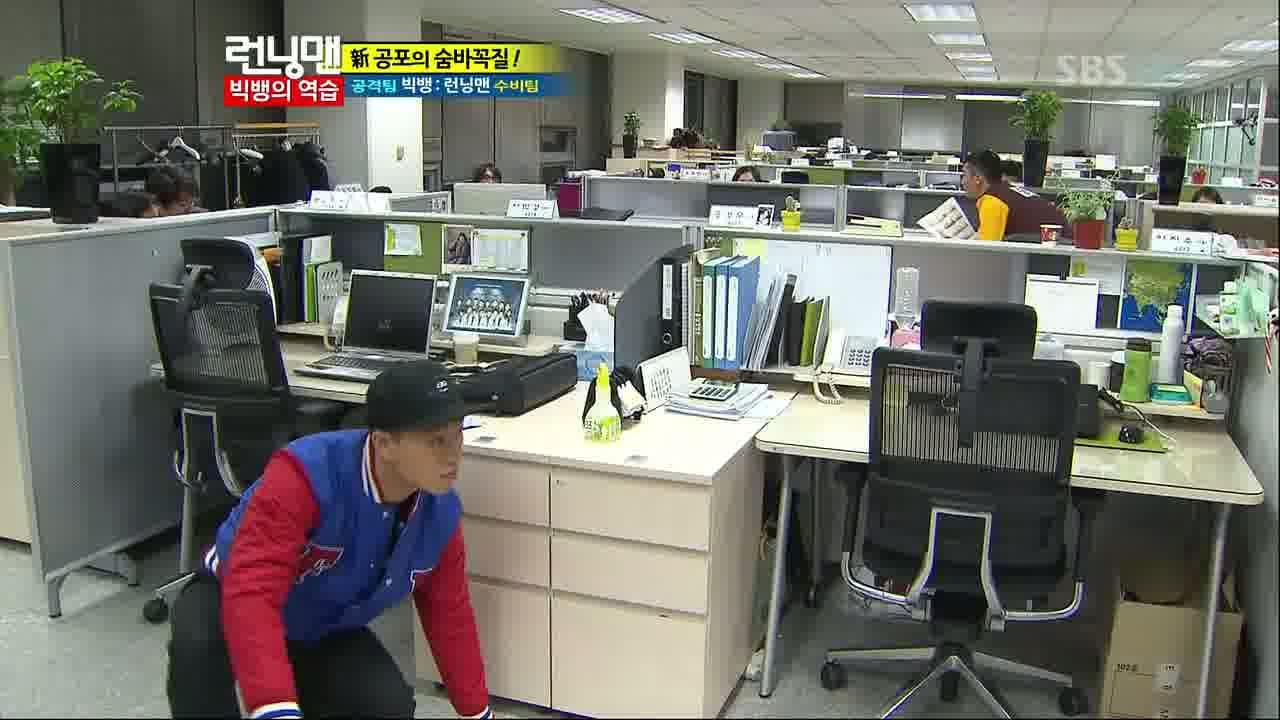 Gary quickly hides in the cubicles when he hears the approaching bells. Seung-ri hops in, holding onto his shoe to quiet his steps, sure that someone is nearby. They both crawl past desks and at the opportune moment, Gary bolts to safety.
He makes it to the elevators but that feeling of safety is short-lived as he hears the bells just outside the doors. Pressing the close button quickly, he breathes a sigh of relief… until they open again.
Oh hi Taeyang! He and GD just happened to be waiting for an elevator at that exact moment. They're honestly surprised to see him and you can see the "I'm scrreeewwwwed!!" expression written all over Gary's face. Rrripp, Gary's out.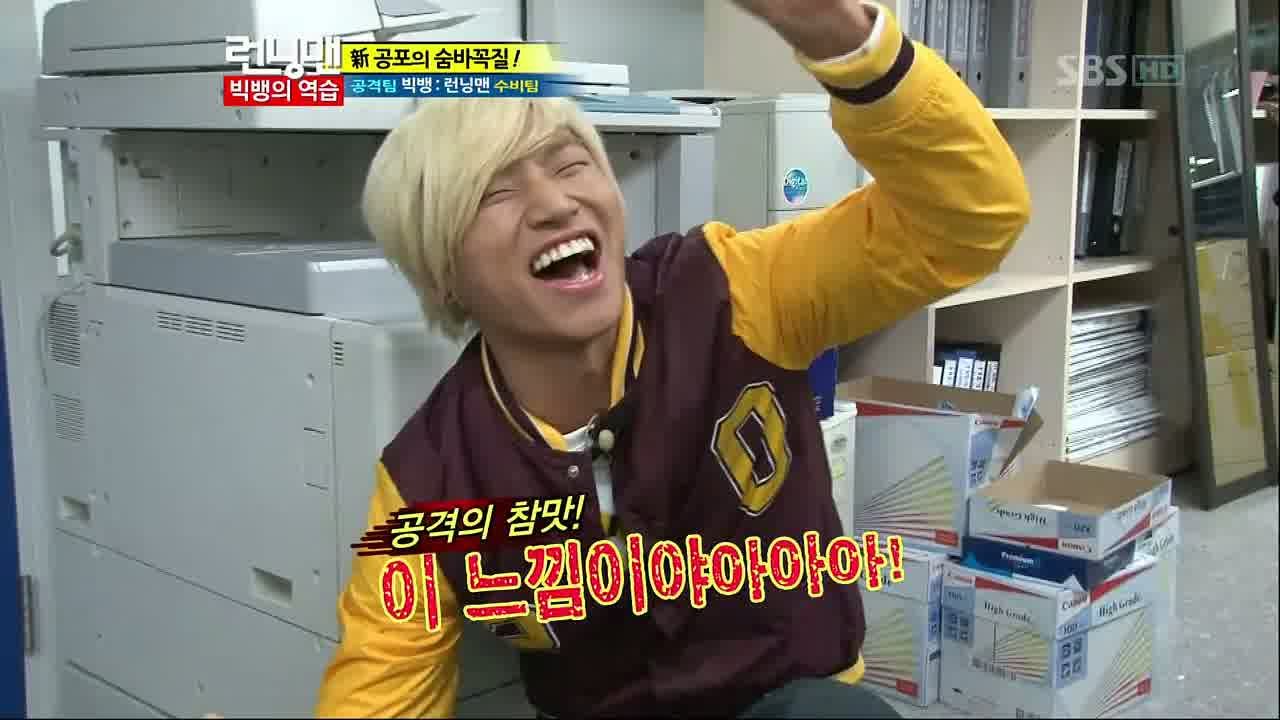 Soon afterwards, Ji-hyo gets chills down her spine and walks right in Seung-ri's line of vision. As she runs, he says in a cute but bone-chilling voice, "Don't be scared noona!" He calls in for reinforcements, and with "Fantastic Baby" booming in the background, the others have one target – Song Ji-hyo.
She clicks the door shut… and then Daesung appears, having waltzed in the other door, hahaha. Daesung, laughing: "This is what it feels likkkeee!!!" Monday Couple is out.
Good for you Haha! He picks up the second signature for his team. He complains that he keeps getting scared from seeing cardboard cutouts of TOP everywhere, thinking it's the real thing.
And as if he was called, the bells echo TOP's approaching footfalls. Time to run for it, but TOP sees him at the last second. Haha's cornered in an upper floor, as TOP checks around the corner… empty. Looks like TOP got the wrong cubicle.
If there's one thing Yooruce Willis is good at, it's hiding in a flash. He slides under a desk, and paranoid that his VJ will give their position away, demands that he hands over the camera.
He waits with bated breath, filming Blair Witch style, as GD hunts him down in this direction, then makes another turn… to where Spartavatar has been hiding. HAHAHAHAHA. You just CANNOT make this stuff up.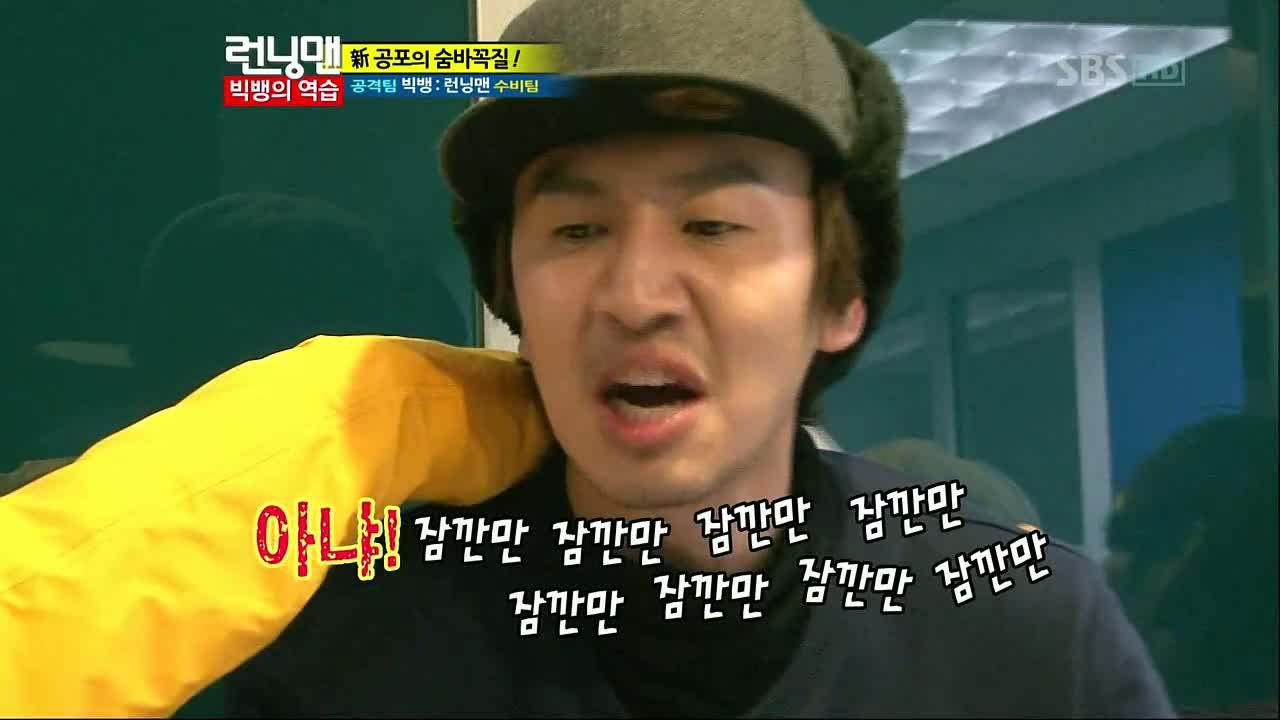 GD asks where Haha is and Kwang-soo immediately calls into his walkie-talkie to save his own skin. But he's unreachable and TOP takes away his walkie-talkie, now able to locate the Running Man. Smart boy.
The struggle continues outside the elevators, where the price of their release is Haha's whereabouts. HA – and the captions call Kwang-soo the god of betrayal. The longer GD has to wait for what he wants to hear, he rips the name tag bit by bit. Kwang-soo: "Wait, wait, wait, wait, wait, wait, wait, wait, wait."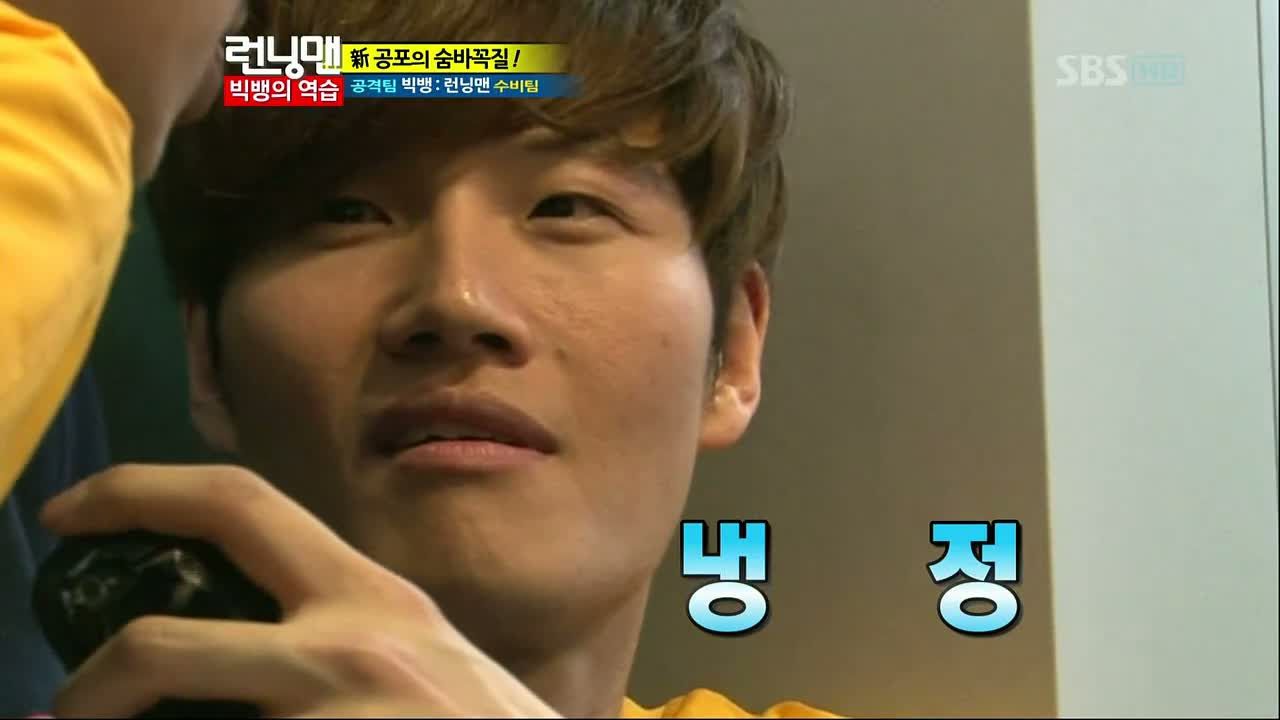 But *pop* goes Kwang-soo's name tag as GD runs to find Haha. But wait, the bracelet's broken? Apparently in that short time frame after Kwang-soo was eliminated, Jong-kook broke the link between them. Ah, so that's why you were so quiet.
Which means… he's free and slips away. Betrayal is a two-way street, Kwang-soo.
With Kwang-soo's tip-off, Taeyang checks downstairs for Haha. A female employee helps him out (How could you turn down an idol's adorable plea for help?), and Taeyang enters the room Haha is hiding in, bending down to investigate… but doesn't see him.
It nags at him again so he doubles back, checking behind the desk this time. Lo and behold, there's Haha, stuck underneath the desk, and Taeyang calls GD over.
Haha plays it cool with his captor until he slips away down the hall…and straight into GD. So glad to see him, he happily greets him: "Have you seen Haha hyung?" Oh the tables have surely been turned.
The boys let him off – they won't capture him now, but the gracious act leaves Haha more nervous than before. Haha: "Why did they let me go?" To toy with your head, dear man.
Jae-suk emerges from his hiding place, walking down the narrow hallway with caution. But all that carefulness is moot because GD happens to walk down to the same floor after letting Haha go. Man, this kid has some serious luck today – he basically has the entire cast eating out of his hand.
He calls the others with a smile on his face. He listens to Jae-suk respectfully as he begs to be let off once. GD nods, and as they pull in for a hug, he grabs Jae-suk's name tag. Long story short, he bounces away when the others have Jae-suk trapped.
Boy, that was close. Because the hallway is so narrow, GD's VJ inadvertently nearly rips off TOP's name tag because his clothes were stuck on the Velcro. I don't think I can fully explain the look of terror and surprise on TOP's face.
The boys send Jae-suk off too, in exchange for his walkie-talkie. But just when he thought he was in the clear, Jae-suk spots Seung-ri's reflection (clever!) and makes a run for it. And in that same creepy tone Seung-ri calls, "Don't run! You'll get hurt!"
Jae-suk finds refuge in the elevator. While catching his breath, he scolds his VJ for pressing an extra floor. It stops there for a moment, and just like a horror movie, the stairwell door clicks open, and someone steps into the hall…
Thankfully, it's Jong-kook trying to evade the Big Bang members too, but the sight of him nearly kills Jae-suk in fright. Oh dear, the things they have to do to get their signatures, like impromptu dances by both alpha males. In any case, they've only got 2 more to go.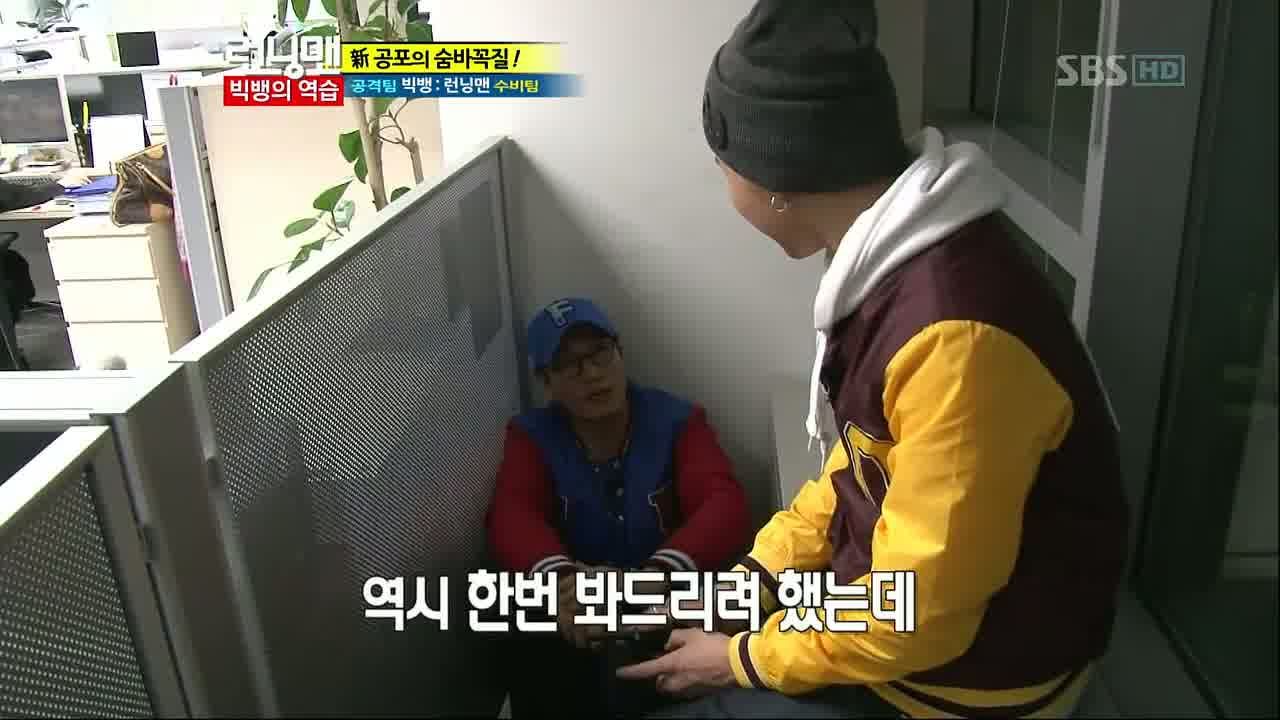 Meanwhile, the boys wonder why they haven't put any effort to find Big Nose Hyung. That mystery is quickly solved when GD discovers him five seconds later, cowering in a corner. Apparently, this is what he's been doing the entire mission.
GD listens to the mat-hyung's desperate cry to spare him, but the speakers announce that 60% of the mission is complete and shakes his head – there's no time to dilly dally.
Well at least Suk-jin's elimination doesn't surprise either Jae-suk or Jong-kook. The latter muses, "I want to ask him how he survived so long." 3 Running Man members remain.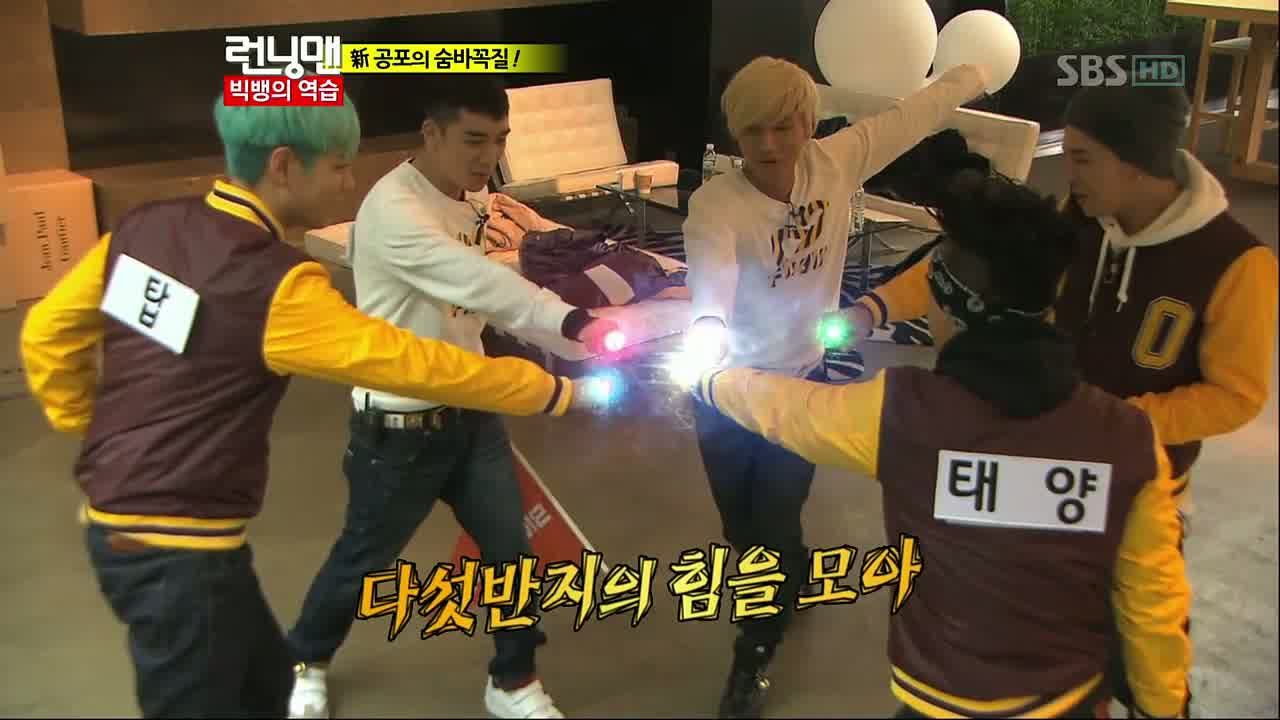 Haha tracks down another signature, and now with the Running Man nearing victory, GD suggests that they use their summoning power. They consult who to use it on – Jong-kook? Haha? But GD insists that Haha will be caught by his own hands.
They gather right by the jail, which surprises the captured castmates. To downplay some of the cheesiness this time, Taeyang does this little dance number to warm up before they call on the variety gods to bring them Jong-kook.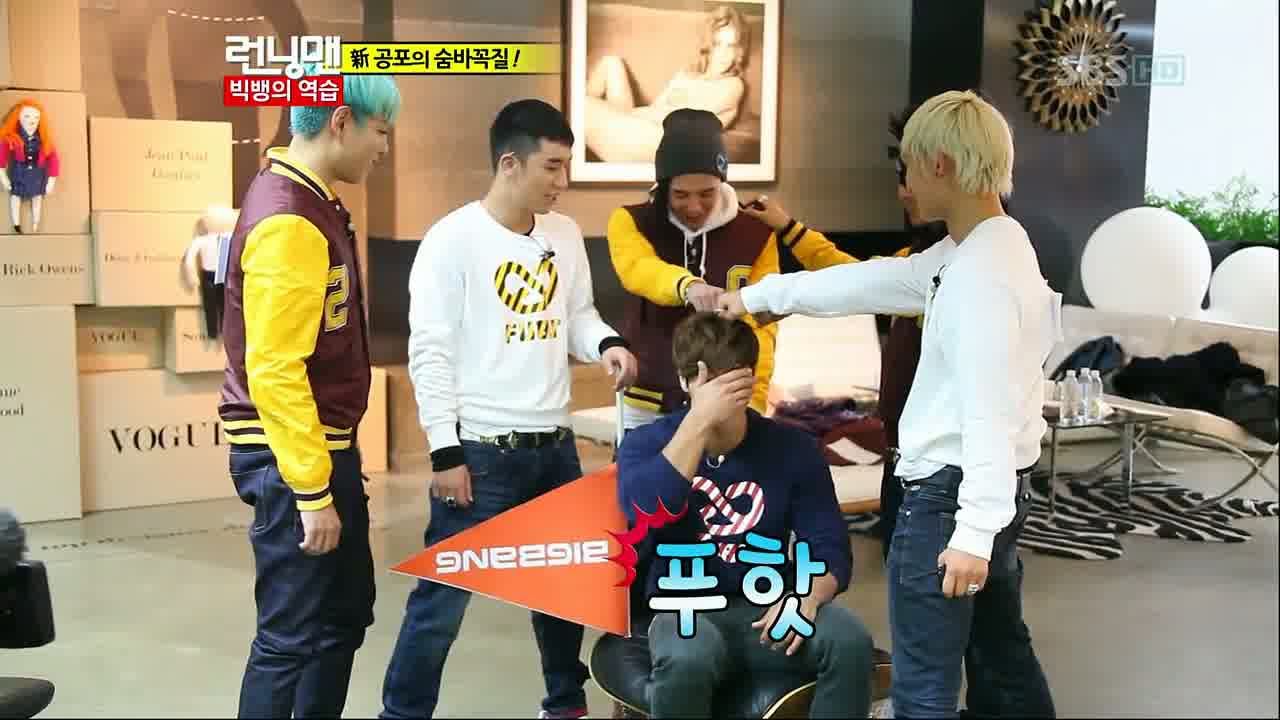 Jong-kook is brought to Big Bang's feet, completely confused. But he's quick on the uptake and guests, "Can they control space or something?" Bingo.
He bursts in laughter when he sees their ostentatious "magical" rings and he requests that his hoobaes demonstrate their catchphrase. And he hides his face, ashamed for them, just by hearing them shout out their own names.
Jae-suk asks for a clarification for Jong-kook's sudden disappearance. But he cracks up as soon as he hears about the corny phrase, the time when he was the Space Controller flood his memories.
Daesung spots him in the stairwell and Jae-suk bolts as fast as he can. Taeyang follows soon after, but it's TOP who catches him and cleanly rips off his name tag without a second thought.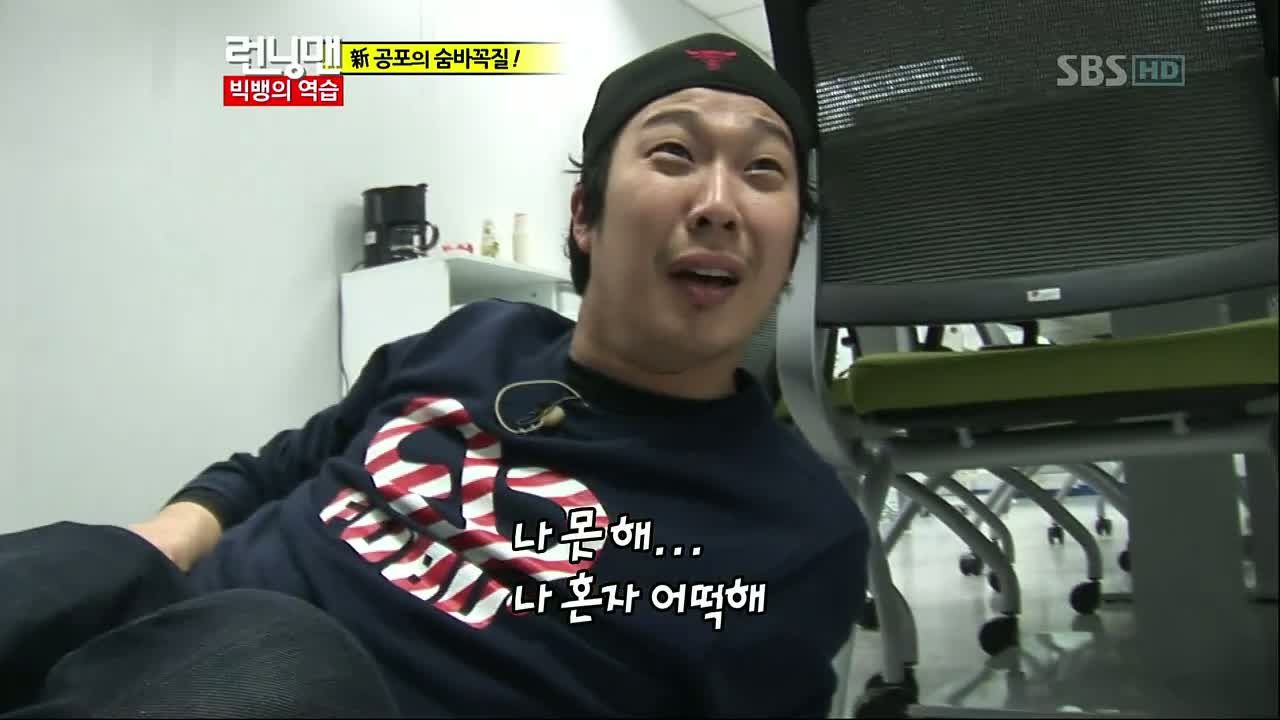 Haha is wide-eyed when Jae-suk's elimination is announced – how can he do this alone?
In jail, Jae-suk hands Kwang-soo a small object, joking, "Your screw is loose." i.e. you're crazy. Kwang-soo misses the opportunity to make a funny to which his variety hyungs berate him for.
He finally bursts when he gets dismissed again by Spartakooks, sick of his nicknames that refer to his height (e.g. Kwangavatar, Giraffe). Furious, he demands that he wants to be funny with his words too, not just his physical appearance.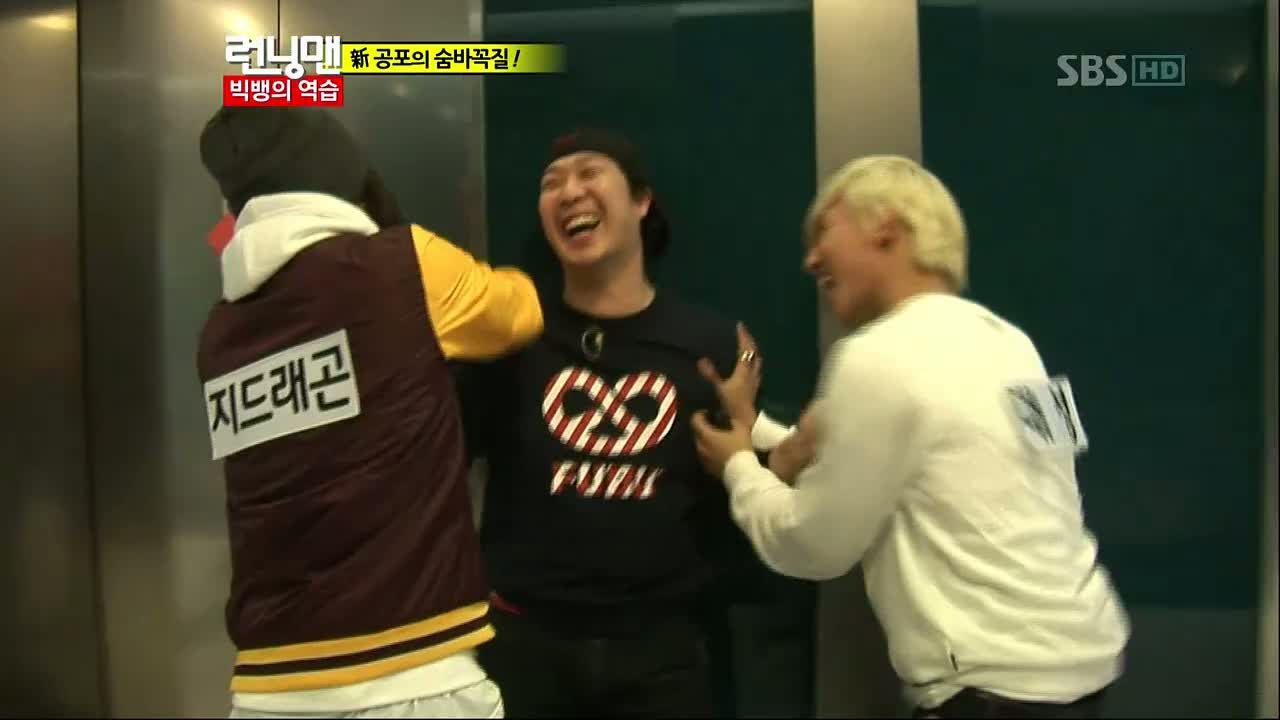 Back to the action, Daesung chases Haha down the hall…and yet again he runs straight into GD at the elevators. GD gets his revenge, and Big Bang wins the second half.
It's a tied score and Mr. PD explains that the final battle will be 1:1, the person who rolls the highest number as the team representative. Both Gary and Taeyang are picked as reps after just one roll from each team.
Taeyang is especially speedy, but we've seen Gary win the best Running Man challenges. They scour the halls, looking for each other. Ultimate victory is on the line.
Finally, their eyes meet. And just as Gary previously suspected, Taeyang buzzes down the corridor in lightning fast speed. The ruckus upstairs eats at the others' curiosity, unable to see the action unfold.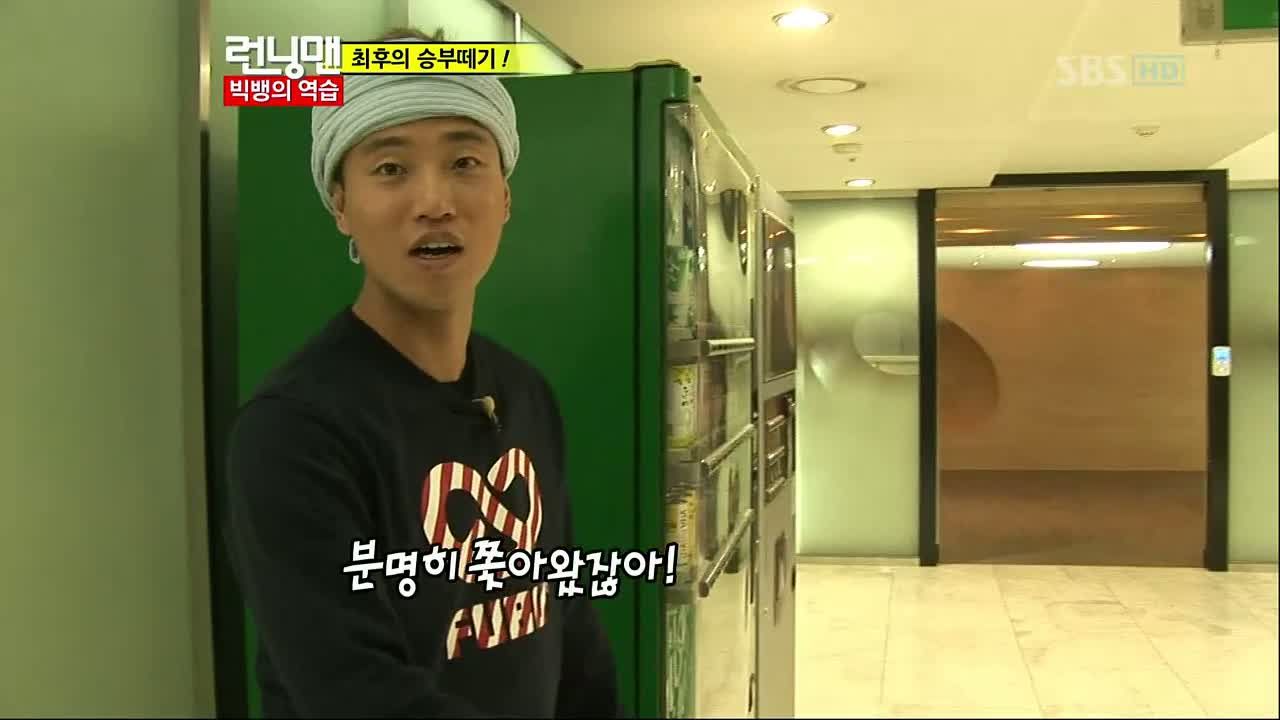 Gary slowly follows Taeyang until he turns a corner and then loses him. He walks past, thinking him gone, and we see Taeyang emerge from his hiding place…and eliminate Gary. He's gone the next moment, running down the hallway gleefully and Gary cries out, "When did he [do it]? And where'd he go?!"
Congratulations Big Bang!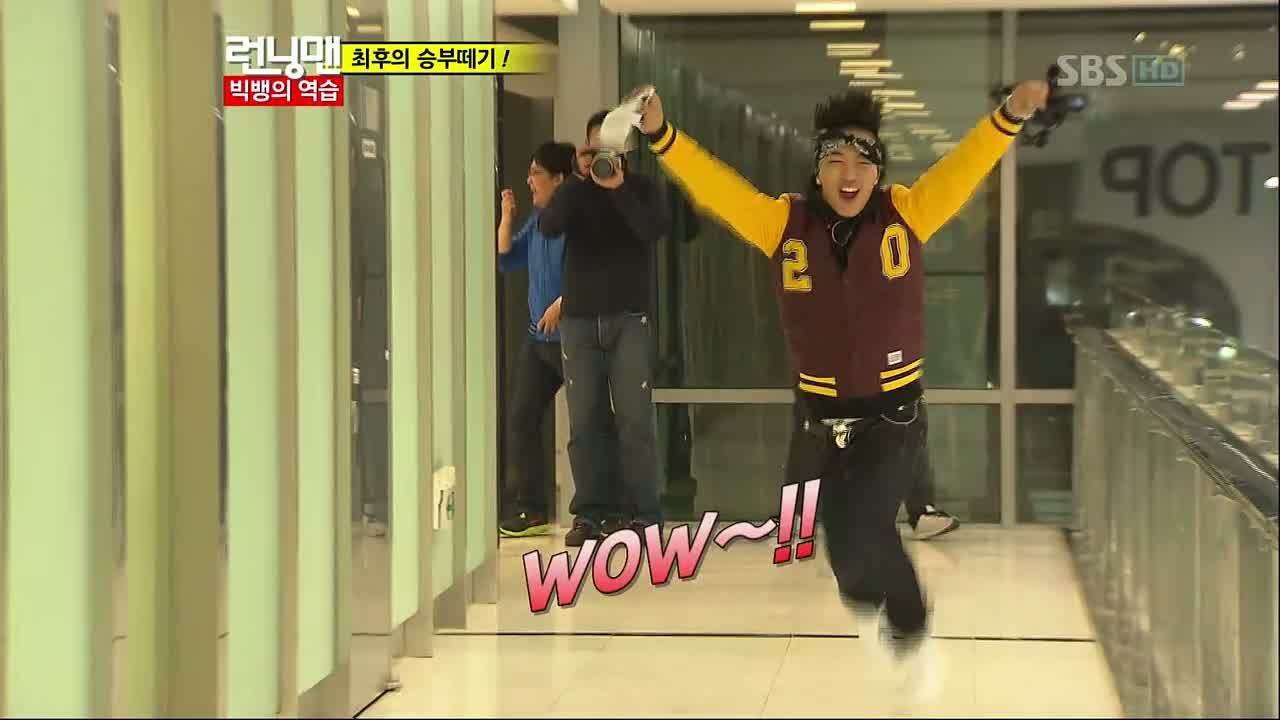 RELATED POSTS
Tags: featured, Haha, Ji Suk-jin, Kang Gary, Kim Jong-kook, Lee Kwang-soo, Running Man, Song Ji-hyo, Yoo Jae-suk