Rooftop Prince: Episode 5
Aw, I'm really enjoying how this show is managing to mix in bits of real feeling amidst all the hilarious wacky turns. It's not easy to turn on a dime and go from absurd to emotional and not make us feel like we have dramatic whiplash. Good thing, too, since my stomach already hurts from laughing.
SONG OF THE DAY
Bye Bye Sea – "마침표" [ Download ]
Audio clip: Adobe Flash Player (version 9 or above) is required to play this audio clip. Download the latest version here. You also need to have JavaScript enabled in your browser.

EPISODE 5 RECAP
Yi Gak declares that he is the long-lost Tae-yong. Is he faking it? Or does this reincarnation business come with a handy memory card slot for intersecting lifelines? Tae-mu starts to accuse him of being an impostor, but Granny cuts him off and asks for a private moment and sends him away.
Grandma only needs one word of confirmation to hop aboard this I'm-back-from-nowheresville train, which isn't surprising since she was so grief-stricken that she almost asked the stranger to impersonate her grandson just so she could keep believing he was alive. Yi Gak answers that it's really him, and Grandma sobs, "Oh, my baby."
Tae-mu, Se-na, and Park-ha hear enough from the outer room to guess that Grandma's bought the story completely. Se-na pulls Park-ha aside to ask why she hasn't left for America yet, frustrated to keep running into her. Park-ha doesn't understand her stepsister's pushiness to keep her away, so Se-na lays it out plainly, saying that she lied about her family background to her boyfriend and her boss. Pointing out that Park-ha took her money, Se-na urges her to hurry her departure plans.
Grandma decides to move Tae-yong-gak back home, so Park-ha goes home alone. And finds her ducklings fresh out of the shower—are you actually braiding each other's hair? They sigh over their lustrous locks, pleased with that modern marvel, shampoo.
Park-ha tells the boys that the prince has gone off to a nice family so it's time for them to worry about their own lives, ha, like they're puppies awaiting adoption. As we know, grooming is one step in prettying puppies up for prospective new owners, so Park-ha tsk-tsks over their unruly hair and tells them they'll have to cut their hair tomorrow. Oh thank god. It's amazing for comic purposes, but damn if that isn't some ugly hair.
But the boys immediately throw a fit. Yong-sool slams his hand on the table angrily, and Man-bo declares, "Cut my throat first!" Given that the topknot was a marker of dignity and manhood in their era, I suppose a modern haircut would be akin to a symbolic castration. Although one of them doesn't have to worry about that, just sayin'…
At the family mansion, Grandma happily sends Tae-yong-gak off to bed, content to hear his story tomorrow. He heads to his room, where he regards the photo of Tae-yong and confirms our suspicions—this is an act, and he's still the prince. He thinks, "Yong Tae-yong, I am sure you are my reincarnation."
The question, then, is why Princey is here and Tae-yong is not. He wonders, "Then are you dead? Are you what called me here?"
In the morning, Grandma's confused when Yi Gak asks her to buy him a rooftop apartment. He asks carefully, "Is it…too expensive?" and Grandma bursts out laughing. Okay, that's cute.
His official story is that while he knows who he is, he still has amnesia so he'd like to continue living in the rooftop room where he's been staying, until his memories recover. Grandma's reluctant to have him move out so soon, but she agrees—on one condition. Cut his hair.
Yi Gak exclaims, "NO! Not the hair!" HAHAHA. This cracks me up. This drama, I swear.
He returns to the rooftop to hear Park-ha confirm she'll be moving out soon. The ducklings hurry to their prince, wailing that she's going to leave and they'll be homeless. How will they protect him then?
Park-ha returns their Joseon-era garb, which takes them by surprise. But they haven't even paid her back yet! She's resigned to her decision, though, freeing them from that obligation.
She's still miffed at the prince, so Yi Gak asks for a moment alone and tells Park-ha that he hadn't known her circumstances when he'd spoken so harshly the other night. He'd said she was bound to ruin her business because she didn't keep her promises, and now that her business has indeed been ruined she asks if he's happy about it.
She asks if he's really the CEO's grandson, and he goes with the lie, saying he is. She isn't quite sure whether to believe him, but waves it aside. She returns a piece of cloth to him, which was found in his Joseon garb, and he unfolds it to reveal that piece of embroidery that Bu-yong (Joseon's Park-ha) had stitched, which unni Hwa-yong had passed off as her own handiwork.
He gapes in shock: The butterfly that had disappeared after his princess died has now returned. (Note: When first watching Episode 1, I had assumed the CG butterfly was just a way to transition us to modern times. But judging from his reaction, the butterfly literally disappeared from the stitching and flitted off to New York, where Tae-yong then sketched it landing on Park-ha's shoulder.)
Park-ha opens that tin containing her New York mementos and sees Tae-yong's sketch of her with the butterfly. As she closes the box, the camera lingers on Probable Future Clue, aka Tae-yong's cell phone—the one Tae-mu thought he'd tossed into the ocean, not realizing it accidentally got swapped with another tourist's.
Becky and Lady Mimi burst into the room (knocking aside the tin box) to protest, upset to hear she's moving away.
Yi Gak gathers his men and delivers news that makes them fall to their knees in horror—he wants them to cut their hair? What did they do wrong? He tells them that they have two missions here: adjust to modern times, and protect that rooftop room. Cutting their hair is a necessary step.
His men don't think so, and cry that if they return to Joseon with short hair, they'll be disgraced or die. Ever the stalwart warrior, Yong-sool says that it would be better to all commit suicide here than to "live in shame with cut hair." He makes a move to retrieve his sword, and I love that that gets the other two ducklings to back off, like, Whoa, whoa, who said anything about suicide?
From a distance, Becky and Mimi watch with disapproval, thinking the boys are throwing a hissy fit over Park-ha leaving.
Mimi returns to her desk, where her computer wallpaper is a cartoonified drawing of the Joseon travelers that we've already seen as interstitial images. Since she's a(n aspiring) manhwa artist, I'm guessing she's using them for inspiration. Cute.
She turns on her phone, only to see that it's not hers—she must've picked up the wrong one when she dropped it upstairs. This one has a photo of Tae-yong as its wallpaper, so she assumes it's Princey's phone.
Tae-mu's father wonders if the newcomer could really be Tae-yong, and Tae-mu protests a little too hard, forgetting that while HE knows Tae-yong can't be back from the dead (since he killed him, sorta), the others don't.
Tae-mu balks at the idea of calling police—must be scared of getting tangled up in the investigation—and instead goes the DNA route. He gathers the family, saying this is for peace of mind, and smirks when Yi Gak freaks out at the foreign object heading for his mouth.
Tae-mu takes this as proof of impostorhood and holds him down, and while struggling a cell phone falls out of Yi Gak's pocket. It's the one Mimi returned, and the wallpaper shows an old photo of Tae-yong and Grandma together.
Grandma orders Tae-mu to call Tae-yong's old number, and with shaking hands he complies, all the while thinking of the true danger: the photos and video clips on that phone confirming that Tae-mu did meet up with Tae-yong when he said he didn't.
Sure enough, Yi Gak's phone rings, and that's enough proof for the rest of the family. They rejoice while Tae-mu trembles in his seat, especially when Great Aunt suggests looking through the phone to figure out what he was up to before his disappearance. He gets a reprieve because the phone is password-locked, but Grandma tells Tae-mu to take Tae-yong to the service center to get it unlocked immediately.
As Tae-mu drives them to the center, he sees the phone fall out of Yi Gak's pocket onto the car seat. He slips it into his own pocket, then feigns ignorance when it's discovered missing.
Se-na is annoyed at an unexpected visit by Mom, who proposes that they scrape together the cash so Park-ha can keep her store. But a call from Tae-mu, who's on his way over, makes her hurry Mom out to avoid their meeting.
Tae-mu comes home to an empty apartment, and starts to smash Tae-yong's phone. Se-na comes home, and he hurriedly drops it out of sight… into the shopping bag Mom accidentally left behind. Muahaha. (The puzzle pieces are being set in place in a super-obvious way, but I do appreciate the fact that they fit together. So often they don't.)
Thus they're both nervous and fidgety, for different reasons. Se-na notices Mom's bag and distracts him by suggesting dinner out. As they're leaving, she spots Mom heading back to recover that bag and whips up an excuse to go back upstairs first to handle Mom.
Tae-mu feels antsy about that bag, though, and rushes back inside, only to find it gone. Se-na lies that she threw it in the trash, and he relaxes. Trash is good.
Park-ha clears out her apartment and sends most of her furniture and appliances off to a recycling center. At the last moment she remembers that stuffed radish doll and grabs it out of the stash. Aw.
Family dinner. Grandma and Great Aunt aren't quite sure what to make of Tae-yong's friends, with their long hair and weird clothes (Chi-san's still wearing his gigolo's sequins underneath his jacket, ha). I love that their strangeness is attributed to the assumption that they're Tae-yong's artist friends; it explains the long hair, which Aunt calls gross. Right on, sister.
The boys are perplexed at the cutlery on the table, and ask Grandma's permission to use a knife for their meat, since Yong-sool is an expert with the blade. Of course, she replies—and out comes the sword.
Chi-san holds up his plate, and Yong-sool flicks the sword with expert precision, leaving perfectly diced meatstuffs raining down onto the plate in a neat arrangement. The moment is scored with all the grandeur of a sageuk swordfight—and Yong-sool approaches his task with that kind of grave concentration—and I just about snort food into my sinuses. (When will I learn not to eat when watching this show?)
In Tae-yong's room, the boys freak out at the photo of Tae-yong. Yi Gak lays down new rules: Do not refer to him as Prince, or call him Highness. From now on, he will be Yong Tae-yong.
Smartypants Man-bo catches on first: "Re…incarnation?" Yi Gak nods, explaining that he's assuming the identity of his reincarnation, who is likely dead—one incarnation cannot exist in the same space and time as another. If there is a connection between these events and the princess's death, he will track it down, and once they do, they'll be able to return to Joseon.
This is all theory, but it makes sense to our boys, who promise to call him Tae-yong from now on.
On her rooftop, Park-ha takes out her twine dolls and accidentally drops it over the ledge. They catch on a power cable so she stretches her arm over trying to retrieve it, just as Yi Gak comes home and sees her half-dangling over the ledge.
Assuming the worst, he grabs her from behind, wrapping his arms alllll the way around her and crying out, "No! You mustn't kill yourself!" HA. She is naturally confused, but he refuses to let go until she promises not to jump.
She gasps out a promise, and he lets go. She tells him she wasn't going to jump, and he peers over the ledge to see the dropped doll, and manages to pluck it from the cable.
When asked why he's here, he pulls out a bottle of soju and a can of whipped cream, to repay her for the last time.
They sit down for a liquor and sugar session, although this time she turns down the whipped cream. Today she'll stick with bitterness.
At the mansion, the three sidekicks don their Joseon clothing to hold a rite for Man-bo's mother (the yearly memorial for a deceased parent)—they may be in the wrong time, but filial duty transcends the time-space continuum. Chi-san rifles through the fridge for food for the ritual table, and discovers a treasure: "Th-this… is what you put on omurice!" And then he shoots ketchup directly into his mouth. Gack.
Grandma comes down for a drink of water and sees the refrigerator door ajar. Chi-san hides behind it, but when she swings the door closed, there he is, standing with his ketchup-smeared mouth. LOL. Grandma screams and faints.
Great Aunt wakes up to find the scary figure of Yong-sool looming over her, asking her to come with him (to find liquor). She flips out, insisting she's not ready to "go" just yet: "I won't die!" Heh.
Park-ha makes a comment about their ages, so Yi Gak says he doesn't remember that. She says ruefully that her memory has a hole, too, and explains her own situation: She was badly injured in an accident and remembers nothing prior to the age of 9. After then, she found she had no family, or any happy memories.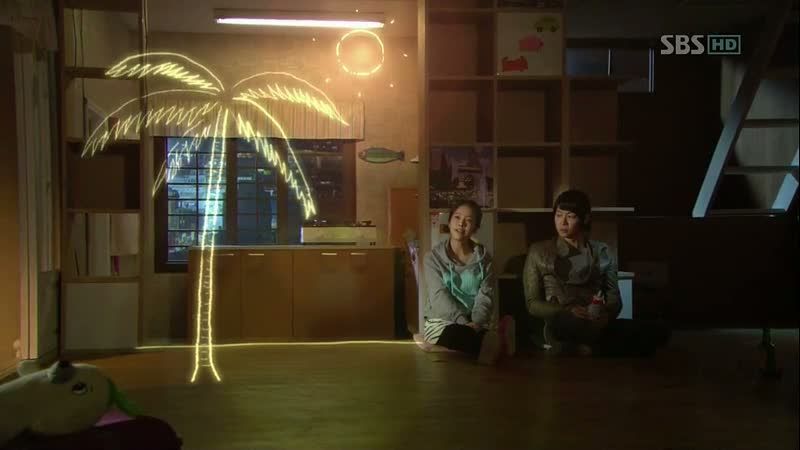 She takes out her phone to show him a photo of a beach, saying that whenever she was discouraged, she'd imagine going on vacation to the sea, and that would make her feel better.
By now she has fully dropped to banmal, and takes out the twine dolls, saying that it's made of tree nuts found at the beach. If you tie the hands behind the dolls' backs, you'll earn money (hers are tied thusly), and if you tie their legs together you'll find love. Tying their hands to each other wishes you health.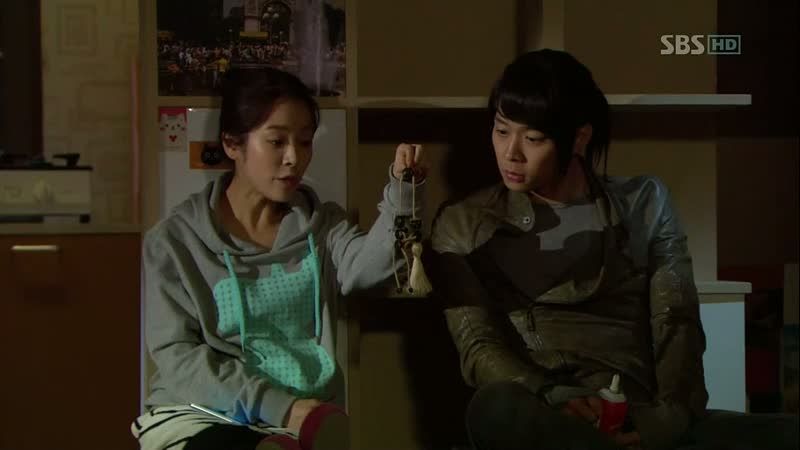 He wonders why she's living like this if she's been wishing for luck all this while, and she grimaces, shoving the doll at him and telling him to try wishing, then.
Park-ha starts shivering in the cold, so Yi Gak pulls down a curtain and drapes it over her. He asks if she's really planning to fly to America tomorrow, and she says that it's all arranged. He tells her she should stay.
Having collected the requisite food and liquor for their memorial, the boys set up a table in the living room and pay their respects to Man-bo's mother.
But it's their turn to be spooked, because a figure steps in front of the table, wearing a moisturizing pack that makes her face look ghostly. Man-bo gasps, "Mother!" They all pass out, and the housekeeper wonders what's wrong with them.
Sitting in the attic room, Park-ha and Yi Gak both nod off. When she wakes up in the morning, she's sleeping alone.
Yi Gak heads out to the car, taking the passenger seat while the family chauffeur prepares to drive. He tells his boys to sit in the back and they obey immediately. Only, when Yi Gak looks around, they've disappeared. Omg, is this going where I think it's going?
Yes, it is: They get out and look curiously toward the back, where the three boys have stuffed themselves into the trunk. You know, since they're so used to riding in Park-ha's truckbed. HAHAHAHA. Oh, so adorable.
On to the Home & Shopping office, where Yi Gak points out the reincarnated princess. Chi-san offers to do the honors of going inside to escort the princess out.
Cut to: Chi-san being dragged out by security guards. They mutter to each other that the only long-haired people to be admitted are ladies.
Man-bo goes next, using his best authoritative voice to ask for the one in charge, only to have the guards note that he's got long hair, too. He turns back, rejected.
Yong-sool is much more efficient: Punch, kick, boom they're down. He heads inside unfettered… but the revolving door ushers him right back out. Hee.
The security guards get back up and he easily knocks them back down, going back inside for Attempt #2. But curses, it's that damned door again, drawing him inside and spitting him back outside.
Yong-sool looks up at the battered security guards with a What fresh hell is this? look on his face, and tries again. And again. And again. Oh my god, why is this so funny? Snort.
Yi Gak declares, "This is our reality. Because of our appearance, we cannot pass through that door!" Pffffffft. It's hilarious because it's true, but not for the pseudo-mystical reason he supposes, that somehow they're being repelled from the fortress containing the princess because of their long hair. The three ducklings bow their head in dismay, on their knees before the prince.
The camera pulls back to reveal: Yi Gak, standing on top of a park bench to maintain the height differential. Hee! This drama just keeps piling on the jokes, and I'm loving it. What sells the moment is that he's in utter seriousness, and the boys' grave tone totally belies the sight gag.
In her empty room with bags packed for departure, Park-ha contemplates Mr. Radish and uses him to decide whether she should really go or not. Except, every time she holds him up and lets him fall over, he falls on the side of leaving Korea.
The fact that she's disappointed and keeps retrying the "test" should be proof enough of her feelings, and she finally gets him to fall on the side of not leaving. She asks Mr. Radish, "If they ask, should I just stay?"
She hears noises at the door and rushes out eagerly to meet her ducklings, although she pretends she's not totally thrilled to see them. Yi Gak explains, "I have heard of such a thing called a souvenir photo. We have come here to take that, to remember the last."
Park-ha's disappointed, having expected (and hoped) that they'd beg her to stay, and deflates at the mention of goodbye. Not knowing that they're here to part with…their soon-to-be-lost hair. HA.
Park-ha directs them in posing, then joins them for the photos.
Then, the moment of truth. Chi-san tries to chicken out (Yong-sool grabs him), while Man-bo pleads with the prince to change his mind, to give up the rooftop room, to back out before it's too late. Yi Gak proceeds, though, and is the first to get the dreaded snip, while his courtiers cry, "Noooooo!"
It's a testament to how committed they are to the ridiculousness that Yi Gak actually sheds a tear in this farcically funny scene.
After his haircut, Yi Gak hurries back to the rooftop room and finds it empty. He runs after the bus Park-ha boards just as it pulls out of the station, and he screams her name. He runs right into the path of an oncoming truck, realizing the danger too late, and flinches for impact—making all of us swear, If you pull another Dream High 2, I'm going to kill something, I'm sure.
But the truck screeches to a halt just inches from his face, leaving him unscathed, though badly shaken. The truck driver insists on taking him to the hospital despite his fixation on catching the bus, and ushers Yi Gak to take a seat. Which is when Yi Gak looks up and sees the billboard painted on the truck's side: a tropical beach, with palm trees.
Yi Gak asks to buy that picture, offering twice the amount. He holds up a credit card—a black card only for VIPs.
So when a dejected Park-ha looks out her bus window, she sees that picture right outside, and it makes her smile. Yi Gak dangles out of his window shouting her name until finally she spots him.
He madly gestures for her to stop, but she shrinks back in embarrassment. So he screams at the bus to stop, while the rest of the passengers look on curiously at the strange man.
The bus pulls over and he boards the bus, demanding to know how she could just up and leave. She reminds him of the goodbye photo they took, and he says, in complete and utter seriousness, "Then what else would I call it, when we are taking a final souvenir photo before cutting our hair?"
He declares that he has acquired a beach, so she doesn't have to go far away anymore. With that, he pulls her off the bus, and everyone else claps for what they assume was a romantic reconciliation.
The bus drives off, and they stand there awkwardly for a long moment, hand to wrist, sorta bashful and sorta happy. Now she registers his new haircut, and he smiles.
They sit on the truck, gazing at their new beach, and Yi Gak tells her that she'll make good memories from now on.
Then the truck honks, startling them off-balance. He grabs her to steady them both, and they end up in each other's arms. Feeling something spark.

COMMENTS
As usual, the family stuff tends to be less interesting, but this episode managed to work around that by bringing the Joseon boys into the mansion to liven things up. Way to work with your weakness and fill in the slow gaps with fast-moving fish-out-of-water comedy I could just watch forever.
Some of the jokes can be entirely cheesy, and yet I just about die laughing anyway—it's all in the delivery. It sure as heck ain't subtle humor, but it's also not the kind that hams itself up, Jim Carrey style, all, "Look at me! I'm making a joke!" It has a deadpan delivery for a lot of its sight gags, like the running bit of how the prince is always on an elevated plane. It's just ingrained into these four men, so they don't even question the fact that in any situation, they are meant to be lower. And if they can't get there naturally, by golly they'll create that height differential—whether Yi Gak is standing on a platform or a playground bench.
It's a running joke that they've been doing for a while, but without drawing extra attention to itself; you either notice it or you don't. I'm pretty sure I missed the first instance or two, but now that I've seen it, it just elevates every scene in which it comes into play. Just like how it's always Man-bo who figures things out first, but nobody's expositing, "You're the brain, so therefore you always understand fastest." They're just little details laid into the background that are there for us to discover, on our own time.
I'm really warming up to this rooftop family, with every interaction. I already liked them, but this was the first time we saw Park-ha's attachment to them, judging from her hope that they'd hold her back. She's gone her whole life without familial attachments (that she can remember), so she's probably a little gun-shy about extending the hand first—but she desperately wants a hand held out to her, so she can grab tight.
We've also progressed far enough that the boys are learning how to survive without her, which takes things from a dynamic of pure dependence to one involving attachment and affection. Especially on his side; sure he needs Park-ha's room, but there's enough emotional connection that his hurt at her departure is not just about her apartment.
The reincarnation story, meanwhile, introduces an interesting question of… owning your identity, for lack of a better way of putting it. It's definitely the thing that makes this setup unique, and I'm curious to know where they're going with it. It's a fresh enough basis for a drama that there aren't a zillion and a half iterations of the plot, so the drama has some freedom to create its own rules.
This premise is unlike, say, zombies or vampires where there exists a basic understanding of the mythology, so there are certain narrative boundaries. With reincarnation, I feel like they can take this in a lot of different directions—is Tae-yong dead, or merely in a different slice of time-space, like Yi Gak? What does the butterfly signify? It disappeared after the princess died, when Yi Gak's tear landed on it, so perhaps it represents his sorrow that she's gone. But Bu-yong was the true creator of that piece of embroidery, so maybe the Embroidery God in the Sky is giving him a clue that he's grieving after the wrong girl. And while I'm still in the camp of "The princess died in the pond, until the show tells me otherwise," perhaps there's enough room to feed the conspiracy theories that drowned girl isn't who he thinks she is.
RELATED POSTS
Tags: featured, Han Ji-min, Jung Yumi (2), Lee Tae-sung, Micky Yoochun, Rooftop Prince