Running Man: Episode 91
It's been one year since Yoomes Bond eliminated the Running Man. Now it's time for him to reprise that role. The Return of Yoomes Bond.
EPISODE 91. Broadcast on April 22, 2012.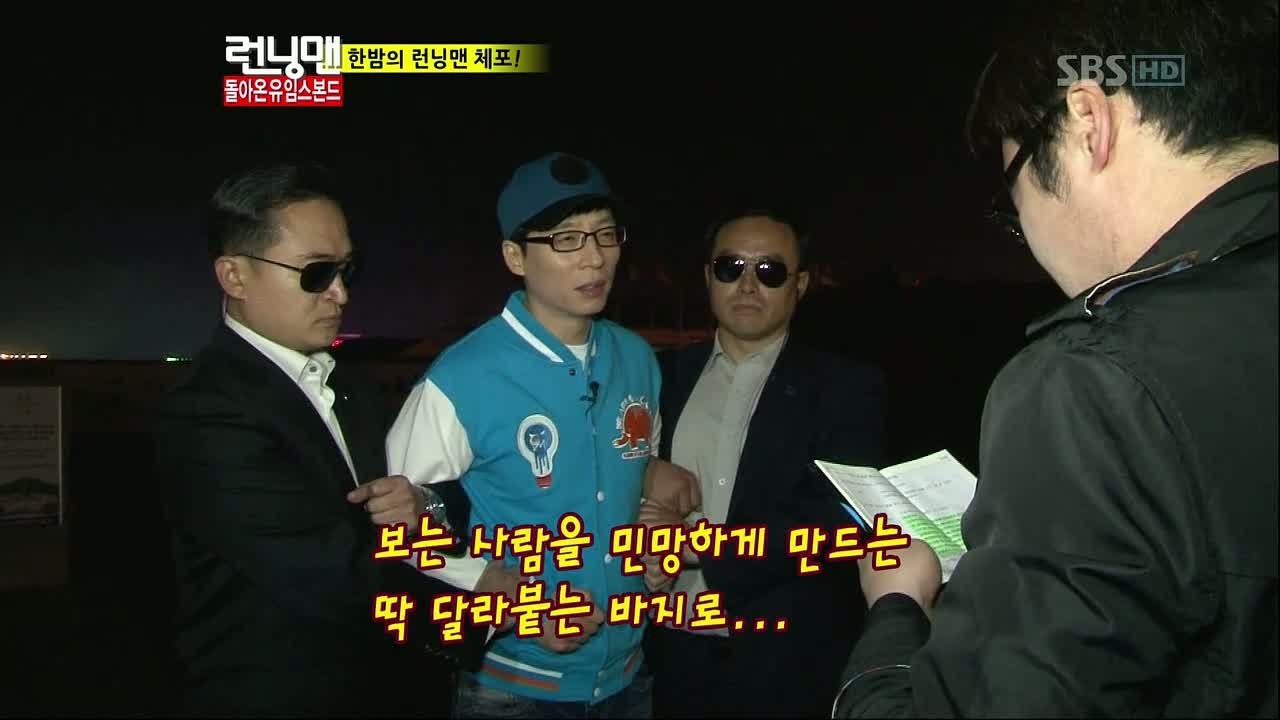 Deep in the night, around 9:30PM, Jae-suk walks up the stairs, alone. The rest of the members are scattered throughout Songdo, all suspicious to be waiting for something or someone. Ji-hyo wonders if it's a horror special as three mysterious men climb up the stairs.
Myuk PD instructs the men to arrest Jae-suk as he rifles through his bag. Reading off the Running Man laws, he lists off Jae-suk's crimes which include demoralizing the public with his skintight jeans. He's barred from pleading the fifth and anything he says or does can and will be used against him.
Just like that, within 10 minutes, Jae-suk is arrested and dragged away, demanding to know what's going on.
In another part of town, Haha protests that he loved all those female guests he flirted with, and launches into the dramatics as he's pushed into the van with Jae-suk. "Do you know who I am?!" It's so cute that they call each other "Time Controller" and "Space Controller."
The others climb in sharing their "crimes" (Jong-kook is arrested on account of Yoon Eun-hye while Gary shouts that he's the most handsome in his family). Kwang-soo has the longest list of 'em all: 12 counts of betrayal, 7 counts of fearlessness, 3 counts of misfortune to a total of 20.
They arrive in front of a prison and ushered into their separate cells. And yes, Gary – it's a real prison and you're really locked in. By 11 PM, all the Running Man have been imprisoned.
We're given a quick layout: held in 7 different areas are Running Man cast members with two security guards on watch on each floor. Are they expected to break out of prison? How ironic is that one of Jae-suk's crime is wearing green but they give him prisonwear of the same color?
An announcement blares over the speakers that everyone is to serve a sentence of 6 hours, apart from Kwang-soo who must serve 60 due to his innumerable crimes. The others start calculating how many DAYS that equates to (2.5 days) and Incriminating Kwang-soo hollers, "Nnnnnnoooooo!!!!"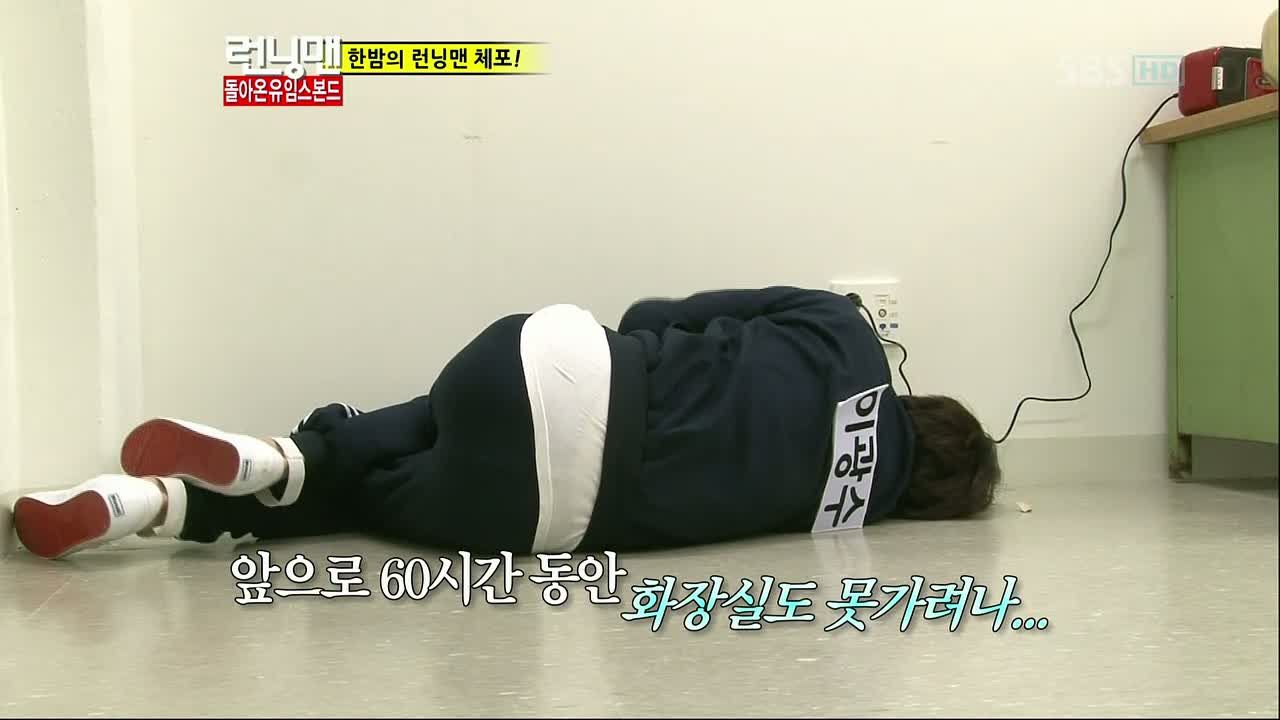 The cast's reactions to the sentences vastly differ from one another – Peaceful Gary hangs back, figuring that he'll just wait the 6 hour sentence: "This is the easiest Running Man ever!" whereas Spartakooks deduces that the staff must only have imprisoned them with the intention that the Running Man would escape. He starts searching for clues in his cell to unlock the lock hanging from his door.
Then there's poor Kwang-soo, whose earlier declaration that he needs to use the john turned out to be true and huddles into a corner.
After the 30 minute mark, the security guards visit each cell to drop off a snack. Er, fried dumplings? Are we getting all Old Boy-esque? Jong-kook:"Couldn't they have ordered jjamppong?" or Haha: "Can I get some soy sauce and danmuji (pickled radish)?" PPFFFTTTT. What demanding prisoners.
Despite all their complaints, they munch down anywhere, their stomachs speaking louder than their brains.
Ji-hyo spots a curious sight on her chopsticks as it instructs her to escape prison in four hours. She looks around the room (uh can I get that Yoon Kye-sang poster for myself thanks?), and realizes the clues to her freedom must be trapped in the cell with her.
Kwang-soo notices the same message too then proceeds to gripe that the staff didn't tell him *how to escape. Caption: If we did, why would you be trapped in here…?
One by one they find the note… all except Gary, who's too busy eating. "I'm eating and it's uncomfortable having you guys hang around." HAHA.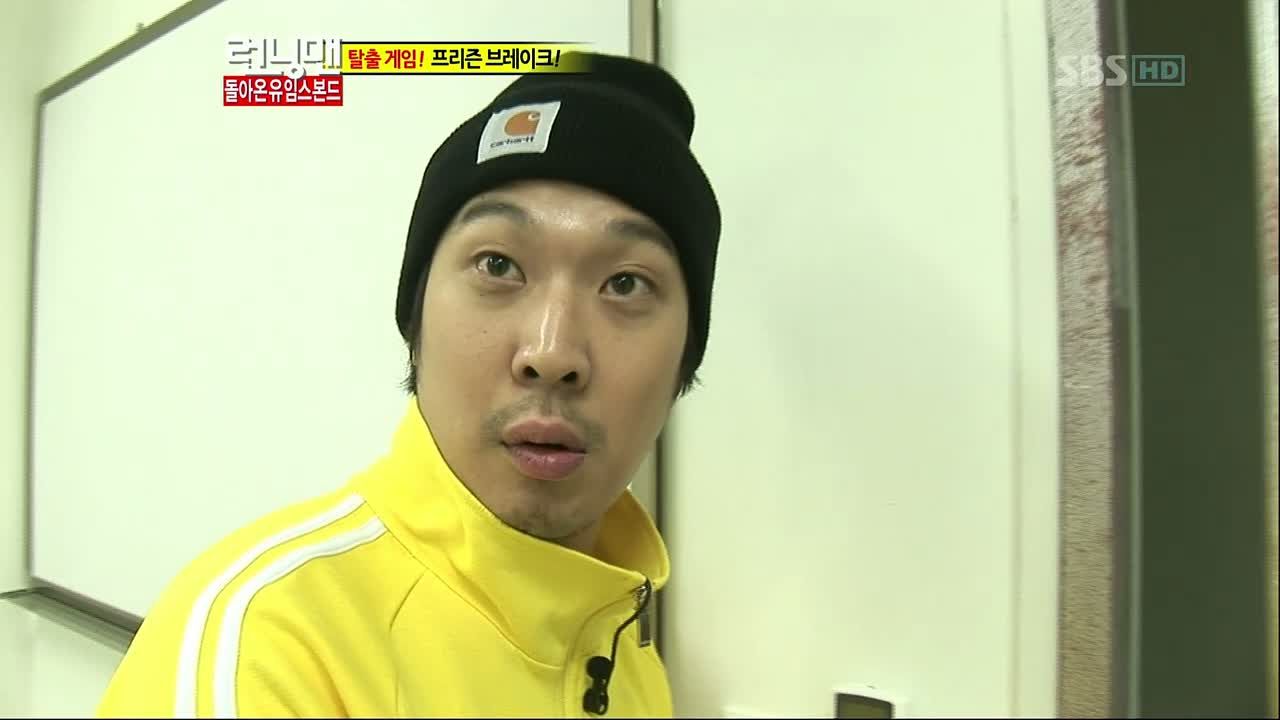 The clock ticks past midnight and all the members get moving to figure out the four digit code that locks them in their cell. Haha grows frustrated after one of the codes he found fails but he tries another one that was scrawled behind a poster. *click* Freedom.
Just like in the movies, Haha dims his lights, stuffing objects under his sheets and checks the reflection to see if there are any security guards around.
Once the coast is clear, he opens the door where another note instructs him to find the business plans.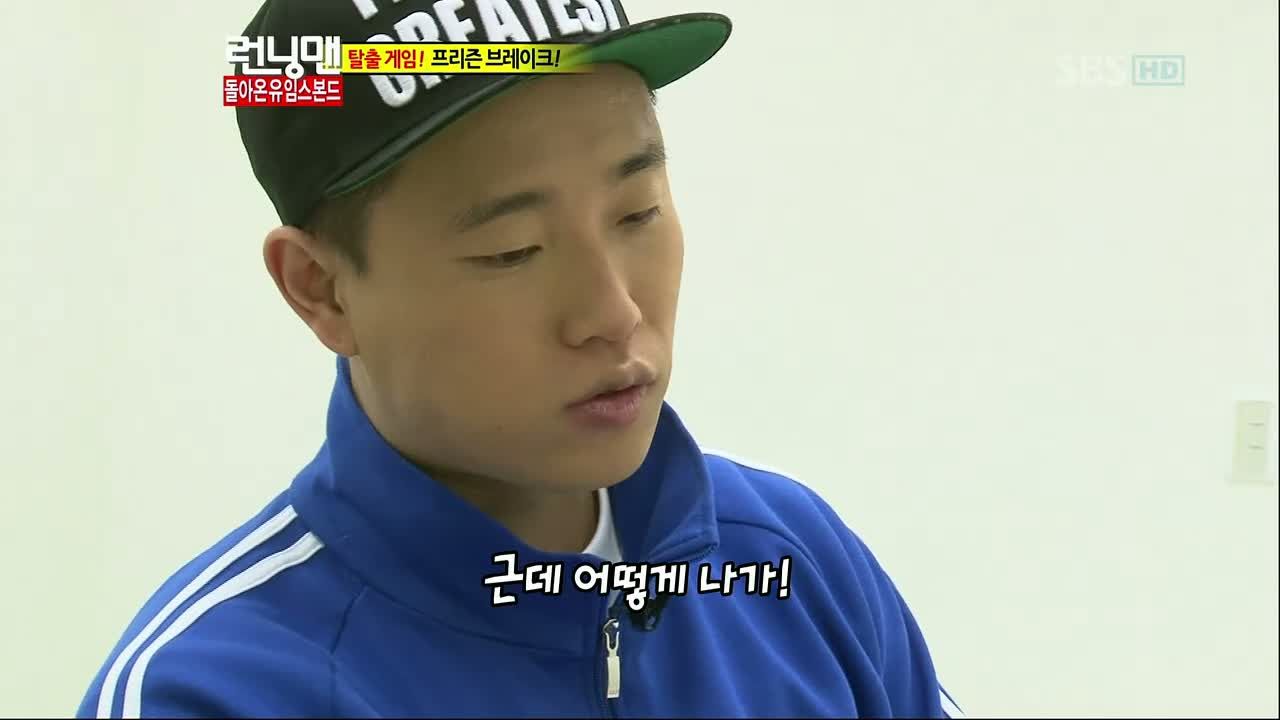 The problem is that the guards have returned an immediately call in the escape. The alarm sounds as Haha runs to evade his captors. Which is in stark contrast to Gary, who says that he'll stick around to get some valuable "me" time. "I'm not leaving today."
He belatedly figures out the chopsticks clue and thinks, "But how do I escape?" Then resolves to stay in his cell.
Ji-hyo discovers her code on a piece of origami paper (HA and the staff wrote 'merong' on one side, similar to 'neener neener' in English). She too escapes her cell as the speakers report her missing.
Haha is busy searching for the plans when someone sneaks up on him – it's Ji-hyo who tells him that they need to release everyone else whilst Haha thinks it's every man for himself.
The various ways that the staff have hidden the code are pretty clever: etched into wood, written beneath books just to name a few.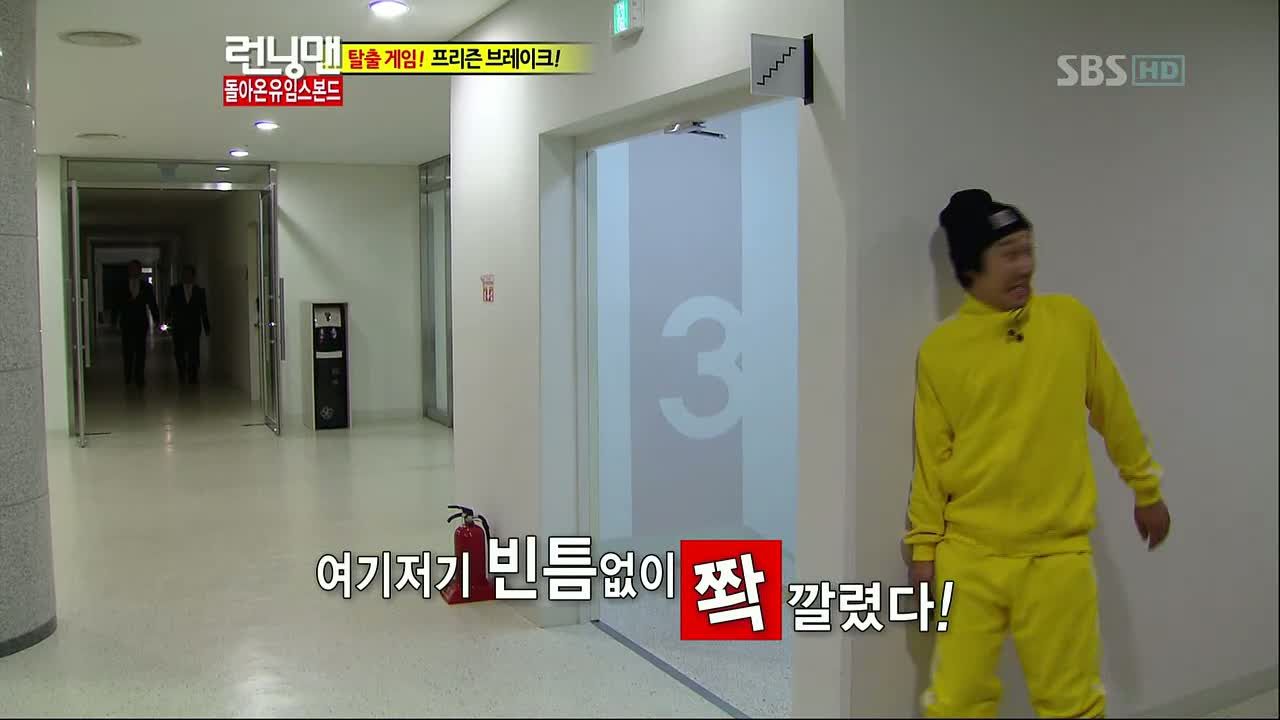 It's up to them to stay concealed from view or run for their lives away from the guard's clutches.
Soon all the Running Man are running throughout the building (Kwang-soo makes sure to do his business first), even Gary who makes out faint outline in his window.
PUHAHAHA – the members find the time to exact petty revenge on each other even though they're fugitives on the run. Haha yells where Kwang-soo is and Kwangvatar serves it right back to him.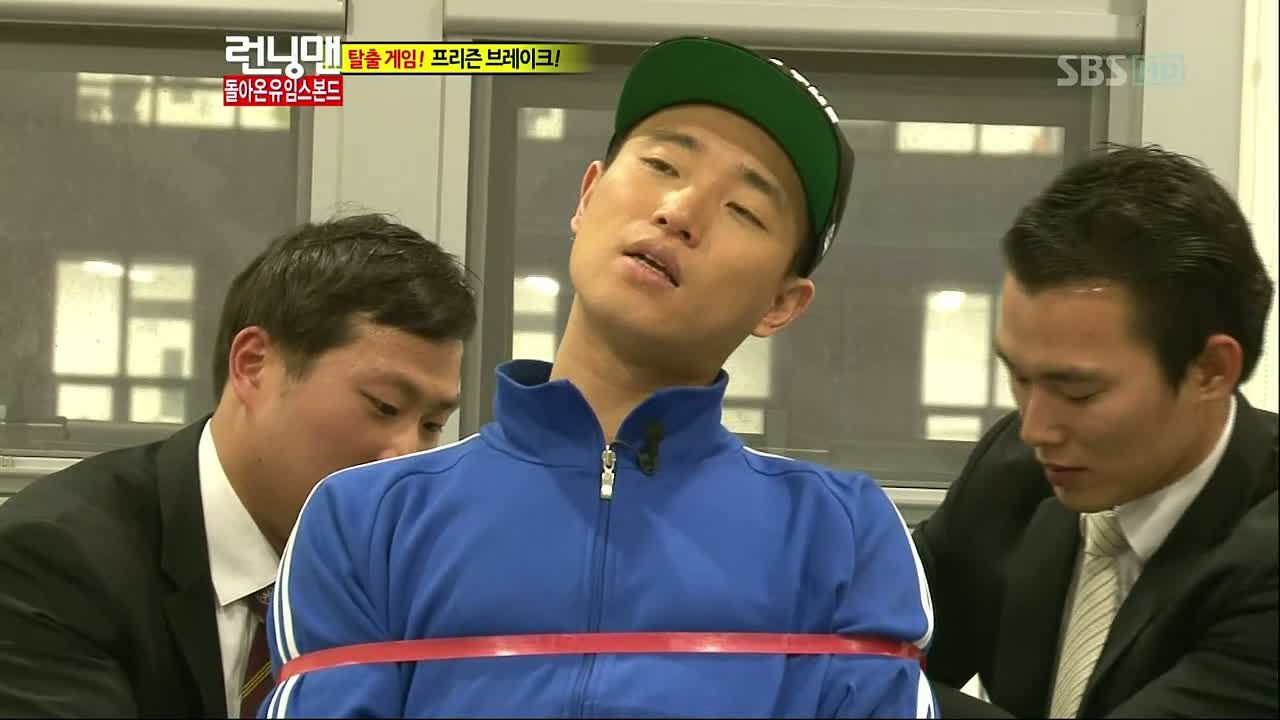 Gary runs into the security guards and slips into another room to lose their tail…but he fails to unlock the door and ends up caught anyway.
Tied up to a chair now, he contemplates how to escape, pushing himself out of the room only to be dragged back in. Gary: "You can restrain my body, but you can't restrain my freedom."
Jae-suk is careful to stay out of sight, only moving when he doesn't hear the guard's footfalls. He spots Myuk PD in a corner and follows his instructions down the corridor.
Who waits for him in a secret room? Why Mr. PD, of course. And I love that the first hing out of Jae-suk's mouth is, "I'm not going to be a spy." But Mr. PD's reply is just as cryptic – does he know what day it is?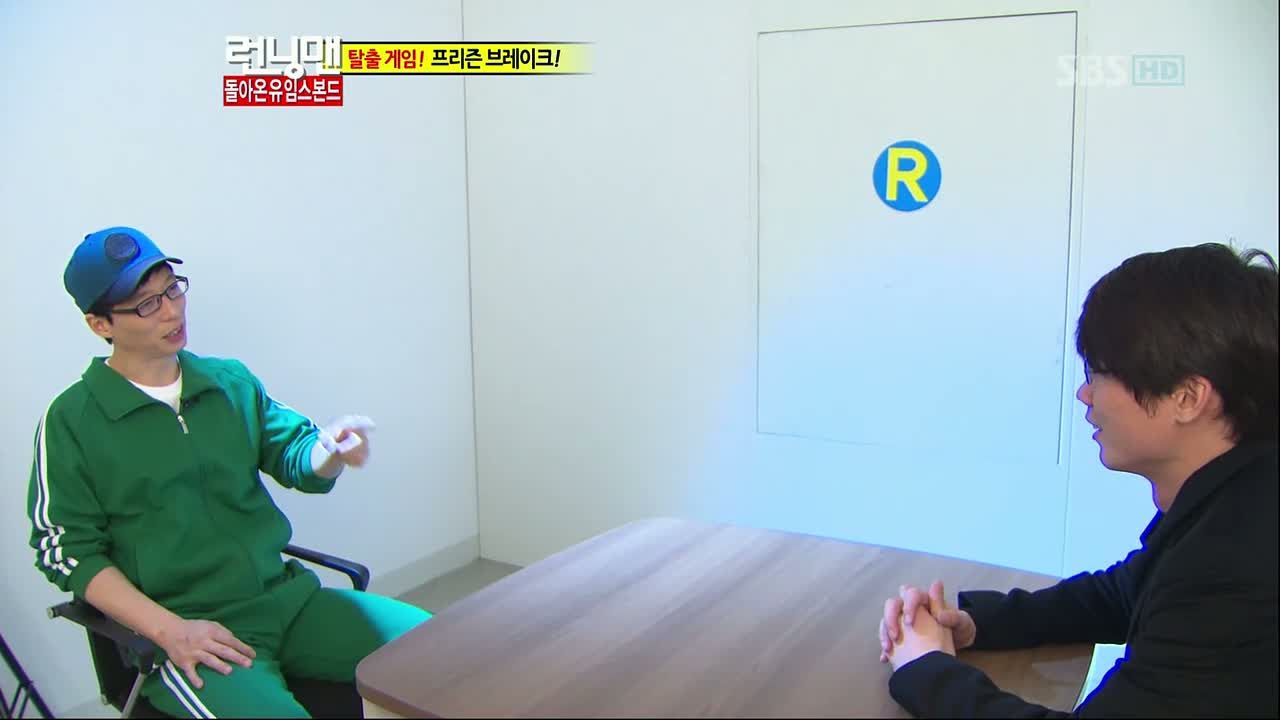 It's been exactly one year since Jae-suk was Yoomes Bond (Quickie Recap: Jae-suk was a spy instructed to eliminate the Running Man via water gun. The members felt extremely betrayed by his actions afterward).
The six-hour sentence won't apply to him but his mission is a doozy. Not only does he have to prevent the cast members from escaping prison, he needs to return them to their cells. Else, Yoomes Bond will be imprisoned and unable to leave.
Jae-suk is flabbergasted to say the least – how is he going to place them back, especially Jong-kook?!
Mr. PD tells him it's simple. With a clap, the wall revolves to reveal an artillery at Jae-suk's disposal. "Now we're talking." He picks up a teeny gun and green food coloring to which Mr. PD comments "Of course you would."
Nevertheless, Yoomes Bond is armed and ready to go.
Yoomes Bond scouts the area to locate the other members. He runs into Jong-kook and Kwang-soo who claim that they've already found the building plans. And indeed, the flashback proves that they did (and found a solid gold brick with it).
They're on their way down to the computer lab to find the key and Yoomes Bond's heart beats faster. He shoots Kwang-soo's name tag right before they enter their room, and worried that it might draw Jong-kook's attention, sticks close to Kwang-soo to obstruct his green colored name tag from view.
Suddenly the door opens and the security guards rush in to take out Kwang-soo as Yoomes Bond slips away. Kwang-soo: "Jong-kook is here too! Why don't you take him!?"
Trapped back in his cell, Kwang-soo calls for Gary, but he and Suk-jin are tied up elsewhere. Gary releases Big Nose Hyung (who for a moment considers just leaving him there) and both back out.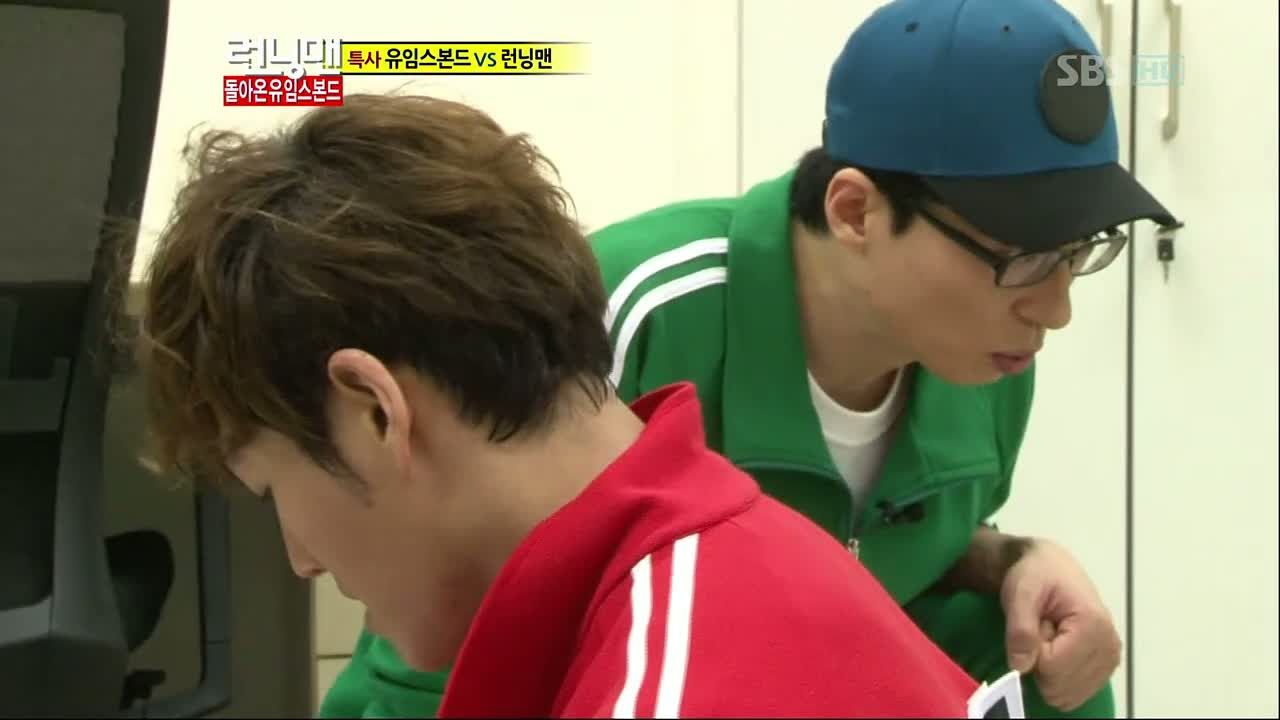 Yoomes Bond gets a rare opportunity to be alone with *Spartakooks who is too busy explaining where the keys are to be suspicious. Making sure that the doors are locked, Yoomes Bond reaches into his pocket for the water gun…
…and misses his opportunity to shoot.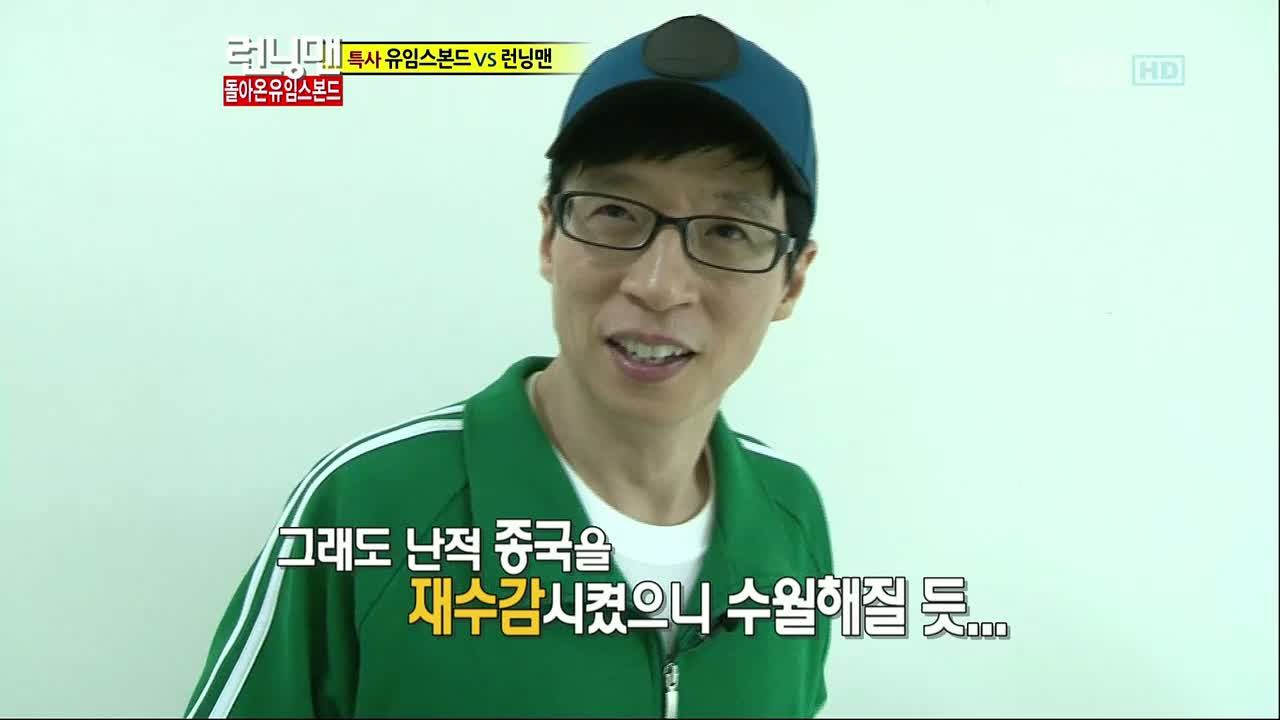 Thankfully he gets another shot and this time the name tag gets splashed with a bit of green. As the security guards close in on their location, Yoomes Bond mouths, "I'm sorry."
He clutches his chest in relief that he finally took Jong-kook out when he had the chance.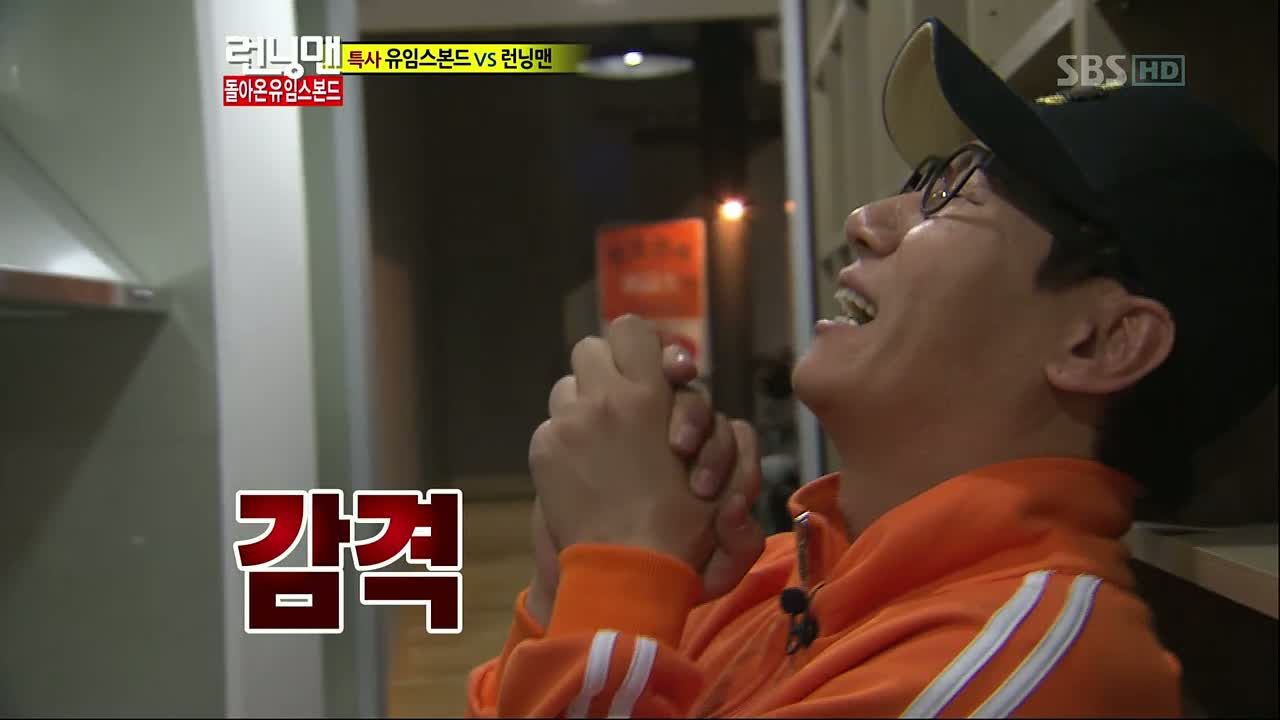 Looks like there's more than one building plans floating out there and luckily, it's Suk-jin who discovers it. Also Ji-hyo. And Haha. I foresee a lot of gloating followed by a swift blow to the ego.
Suk-jin runs into Jae-suk and tells them that they can relax – the building plans also come with a watch and schedule and right now it's 1AM and the guards are on break. Yep, lots of gloating on Suk-jin's end. Wait until Yoomes Bond takes you out.
And he does. Easy peasy.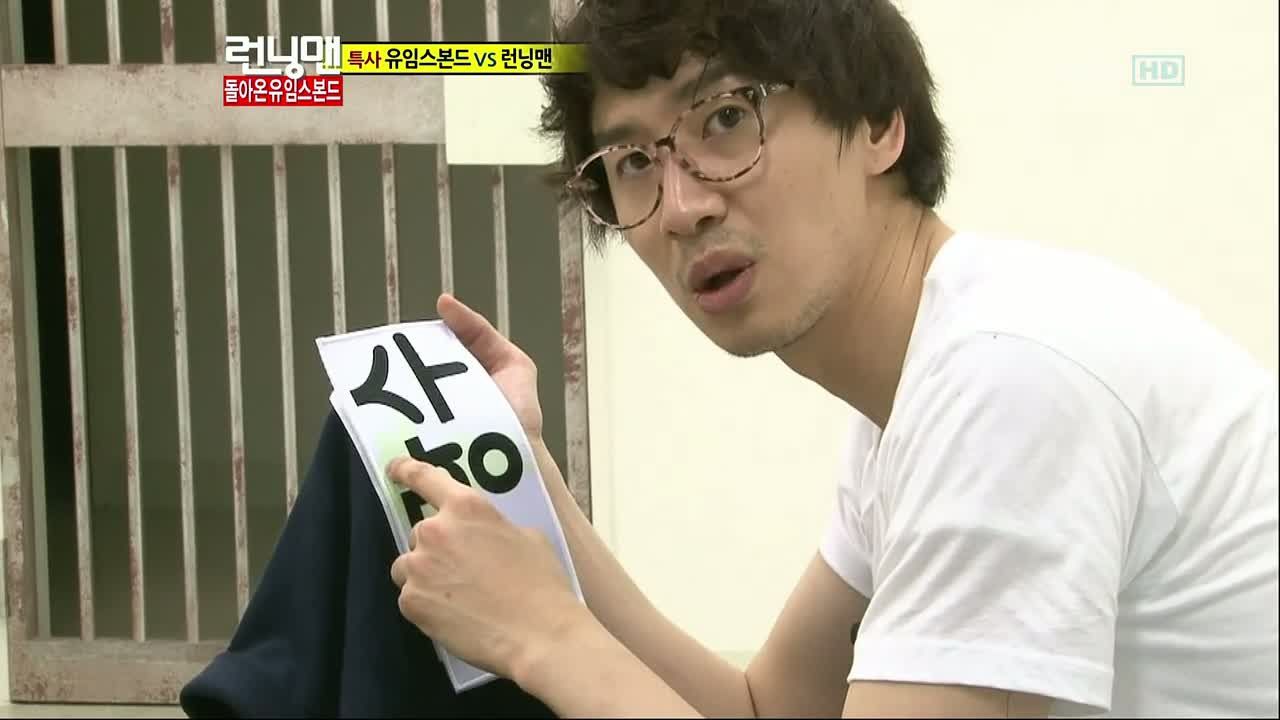 As Kwang-soo sits through the remainder of his 58 hour sentence, he notices the water stains on his name tag. It doesn't take him long to put two and two together – it's Jae-suk.
His voice booms, "Open the door!"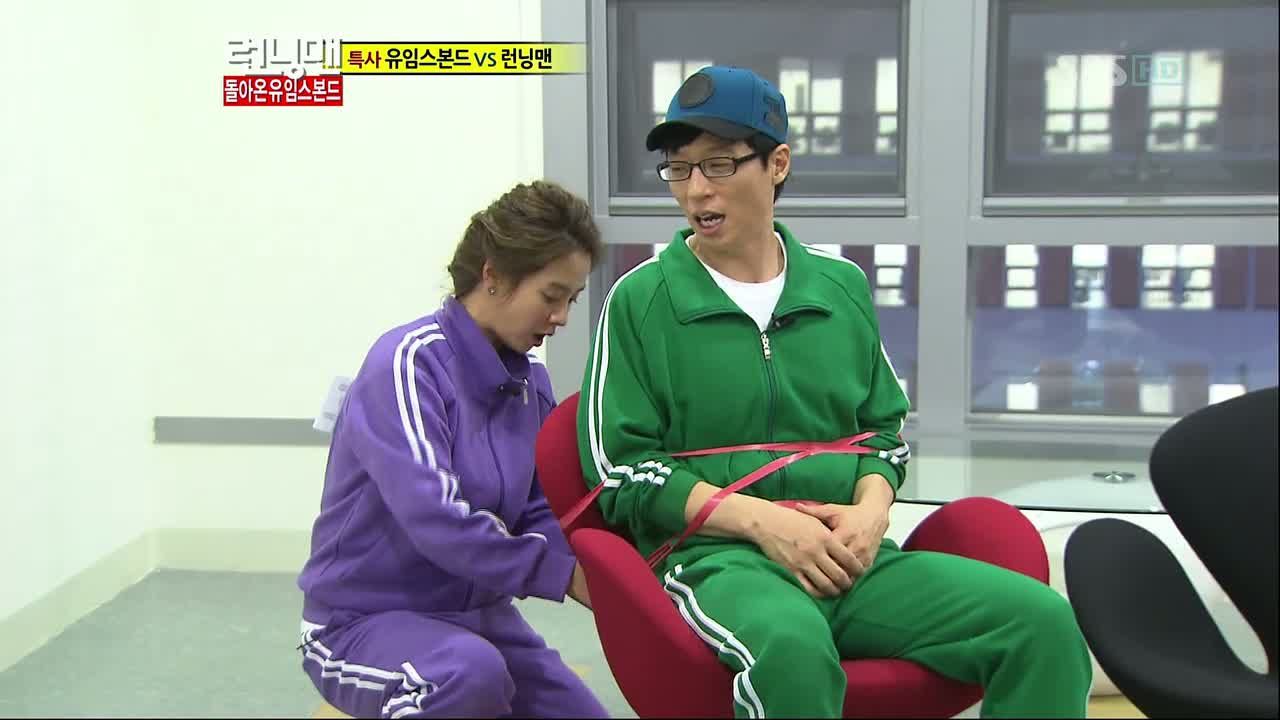 Having been captured by the guards, Yoomes Bond sits detained until Ji-hyo appears. As she unties him, she shares that Haha has already found the set of keys needed to secure his escape.
Yoomes Bond panics, knowing that time is ticking against him now.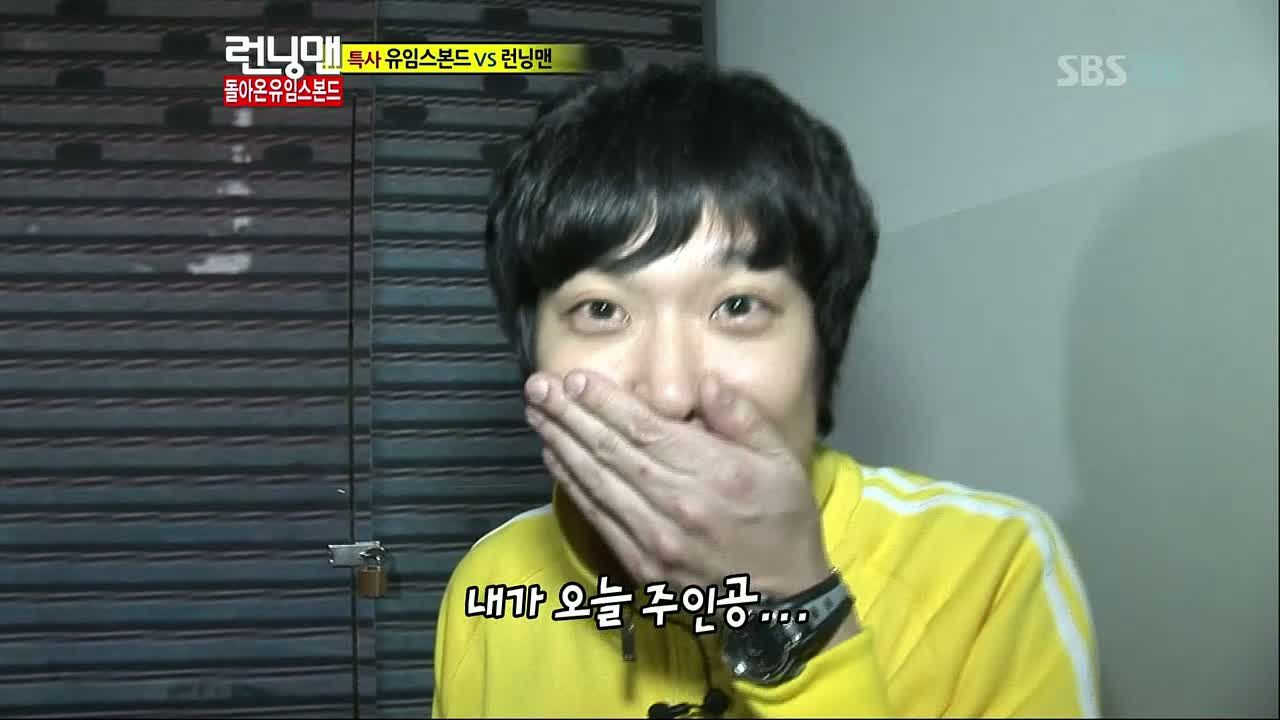 Elsewhere, Haha fits in each key to find the right one. One of them unlocks the gate and Haha bursts into a huge smile.
He opens the door (dedicating his win to Sohn Ye-jin)… but it's a booby trap and the alarm trips. Time to run.
Yoomes Bond does his best to collect himself, determined to take out the remaining three Running Man members. The speakers blare that it's lights off for the next five minutes. As the clock ticks 1:30 AM, everything goes black.
The lights flicker back on five minutes later. The sound of the radio trickles through the halls…
Yoomes Bond's new target is Haha, the most dangerous with the keys. I do love how Haha loves to be dramatic, showing off his handdrawn map and has no idea that Yoomes Bond has just taken him out.
He does his best to run away from the guards, but it's no use. Haha:"But I was the hero today!"
It's now past 2AM when Yoomes Bond hears a curious noise above the stairwell. Oof, I just got chills down my spine when we see it's Jong-kook. Wait, but you were put back behind bars!!!
Turns out the locks and hints reset themselves and he figured it out. Oh yeah, and he escaped during the blackout. Don't you just love the smart ones?
Yoomes Bond's blank expression is just priceless. He breathes, "You're really amazing." I'll say so.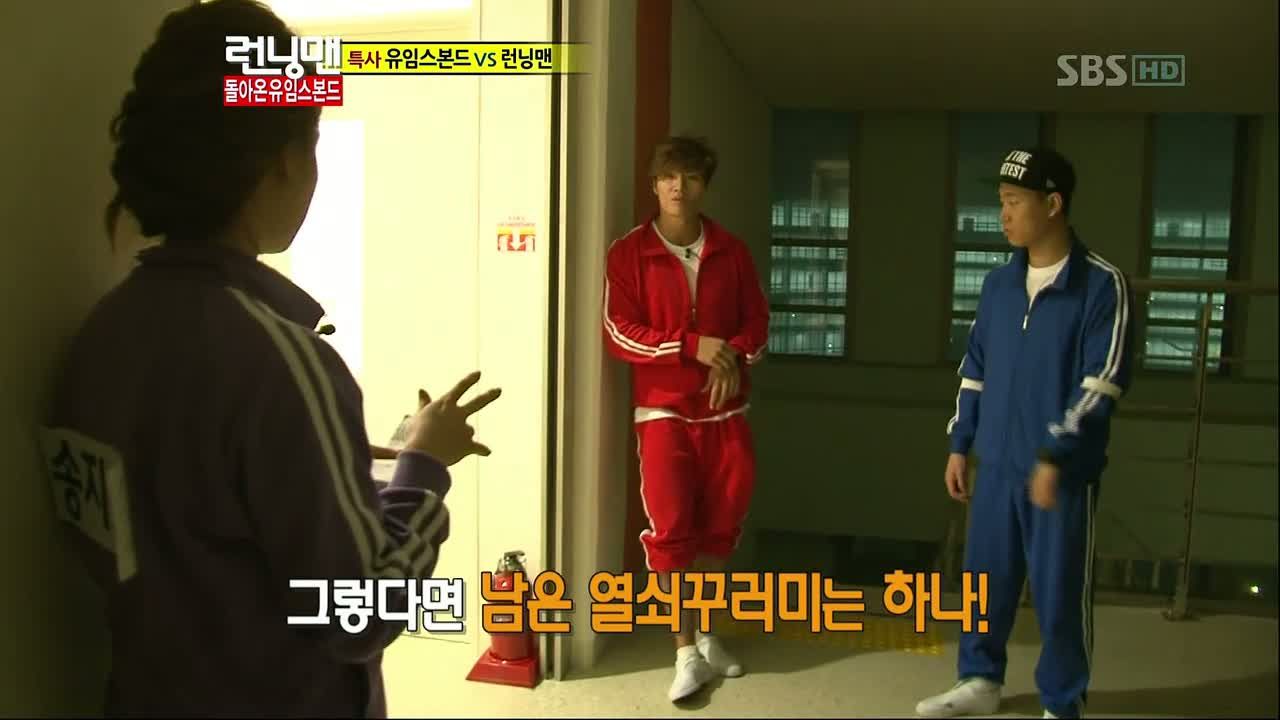 Spartakooks' unexpected break out of prison throws everyone off including the staff who thought that no one would escape again. So now the count is back up to three.
He meets up with the Monday Couple who need to find the other set of keys which is on the third floor…where *Yoomes Bond is waiting for them.
Yoomes Bond pretends to play dumb while the others frantically search for the keys. Jong-kook spots a scrawled note on the whiteboard (seriously, how does he do it?!) to check the monitors. Who to eliminate first?
In a sneaky moment, Yoomes Bond shoots Ji-hyo that unfolds to a long chase around the building. Then Gary goes down too when the boys regroup. Jong-kook finds the keys and points the guards to Gary, unaware that they're here for him anyway.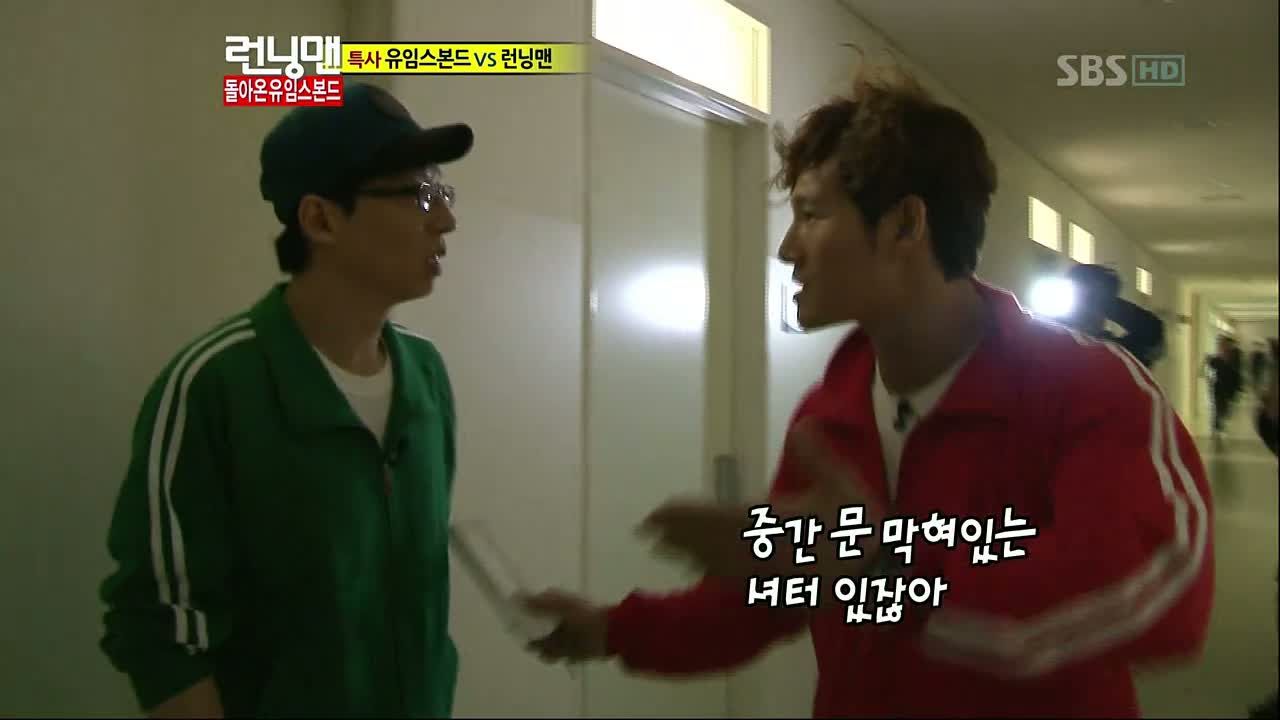 The clock ticks 2:50 AM, and only 10 minutes remain for Jong-kook to escape. Jong-kook informs his hyung that there are some strange looking gates as Yoomes Bond bides his time for the opportune moment.
Yoomes Bond catches his breath as Jong-kook sifts through the set to find the right key.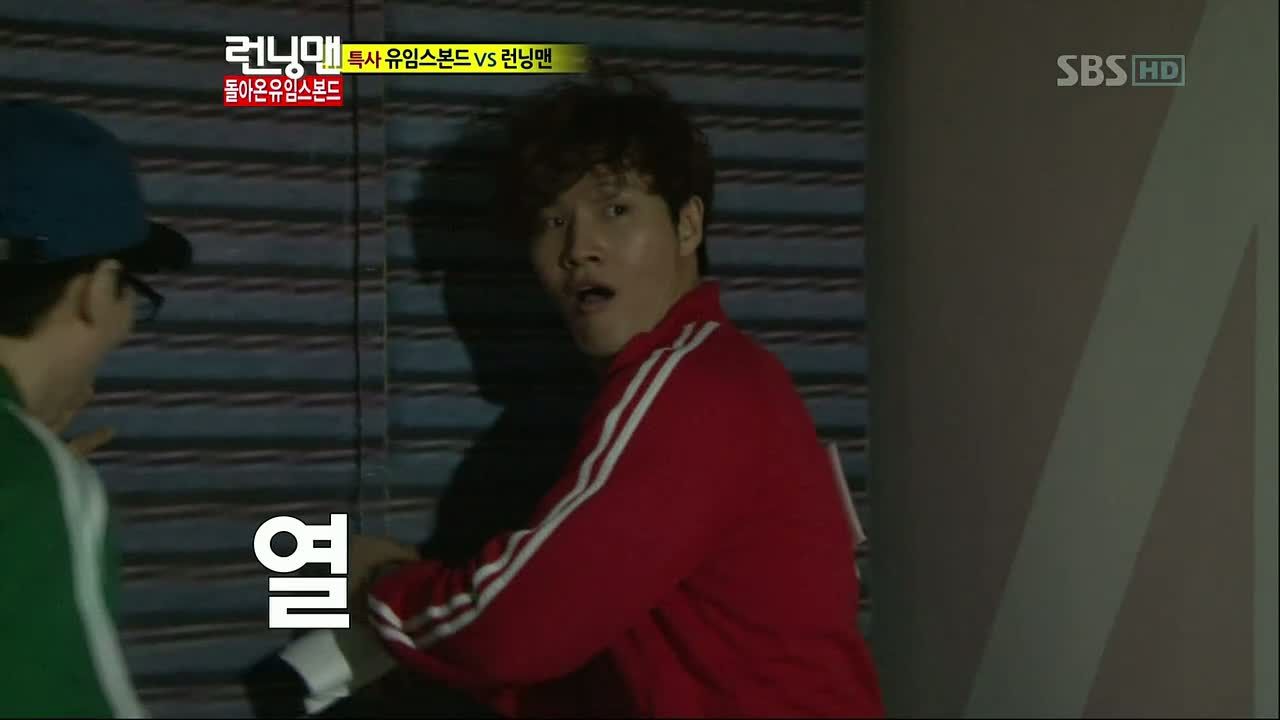 But then… *click* It's open.
Yoomes Bond holds Jong-kook back as he reaches in his pocket and spritzes Jong-kook's name tag.
Things aren't over just yet because all Jong-kook needs to do is to rid Yoomes Bond of his arm band before the security guards arrive. That requires strength. Which he has. A lot of.
The guards capture them before Jong-kook can find the arm band. As they're dragged away, Jae-suk shows him the water gun. The cast members' jaws drop in awe as the old memories mix in with the fresh scars of new betrayal.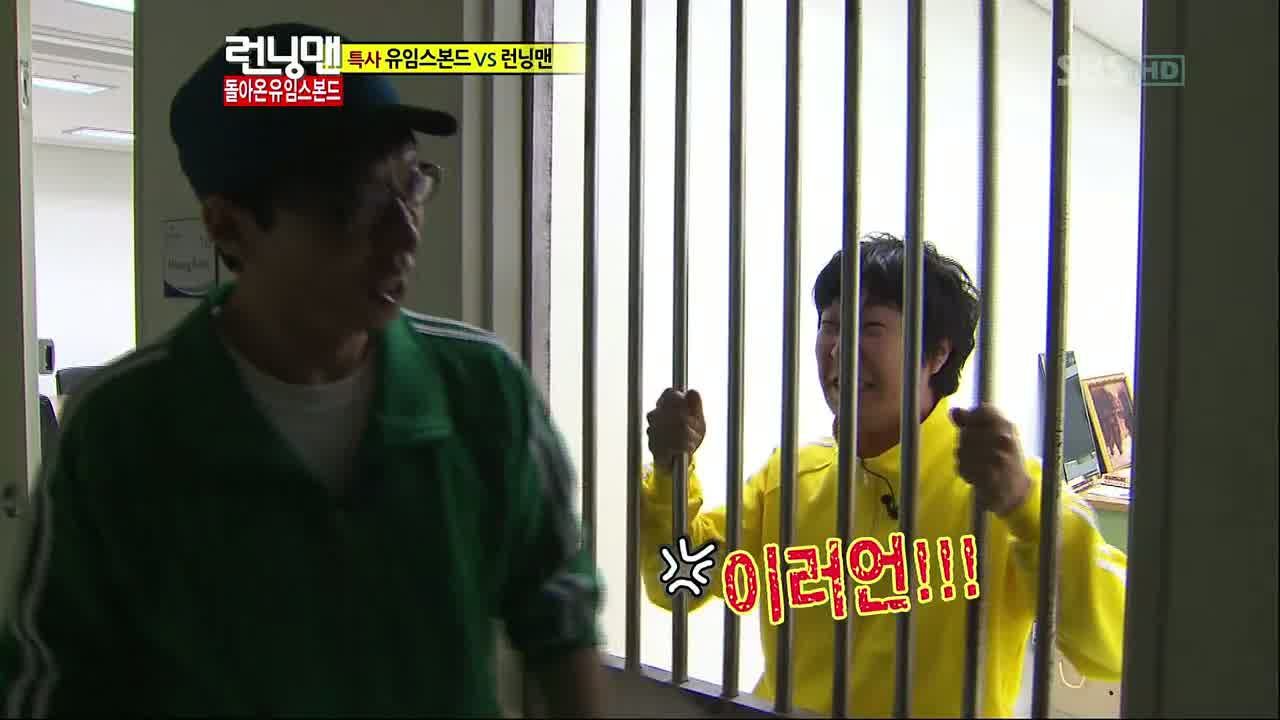 RELATED POSTS
Tags: featured, Haha, Ji Suk-jin, Kang Gary, Kim Jong-kook, Lee Kwang-soo, Running Man, Song Ji-hyo, Yoo Jae-suk