Ghost: Episode 10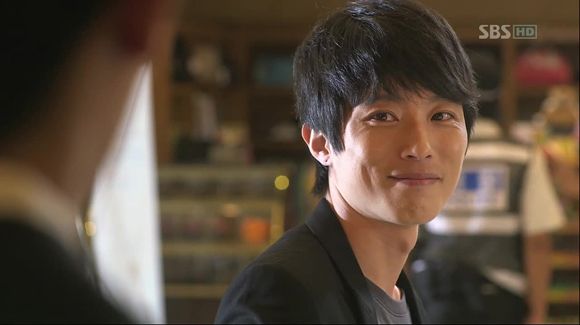 We don't have idiots on this show! Not only are Hyuk Joo and Woo Hyun incredibly sharp and suspicious of everything, but Hyun Min has quite the expansive network and his uncle has quite a keen mind despite his feeble state. So while we have everyone trying to prove that Hyun Min is the real killer, we also gain a peek in just how large of a beast Woo Hyun, Kang Mi, and Hyuk Joo will have to fight if they want to go up against Hyun Min.
Jong Hyun was paid off to keep a secret on who killed Nam Sang Won that night, as he saw the face of the killer. It's his testimony that leads Hyuk Joo to arrest Jae Min, although we know that Jae Min's really being framed here. Of course, there's a media blitz surrounding his arrest, and Se Kang's stocks subsequently fell.
Hyuk Joo has no solid evidence that Jae Min murdered Nam Sang Won, as he only has a witness's testimony. Director Jun is not pleased, as Hyuk Joo could have made an unnecessary and controversial arrest for nothing. But Hyuk Joo did it on purpose; whether Jae Min did it or not, Se Kang Group is still involved. With the media firestorm, he can now ask the prosecutor for that search warrant he was so unwilling to give before to look into Hae Myung Resort and Se Kang Group.
Hyuk Joo also understands that if his hunches are wrong, the mistake will affect more people within the bureau, so he is willing to bear full responsibility for his mistakes. A responsibility that Prosecutor Im Chi Hyun hopes Hyuk Joo will most certainly carry after all the mess he's caused. He wants definite proof of murder, but Hyuk Joo says the only way to do so is to exhume Nam Sang Won's body and perform an autopsy. And Prosecutor Im has the power to issue that warrant.
Prosecutor Im reminds Hyuk Joo that if it's not murder, not only will he lose his badge, but he'll also be arrested for wrongfully arresting Jae Min. I didn't realize that wrongfully arresting someone from the almighty Se Kang Group warranted imprisonment; are they gods of Korea or something?
Director Moon informs Hyun Min that the police have begun an autopsy on the exhumed Nam Sang Won. Though things seem to be going their way, Hyun Min refuses to let his guard down. Hyuk Joo is a very worthy adversary.
Woo Hyun returns to the office with one single-minded goal: to find the silver notebook laptop that Nam Sang Won supposedly gave him. (*I thought it was just a notebook, but it's actually a "notebook" as in a laptop!) He even asks Kang Mi if she's ever seen old-Woo Hyun's other laptops. She knows that Woo Hyun had a work laptop, and one at home, but neither matched the silver color.
It's imperative he finds it, as it supposedly contains evidence on who could have killed him. Mrs. Nam knew that it was very important to her husband and Woo Hyun, and she wondered if Woo Hyun's "accident" was more like attempted murder. She begs Woo Hyun to find the truth behind her husband's death. Unfortunately, there are no signs of a laptop at Woo Hyun's home, or any emails regarding it. It's even likely that maybe Nam Sang Won never delivered it to Woo Hyun.
Back at Safe Tech, an employee informs Jae Hee by his desk about discovering a lead on Nam Sang Won's computer. Jae Hee runs to cover the USB – he knew all along it was a bug! It's too late though, because Seung Yoon hears the phrase; she doesn't really know what it means, but it's another clue! Jae Hee is visibly rattled, as his employee just unwittingly gave out information he should not have at all.
In the bureau, Jae Min's father, CEO Jo Kyung Shin, visits his son and orders everyone to get out. Jae Min insists he's innocent, but Kyung Shin wants the truth of what happened that night. Guess he doesn't believe his sonny boy!
The cyber crime team waits anxiously for the results from the autopsy on Nam Sang Won's exhumed body. The autopsy results are finally faxed over, and Hyuk Joo and Woo Hyun go report the results to Chief Shin and Director Jun. It's murder! The medical examiners found traces of sodium azide in his body; sodium azide is a poison that affects the heart and the brain, and that's why it appeared that Nam Sang Won died of a heart attack. Woo Hyun adds that the chemical is only sold to manufacturers – especially to automobile companies that use it for air bags. Automobile companies… like Se Kang Automobiles where Mrs. Nam worked?
Warrants to be issued, Hyuk Joo then tells Woo Hyun he's pulling him off the case. He still does not trust Woo Hyun, as it's possible that Woo Hyun could delete all necessary evidence with a click of the mouse when they go investigate the homes. Hyuk Joo swears he will discover the whole truth later on. Aww – but after "Twinkle," how could you guys still not trust each other?!
Sang Woo gives a smug smile to Hae Myung Resort's concierge when he hands over the search warrant to confiscate their computers, while Young Suk visits Se Kang Automobile with another search warrant. Young Suk and Kang Mi find a vial of sodium azide in Jae Min's office – damning evidence that he really killed Nam Sang Won. It's warrants galore as CK Company, Hae Myung, and Se Kang have to hand over all their computers and files to the police.
The information is catalogued and processed, but they don't find anything new. Sang Woo verifies that there are no guest lists kept on record, although he did see Jae Min on the CCTV recordings heading towards villa 12. As for Nam Sang Won's car, it was first parked at villa 15 and then moved to villa 12 twenty minutes later. The suggestion is that Nam died in villa 12, by the hands of Jae Min. As for Woo Hyun's car, it was parked at villa 15, but left before Nam's car. The suggestion there is that Nam and Woo Hyun met initially and exchanged the laptop.
While looking through CK's financial department's computer, Eung Jin finds evidence that Nam Sang Won was handling a secret account for Jae Min under CK's name. There was approximately 100 million dollars in that account, and Nam Sang Won pocketed 10 million. On top of that, Kang Mi finds files in Jae Min's computer of his illegal wiretaps on Dr. Go Jae Sung, Lee Jong Hyun, and Mrs. Nam. (I love how Sang Woo gets a leetle too close to his lady love when looking over her shoulder at the screen.)
All evidence is pointing at Jo Jae Min to be the killer, but Woo Hyun doesn't believe it at all. It's just what the real killer wants you to think. Woo Hyun knows that Nam Sang Won was killed in villa 15, and Jae Min just found him dead in villa 12. According to Jong Hyun's testimony, he saw Nam Sang Won drink through a window, and then collapse from the poison. His killer had then moved into view, and Jong Hyun saw Jae Min's face.
(No way – Jae Min's suit is a lighter color than the killer's suit in the Phantom video file!)
Jong Hyun adds that he was paid off to pretend he didn't see anything, just like Doctor Go Jae Sung. But then, Se Kang Group also tracked them down and planted listening devices around them.
When Woo Hyun hears of Jong Hyun's testimony, he thinks something is off about it. Kang Mi says it's possible for Nam Sang Won to have been killed in villa 12 because the inside furniture layout is all the same for every building. But Woo Hyun wants to check to be sure, since he knows old-Woo Hyun was present for the killing. He goes into the interrogation room where Jae Min is being held, and receives his testimony.
Jae Min had gone into villa 12 to meet with Nam Sang Won, as was scheduled. However, he found the body and Jong Hyun found him standing over it. Afraid for misunderstandings to arise, Jae Min asks Jong Hyun to lie that he was never there that night, and to clean up the body. He even pays Jong Hyun off for it. Jae Min honestly thought Nam Sang Won died from a heart attack, but he just didn't want the situation to get so messy.
However, the next day, Jong Hyun and Nam's optometrist came to see him and said they knew Nam Sang Won didn't die from a heart attack. They threatened to have Jae Min arrested for murder, so he paid them off and gave the optometrist a position in the hospital. But Jong Hyun kept coming back, and so Jae Min had to keep paying him off. That's what escalated the situation, and pissed Jae Min off the most.
Later that evening, Hyun Min returns to the office to find Kyung Shin waiting for him, wanting to have a "talk." Hyun Min sets down some tea and asks what Jae Min said regarding the investigation – did he really kill Nam Sang Won? Of course, Jae Min didn't, and his testimony is based on the fact that he was constantly threatened. Even Kyung Shin believes that if his son had told him sooner, he would have resolved everything for him already. Since Jae Min's story is so different from the police's version, someone is lying.
Kyung Shin is no weak fool. He knows that someone else paid off Jong Hyun with more money – and that it was Hyun Min.
Back at the bureau, Sang Woo has received the analysis report regarding the sodium azide they found in Jae Min's office. It's confirmed to be that poison, and it appears that a year before Nam Sang Won died, Jae Min had visited a German automobile factory with the other Se Kang Automobile directors. They had visited the airbag assembly line, and even bought a sample of the sodium azide then. Everything is fitting a little too perfectly.
Woo Hyun finishes up his interrogation with Jae Min with one last question: Does Jae Min know who he is? And he holds up an ID by his face that says "Kwon Hyuk Joo." Jae Min: "You're Inspector Kwon Hyuk Joo."
Yep – definite evidence that Jae Min did not kill Nam Sang Won, as he didn't even recognize who Woo Hyun was. Now how to explain that to everyone else without implicating himself in the process?
Kyung Shin thinks that it is Hyun Min framing Jae Min, because the only person who could know Jae Min as well as he is Hyun Min. Hyun Min can easily plant evidence, and has much to win if Jae Min loses. But despite all these accusations, Hyun Min is as cool as a cucumber. Kyung Shin dares him to see if he can get Se Kang this way.
Hyun Min: "Se Kang was mine originally."
That makes Kyung Shin laugh out loud – which is another slap to Hyun Min's face because of the disrespect Kyung Shin has towards his older brother, Hyun Min's father. Hyun Min replies evenly: "If you give up on Se Kang now, I'll let you live."
Kyung Shin: "Ooh, scary. I think you forgot that the chairman of Se Kang is me. Get your hands off Jae Min. For my son, I can do anything." Neither is frightened off by the other's threats. Oh yay – escalation!
For most of the bureau, the case seems closed, Prosecutor Im has ordered that the case be handed over to him. Hyuk Joo is outraged because he wasn't ready to hand over the case to Prosecutor Im just yet. When he storms out to meet with Prosecutor Im, he sees his witness Jong Hyun leaving, to be taken to the prosecutor's office. Hah – he's definitely not a happy camper now. He has one question for Jong Hyun first: why did Nam Sang Won go to suite 15 first before suite 12?
Jong Hyun doesn't know. He wasn't there earlier in the night, having run errands for Nam Sang Won, so perhaps his boss was just visiting other people he knew in the resort?
It's a perfectly reasonable answer, and it unsettles Hyuk Joo even more. This case is progressing too easily; since it's Korea(n drama), it shouldn't be this easy!
Woo Hyun and Kang Mi try to logically figure out the criminal's mind. The real killer must have known Jae Min was going to meet with Nam Sang Won in villa 12, so he framed Jae Min by moving the body and car to villa 12. In a reenactment of that night, we see that it was Jae Hee who moved it, and barely got the body in place before Jae Min entered the villa. Jae Min was probably going to just be a witness to the death, but the poison was then planted in his office to make him the suspect. However, because the doctor could have found evidence of the poison, and the driver saw the night's events, both of them threatened Jae Min and needed to be paid off. The real criminal then went to both of them, and paid the two of them with even more money to make sure that Jae Min gets accused of the murder.
Kyung Shin is no sitting duck though; he contacts Prosecutor Im right away regarding the case. He spoke to Im's superiors and wants a nice conclusion for this case. He reminds the prosecutor that after all this, Jae Min will be even more wealthy and powerful in the future than now.
Prosecutor Im agrees to Kyung Shin's request and hangs up… while sitting in Hyun Min's office. Hyun Min – one step ahead of everyone else! He asks Kyung Shin to "investigate thoroughly, just like the case 13 years ago." Ooh- what case 13 years ago? Prosecutor Im sounds like he's about to note the difference between the two situations, but Hyun Min interrupts him – there are many types of crimes that Jae Min could be pinned for. He just needs to be found guilty for one of them.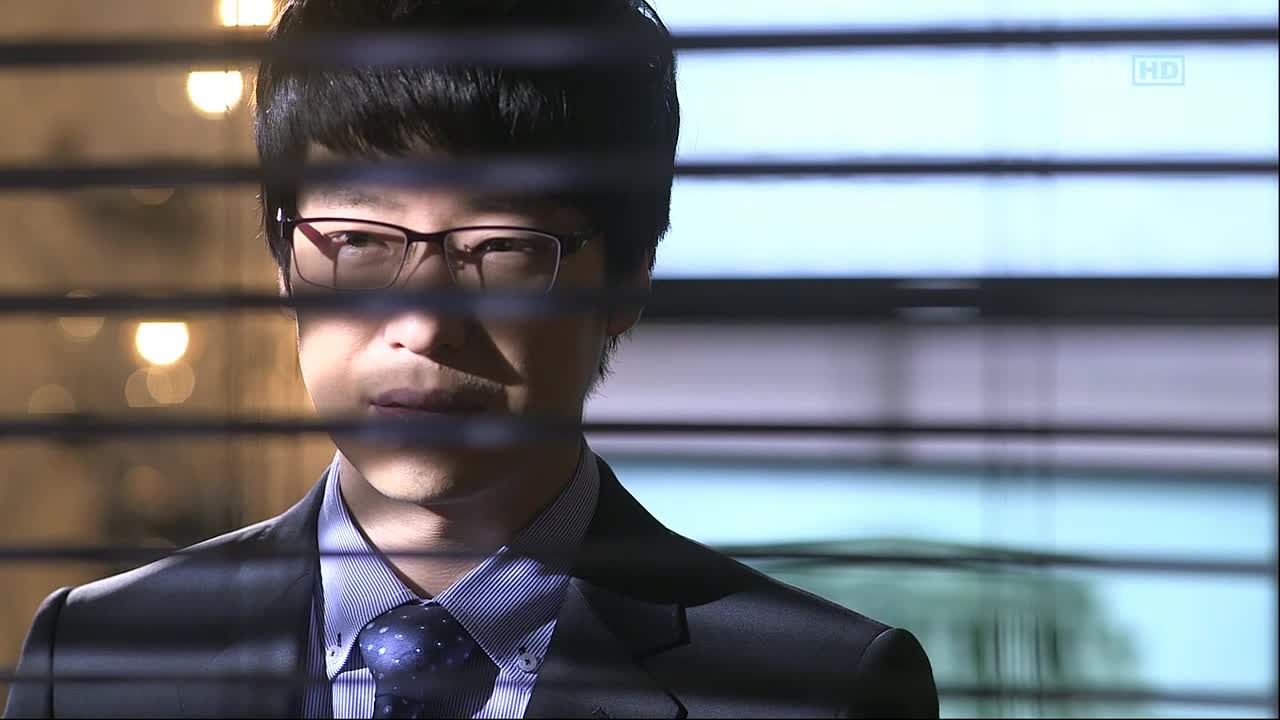 Kyung Shin is not the only father who would do anything for his son; Hyun Min's father had said the exact same thing, and that is why Hyun Min won't forgive his uncle for whatever it is he did. (Probably in stealing control over the company from Hyun Min's father.)
Woo Hyun believes the only way to prove Jae Min's innocence is to locate the laptop Nam Sang Won gave old-Woo Hyun. Now all he and Kang Mi have to do is retrace both men's steps on that day in May.
At the same time, Jae Hee reports to Hyun Min with the recordings on the location of Nam Sang Won's laptop. Turns out, Mrs. Nam's necklace was bugged, so they were still able to capture everything! Their conversation proves to Hyun Min that he was right in assuming Woo Hyun had the laptop. Now they just need to find it.
That evening, Woo Hyun and Kang Mi gather in his home for some late night working. Woo Hyun will try to locate where old-Woo Hyun went on that day, while Kang Mi tracks where Nam Sang Won went. The beginning of the day for both is pretty standard, borderline boring. Kang Mi reminds him that back then, old-Woo Hyun was chasing after Hades, a.k.a Ki Young. Heh. He was giving his best friend quite the headache.
Sometime in the evening, Nam Sang Won went to a golf club and used his credit card there, and then afterwards headed straight for Hae Myung Resorts. As for old-Woo Hyun, he got off work at 6pm and headed to a department store to buy a toy – presumably for his son. That's when they come across a foreign number; old-Woo Hyun had received several calls from that number, so Woo Hyun goes off to investigate it. Kang Mi can go check out the golf club and see if they could have possibly met there.
Kang Mi meets with Nam Sang Won's former caddy, who always followed him through his rounds. However on that day in May, even though Nam Sang Won had made a reservation at the golf club, he only gave her a tip and said he would rest upstairs. She remembers what he did because he had died that day.
Meanwhile, Woo Hyun locates the strange number to a pay phone, where Nam Sang Won had called him asking to meet. Of all people, he ends up bumping into Young Suk! They're surprised to find the other, as Woo Hyun usually sits at the computer and lets Young Suk do the actual brunt work of investigation. Young Suk also asks if Woo Hyun's father is well. Shifty… clearly Young Suk is getting ahead in his investigation regarding Kim Suk Joon.
Yeon Joo meets with Chief Shin and Director Jun regarding Jo Jae Min's case, as she wrote a cover article on it for her newspaper. I bet she just wants a case status update… She knows that the cyber crime team is still investigating it, but Director Jun has no updates for her to report on. Yay! No information sharing!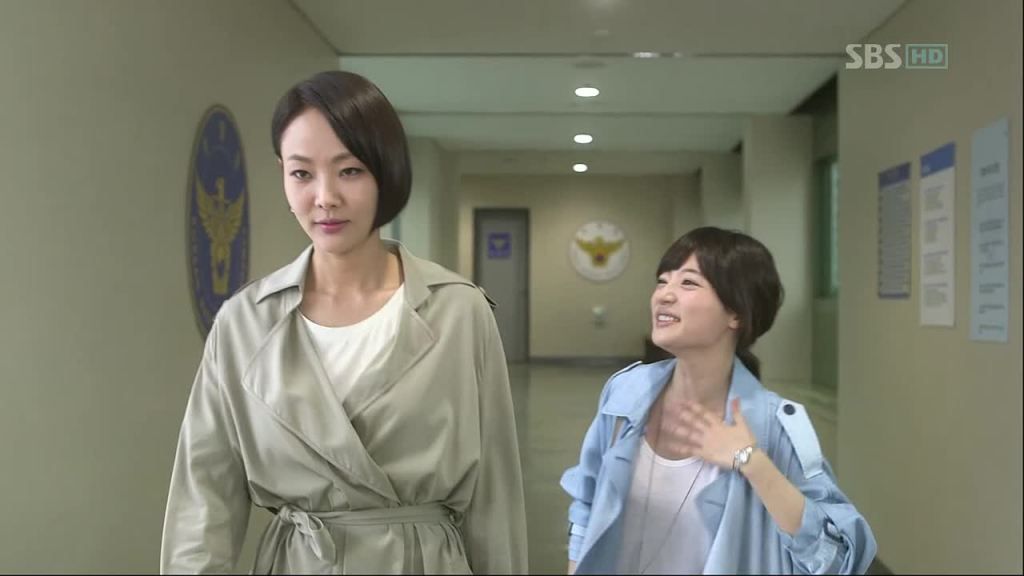 On her way out of the bureau, Yeon Joo bumps into Seung Yoon – who happens to be her biggest fan evaaaaaa! Haha – I love how Yeon Joo's face is like, "Um… 'kay…" Seung Yoon introduces herself as a reporter at True Story, which actually piques her interest. Since Seung Yoon is looking for Hyuk Joo, Yeon Joo offers to take her to his office. It's her opportunity to also introduce herself to Hyuk Joo in the hopes that she could get scoops from him.
Hyuk Joo isn't close with reporters, so he finds no reason to speak to Yeon Joo in the near future. However he's speaking to Seung Yoon… Smelling a scoop, Yeon Joo suddenly acts a lot nicer to Seung Yoon, encouraging her to call if she ever needs help. Seung Yoon is her way in to the cyber crime team's doings.
Once Yeon Joo leaves, Hyuk Joo tries to kick Seung Yoon out too. Just as he opens the door, Seung Yoon cries out, "But I brought important evidence!" – right in the earshot of Yeon Joo. Crap – she's totally going to figure out that Hyuk Joo might be tailing someone on Hyun Min's team and might be doing something illegal!
Seung Yoon tells him about Nam Sang Won's laptop, and asks if they confiscated any laptops as part of evidence. They didn't, so Hyuk Joo asks to listen to the recording. He hears a sudden clap that cuts off the sentence about Nam Sang Won's laptop, and replays it several times. Hyuk Joo realizes that Jae Hee knew it was a bug; the clap was Jae Hee covering the USB bug, and everything they had said before (about Nam Sang Won's murder, and about checking the CCTV tapes again) was a setup to lead the police towards Jae Min. Hyuk Joo gleefully relishes over the fact that the case is far from solved, and that he has a new opponent in Jae Hee.
To solve the case, Hyuk Joo needs to find the laptop. It's clearly the real evidence over the real killer, one that Jae Hee's team is searching for. That's why they were bugged in the first place, because they were hoping the police would lead them to it.
Woo Hyun's lead is a dead end, because he can't find any CCTV cameras or any logs of the call made on that pay phone; he has no idea who may have made that call. Thankfully Kang Mi does have a lead – she says the caller is Nam Sang Won. Though he was supposedly at the golf club when the call was made, she says that he never played and was looking for shuttle buses to his area.
In his mind's eye, Woo Hyun realizes that Nam Sang Won was running away from his followers, and called up old-Woo Hyun to give him the laptop. He handed it off, then went back to the golf club at around 9pm. If old-Woo Hyun went to buy a toy for his son that day, it's likely he went to his father's home in Yangpyung. And then he could have met Nam there.
Kang Mi hands over her business card to the golf caddy, thanking her for her help. The caddy notices that Kang Mi's from the same police department as another detective who had come to visit her earlier. Who!?
Woo Hyun rushes to his father's home and meets the housemaid. He asks if she remembers anything about a visitor from last May. The housemaid remembers – someone had left a laptop for Woo Hyun and told her to give it only to him. But she had forgotten all about it until recently, when Woo Hyun's coworker had come to pick it up. Coworker?! Who!?
Flashback! It was Young Suk! He had come in, lying that he was going to pick up the laptop and deliver it to Woo Hyun for her. UH-OH! Woo Hyun remembers that before the warehouse explosion, old-Woo Hyun had told him there are many more Phantom-sympathizers in the police bureau. Young Suk is one of them. It explains why Young Suk was also near that phone booth when Woo Hyun was there.
According to the housemaid, he hadn't left more than an hour ago, so Woo Hyun rushes out, speeding towards Seoul. Young Suk is ahead of him already though, and heads towards a rest stop on the way to Seoul. He grabs a drink and sits by a secluded bench… where he meets none other than Hyun Min.
Comments:
Why hello there Young Suk! You're quite devious! I'm personally quite glad that Young Suk's character has been developed even more, though I did not expect him to be evil! I was hoping he was going to do his own personal investigations and discover the truth about Woo Hyun, and maybe side with him and Kang Mi. Now, if he figures out the truth about Woo Hyun, he's probably going to ruin him!
This episode was full of people trying to figure out the truth that we viewers already know, so for the most part it didn't capture my interest. It was a waiting game for me: "When are you going to figure it out? When are you going to figure it out?" However I have to say that with every piece of damning evidence pointing towards Jae Min, I got more and more frustrated. Hyun Min is too good at being a criminal! Even from one year ago he was already meticulously planning for his cousin's downfall, as the evidence from one year ago already implicated Jae Min. I bet Kyung Shin's recent announcement of making Jae Min the Vice-Chairman prompted Hyun Min to let it all be revealed. Though Director Jun had been the catalyst for this investigation, Hyuk Joo was close to finding the link between Shin Hyo Jung and Hyun Min too. In this episode, he disregarded the fact that he saw Hyo Jung's car at villa 15 since he was so distracted by all the evidence towards Jae Min.
I'm also quite curious as to the case referred to that occurred 13 years ago and was resolved by Prosecutor Im. It could be related to what Ki Young had discovered through Kim Suk Joon's computer 10 years ago, though I think what happened 13 years ago was the root problem that put Hyun Min on the path of Phantom-like vengeance for his father. He's such a meaty character – I want to watch just a flashback of Hyun Min's younger days as he probably battled through family politics between his father and uncle when he was younger.
RELATED POSTS
Tags: Eom Ki-joon, featured, Ghost, Lee Yeon-hee, So Ji-sub