I Love Lee Tae-ri: Episode 1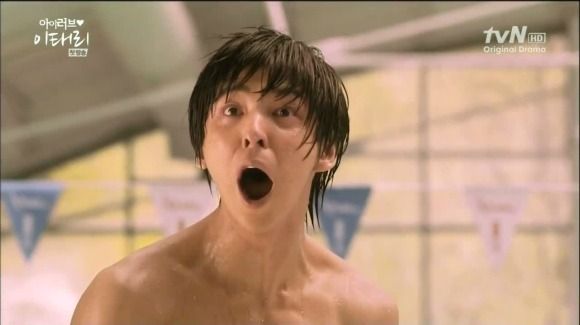 Woah, I'm shocked too. An extremely cute opening for I Love Lee Tae-ri who under the guise of some silly hijinks asks us some poignant questions. What if the little boy who we dismiss as a child is very much a man already? And what if that woman who desperately faces the world with an adult bravado is just a young girl at heart?
FYI: This is a one-off recap so there are no plans to continue; it's just to give y'all a taste!
SONG OF THE DAY
I Love Lee Tae-ri OST – "Do It" by Sunny Hill [ Download ]
Audio clip: Adobe Flash Player (version 9 or above) is required to play this audio clip. Download the latest version here. You also need to have JavaScript enabled in your browser.
EPISODE 1 RECAP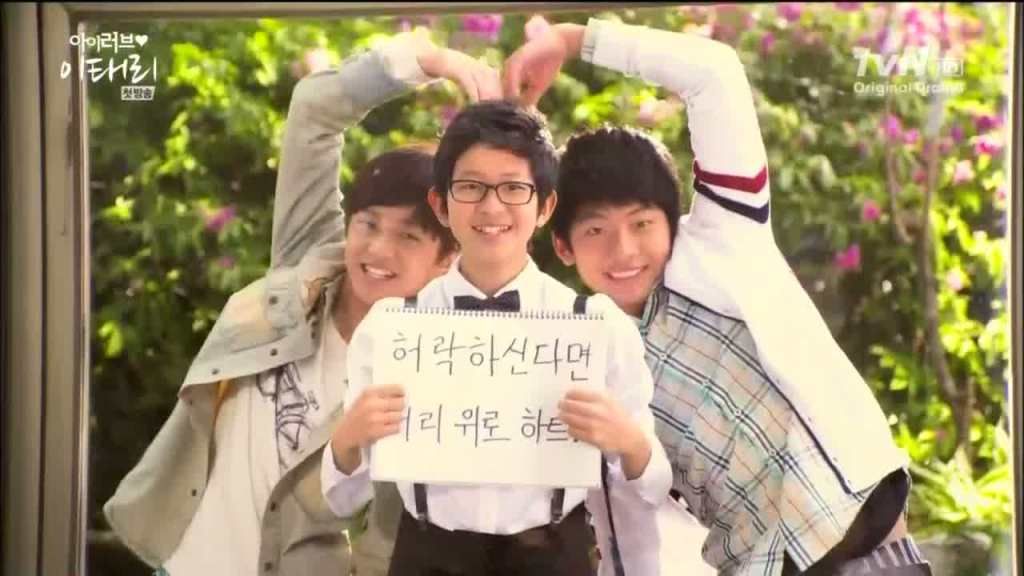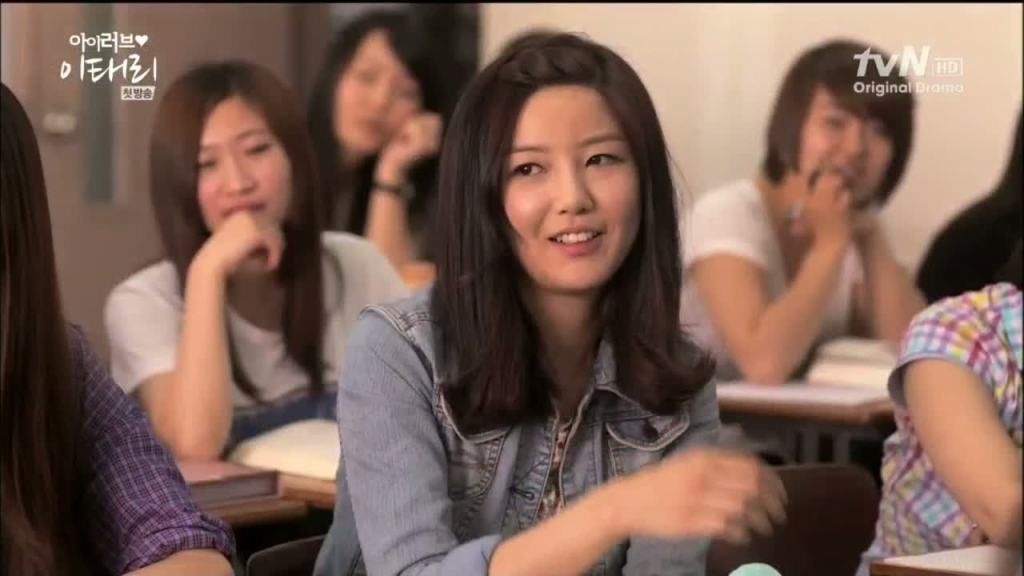 On a crowded street, a group of friends gape at the mass of university ladies before them. Meet our hero GEUM EUN-DONG (Baek Seung-hwan) who traverses his way through to help his buddy confess his adorable noona love via Love Actually style.
He flips the cards, his face hidden under the window about how he wants to call her Bora-sshi instead of noona (since he wants to be seen as a man instead of a little boy). And then one of final cards reads, "But I can't transfer here. Because this is a woman's university." Puppy love!
The boys pop out with a huge heart over their heads and she sweetly sends one in return. Eun-dong's thoughts drift towards his own noona crush.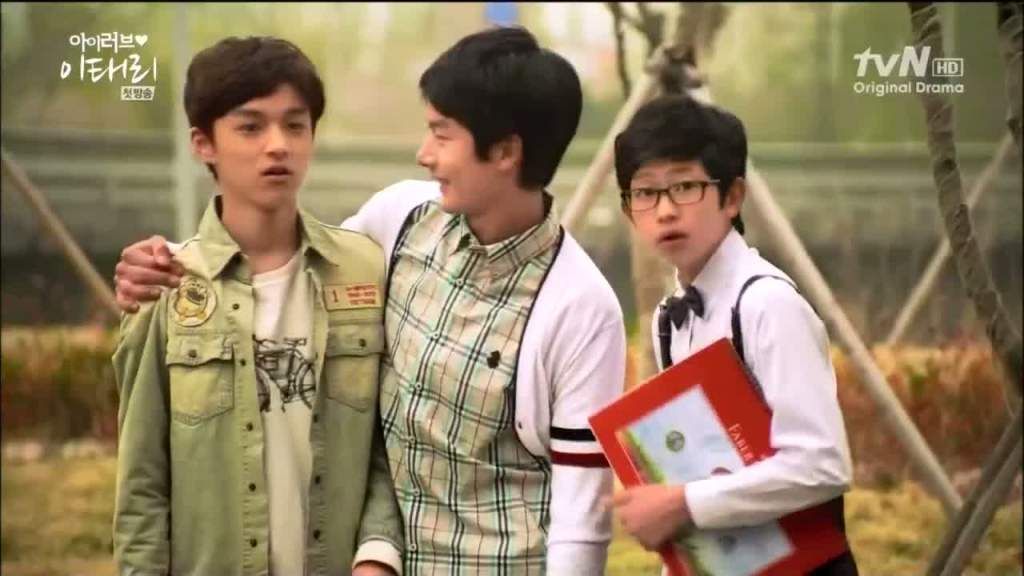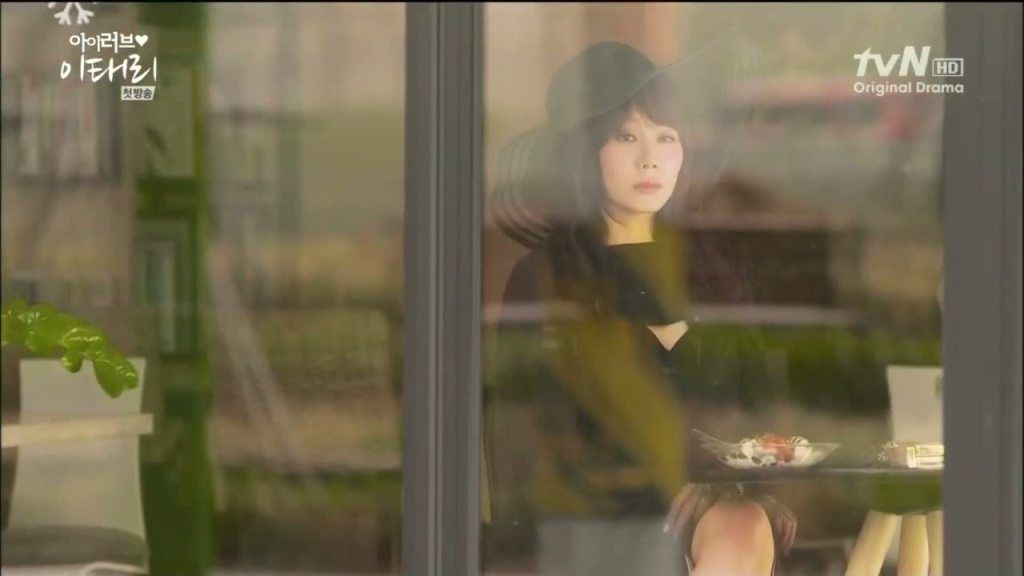 The friends head back with a huge smile on their faces when Eun-dong spots a poster of his noona idol crush. Then he notices another woman dressed in black who looks somberly out the window. We'll come to know her as LEE TAE-RI (Park Ye-jin).
She meets his gaze for a tiny moment when Eun-dong's friends appear again. A car passes by and she disappears.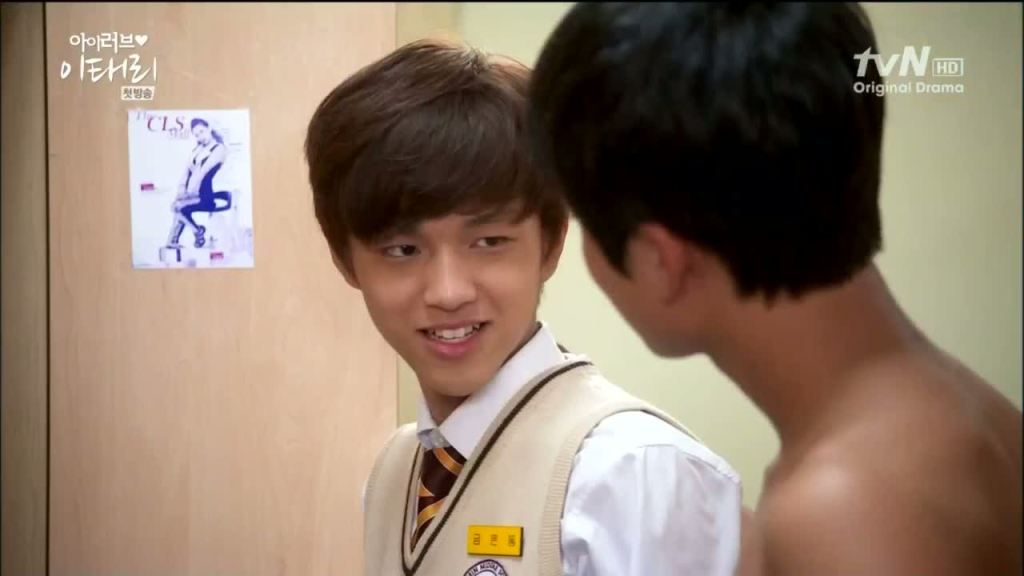 Eun-dong is a champion in his own right as he wins the finals of the 2012 Swimming Freestyle, even setting a record. He and his coach HWANG MIN-GOOK (Jang Seo-won) thumbs ups as he receives his gold medal.
At school, one of his buddies hands them boxes of waterproof condoms as a symbol of their friendship. Stuffing a box in Eun-dong's pocket, his buddy teases that he should stop ogling his noona idol, promising to turn him into a man.
He pops out of the locker room, telling his friends to enjoy what's left of their innocence.
Eun-dong balks at the flimsy thin ring he bought with his gold medal as the jeweler says that she did her best to stretch it out. He (literally) blows out his dreams to buy a shiny diamond ring while she asks what it's for: to commemorate 100 days? An anniversary?
He laughs at her childish guesses and when Eun-dong tells her that his years of swimming training have bought him this very ring, it's her turn to let out a little laugh.
Unfortunately for him, he runs into a group of school bullies as soon as he steps outside. The ring slips out of his hands and in an effort to make sure that they don't get it, Eun-dong swallows it whole.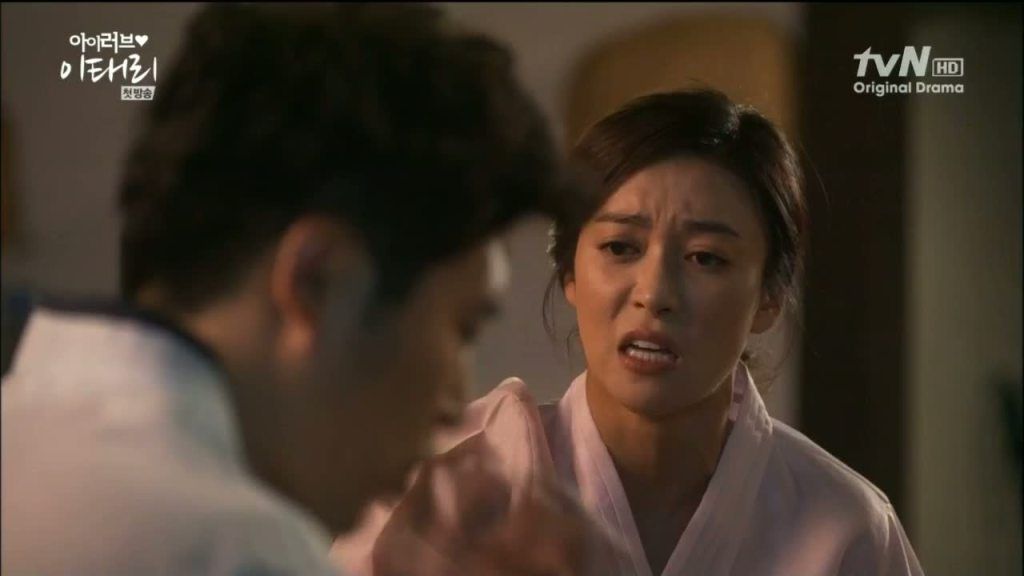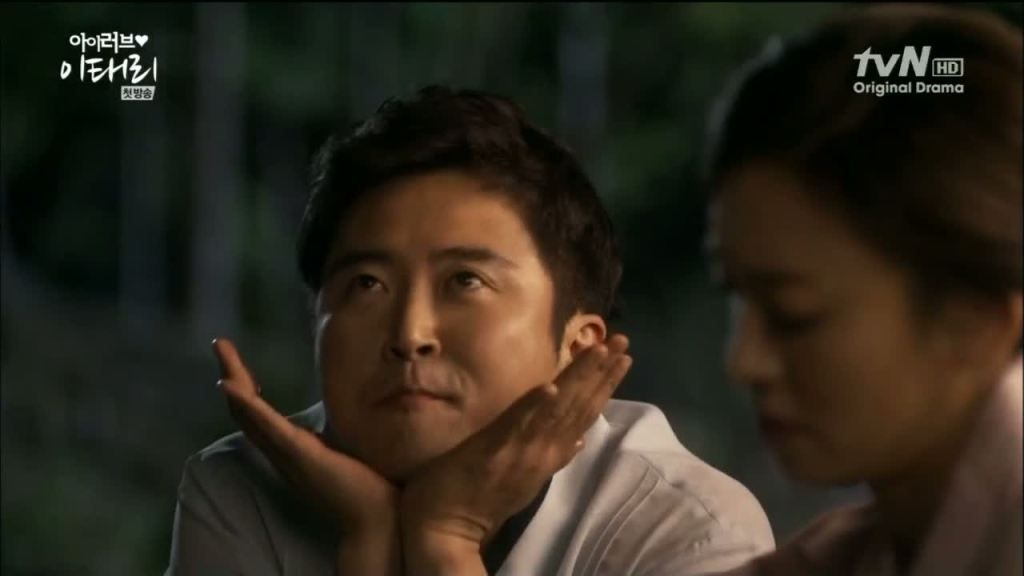 At home, we meet Eun-dong's parents and it's apparent that Mom wears the pants in the relationship while Dad happily eats off of her cooking.
It weighs on her heart that her young 14 year-old son will be engaged tomorrow and it annoys her that Dad is as blissful as one can be about it. But the arrangement is a longstanding one between both families so she has no choice but to comply.
Eun-dong is clearly adored by his parents as he looks for food that will facilitate his digestive process. When his parents ask where his gold medal is, a cartoonish lightbulb pops up and he covers that he donated it to the school much to his parents' continual praises.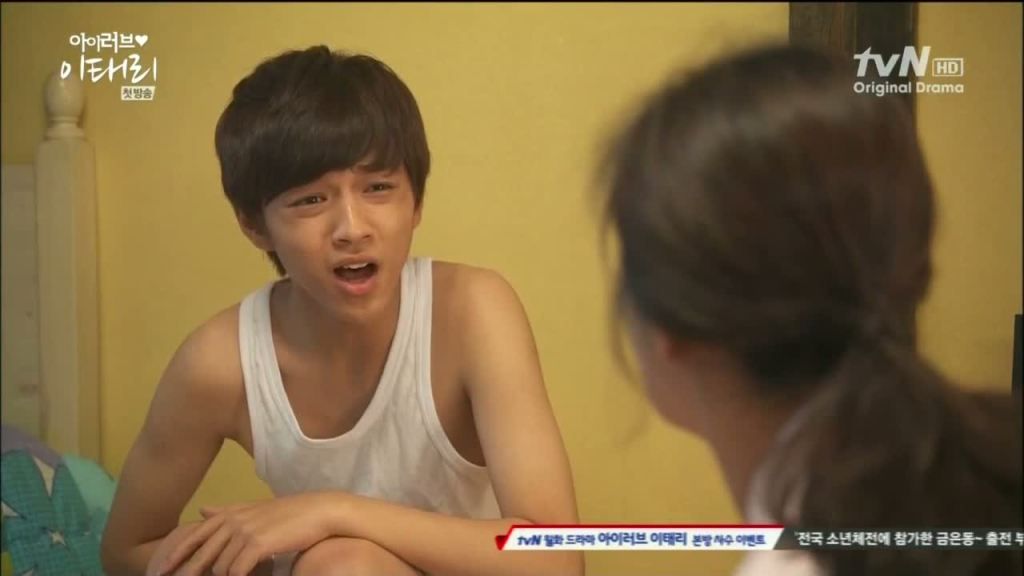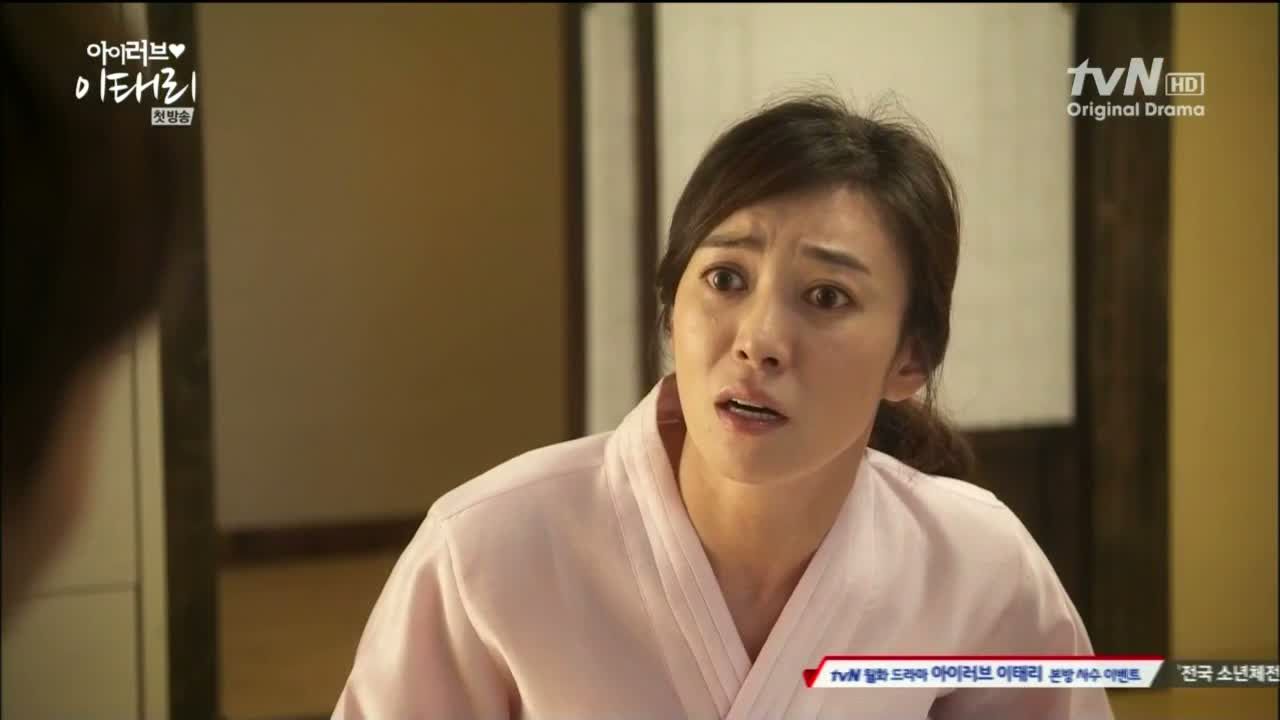 Back in his room, Eun-dong contemplates over the waterproof condoms and hides them when Mom comes a' knockin'. Then we pan back to see that he's sitting on the chamber pot. HA – are you waiting for the ring to come out the other end?
Mom asks if he still likes his fiancee-to-be who's 7 years older than him. His stomach grumbles and he hurriedly tells her to leave. It's telling that he calls her 'Mother' until he finally cries out in frustration, "Mom!"
And then cha-ching!, it pops out. Eww.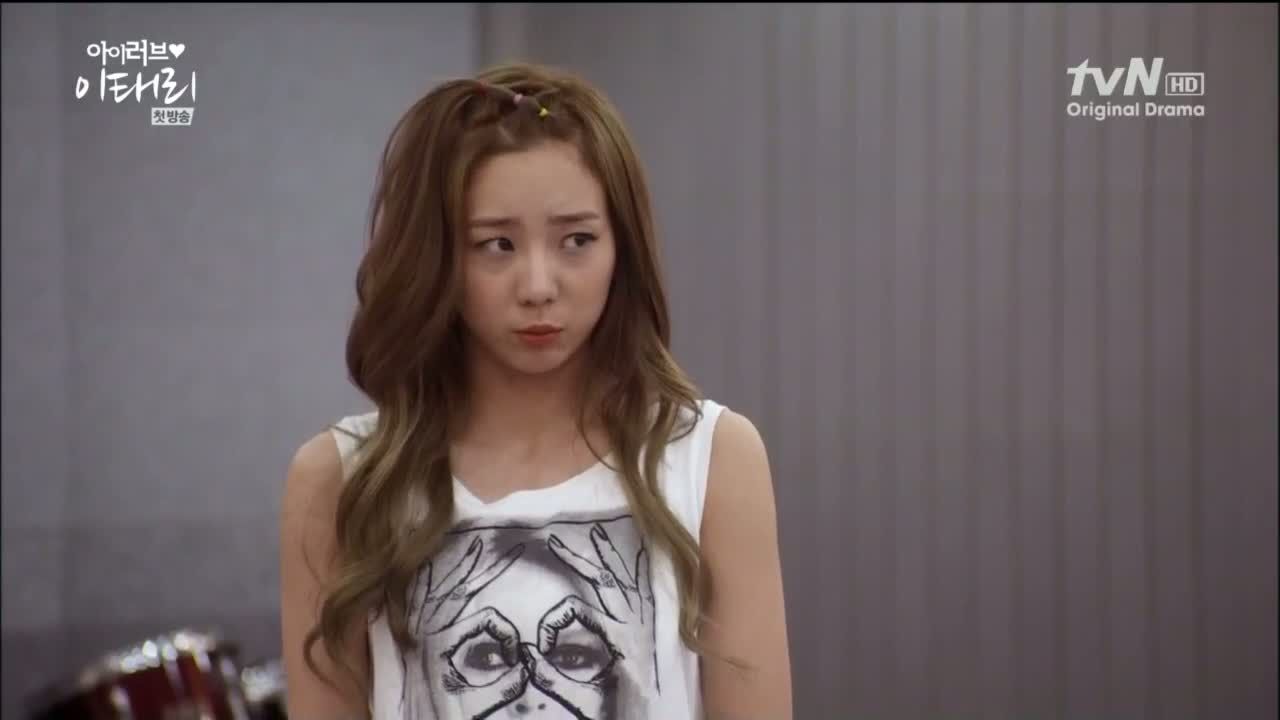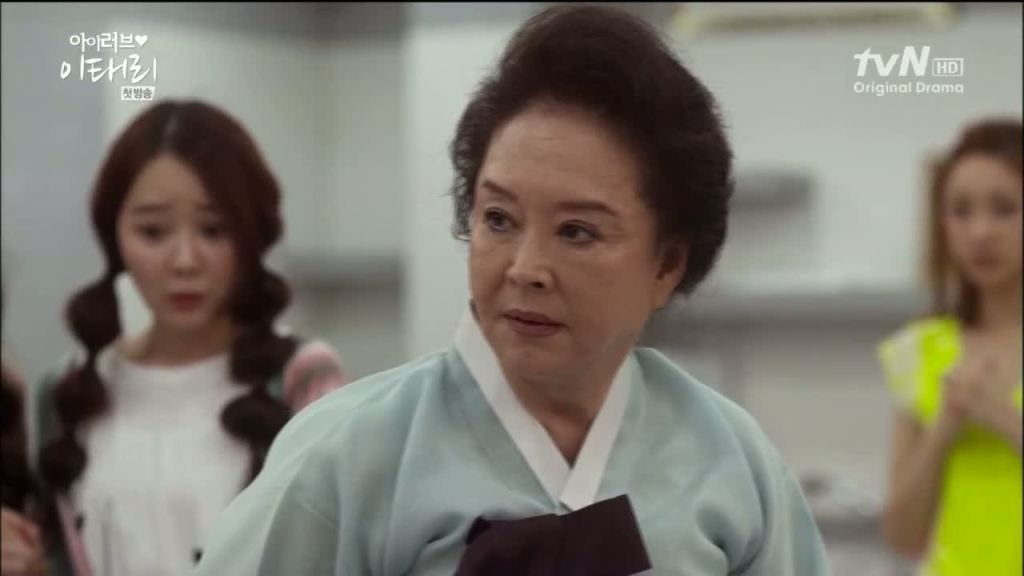 Our fiancee-to-be is none other than HA SOON-SHIM (JUB) who is in the middle of dance practice with her other girl idol group members. Grandma barges in, fuming that they have plans today and she's all, I'm too famous to make time for Granny!
Grandma doesn't take anything as an excuse and resorts to physically dragging her out by her shorts.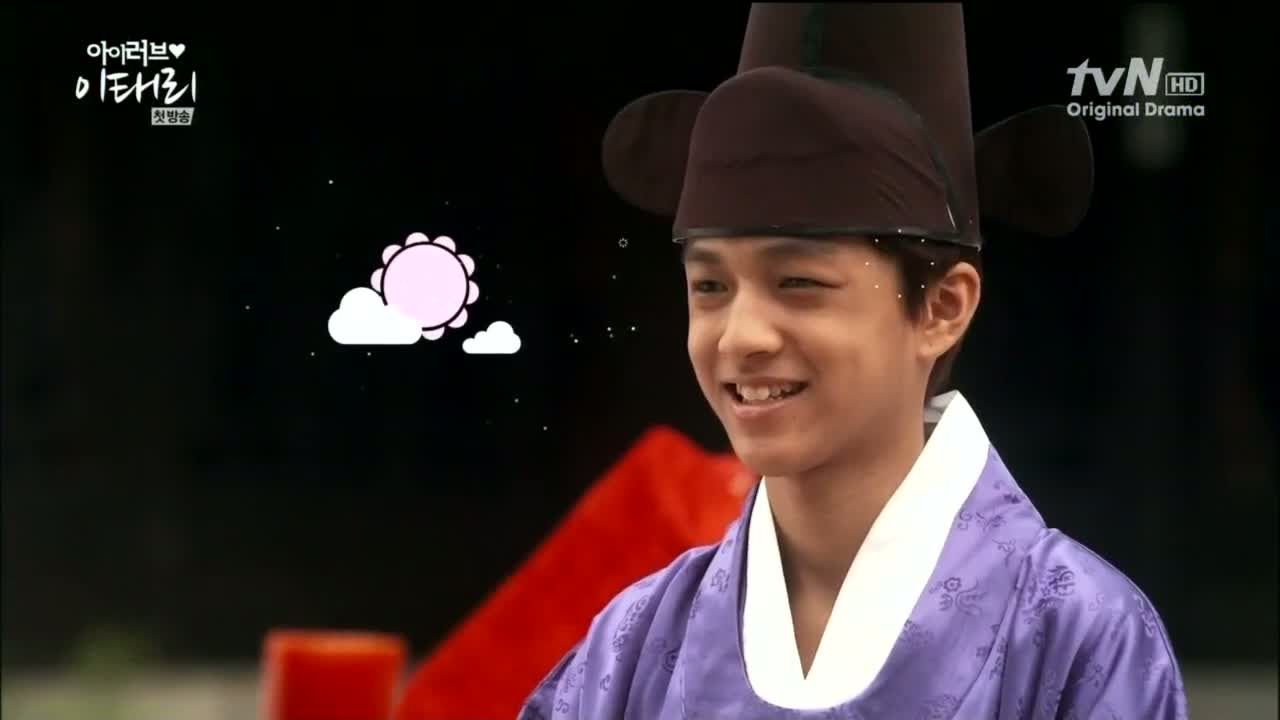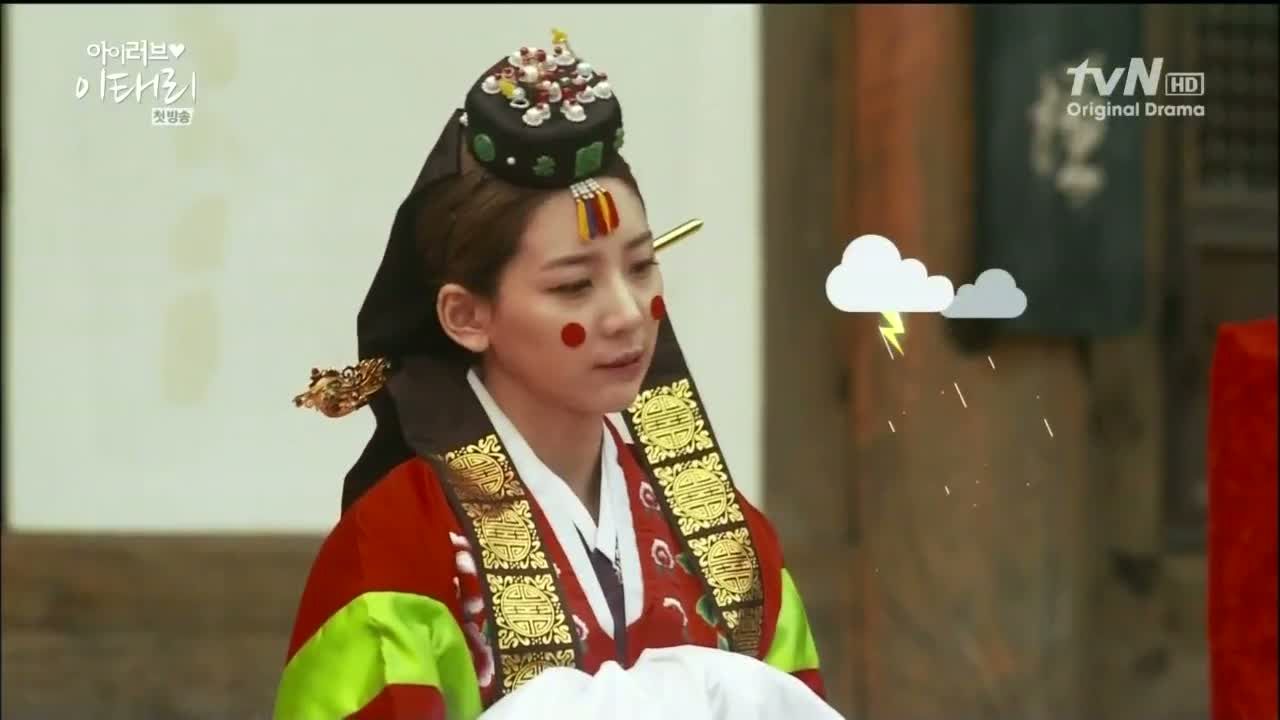 The little weather animations clue us in how each party views the ceremony (Eun-dong: Sunny, Soon-shim: Stormy). As Grandpa presides over the traditional engagement, Eun-dong excitedly asks when he'll be able to drink the wine that will commemorate them as a betrothed couple.
Soon-shim checks her watch impatiently even flubbing her bow in her haste. She gives a silent protest as Eun-dong sips the wine. She puts it up to her lips… and then keels over in feigned pain as the cup flies out her hands and cracks into pieces.
She keeps up the act until she and Eun-dong are alone and then starts for the door. His unsurprised reaction tells us that this must be a common occurrence between them as she pleads for him to help her. In exchange, she offers to give him a kiss on the lips.
Naive little Eun-dong agrees readily.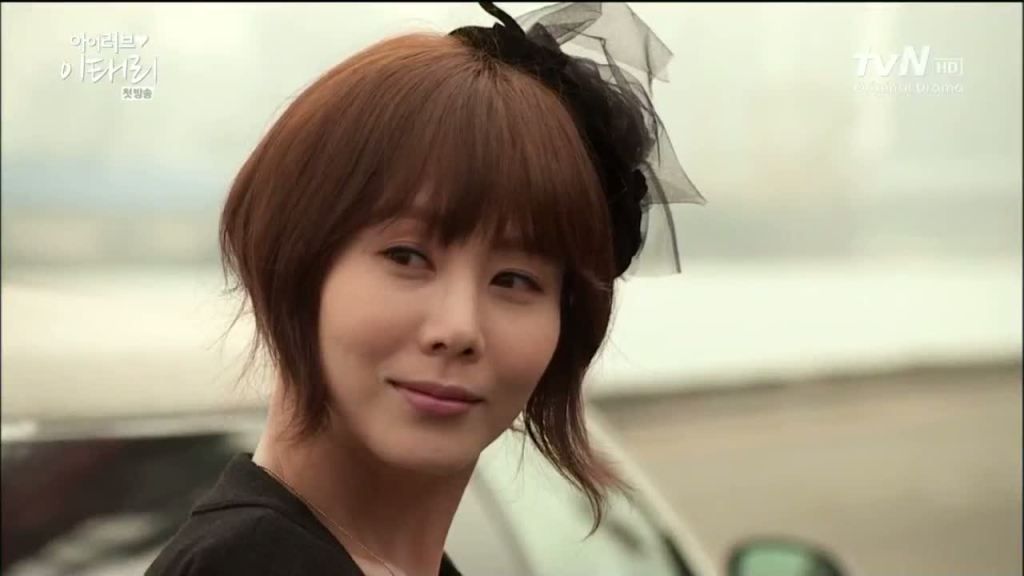 Meanwhile, we're formally introduced to Lee Tae-ri as the successor of CLS Group whose president and her grandfather has recently passed away. She's making headlines not only for her prestigious education in Italy but also for recovering a 200 year-old cultural relic – an antique clock.
Tae-ri heads for Daedong Museum where Eun-dong has just dropped off Soon-shim just minutes before. But when she's unexpectedly swarmed by a group of fangirls, the silver pendant falls from her neck and gets picked up by Eun-dong.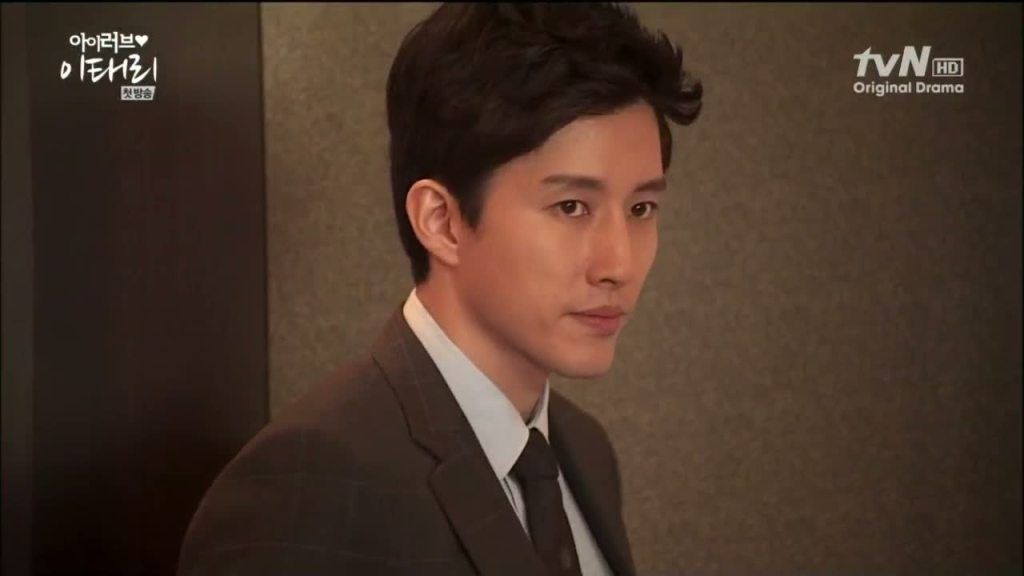 She's displeased to hear that her opening speech has already been prepared. There's a mixed look of shock and familiarity on her face when the manager, CHOI SEUNG-JAE (Yang Jin-woo), walks in.
Neither betray their professionalism though he suggests he wanted to do something for her whether if it was at CLS Group or not. She gets up, calling him a dung fly for talking big when he's a nobody and calls to cancel the opening ceremony.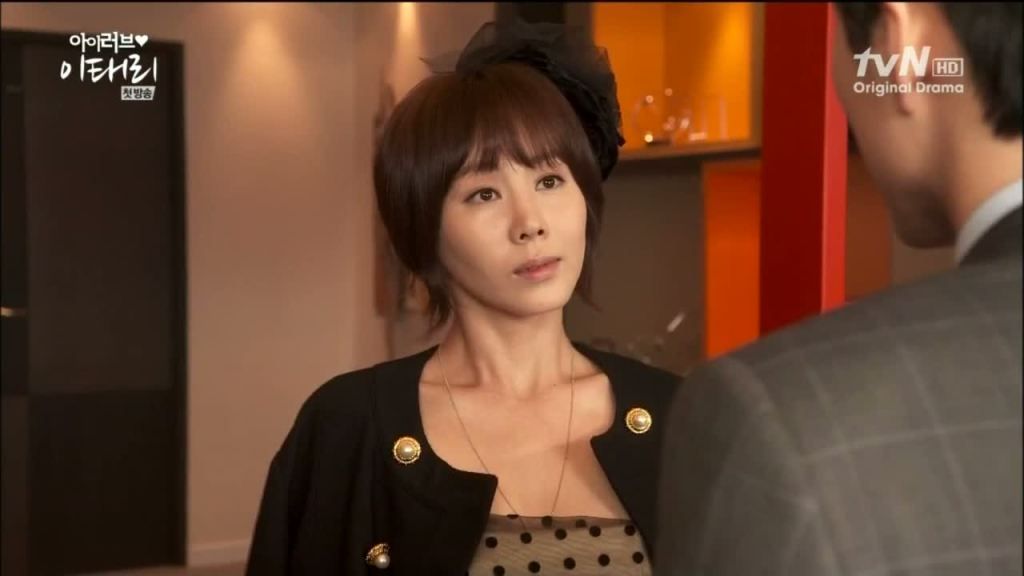 Seung-jae switches to banmal and reminds her that she's the guest of honor today and she'll need to show them that Lee Tae-ri has returned with a big stick as the curator of the museum.
She scoffs at his sudden concern – wasn't he the one who disappeared last time? Is it different now that she's become the successor to the company? Ripping up his prepared speech, she cites that this is her way of getting rid of him first and that she'll write her own speech thankyouverymuch.
Lastly she tells him that he should go hunt for better prey outside of CLS Group.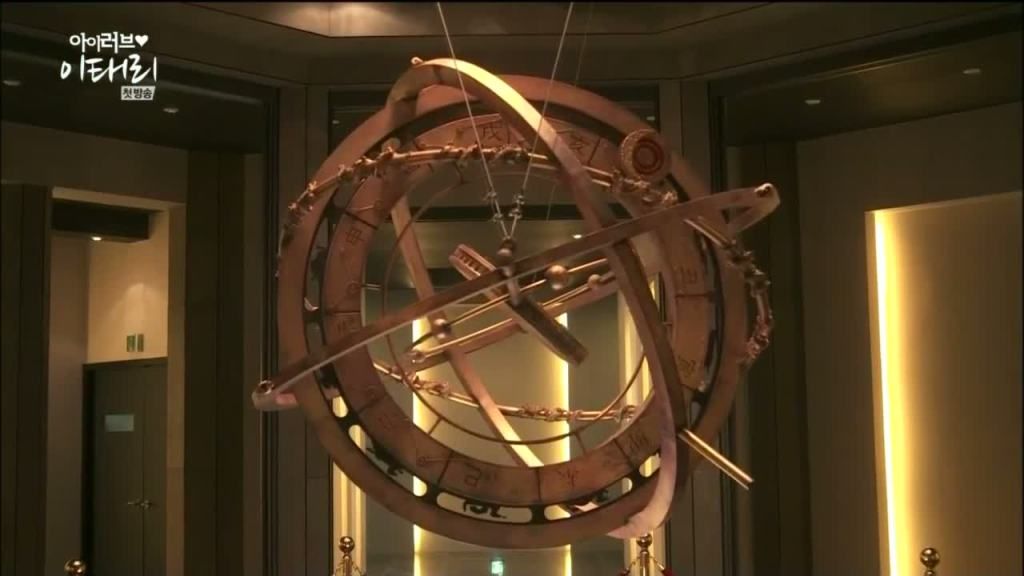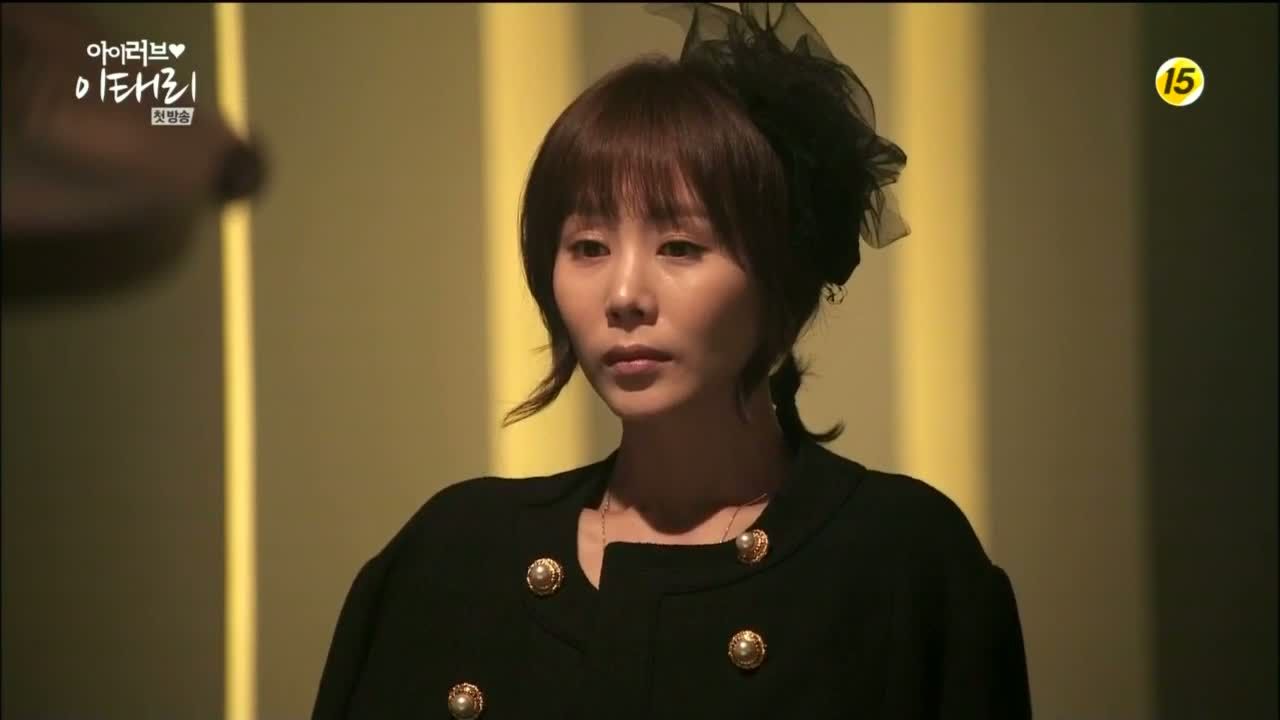 Tae-ri walks down the hall, looking at the antique clock as her mind wanders back to happier times with Seung-jae.
Her hand reaches for her silver pendant and in that moment, she realizes that it's missing.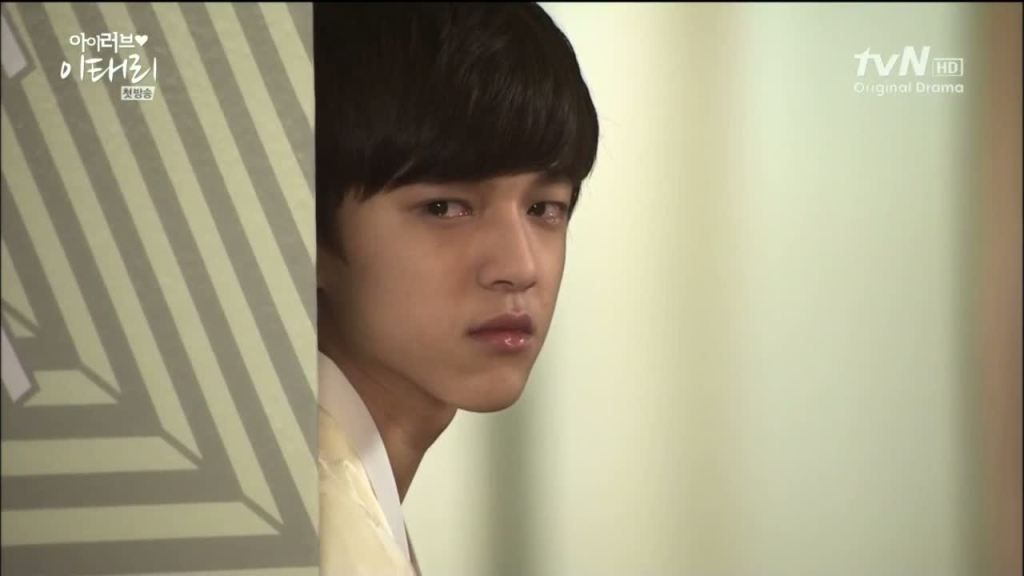 Seung-jae informs the girl group that the order has been shifted and they'll need to sing for the opening ceremony. Soon-shim steps out to talk with him 1:1 about the matter, pressing her foot down as the leader of the group.
Meanwhile, Eun-dong practices his kissing skills in the mirror and drops toothpaste onto his clothes. To make matters worse, another person spills coffee onto his clothes on his way out. He catches the tail end of the conversation as Soon-shim aegyoifies herself to Seung-jae and then she pulls him in for a surprise kiss. Heart.break. for Eun-dong.
Seung-jae is wary of their surroundings and scolds her for her reckless behavior. No matter how she feels, there's a time and place for them. She threatens that she'll retire then because she wants to live a normal life with him.
Everything became different after she met him. Shouldn't he be moved that she'd give up her singing career for him?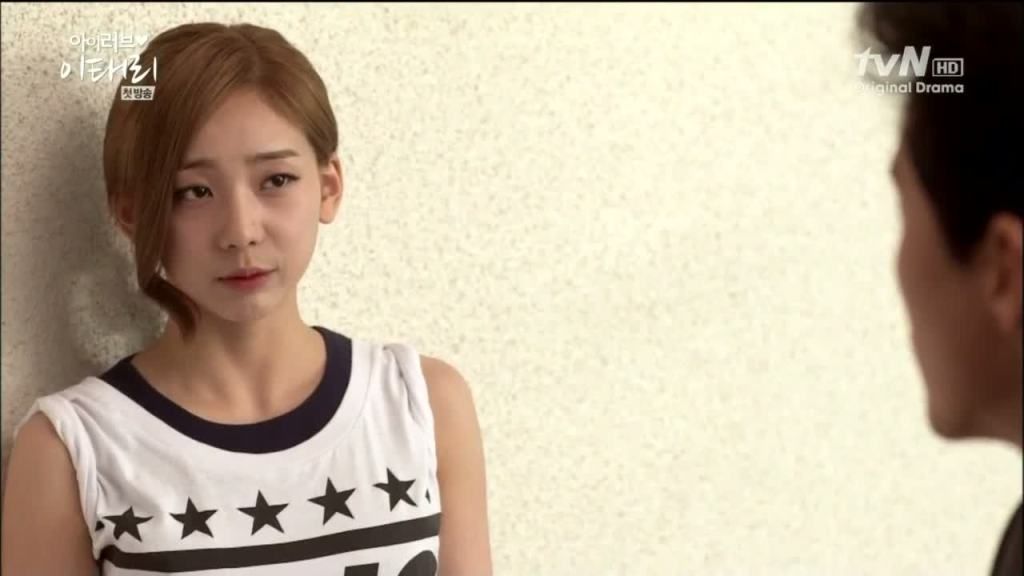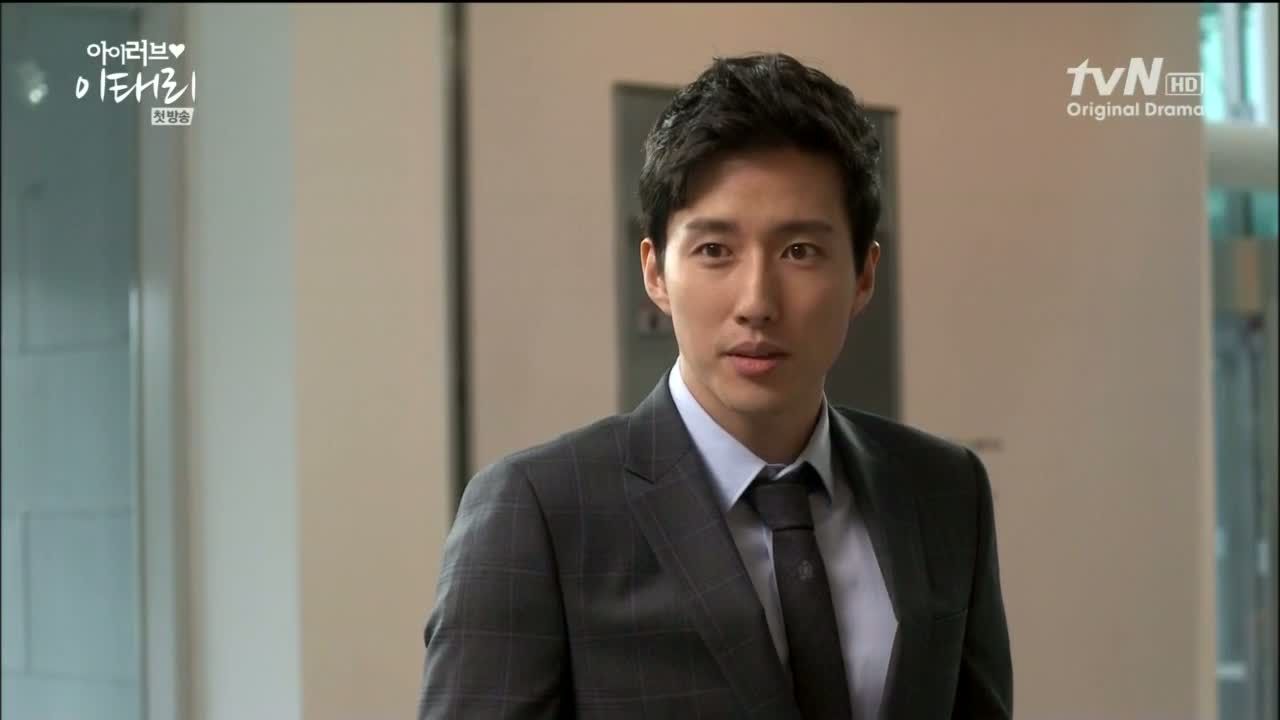 He counters that they should stop seeing each other. Did she expect him to be moved by her words like the tens of thousands of fans who do? He finds it ridiculous that she would give up everything she worked for because of a man she dated for 100 days.
He turns to leave when Soon-shim calls out, "Even if I die?" Eun-dong's eyes flashes towards her. She pulls the teenage desperation if he still wouldn't choose if she died on stage and Seung-jae coolly replies, "Wasn't it your dream to do so?"
She leaves crying and Eun-dong follows after her. He wanders into the room with the antique clock, a blurred figure in the distance.
He runs to wrap a surprised Tae-ri in a backhug. Without looking at her, he says, "Don't cry, I'll protect you. Because you're my woman."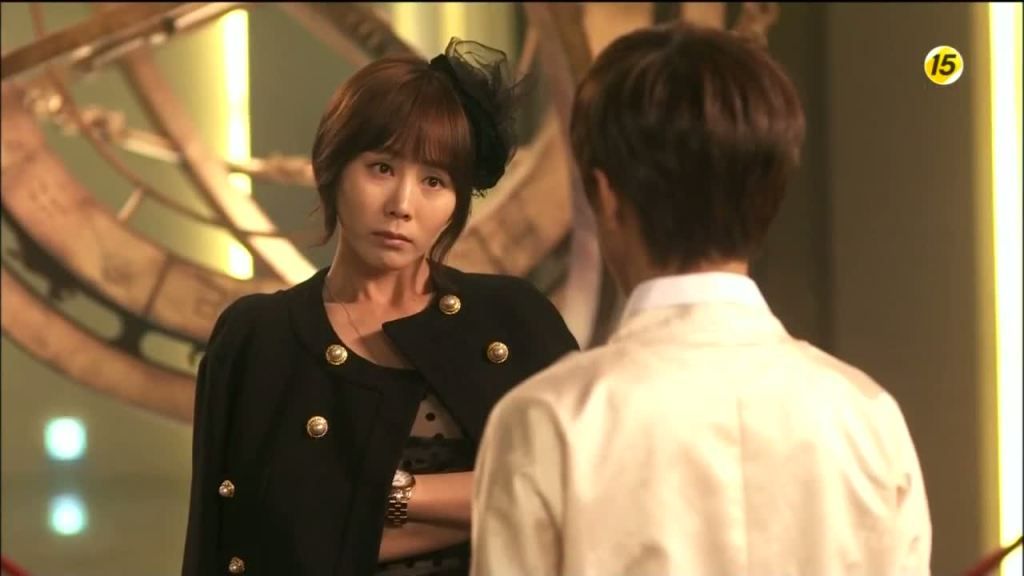 Tae-ri turns back and both of them look back at each other in bewilderment. Eun-dong apologizes that he didn't know that it was a restricted area and balks at her remark that he's a disobedient child.
She calls him a youth given his clothes and asks if he's cried, finding it strange since a museum isn't necessarily a place that makes one said. Eun-dong clarifies that he's heartbroken. Because the person he likes most in the world doesn't return his love, he feels like the saddest person in the world.
Tae-ri scoffs when she hears his age of 14 and remarks that he's too young to be so distressed over unrequited love. He should concern himself with other things that are more age-appropriate like what he learned in school or the weather.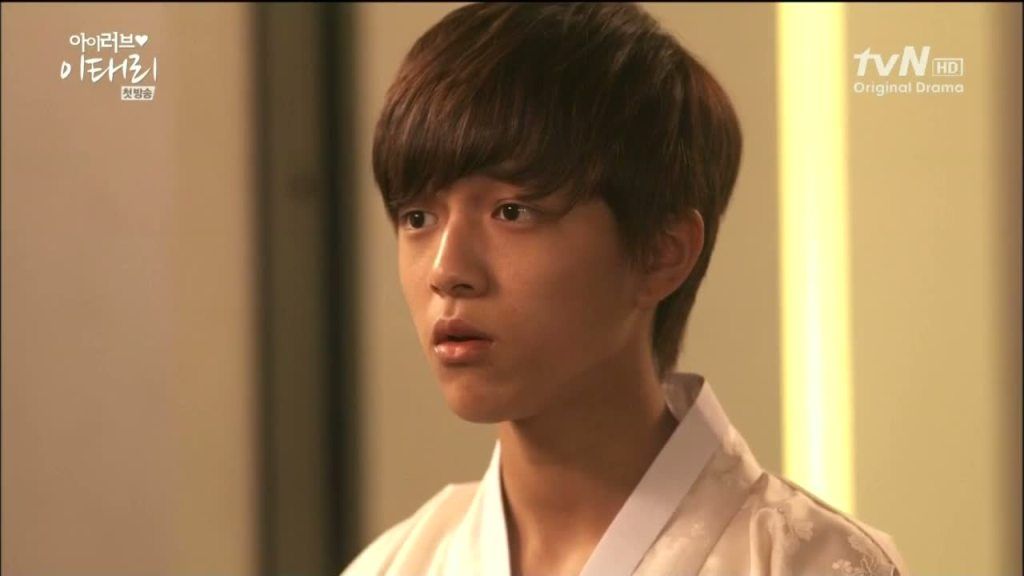 Raising his voice, Eun-dong defends, "A fourteen year-old's heart beats too! It feels sadness, anger, and hurt. Whenever I think about that person, it feels like a cricket has entered my heart and it keeps crying. How can you expect me to ignore that?"
And then there are actual cricket sounds. Pffft.
Eun-dong turns to leave when Tae-ri gives him a final word of advice. "Just enjoy it then. In any case, life is a continuation of regrets."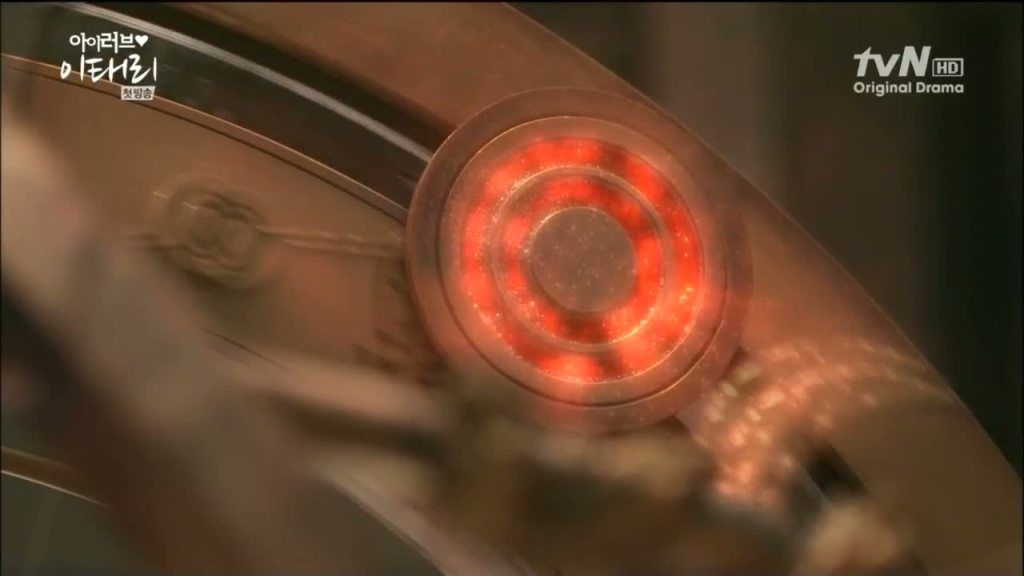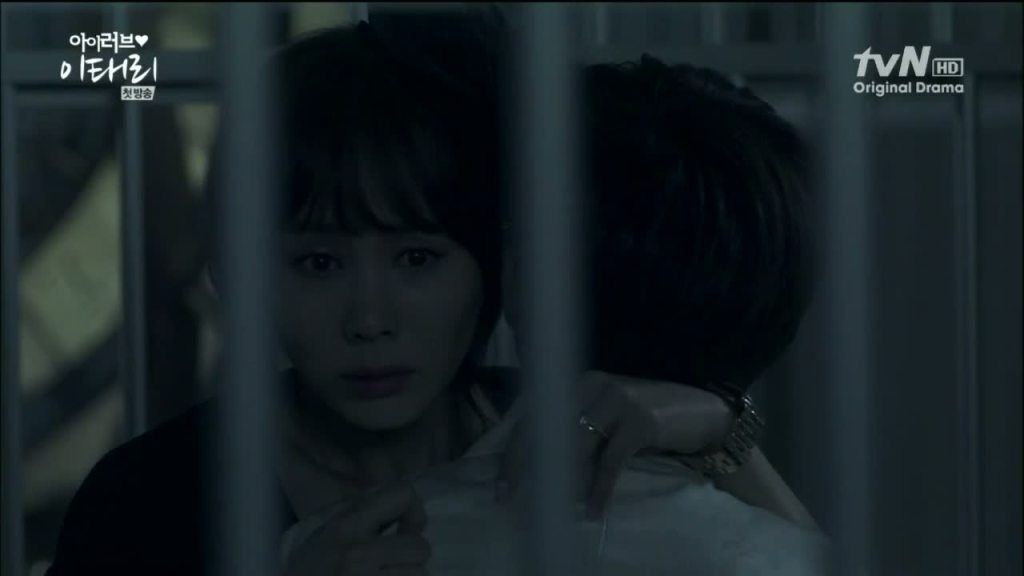 The light on the clock comes to life and the sky darkens as the cosmos shift. The power goes out and Tae-ri starts to panic since she's afraid of the dark. Eun-dong comforts her and offers his hand.
Tae-ri pulls Eun-dong towards her as the room enters an automatic security system lockdown, trapping them inside. The clock glows as Eun-dong watches and the cosmos shift again and the power comes back on just as Soon-shim rejoins her members moments before their opening song.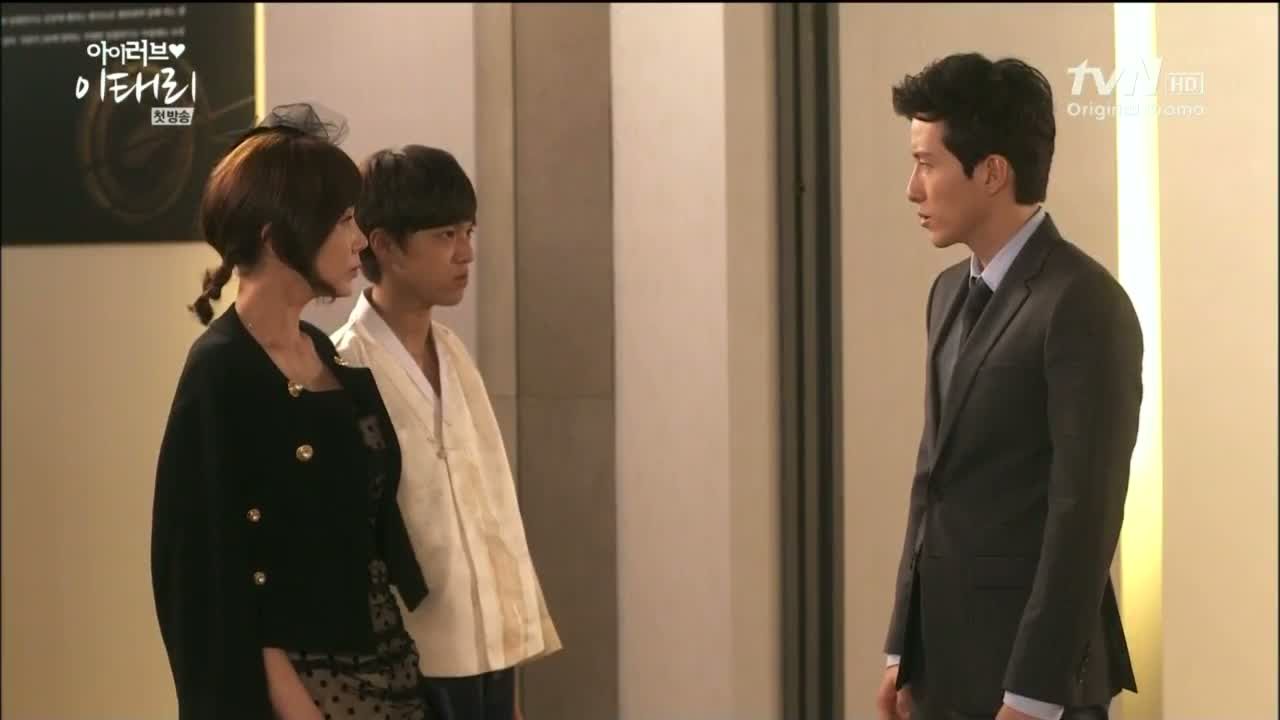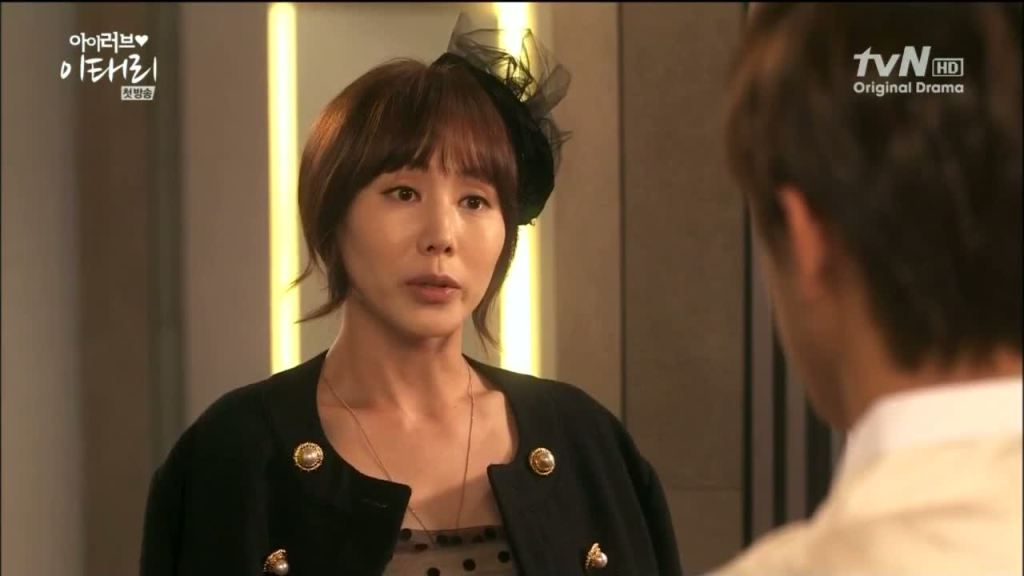 Tae-ri lets go as soon as the lights flicker back on. Seung-jae discovers them and orders the staff to open the bars. Eun-dong glares at him with a hardened expression as Seung-jae orders him to be taken away, scolding his staff for letting 'anyone' in.
However, Tae-ri jumps in to stop him, saying that this museum is there to nurture a child's hopes and dreams – how can he call this child just 'anyone'? This child protected her. Giving him her business card, she explains that her name is Lee Tae-ri because she was born in Italy. Tae-ri gives Eun-dong permission to contact her whenever he needs help.
Since she doesn't hand out her business card to just anyone, she'll remember who he is. Finally she advises him, "Life is an adventure. Love is a promise." With these words, he'll grow up to become a good man who doesn't hurt a woman but protects her. Eun-dong beams.
Tae-ri's sideways glance towards Seung-jae tells us that the latter part of the barb was intended for him. Hmm.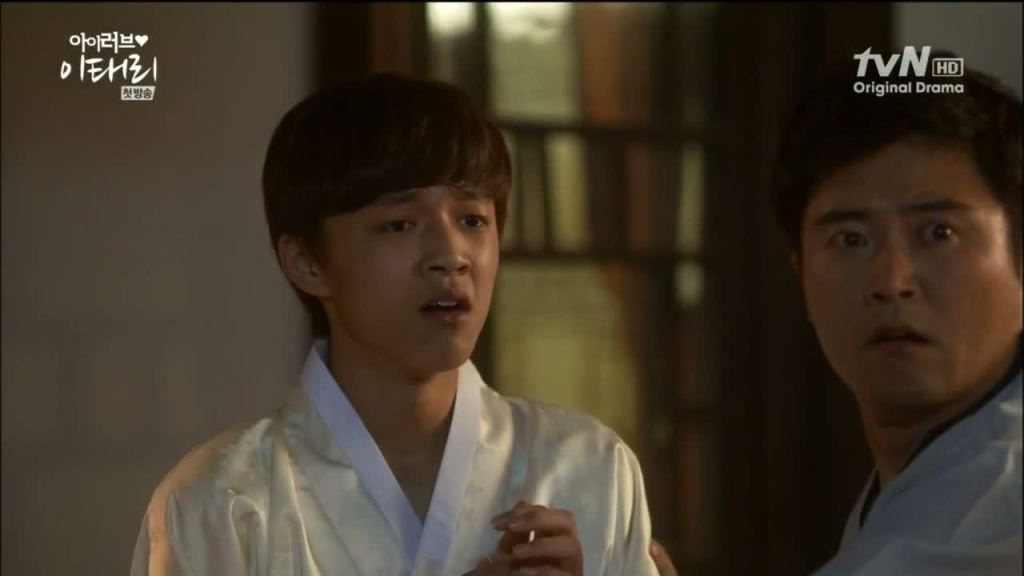 Back at home, Mom chases after him with a broom demanding where he and Soon-shim disappeared off to. Dad jumps to his defense but Mom sees it as a clear sign that Eun-dong doesn't want to get married and to someone like Soon-shim.
Eun-dong interjects that he doesn't like how Mom is insulting his fiancee and Mom emotionally collapses in response. A little while later, Dad laughs at Eun-dong's dramatic confession towards Mom. Eun-dong is genuinely sorry for talking back to Mom and Dad hands him money and a batch of kimchi to give to Coach.
Speaking of whom, Coach is busy eating ramyun and watching the girl group perform on TV, quickly shutting it off when Eun-dong enters. Eun-dong puts on a brave face and hands over his training fees which Coach accepts with a heavy heart since he has to pay the bills.
They toast by the pool and Eun-dong crushes the empty pint of milk in his hand at the thought of the kiss earlier today. Looking to Coach for advice, he asks: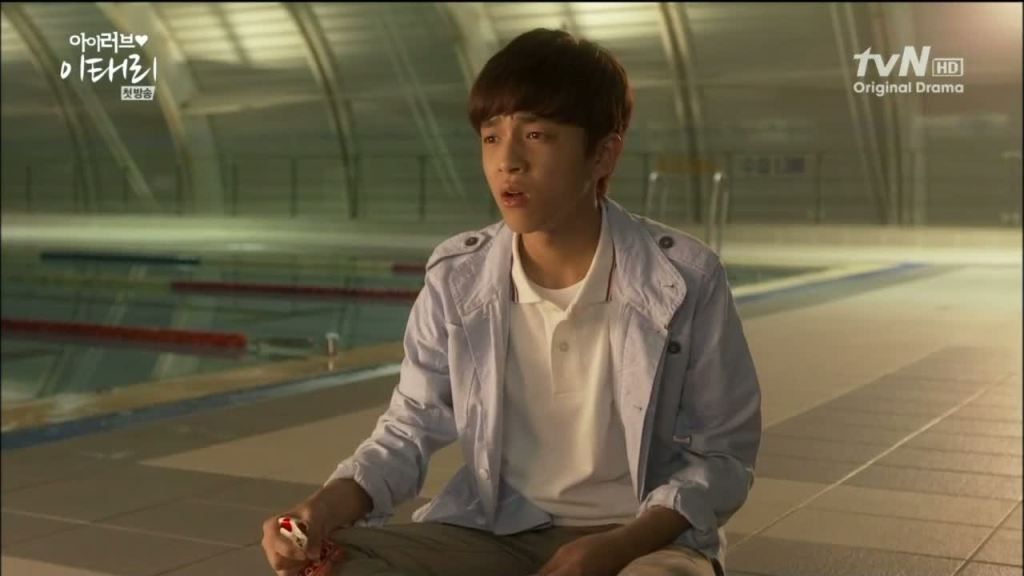 Eun-dong: "If I see my woman kiss another man, what should I do?"
Coach: "You have to kill them."
Eun-dong: "Who?"
Coach: "Both of them."
Eun-dong casts his woes to Coach about how he just stood by when he saw them kiss. He tells Coach that he wants to disappear – why doesn't she understand his heart? Coach replies that there are two things in life that don't go your way: swimming and women.
Suddenly, Eun-dong gets up into a handstand, convinced that it will hold back his tears. Coach tells him that people were meant to let it out – if they want to vent or cry, they should.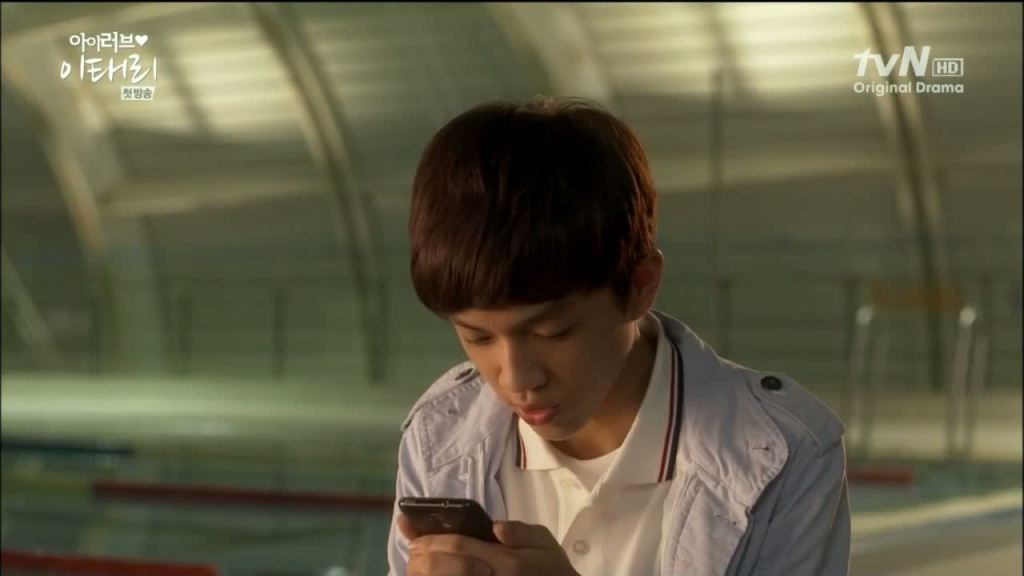 He points Eun-dong towards an app on his phone and tells him to make a wish on it before he gets up to go to the bathroom. Eun-dong comes down from his handstand and speaks into the phone to make his wish: "Please let me protect my love."
The app dings and it tells him that his wish will come true the moment when the Moon Embraces the Sun aka a solar eclipse. Annoyed that he didn't get his instant gratification, he drops the phone to the ground.
What he doesn't notice of course is the warning message that says that if he tells anyone of his wish, he'll lose the most cherished thing in his life. Elsewhere, the antique clock clicks.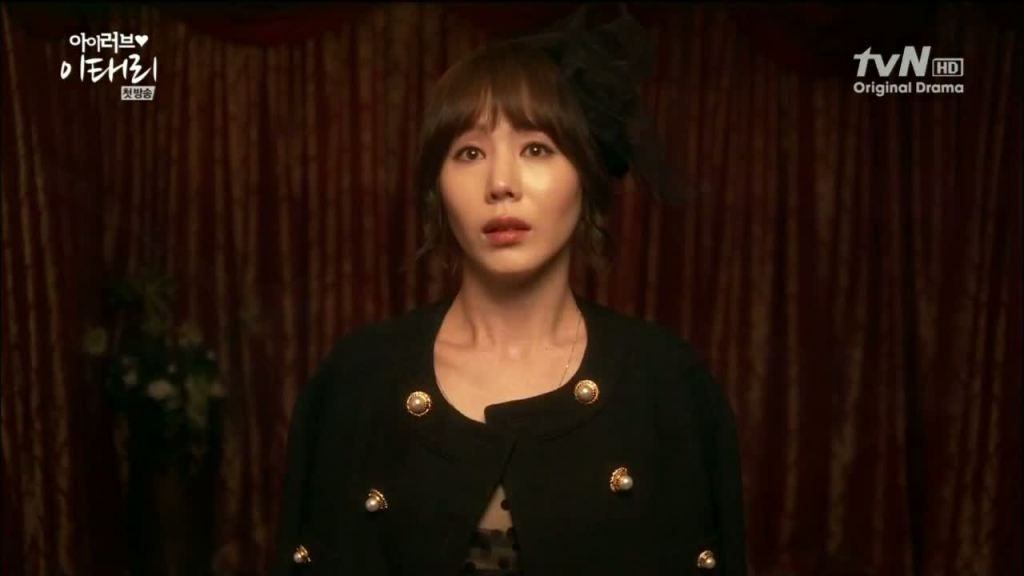 Tae-ri stands in front of Grandpa's resting place and apologizes that she came so late. She came to pay her respects as soon as she arrived in Korea since she couldn't make it to the funeral but there were too many visitors.
Her memories in Korea stopped when she was 14 and she felt lost and the future seemed bleak. She went to go get ice cream to remind herself of when they ate ice cream together and considered that as the sweetest goodbye she could think of.
Her voice cracking, she asks if he can grant her a wish, "I wish I had a friend. A real friend… who is warm and will take my hand."
Her thoughts flashback to when she was trapped in the clock room with Eun-dong. Holding back her tears, she wonders, "Why did it have to be a child?" Saying goodbye for now, she gives a small kiss to Grandpa's urn.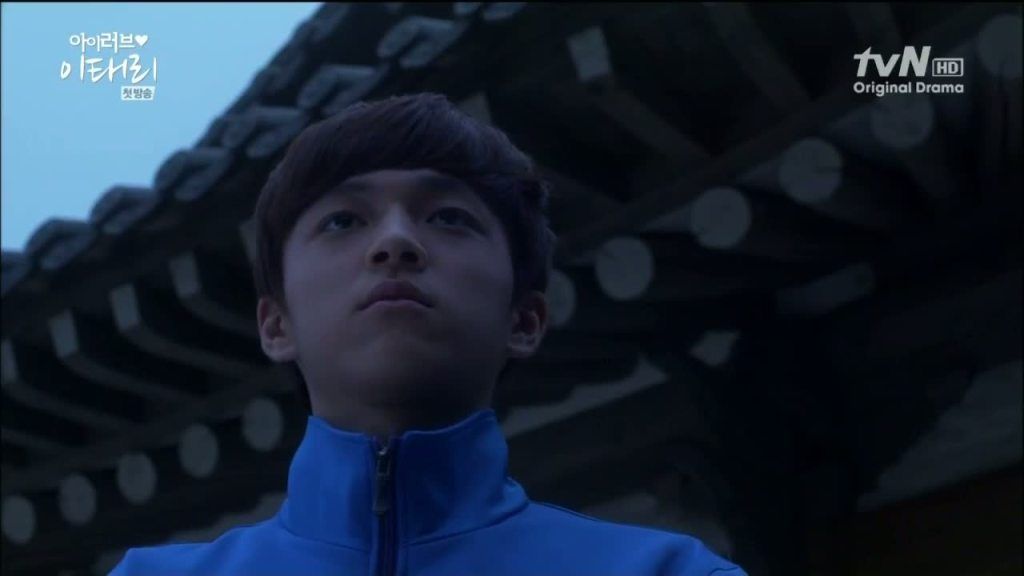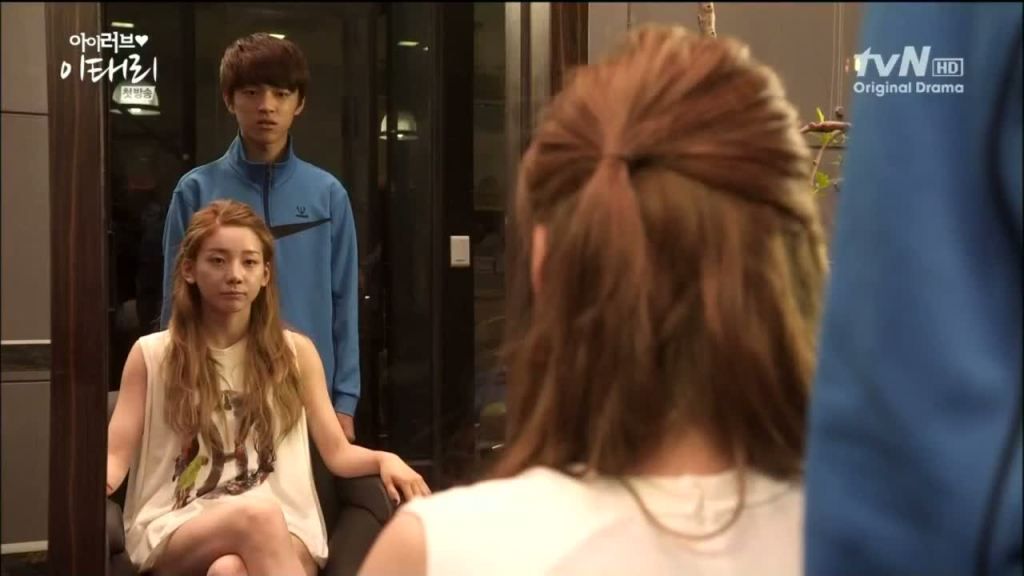 Early in the morning, Eun-dong wakes and takes a bow in front of his house before he heads out. Wait, are you running away?
He stops by to see Soon-shim at her salon, telling her that he's going to Australia for a swimming meet as his school's representative and train there. Unsurprisingly, she's indifferent to the news.
Hurt, Eun-dong asks, "How can you do this to me?" Soon-shim thinks it's about the kiss and she pinches his cheeks. Refusing to be treated like a kid, he grabs her by her arms, standing her up against the wall.
Soon-shim protests and he lets go. Angry, he asks why she agreed to go ahead with the engagement if she was just going to ignore him.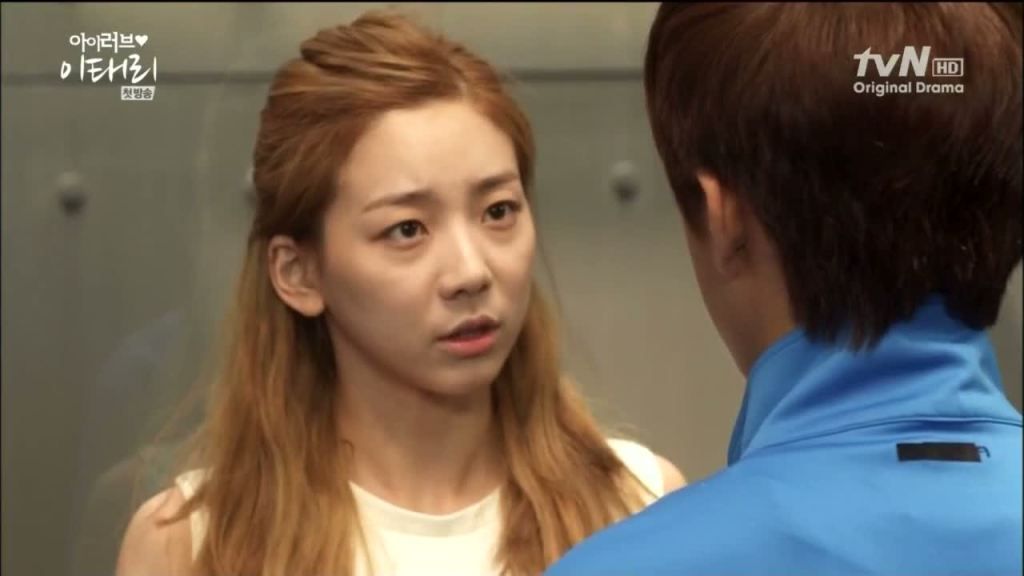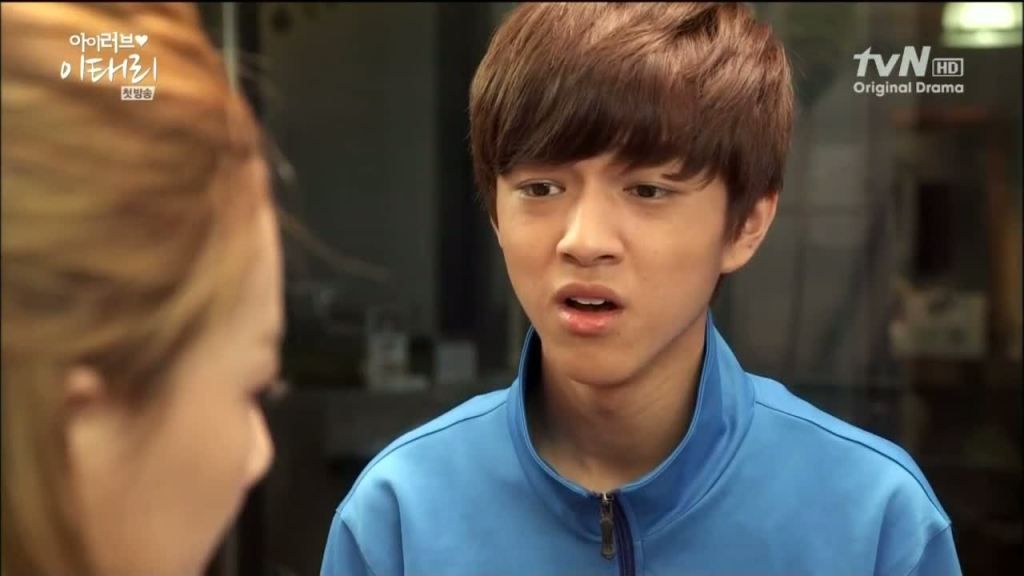 She tells him to stop kidding around and promises to buy him some sneakers when he comes back like the awesome noona she is.
Eun-dong counters that he'll make it big so she should grab a hold of him now, a statement that Soon-shim easily dismisses. He tells her, "Get a hold of yourself. Do you think all the men in the world are like me? How nice you are, how fervent you are… do you think they'll understand that?!" He entreats her not to look at anyone else but at him.
And yet, his heartfelt declaration is just dismissed as desperation from a child and Soon-shim gives him money to buy himself something yummy to eat. He crushes the bill in his hand.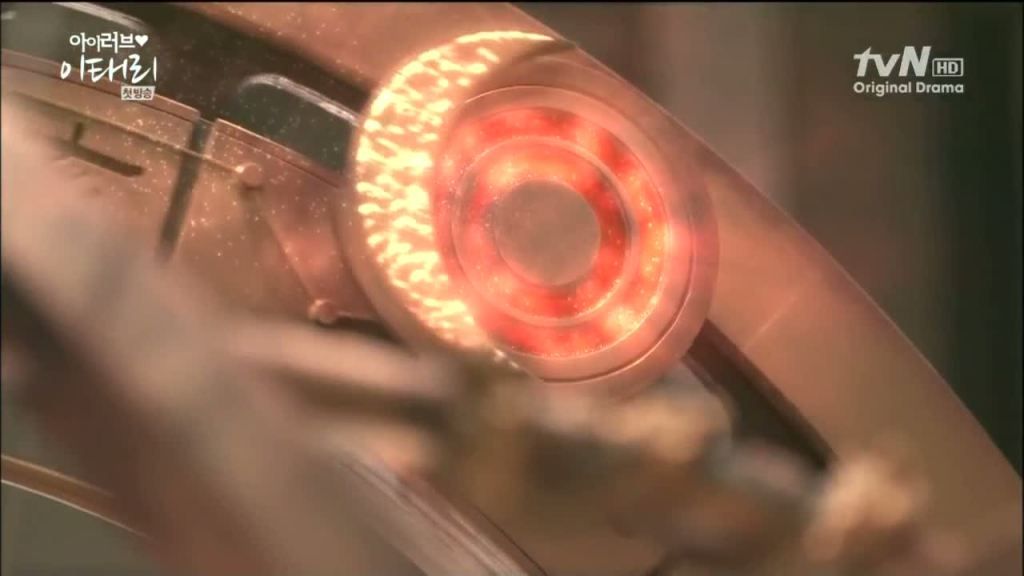 Coach finds Eun-dong at the pool who says that he wants a shot to break his own record before he leaves. He dives in before Coach can give him any more words of advice.
We cut back to see the wheels of the antique clock turning once more and now the moon symbol embraces the glowing sun. Eun-dong comes up for another breath of air…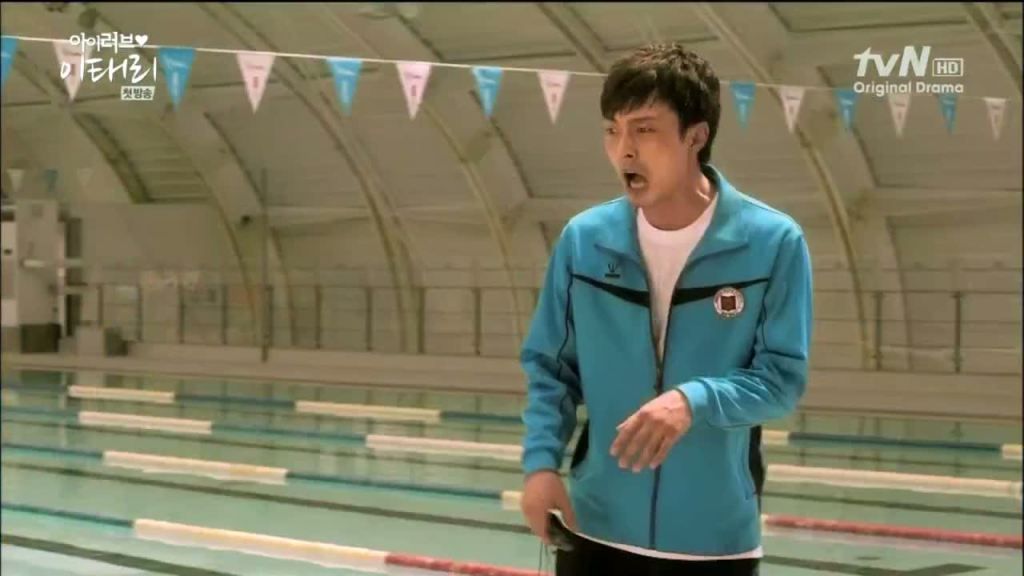 A much older Eun-dong (Kim Ki-bum) exits the pool and shakes the water from his hair as Coach freaks out and collapses to the ground. Confused, Eun-dong looks back to see his swimming trunks floating in the pool (ha).
He whips his head back to stare at his reflection and screams in horror at what's staring back at him. He looks at himself and then at the mirror, touching his face to confirm if it's real.
Eun-dong starts to slap himself as if it will wake him from this strange fantasy. He grabs the towel to cover himself and rushes to wake Coach who just freaks out again.
He pleads with Coach that he's Eun-dong – he saw him swimming in the pool! But Coach continues to wail in disbelief and Eun-dong's towel drops. Coach runs away in horror.
Wide-eyed, Eun-dong asks. "Coach, what am I going to do?"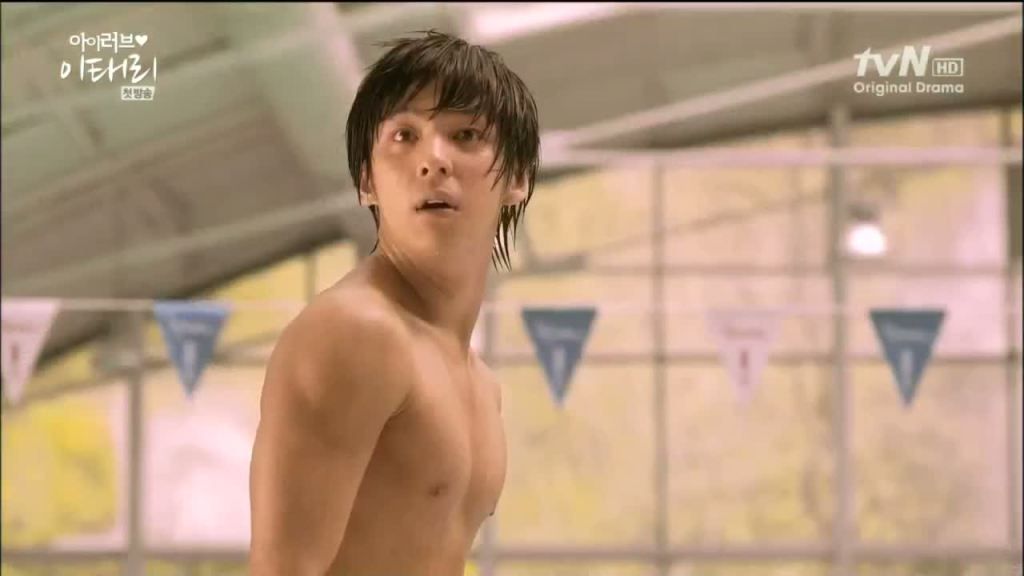 COMMENTS
Well, I can easily say that I am pleasantly intrigued. TvN definitely offered us another zippy romantic comedy with a drop of fantasy which is exactly what we got. The boy to man transformation here is played out in the subtlest of moments unbeknownst to everyone and especially our hero. His reaction of disbelief, horror, and shock was what we would expect from a 14 year-old teenage boy who just age jumped 9 years to look like he's 25.
I really have to give a hand to Baek Seung-hwan who plays the younger teenage version of Eun-dong. I remember I saw him in The Crucible and saw the bright potential of his acting career. We got to see a nice range in his acting chops and Eun-dong is an interesting character to pick apart. What teen didn't want to be treated like a child anymore and desperately wants to be like an adult? Puppy love consumed our world and our values are idealistic and hopeful. And with that mindset, he asks mature and telling questions which are easily dismissed as being dramatic. He still is because he's young but it makes me wonder how those same questions will be treated now that he's grown into himself.
Conversely, there's Tae-ri who has been scorned by her first love, Seung-jae. We aren't told the details of what led to the demise of their relationship but I found that her perspective towards love are remarkably solid herself. I find it interesting that she left Korea when she was 14 and one can't help but wonder if her emotional growth stunted at that age as well. Park Ye-jin played a striking moment when Tae-ri was speaking to grandfather about how bleak her future seemed and how lost she felt now that he was gone.
Right off the bat, we're given a simple set of rules and limits to our metamorphosis which contains our world in rules where we can keep our hero in check. For now the rules are simple: you squeak and you lose what you cherish the most. At present, that love is Soon-shim but I can already see how that will transcend and disperse to different types of love, be it friendship, family or romantic love. So he may be trapped in an adult body now but who knows what his journey towards understanding the depth to which his wish will take him will be like.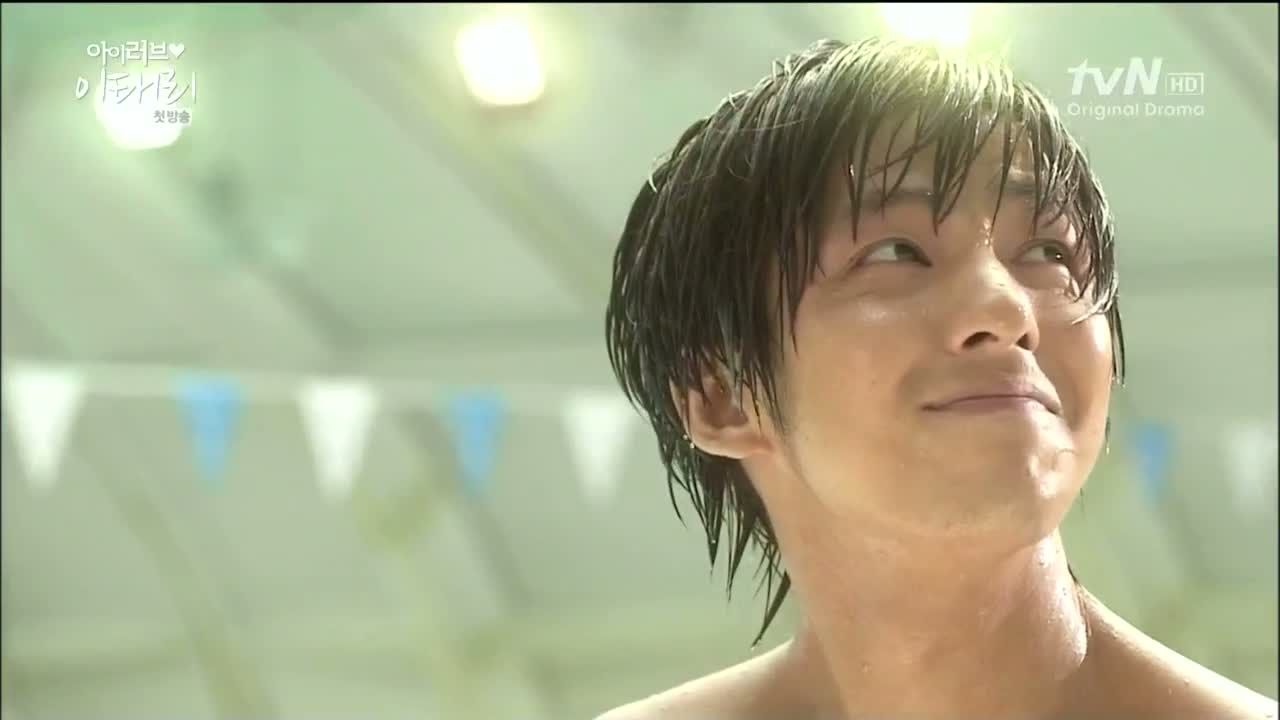 RELATED POSTS
Tags: cable programs, featured, first episodes, Kim Ki-bum, Park Ye-jin