White Christmas: Episode 2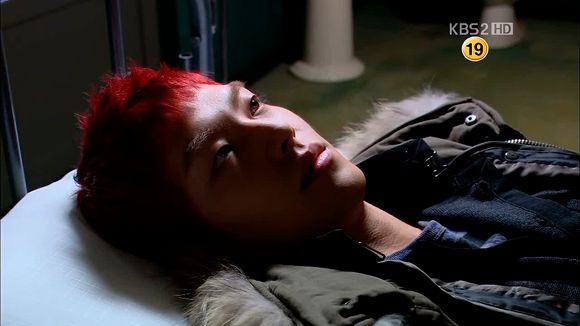 There's just something about this drama that manages to hit all the right notes, since there's nothing quite like watching puzzle pieces find their rightful places. Set all that inherently-nerdy satisfaction amidst haunting, atmospheric visuals and a tone that manages to be both creepy AND introspective, and you've got episode two of White Christmas, entitled "Repent, even if it's too late."
SONG OF THE DAY
White Christmas OST – The Pixies "Debaser" [ Download ]
Audio clip: Adobe Flash Player (version 9 or above) is required to play this audio clip. Download the latest version here. You also need to have JavaScript enabled in your browser.

EPISODE 2 RECAP
In voiceover, we hear Moo-yul describe the person Eun-sung used to be; smiling, warm, popular. We see that side of her in glowing flashbacks, until Moo-yul explains how her personality changed, as though the old version of her had simply been wiped away.
It's Christmas Day, and we find Eun-sung under Doctor Kim's care in the school clinic while Teach asks a shaken-up Moo-yul, with his arm soaked in Eun-sung's blood, a series of questions about her personality. Her records mark the change that happened and Teach wonders if it had to do with her breakup with Moo-yul, who clenches his fists as he asserts, "No, she changed first."
Teach is still suspicious, but this has less to do with Eun-sung and more to do with the number of students that have stayed behind, since only two stayed last year.
It's definitely a little disconcerting that Kang-mo took pictures of Eun-sung while she bled out in the snow, but even more so that Young-jae decides to talk about how he'd do it if he were going to commit suicide. I love Kang-mo's reactions to this, since each suicide sentence from Young-jae elicits a "Please" or "Hallelujah", especially when Young-jae mentions that he'd jump off the roof or hang himself.
But that's what makes Young-jae wonder – if there are such easy ways to commit suicide, why would Eun-sung walk through knee-deep snow all the way to the clock tower?
He's interrupted when he spots Moo-yul making a beeline toward his room, and hardly gets one word in before Moo-yul slams the door in his face. He's startled away from prying further as the door vibrates with the force of Moo-yul's frustrated punches from the other side, which he does until his knuckles are raw and bleeding.
As Teach studies the security camera footage leading up to Eun-sung's suicide attempt, Moo-yul seeks Kang-mo out for footage he took at the school trip in the hopes that they'll find someone with a blue face.
In the safety of his room Kang-mo is able to remove his hearing aid, and starts watching the footage from the trip just as Jae-kyu does the same in the computer lab. The latter is interrupted by Teach, who laments that he couldn't have fun on the school trip because he had to take care of Yoon-soo after he passed out.
Doctor Kim catches Young-jae watching over Eun-sung through a crack in the door, and assures him that she'll be fine. This puts Young-jae on the defensive since he's normally overtly callous to her, which prompts Doctor Kim to note curiously, "Your faces when you're alone and the faces you show to others are different."
As if to play into the doctor's notions, Young-jae slowly plasters on a wide, fake smile… before running back to his room and locking the door like a scared little boy. He even bars the door from the inside, and settles into his chair, only to find a mysterious hand holding the chair from behind.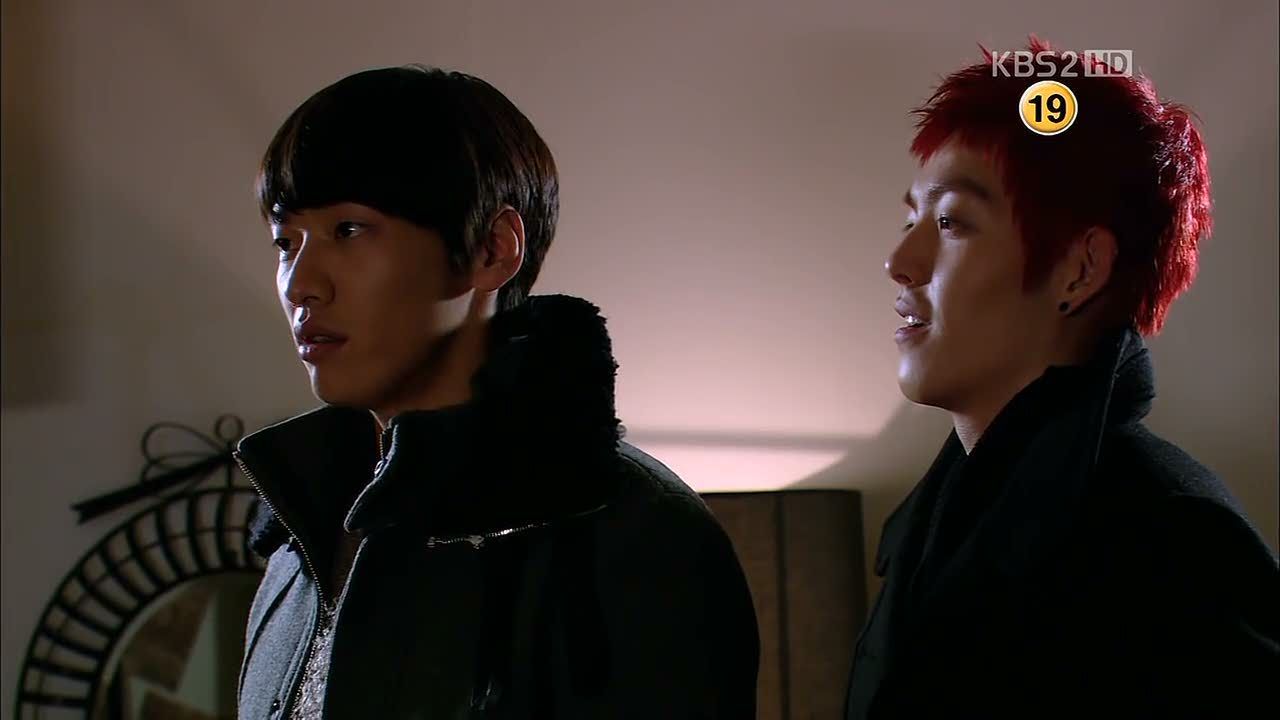 It's only then that Young-jae notices a fresh wad of gum stuck to his computer screen, and literally trembles as he turns to face his unexpected visitor – the gum-chewing, red-haired Mi-reu. It becomes infinitely clear, with just silence, that Young-jae's tough act is just that – a tough act. Because as soon as realization sinks in that Mi-reu has come to play, Young-jae makes a mad scramble toward the door.
We cut to Kang-mo looking through the trip footage to the sounds of Young-jae being beaten, which Kang-mo can't hear without his hearing aid. Likewise, Yoon-soo and Ji-hoon are otherwise occupied in their respective rooms, leaving no one to hear Young-jae scream.
Luckily Moo-yul and Jae-kyu happen to hear him upon their return to the dorms, while inside the room a smirking Mi-reu grabs a baseball bat, ready to go to town on an incredibly frightened Young-jae. Moo-yul is finally able to force the door open only to see Mi-reu dragging Young-jae by the collar.
Mi-reu sees them and flashes a Cheshire grin, while Jae-kyu's eyes go wide as he stammers out, "Mad Mi-reu?"
Young-jae makes a break for the exit, and soon it's only Moo-yul holding Mi-reu back from beating the daylights out of Young-jae. Moo-yul acts the part of student president and moral compass as he tries to warn Mi-reu that there'll be punishment for him staying without permission as well as for using violence, but Mi-reu doesn't care, since he's already been expelled anyway.
The reasoning? According to Mi-reu, Young-jae falsely accused him of blowing up the school statue, resulting in his expulsion. Young-jae stutters his denials even as Mi-reu inches closer, eager to make him pay even if Young-jae is telling the truth, just for the hell of it. Mi-reu: "I don't care, because I'm going to believe that it was you." Ha. And this is why I love Mi-reu.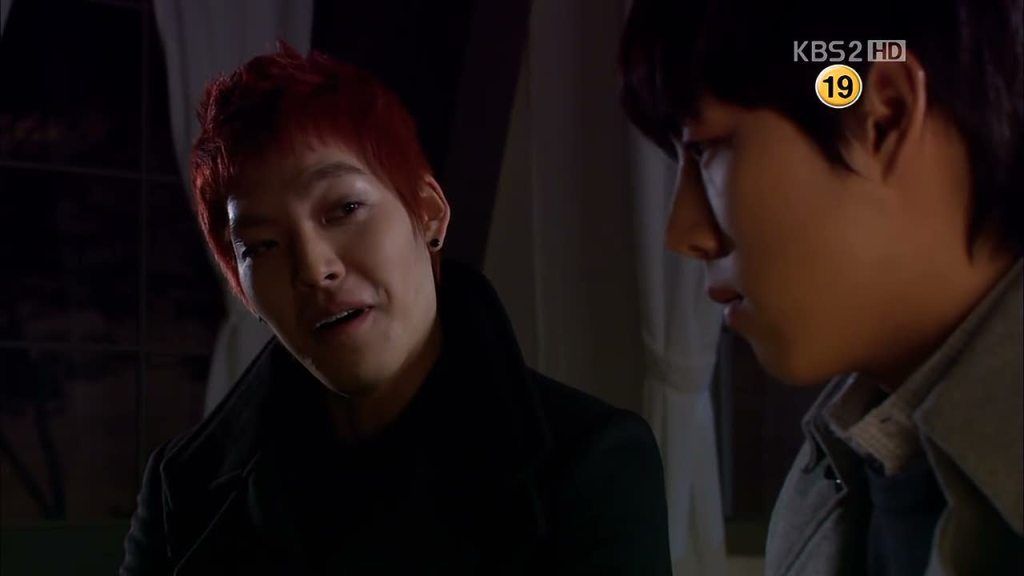 Moo-yul, always eager to play hero, declares that he'll help Mi-reu find the real culprit to reverse his expulsion – only on the condition that Mi-reu lies low. He makes Young-jae promise not to go running to Teach in the meantime, and successfully diffuses the fight.
He gives Mi-reu the lowdown on the black letters, which gives Mi-reu something else to smirk about as he notes with a certain sort of glee, "Park Moo-yul. You're not as innocent as you look."
And as it turns out, appearances can be deceiving – it's more than hinted at that Mi-reu is the smartest one out of all of them, having been scouted from middle school and ranking higher than even Ji-hoon their first year. That still leaves detectives Moo-yul and Jae-kyu at a loss as to who blew up the statue, since it had to be someone with the skills to make a bomb and timer.
The next morning, Mi-reu gets a kick out of scaring Moo-yul awake, wondering how Moo-yul can sleep peacefully without knowing who sent the black letter. He doesn't think Moo-yul has what it takes to find the sender, which has Moo-yul turning on him in an instant: "The same goes for you. Someone hates you. They stole the fireworks and made a bomb. Then knew when you'd come out, and blew up the statue. You don't know who did that either."
Mi-reu's face is still for only a moment, before the Cheshire grin is back in place. "If you really hate someone, you don't make it obvious. It's only when you dislike them that you pick fights and swear at them; that's when people know. If you really hate someone, it's done in secret," Mi-reu says, as he looks out the window to see Ji-hoon walking in the snow. "Not even the one being hated knows." Looks like Ji-hoon's got more anti-fans.
Moo-yul wonders how Mi-reu can come and go as he pleases without being caught, only for Mi-reu to shrug it off like it's a cakewalk. It's hard to say whether Moo-yul is concerned about him or not since he ends up at the locked security center, where Teach tells him that he'd know if they had an extra guest – with cameras even in the dorm rooms, no one could go unnoticed.
He tends to Eun-sung in the clinic and cleans the dried blood off her hand, stopping only when he rolls up her sleeve to see the numerous scars from when she'd cut herself before. She regains consciousness and pulls her sleeve down, while Moo-yul gives her a wounded look and asks her why.
"Because of you," she deadpans. "After I broke up with you, I couldn't stand it. Happy now?" Only that isn't the reason at all, and now Moo-yul's words from earlier (that Eun-sung changed first) come back in a bad way, since she alludes to her depression causing the rift between them, when she'd needed him most. Eun-sung: "It was too late then, but now it's really too late."
Moo-yul claims there's something strange about her, which she doesn't deny. She points to Yoon-soo, Young-jae, Kang-mo as being all abnormal too, and then tells Moo-yul to look in the mirror. She claims that no one would be surprised if he'd slit his wrists, since he's burdened by guilt and living in place of his mother. No one's innocent.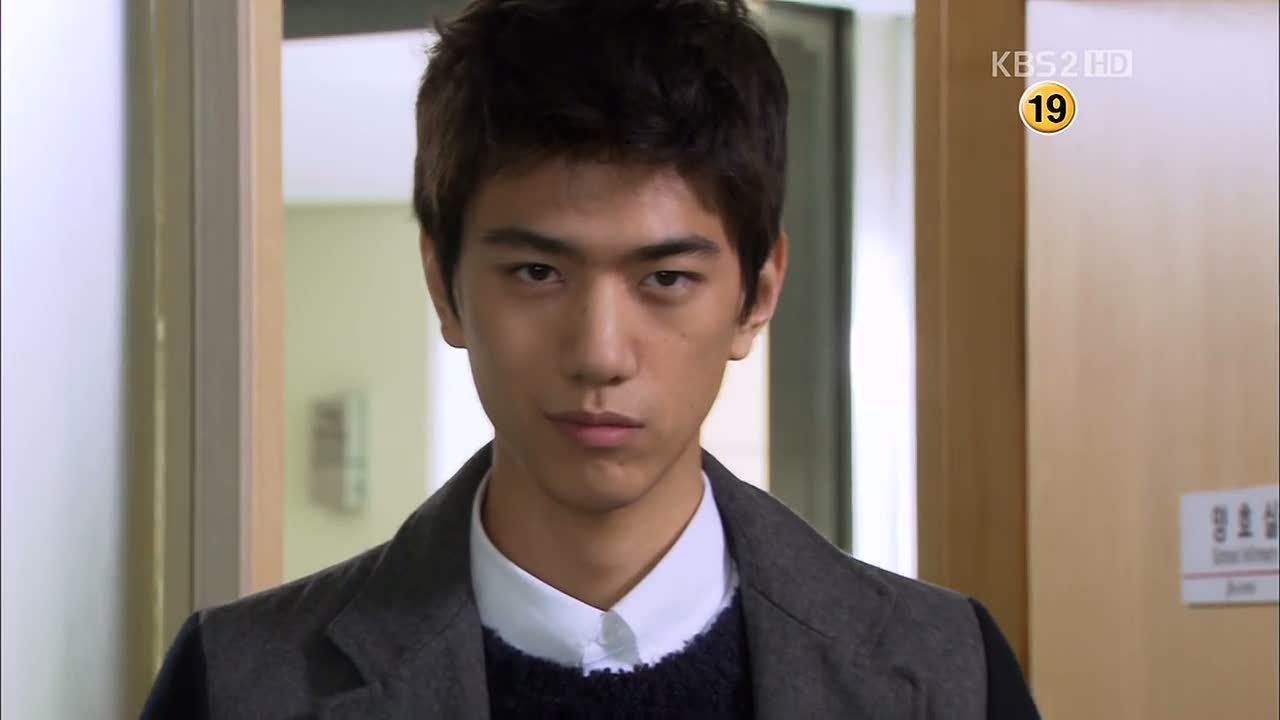 This is clearly a subject Moo-yul doesn't want to touch, and his pent-up frustration causes him to snap the pencil he's holding in half. That's when Ji-hoon comes in to call her out, saying, "Don't whine either then. You keep whining, but tell him not to notice you. It's your life, so do what you want, but don't burden others. If you really want to die, do it quietly when no one's around."
Eun-sung shrugs, "Fine. I won't die at school. Happy?"
Moo-yul doesn't get a chance to talk to Ji-hoon, since he's pulled away to look at the trip footage with Kang-mo. Young-jae didn't get nicknamed 'The Plague' for nothing, and they have him on tape wielding a blue water balloon like a weapon.
Speaking of the plague, Young-jae attempts to sneak around the dorms unnoticed, completely unaware that Mi-reu can see his every move through the CCTV. He returns a watch to Yoon-soo's drawer with Yoon-soo's initials… which Mi-reu inspects right after he's gone. Is our bully turning over a new leaf?
Young-jae is waylaid on his search for Yoon-soo by Moo-yul & Co. brandishing a picture of him holding the paint-filled water balloon on the school trip, and he's quick to claim that he doesn't remember who he threw it at. Regardless, this means Young-jae's black letter sin is: "You tainted me, made me pitiful."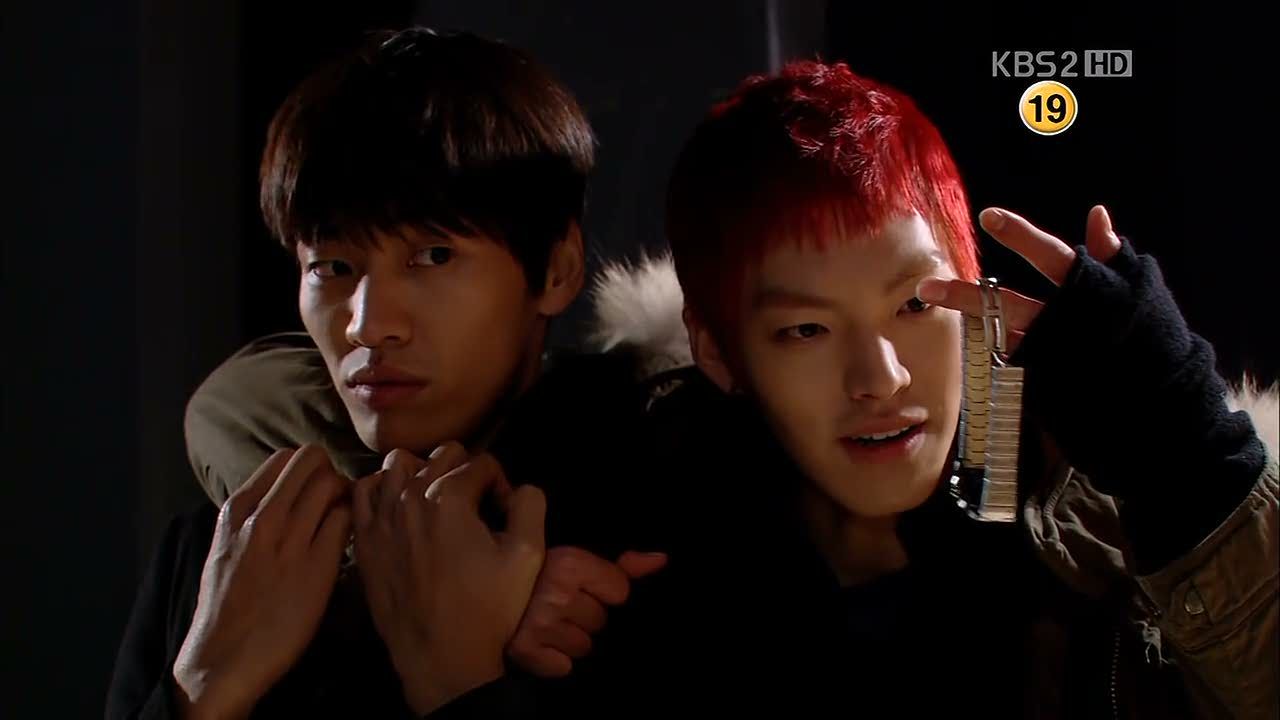 He's left to resume his search for Yoon-soo, only to be Phantom-of-the-Opera'd by Mi-reu in the auditorium. He grabs Young-jae in a headlock and produces the watch, curious to know what the connection is between Yoon-soo, him, and the watch.
Moo-yul is fitting the pieces of the puzzle together, musing that they'll be able to find the sender if they can find out who Young-jae threw the balloon at. They're interrupted when the man of the hour comes running up, screaming that Mi-reu is going to kill Yoon-soo.
And just like that, Mi-reu literally attacks Yoon-soo while he's outside, and hits him a few times before asking, "Was it you?". Moo-yul, Jae-kyu, and Young-jae arrive in time to pull him off, though Mi-reu won't be swayed and ends up getting punched by Moo-yul.
Things are about to get ugly until Teach stops them from a nearby balcony, and Mi-reu, thinking fast, pulls up his hood to hide his hair and escape recognition. Doctor Kim wonders how Teach can just leave the boys to their own devices, but Teach shrugs it off, "Park Moo-yul is there. He'll take care of it."
However, it's Mi-reu who leads the impromptu investigation by locking them all in a dorm room and charging Yoon-soo to tell the truth. Young-jae stole the fireworks and sold them to Yoon-soo for his watch, and Yoon-soo blew a hole out of the school statue so that it'd seem like Mi-reu did it. He doesn't seem ashamed for it one bit.
When asked why, Yoon-soo replies that it's because Mi-reu ruined everything. "My efforts, my determination, my future… the only chance I had to get out of this Alcatraz." Mi-reu seems genuinely confused as he raises his hand and asks adorably in formal speech, "Are you sure you have the right man?"
Just as Yoon-soo asks Mi-reu if he remembers what he did during the fall festival, Kang-mo starts watching the footage from the event on his own, which shows Mi-reu getting ready to bungee jump from the school roof. He's soon joined by Doctor Kim.
Gradually we see that apathetic sheen fade from Yoon-soo's eyes as he grows impassioned while telling the story of how Mi-reu's stunt on the roof took all the attention away from a performance he'd worked so hard for. Yoon-soo: "You wanted everyone's attention, so I let you have it." He even taunts Mi-reu – he'd wanted to go down in the school's history, and now he will. As the first expelled student.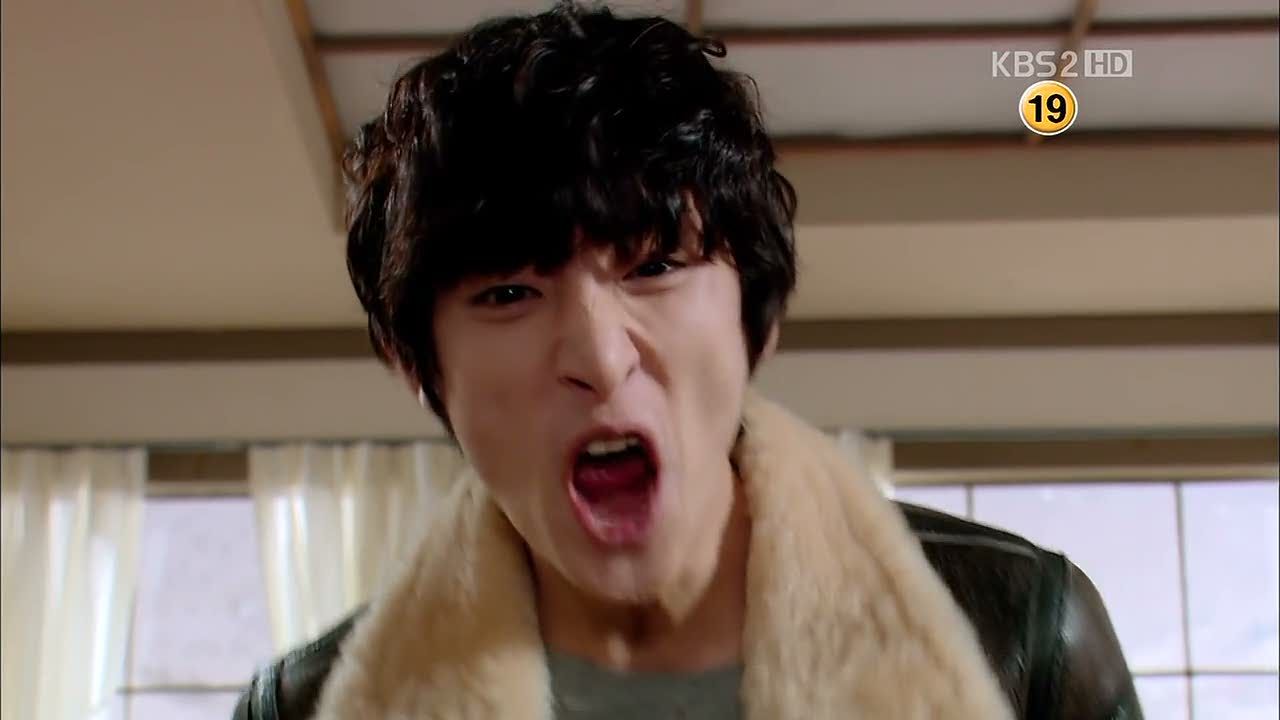 Mi-reu struggles to hold back, and even apologizes (only somewhat sincerely) for ruining Yoon-soo's performance. But he wonders if this is all a bit much over a little performance, only those two words send Yoon-soo into a rage.
Yoon-soo: "A little performance? My parents came. They said they'd decide after they heard me sing. If I was good, they would let me out of this place. From this hell where you call me 'Angel'. But you ruined everything. A little performance? A little performance?!" He sinks down, repeating those words in a tone of disbelief, over and over again.
Which is when Doctor Kim sees the rest of the bungee jump footage with Kang-mo, who'd known about it in advance and set up multiple cameras to film. The bungee jump is what earned Mad Mi-reu his title and legend. Doctor Kim asks him if he'd never thought of stopping Mi-reu from doing something so dangerous, and Kang-mo shrugs it off – he's just the camera.
Back in the dorm room, Mi-reu rises after a long silence and gives Yoon-soo a genuine apology: "I'm sorry about what happened. Maybe it's too late, but I'm really sorry."
And of course, Young-jae's only worry is that he'll be implicated for selling the fireworks in the first place, which he claims he wouldn't have done had he known what Yoon-soo would use them for. But this incident has him implicating Yoon-soo as the black letter sender, something that Moo-yul doesn't seem to agree with, because he knew Eun-sung's stalker was real.
Young-jae can't explain why Yoon-soo would want to trouble the meek Jae-kyu though, and guesses that Jae-kyu got a black letter by mistake.
Moo-yul pays a visit to Doctor Kim to ask about Eun-sung's knife marks, which Doctor Kim describes as unusual and different from her sudden suicide attempt. Basically, knife marks? Totally natural. Suicide attempt? Then we've got a problem. Whatever, Doc.
Moo-yul then finds Eun-sung up and eating in the cafeteria despite wanting to die only a day before. However, when asked about her suicide attempt, Eun-sung describes it as though it wasn't her – almost like a dream, maybe. Moo-yul asks if she felt like she was on drugs, though she says it was more like floating on air.
She shrugs it off as her first time fainting, and wonders if she'll get the hang of it after a few times… words that she didn't want to spill out of her mouth, and words that send Moo-yul bursting into Yoon-soo's room to find his velvet-lined pill box.
There's only one pill when there should be two, and Moo-yul, thinking Yoon-soo gave Eun-sung drugs, hauls him up to ask where the other pill is. Yoon-soo reveals it stuck on his tongue, and writhes around on the bed in a drug-induced stupor while Moo-yul flushes the remaining pill down the toilet.
Young-jae works on convincing Jae-kyu that Yoon-soo had all the perfect motives to send the letter, and claims that Yoon-soo must have lied about seeing the corner monster during the school trip. He threw the balloon with blue paint, but he stands firm that it was just water paint, and that it would have been impossible for Yoon-soo to confuse that with a blue birthmark.
Moo-yul interrupts them to say that it is possible, if Yoon-soo was on drugs at the time. He tells Young-jae he can go check for himself if he wants to see Yoon-soo currently tripping balls.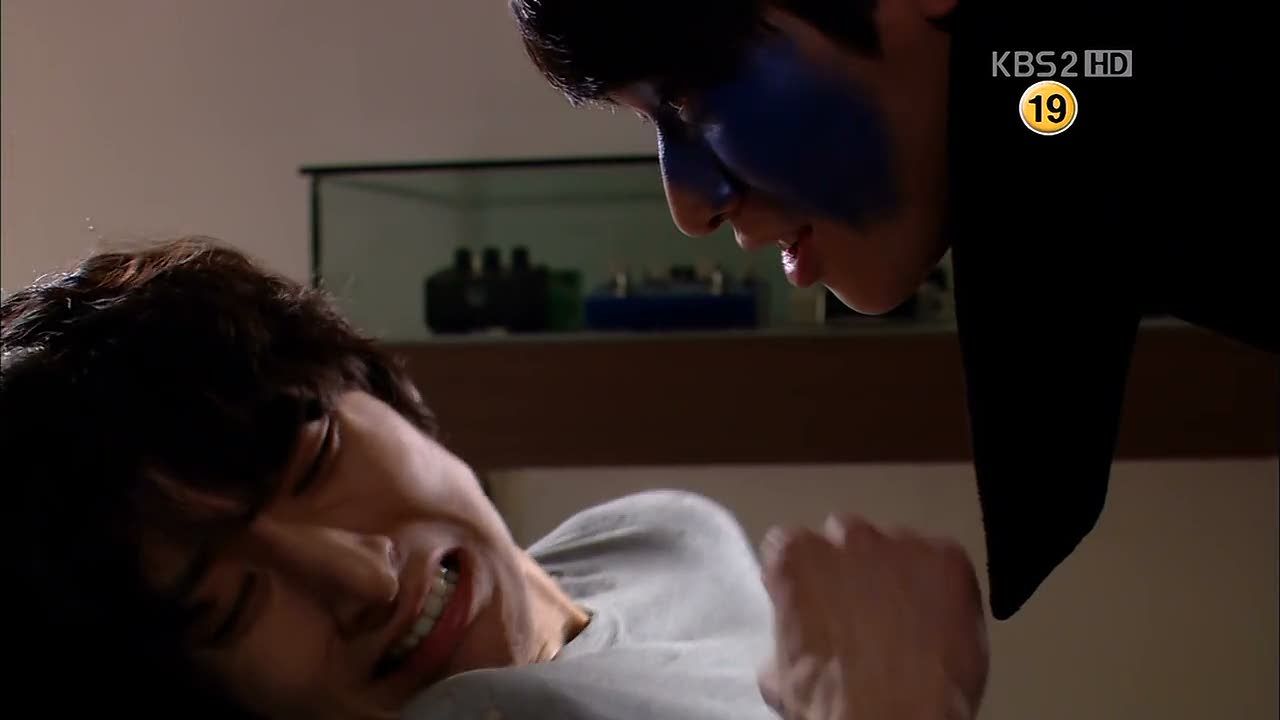 So Young-jae goes to Yoon-soo's room only after painting half of his face blue, which has Yoon-soo hyperventilating the moment he sees him. To Yoon-soo he's the monster in the corner, except he's still seeing the little boy in the corner and can't figure out why there are two monsters.
And instead of realizing that he's giving Yoon-soo a mental breakdown, Young-jae starts to have fun with the role, pestering Yoon-soo like he's the monster in the corner while Yoon-soo starts shaking and crying from fright. It's uncomfortable to watch just because Yoon-soo is so scared – it's the equivalent of locking a claustrophobic person in the smallest space imaginable just for the hell of it. There are just things you don't do.
Moo-yul comes in just in time to see Yoon-soo collapse, and Yoon-soo cries out for his mom and his aunt like a child, scared out of his mind. Once Moo-yul holds him he passes out, and Young-jae stammers, "I was just playing a joke." Yeah, Young-jae. No one's laughing.
Doctor Kim sets Yoon-soo up with an IV, while Teach sits Young-jae, Moo-yul, and Jae-kyu down to ask what happened. Moo-yul is the one to tell him that Yoon-soo was on drugs, and finally passes over the black letter that they all received. Mi-reu watches all of this from his laptop.
Moo-yul comes and goes from Mi-reu's room now like they're old friends, even though they've only grown closer during the few days of the break. It's why Mi-reu can't intimidate Moo-yul into doing things just based on his reputation alone, and why Moo-yul ends up finding out that Mi-reu's hacked into the school's CCTV system.
He agrees not to tell Teach about any of this, and Mi-reu proclaims that he'll be heading home by morning before making a grand escape through the air ducts to get outside. It's sneaking into the staffroom that turns out to be his undoing, as Teach catches onto his presence and knocks him out cold with a judo throw to the floor.
Mi-reu wakes up on a bed in a glorified prison cell, one outfitted with a camera for every angle. There's a plexiglass window on the door that he can see Teach out of, and he tries to play up his injuries to no effect. Teach taught him judo, and isn't falling for any of it as he firmly believes that proper punishment will lead a child down the right path. He leaves Mi-reu in the cell to think over his actions.
And curiously, Teach deletes all the CCTV footage showing him throwing Mi-reu, and goes into the gymnasium to sweat out his problems. That's where Doctor Kim finds him, and Teach goes into this interesting monologue about the defining moment in a competition, when the winner is chosen. He believes that now is his defining moment.
So when the principle calls to check on the status of the school, Teach responds that everything's fine.
The record Mi-reu tried to snatch from the staffroom, and the one that Teach left open, shows the page of a deceased student by the name of Kim Jin-soo. A montage of his life goes by as Moo-yul's voice chimes in to read his profile – he was first in everything, the eldest of two sons, allergic to strawberries, and dreamt of being a doctor. He continues in voiceover:
That was the new student profile for Kim Jin-soo. There are so many possible excuses. There are few valid reasons. If it's a crime, it's as heavy as a piece of straw. But the camel's back broke at one point. The boy who was allergic to strawberries… the boy who wanted to be a doctor, died. His chance to appeal had disappeared. His time of prayer had passed. When we realized our crime, nothing was possible. It was pointless to pray for what we have done. But we had to pray.
Through that haunting montage we see Jin-soo as the victim of Young-jae's blue water balloon ("You tainted me, made me pitiful"), and how that led him to Yoon-soo's room ("You made me a monster in the corner"), how he was bullied and left alone, having to watch Eun-sung from afar and finding his letter in the school paper ("You ridiculed my false hopes"), how Ji-hoon ignored him ("You deleted me from your eyes").
And Teach, contemplating the black letter Moo-yul showed him, opens his desk drawer to reveal a black letter of his own.

COMMENTS
Man, everything about that flip-book-like montage scene still sends shivers down my spine.
Just like Moo-yul said in the first episode, "things that seem unrelated come together to form one, and unimportant moments all feel like destiny." That's what was shown through the montage – all these moments that seemed unimportant to our lead characters were, in fact, very important to Kim Jin-soo. We've all either been that guy, or been the ones committing inadvertent crimes against him that we didn't think twice about. It's strange to think about how much you can impact someone's life by doing something as simple as failing to acknowledge them when you walk into a room, and how something so little can become part of something you could never imagine or anticipate. I like that in just those few minutes, regardless of the whole episode, the mirror gets turned around to face us and provoke those kinds of thoughts. Could Kim Jin-soo's life have been saved if Ji-hoon had acknowledged him? Or if Young-jae had never thrown the balloon?
This idea comes up in a big way with Yoon-soo and Mi-reu's conflict, showing how something Mi-reu thought was harmless had overarching, life-changing ramifications for Yoon-soo. It became clear that Mi-reu hadn't thought it through to that extent – and why would he? No one can think of every scenario all the time. But it's safe to say that Yoon-soo put his all into that one moment, and that once it was taken from him, everything ceased to matter. His usually apathetic, quirky exterior gave way to show passion for the one thing he'd been passionate about when he explained himself to Mi-reu. It's what makes his later devolvement back into drug use as escapism all the more sad, because you wonder if his life could have been more if not for that one moment.
I like how this idea of significance or importance also gets tied in with Kang-mo as a character and how he views the world from a detached perspective, thinking that holding a camera in his hand denies him any culpability for what he films. It was really disturbing to see that he'd actually taken pictures of Eun-sung after she'd cut her wrists, and his response to Doctor Kim's question proved how little he thinks of what he films. I'd like to see that change, especially because I get the feeling that everyone's going to be in for a rude awakening sooner rather than later. Yoon-soo's meltdown, Eun-sung's suicide attempt – if those were just the opening acts, then we're in for quite a show.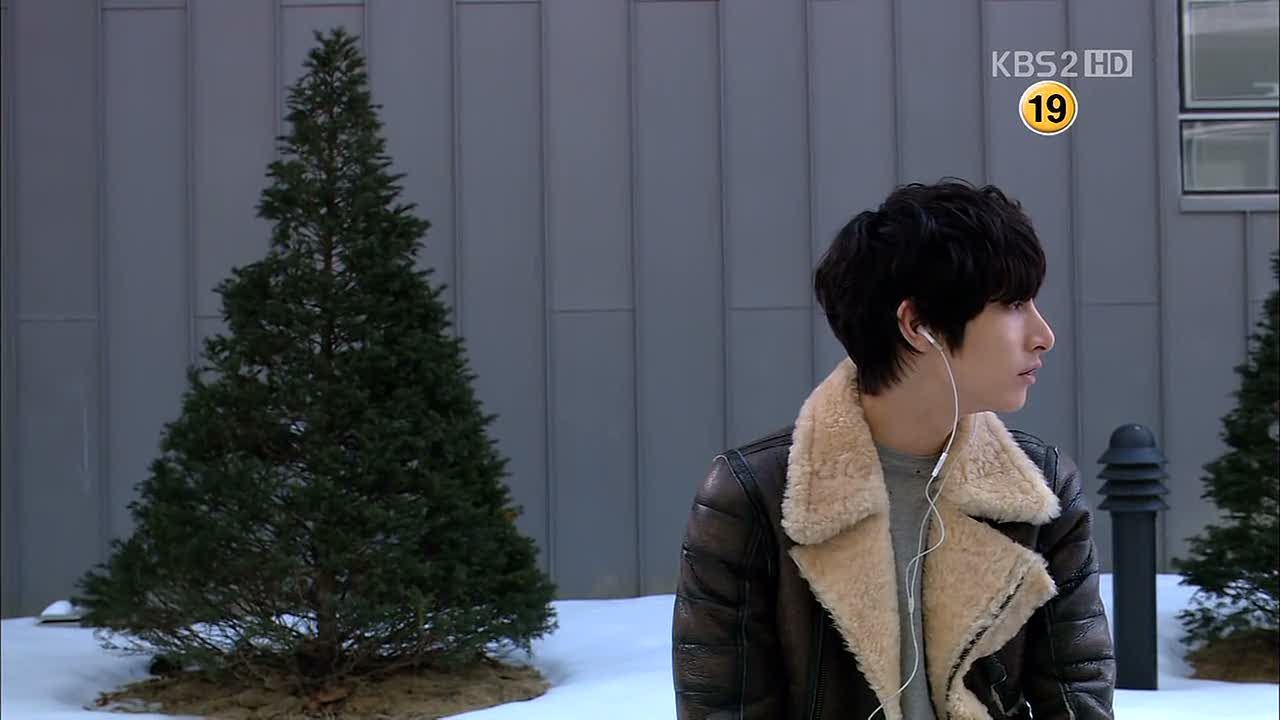 RELATED POSTS
Tags: Baek Sung-hyun, Drama Special, featured, Hong Jong-hyun, Kim Sang-kyung, Kim Woo-bin, Kim Young-kwang, Lee Soo-hyuk, Sung Joon, White Christmas