New posters for medical drama Third Ward
Let the medical showdown begin! Er, again, I guess. We've had White Tower and New Heart and General Hospital and Brain and Syndrome and Golden Time… so now it's time for the East-vs-West battle of Third Ward, which has new posters and just a few weeks left till its September premiere.
It's hard to make a medical drama poster look all that different from all the rest, so these promo images are more of the same: two docs, facing off, lookin' fierce. In the case of Third Ward, it's Western doc Kim Seung-woo butting heads against Eastern specialist Oh Ji-ho. Two neurology geniuses, one hospital, two medical traditions, possibly (probably) one woman caught between them… Doing the math, my reaction mostly adds up to: Not interested, but if you like medical dramas, have at it!
But in the drama's favor: It's on tvN, which has been hitting it out of the park with some truly excellent programming in recent years. Not only is it home to a number of really solid shows (Answer Me 1997, Queen In-hyun's Man, Shut Up Flower Boy Band, I Need Romance, and Joseon X-Files among them), it's got an impressively high ratio of good-shows-to-bad. Every station is going to have a dud at some point, but tvN has such a high percentage of good ones that I don't want to write anything off right away.
The two ladies in the last photo are Kim Min-jung playing a bumbling neurosurgeon (two words I NEVER want to see together) with a warm heart and bedside manner. Next to her is (SNSD idol) Soo-young playing the high schooler daughter to a doctor with a crush on Oh Ji-ho.
Third Ward premieres on September 5.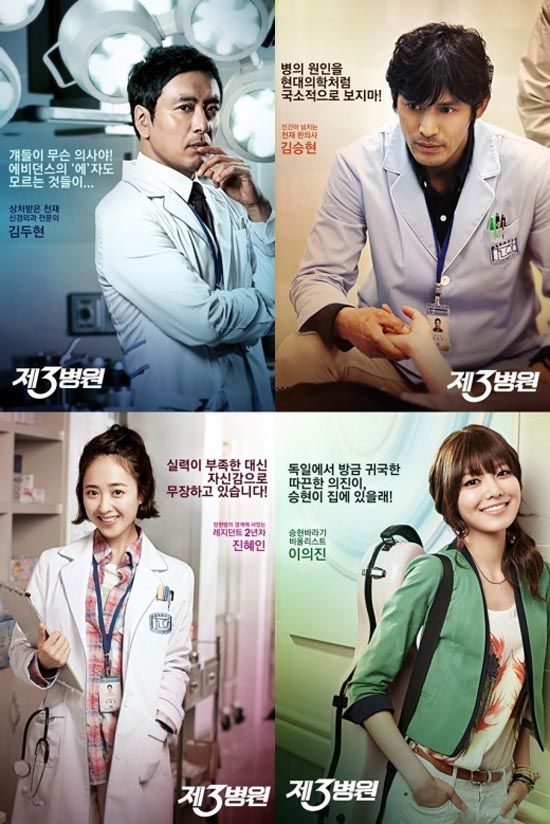 Via My Daily
RELATED POSTS
Tags: cable programs, Kim Min-jung, Kim Seung-woo, Oh Ji-ho