Song Joong-ki and Park Shi-yeon cuddle up for Nice Guy
Aw, well now I just want to root for this couple, even though I know we're doomed to go down in flames. But I suppose that's the mantra for a twisted revenge melodrama's audience: BRING ON THE PAIN. Here's our first look at the Song Joong-ki and Park Shi-yeon pairing in the upcoming melodrama Nice Guy (full title: There's No Such Thing as Nice Guys).
The new drama from Will It Snow for Christmas and I'm Sorry, I Love You's writer Lee Kyung-hee stars Song Joong-ki as Kang Maru, who begins the series as a med student with a kind heart, an actual unironic nice guy. He lives for his girlfriend Han Jae-hee, played by Park Shi-yeon, and the stills are from their happy days as students with big dreams. Maru would do anything for Jae-hee, and though we don't know what yet, he "makes a big sacrifice" for her.
But despite loving him, Jae-hee wants desperately to escape poverty, and feels like a future with him is a ditch she's trapped in. So she makes a cruel choice to betray him, breaking his heart and his whole worldview in one blow. He decides to get revenge and sets his sights on manipulating a chaebol heiress played by Moon Chae-won. She seems just as cold, but amnesia will figure into her story at some point, so we can expect a shift in her character as well.
At first I thought the revenge was more about some obsessive fixation to prove that he's happier without her (even though it's obviously still all about her), but now it seems much more to do with money, on both sides. And it fits that Maru goes from nice guy to scam artist and an homme fatale, if what the love of his life left him for was ultimately money. I'm excited for what sounds like a dark world with complex characters, and I hope they don't chicken out of anti-hero-dom for Song Joong-ki. If we're gonna go evil, let's go all the way.
Nice Guy follows Gaksital and premieres September 12 on KBS. So… after watching Shunji's dark descent into evil, we'll follow it up by watching Song Joong-ki unravel and lose his humanity too? Why is the road to hell paved with such pretty men?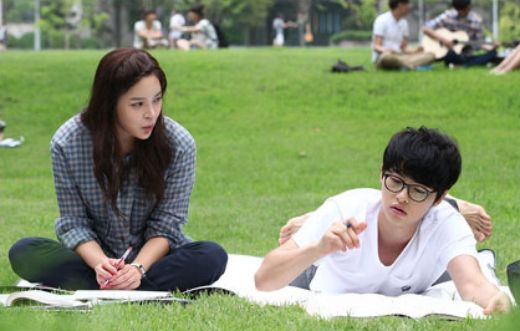 Via Newsen
RELATED POSTS
Tags: Nice Guy, Park Shi-yeon, Song Joong-ki