White Christmas: Episode 5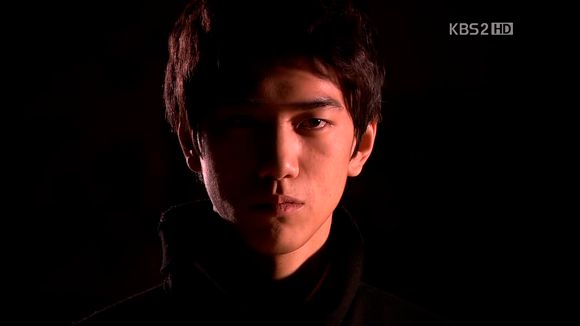 Are monsters born or made? Our boys (and okay, one girl) come face to face with a bonafide monster who loves guns, threats, and mind games. If group counseling were a blood sport, it'd probably look a lot like this drama, which takes a crack at normal therapy by amping it up a couple notches. Because nothing says "Tell me what's on your mind" like a serial killer/psychologist/psychopath with a gun and handcuffs. Oh, and a fresh cup of warm tea.
SONG OF THE DAY
White Christmas OST – Mercury Rev "Holes" [ Download ]
Audio clip: Adobe Flash Player (version 9 or above) is required to play this audio clip. Download the latest version here. You also need to have JavaScript enabled in your browser.

EPISODE 5 RECAP
"I'm a serial killer."
These are the words we open with as we watch Doctor Kim in the events leading up to his appearance at Susin High. He explains that he was exhausted from killing people, since killing takes a lot of work. Poor thing. He's captured by police before he can kill his taxi driver, and is actually relieved to be caught.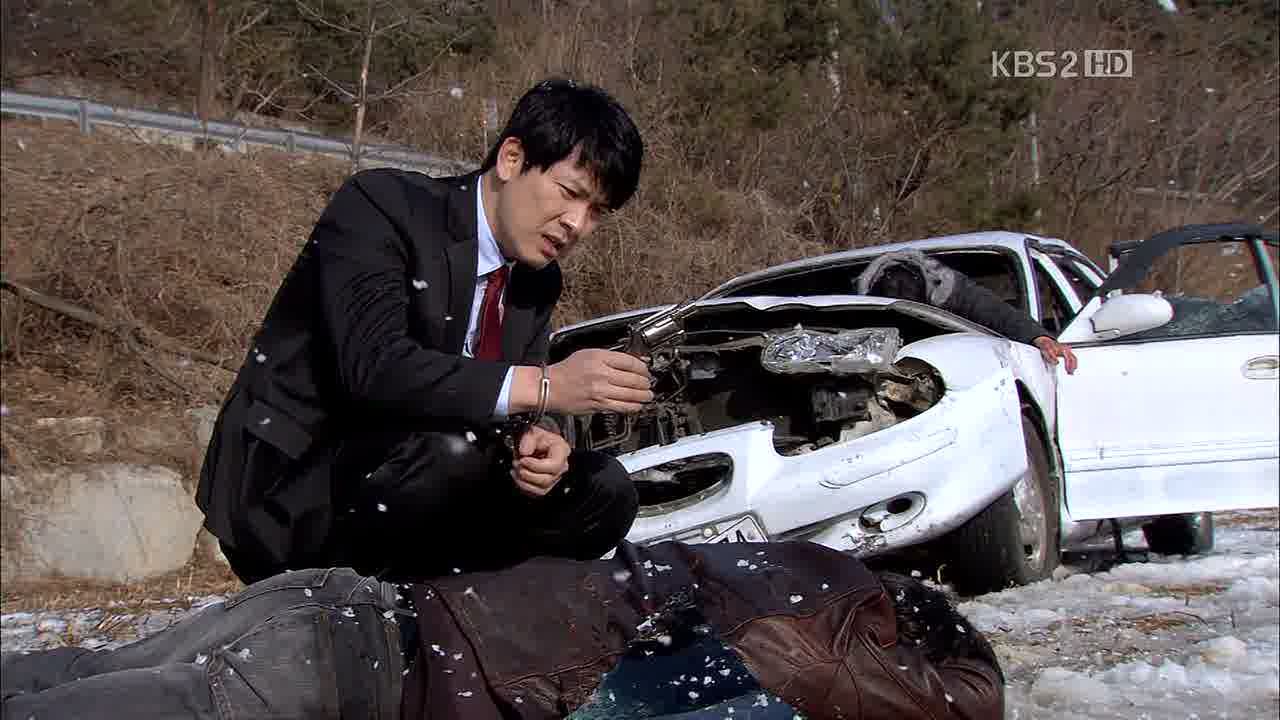 On their way to prison, the icy roads cause the policemen's car to swerve off the cliff, sending them crashing into the gully below. One policeman is thrown from the vehicle while the other's head goes through the front windshield. Doctor Kim gets by with a wound to his forehead, the same one we've seen.
He stumbles from the car, taking a gun from the dead policeman while the other, barely alive, fires at Doctor Kim. He doesn't even flinch, as if he's expecting to die at any moment, but none of the bullets hit him and the policeman dies.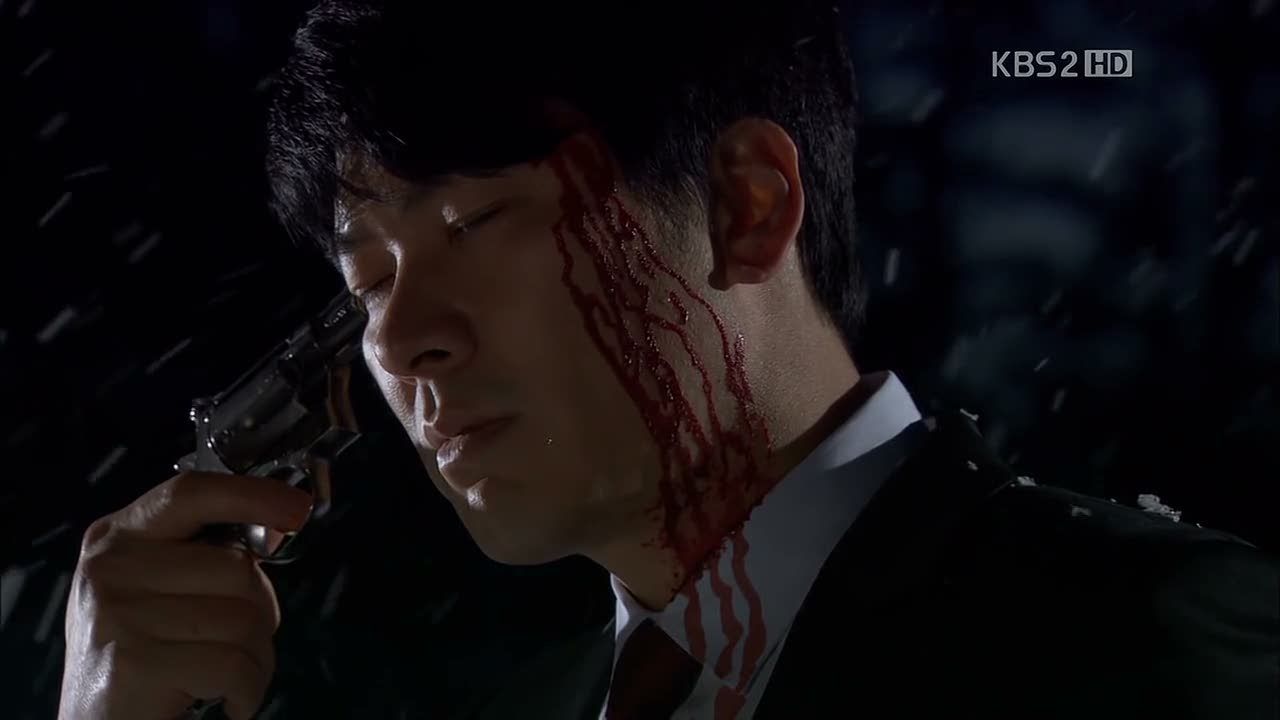 Doctor Kim struggles through the snow and wilderness before finding a suitable spot to commit suicide by shooting himself in the head. When he sees Susin High light up in the distance he treats it like a revelation or mission from a higher power. As he begins his journey toward the school, we hear him continue in voiceover:
"Two thousand years go, three wise men followed a star to find baby Jesus. Today, that light led me to them. I realized that all the coincidences that had occurred were part of a destiny that had been determined long ago. Are monsters born or made?"
We jump back to where we ended last episode, with psychopath Doctor Kim pointing a gun at Ji-hoon.
Inside the school and unaware, Moo-yul and Eun-sung come to the conclusion that Teach's body wasn't hidden because the murderer couldn't move the body, and that the knife on the scene wasn't the weapon that killed him. Moo-yul: "Only the murderer has the real weapon."
Jae-kyu comes running to tell Moo-yul his theory that Doctor Kim is the murderer. And just then, Young-jae emerges from the clinic with Doctor Kim's bloody sweater.
Moo-yul & Co. start scrambling to find Doctor Kim, but he finds them first. He's brought Ji-hoon and Kang-mo, and shows the gun to the class. Yoon-soo is exempt from all of this because no one can find him – he's hidden away up in the rafters as usual, with earbuds firmly in place.
Everyone gathers in one room at Doctor Kim's behest, while he sits in front of them with his gun. He thanks Moo-yul for saving his life. Oof, poor Moo-yul. Guy tries to save someone, and that someone turns out to be a crazypants serial killer.
When Jae-kyu asks why he killed Teach, he explains it as just a bad twist of fate – Teach had a TV in his room, and the police released his photograph. He couldn't have Teach find him out, so he killed him.
Doctor Kim sighs, "I hope you can understand." Moo-yul: "You killed someone. How can we understand that?" I love that Doctor Kim tries to paint himself in a sympathetic light, as if his back bruise compares with Teach's frozen corpse in the courtyard.
Meanwhile, Mi-reu and Hiker come across a sign that tells them they're only a few miles from the school. They celebrate.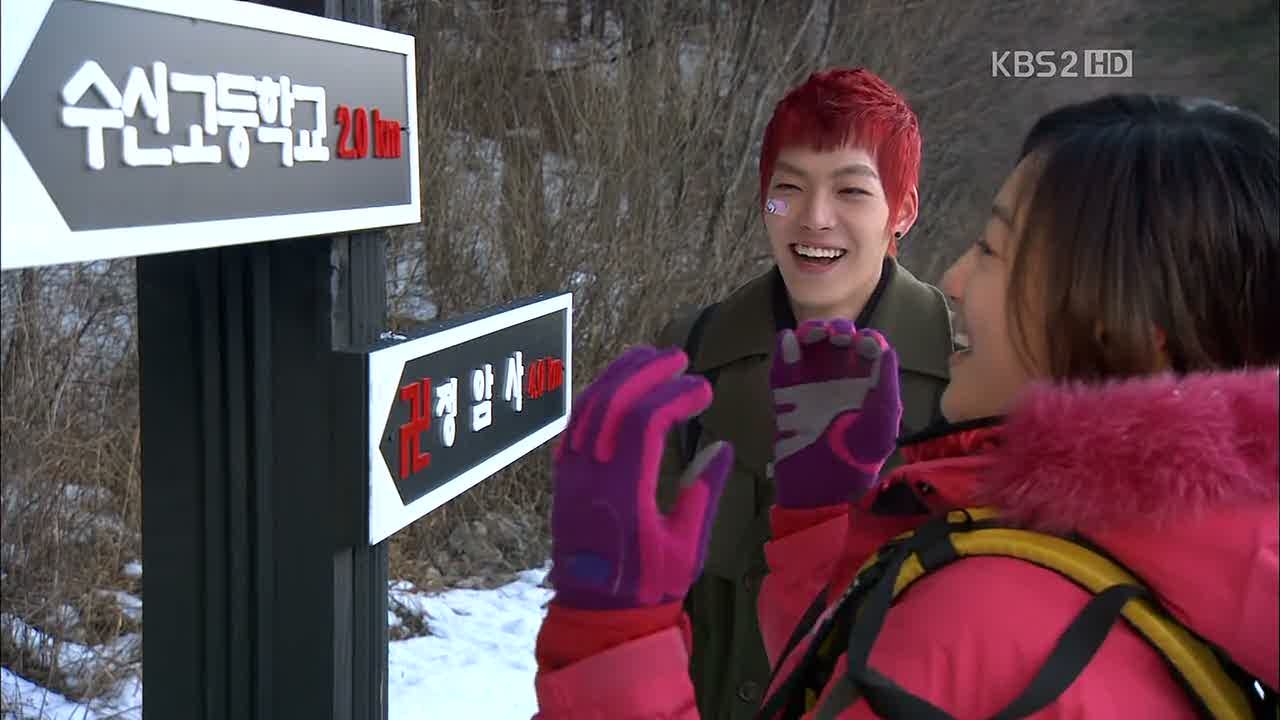 Doctor Kim wants to make sure everyone's present, so he comes up with a devious plan to ensure there won't be runaways by pairing the students up, and then sending only one from each pair to find Yoon-soo. If they don't come back, he'll kill the partner left behind.
Young-jae gets paired with Kang-mo, with the latter responsible for searching. He's worried Kang-mo will just leave him to die. Doctor Kim has the perfect solution for this problem, and gives the hostages a chance to beg their partners to come back.
When Young-jae is up, he's not above begging Kang-mo. "I know I'm bad," Young-jae admits, "but I shouldn't have to die." Kang-mo looks at him coldly and asks: "What would you do?" Eep. Caught.
When it's Jae-kyu's turn, all he tells Ji-hoon is: "I'm sorry." The chasers – Kang-mo, Moo-yul, and Ji-hoon – are given ten minutes to find Yoon-soo and return.
But Doctor Kim is no pushover, and takes notice when Ji-hoon and Moo-yul communicate with each other using only their eyes. Probably sensing that the two of them together are a dangerous combination, Doctor Kim decides to make Ji-hoon stay, and sends Jae-kyu off instead. The clock is ticking.
"How big is the space that separates life and death?" Doctor Kim muses, as he tells the students that only the police catching him stopped him from killing his taxi driver. How big was the space between life and death for that guy?
The chasers can't find Yoon-soo, and time is running out. Funnily enough we see that he's in the same room as Doctor Kim, perched up in the rafters.
Moo-yul and Jae-kyu return, as Doctor Kim counts down the seconds and levels the gun at an increasingly nervous Young-jae, since Kang-mo has yet to arrive.
Time's up. He gets ready to shoot.
And finally, at that last moment, Kang-mo arrives. Young-jae's so overcome that he cries in relief – or is it still fear? Probably a mixture of both.
Meanwhile, Mi-reu and Hiker get closer to the school, and they stop to have a snowball fight along the way. C'mon, guys! Hurry up and do some rescuing!
Doctor Kim thinks that they chose not to find Yoon-soo, but Moo-yul claims that it'll be hard to find him if he's determined to hide. It's a big school.
This isn't great news for Doctor Kim, because the "game" he wants to play requires that everyone be present. He waffles between forfeiting the game or imposing a penalty, and points the gun at Moo-yul first (the leader), Ji-hoon second (the team ace), and Eun-sung third, since she's the one with problems and would make a good sacrifice.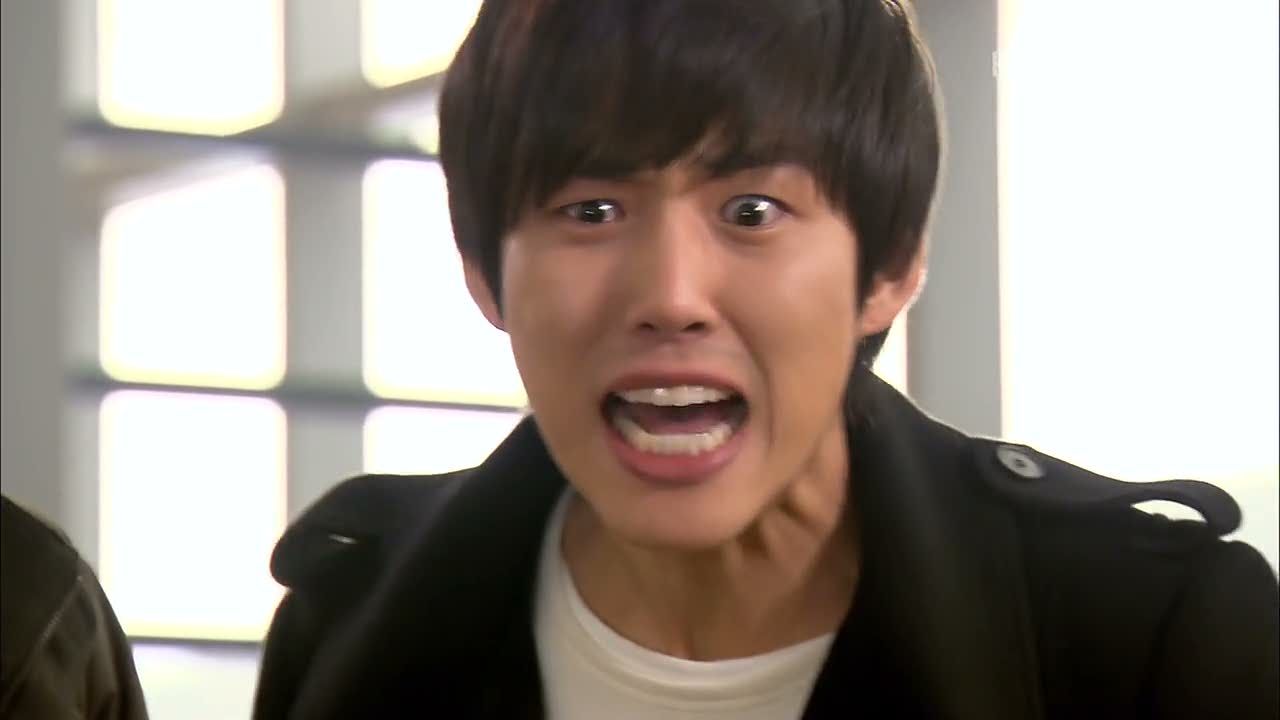 Seeing the gun pointed at Eun-sung is the breaking point for Moo-yul, who jumps to his feet as he spits out: "Are you crazy? What game? What sacrifice? Do you think holding a gun makes you God? You're just crazy, you murderer!"
Moo-yul is shaking from anger and has to be held back from attacking Doctor Kim, who then decides to use him for the penalty. He aims the gun at Moo-yul's head, but is distracted when a noise comes from the ceiling.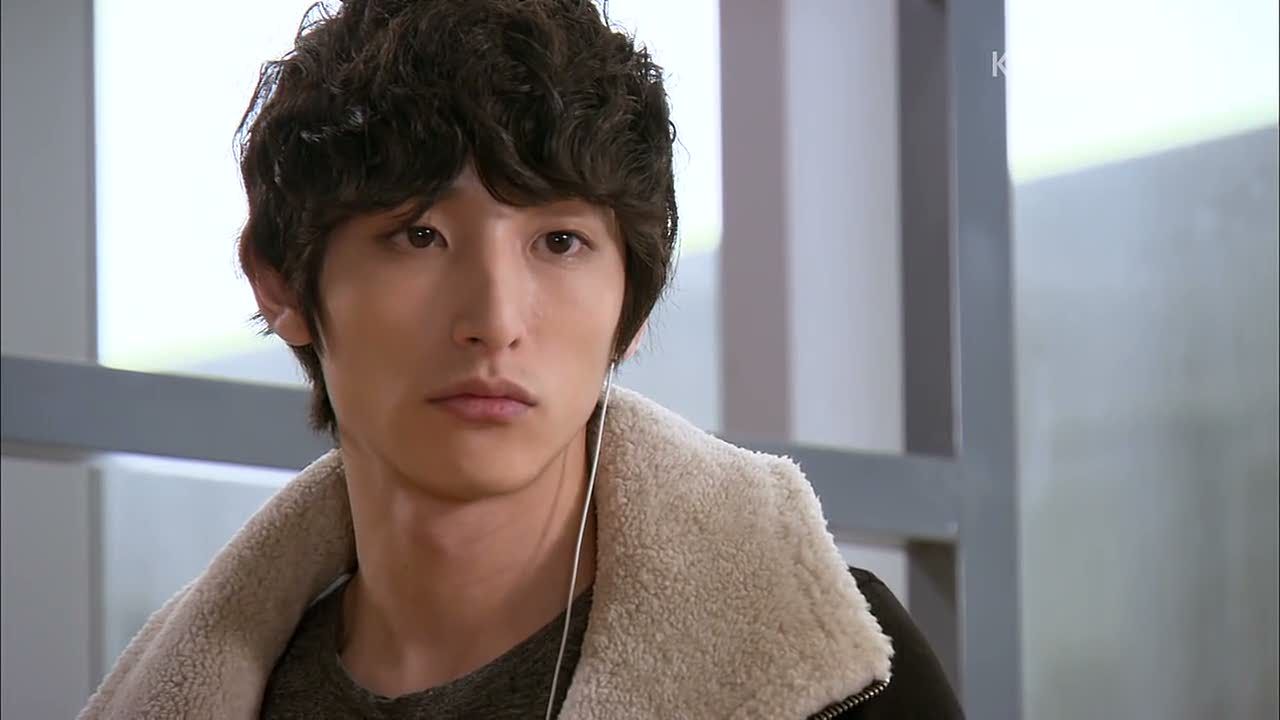 Everyone is shocked when Yoon-soo casually descends the ladder, and Doctor Kim even starts laughing at the absurdity of this wild goose chase when their goose was right above them. Moo-yul gets to keep his head after all.
It's time for breakfast, and Yoon-soo handcuffed to the table. There's a tiny moment here I love – Eun-sung is eyeing one of the knives like she wants to use it to attack Doctor Kim, so Ji-hoon brushes past her purposefully to literally bump her out of her resolve. D'aww. Luff him.
Doctor Kim decides to hold a question and answer session with his seven hostages, and when it comes to Eun-sung's question about why he killed a group of high school girls, his answer shows the underpinnings of his psychosis.
Doctor Kim: "They were impolite. So ill-mannered and offensive. They laughed, and were so loud. They swore, too. I can bet you this – I bet the people on the bus that day felt the same way I did. 'I wish those girls would disappear, if only they'd go.' So I thought about it. Those girls being there, living on with their lives… is that beneficial, or not?"
Apparently not, seeing as he killed them. No one presses further, and I love that Ji-hoon is the only one eating, since he's explained himself before.
Doctor Kim explains that the game will be to find the Black Letter Sender. It's them versus him, and if either side finds out the answer, it's game over. If they find out first, he'll punish the sender.
However, if he finds out first, then he'll punish the person with the worst black letter sin. And if the sender confesses, then he still wins. The students can use whatever method they want, but he'll be employing one-on-one counseling sessions with them. Doctor Kim: "It won't be any different from meeting a counselor." Riiight. How about that gun?
Speaking of, Ji-hoon uses his question to ask how many bullets he has. Doctor Kim pauses before replying that he has four – the first bullet he used to scare, the second one killed Teach. "Worst case scenario… three of you will live," he admits.
Time to start the counseling sessions. Doctor Kim locks everyone but Kang-mo up in the teacher's dorms, and Ji-hoon instructs them to find anything they can use as a weapon.
However, he does say that the three of them should have never returned – he wouldn't have killed them if four people were in hiding (including Yoon-soo). No one agrees, all of them thinking Doctor Kim is just crazy, until Eun-sung speaks up: "Ji-hoon could be right. He was careful in choosing the pairs. He formed those pairs so that they would return." You can tell how much her agreeing with Ji-hoon angers Moo-yul.
They don't know why Kang-mo was chosen first, even though Young-jae thinks he's the letter sender and is probably confessing at this moment. "Thank goodness you didn't send the letters," Eun-sung notes. "You'd raise your hand and say you did it before he even asked."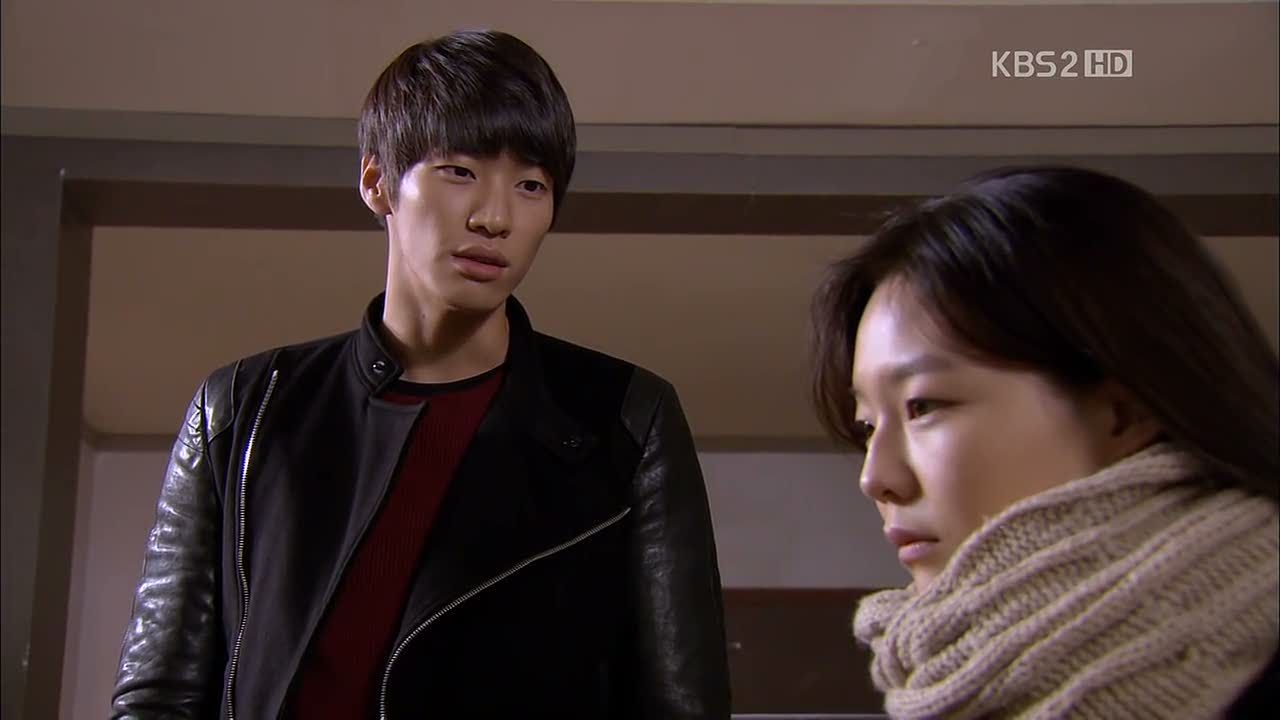 Young-jae turns on her, "Wouldn't you? You would die if you got caught. Would you be willing to die for everyone else?" She claims she wouldn't, but at least she'd think twice about it. He doesn't see a difference between them.
Obviously, Jae-kyu is in a predicament since he IS the letter sender, though Ji-hoon is probably the best confidante he could have right now since his poker face could fool anyone. Plus, he's got a good heart underneath the cold exterior.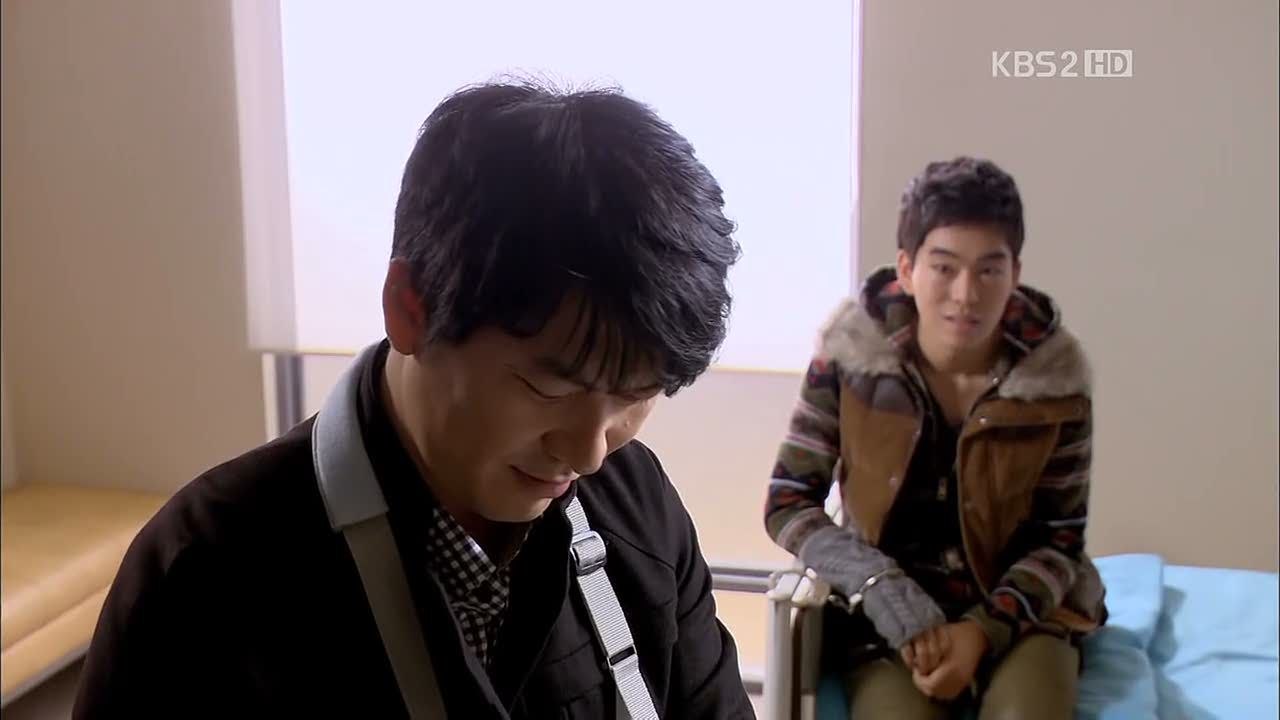 Doctor Kim handcuffs Kang-mo to the clinic bed, but Kang-mo just talks his ear off, which Doctor Kim notes down as "compulsive gossiping".
Moo-yul and Ji-hoon try to think of an attack plan using what little they could find – mostly household detergents. They know they have to attack quickly before Doctor Kim finds out about the CCTV hack they have, and they decide to execute their plan later that night.
Hah – I find it kind of funny that Doctor Kim is overwhelmed with how much Kang-mo is talking, and asks for five minutes of silence. Kang-mo fidgets around, clearly anxious when he's not talking, until Doctor Kim starts telling him about a special breed of moth that, when in caterpillar form, uses camouflage to look like a snake and fool predatory birds.
Doctor Kim: "Do you know why the way you talk is so desperate? Because it's your camouflage. Listening and talking… Does your disability still burden you?"
Dayum. Doctor Kim may be a psychopath, but he's still a good psychologist. I'd say that's Kang-mo in a nutshell – and Kang-mo knows it, because he suddenly finds himself choking back tears.
Mi-reu and Hiker are still far from the school, and have set up a tent in the snow. He notices a pendant around her neck and asks what it is – she replies that it's a gallstone. I love how Mi-reu is like, "From inside your body?" Haha. Adorable.
He's weirded out, but she won't tell him who it's from. She just insists that it's a lucky charm to protect her from headaches.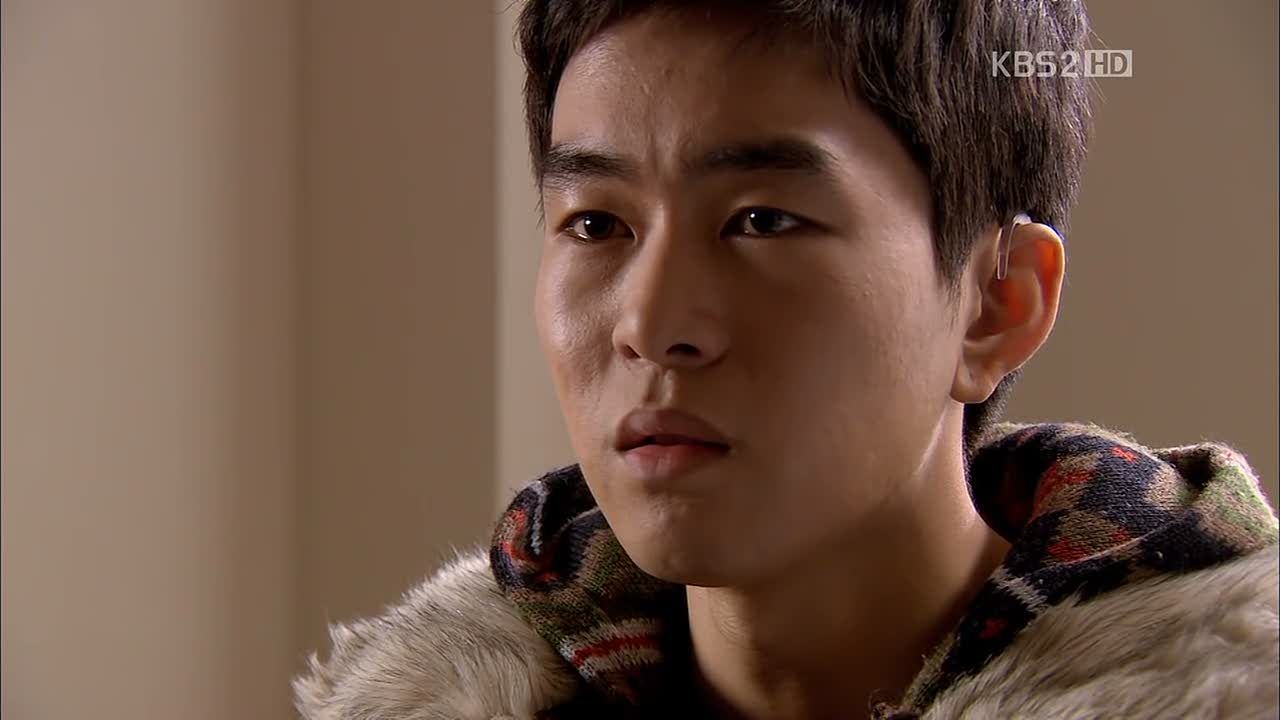 After fighting a losing battle holding back his emotions, Kang-mo tells Doctor Kim a story from when he was six years old and in charge of ringing the cowbell during a school play. He knew how unimportant his role really was, but his dad videotaped it, and Kang-mo paints the event as the single worst moment of his life.
Kang-mo: "I stood out from the group. I stood like everyone else, but only my face was different. You said I was desperate. That was how I looked then. Desperate."
He says that that's what being disabled is – desperation. Doctor Kim asks him if he ended up ringing the cowbell or not, and Kang-mo lies and claims he doesn't remember. Doctor Kim should try prescribing him more cowbell. (Could. Not. Resist.)
Ji-hoon tells the group that the only place they can predict Doctor Kim's movement is the cafeteria, where he sits and puts the gun down to eat. That's their window of opportunity.
Doctor Kim starts to tell Kang-mo another animal analogy, this time using the common occurrence of thousands of zebras going to the river, while the weakest one is attacked by a lion. Doctor Kim claims that it's not just the lion that waits for the weak zebra – the others wait too, hoping that he'll show himself and be sacrificed so they can drink water. Ehh. I don't know about this one, Doc.
He asks Kang-mo what he would do if he was that injured zebra and no one knew it. "The lion by the river, this situation. They're quite similar, right?" Doctor Kim muses, and Kang-mo's lack of response pleases him. He smiles to himself, satisfied.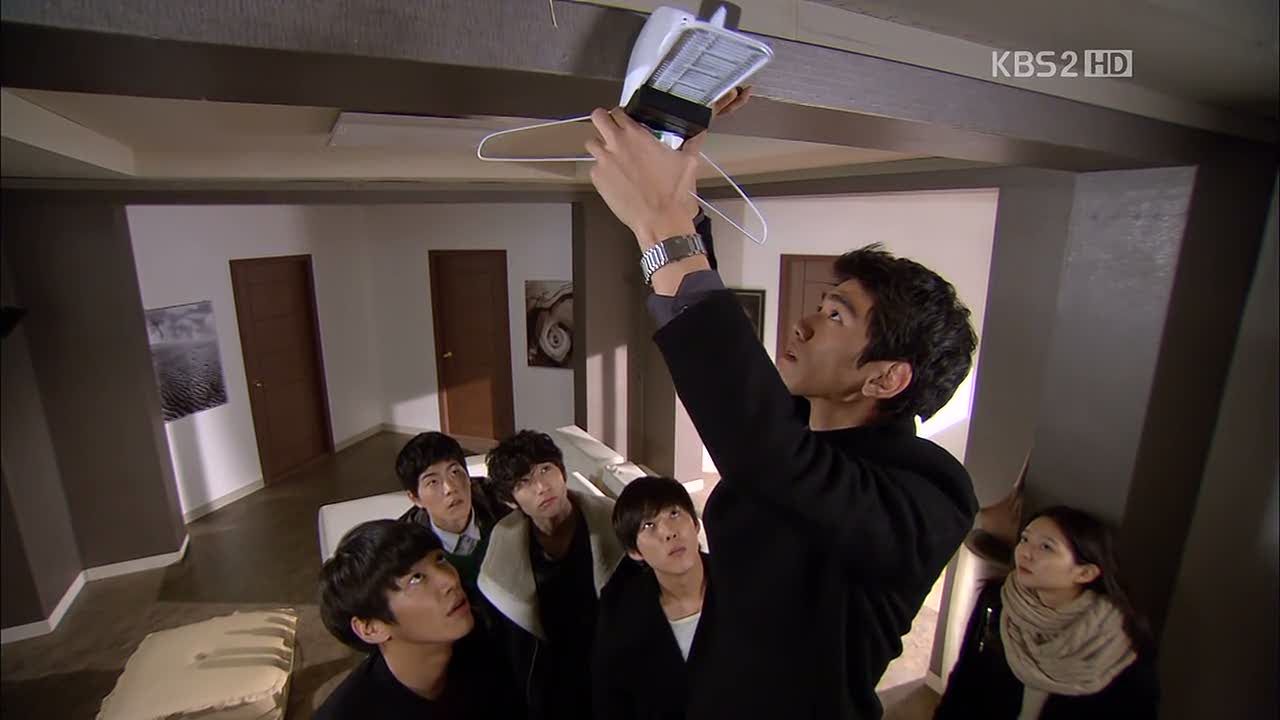 Ji-hoon fashions a sort of bomb (a lighter plus flammable spray) near the ceiling. They all head to the door once Kang-mo returns – and he's having trouble with his hearing, since he can't understand Doctor Kim without reading his lips.
Doctor Kim has them all walk to the cafeteria, hand in hand, while Mi-reu and Hiker make it closer to the school. We can judge their distance by the tiny tuft of Teach's hair sticking out of the snow.
I love how fast Ji-hoon is on the uptake – then again, we shouldn't expect less at this point. Yoon-soo does his usual thing and acts weird at dinner, arousing Doctor Kim's suspicion. Ji-hoon reacts quickly and smoothly by asking him about a possible tie in this game, and it works.
Doctor Kim claims that if neither he or the students can find the letter sender by the end of the break, then they'll win. The only way for him to win is if the sender confesses – so then he addresses the sender by talking to all the students, saying that if he stays silent, he can protect everyone. But he has to trust that the others won't tell on him and get him killed.
"The other six of you who didn't send the letters, listen. When you find out who sent them, you may choose not to tell me. But again, you have to have faith that the sender won't confess to it," Doctor Kim announces. "Yes, trust is the basis of this game. How much do you trust each other? You're the smartest in our country… Has anyone taught you about trust?"
The rules are set, and they do make sense, in a devious sort of way. The air is tense while everyone but Kang-mo waits for the bomb to go off. Kang-mo is the one handcuffed near Doctor Kim today, and is lost in his own memories of being unable to ring the bell. Everything around him sounds like white noise, since his hearing aid is on the fritz.
Even Doctor Kim notes the tenseness in the air, but the bomb upstairs goes off and sets off the fire alarm, throwing the entire cafeteria into chaos as all the students on the other side of the table jump to their feet, with Moo-yul yelling to Kang-mo, "The gun!"
But all Kang-mo sees is chaos, except he can't hear anything. He doesn't react quickly enough to grab the gun because unlike them, he didn't get to hear the plan.
Moo-yul vaults over the table to reach the gun that's fallen on the floor, but he's just a millisecond too late. Doctor Kim snatches it up and holds it to Moo-yul's head. Kang-mo realizes what's going on way too late, and holds back tears.
The alarm cuts off, and Doctor Kim just starts laughing. He's actually amazed at how much fortune seems to favor him, because he really can't understand. The police, the snowstorm, the accident, even now.
He aims the gun at Young-jae, the weakest, in an attempt to find out who orchestrated the plan. It's not long before Young-jae blurts Ji-hoon's name. Doctor Kim: "I knew it."
Mi-reu and the Hiker have been going all day, yet they look no closer to the school than they did yesterday. She suspiciously holds her gallstone like it's a precious amulet.
It's sad to see Moo-yul in tears as he asks Doctor Kim what will happen to Ji-hoon, only becoming more desperate when he realizes that Doctor Kim plans to kill Ji-hoon. Even Eun-sung tries to get through to him, claiming what they did was self-defense. Doctor Kim says he's defending himself too.
"Does that upset you?" he asks. "Or is a serial killer's life less valuable than that of a growing teenager's? A king's life, a pigeon's life… It's all worth the same."
Jae-kyu kneels in front of him to beg for his life. Everyone else, sans Kang-mo, does the same. Are they kneeling for their individual lives, or are they following Jae-kyu's suit, thinking he's begging for Ji-hoon? It'd be weird if they were all kneeling for themselves when Ji-hoon is the one about to be killed.
Doctor Kim acts sympathetic – but he's alone, and there's seven of them. He argues that he has to protect himself somehow, and that rules have to be in place for the game to continue.
Young-jae starts tearing into Kang-mo once they're all alone, and beats him in a rage until he's pulled off. He blames Kang-mo for siding with Doctor Kim on purpose, and for their plan failing.
Moo-yul is the first one to approach him, and he knows Kang-mo can't hear, but he wants to know why he didn't say anything. Kang-mo remains silent. We hear Doctor Kim in voiceover talk about the river where the lion waits – if you were an injured zebra, what would you do? He goes on:
When dying of thirst, someone must be sacrificed, or you cannot drink a single drop. What would you do? We can only pray that the most impatient will jump into the river, that someone will be injured, that a young one will fall behind, that the lion will be satisfied. How can you not hope for that? If you were standing by the river where the lion waits…
Doctor Kim takes Ji-hoon to the auditorium, and they stand face to face. Oh no.
He aims the gun at Ji-hoon, who remains stoic and silent. There seems to be a tiny moment where Doctor Kim thinks twice about pulling the trigger, but he steels himself…
And we cut to the rest of them waiting. A shot rings out. Eun-sung crumbles in tears, Jae-kyu sinks to the ground in shock. Even Yoon-soo's eyes gleam.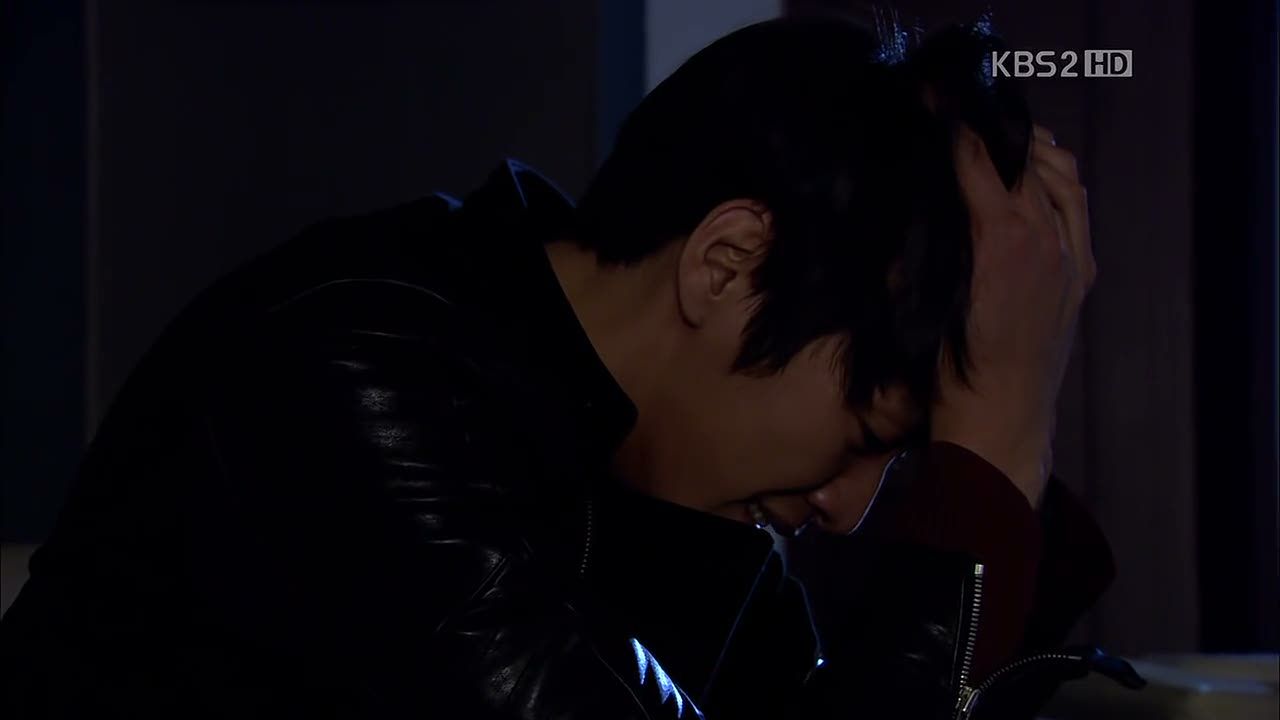 It's almost sadder to see Moo-yul trying his best to hold it together than it is to see everyone else falling apart. And it's terrible to see Young-jae in grief, because he ratted Ji-hoon out. Kang-mo didn't hear the shot so he can't understand what's going on – but dude, look at the grief around you and take an educated guess.
Doctor Kim has Ji-hoon's handcuffs back. We don't see where Ji-hoon ended up. *sob*
Mi-reu and Hiker finally make it to the school's gates. Mi-reu beckons her inside: "Welcome to Susin High!"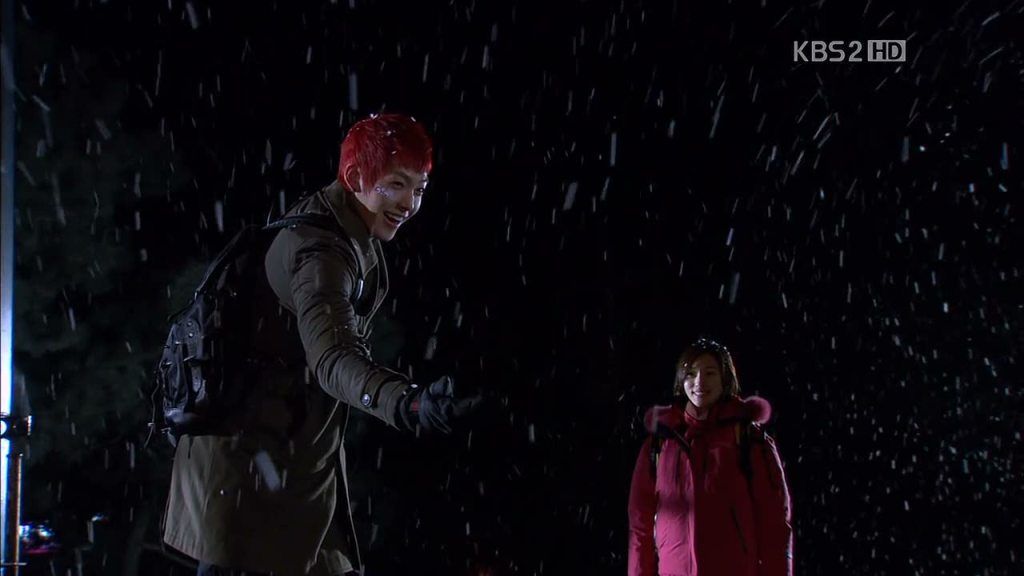 COMMENTS
Call me an optimist, because while I understand where Doctor Kim is coming from with the whole zebra analogy psychobabble, I don't find it as applicable as Kang-mo does. The cafeteria incident wasn't only his fault, and while I can see why he wouldn't tell the rest of the group he couldn't hear, the reason he doesn't just makes me want to give him a good shake of the shoulders.
His reason for not trusting everyone makes sense when we remember the witch-hunt from the last episode, but it's not like he was totally innocent in that, either. Kang-mo has seen a different sort of world than the rest of our group because of his disability, but he also sees in others the bad qualities he sees in himself. He sees the darkest side of his peers, when they're not all like Young-jae. And most of all, they are not zebras.
There's a point to be made in assuming that the human race can be reduced to nothing but a herd-like or mob mentality when push comes to shove, but it's views like Doctor Kim's that make murderers and sociopaths. He strips individuals of their individuality by claiming that we're all those zebras on the side of the river ready to shove our neighbor down the lion's throat if it means we can have a drink, and plays on Kang-mo's complexes in order to convince him that he'd be the first one to go. So in turn, Kang-mo thinks he has to protect himself from his fellow man – which is exactly the kind of thinking that's kept him ostracized until now.
Of course, if you fail to see humans as humans and think that we're no more than animals, then you get douchenozzles like Doctor Kim, who feel no remorse for murder. In fact, with the girls from the high school, he felt he was doing society a service. I say this all while finding Doctor Kim a very interesting character and great for the narrative, even if he disgusts me on a personal level.
Kang-mo is the character I like the least, so maybe all this discussion means he's got that much more room to grow. Or maybe this is the best he can do, and Doctor Kim has succeeded in answering whether monsters are born or made. I find myself weirdly invested in him against my better judgment, but it's because out of all the boys (and Eun-sung, to be fair), he's this close to a revelation. I want him to realize that he's among good people like Moo-yul and Ji-hoon, who make mistakes because they're human, and that's why we're watching a human drama instead of the Discovery Channel.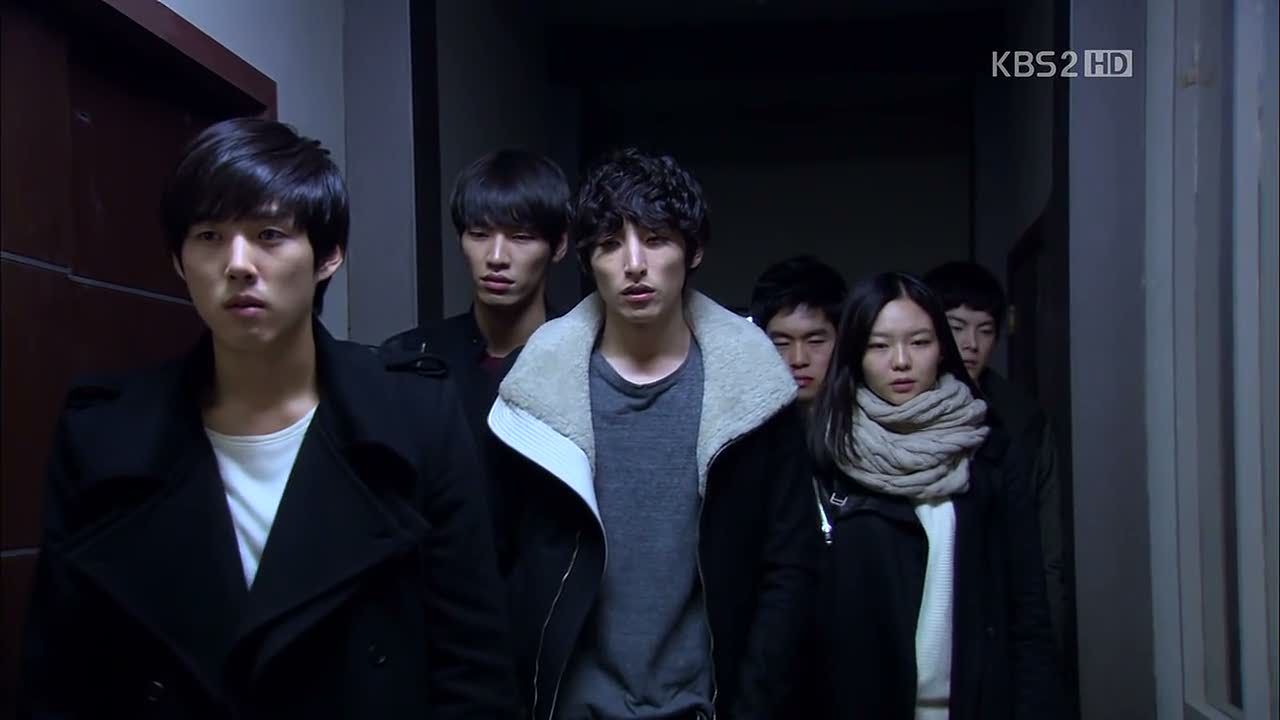 RELATED POSTS
Tags: Baek Sung-hyun, Drama Special, featured, Kim Woo-bin, Lee Soo-hyuk, Sung Joon, White Christmas