White Christmas: Episode 6
This episode is the stuff legends are made of. It's got it all – meaningful character growth, startling revelations, possible death by therapy, and enough twists and turns to last an entire series. Mad Mi-reu makes his grand return and helps to tip the scales back to the side of good, even though the lines distinguishing good from evil are getting blurrier by the hour.
Which makes this episode title perfect: "Fate does not distinguish between good or bad." Because in White Christmas, karma is for sissies.
SONG OF THE DAY
Slipknot – "Vermilion Pt. 2" [ Download ]
Audio clip: Adobe Flash Player (version 9 or above) is required to play this audio clip. Download the latest version here. You also need to have JavaScript enabled in your browser.

EPISODE 6 RECAP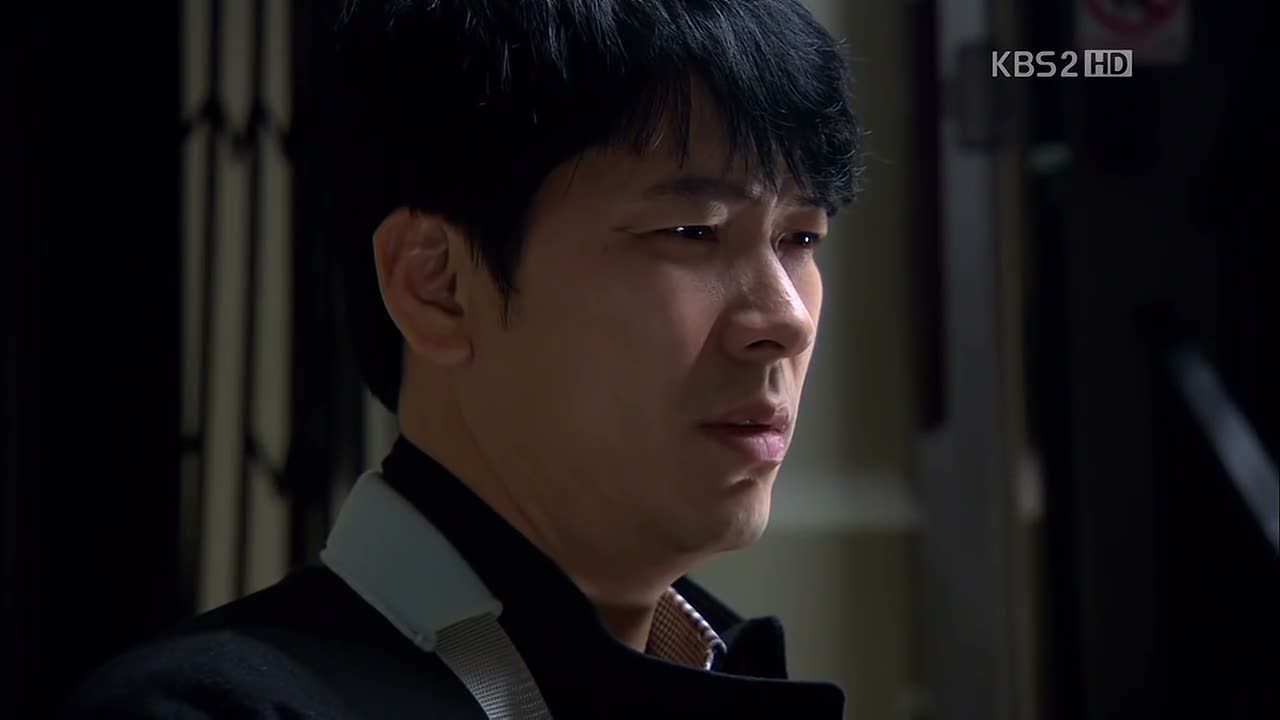 We get a peek into Doctor Kim's psyche as we hear him explain why he's chosen Susin High for his depraved games, because in each of the students there exists hatred and yearning in all its different layers. Plus, the snowstorm that's trapped them all in. Then, we hear:
"I want to know through these children the answer to an old question. Is a monster born as one, or made into one?"
Once they reach the school gates, Mi-reu and Hiker Girl hear a gunshot. He dismisses it as coming from the army base nearby (if it's that close, why didn't everyone think of going there?), and tells her that they might have to do some sneaking in, since his reputation with the school is a bit iffy.
He checks the CCTV hack in his dorm while she showers, and wonders where everyone has gone (while also giving longing glances toward the bathroom door).
As Eun-sung tries and fails to escape through the locked door, Mi-reu and Hiker bicker over an extra spicy bowl of bibimbap. Doctor Kim seems to hear them and heads toward the cafeteria, but Mi-reu ducks out of sight just in time.
Strangely though, Hiker calls Doctor Kim "Teacher". Mi-reu corrects her that he's not a teacher, just a survivor. He looks troubled, like he senses something is amiss, before he casually takes his cute cheek bandaid off and sticks it to the table they're hiding under.
Eun-sung and Moo-yul sit on both sides of the door, and the mood of defeat is so palpable that it's depressing (in a good way). I think it's extra touching that she calls him Moo-yul-ah, as a form of solidarity and closeness against the darkness they're facing.
"What should we do now?" she asks. "What should we do?"
Young-jae has his Mom nightmares again, but this time we get a look at what he's dreaming – as a child and shirtless in the cold, he'd pounded on his Mom's apartment door, crying for her.
Doctor Kim collects him from the lockdown so that Young-jae can find an extra battery for Kang-mo's hearing aid. Young-jae's confused that Doctor Kim thinks Kang-mo is "disadvantaged" without it, and Doctor Kim starts preying on Young-jae's penchant for cowardice as he asks him who he thinks sent the letter.
"What do you think will happen if this continues? Shock, anger, helplessness. What comes next? Betrayal. As time goes on, your enemy is not me, but your friends. Well, if you can call yourselves friends," Doctor Kim adds.
What he's doing is pretty smart, if you think about it. But it's also pretty devious – he'd told the boys he'd be using one-on-one counseling sessions, but it almost seems like he's cheating at his own game by planting the seed of doubt in Young-jae.
Doctor Kim: "There are two types of betrayal. Number one – one person betrays the five of you. Number two – the five of you betray one person." That's why he wants Kang-mo to be able to hear, so he can play fair.
Kang-mo tells everyone about his counseling sessions, able to answer questions that are written down for him. They figure Doctor Kim is just waiting for them to confess, but Moo-yul stops them from trying to figure out who sent the letter, claiming that it'd only be dangerous for them if they knew.
Moo-yul: "So don't tell anyone who sent the letter. Not to us, not to him. Then we will win. He said himself, the only evidence he has is a confession. If we trust each other, we can all survive this."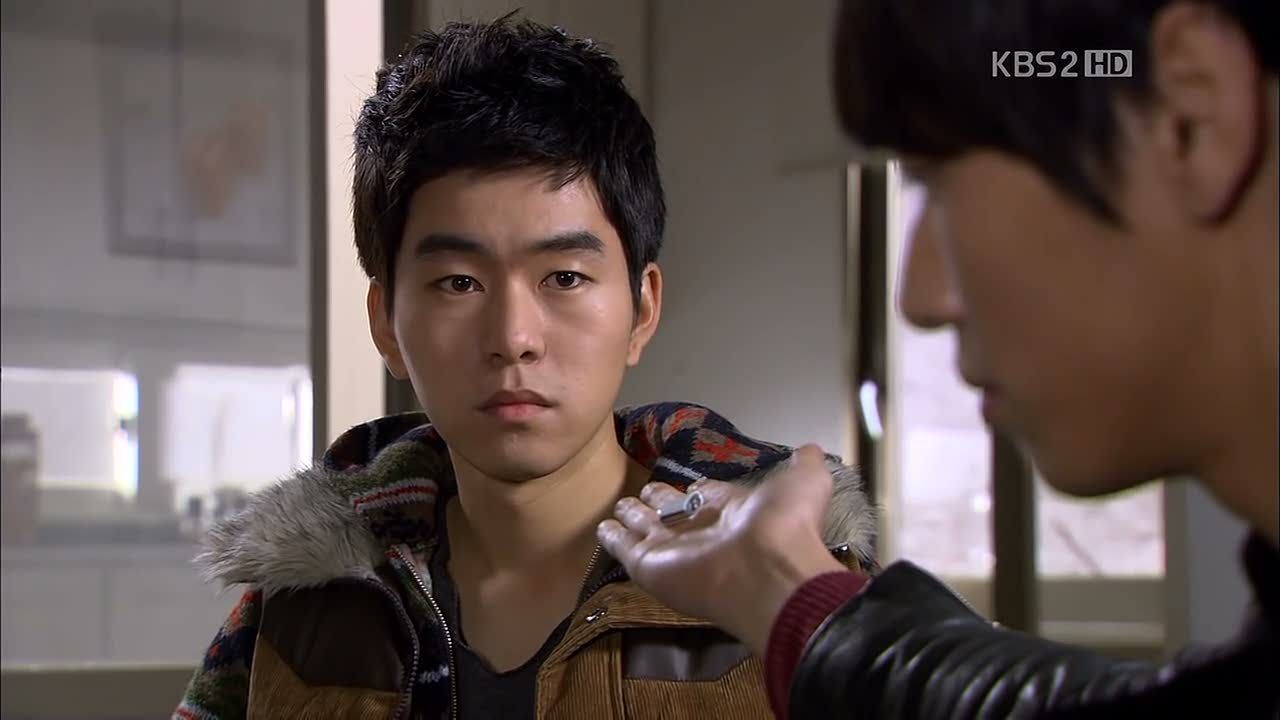 Young-jae arrives late to the meeting, and reluctantly hands Kang-mo the battery. Even though Moo-yul was just preaching about trust, he immediately distrusts Young-jae now that he's spent time with Doctor Kim. To be fair, it's warranted – it's not like Young-jae is known for being reliable.
Doctor Kim remarks on the terrible day they all had yesterday at the breakfast table, and Moo-yul shoots back: "You speak as though Choi Ji-hoon's death was our fault."
He shrugs. Assuming he killed Ji-hoon, he asks if they're all blameless – didn't they kill Kim Jin-soo? Strangely, Doctor Kim becomes more impassioned as he speaks, like he's about to lose control. Was he like Kim Jin-soo in high school?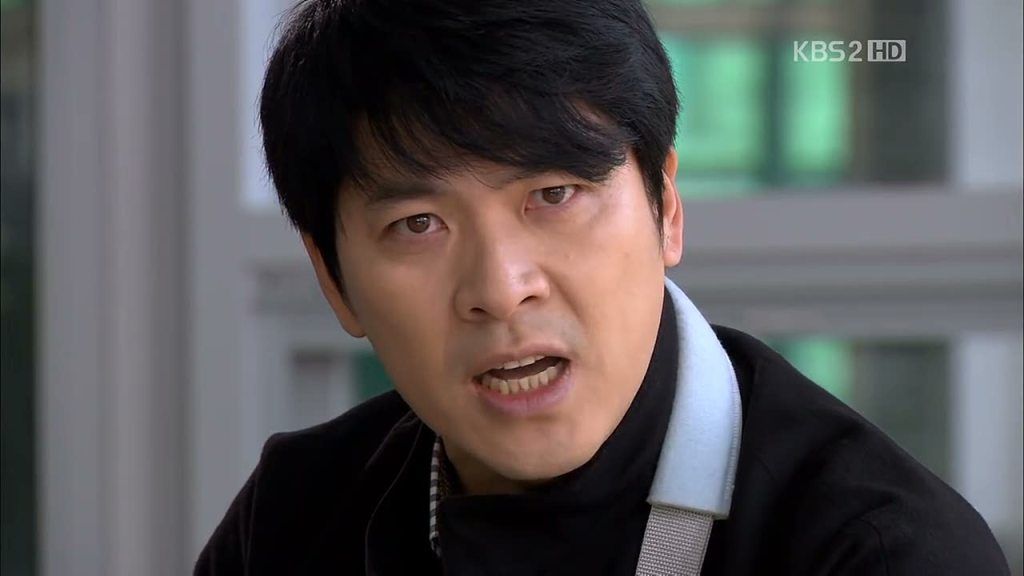 "Death is death and murder is murder," he asserts. "I killed Choi Ji-hoon because the situation caused me to. You made Kim Jin-soo take his own life, right? So don't feel upset about this situation. Let's all be punished."
While making breakfast, Jae-kyu notices Mi-reu's bandaid on the table. (Gross.)
Speaking of, Mi-reu watches everyone in the cafeteria from his laptop, but fails to notice that they're eating at gunpoint.
It's Eun-sung's turn to be handcuffed to the table, and she's discomfited when Doctor Kim tries to make small talk and fails. Jae-kyu is able to secretly show Moo-yul the bandaid by sticking it on his hand. (It won't ever not be gross.)
Doctor Kim starts creeping Eun-sung out by humming the folk song that he sang to her right before she slit her wrists, while Moo-yul and the boys are a little too quiet at the sink. Young-jae makes a startled exclamation and alerts Doctor Kim, and whatever Moo-yul was working on is hurriedly kicked underneath the table and out of sight.
He makes them all stand against the wall as he inspects the area they were working, and Mi-reu misses all of this because he's too busy showing his Elmo-impersonation skills to Hiker Girl.
Doctor Kim escorts them back to the teacher's dorms, and chooses Young-jae for today's counseling session. Ruh roh.
Jae-kyu shows everyone the bandaid and tells them that he thinks Mi-reu is back. Moo-yul gets excited since this could be a turning point for them – but only if Doctor Kim stays unaware of Mi-reu's presence.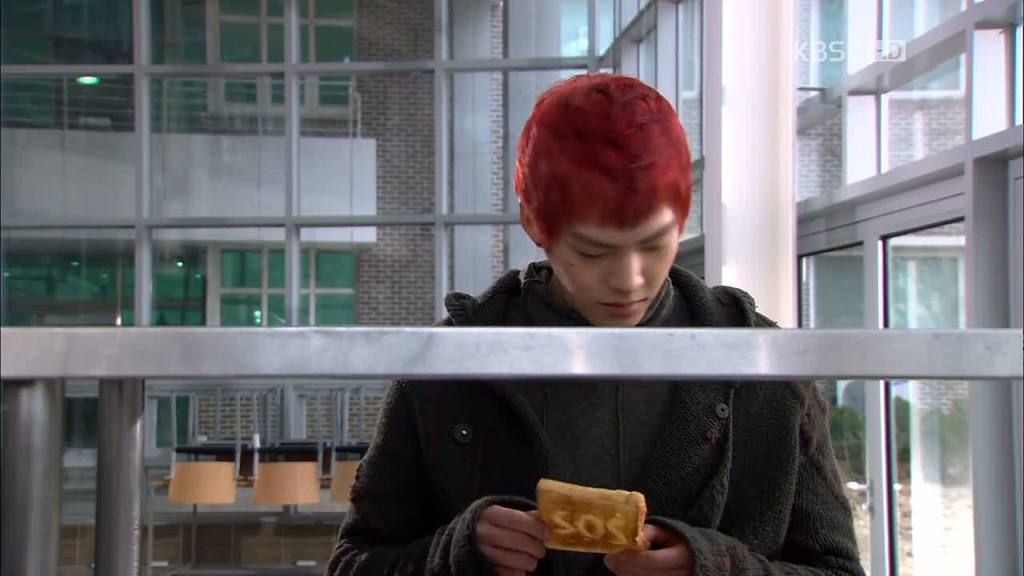 Young-jae starts telling Doctor Kim about his recurring nightmares of being punished as a child by his mom. Mi-reu takes this time to grab breakfast from the cafeteria… and is that an SOS written on his toast? Ha.
Moo-yul & Co. map out the school's layout, figuring that Mi-reu's room is across the courtyard from theirs, and that they have a chance if they throw pebbles at his window.
In the clinic, Young-jae keeps spilling his secrets but displays a lack of consistency, which Doctor Kim notes down. In one breath he can say that his mom punished him unfairly, and in the next he'll say he deserved it after all.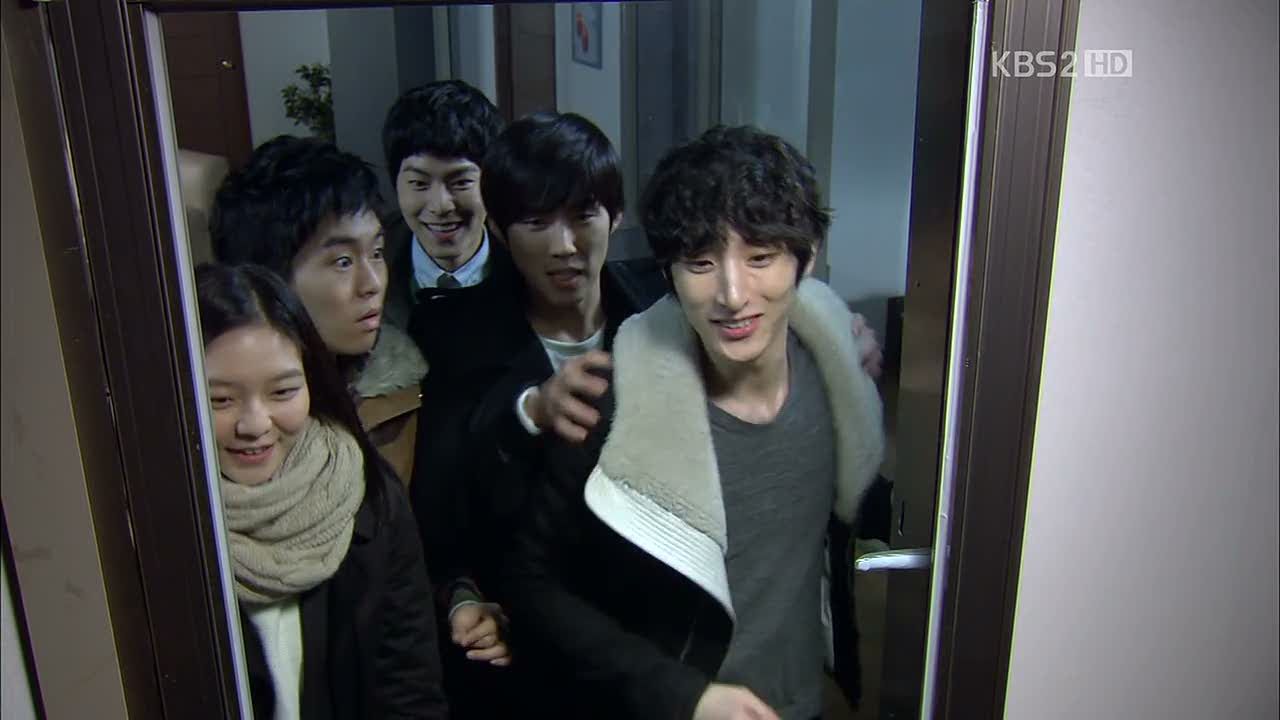 Mi-reu and Hiker Girl chow down as Moo-yul & Co. try to pelt Mi-reu's window with little success. Hiker Girl starts eating the SOS toast unknowingly, and though the boys succeed in hitting Mi-reu's window they have to hide from Doctor Kim before Mi-reu can see.
Young-jae keeps talking about his mom, finally prompting Doctor Kim to placate him by saying that Young-jae's mom is perfect. So what else?
Finally, Young-jae asks meekly, "What's wrong with me? What's bad about me?"
Doctor Kim: "You're not bad. You're just weak. If people knew how weak you are, no one would hate you."
For all of Doctor Kim's craziness, he's still insanely good at reading people. That's what makes it even sadder when Young-jae gives in to his weakness, and lies that he sent the letter. He's betraying the rest of them to save himself, which is like him, but still.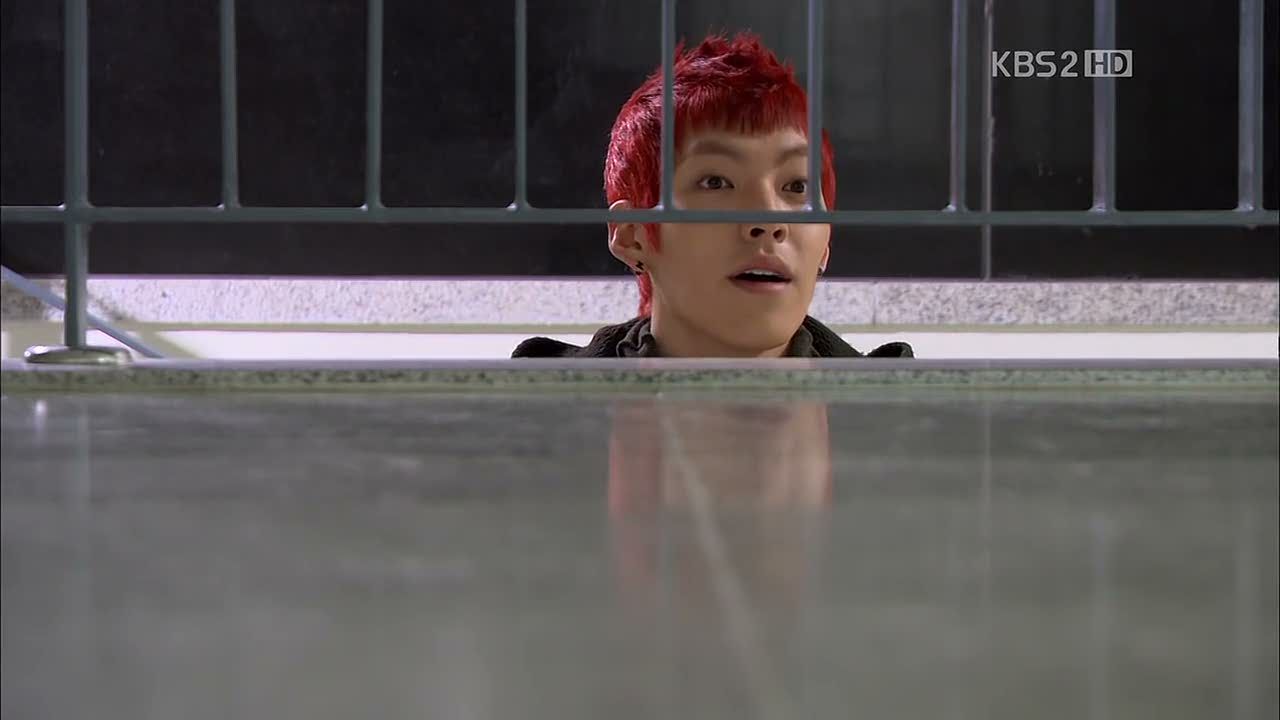 And in Mi-reu's room, the SOS toast has been flipped over. Hiker Girl sees it belatedly, but Mi-reu is already sauntering through the school like a man with a plan. Did he see the toast? He saw the toast! Team Mi-reu ftw!
Young-jae spins the obvious lie that he sent the letter to show his classmates what they've done. I'm pretty sure Doctor Kim doesn't believe him, but he goes along with it and asks Young-jae to name the most sinful classmate.
If there's one tiny light at the end of the tunnel, it's that Doctor Kim gives Young-jae the list of students he can blame – and Ji-hoon is included. I'm crossing my fingers that it wasn't just a slip of the tongue.
Mi-reu to the rescue! He's got his laptop and a lot of wires hooked up to the clinic door. Inside, Young-jae has already named the person he's ready to send to death, but we don't hear who. He's shaking, though.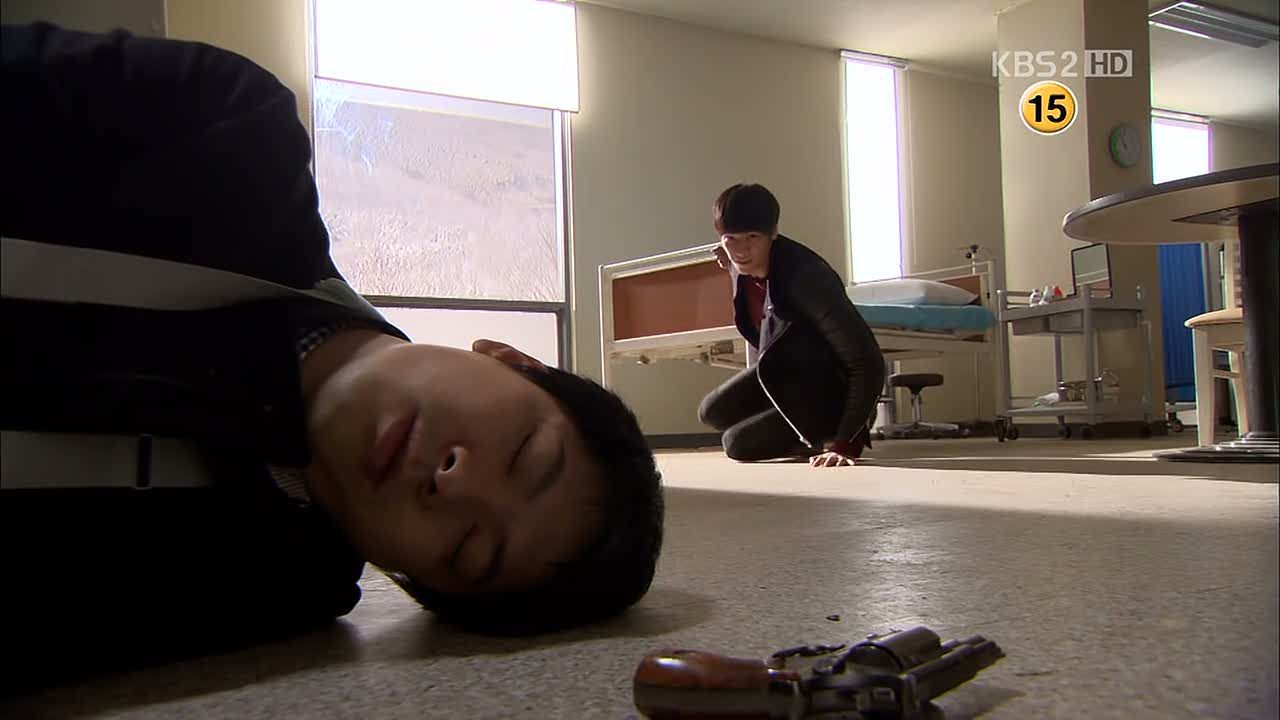 At least Mi-reu's potted plant makes sense now, because we hear it crash outside the clinic. Doctor Kim grabs his gun and heads for the door, but he gets shocked with electricity on contact with the doorknob and collapses. Mi-reu electrified the handle because he's the BEST.
The building's lights flicker as Young-jae tries to reach the gun. That's when Mi-reu swaggers in, completely nonplussed as he pick up the gun and tosses the handcuff keys to Young-jae.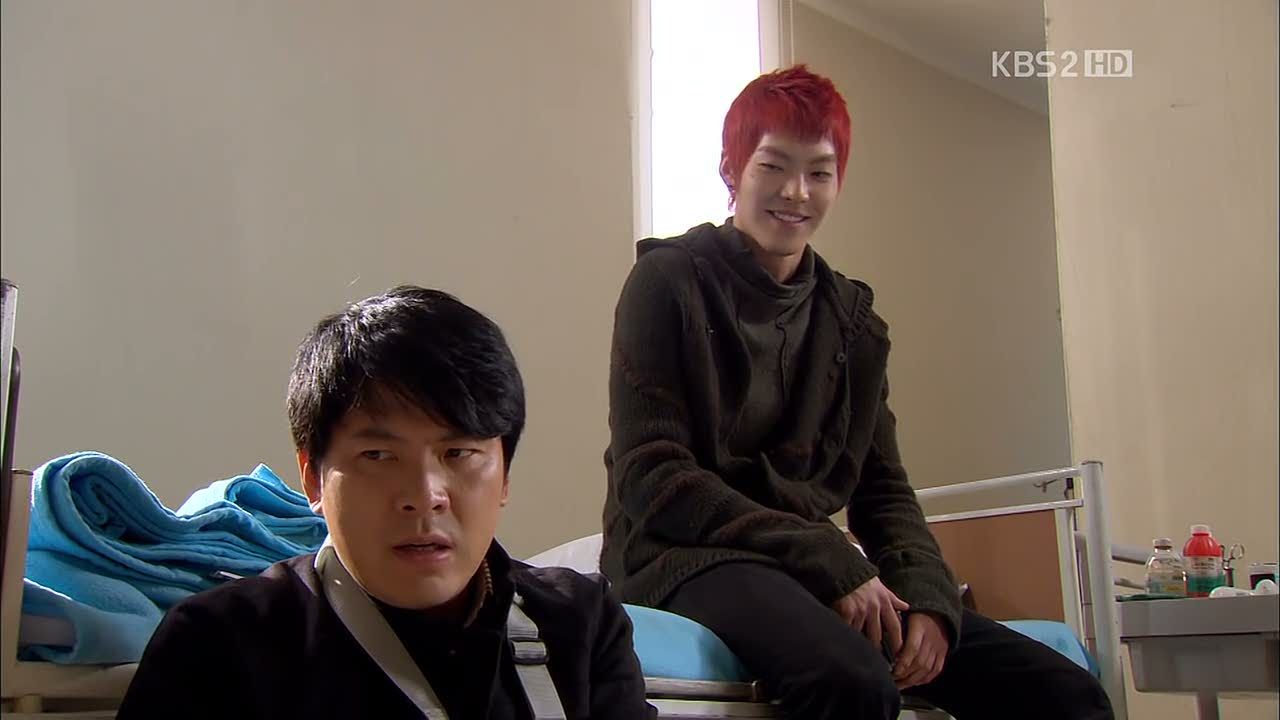 Mi-reu is more amused than anything to hear that Doctor Kim is a serial killer, and frees the rest of the group who are all chanting Mi-reu's name in sheer elation. Something is suspicious with Hiker Girl, though.
Doctor Kim comes to, and Mi-reu sits next to him holding the gun, as easy as you please. Doctor Kim'a never seen Mi-reu before, and Mi-reu calls him Mr. Serial Killer. Ha.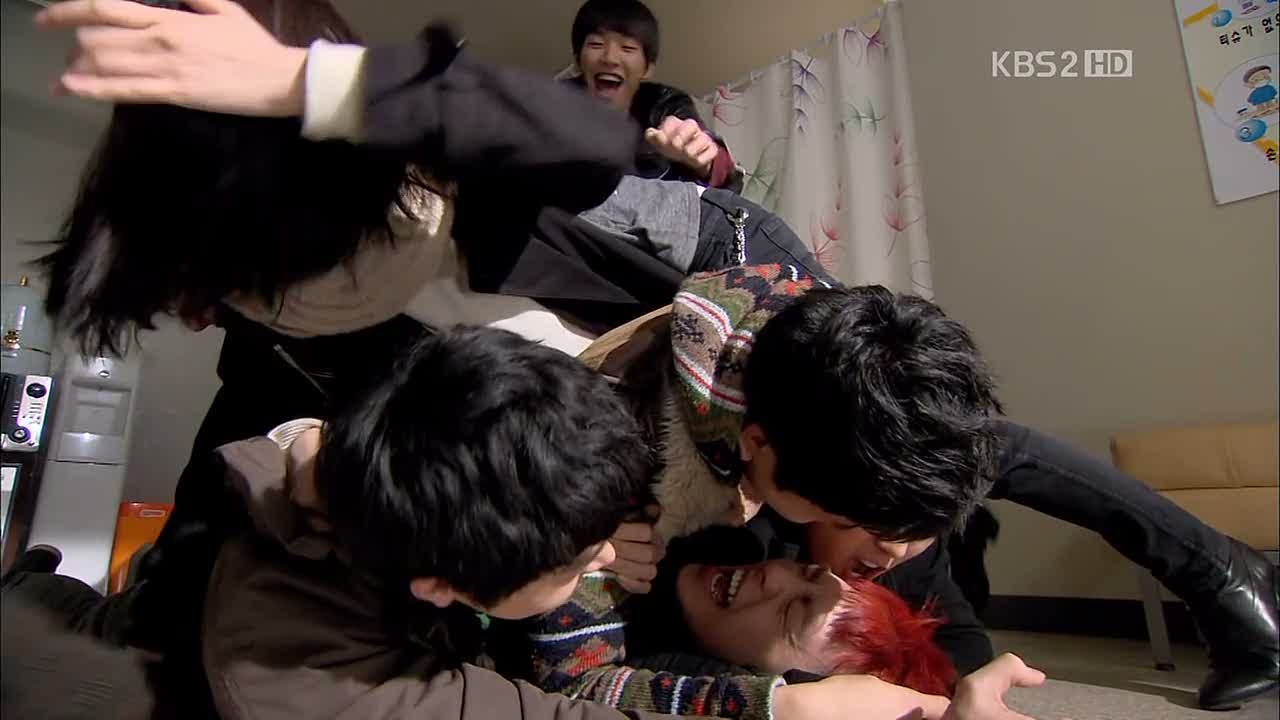 That's when the rest of our group bursts through the door to tackle Mi-reu in a dogpile of happiness. D'aww. Young-jae joins in at first, but meets Doctor Kim's derisive glance, and a look of guilt passes over Young-jae's face. That's heartbreaking. He wants to be one of them, and now he can't be?
Once they're all off him, Mi-reu asks where Teach and Ji-hoon are. That question instantly kills the mood, and Mi-reu hesitates to ask, "Are they dead?" This scene with him is beautifully portrayed; you can see Mi-reu trying to process the fact that Ji-hoon is gone, and he's just unable to do it.
Kneeling next to Doctor Kim, Mi-reu asks, "What's wrong with you? What does someone have to do to become like you?"
"You think I'm all that different from you?" Doctor Kim shoots back. "Do you know why people ask about serial killers' childhoods? They need to know in order to feel safe." He claims that monsters can come from normal childhoods, and that everyone has the potential to become a monster.
He eyes them all and says that he can see the monster in some of them coming to life, which probably hits too close to home for Young-jae, because he kicks Doctor Kim in the face. Hiker Girl screams in surprise.
Mi-reu introduces his noona as JUNG-HYE, and I love that he introduces everyone to her by grouping them as "the students" or "the serial killer". Hah.
As for the serial killer, Moo-yul and Mi-reu lock him up in the detention cell.
Using alcohol pilfered from the teacher's dorm, everyone starts celebrating. Even those who don't normally smile are all having a blast once Mi-reu starts a champagne fight. Mi-reu is the lifesaver and the life of the party, all in one glorious package.
The initial joy fades, and they start to go their separate ways. Mi-reu finds Moo-yul outside and jokingly remarks that he's sorry to him, because he'll never beat Ji-hoon now. Aww. I think these are words he wants to say to himself.
Moo-yul seems to know this, and sighs: "Choi Ji-hoon's first loss." Mi-reu: "His only loss. He'll never lose again now." Saad.
Mi-reu does his thing and tries to lighten the mood, but both of them realize it's useless. It's nice to see the two boys that probably hated Ji-hoon the most now mourning his death. They may not have loved him personally, but they respected him.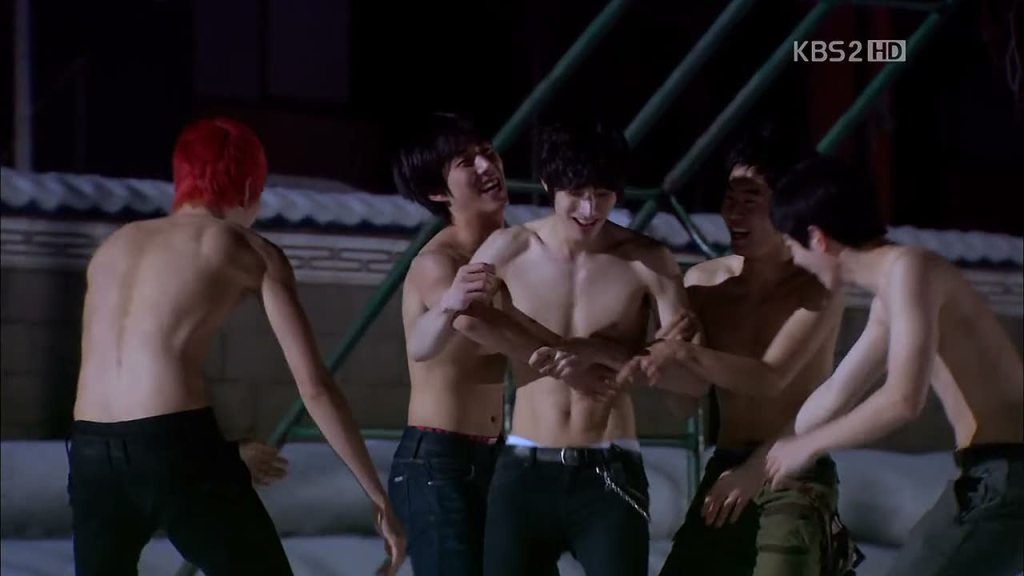 Enough is enough, and Mi-reu leads a merry rampage through the school with most of the boys. It's a celebration of life, made extra adorable because they go out and play in the snow. And take each other's shirts off. I'm not complaining, but that must have been cold.
It's sad to see Young-jae watching them from a window, clearly holding himself back from joining.
Downstairs, Jung-hye is acting kind of sketchy in commenting on Eun-sung's "white and clean" beauty, and at least Eun-sung realizes it enough to hightail it back to the dorms.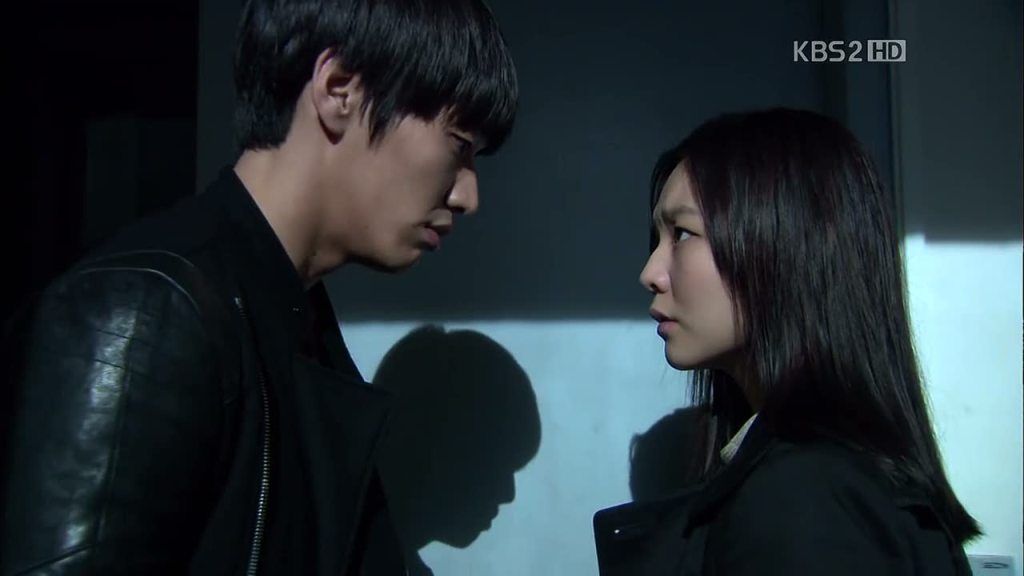 Young-jae stops her in a deserted hallway, and Eun-sung teases him at first. What does she have to do for him to stop liking her?
"Lose it," he responds, as he begins to advance on her. Real fear starts creeping into Eun-sung's gaze. "A lot more than now. Become twisted enough for a twisted boy like me to like you."
Her back's against a wall, but Young-jae can't bring himself to do anything more. "I said my name," he tells her, tears filling his eyes. "I said my name." Oh… OH! Oh no.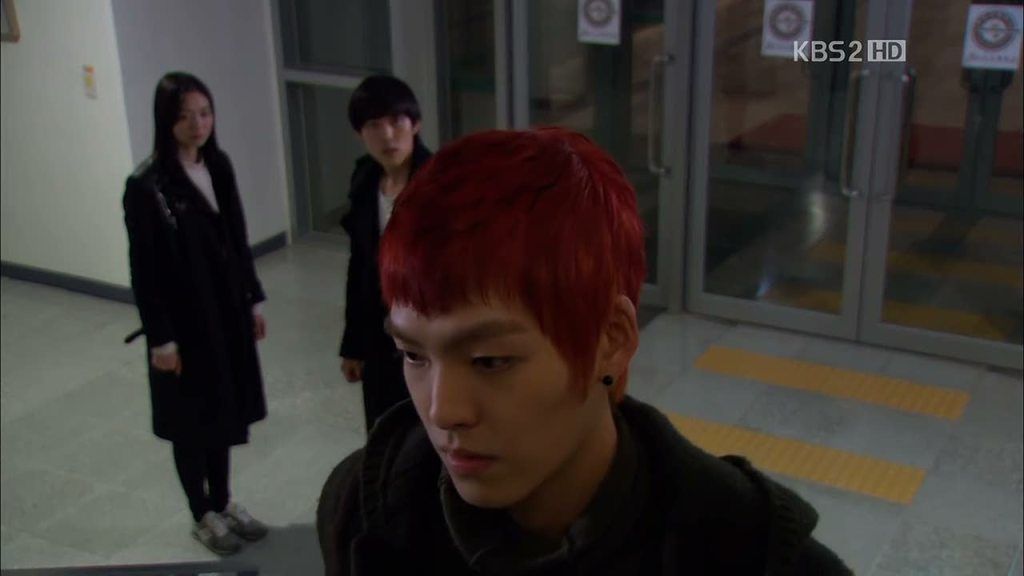 She has no idea what he's talking about, but we do – when Doctor Kim asked him to name a classmate with the most sins and one most deserving of death, he named himself. That's… terrible. But man, is that a beautiful act of redemption.
Eun-sung tells Moo-yul that Young-jae's acting strange, and he immediately thinks of the gun – only Mi-reu doesn't have it.
Doctor Kim isn't surprised when his cell door is unlocked by a gun-wielding Young-jae, who's in the midst of a psychotic break.
Moo-yul & Co. rush down to the detention cell and urge Young-jae to put the gun down. Doctor Kim eggs him on from behind: "You're used to being hated."
Young-jae: "That's right. I'm used to it. So used to it that I feel scared if people don't hate me. So I do things on purpose to be hated by others. But people hating me… and me hating myself, is different. You made me hate myself!"
He screams that last line as he levels the gun right at Doctor Kim's head. Mi-reu calls him by his name, and Young-jae fires back, "Call me the way you normally do."
Mi-reu: "What? The Plague?" He uses Young-jae's nickname calm as you please, but it riles Young-jae up in a bad way, and he turns the gun on Mi-reu. Who doesn't even blink.
There's a long, tense moment as Mi-reu slowly stretches out his hand… to reveal the bullets he took out of the gun. Mi-reu: "Do you think I'm stupid? Would I leave that loaded next to a bunch of drunks?" This. Scene. Is. Epic.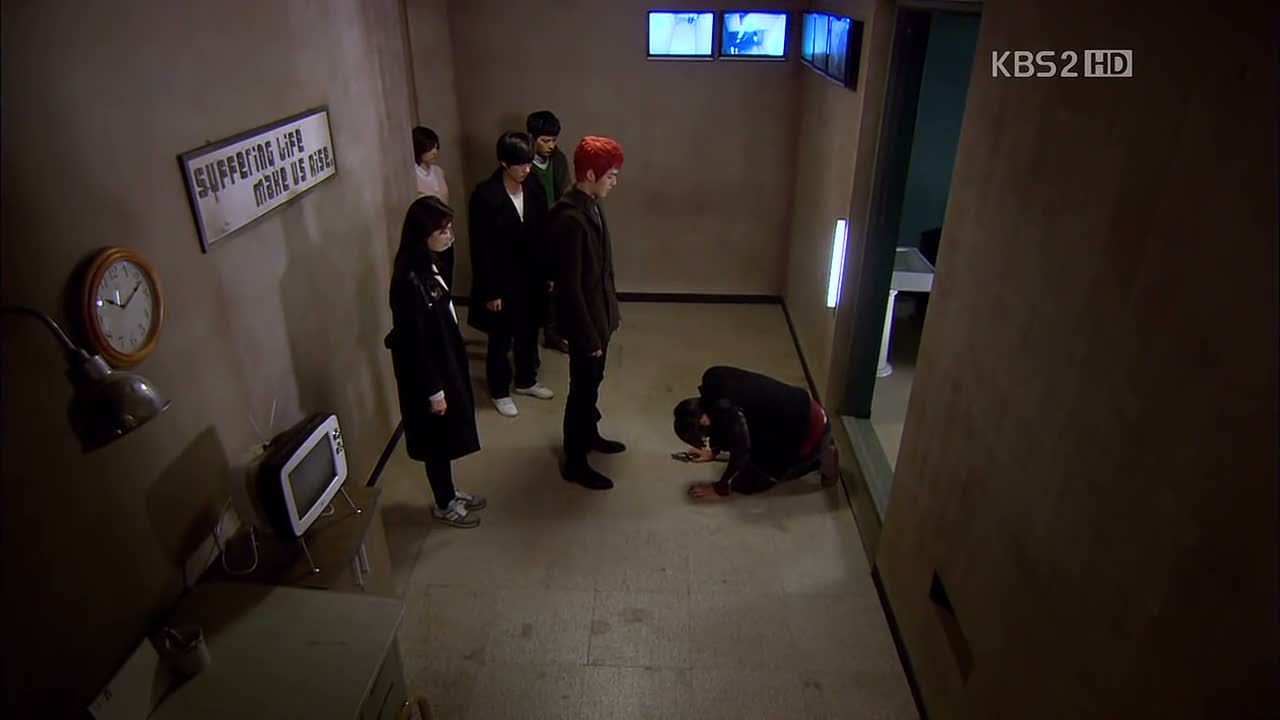 Young-jae drops the gun and sinks to his knees, crying pitifully while everyone watches. It's unnerving in the best way.
Moo-yul and Mi-reu stay with Doctor Kim, who remains tightlipped about what he said to Young-jae. But he offers a deal in exchange for having his handcuffs removed, which sends our boys running frantically until they reach a door…
…And find Ji-hoon inside, trying to escape. HE'S ALIVE! He's alive? He's alive?! He's alive! Moo-yul and Mi-reu carry him out, and their cheer is contagious – even Eun-sung envelops him in an adorable bear hug, and everyone celebrates.
Kang-mo stays behind while the others take Ji-hoon to the cafeteria, and he's so overwhelmed that he cries from happiness. Aww.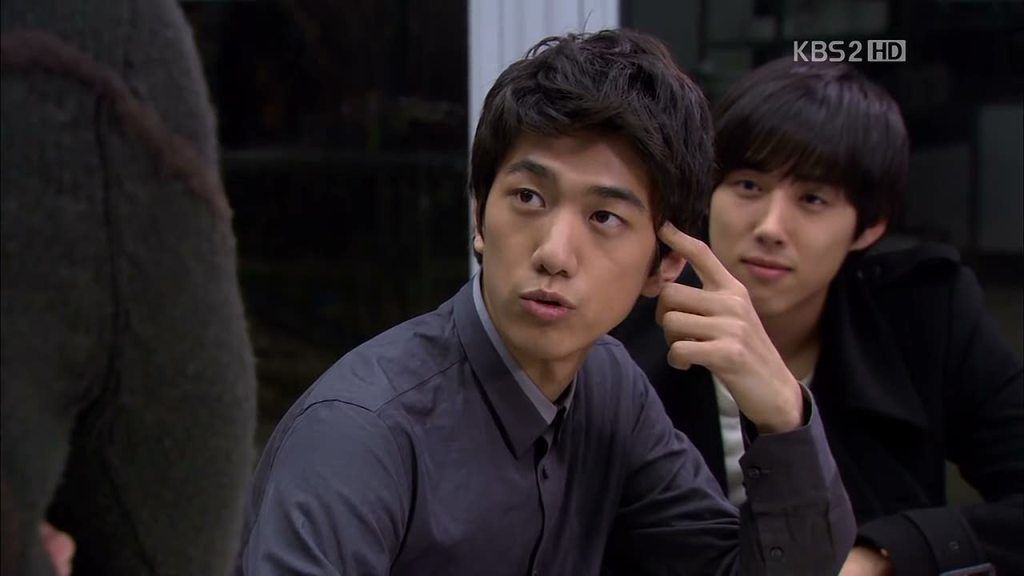 Ji-hoon chows down, and Mi-reu wonders at his lack of reaction to almost dying. Shouldn't he be bawling or something? Ji-hoon blinks at him and points to his head: "I have a problem here. My left brain. The nerves that send emotions are thinner than most."
It's so matter-of-fact, that when Mi-reu asks him to elaborate, he just says: "I can't feel emotions easily." Well, that explains a lot.
Ji-hoon asks Jung-hye for her cell phone, and claims that he can charge it even if it's out of battery. He's already making plans, and Mi-reu says in wonder, "It's a good thing I gave up early." Gave up… on competing with Ji-hoon?
Eun-sung wonders if it's all really over, and Moo-yul gives her the gun (sans bullets) so she can feel safe.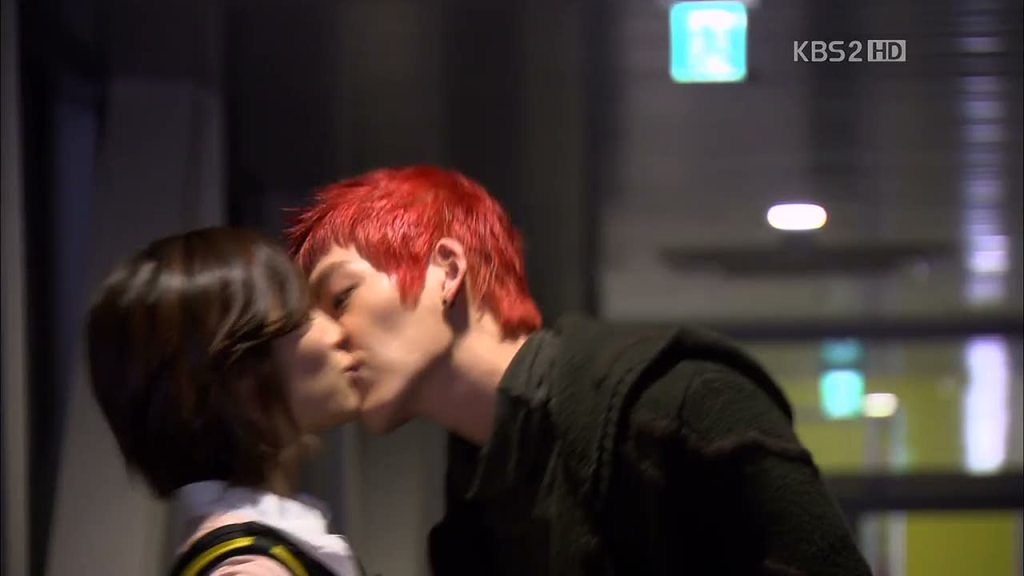 Mi-reu brings Jung-hye to sleep with Eun-sung in the girls' dorms, and wonders why Jung-hye likes her so much. She says it's because Eun-sung is pretty, so it's cute that Mi-reu comes to his noona's defense and tells her that she's way prettier and cuter.
She's in the middle of lecturing him when he steals a kiss, and I love that he backs away instantly, waiting to get hit. He's surprised when she doesn't, since she says she doesn't hit young boys for doing something wrong, and he takes that as a cue to sidle back up to her for another kiss.
And he's met with a sound beating. Ha. Jung-hye: "If you do the same thing twice, then I hit you."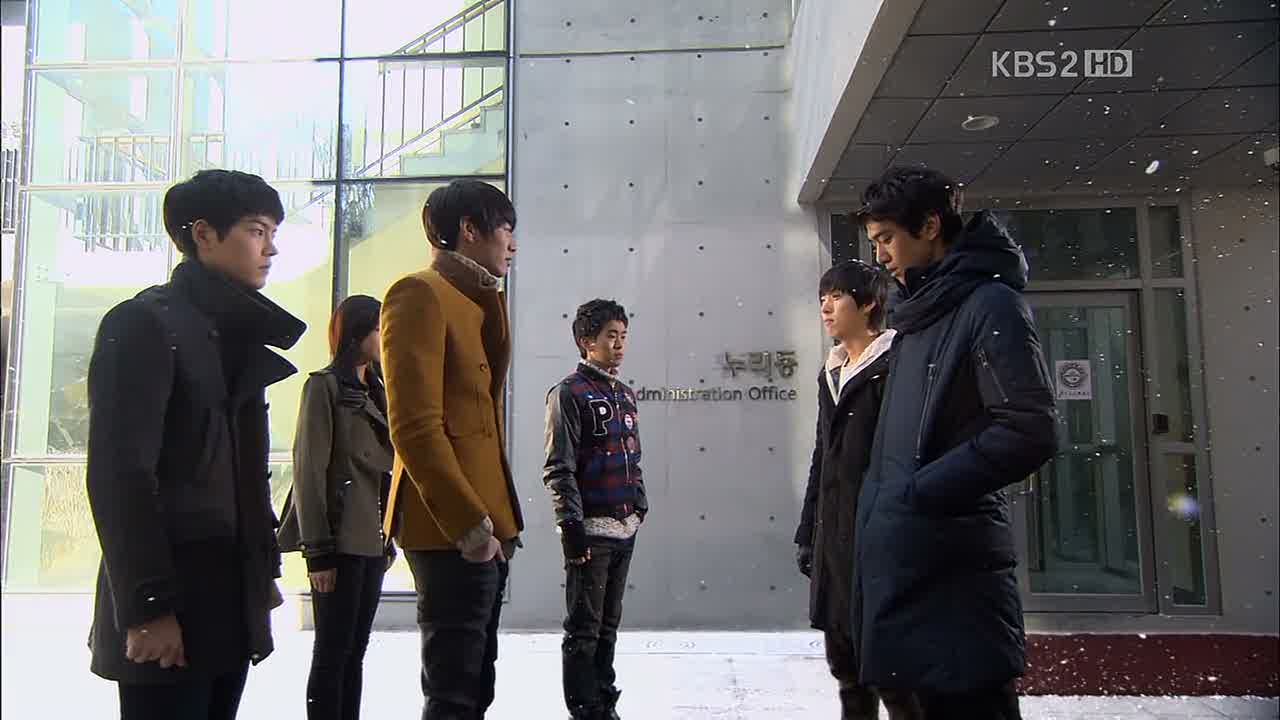 The next morning, Young-jae eases his way into the cafeteria like a scared puppy. None of the others have hard feelings and they all greet him as if last night was just a crazy drunken escapade, and Young-jae couldn't look happier to be back in the fold.
Ji-hoon rigs Jung-hye's cell phone battery, but they have to travel to a spot where they'll actually have signal in order to use it. He and Moo-yul set out for this task and claim that they'll return before dark, and everyone waves goodbye.
Meanwhile, Jung-hye takes a swiss army knife out of her bag, revealing that she did have extra cell phone batteries. (She'd lied to Ji-hoon when he asked originally.) She also fishes out the gun from Eun-sung's bed. Uh oh.
Mi-reu visits Doctor Kim's cell to tell him that Moo-yul and Ji-hoon are off to call the police, and we find our boys on the middle of a snowy mountain road. But they still don't have signal.
Back in the school, Mi-reu teases Doctor Kim by asking him how he feels about serving a prison sentence soon. Doctor Kim seems nonplussed and claims that life is full of surprises – and one can never tell what waits for them at the other end of the alley.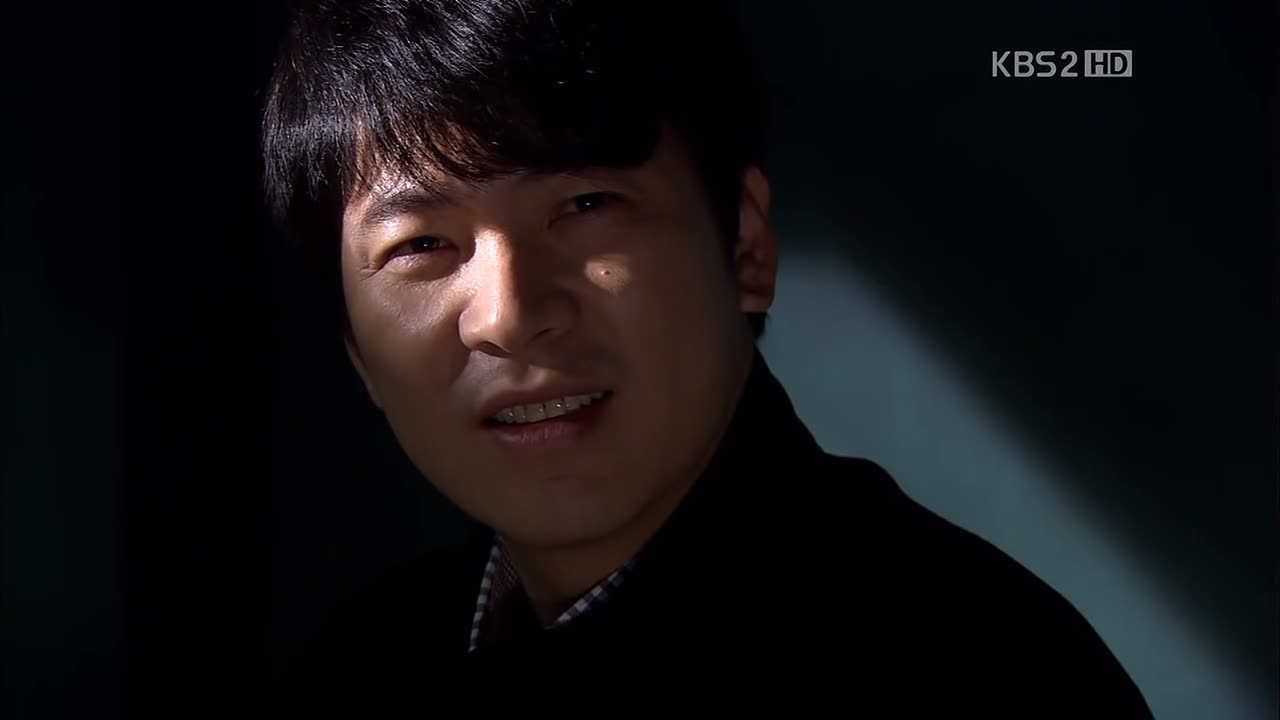 I love that Mi-reu takes that bit of philosophy and uses it to fuel his sarcasm, as he goes: "Wait… I can see! I can see many police cars at the end of the alley. And… Is that a prison?" Haha. I have so much Mi-reu love. He wonders if Doctor Kim will try to plead insanity once he's in court.
Doctor Kim: "I don't feel shame at what I have done. It's not pride, but I do feel a sense of responsibility. Murder is quite a difficult process. You can't do it without a sense of duty. So why would I lie about it?"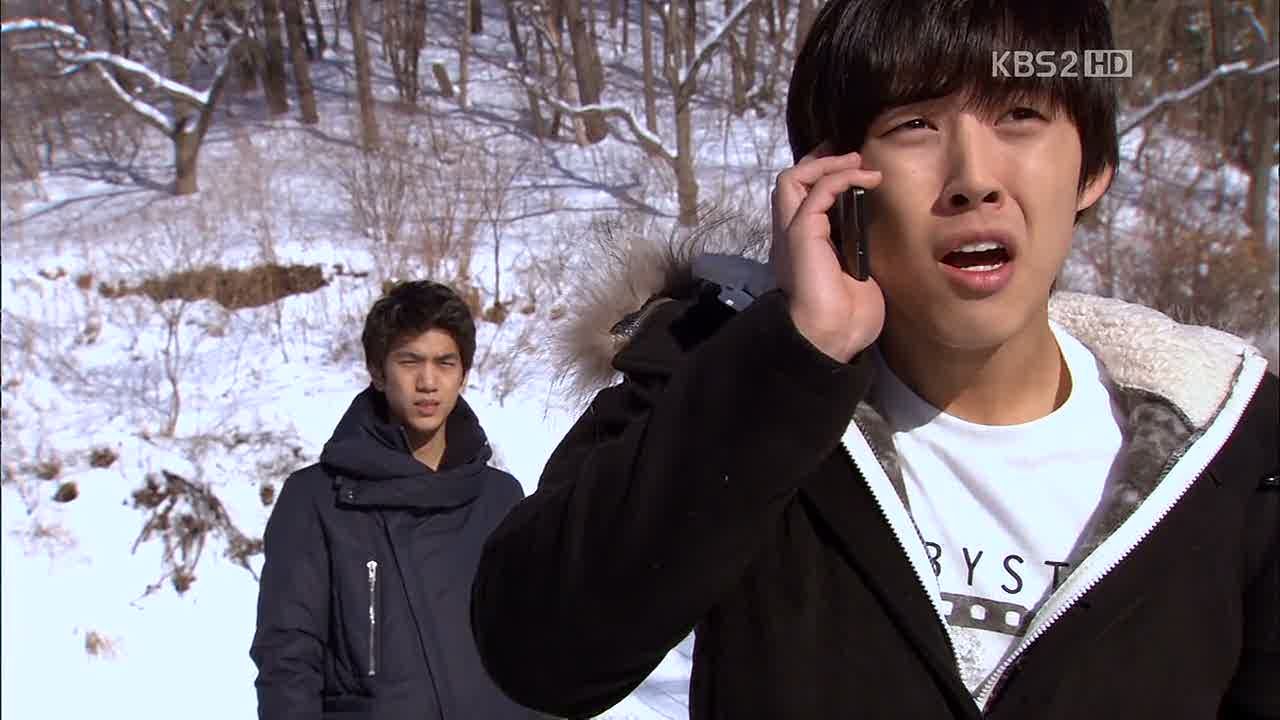 Ji-hoon tries to call the police from a cliff, and seems to get through to someone. (This is the worst case of "Can You Hear Me Now?" ever.) Eun-sung finds the gun missing from where she hid it, and as Jung-hye walks alone through the halls, we hear Doctor Kim in voiceover:
I don't pray. No, I can't pray. What reason will I give for the one high above to save me? Will I claim to be good and ask to be saved? Or ask to be pitied? Or that I'm special, so look after me? Think of someone who died today. Did misfortune come his way because he wasn't kind? Did cancer begin to grow because their life is not worthy?
The police want to know Doctor Kim's appearance, so Ji-hoon hands the phone to Moo-yul. Jung-hye heads down to the detention cell and eyes the bullets Mi-reu holds.
Their cell phone signal is lost again, and while Moo-yul tries to re-call the police he notices that the school number is in the phone… one call from Christmas Eve. The call he made on Doctor Kim's behalf, to the only contact Doctor Kim had – Jung-hye.
The horror of this realization slowly dawns on them, as right at that moment, Jung-hye uses her knife to threaten Mi-reu to hand over the bullets. She slashes at him the moment he rises, and cuts the hand he raises to protect himself. Blood sprays on the wall. Oh no!
He stares at her, completely taken by surprise. Jung-hye unlocks the cell door and calls Doctor Kim "Teacher".
So praying is meaningless. Neither God nor destiny differentiates good from evil. Like that woman, Jung-hye.

COMMENTS
Doctor Kim has remained mostly mysterious to us, especially in what really makes him tick. It's easy to make an amoral sociopath who doesn't distinguish right from wrong like he hints at with Jung-hye, but I get the feeling that Doctor Kim isn't all that amoral. He seems to know when he's committing a wrong (like murder), but he finds ways to justify his actions, so that they're wrong for his supposedly right reasons.
The only time he's really given way to the emotions he has bubbling beneath the surface was when he accused everyone of being just as guilty as he is for killing Kim Jin-soo. It makes you wonder if Doctor Kim is really doing all this just so that he'll have company in hell, which is why he wants to prove that everyone is just as awful as he is. If that happens, he'll win the game.
That's why this social experiment is so important to him, and why he wants to try and make monsters – or bring the monsters out of those who already have them. Seeing Ji-hoon alive (which was amazing) did throw a big wrench into my perception of Doctor Kim – he's a terrible person, but if he were truly bad to the bone, he would have killed Ji-hoon. The fact that he left him alive speaks to an iota of humanity he must have left somewhere. Otherwise, why bother? Why wouldn't Doctor Kim want to kill his biggest foil?
There was a lot less Moo-yul this episode in favor of Mi-reu and Young-jae, but so far I'm loving that each episode is used to show us more sides to the characters we already know. Mi-reu takes the cake as one of my favorite drama characters – ever – but he got some really necessary fleshing out this time around, with grounded reactions that fit his personality perfectly.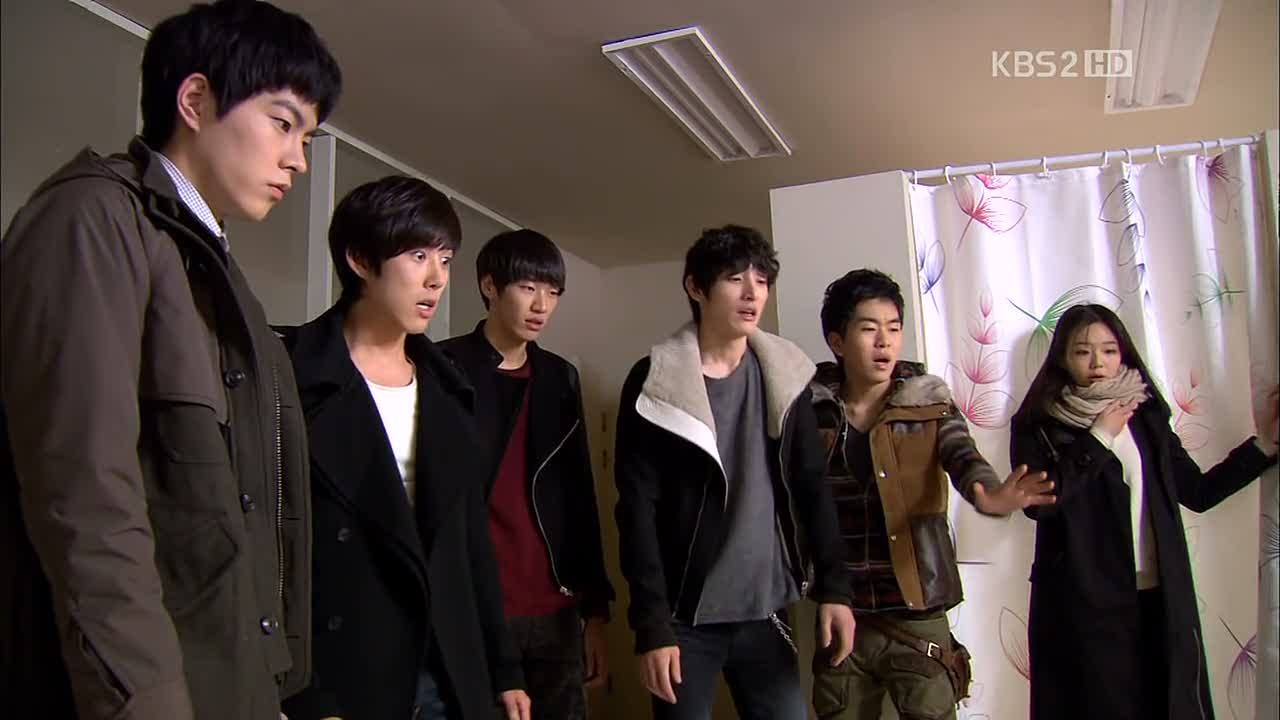 For instance, his reaction to Ji-hoon's death and how it showed that, despite the bad blood between them, Mi-reu respects Ji-hoon. We've gotten clear hints before that Mi-reu hates Ji-hoon, probably because they're alike as far as intellect goes. It's the same reason why Moo-yul hates Ji-hoon, but the difference between them is that Mi-reu has made peace with stepping back and letting Ji-hoon take the reins, while Moo-yul hasn't.
I was surprised that Young-jae's story affected me so much, since I was pretty sure I didn't like him one bit. But, much like Kang-mo, we were able to see what was beneath the surface – and Doctor Kim's words became true: "If people knew how weak you are, no one would hate you."
It doesn't excuse Young-jae's actions, but it was an incredible moment when he confessed that he actively works to make others hate him, and looked pointedly at Eun-sung. The look on her face was like she was finally realizing that maybe, just maybe, all the things he's done to make her hate him were done because he was afraid that she wouldn't love him. Which makes some sense, if you look at it from his warped perspective.
So while Doctor Kim seems like more of an 'ends justify the means' kind of guy, it's interesting that he is actually making breakthroughs with our characters on a psychological level – at least with Kang-mo and Young-jae, anyway. I don't know whether that's a good thing or not when he forces therapy upon them at gunpoint, but the fact that I'm wondering at all is a good sign.
Also, Jung-hye be cray cray.

RELATED POSTS
Tags: Baek Sung-hyun, Drama Special, featured, Kim Woo-bin, Lee Soo-hyuk, Sung Joon, White Christmas