White Christmas: Episode 7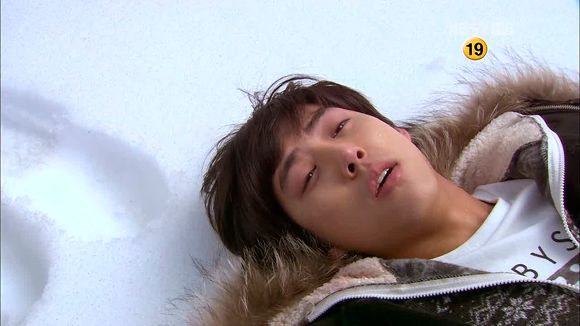 It just gets better and better. Lines are drawn and everyone crosses them, culminating in one of the most emotionally satisfying episodes in the series. Moo-yul finds himself the master of his own fate and goes with his heroic gut, which we wouldn't have any other way.
In retrospect, I only see one negative in regards to White Christmas, and that's the fact that there just isn't more of it.
SONG OF THE DAY
White Christmas OST – The Evpatoria Report – "Tayjin Kyofusho" [ Download ]
Audio clip: Adobe Flash Player (version 9 or above) is required to play this audio clip. Download the latest version here. You also need to have JavaScript enabled in your browser.

EPISODE 7 RECAP
In a flashback, Jung-hye nervously watches as prosecutors gather evidence on Doctor Kim, biting her nails until they bleed. Moo-yul's call that fateful night is what spurred her into hiking her way to Susin High, and it was her who intentionally started the avalanche that she then saved Mi-reu from.
While all this goes on, we hear Doctor Kim in voiceover:
"That woman, Jung-hye. She was my first patient. She had been sexually abused since she was a child. This has turned her into a mindless being. She shut herself off from the world like a hermit crab in a shell. A cycle of repression, escape, and bodily symptoms – and an obsession with a particular person. Just as a baby chick freshly hatched attaches itself to the first being it sees, she had become my stalker. She is my escape, but also a double-edged sword. She is my weapon. My monster. She was my question: Is a monster born, or made?"
Back in the present, Eun-sung shows Jae-kyu the spare battery Jung-hye lied about, and notes belatedly: "That woman is strange."
Doctor Kim shows a discomforting amount of concern for Mi-reu's hand cut, and claims he got off lucky. He shows his own hand scar, also caused by Jung-hye, only he had to go through three hours of surgery to fix it. Jung-hye murmurs a psychopathic apology.
Mi-reu tries to warn Eun-sung and Jae-kyu before they arrive, but he's too late. Jung-hye aims the gun at her new hostages, while Yoon-soo sees the monster in the corner playing hide-and-seek in the cafeteria.
Jung-hye sets Doctor Kim's shoulder back in place, and immediately apologizes for causing him pain. Mi-reu looks royally pissed as he stares out at them from the detention cell while Jae-kyu tends to his hand.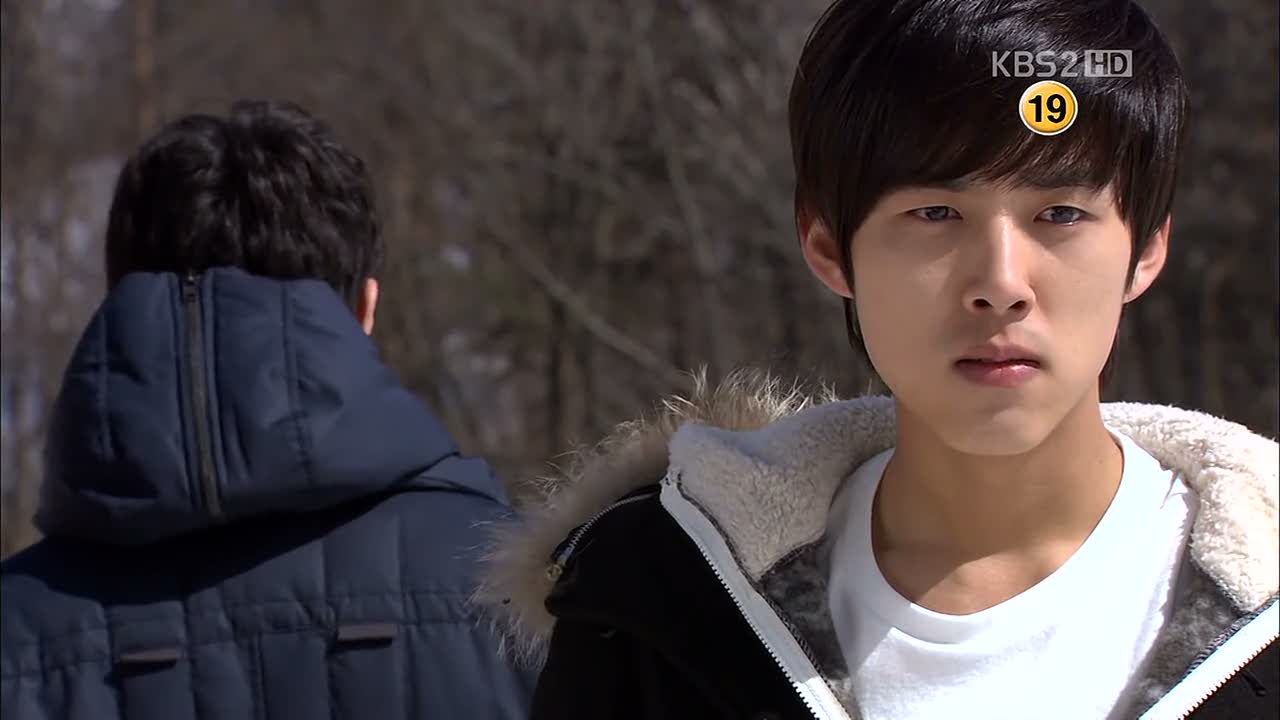 Now knowing Jung-hye is at the school, Moo-yul begins to trek through the snow to make it back. Ji-hoon tries to stop him – what can they do? "The gun," Moo-yul stresses. Ji-hoon: "You have the gun." Except he doesn't, and Moo-yul's guilty look proves it.
Kang-mo is able to hide from Doctor Kim while he watches the news, where police have caught a criminal that they believe to be behind the recent serial murders. Doctor Kim scoffs and smirks all at once, because time and time again, fate has worked in his favor.
Things hit a boiling point as Ji-hoon wonders why Moo-yul would have given Eun-sung a gun without bullets, to which Moo-yul throws back, "Not everyone is like you. Do you think we all think with our minds and not our hearts?"
Ji-hoon seems genuinely surprised that Moo-yul is lashing out, but isn't able to pick up on the social cue that Moo-yul is about to pop as he continues on about Eun-sung being Moo-yul's blind spot, which ends when Moo-yul launches himself at Ji-hoon and tackles him to the ground.
Moo-yul lands some punches and grapples Ji-hoon to his feet before pushing him away, unknowingly sending Ji-hoon tumbling down the hillside. Eek.
Doctor Kim lets everyone out of the cell except for Mi-reu, who finally asks what he wants with them.
He tells Mi-reu that it all started when Ji-hoon heard the serial killer news (not knowing it was Doctor Kim, of course) on the radio and asked, "Are monsters like him born or made?" Doctor Kim realized that was the question he'd been wondering all his life, and Ji-hoon finally put it into words.
Doctor Kim: "Me, serial killer Kim Yo-han. Was I born that way, or was I made? So I'm doing an experiment. With all of you, the most gifted children in this country. If I can provoke you to turn into monsters, then monsters are made. If my experiment fails, monsters are born that way."
A bit of wandering-eye psychosis filters into his gaze as he adds that in a few of the students, incubation has already begun.
We find Moo-yul calling down the cliff to Ji-hoon, who's suffering from a severely broken leg. Moo-yul sinks to his knees, lost.
Doctor Kim keeps Eun-sung at gunpoint and gives Jae-kyu thirty minutes to find Young-jae, or he can run away and let Eun-sung die. As to the 'why', Doctor Kim explains that Young-jae confessed to sending the letter, which he has no evidence to disprove. Jae-kyu knows that it's a lie, considering he's the actual sender.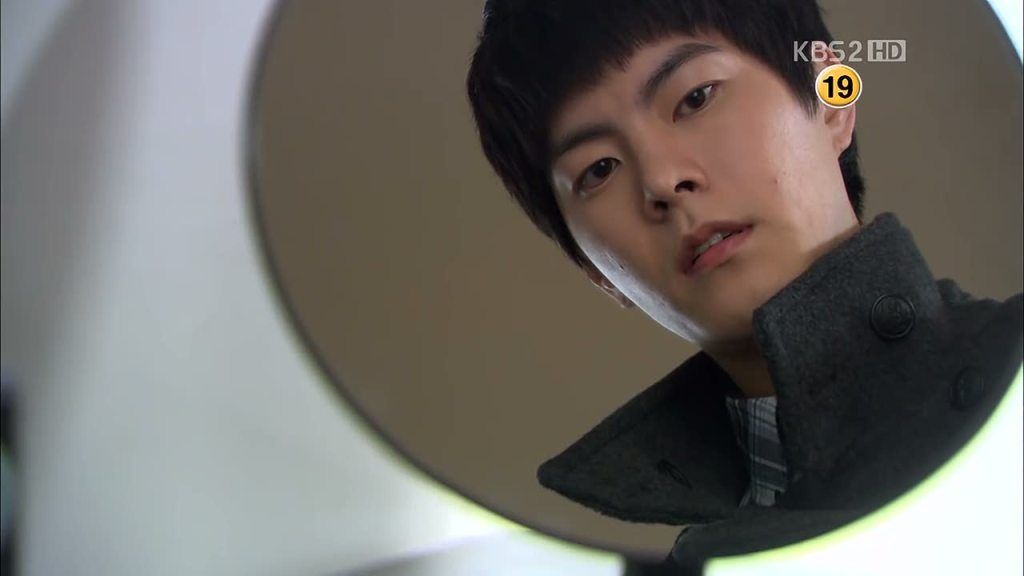 Jae-kyu instead goes to his room to find Kim Jin-soo's diary, and steels himself. Is he thinking of discrediting Young-jae's claim?
Moo-yul just watches as Ji-hoon tries and fails to get up, and in a sad way Ji-hoon seems to realize Moo-yul isn't going to save him and bundles himself up against the cold.
Jung-hye doesn't seem to understand why Mi-reu is less than enthused about her origami skills, and belatedly apologizes for cutting him. She assures him that nothing bad will happen even though he thinks Doctor Kim will kill them. Jung-hye: "He won't do that. You and Eun-sung are all good kids."
But Mi-reu presses her. "What if he does kill us?" Jung-hye blinks at him vapidly before deciding, "Then you're not good kids." There's no reasoning with crazy people.
Jae-kyu readies himself for what's coming and tucks Kim Jin-soo's diary into his coat. Doctor Kim seems almost giddy for who's monster will emerge first, even though Eun-sung claims that none of them could hatch a monster quite like Doctor Kim.
"No living organism is born complete," Doctor Kim reminds her. "They all grow." But he's most excited to see Moo-yul turn into a monster, despite Eun-sung's claims that it would never happen. Why? Because his mother died after rescuing him, or so Doctor Kim read in his records.
He narrates the story of Moo-yul's mother as Moo-yul struggles to find rope to save Ji-hoon. "I can make a bet on it," Doctor Kim assures her. "Once his monster is awakened, it will be much bigger and greater than all of ours put together."
Jae-kyu fetches Young-jae from the school movie theater with a lie, while Ji-hoon continues to freeze.
Moo-yul happens upon the crashed police car that set Doctor Kim free, and finds both rope and an empty gun. He pauses once to look at the frozen corpses, as the only tiny moment of respect he can give.
Yoon-soo visits Doctor Kim for some therapy, and tells him that the Corner Monster has started counting numbers. Yoon-soo says it's to put pressure on him into remembering, so that he can find him quickly.
Doctor Kim takes out his hypnotizing pen and taps it on the table. It works like a charm on Yoon-soo, and Eun-sung eyes this all suspiciously.
Meanwhile, Jae-kyu keeps having trouble in bringing Young-jae to the good doctor, and eventually tries to hit him in the head with a stick. It crashes into the bathroom mirror instead, sending Young-jae running with Jae-kyu hot on his heels.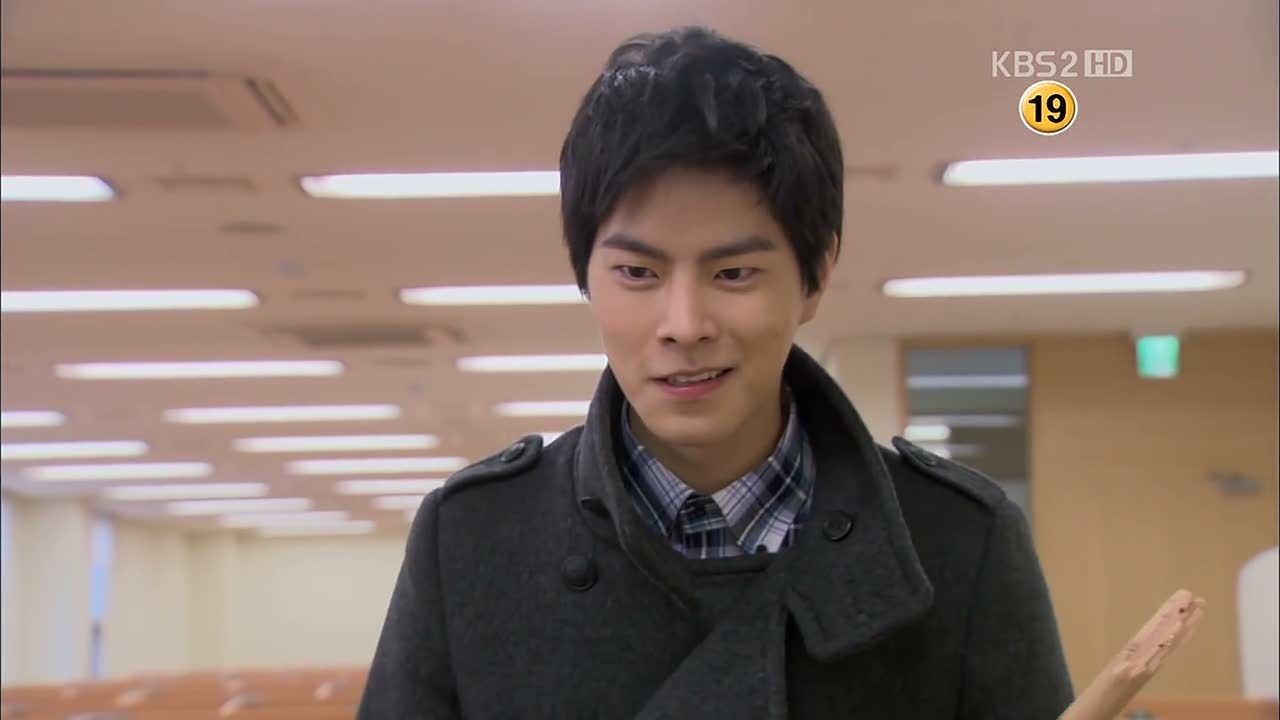 It's really interesting to see this change come over the usually-meek Jae-kyu now that he's the one wielding a weapon, and he seems to enjoy hunting Young-jae down a bit too much. "The doctor wants to see you," he taunts, as he searches for Young-jae row by row in the library.
He's honestly surprised that Young-jae would confess to save his own skin, but his fate takes a turn once Young-jae fools him and tackles him to the ground.
He beats Jae-kyu until his mouth is bloody, screaming, "I told him I sent it so I could live! The rest of you talked among yourselves. You all thought about how you could survive, too. Is it proper when you do it, but wrong when I do?!"
Ji-hoon looks like he's slowly freezing to death, and begins to succumb to hypothermia before his lifeline – Moo-yul's rope – lands nearby. Ji-hoon ties it around his torso while Moo-yul rigs a pulley system and starts to haul him up the side of the cliff, one hard pull at a time.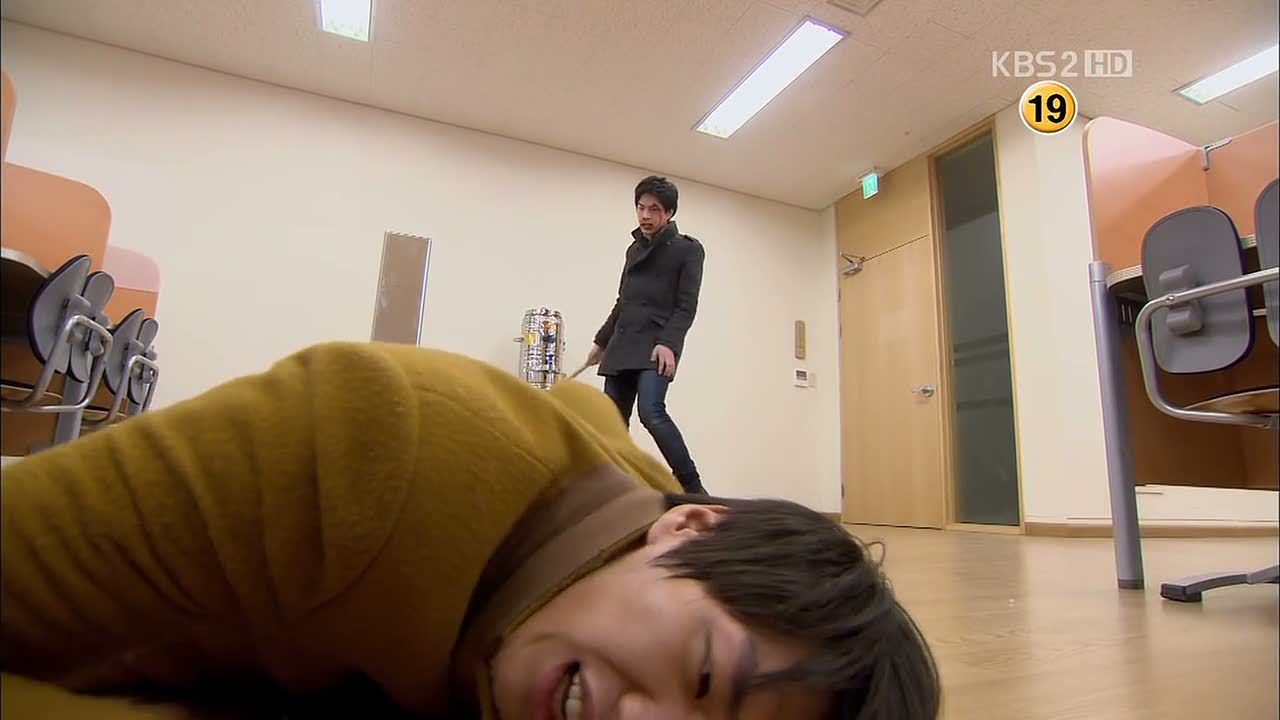 Jae-kyu's face is a bloody and bruised mess thanks to Young-jae, who consoles himself by saying that Jae-kyu would let someone else die in his stead, too. "I wouldn't do that," Jae-kyu practically gargles through the blood in his mouth, but it gets Young-jae close enough for Jae-kyu to hit him over the head with the stick. Ouch.
He hits Young-jae again, sending him sprawling to the floor. Then he hits him with the stick again. And again. And again. It's ironic that Jae-kyu protests the entire time, "Not me! I wouldn't! I'm not you! I wouldn't do that! Not me. Not me. Not me!" as he grows more violent, and Young-jae's cries grow fainter with each swing of the stick.
Moo-yul thinks back to all the times Ji-hoon's one-upped him, and Young-jae's telling words: "A born genius that Park Moo-yul can never beat. You want to kill him, right?" And at those words, Moo-yul's grip loosens a little on the rope, sending Ji-hoon sliding back down.
It's an awe inspiring and almost frightening moment as we see all these warring emotions – to leave Ji-hoon, or to save him – play on his face. It's the moment of decision for him, since he could just let the rope go…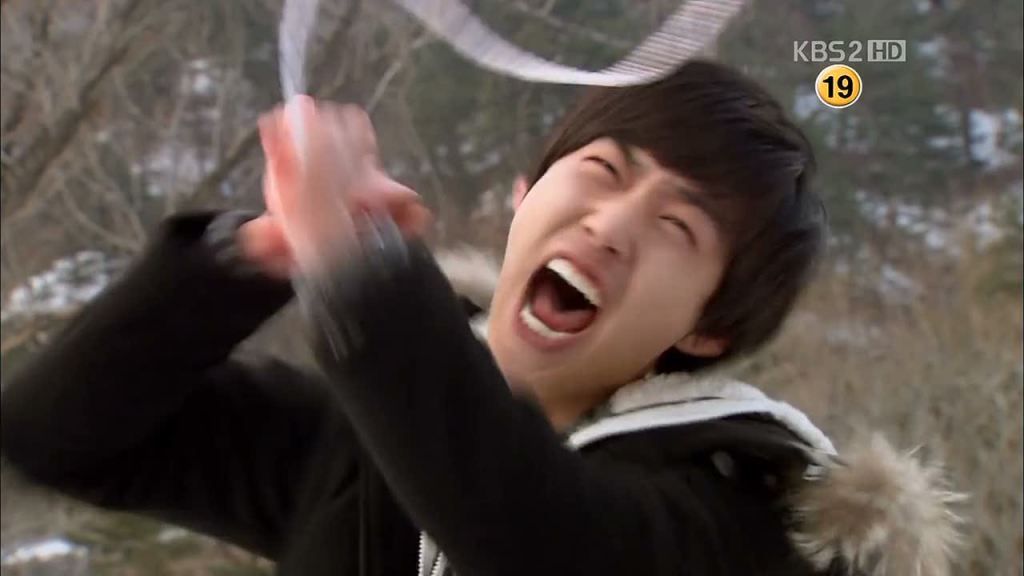 But Moo-yul is better than that, and lets out a cry as he grasps the rope tighter and begins to pull again, the rope wearing into his hands so much that he bleeds.
Meanwhile, Jae-kyu beats Young-jae until the stick breaks, and contemplates bludgeoning him to death with something heavier before he sees his own blood-covered reflection in a mirror. Having seen what he's become, he drops to the floor and slowly curls into a fetal position.
Moo-yul literally sheds blood, sweat, and tears in hauling Ji-hoon to safety, and collapses right after, fighting tears. We don't know exactly what's going on in his head, but we can take a guess. And that's what makes this moment both beautiful and harrowing. (And a stellar performance, to boot.)
However, the normally emotionless Ji-hoon seems to be fighting back tears. "I thought you wouldn't come," he admits. And Moo-yul's conflicted emotions in saving him give way, so that he looks at the real, raw Ji-hoon for the first time with new eyes.
Doctor Kim uses hypnotization to lead Yoon-soo through his memories, until he confronts the closet door containing the monster. At Doctor Kim's insistence that he open it Yoon-soo wakes up, and calmly tells him that he wants to stop.
This jars Eun-sung's memory: "You've done that to me before." Doctor Kim admits it with a shrug, explaining that she reacted well to hypnosis while Yoon-soo didn't. Eun-sung: "Did you tell me to slit my wrists after hypnotizing me?" Doctor Kim: "It was part of the therapy." Say what, Crazypants McGee?
Eun-sung is outraged, especially when Doctor Kim tells her all the things she confided to him while hypnotized – like why she hates herself, her respect towards her mother, and her mother's affair.
She throws a cup at him, which instantly has Jung-hye vaulting over the table, grabbing her hair, and smashing her face. Doctor Kim has to call her off like a rabid dog, and Jung-hye relents.
Doctor Kim finally explains that the only cure for Eun-sung's cry-for-help suicidal tendencies was for her to actually experience what death was like. "You don't talk about wanting to die after that, right?" Well… that makes sense. In a super twisted way.
Eun-sung stays silent, so Doctor Kim goads her that if she still wants death, he'll make it come true. He aims the gun at her head.
And Moo-yul seems to sense that something's wrong as he supports Ji-hoon on their trek back to the school.
Doctor Kim gives Eun-sung until the count of three, and at the last moment she tearfully exclaims: "I want to live. I want to live. I don't want to die. I want to live with my mom, no matter what. So, save me. Please, save me!"
He pulls the gun away and smiles. End of therapy.
Only, he levels the gun at her head again, and expresses that it's a pity… but Young-jae confessed to writing the letter and named her as the one with the most sins. Whoa. I should have known, but still. Whoa.
Young-jae and Jae-kyu have arrived in the meantime, and Young-jae blankly stares forward as he tells her why he picked her: "Because I hate you. I hated you with Moo-yul. I also hated you after you broke up with Moo-yul. I hate the way you ridicule me. I want to kill you because you pity me."
Seriously, Young-jae? That's all the reasoning you need to kill a person? However, just as Doctor Kim readies to shoot Eun-sung, Jae-kyu steps up with the diary and confesses that he actually sent the letter. Why?
"The buried sins, of course," Jae-kyu says. "Someone died, but no one felt guilty about it. That made me mad."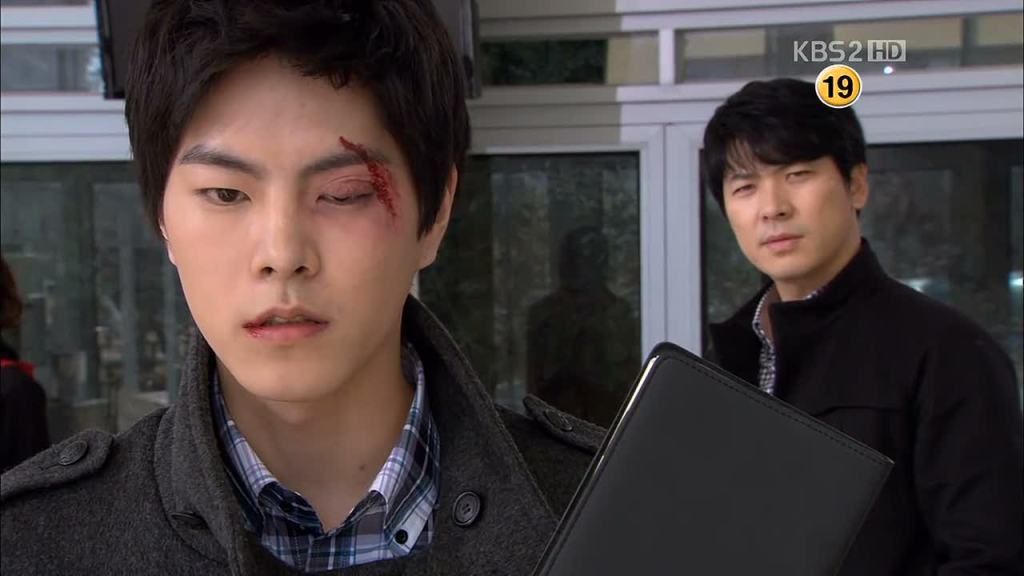 So Doctor Kim then gives Jae-kyu the choice: Who is the most sinful? Jae-kyu tells him to wait until everyone is present, though Doctor Kim thinks he's just stalling for time. He manages to convince our good doctor that having only three students present is no fun, and that Moo-yul and Ji-hoon will return by nightfall.
Yoon-soo tips over in his chair and collapses, and somehow that prompts Doctor Kim to agree to stall the proceedings until seven. He escorts them back to the teacher's dorms and locks them in.
Unfortunately, Jae-kyu's planning doesn't go any further than buying them time. But it affords an interesting peek to his thought process as he tells them, "I dreamt about this situation. Everyone listening to me and watching my every move. The moment I became the center of attention."
So he's like a darker version of Moo-yul, basically. And that's fascinating. But he won't relent in his belief that all of them are to blame for Kim Jin-soo's death.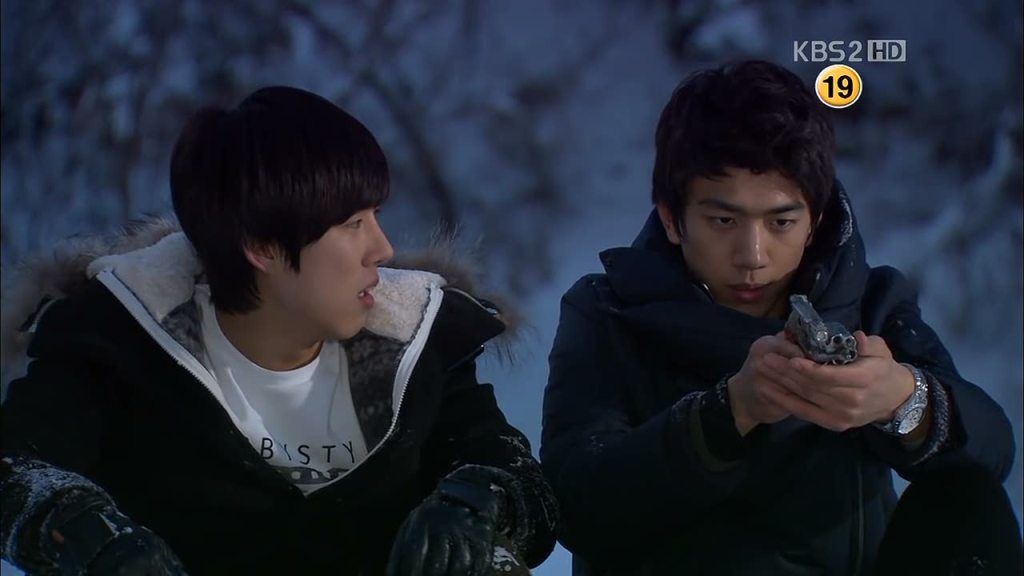 Moo-yul and Ji-hoon take a breather before they reach the school gate, with Moo-yul showing him the gun without bullets. They're freezing, and are unable to get inside unless someone opens the door for them.
Deciding that being shot to death is the same as freezing to death, they prepare to alert everyone to their presence just to get inside, before Moo-yul stops at the statue of the school president like he's just realized something.
In the teacher's dorm, Mi-reu asks Jae-kyu what he plans to do next. "I think keeping a secret is a difficult thing," he sighs. "I think that's why I've grown tired before the rest of you. All I want is for this to be over quickly."
However, they spot Moo-yul outside as he writes 'Secret Passage' into the snow. Mi-reu & Co. can't open the windows due to the alarms, so Mi-reu uses lipstick to draw a map of the passage on the window. Mi-reu's awesomeness strikes again.
Moo-yul uses the same ridiculously large air ducts Mi-reu used to get himself and Ji-hoon inside the auditorium. Kang-mo hides up in the rafters and watches them without alerting them to his presence.
They use the CCTV hack to pinpoint Jung-hye in the cafeteria, and Moo-yul sneaks up on her and hits her over the back with a two-by-four. It's the only hit he gets in, since she easily disarms him and beats him into submission.
She starts dragging him off, but Ji-hoon's commanding voice calls out from behind him as he levels the empty gun at Jung-hye. So. Awesome. He could tell Moo-yul was in trouble from the CCTV, and even with his broken leg, he came to the rescue. My boys are all growing up. (*tear*)
He acts like there are bullets in the gun, and is convincing enough to get her to let go. Moo-yul ties her hands and heads off to get the others…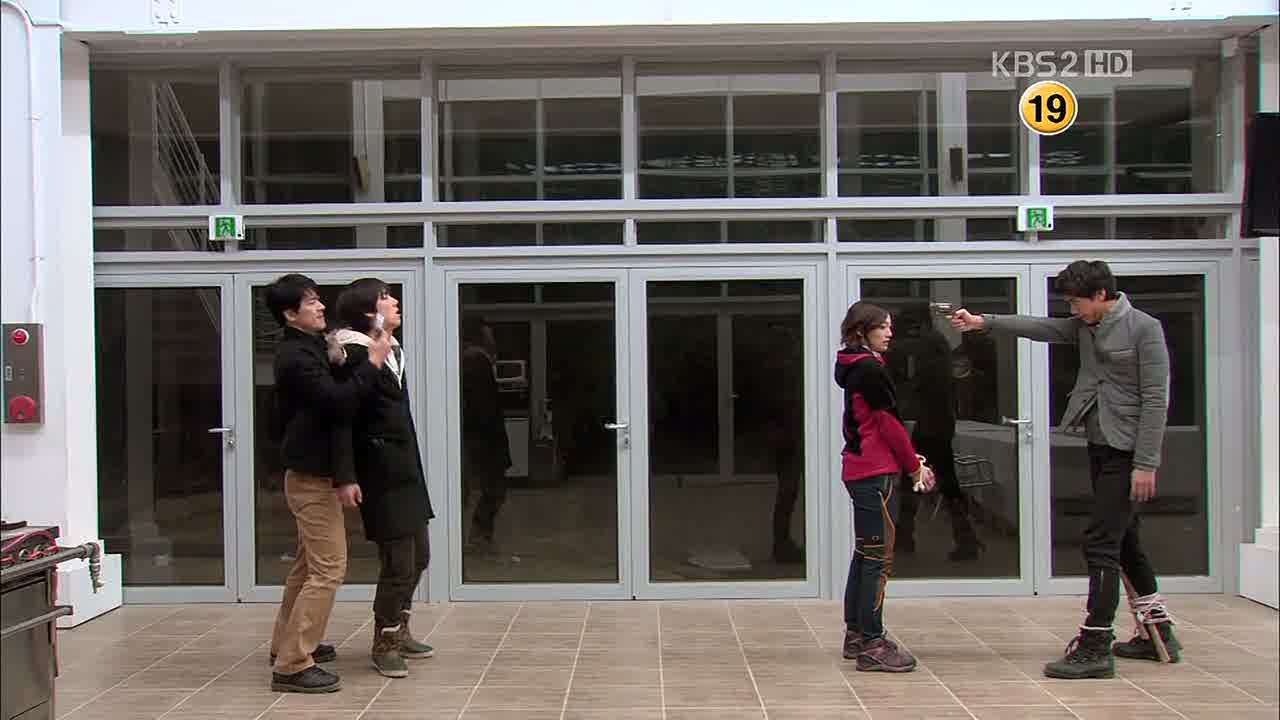 …Only to be stopped by Doctor Kim, with a gun filled with bullets. He finds this whole situation amusing even as he takes Moo-yul hostage by holding the gun to his head. Ji-hoon keeps his gun aimed at Jung-hye.
Doctor Kim offers two options – either they can both drop their guns on the count of three, or they can both shoot. This seems to catch Jung-hye by surprise, since her mentor is basically saying her life is worthless.
The grandfather clock hits seven, and Doctor Kim says they've got as long as the bell tolls to make a decision. As the numbers dwindle down Ji-hoon loses his resolve, obviously not wanting to get Moo-yul shot, and backs down first.
Doctor Kim exchanges Moo-yul for the gun, but as he passes Jung-hye, he asks her to reconsider what she is to Doctor Kim. "I wouldn't bet on the life of a woman that I like," he tells her. "Could you do that? Could you put his life on the line and bet on shooting? You know he's using you."
The words seem to have some effect, since she pushes Doctor Kim away when he tries to help untie her hands.
Moo-yul drags Ji-hoon up to the teacher's dorm, and everyone's face falls when they see Doctor Kim behind them. He locks them up and says he'll be back in half an hour, and goes to solve his problems with Jung-hye.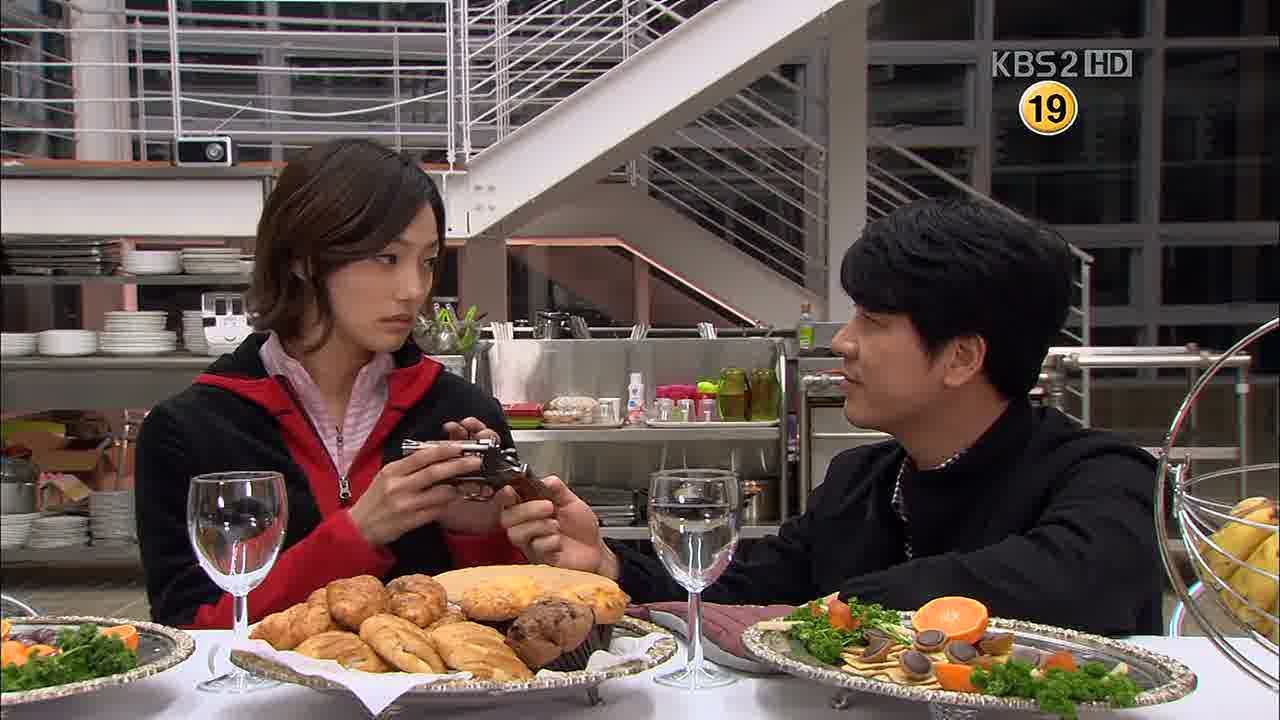 He clearly uses the hold he has on her to win her back, but the deciding moment comes when he entrusts the gun with bullets to her. "It's okay," Doctor Kim assures her. "You'll come running if I'm in danger."
Kang-mo has been watching everything from Mi-reu's laptop, as the boys make a plan to each hide in a different teacher's dorm with a blunt weapon. Jae-kyu finally arrives on scene, but no one's included him in the plan.
Doctor Kim walks into the darkened dorms, excited at the prospect of a fight – that's what keeps things interesting, after all. He correctly guesses that Moo-yul is the one who came up with this kind of plan, and also correctly guesses that Moo-yul will be the first to attack him.
He opens one door, where Eun-sung and Ji-hoon successfully hide inside. Doctor Kim keeps guessing the outcome of the plan, until he sees Jae-kyu tied up in the dorm with duct tape over his mouth. He thinks that Jae-kyu's friends have betrayed him and tsks him for trusting them in the first place.
Meanwhile, Jung-hye creepily dons a white wedding-like dress, and takes some matches with the gun. Hm. Maybe she got the empty gun after all. She heads down to the cafeteria to find her fancy dinner spread ruined, with Mi-reu's laptop on the table.
Oh! Kang-mo was useful after all, since he found the old footage of Doctor Kim in the detention cell, but Jung-hye is watching as though it were live.
As she runs off to save him, we hear Doctor Kim in voiceover:
Don't stand on the border line. That's an age-old taboo of both East and West. A line… as it divides one side from another, the inside from the outside, it also determines this side from that, and inside and out. The line itself is confusing, so do not stand on it. Beware of falling into confusion.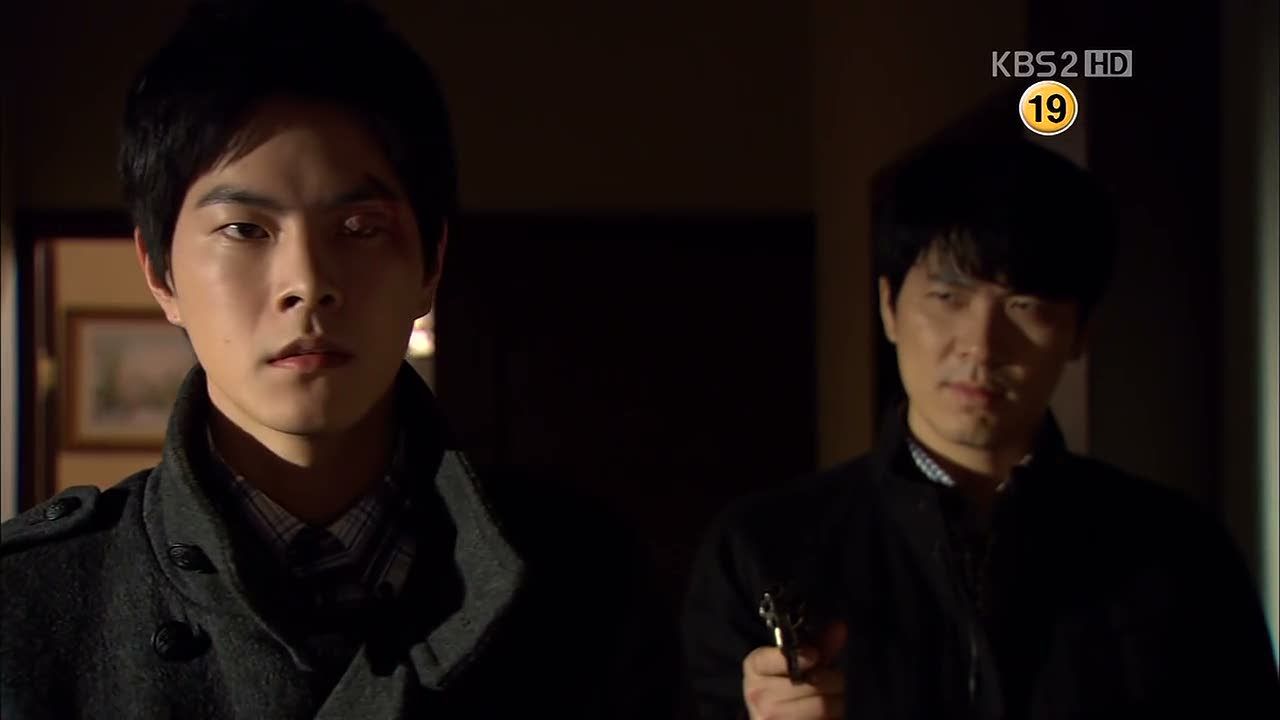 Jae-kyu leads Doctor Kim in the hallway, even though the gun stays trained on him the whole time. "I kept thinking about who was the worst, about who was the most involved in Kim Jin-soo's death." Jae-kyu admits. "Jo Young-jae, Yoon-soo, Park Moo-yul, Yoon Eun-sung, Yang Kang-mo, Choi Ji-hoon. Among them… the one who was most sinful of Kim Jin-soo's death… was Kim Jin-soo."
Everyone hiding in their rooms seem to take this as a surprise, even though they've probably planned this down to the letter.
Jung-hye runs into the detention cell to save a doctor that isn't there, and Kang-mo shoves her inside to lock her in. She manages to grab his hearing aid before he shuts the door.
Eighteen years of age. Kids these days are anxious as they stand on the border line.
Doctor Kim won't take such an easy answer, so Jae-kyu turns on him and declares that the person who replaced Kim Jin-soo is the most sinful… and it's him.
You can't define children who stand on the border line. Because it's all confusing, it's all a taboo.
Slowly but surely, everyone comes out from hiding to surround Doctor Kim. While Jung-hye, in the cell, raises her gun to the plexiglass and fires.
The boys hear the shot, and instantly realize Doctor Kim's gun must be the fake. They're not fast enough to catch him, and Doctor Kim escapes with Jae-kyu, locking the rest of them inside the dorm.
Plan failed.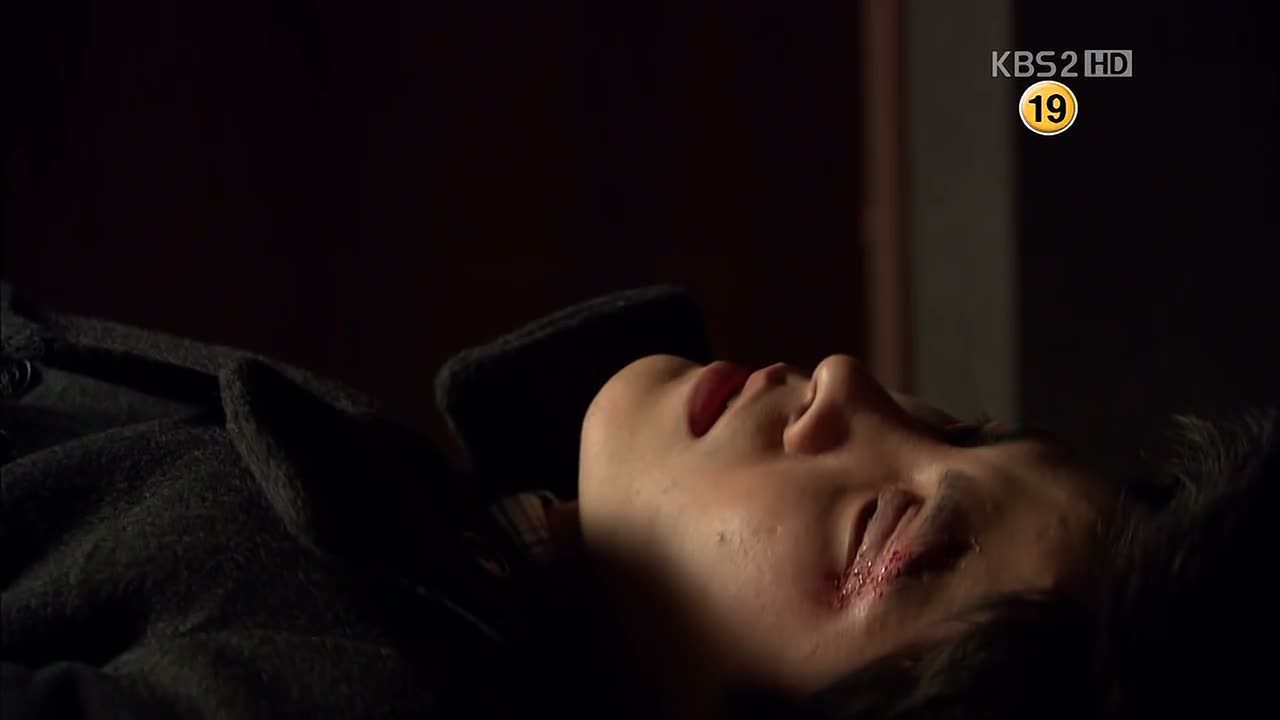 COMMENTS
It never ceases to amaze me how real these characters feel, and how much I feel like I know them. It draws that interesting line between fiction and reality, and despite some of Jung-hye's more crazy moments, none of these people are caricatures.
That's a compliment that speaks to the writing first and foremost, but without capable actors there's only so much a writer can do. This is the episode where I felt the most synergy between our characters, and all the lines and webs and pasts that connect them. Which is fitting with the title and theme of the episode, of that line or boundary everyone must face at some point.
We definitely got some ugly truths in the form of Young-jae picking Eun-sung as the most sinful, and I don't know if he can ever recoup from that. But where he chose to be cowardly and afraid, others got to step up to the plate. Even Kang-mo, who I'd worried was back to his almost voyeuristic ways, made a positive action by trapping Jung-hye. Yoon-soo chose not to even explore the area near his personal boundary, and Eun-sung broke through her depression and realized that she wanted to live.
But what shined for me the most was Moo-yul and Ji-hoon's scenes, which were subdued yet well played and well written. We didn't need the brief flashback reel of Ji-hoon stealing Moo-yul's thunder to know that that's what made Moo-yul stop and think about whether to save Ji-hoon or not. And I think it's awesome that Moo-yul was brought to that very brink where he held someone's life in his hands, and that he even contemplated just letting go. Why? Because it makes him human.
That's why we could hold our breath when Moo-yul started letting the rope slip, and why we all bit our nails down to the quick once he fought that darker side of himself and began to pull. Despite all Moo-yul's heroic deeds in the past, it was that defining moment (which harkens back to what Teach said about that defining moment in a competition) that really cemented Moo-yul as a true-blue hero to me, tears and all.
And I like how this changed the dynamic between them, enough for Ji-hoon to let his emotions show and for him to risk his life to save Moo-yul's. While Ji-hoon took a turn for the more heroic, Jae-kyu also underwent a similar change, toward the darker end of the spectrum. It was interesting to see that meek shell crack as soon as he got his hands on a weapon, and frightening to see how violent he could be once he did.
Also, it was sad to realize that all he ever wanted was the same love and adoration Moo-yul gets, without realizing that he was receiving that attention for the wrong reasons. I'll take his participation in the final plan as proof that he changed his mind, since he was always straddling that middle ground anyway.
This has been brought up in previous episodes, but really came to the fore here: Doctor Kim's psychology methods. Obviously there's a reason why your therapist shouldn't interrogate you at gunpoint, but it's even stranger to try and figure out how Doctor Kim operates. Was hypnotizing Eun-sung so she'd slit her wrists and realize she had the will to live all for his experiment, or was he actually trying to help her, however wrong and twisted the methods may be? I'm not sure I know.

RELATED POSTS
Tags: Baek Sung-hyun, Drama Special, featured, Kim Woo-bin, Lee Soo-hyuk, Sung Joon, White Christmas