1 Night 2 Days: Episode 405
EPISODE 405. Broadcast on September 23, 2012.
girlfriday: We open straightaway with dinner bokbulbok, and now I'm just hungry.
javabeans: The problem with starting right with dinner is that I totally have no idea what episode we're in. I've already forgotten what happened last week. Context!
girlfriday: Yeah I'm trying to remember…
javabeans: …without cheating….
girlfriday: Was it the flag thing?
javabeans: OH right, the episode that made me cranky. Now it's all coming back to me.
girlfriday: Good times.
javabeans: We need sarcastic font. What's a sarcastic font? Something that says sneering and judgmental. The one most likely to hit Comic Sans MS upside the head.
girlfriday: And send it crying to its sans serif mother.
javabeans: Does that make Arial mom, and Times New Roman Dad?
girlfriday: If someone gave us a sarcastic font, don't you think it'd become the default, and therefore not sarcastic anymore?
javabeans: Oh god, now you're getting existential about our fantasy font.
girlfriday: You're the one who gave it parents.
javabeans: You did first! My Comic Sans MS was an orphan, growing up at the circus.
girlfriday: Like every good k-drama hero?
javabeans: Let's say heroine, since I more often want to slap them upside the heads. The hero is obviously Helvetica, bold and straight.
girlfriday: I think we need a tangent button more than a sarcastic font.
javabeans: More likely than not, it'd inspire tangents. Annnnnnnyway. Um. Back to dinner. There is, I kid you not, a dragon made out of pickled radish on the table. Is that for funsies, or is it mocking?
girlfriday: Both.
javabeans: And already we're back to the same font conflict. WHERE IS THE SINCERITY.
girlfriday: It died with the hipster generation.
javabeans: Damn you hipsters, with your terrible beer and your awesome music!
girlfriday: So aside from the radish dragon, the dinner theme is mushrooms. There's even those little cookie mushrooms for dessert. Cute. They wonder what the game is, and Su-geun says you never know — the PDs could be lazy and just let them eat. Yeah, that'll be the day.
javabeans: Bird PD divides them into teams for the banchan battle by their seating arrangement. So now the teams are: Seung-woo, Jong-min, Shi-kyung, and Tae-hyun vs. Su-geun, Joo-won, and Tae-woong.
girlfriday: Tae-hyun looks over at Joo-won: "This time there's no getting mad if we take the good ones!" Hee.
javabeans: Shouldn't he be telling that to his teammate Shi-kyung? I remember the last time these were the teams, it was Su-geun's team that won. Remember the floating pool chairs and cocktails?
girlfriday: Oh right.
javabeans: Before they start, the two teams have this cute round of name-calling, basically calling themselves smart and the others dumb. Su-geun leads his team in calling the others "Dummy team!" and then corrects Joo-won for using a (soft) swear word. Seung-woo's all, "He called me WHAT?"
girlfriday: Did he just call them NOM?
javabeans: The maknae totally called all his sunbaes nom. Basically, instead of saying "dummy" it turns it into…. something more like "dumbass."
girlfriday: It's adorable 'cause it just comes out, and then he hides behind Su-geun, while Seung-woo and Tae-hyun raise their cushions threateningly.
javabeans: Tae-woong's team is the first to lose a dish. Shi-kyung takes a plate while his team dances and hums a tune.
girlfriday: I'm getting a kick out of Tae-hyun today. Does he just really like mushrooms, or is he in a dancing mood?
javabeans: Tae-woong's team keeps losing, and Seung-woo's team is holding steady. They take their second dish away. For some inexplicable reason, they choose to hum "Fur Elise" as their victory song. Who knows why?
girlfriday: It's even weirder that they're dancing to it. They just keep winning dish after dish.
javabeans: They move on to a second game, which is the addition game. When they line up so the teams can face off, Seung-woo pulls Tae-hyun back, scoffing at his confidence to stand near the front. As in, Get your math-challenged butt back here!
girlfriday: This game is hilarious because it's way more embarrassing than the multiplication game.
javabeans: Totally! This game is designed for multiplication tables, so ostensibly those numbers are in your head since childhood. With adding, you have to think, and also battle your pride. You can totally see their panic on their faces, Oh-shit-what's-eight-plus-five?
girlfriday: And I really don't want to look like a dumbass failing at math that my son could do.
javabeans: After the fact, Jong-min raises the complaint that the other side messed up and kept going. Su-geun's team counters that they answered properly, and they wonder if Jong-min messed up or the other team answered wrong.
girlfriday: I love that Shi-kyung asks Jong-min if it wasn't just his bad pronunciation.
javabeans: So they roll back the cameras to verify, with an additional punishment dish on the line. And…. Jong-min was wrong. HA.
girlfriday: Tae-hyun knocks him upside the head, "That was the most you've enunciated ever on 1N2D!"
javabeans: Now Tae-hyun needs sarcastic font. They're all, wow, you chose THAT moment to have perfect enunciation! Joo-won is sent to take back two dishes, and his team hums Pomp and Circumstance. These songs, I swear. Whatever happened to We Are the Champions?
girlfriday: This time they get Joo-won right away. Apparently 7 + 8 is everybody's kryptonite? HAHA, Su-geun mumbles, "Well, he saved the country and stuff, so what if he's a little bad at math?"
javabeans: In the next round, winner gets to claim two dishes.
girlfriday: I love that everyone's desperate to play a different game, but the PDs just love it and keep the addition game going as long as possible.
javabeans: Tae-woong keeps losing the introductory rock-scissors-paper round, so Su-geun pushes him aside, all, Let me handle this. Then Su-geun loses and Tae-woong asks pointedly, "Oh, did you win then?" Hee. They resume, and the adding rally goes on for a while… until Seung-woo messes up by just walking away. He got his math right, but messed up the order! He's so pleased he got the question right that he forgot the rest of the game.
girlfriday: It's their collective math terror that makes this game so amusing.
javabeans: Seung-woo's starting to get feisty about how he doesn't wanna play anymore. The rest of the boys are all trembling, "I'm scared!" And then Jong-min gets out on…. two plus three. (Jong-min: "Three!") I'm kinda in love with how much Tae-hyun is giggle-fitting over there.
girlfriday: He's actually rolling around on the floor. Hee.
javabeans: They begin the final round with three dishes on the line. Except… this round is MULTIPLICATION. Ack! Aside from just being hard, their brain wires are all gonna cross after all the adding.
girlfriday: Tae-hyun is first up against Tae-woong, and warns the crew to shoot this well because it'll be over in a few seconds. Sure enough, Tae-woong flubs on the first question. Aw.
javabeans: The best thing is, it's 8 times 6 and he answers 18, which is neither addition nor multiplication, or any other type of mathical answer. OMG, Tae-woong throws a fit. He's so embarrassed, he bursts out, "I'm really sorry, but can we please just cut this out? Let's get rid of this!" His face is all red. The best part is, he's totally serious, he really is begging the show to cut this out.
girlfriday: Aw, poor math-challenged buddy. He really needs to embrace the character, in a Jong-min way. Otherwise he's just going to start getting depressed every time they play a game… which is pretty much every other minute. Plus, as soon as he asks for the edit, the PDs cut in a reel of the moment on endless repeat.
javabeans: Oh man, and then they ask for another final round, for a chance at FIVE dishes. Basically they're turning this into an all-or-nothing dinner. They want a different game but the producers don't have one, so they settle on addition again but taking out the "elite" brains (ha, Shi-kyung and Su-geun) and making this two on two. The remaining players are all nervous, trying to cram and asking for a slower pace. This is so funny.
girlfriday: They manage to get through a few turns, but Joo-won flubs on giving a question, so his team loses five more dishes. That basically means they're starving tonight, yeah?
javabeans: They've got like one side dish and one pot of rice. It's enough to keep Joo-won from crying, at least. Su-geun wanders over quietly, trying to steal a spoonful, and is denied. He comes back to his seat and reaches for the last piece of food at the same moment that Joo-won does. Joo-won gets it first and Su-geun notes, "You're eating well tonight" which is like elder code for "Hand it over, kiddo." Joo-won either doesn't notice or (more likely) pretends not to notice. CHOMP.
girlfriday: Haha, he's having a rather rebellious evening.
javabeans: Is Su-geun actually getting peevish? He keeps asking the winning team for their leftovers and to name the price. What game do they want? But they ignore him, to his aggravation. Which makes sense, since he's always the first one to suggest games so the losers can play for food.
girlfriday: Su-geun turns to Tae-woong to call him out, "8 x 6 = 18 is eating well too!" Heh.
javabeans: Seung-woo puts beans on a plate to send over to the losers, and Tae-hyun eats a few to reduce the count: "Make them share it." He sends over TWO, haha, so there's no even splitting. And then Su-geun just eats the whole thing anyway.
girlfriday: After dinner they rest and the PDs hand out presents from Seung-woo's partner in the gyopo special. Ooh, it's coffee. And then for some reason they voluntarily play more rounds of the addition game, but with some violence thrown in for fun.
javabeans: Is this the pride thing, where they must defeat the game and go out on a high note?
girlfriday: That's dreaming big. Ha, and then Su-geun suggests a version of the game where you just take the two numbers as syllables and make up words.
javabeans: How is that easier? He just wants a version where he's good at it, ha. 'Cause this is clearly his wheelhouse, making nonsense stories.
girlfriday: It's what I would do. How can I turn this math game into a word game?
javabeans: Turns out the others are just as funny. Tae-hyun strings his into a long verse, and Shi-kyung comes up with a lament on his bygone youth. It's cute. Omg, and then Tae-hyun comes up with the brilliant verse with the numbers 79—up against Shi-kyung, no less—that 1979 buddies should be good friends, so what's wrong with you two?
girlfriday: LOL. That one slays the whole room.
javabeans: I replayed it a half-dozen times to watch everybody's reaction individually.
girlfriday: The PD tells them cryptically to go rest in the other room, and Su-geun's up and running right away, realizing that some new game is afoot. They run into the bedroom, with a fire going underneath.
javabeans: He gives them mere seconds to arrange themselves in the small heated room, in "a comfortable position"… then tells them to freeze. The game has now begun. The last two to remain unmoving get to sleep inside, and the rest sleep outdoors. Tae-woong complains of needing to scratch his forehead, and Su-geun points out that now they'll want to scratch even when they weren't previously itchy.
girlfriday: And then… they make the fire hotter. Dude.
javabeans: I love how Seung-woo, who looks so comfortable, is now analyzing his every choice: Why didn't I stretch my left leg out? Why did I rest my hand here? Argh! Finally Jong-min, who is in the hottest place above the fire, can't take it and gets up. Everyone calls to him to scratch their itches for them before he leaves. Then a moth enters the room and gets both Shi-kyung and Seung-woo moving. Seung-woo decides to direct it toward Joo-won—who is manfully bearing through the trauma with closed eyes. Haha. Then he tries blowing it away and has his hands clenched in a death grip, trying to endure.
girlfriday: Will the moth be everyone's downfall? I'm surprised it scared Shi-kyung and Seung-woo into moving, though it's smart of them to aim it at the bug-scaredy.
javabeans: Joo-won looks like he's being hunted in a horror movie. He wails, "It's on my foot! I really really hate this!" Then he pep-talks himself, yelling, "Joo-won-ah! You're okay! You're okay!" This is hilarious. Rewind, replay.
girlfriday: OMG, he's freaking out. Hee! I think he might cry.
javabeans: I think he might pee himself. He turns his head to blow the moth away and gets called out, and jumps up away from it. With three people left, the PDs really turn up the heat (literally), and the guys grit through the pain. Finally Tae-woong gives up, and Bird PD asks why he stuck through it, and he retorts, "I wanted to win SOMETHING!" Awww.
girlfriday: So Su-geun and Tae-hyun get to sleep indoors, which is especially desirable now that it's raining. The next round will determine two more winners, who at least get to sleep under a roof. Wait… so the three remaining guys have to sleep in the rain? That's mean. The game is still a freeze game, but this time they each pick a sports-themed card and then have to hold whatever position is pictured.
javabeans: The poses are hard enough, but they also have to do them with props. Shi-kyung, for instance, has to hold onto a bowling ball while in position, and Joo-won has to keep one foot in the air while posing like a gymnast. Seung-woo seems like an easy win—golf club— but the ones requiring balance seem pretty iffy.
girlfriday: They start, and Joo-won is the first to start wavering… and to keep his balance, he starts inching closer and closer to Jong-min… Uh, is his foot headed where I think it is?
javabeans: LOL, thankfully for Jong-min, Joo-won loses his balance before he can shove Jong-min off-balance too. They're still the first two out, and Shi-kyung lasts surprisingly long with that heavy bowling ball, though I guess he's got the strength for that. In the end it's Tae-woong and Seung-woo who win sleeping rights under the roof. And the three losers are given cardboard boxes to keep out the rain. Hahaha.
girlfriday: Boxes? Shouldn't they get plastic or something?
javabeans: They SHOULD. There's no morning mission, but that doesn't mean there's no catch. The boys are delivered their breakfast tables, and only given the duration of the morning song to eat. So they groggily get up in the morning and start shoveling the food in while they're still half-asleep. Ha, and then for the last chorus, the slow ballad song speeds up into chipmunk voices, and the boys start eating faster.
girlfriday: I love that it's just instinct to follow the music tempo, because they're not told to do so. Tae-hyun and Su-geun spend half the time laughing at the situation, even as they're stuffing their faces. Bird PD tells them they're doing another go-home-early game, and Tae-woong whines that they never do the leisurely tour and group sign-off anymore, and Bird PD suggests that he can stay behind then.
javabeans: Chances are he'll be last to go anyway, with the way he easily gets out in the koong-koong-ta word game.
girlfriday: Yup, he loses, which means he's "It" in the real game, a version of Red Light Green Light. It's like a freeze game special on this trip. Tae-woong gets a bullhorn and a phrase, while the others are given an obstacle course to pass through. They can only move while he's talking.
javabeans: I think Tae-woong really likes being in charge. He's like on a mini power trip, calling people out with glee. Hee. Also, this is the slowest race ever.
girlfriday: It's a pretty hilarious obstacle course, starting out with ajumma flower pants.
javabeans: And then to make it more hilarious, the boys start sabotaging each other on the race course, grabbing each other (and freezing) or pantsing each other (and freezing).
girlfriday: And Tae-woong has every reason to call them out and keep them here longer, because he's the last to go anyway.
javabeans: Su-geun goes around messing with the guys, which makes him the object of (a very slow) revenge. Jong-min raises a hurdle between his legs during one freeze position, and then the others all drag him back in turn. He actually manages his way to the front of the pack anyway, and gets to the drinking station… and spews it all over the ground.
girlfriday: Oh noes! After all that, it's salt water? I love that Su-geun was suspicious enough to sniff it before drinking, but the captions neener-neener: "You can't smell salt."
javabeans: Joo-won's next at the drinks, and despite being extra wary he has to spit his out too, and goes back to Start. Shi-kyung gets water, while Jong-min stands frozen with water dribbling down his chin, 'cause he got salt.
girlfriday: Haha. His reaction is so cute: "They put salt in it!" Hence the salt-water?
javabeans: Shi-kyung gets all the way to the last stretch before being sent back to start. Su-geun speeds over to the water station again… and has to do another spit-take. I love that Seung-woo's now in front and he tells Tae-woong to let him go home, and Tae-woong's all like, "Sure hyung, you should go rest up," and gives him a nice long chance to dart to freedom. At the end, Seung-woo shouts, "Tae-woong, I'll call you!" and Tae-woong says cheerily, "Okay!" And then Tae-woong returns to his hardass ringmaster routine with the others.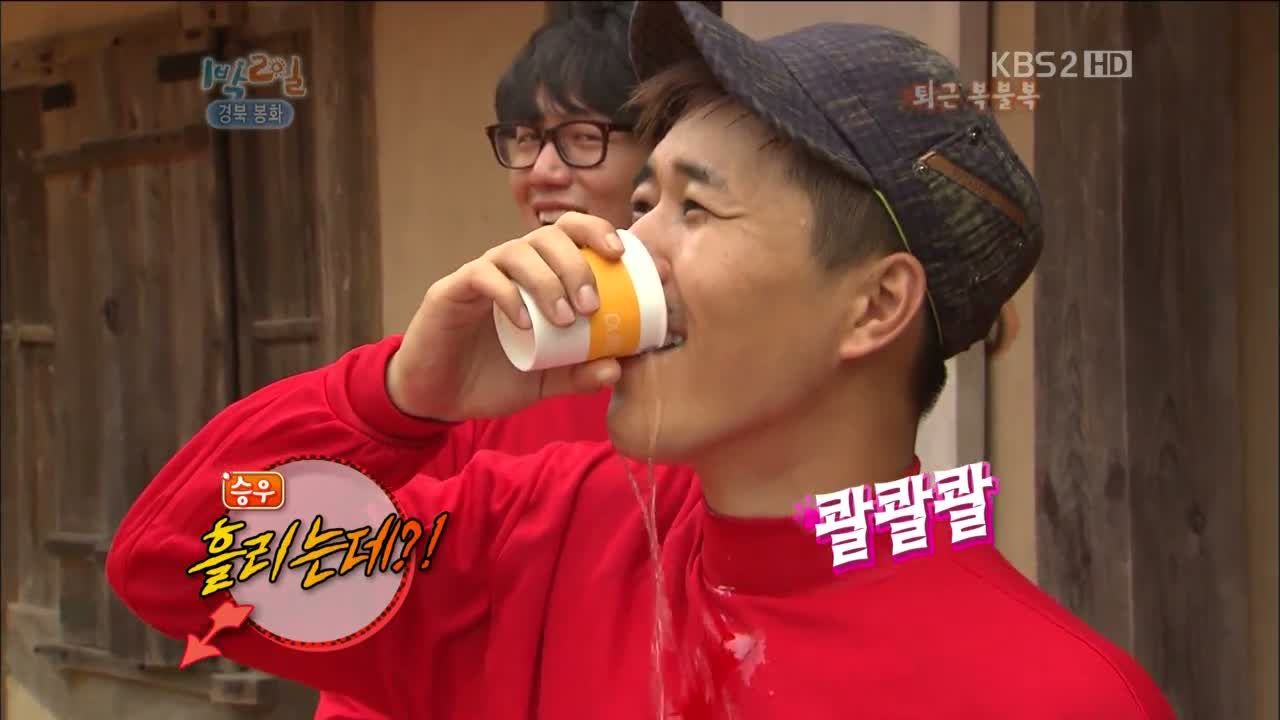 girlfriday: Times when it's good to be the mat-hyung.
javabeans: Shi-kyung gets out in the final stretch again, and does the Charlie Brown walk back. You know, head on chest, all glum.
girlfriday: He does make a perfect Charlie Brown.
javabeans: Fiiiiiiiinally, four guys finish the game, so Tae-woong, Shi-kyung, and Joo-won are stuck behind. They're made up with lipstick to resemble scarecrows, and sent out into the field with their arms held up with bamboo poles. This… is both creative and mean.
girlfriday: It looks so painful. Wouldn't your arms give out after like twenty minutes, tops? And then a giant busload of tourists unloads right in front of them. Ha.
javabeans: Like, hundreds of 'em. I think the worst thing is that it's so boring. It's less work than harvesting food, for instance, but at least there you're doing something to pass the time.
girlfriday: I think they're scaring the children too. A little girl seems really wigged out by the moving scarecrows.
javabeans: After an hour, they play rock-scissors-paper, and Shi-kyung gets to go home. He hears it's Joo-won's mother's birthday though, and stops to reconsider. "Could I? Staying behind in his place… is something I can't do. Bye!"
girlfriday: And then skips away. Ha.
javabeans: Tae-woong and Joo-won are given a capture the flag mission for the next game, and Tae-woong complains—Joo-won's the fastest, Joo-won's the most predisposed to win, can't they do a game that's more fair? He picks addition as his preferred game. First round: Tae-woong goes, "9 + 5 = 4!"
girlfriday: HAHA. Cut to a race, as originally planned. It cracks me up that there's no explanation, just straight to running. Joo-won wins, of course, and horse-dances away, leaving Tae-woong behind.
javabeans: Hahaha. They say suffering builds character… but can a person ever have too much character? 'Cause I'm not sure "Handling frequent and outlandish humiliation" is something we need so much practice at.

RELATED POSTS
Tags: 1N2D, Cha Tae-hyun, featured, Joo-won, Kim Jong-min, Kim Seung-woo, Lee Su-geun, Sung Shi-kyung, Uhm Tae-woong