Ha Jung-woo and Jeon Ji-hyun co-stars again?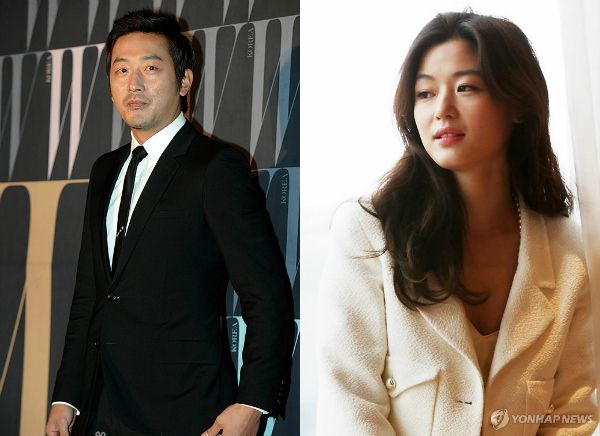 So we haven't even seen Ha Jung-woo (The Client) and Jeon Ji-hyun (Thieves) play their first onscreen married couple yet, in the spy thriller Berlin (still in post-production and due out later this year). But they've already been cast as their second married couple in the new movie The Road Home. Ha Jung-woo has signed on to star, and Jeon Ji-hyun is still unconfirmed and considering the offer.
The Road Home is the latest project from director Bang Eun-jin, who directed Suspect X, also due out later this year. It's a suspense thriller, about a wife who gets framed for smuggling drugs on her way home from France. Worst vacation hangover ever. All the evidence points to her, so she gets thrown in prison. Her husband then embarks on a dangerous one-man operation to rescue her.
I'm assuming that means he intends to go after the crime syndicate, catch the real baddies, and clear her name, all on his own. I do really like Wronged Man suspense thrillers, because there's something so satisfying about watching an everyman/woman struggle against seemingly insurmountable odds. And badass is kind of a default mode for Ha Jung-woo, so I like the idea of an average husband and wife who are both vulnerable and scared, having to fight the system.
Both Ha Jung-woo and Jeon Ji-hyun are having stellar years — Ha Jung-woo has especially kept himself busy, going from one project to the next without a break. It feels like he was in every third movie that came out this year and last, though that's probably not true. But hey, more Ha Jung-woo is never a bad thing in my book, so I say keep 'em coming, as long as no one gets sent to the hospital for overworking.
The movie plans to start shooting in January, for a release later next year.
Via Osen
RELATED POSTS
Tags: Ha Jung-woo, Jeon Ji-hyun