Nice Guy: Episode 8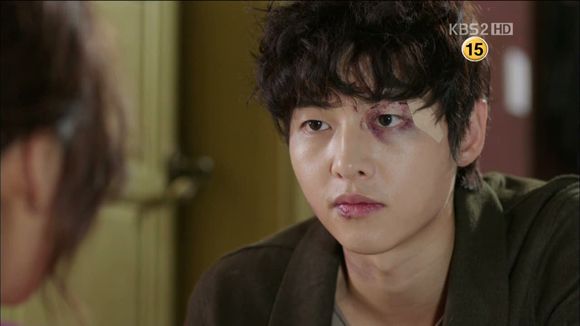 So much good stuff this episode, especially since so much of it is just fallout. Dark, dramatic, narratively compelling fallout. Love. It may have taken a few good hits and a murder charge, but Maru finally proves that he has a limit, and Jae-hee passes it right on by with flying colors. Who needs revenge when you're as mistake-prone as Jae-hee anyway?
Ratings took a bit of a dip this episode at 15.1%, but those numbers weren't enough to knock Nice Guy from its first place spot.

EPISODE 8 RECAP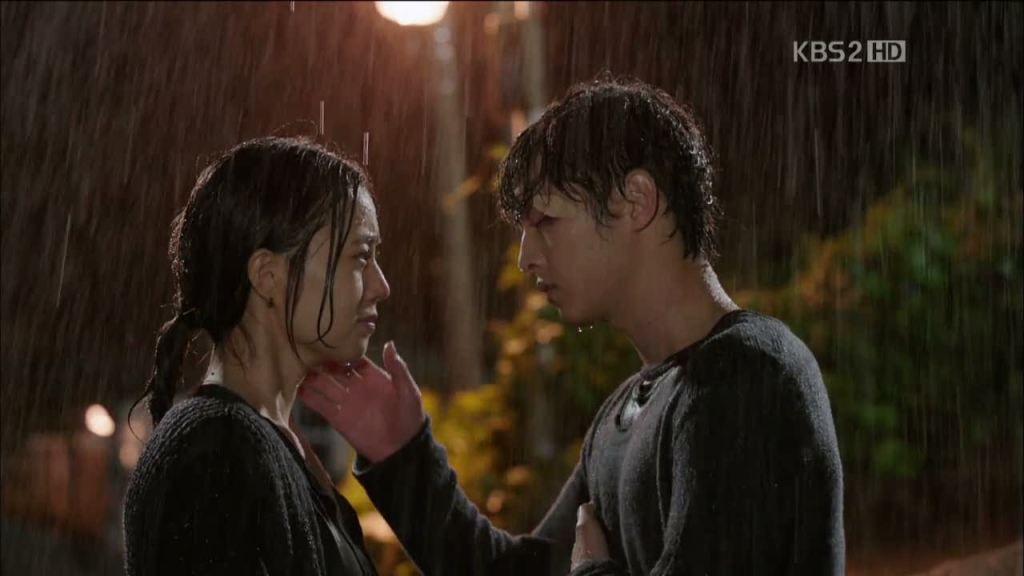 Jae-hee thinks she's in the clear when she sneaks out of the house to take Maru her apology meat, but Min-young spies her leaving as he lurks in his parked car outside her house. Nothing good comes from that kind of face.
As always, more is revealed to us than what we initially saw, and Eun-ki's confession gains a few more lines. The message is still the same: Even if she loses everything else she's known in life, she doesn't want to lose Maru.
She remains unaware that Jae-hee is watching, and after spending a moment staring at the both of them, Jae-hee sets the package down and leaves.
Maru tends to Eun-ki's bloody and bruised feet, though he pointedly avoids any attempt on her part to even touch his own wounds, or talk about what happened. "The good-looking face is all ruined," Eun-ki sighs, mirroring what she'd called him before.
After giving Eun-ki a set of his sister's clothes, Maru shuts down any more discussion about his face: "To tell you the truth, I like my face now. It's become more like a human face. Having a painting-like, good-looking face is getting really boring now."
At Eun-ki's look of disbelief, he adds, "I'm not kidding. I didn't even apply medicine in order for it to heal slower." Eun-ki, please slap some sense into this boy. (Any place but the moneymaker, though.)
Maru undresses privately to reveal a roadmap of bruises covering his whole torso. As he leaves to get food for them, Eun-ki talks to her Mom: "Tell me I did well. This is the kind of life you were hoping I would have, Mom. It will be difficult, but just this once, I'm bravely going to try and take this road. Give me strength, Mom."
There's a long moment where Maru stares at the food Jae-hee left, but in the end he chooses to ignore the package entirely, while Jae-hee sits in her car outside only to be surprised when Min-young knocks on her window.
Eun-ki's asleep on the floor by the time Maru returns, and he carefully tucks her into his own bed. There's a picture of an island locale on his counter that wasn't there before, and an attached note from Eun-ki explains that she was bored and found it in his drawer.
She added that she wants to go there with him tomorrow if the weather is good. "The first trip we take together, only us two."
But it's an old photo, and unsurprisingly has ties to Jae-hee. Namely, she'd taken the photo and given it to him back when they were young and in love, telling him exactly what Eun-ki had written about taking a trip there, just the two of them.
It's jarring to contrast that happy, smiling version of Maru with the one we see now staring lifelessly at the same picture.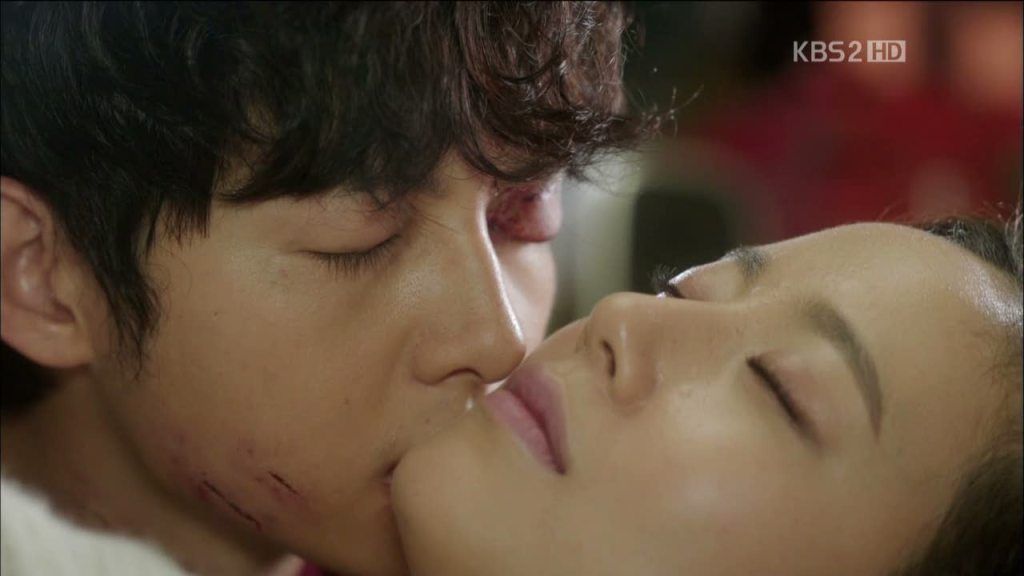 Despite the flashback, he now brushes Eun-ki's hair away from her face as he leans in close, placing a gentle kiss on her cheek while she sleeps.
Time for another Jae-gil & Choco interlude, so let's just grin and bear with it. Jae-gil sobs at the water's edge because their pension owner told him Choco died after eating rat poison, only to find Choco alive and perfectly well.
Turns out the owner was talking about her dog, also named Choco, something that Choco is used to since her dad gave her a dog's name. She explains that the name came from her being a huge crybaby when she was small (you don't say!), and how she'd stop when she was given chocolate. Hence the name.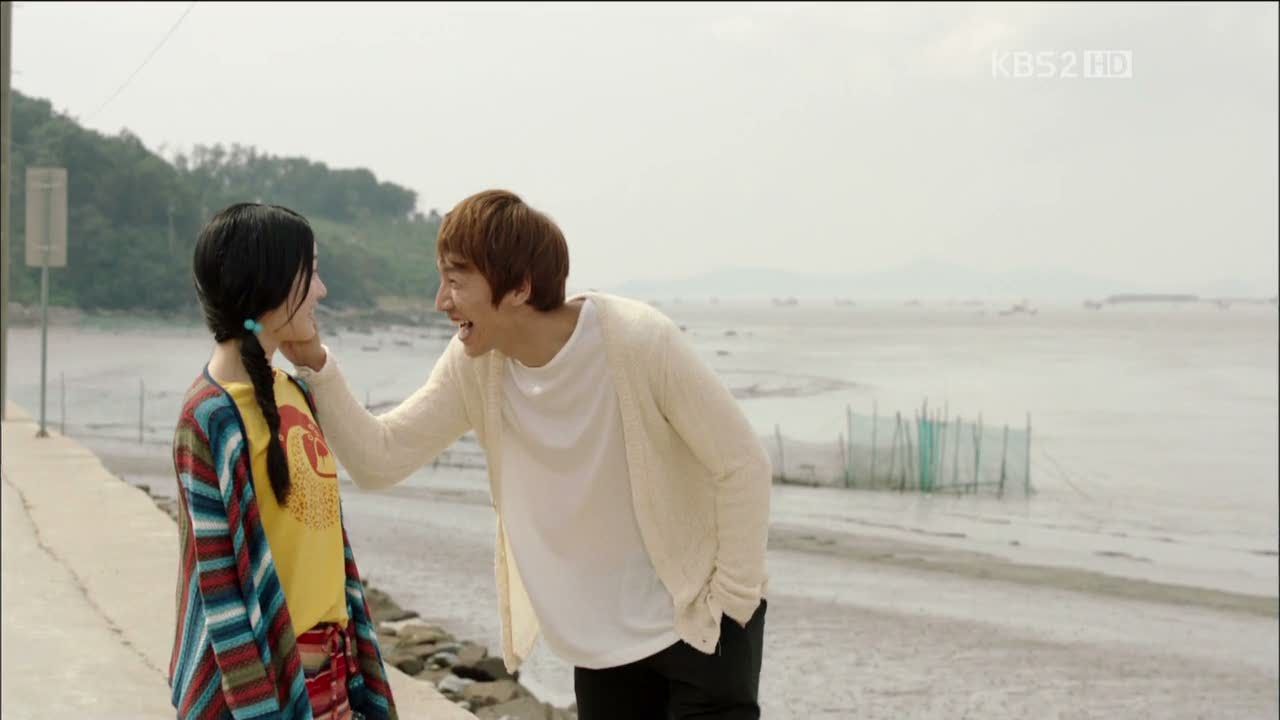 So Jae-gil decides to give her a new name: Ji-hyun. And while she's on a roll, she changes her last name as well to make her new name Jeon Ji-hyun. And as usual, she tries to pry some feelings out of Jae-gil, and as usual, he hits her on the forehead. Lather, rinse, repeat.
Maru heads out while Eun-ki's sleeping to buy her some designer outerwear, but stops when he sees Jae-hee's face on a newspaper along with her pre-marriage interview.
He can't help but think of Jae-sik and his murderous intent on finding his sister, and how he'd mentioned her upcoming marriage to Chairman Seo.
However, when Maru gets a call from Jae-hee, he ignores it and turns off his phone.
Jae-hee's more than upset that she can't get ahold of him, and a flashback to her conversation with Min-young from the night before reveals why she's so on edge – he'd shown her the CCTV footage and revealed that Chairman Seo knows everything about them.
To make matters worse, Chairman Seo already had a meeting with Joon-ha and his accountant to draft up a new will that gives everything to Eun-ki. This news hits Jae-hee like a ton of bricks, since even her son, Eun-suk, has been written out.
"Let's beg the Chairman," Jae-hee tells Min-young through tears. "Let's beg until he forgives us." But Min-young knows what kind of man Chairman Seo is, and he'll never forgive them.
He also adds that Eun-ki knows everything about Jae-hee's relationship with Maru, and he's of the belief that Eun-ki's holding onto him just to make Jae-hee squirm. Didn't he make it so that Eun-ki would find out? What was he hoping for?
Jae-hee breaks down in the car, while Min-young tells her to pack her bags and get out of that house. With people like Eun-ki and her father who'll never forgive adultery, Jae-hee can never win.
Back in the present, Jae-hee puts on a "Woe is me" face like a true actress before leaving Maru a voicemail that her brother is going to kill her, and she has no one to call but hime. "Just this once, help me just this once!" she cries into the phone, before smashing her mirror with a wine bottle to make her situation sound more violent.
The second the message is saved, Jae-hee drops the act. The broken mirror reflects her many faces back to her, but this much is clear – she knows exactly what she's doing.
Eun-ki finally wakes up to the sound of Joon-ha calling, but like Maru she ignores her phone. She's surprised at how late she slept in, wondering, "Is this house that comfortable?"
Maru finally checks his voicemail against his better judgment, his eyes widening at Jae-hee's message. He tries to ignore it as he heads for his house, and even lies that he called the police to help her when he calls her back.
It's interesting that we don't hear Jae-hee's side of the conversation, and can only see Maru's reactions go from "I'm not falling for this" to a DEFCON 2 level of concern. Didn't take much for her to get him hook, line, and sinker. And she knew just how to do it, too.
Unaware, Eun-ki waits blissfully for Maru's return. When she takes a peek outside his gate, all she sees are the shopping bags he left.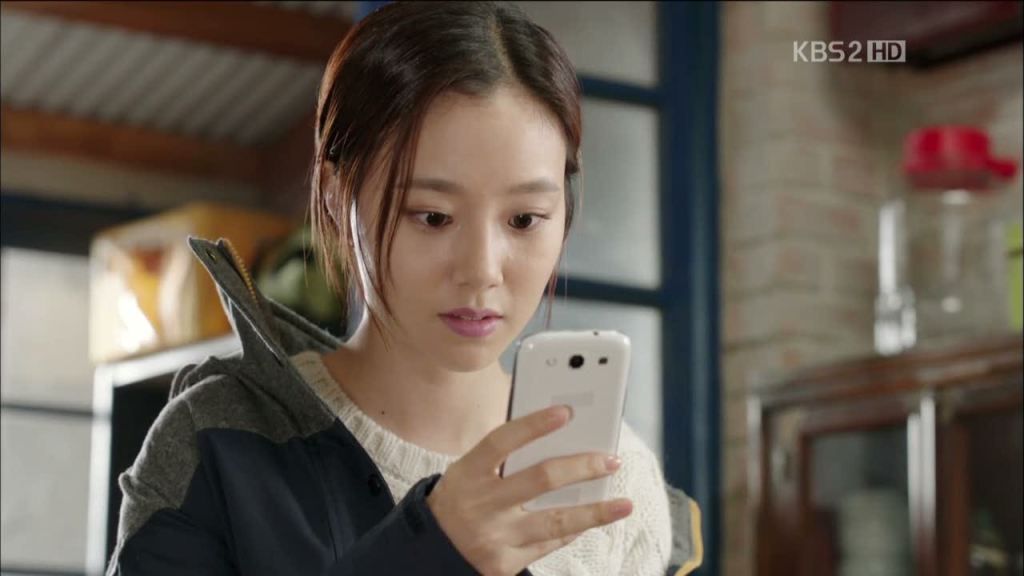 She looks like a kid on Christmas when she pulls out her new digs, especially happy when she see's Maru's note inside: "Let's go on vacation."
So she's disheartened to get a text from him saying he can't make it today, but cutely tries on the shoes and jacket anyway because she's so excited. Aww.
But a text message from a private number arrives to rain on Eun-ki's parade, with only Maru's name, Jae-hee's name, and where they are currently. (A vacation home, by the looks of it.)
…And, strangely enough, Jae-hee is behind the text. The room is torn up and her lip is bloody, which means she literally inflicted pain on herself to back up her lies. I shouldn't be that surprised, but somehow I am.
Maru rushes in to find Jae-hee huddling on the floor, with bruises and scratches littering her arms. He's reminded of the first time they met as children, and suddenly sees Child Jae-hee in Jae-hee's place, all cut up and miserable.
Wow. So Jae-hee purposefully replicated the moment when Maru fell for her? That's sick, but crafty. (Or, Maru could just have some very serious issues.)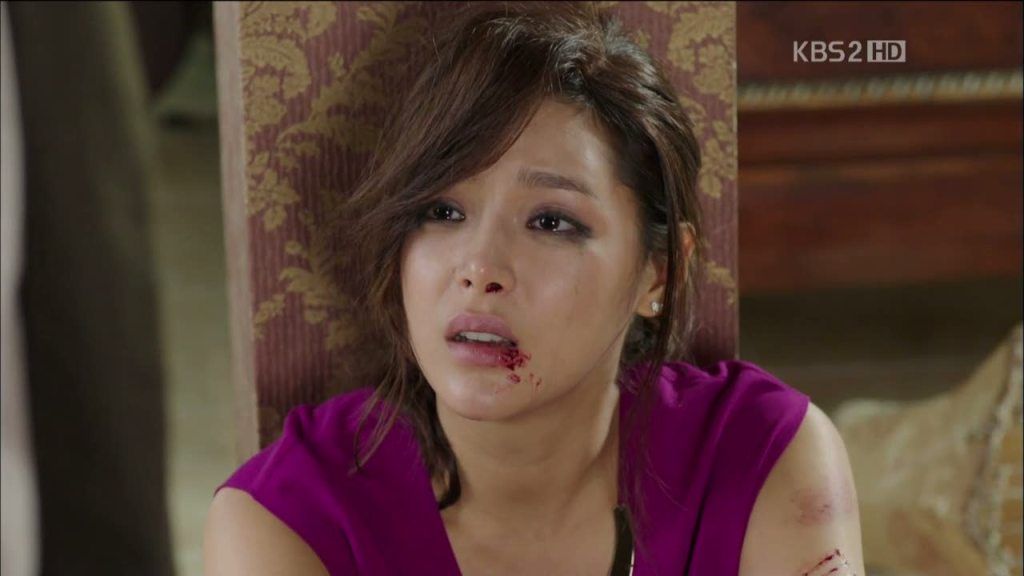 She puts on the pitiful act for him, and it works. He goes off to get her first aid kit and she drops the act while alone in the blink of an eye.
Just when you think Maru's getting a call from Eun-ki, it turns out to be Jae-sik, calling from a police station in Busan to see if Maru will bail him out. Oh crap. But oh, sweet fallout.
There's a moment before Maru realizes what this call means, and once he puts it all together that Jae-sik being in Busan means that Jae-hee lied, about everything, the look on his face is honestly frightening.
Still, he saunters back into the room silently, and begins to tend to Jae-hee's wounds. Eun-ki arrives outside in the meantime.
With tears in her eyes, Jae-hee appeals to the Maru she knows still loves her, claiming that she was crazy for leaving him. Oh hell no, did she really do all this to get Maru to take her back? What an opportunistic ——–.
Maru considers her for a moment, as though he's reconciling the goddess image he's always had of her with the cold hard proof that she's using him. "Noona, you know me very well. You know me much better than I know myself."
He basically calls her out for knowing just how to get to him, despite his best intentions to not indulge that part of himself she appeals to.
Eun-ki arrives during this conversation, though she doesn't reveal herself while staying within eavesdropping range. She hears Maru tell Jae-hee that he really didn't want revenge – he just wanted to see her that desperately. "I also knew that it was my pathetic obsession with you."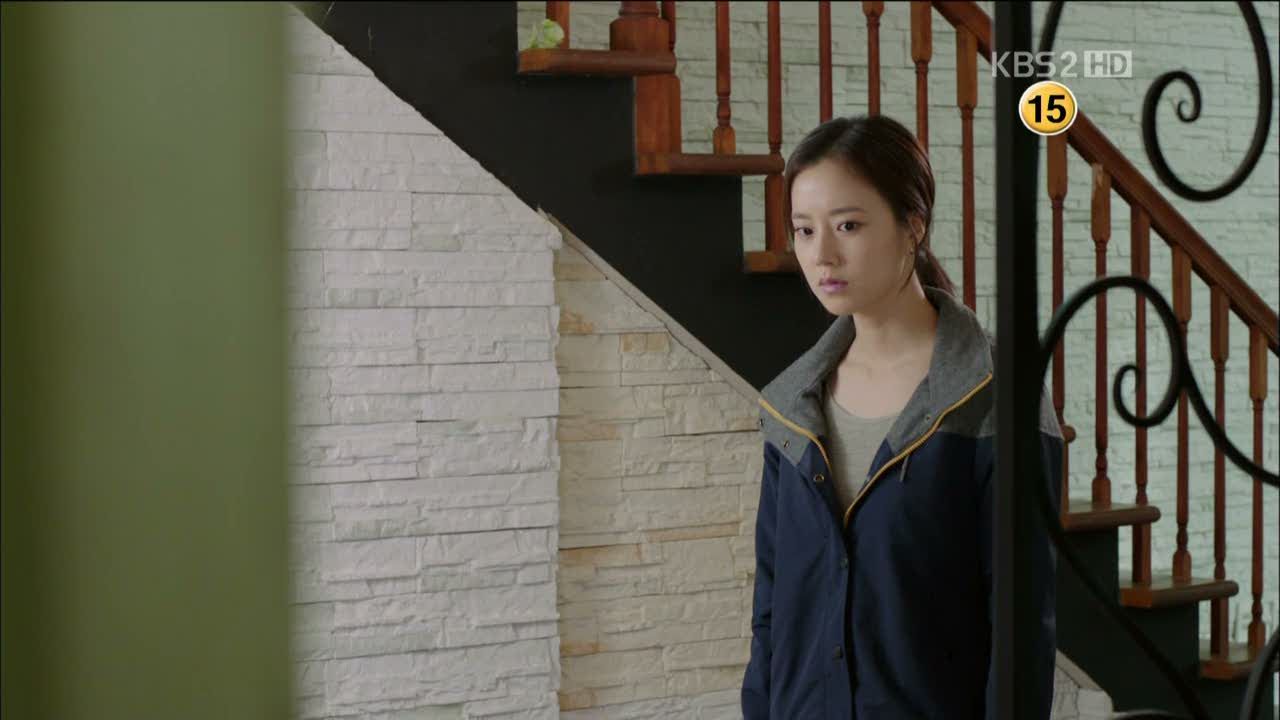 His voice grows graver as he goes on, imitating her when she called him six years ago and now with her "Maru, help me" line. The Maru from six years ago abandoned his sick sister to run to her like a crazy person. (Can't argue with that.)
Maru: "You knew I'd come to you like that. No matter what Noona did, I understood, I was patient, I forgave you, and endured it all. You also know this, right?" Whoa, is Maru finally having a breakthrough?
Maybe not, since he admits that even after all that, he's still crazy about her. "I'm still a lunatic. Someone with brain damage. Someone with amnesia. And someone without pride."
Eun-ki stays until Jae-hee interrupts him to desperately tell him: "You told me to just come down, right? Okay, I'll come down. As long as I have you, I can throw away everything. I will throw away everything and give up everything. I will go down to the old me."
This is all Eun-ki can bear to hear, and she starts to zombie her way out of the house as Jae-hee continues her complete and utter lie, totally unaware that she's digging her own grave where Maru is concerned.
It's too bad that Eun-ki didn't stick around for Maru's reply, since he finally(?) puts an end to all this craziness with Jae-hee. He basically tells her that he doesn't care where she goes, whether it's hell or utter destruction. Jae-hee still, somehow, doesn't understand what he means. Or she just doesn't want to.
Maru: "I'm saying that the unyielding feelings I have for Han Jae-hee have come to an end."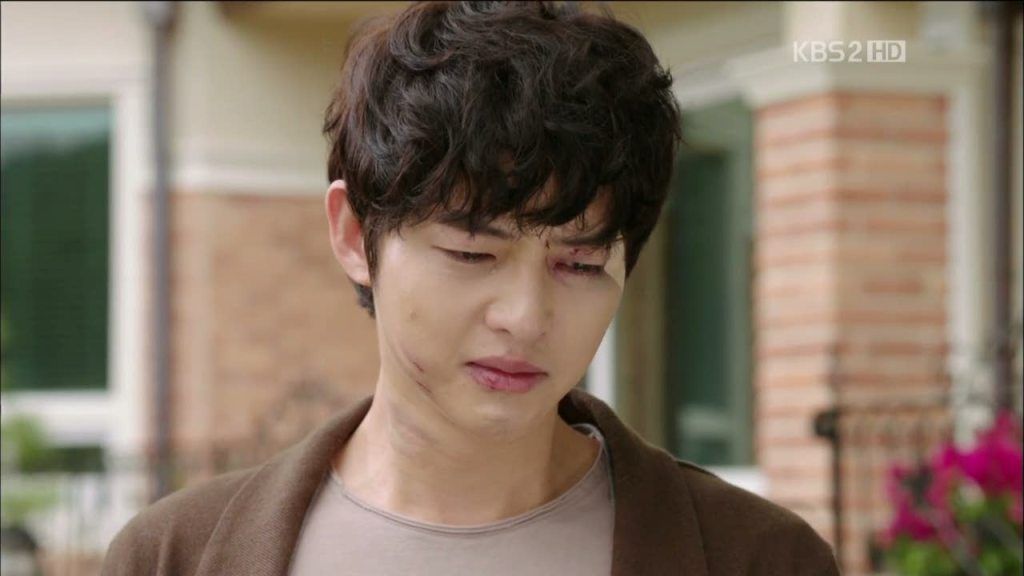 He means it, but is only able to keep his cool until he gets outside. Tears slip out as he flashes back to all his good memories with Jae-hee, which manage to make me both sad for him and for her – at least, sad for what she's become. And the fact that it's destroying him.
Maru sees Eun-ki racing out of the driveway, but only vague curiosity registers on his face. Jae-hee calls him from inside to ask if he's leaving her because he's fallen in love with Eun-ki.
Relief floods her face when he says "I made a mistake. I'm regretting it.", clearly thinking that he's talking about the breakup. But no, he's regretting that he drug Eun-ki into this mess.
He calls Eun-ki as she drives away, and she pointedly refuses to pick up.
Joon-ha tends to Chairman Seo, who looking like he's already got one foot in the afterlife. He's only thinking of Eun-ki despite failed attempts to contact her, and stresses to Joon-ha that Jae-hee is to receive nothing when he dies. That's the only way he can think of to protect his daughter.
Eun-ki ignores yet another call from Joon-ha as she drives back to Maru's neighborhood, but in a moment of decision, she peels back out just before Maru drives in. They barely miss each other.
Reminders of Eun-ki's presence remain in Maru's house, but the vacation picture is what he picks up first. Turns out he forgot Jae-hee had written him a love note on the back, which means Eun-ki had seen it. And it's probably why Eun-ki suggested it as a vacation spot, because Jae-hee did so first.
After she's cleaned up a bit, Jae-hee struts into a bank vault while Min-young's advice to her reverberates in voiceover: Chairman Seo is pissed, and she has to keep her head down.
Inside her safety deposit box is a familiar looking crumpled envelope… cue a flashback of her during her reporter days getting a call from someone with scandalous information about Chairman Seo.
And in a very interesting reveal, that man turns out to be the man she murdered in the hotel room he'd been living out of since Taesan took everything from him.
The envelope she has is one he handed over to her in the hopes that she would air Chairman Seo's dirty laundry to the world – all his bad personal and business dealings, including enough illegal deeds to put him away for a long, long time.
But Jae-hee doesn't seem to think the same way, and seems to even come to Chairman Seo's defense, going so far as to tell him to just sell his information back to Taesan for money. He claims he remembers hearing that Chairman Seo had his eye on a reporter, and guesses by her reaction that it's her.
Unsurprisingly, this gets him riled up, and the harrowing scene that follows shows him trying to rape Jae-hee, ripping at her clothes while he shoves her into the mattress.
In a state of terror, Jae-hee smashes a bottle over his head and kicks him away, only to have his head fall back on a jutting corner. That blow to the head is what kills him.
Flash back to the present, where Jae-hee now has the envelope and the will to use it.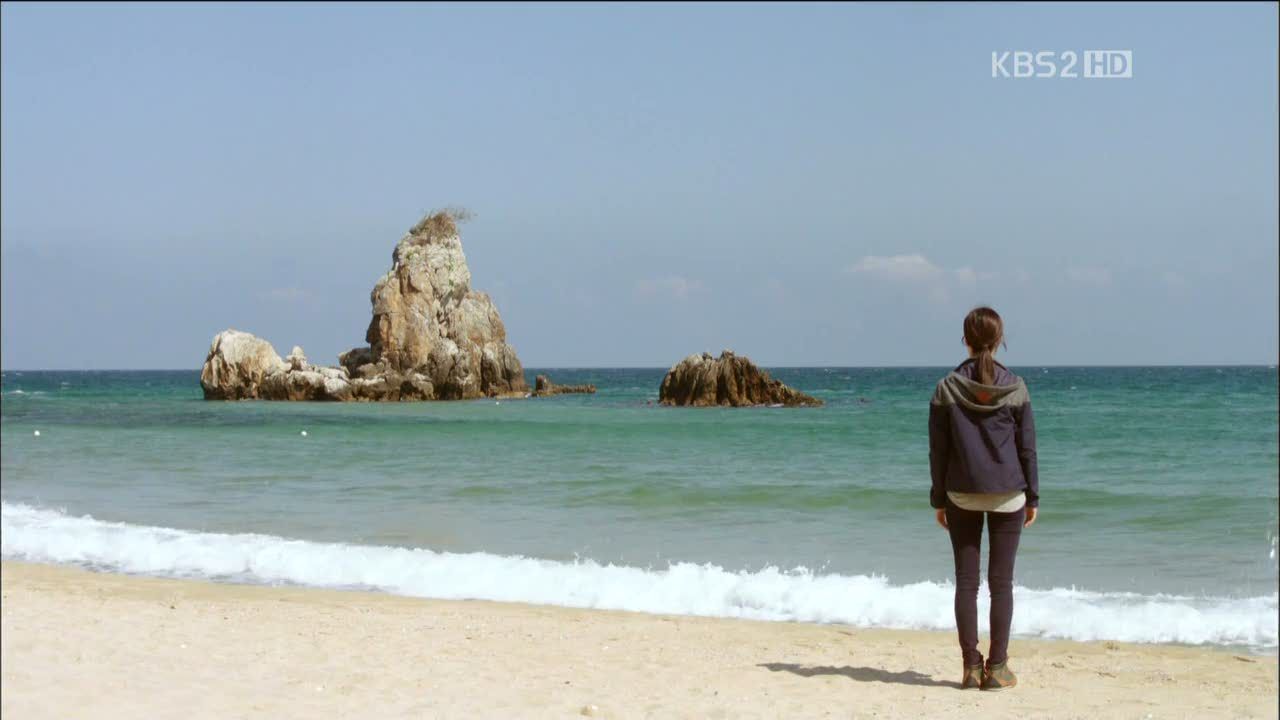 Meanwhile, Eun-ki drives to the vacation spot from Jae-hee's photo, and takes a picture from the same exact vantage point. She sends it to Maru in a text, and he's out the door the second he sees it.
While Jae-hee heads to Chairman Seo's house with the envelope, Joon-ha looks torn over having to do his boss' bidding by digging up files on Jae-hee and Min-young. Aw, it's cute that he has a conscience.
Maru finds Eun-ki taking in the sights at the beach, though their discussion turns frank when she asks him whether he's been here before. "It's the first time," he admits. "I decided to come here with someone in the past, but in the end we couldn't go."
Eun-ki asks him pointed questions she knows the answer to, but she's determined to get him to admit what she wants to hear out loud. And when she finally asks who it is that Maru loved, he silently weighs his options before answering, "Han Jae-hee."

COMMENTS
Not the most exciting cliffhanger when Eun-ki is just verifying what she already knows, but it's an important step for both her and Maru to get some honesty where he's concerned. He's not a liar, but he has been deceptively good at using silence to his advantage up until now. And he'll probably use it long into the future, too.
It's a definite plus that she's smart enough to realize that, and that her personality is strong enough for her to ask him what she wants to know point-blank. If she gives him an inch she knows he takes a mile, so it's good to see her slowly adapt and change in order to make this dangerous relationship work, and to see how that positively influences Maru to do things he would never have dreamt of three episodes ago.
But when he does forego silence for, you know, words, he never fails to bring the house down. I was really pleased with the whole way that "Help me, Maru!" sequence played out, because we had just enough time to hate Jae-hee and worry over how long Maru would be trapped in her web… Only to have her brother cause a late-game reversal that got us straight to the fallout. That's good storytelling.
The fact that Chairman Seo found out about the affair now and not in hour seventeen was also a wonderful surprise, since again, we got to skip past the inevitable meandering misunderstandings period and get straight to the good stuff. It's never fun in dramas when one character manages to hold onto a big secret despite all logic and credibility, so to see Jae-hee's secret out so fast, Maru's secret out so fast, and even the secret behind the murder that started it all out already keeps the pace brisk and the scenes engaging.
If there's one aspect I keep waiting for improvement on, it's the comedic(?) derailments with Jae-gil and Choco. Their characters are inoffensive enough, and while I understand their role in Maru's life, sort of (Choco's at least had an impact, not too sure about Jae-gil), I was kind of floored when they got removed to their own godforsaken island.
Because, really? You're going to take these two characters who already have problems integrating into the story, physically remove them from the main action, and hope that's somehow better than when they shared a roof with Maru? Sigh. I want to like them, and I keep trying to like them, but they need some relevance. Inversely, if they are really just there for comedic relief, then they need to be funnier.
The shining moment of this episode definitely goes to Jae-hee and her master plan to fall back on Maru, aka Ol' Reliable. I have to admit, her idea made sense, if you look at it from the standpoint of a terrible person: She knows she's about to be homeless, and what better home to go back to than Maru, a man she described as being like a house that always has the lights on and a warm fire burning? I bet she wasn't expecting him to go and change the locks on her.
The fun part about Jae-hee is that she makes a lot of terrible decisions, and most of them have already backfired on her. I don't know whether it says something worthwhile about her in that she's always able to scheme her way up when the chips are down, or whether all her failed plans just reinforce Maru's theory that she doesn't belong in her world.
'Cause as far as the affair thing goes, Maru didn't even have to lift a finger. Is that good revenge, or the best revenge ever?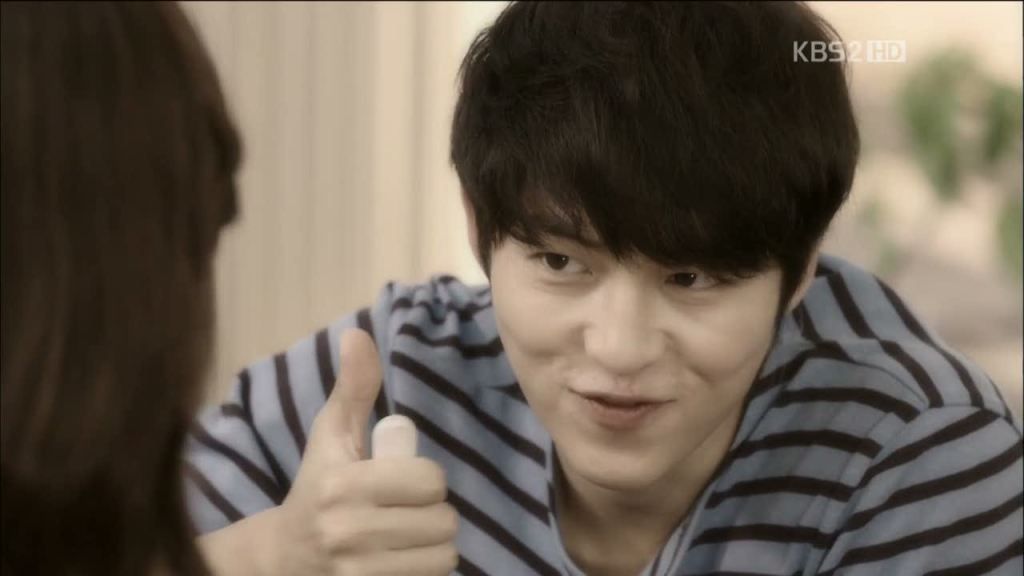 RELATED POSTS
Tags: featured, Moon Chae-won, Nice Guy, Park Shi-yeon, Song Joong-ki