Yoon Sang-hyun headlines new drama as an ajusshi idol
javabeans: Wow, it's like Korea took our Ajusshi Idol idea, aka A-dol, and made a drama out of it. It's not quite what we envisioned, but on concept alone I'll take it. Where else can you get Yoon Sang-hyun, Oh Man-seok, and Jung Jun-ha acting as an aging former '90s idol trio called X-Generation? I mean, the jokes, they practically write themselves. But okay, we'll write some too.
girlfriday: It's not the story we imagined, but the group, the group is perfect. The drama is called I Love You, Ajusshi. Cute.
javabeans: The setup cracks me up too. It's sort of like 17 Again in reverse. Get this: So in 1996 Yoon Sang-hyun is the top hot idol du jour, and then he gets into an accident and lies in a vegetative coma for 17 years… until the day he wakes up as an old dude, but with the mind of an idol.
girlfriday: Hee! The hijinks!
javabeans: Can't you just imagine him crying, "My face! What happened to my beautiful face! What are these — gasp! — lines doing on it?"
girlfriday: And then trying to get his ass into skinny jeans, or… would he go with baggy ones, if he's a '90s idol?
javabeans: Are we going to get a whole scene where he decks himself out in acid wash and dyes his bangs orange?
girlfriday: And wears his overalls over only the one shoulder? I cannot wait for this drama.
Oh Man-seok, Jung Jun-ha
javabeans: Then we have the heroine, an idol girl named Bom (an appropriately idol-y name), whose casting is rumored to be of some real-life young hot idol, and Z:EA idol Dong-jun playing a popstar named Sirius, and altogether they make up a love triangle. One of these things is not like the others.
girlfriday: No kidding. But how awesome is it that he thinks he's just like them? I just can't even imagine the trauma of going to bed 17 and waking up 40.
javabeans: Horrors! If ever there was spot-on casting, this would be it. I always thought it was a shame Yoon Sang-hyun broke out when he was already in his late thirties, and now he gets to sort of play to a character he totally missed out on.
girlfriday: This is his niche. Has-been popstar. It's just so perfect for him. And he can sing, which makes the whole thing work.
javabeans: Plus he just has that cheesy-awareness too. He knows how to ham it up.
girlfriday: Oska was definitely his best character.
javabeans: We're gonna get tons of jokes about "Ajusshi!" and "Dammit, call me oppa!" aren't we?
girlfriday: So many. And it's going to be so cute if the heroine can see past his ajusshi looks and fall for the idol boy within.
javabeans: Given the name of the drama, I think we're in for a treat. It's like opposite-Big, including the part where this one doesn't suck.
girlfriday: Better be. Or imma cry. Again.
javabeans: You'll cry, I'll hit things. We all handle grief differently. There's no scheduled premiere or definite broadcaster yet, but the drama is hoping to get on the air with a Big Three station early next year. And so am I.
girlfriday: Me three! Ajusshi love for the win.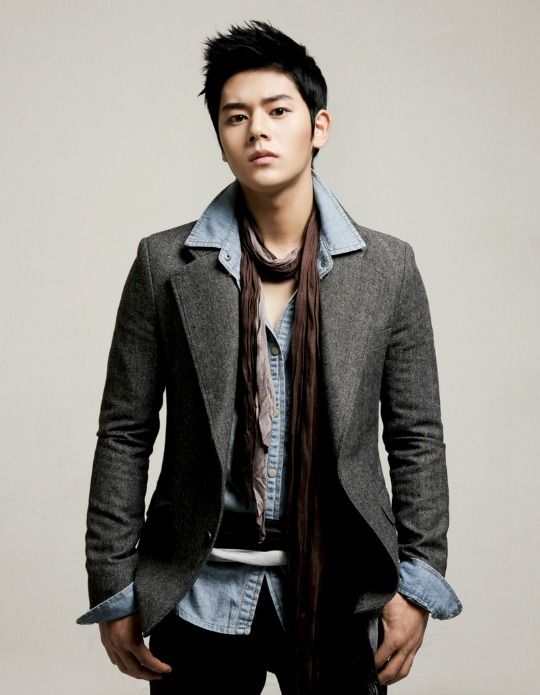 Dong-jun
Via Sports Seoul
RELATED POSTS
Tags: conversation post, Jung Jun-ha, Oh Man-seok, Yoon Sang-hyun