1 Night 2 Days: Episode 411
EPISODE 411. Broadcast on November 4, 2012.
javabeans: It's dinnertime when we return to 1N2D, and as the first-place marathon winner, Shi-kyung gets to pick his dishes first out of the large spread laid out on the table. It's totally his right to claim the best dishes (in fact, it's the whole point), but I love how worried/annoyed/aggravated the others get when he starts taking ones that they're desperately hoping he'll leave behind for them. Yeah, good luck with that.
girlfriday: He might as well be kidnapping their loved ones, the looks on their faces.
javabeans: Jong-min is protesting out loud, while Joo-won looks like he's being held prisoner while his Christmas presents get taken away from under his tree. C'mon guys, at least you got a decent lunch! Well, Shi-kyung did too, but that was due to his own sneakiness.
girlfriday: But he was dateless and sad.
javabeans: Don't you love that he held off on taking the biggest dish till the very end, keeping their hopes alive? When he takes the fish platter, there's a huge roar from the others and Su-geun yells that if he was going to take it he should've taken it first. But then he wouldn't have been able to poke their noses in it.
girlfriday: Ha, and then we get a sad flashback to the train lunch. That's how karma works, people.
javabeans: Everyone's disgruntled to a certain degree, like Su-geun and Jong-min, but I swear Joo-won looks like he's going to kill something. Quietly, angrily, efficiently.
girlfriday: Yeah he's like scary, potato-less Gaksital today.
javabeans: I love Shi-kyung like this, totally unworried about his image. They're like, "Can you even EAT all that?" And he replies calmly, "If you keep this up I'll just take more."
girlfriday: Ha. Smartass.
javabeans: The anxiety mounts as Tae-woong goes next, having come in second place. He gets a smaller table than Shi-kyung's large one, to fill with dishes. Between first and second place, they've cleaned out about half the entire thing.
girlfriday: Dude, did Tae-woong just throw out the I'm-just-a-bachelor defense? Lies!
javabeans: Joo-won doesn't actually fill up his entire table, taking only a modest amount and choosing to leave some for the rest. Oh, he has so much to learn. I actually think if he had more fun with being the winner, he'd have less sadness at being the loser.
girlfriday: Jong-min makes up for it with his turn. I think there are dishes stacked on top of each other on his table. Seung-woo is in last place, and has to watch as Su-geun clears every last dish on his turn… except for the mustard. Ha.
javabeans: Omg I feel so bad for him. He doesn't even take the teeny mustard dish and just eats his rice plain, with a little water. Man he's a good sport about it, too. And then we get a shot of Bird PD just watching the scene, SO HAPPY.
girlfriday: Like a momma bird feeding the baby birds.
javabeans: If momma birds also got off on withholding food.
girlfriday: How cute, after dinner Joo-won gets a staff member to teach him how the hell to do a Rubik's Cube, and learns diligently. It seems like all the boys have puzzle fever, because they all sit there zoning out and playing.
javabeans: Jong-min presents his completed side proudly — but he's cheated and peeled off a sticker, ha. Then Seung-woo gets all into his, and actually does the entire cube. Wow. I'm so impressed, first because anybody who can do that is impressive to me, and second because he totally failed at this today and freaking dismantled his cube rather than solve it!
girlfriday: Omg, that's so cool. He just figured it out right now, sitting there and playing around with it. He's more freaked out than anybody, and throws the thing like it's bewitched or something. But it's no fluke, because he's figured out the pattern.
javabeans: A PD presents Tae-woong with an official KBS name badge. Ha, is it because he's Uhm PD? That's so cute. Su-geun and Tae-hyun are also employed by KBS for their comedian/variety gigs, and Tae-woong says that he failed all of the open talent-recruiting tests. They're like, you can switch to being a PD then!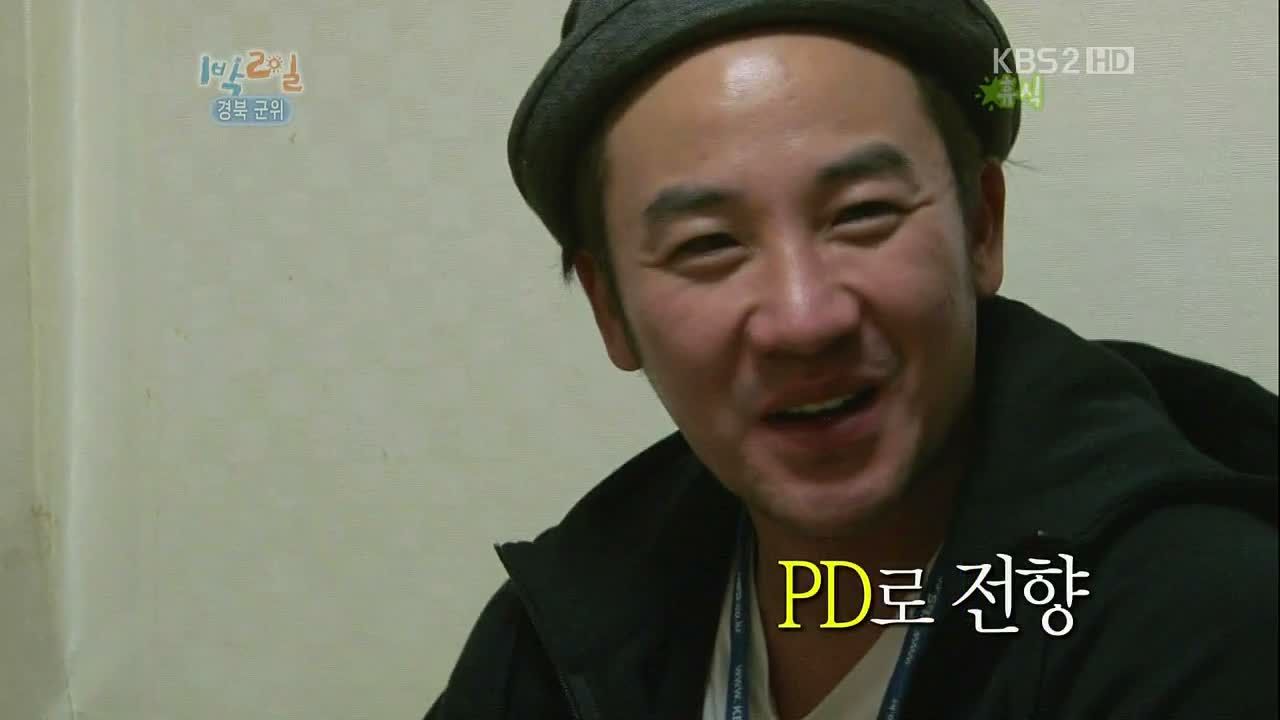 girlfriday: Su-geun jokes that Tae-woong doesn't have the face for a variety gig, and so talk turns to the who's-the-best-looking contest again. This time apparently the female staff actually went around and voted (HA) and Yoo PD dangles the results in front of the guys. They lap it up like dogs.
javabeans: This is hilarious, and dangerous. It's probably a good decision to only reveal the first four places, since showing the full ranking could get too personal.
girlfriday: There's no way they're gonna let it rest there. They'll pry it from her hands I bet.
javabeans: They start with fourth place (working up to first), and Seung-woo proposes himself for fourth. Su-geun says fourth could be Joo-won, and I'm like, are you smoking something?
girlfriday: Seung-woo indeed wins fourth place, and he's happy about that.
javabeans: But then… fifth place is… Joo-won?
girlfriday: WUT.
javabeans: Caption: "Strange rankings." I'll say. Is there a catch here?
girlfriday: I suppose if each person is just voting for one guy, it could turn out that way? It's just… WRONG.
javabeans: Also, Seung-woo got fourth place with five votes. So… it's a small margin here. Seung-woo's so cute as he says, "Wow, I feel great now."
girlfriday: Hee. Third place: Shi-kyung. Aw, yay for a comeback after being called ugliest last time.
javabeans: They're all arguing what the likely ratings are, like how Jong-min's probably last (which gets him riled up), and top two are Tae-woong and Tae-hyun. Second place is indeed Tae-woong so everyone assumes first place is Tae-hyun… except it's Jong-min? Oh ha, it's a fakeout.
girlfriday: Dude, if it weren't, this poll would be the world's craziest. Or an opposite poll.
javabeans: This actually makes a lot more sense as a "Who's your favorite?" poll. Though I suppose it's framed as a "Who's your ideal type?" which means it's not exclusively based on looks, though often people mean that as physical characteristics.
girlfriday: I can see women picking Tae-hyun as their ideal type, so that makes sense. Not the Joo-won thing (that's just crazy), but the other rankings are pretty predictable.
javabeans: It's just that they went into it from a best-looking standpoint.
girlfriday: It is, but it's weird because it's just one vote per person, not a ranking. So you're just gonna get strange results if you poll 30 people on 7 guys. The argument between Su-geun and Jong-min for who's in last place gets more and more heated, so finally they reveal the loser… and it's Su-geun. HA. That's satisfying, because he swore up and down it would never be him.
javabeans: Then they all get to work (based on a suggestion made before the unveiling) that they'd draw on the last-place guy's face ways to make him better looking. Out comes the black marker… and Su-geun emerges looking like a cross between a sageuk villain and a Halloween mask. Okay, I guess those could be the same thing. Afterward they do a little dance type thing, and okay, is it surprising to anyone else that Seung-woo's totally awesome?
girlfriday: I love any time they do a dance opening and then stand there afterward huffing and puffing all with the same looks on their faces: Why did we just do that?
javabeans: Bird PD explains the game for the sleep bokbulbok, which will be a three-on-three relay. That means one person will be judge, and the judge gets to sleep inside. To determine the judge, they'll have to answer three questions right in a quiz.
girlfriday: Aw, now every time they announce a quiz, Shi-kyung sighs like it's a given he'll lose. What happened to the Brain?
javabeans: Haha, Seung-woo jumps in to answer the first question before Bird PD even finishes. The question goes, "In the manhwa movie Youngshimi…" and he assumes the question is the hero's name. And he gets it right! What are the odds? It's cute how Tae-hyun sighs that his mother's going to scold him for not getting it — since she was the voice actor who did Youngshimi's voice. Haha.
girlfriday: Dude, Seung-woo's on some crazy streak tonight, and does it again with the second question. Tae-hyun manages to get the third question, and I just love the super geeky moment of him and Su-geun standing there arguing about a cartoon character's cry and how it could be longer if he used more of his powers.
javabeans: Wow, and then Seung-woo ends it all on question four, claiming the ref position and one indoor spot. He earned it.
girlfriday: Pfft, so per the staff poll, they split up into the Good-Looking Team and the Ugly Team, and it cracks me up that Joo-won is on any team called ugly. Su-geun and Jong-min are both like, "We feel better that you're here."
javabeans: Because it makes it not real. HAHA. The first game is a variation on rock-scissors-paper. Basically losing means the space between the players widens, and the loser of the round has to step to fill the space, till somebody's doing the splits or falls. This could be very painful. But very funny.
girlfriday: Su-geun and Tae-hyun are up first, and well, it doesn't take many steps before Su-geun is nearly doing the splits. But then there's a reversal and Tae-hyun suddenly has to cover a giant gap in one step. This is going to end in split pants and tears I think. Oh he manages to do it, and beats Su-geun and faces off with Jong-min.
javabeans: Tae-hyun loses his round, but in the next round it's Jong-min clinging to maintain his balance and dignity against Tae-woong. It doesn't work, which means their team is down to their last guy, Joo-won. And he's both flexible and long-legged, which helps tremendously. Too bad for him he keeps losing, though, and soon he's facing a chasm his legs can't reach. Down he goes.
girlfriday: This is such a weird game. Who thought of this?
javabeans: It's funny, but totally flawed. Maybe not a keeper. The next game involves dizziness and speed. Despite Su-geun the Dizzy anchoring his team, they win.
girlfriday: I dunno why the Handsomes sent Tae-woong to be the shoe-catcher for his team. That was a mistake. It's hand-eye-AND-foot coordination.
javabeans: The next game is relay badook, where each guy gets five seconds to place a piece on the board.
girlfriday: So it's like team-relay-connect-five? Okay, now this I think was a bad idea for a game. All we see is the boys running back and forth.
javabeans: I love the split-screen contrast of Jong-min (who's good at this game) giving out instructions to his team like a general, and Tae-hyun yelling, "Just put it down anywhere!"
girlfriday: It starts to get amusing when the board fills up, and because it's a relay and they're in a hurry, Jong-min's team keeps missing the fact that they're one move away from winning.
javabeans: And Joo-won keeps missing his turn to seal the deal, giving the other team the opening to win. Ha. His teammates are shouting at him from the side, but you have no time to look for what THEY want you to do, you have to just do what you think YOU can do. It's a weird game, in that of course it's obvious to us, in slo-mo, with the show pointing out the moves to us.
girlfriday: The next game is Attic Charades, where the guessers have to squeeze into the tiny attic window, for no apparent reason, other than it's silly.
javabeans: I do like how there are two sides of the attic, so the clue-giver (Shi-kyung) has to run from one side of the house to the other for each alternating turn. While inside, Tae-hyun and Tae-woong just roll over to the opposite window.
girlfriday: Oh, HA is that what they're doing? I was like, why are they rolling and running?
javabeans: It adds another variable into the game, 'cause it's timed and running speed matters.
girlfriday: So it's more like marathon charades, at least for Shi-kyung.
javabeans: Omg, do you love the one where the clue is Sharon Stone, so Shi-kyung sits down and does the sexy leg-cross? I'm dying laughing.
girlfriday: Best. Moment. Ever.
javabeans: Shi-kyung should have this absence of shame always. He's really good at this game when he doesn't care about dignity.
girlfriday: Yeah when he's in too much of a hurry to worry about how he looks. He's hilarious.
javabeans: So then it's the Uglies' turn. They have to win this game, otherwise it's the Pretties inside tonight. It'll be challenging to beat 12 correct answers, but with Su-geun giving the clues it's definitely possible.
girlfriday: He's fast, but they only manage a tied score. Oh no, do they have to marathon again?
javabeans: Ha, this time the time is shortened, and the attic room is for the clue-givers, not the guessers. Um. Will this work? I guess we'll see!
girlfriday: Su-geun's pretty confident that his height (or lack thereof) will make this easy. He warns, "Don't be surprised if I stand up in there!" Ha, he really can stand up! Not straight, but still. They get five answers right. Shi-kyung takes his turn up in the attic, but this time he can't manage to get a single answer.
javabeans: It's super hard when you're doubled over and cramped, and get clues like "Sophie Marceau." He complains that they're impossible clues, so then they have Su-geun give them to his team and they do. Ha, I like the caption pointing out how it's not necessarily the clue itself, but that they're all on the same brainwave.
girlfriday: Yeah it's true. If they're all on the same pun-wavelength you're golden. I love how deflated Shi-kyung gets when Su-geun and his team take about two seconds to get a few answers he thought were impossible. The next game is Water Pouring? That sounds violent. Oh they should've called it Sink the Bowl or something — each guy takes a turn pouring water into a floating bowl, and the one who sinks it loses.
javabeans: Did… a PD come up with this game at the urinal? Because, um, the visual.
girlfriday: I was just gonna say… in action, it just looks like they're taking turns peeing. In front of a camera.
javabeans: Aw, Joo-won sinks his battleship, and his team is sleeping outside tonight. And then, the losers pick up full bowls of water, ready to take out their revenge on the winners.
girlfriday: This is what I was picturing when they named the game in the beginning.
javabeans: Hilariously, this turns into a water fight between Su-geun and Jong-min, who were on the same team.
girlfriday: Jong-min's sneak attack is pretty damn good. He loads up on water pretending to be on Su-geun's side… and then slaps him with a bucketful from two feet away.
javabeans: I love when he grabs Bird PD, so they get soaked together.
girlfriday: Hahaha, while Jong-min is bent over trying to pick up the giant tub whole hog, Tae-woong sneaks up and butt-splashes him. Okay, that was good.
javabeans: That was pretty awesome.
girlfriday: Bird PD says there's no morning mission tomorrow, but they do have to eat breakfast… which they will be cooking themselves. Two members have to wake up at 5:30, go grocery shopping, and make food. Nobody looks happy about the early wake-up call, but Shi-kyung volunteers as the resident chef. He gets to pick his assistant, and promises (threateningly) that he won't discriminate by age. Seung-woo looks nervous.
javabeans: He gets woken up at the break of dawn, and goes to rouse his partner… Joo-won. He glares at Shi-kyung just like my cat does when I've annoyed her, looked at her wrong, or breathed funny.
girlfriday: It's the perfect you-did-NOT-just-do-that face. But there's just no way Shi-kyung's going to wake up one of the hyungs when there's a maknae around. It would defy the laws of the universe.
javabeans: So Shi-kyung takes charge in the kitchen (swoon) and directs Joo-won in the cooking outside, joined by Tae-hyun. Yum. I'm hungry now.
girlfriday: How many dishes is he making? Man, I swear I wasn't hungry before this, but now my stomach is growling. They sit down to breakfast like a happy little family. I love that Su-geun listens to the way Tae-woong and Seung-woo ask for more rice — indirectly, like "Is there more?" — and guesses that they're type A. They both nod.
javabeans: How long do you think before the PDs instate a rule about Shi-kyung being barred from cooking duties? Would they be so mean? 'Cause you know Shi-kyung is happy to have one thing he's reliably good at, and that the others aren't necessarily jumping to do, where he can impress and please. If they were really evil geniuses they'd tie his hands.
girlfriday: Or literally tie his hands, so that he's forced to watch other people cook and mess it up, freaking him out. Now that would be funny.
javabeans: The boys get lidded teacups of date tea to finish off the meal (Joo-won asks suspiciously if it's the Bitter Tea of Death), and all are shocked when Tae-woong's lid has a "Go home" written inside it. Aw, yay! Finally he wins this game.
girlfriday: Awww, Joo-won pouts: "Don't go!" Bird PD says that today they're doing another six-part mission for the last remaining member to fulfill. Tae-woong was the one who had to do this the last time: flashback to the embarrassing dance in the middle of a crowded street. Oh. THAT.
javabeans: Hahaha. That was pretty awesome. The members basically have to come up with Who, What, When, Where, and How, independently of each other, and the loser has to perform them all. If I recall, some of the conditions last time were "until 100 people gather" and "pour water over self" and "dance in public." Hilariously, Tae-woong has to be told, multiple times, to just GO HOME ALREADY. He's not used to being first, and it's so awkward for him. He even gives Bird PD a huge ol' hug on the way out. Bird PD's reaction totally makes the moment.
girlfriday: Hee. He always complains about being the last to go home, but the one time he gets to be first, he's like scared they're gonna have fun without him.
javabeans: Tae-hyun's second to get dismissed, and the remaining five head on over to see some local sights before picking their next member. Seung-woo gets the answer right in the quiz and gets to go home. I love that it's all the Cannots winning out today. Then Shi-kyung goes next, leaving an increasingly worried-looking Su-geun, Jong-min, and Joo-won left behind. Time to unveil the punishment. When: The sixth member has passed the rest stop on the highway. Where: In front of a nearby beauty salon. What: push-ups, sit-up, rolls twenty times.
girlfriday: Oh that's weak. Is doing push-ups and sit-ups embarrassing enough?
javabeans: No it's not nearly bad enough. Thankfully Shi-kyung is here to add some humiliation. How: Wearing a magic marker face like Lee Su-geun wore yesterday, loudly, crazily, and genuinely laugh.
girlfriday: Heh, okay that's better. Still not Tae-woong-level, but we'll see how public it ends up being.
javabeans: It's not nearly as bad as that, sadly. I think it really has to be Joo-won to be funny, because he looks a little sick to his stomach right now. I feel like Su-geun and Jong-min would just roll with it.
girlfriday: They do the same thing as last time: all three boys close their eyes and either take a step forward or backward, and the one singled out is the loser.
javabeans: Jong-min it is!
girlfriday: Ha, he's the one who tried to rig it, all "I'm going forward! *wink wink*" and then took a step back! Joo-won spins Su-geun around in a celebratory hug. They have the honors of drawing Jong-min's face.
javabeans: He looks freakish with that marker face. It also has the effect of making them hard to recognize, and I'm pretty sure that was a benefit last time — people think you're funny, not crazy. Thing is, Jong-min is doing this INSIDE a hair salon, so there really aren't any witnesses. Some people gather outside at the laughter, but it's not really public humiliation.
girlfriday: No, it's just really awkward and strange. Though he does have to do it laughing like a crazy person, so there's that.
javabeans: Aw, and then the epilogue is the big reveal. Tae-woong sits with his teammates and says with a really sober face, "I have something to say. I should have said it earlier. I'm really sorry…" Gulp. They wonder if he's quitting the show. He continues, "I'm… getting married!"
girlfriday: Omo is Tae-hyun crying because he thought he was quitting?
javabeans: He totally is. That's so sweet. They were totally all worried there for a second. Even I was worried, and I knew what was coming! This is "Kids, I have cancer" type gravitas.
girlfriday: Yeah it was totally I'm-gonna-break-up-with-you tone. You trickster! I guess next week is when we'll get the full story.

RELATED POSTS
Tags: 1N2D, Cha Tae-hyun, featured, Joo-won, Kim Jong-min, Kim Seung-woo, Lee Su-geun, Sung Shi-kyung, Uhm Tae-woong