Oohlala Spouses plans for extension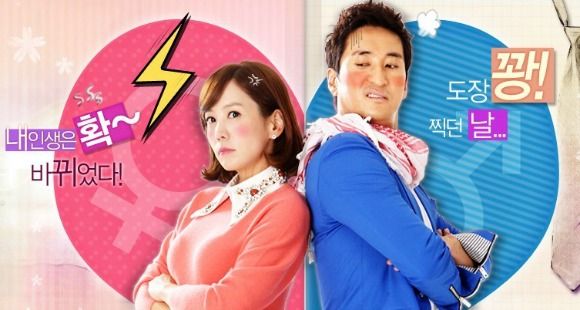 Dramas that perform well in their time slots are invariably going to go through a round of will-they-extend-or-won't-they, but it's looking like a distinct possibility for KBS's Monday-Tuesday comedy Oohlala Spouses, starring Kim Jung-eun and Shin Hyun-joon as a married couple who are forced to spend a little time walking around in each other's bodies. 'Cause yunno, therapy is so passé.
The production is reportedly in talks to extend the show by 2 episodes, bringing the total count to 18. They considered 20 as well, but ultimately landed on just two more episodes, and are now in the process of getting all parties to sign off on the extension. It's probably a show that can bear a 2-episode extension without much harm, especially given the fact that we're only on Episodes 9 and 10 this week. If there's enough lead time to work the extension into planning half the show's episodes, then it's less worrisome than the kinds that will extend by the skin of their teeth.
Interestingly enough, follow-up drama School has already announced that they've pushed their premiere back a week, so we're looking at a December 3 premiere for that show regardless. It's possible that School needing more prep time brought the extension to the table in the first place, but in any case now KBS is very keen on filling that week gap with more Oohlala.
The show premiered in first place and has been performing well in ratings throughout its run, though recent episodes have conceded the lead to The Horse Healer. With the dip in ratings, Tuesday's episode logged 12.5%, just 1% behind the winning horse. It's doubtful that the 50-episode sageuk will let go of its lead once it's been established, but with School's production schedule, extending Oohlala might not be about the numbers anymore.
Oohlala Spouses airs Monday-Tuesday on KBS.
Via TV Report
RELATED POSTS
Tags: Oohlala Spouses