Jeon Woo-chi: Episode 10
FINALLY. I feel like I've been waiting forever for this show to get this good. It turns out, when your hero's entire motivation is his girl, IT HELPS IF SHE'S AWAKE. Just sayin', Show; it's not rocket science. Man, what a difference it makes to have our heroine walking and talking of sound mind, and more importantly, connecting emotionally to our hero. It's like I had forgotten how important that was until we finally got it, and now the show feels full and actually grips me and tugs at my heart.
It looks like UEE's big return (though I'd rather call it her entrance, really) made a difference in the ratings game too—Jeon Woo-chi is back in first place, though the numbers are still on the low end at 11.9%.
SONG OF THE DAY
Changmin – "A Person Like Tears" Jeon Woo-chi OST [ Download ]
Audio clip: Adobe Flash Player (version 9 or above) is required to play this audio clip. Download the latest version here. You also need to have JavaScript enabled in your browser.

EPISODE 10 RECAP
Woo-chi goes to see the king, only to be greeted with a surprise execution—his own. I wonder if the king planned to off him from the get-go, or decides it on the spot because Woo-chi speaks to him rather curtly (not quite rudely, and yet not dripping with deference like the king is used to).
Deciding he needs to take a different tack, Woo-chi kneels and says that he'll offer up his life if the king asks for it, but it won't be too late to kill him after he listens to his story. Yeah, I vote for that.
But the king won't be convinced, either out of fear or suspicion, and orders him killed right now.
Even Chan-hwi doesn't look like he agrees with the choice, but what can he do if the king is screaming off with his head and you're the guy with the hero sword? He gulps and raises his sword…
He swings, and Woo-chi doesn't move.
The king yells out, "Stop!" juuuuuust as the blade screeches to a halt at Woo-chi's neck. Er, thank goodness for Chan-hwi's reflexes? Yeesh.
He tells everyone else to leave the room, and admits it was a test of Woo-chi's loyalty—he didn't use magic when he could have, and offered up his life to a king who would demand his execution without reason. Why?
Woo-chi says that once he left Yuldo and stepped foot into Joseon, he became one of its people too. The king asks if he'll really do as ordered by the king, and Woo-chi says yes… but why do I get the feeling that's a yes but only if I feel like it?
Woo-chi tells the king that he is a disciple of Hong Gil-dong, and that he's discovered the region where Ma Sook is setting off explosives to dig for silver. He's also deduced that the outbreak of plague was a diversion to keep the officials' focus elsewhere.
The king is impressed that he could find out so much, but when Woo-chi asks for his help to stop Ma Sook, the king answers, "But you see, I do not have the power to move the troops. If it is my help you came to seek, I am the one who must ask for yours."
Oof, there's something so heartbreaking about a young and powerless king. Woo-chi looks up in surprise—that's not the answer he was expecting. What's more is that the king then asks Woo-chi to stop them and save Joseon. He's gotta be like, wait, what?
It's not really a thing you can say no to. He says he will, and then walks out of the palace in a daze, not knowing where to begin without his powers, if he can't even get help from the king.
So-chil creeps up behind him to say he's got something for him, and takes him inside to give him a book. He says it was Hong Gil-dong's, and it was given along with the scroll in case it ever fell into the wrong hands.
"Hong Gil-dong said that someone would come to save Joseon. That must be you." Oooh. Chills.
Woo-chi doesn't think he's worthy of the book, but So-chil urges him to take it since it's meaningless in the hands of ordinary people.
So he does, and inside discovers both a cure to recover his magic and also the bad news that if Ma Sook's poison bursts inside Mu-yeon, she'll die. There's no cure for that but death alone.
He rushes to give Myung-gi the list of ingredients he'll need, and gets back a look of horror—this is stuff to make poison. He swears up and down that he won't do anything bad with it, and I don't know whether to be happy or worried, but Myung-gi gives in.
Turns out the poison is for himself. Eep. Woo-chi takes it and struggles with the effects, but manages to fight off the poison and harness his powers. He tests a few light tricks with a smile. He's back.
He goes to see Hye-ryung and hands her a map he's drawn of where he buried Lee Chi, so she can go even without him. She wonders what that means—is he going somewhere? He denies it, but is clearly planning to leave.
He hands her an envelope and says it's the money he's made while working in Joseon and gives it to her. She refuses to take his handouts, insisting she isn't a beggar. She tells him to stop acting like a person who's on his way to die, so he takes it back.
He stops on the front stoop with a long sigh, and leaves the envelope tucked under her shoes as he straightens them. Aw, you are leaving, aren't you?
He heads back to work where Bong-gu complains about being left alone, and Woo-chi actually says "I'm sorry," which surprises him. He tells Bong-gu he has to stop Ma Sook on the king's orders, and then hands Bong-gu a box.
He says it's money, about a thousand nyang, and it's enough for him to buy his freedom. Awwwwww. I'm gonna cry.
Bong-gu looks up in alarm, "I don't need this kind of money. I want to go with you. Let me go with you!" Okay, NOW I'm crying.
Woo-chi tells him he has to go alone, and he might not make it back. He asks Bong-gu to look after Hye-ryung, and despite Bong-gu's cries of protest, he whooshes away, and zooms past Oh Kyu on his way out. Hm, he never granted Lee Chi a vacation when he asked for one, so I can't imagine there'll be a job waiting for him if he ever does return.
He flies through the countryside, and once he reaches the province where the earthquakes are happening, he sits on a rock and gathers up his ki, and sends it like a wall of wind through the entire area.
It knocks regular people over like just a gust of wind, but Mu-yeon can sense something different. She goes to Ma Sook and asks if he called for her. He says no, it wasn't him, "But you felt it too?"
He guesses that it's Jeon Woo-chi, and says he can't be allowed to return from this place alive. He asks if she remembers his command. She repeats it robotically, "Kill Jeon Woo-chi."
He tells her to follow the call and kill him. Woo-chi can sense her nearby, and gives her a chase.
Kang-rim comes out of the mine a little while later, having sensed the weird energy. He comes rushing out to ask where Mu-yeon went, and is horrified to learn that Ma Sook sent her to meet Woo-chi.
Ma Sook isn't worried in the least, since he knows there's no way to break his spell. But Kang-rim's worry is that Mu-yeon will get hurt, to which Ma Sook just answers matter-of-factly that she's done her part and they have no more use for her. Oh dayum. You sent her knowing she was disposable now.
Kang-rim's face twists, as he reminds Uncle that Mu-yeon has been by their side. But Ma Sook growls that his feelings for her make him weak, and orders him to let her go and do nothing.
And for once, Kang-rim disobeys. He takes a few men with him to spread out and search for Mu-yeon, and when one of them questions the order, he literally snaps his neck for asking. Whoa.
Mu-yeon finds Woo-chi and attacks, and he dodges her move for move. He gathers up his energy and speaks to her, almost like sending a radio wave to her subconscious or something, because she stops and asks what he's doing to her.
The message is just for her to remember him, as he repeats her promise that she'd recognize him no matter what he changed into. "Look at me. Look at me."
And then he opens his eyes and says out loud, "It's me. The person you loved."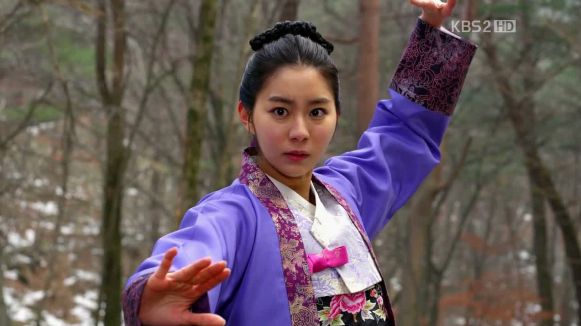 That gets through to her, and she finally remembers their happy times, their promises, and their love. She looks at him with different eyes, "Woo-chi-ya." Ohthankgod.
He gasps, "Can you recognize me?" She nods. He runs to her and throws his arms around her as she cries.
Suddenly she remembers something else—"I killed. I killed people…" She trembles as she cries and he tells her that he knows, just hugging her close.
Her expression changes as she asks him for a favor, and he says he'll do anything. Mu-yeon: "Kill me." Oh no. He reels, saying that he just got her back, and she wants him to do what?
But Mu-yeon says through her tears that this lucid moment is just that—a moment—and she'll lose herself again and do what the poison commands. "I can't do any more bad things. Help me. Help me, Woo-chi-ya!" Augh, her desperation is heartbreaking.
Woo-chi refuses, of course, and says he's going to return her to the way she was. "I'm going to move the poison… into me." WHAT? Nononononono. Wait, waaaaiiiit.
Damnit, he's not waiting. He grabs her for a kiss, which despite the suicide mission, is sweet all the same.
But of course he's using the kiss to extract the poison and transfer it to himself, and as he pulls away the black cloud circles his lips and he falls back, doubled over in pain.
He struggles to hold it together for just a moment longer… and takes out a dagger. He hurries to act before the spell takes control, and stabs himself in the gut. NO. ACK!
Mu-yeon opens her eyes… to find Woo-chi bleeding to death at her feet. She panics, asking what happened, and he just says that it worked, "You're back to yourself and the poison will die with me." He collapses in her arms.
She wails, crying for him to wake up. It's heartbreaking, but man am I glad she woke up. This is the emotional connection that was lacking all this time.
By nightfall she's moved him to a shack in the woods. I can't tell if he's dead already, but he looks it, and hours have passed.
She takes his hand, "You said we'd be together forever. You said you'd protect me until the day you died. Open your eyes. Open your eyes." She cries that she waited so long to look into his eyes again.
Suddenly she looks down at her hand. His fingers twitch, ever so slightly. Oh phew, not dead. She scrambles and calls out his name.
He stirs awake, and no one's more shocked than he is. He asks if he died and went to heaven or something, which ha—your idea of paradise is quite humble. Though I guess a shack in the woods with your girl isn't so shabby if that's your only wish in life.
She grabs him in a hug, and thanks the heavens for bringing him back.
Meanwhile Kang-rim stays doggedly on their trail well into the night.
Woo-chi's stab wound is recovering rapidly, and all signs point to the death of Ma Sook's poisonous cockamouse, given the black blood that oozed out of the wound. Gross. Mu-yeon says that he must have an amazingly strong energy within him to fight that off, and wonders if it was maybe heaven's way of rewarding him, for willing to die in her place.
He just smiles and says that she's more important than he is, and that he promised to be her white knight, so dying in her place is his job. I don't even know what to do with all these warm fuzzies.
She says fine, he can protect her for the rest of his life, but no more dying in her place. She gets close to bandage his wound, and they get all smiley and shy.
Meanwhile, Hye-ryung sits on her front stoop with the envelope in her hand. She tells Woon-bo that he's all she has now, and that he can't go anywhere without her. Aw, poor thing.
She tells him about the money Woo-chi left, and that he went someplace far, probably never intending to return. He realizes she's sitting here worrying about Woo-chi, which she denies.
She says resolutely that she's going to use the money to live well, like she's willing herself to forget him.
Once Mu-yeon fills Woo-chi in on what Ma Sook has planned, he impatiently tries to get up to go stop them, even though he can barely stand. Dude, will you let the gaping hole in your gut heal over first?
She stops him and says he can't take Ma Sook and Kang-rim both in this condition. She blames herself for giving up the map's secret so easily when Grandfather took so much care to keep this from happening. Woo-chi reminds her that it was the spell, and not her fault.
They sleep side by side, holding hands with interlocking fingers and adorable smiles. Seriously, so cute.
But when Woo-chi wakes up in the morning, she's gone. What? He finds a letter and reads it as we see her leave in the middle of the night. She writes that she's returning to Ma Sook to right her wrongs, because she's caused so much harm.
She says this is her work to do, and that he's protected her till now, and it's her turn to protect him. BUT… what about working together? Why is this a concept foreign to you people?
She tells him not to look for her, which yeah, I'm sure he'll listen to. Whatever, Show. GAH.
Kang-rim's men discover the house where Woo-chi is and he's just about to go investigate, when Mu-yeon finds him. They return to Ma Sook, where she says that she fought Jeon Woo-chi and injured him greatly, but she couldn't manage to kill him.
She says she was injured in the fight as well, and only made it back by morning. I'm all nerves, waiting for Ma Sook to react somehow. Can he tell she's not under his spell? What if he can sense the absence of dark energy?
But he smiles and says she did well… only I can't tell if he's acting or trusting her. Okay, I admit, this is rather effective as far as tension goes.
I'm pretty sure Kang-rim can sense that something is off about her, because he asks her where Woo-chi is so he can finish the job, but she tells him to forget about it and acts kinda squirrelly.
By nightfall Woo-chi sneaks his way into the camp and knocks out a guard to steal his clothes. He finds a hut filled with slaves chained up while they sleep, and realizes that he has to get to the majunja first, so that they can snap out of the spell.
At the same time, Mu-yeon takes out a dagger, and slips it into her sleeve. She serves Ma Sook some tea, and I'm just terrified she's going to crack under the pressure. She pours a cup and readies the dagger in her hand…
But Ma Sook doesn't take the bait to reach for it, and orders her to leave it there. She looks up at the guard by his side, and back at him, and complies. He knows something. Or is he just naturally suspicious?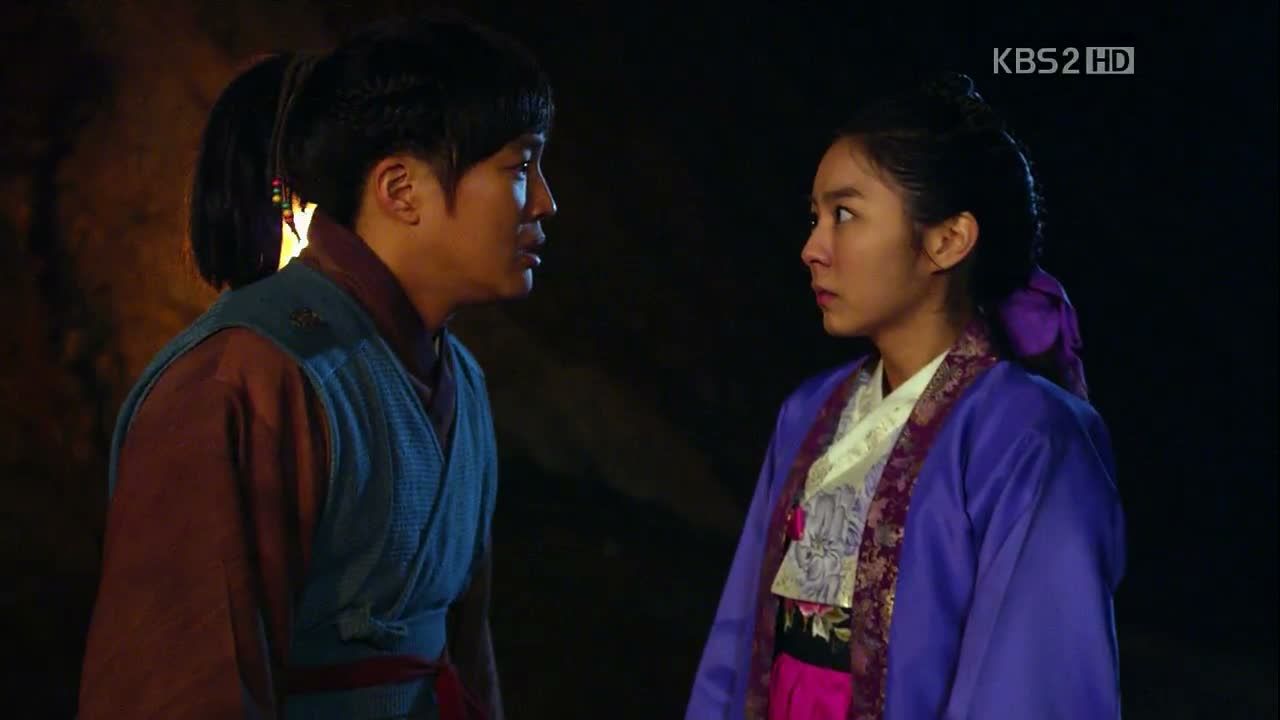 Woo-chi takes his time surveying the whole camp, drawing himself a map of each location. He sees Mu-yeon and follows her into the mine, and she attacks, asking who's there.
He realizes she won't recognize him in disguise—which, HA—and turns back into Woo-chi before revealing himself. She tells him to stay away, and they argue back and forth about taking on Ma Sook and Kang-rim alone.
She says she has a plan—once they reach silver in the mine, Ma Sook will come down here himself, and that's when she'll make the mine collapse, burying them inside. Woo-chi says it's too dangerous, and tries to work a way around her burying herself in along with them, but she tells him there's no other way.
Suddenly someone enters the cave behind them, and their fight is cut short. It's Kang-rim, looking for her. I love their synchronized oh crap look. There's only one way in and out of this place, and he's closing in on them…
He finds her, with Woo-chi standing right behind her… but back in his guise as one of the workers. HA. It cracks me up to no end, the Clark Kent conceit that people can't recognize him in these disguises.
She says she asked him to bring her down here, so she could see if they found any silver for herself. She sends Woo-chi out first, and delays Kang-rim inside.
Woo-chi makes his way back to the palace and leaves a note for Chan-hwi, along with a rock of silver to back his story. In it is the map of the camp, and he writes that five hundred people are being used as slave labor and dying there, and he's going to trap Ma Sook, but can't do it without Chan-hwi's help.
The king beams to know that he put his hope in the right person. Yeah, we'll just keep the part where he went to die in Mu-yeon's place to ourselves for now.
The problem still remains—what Woo-chi needs is for the king to send his army, but the king lacks the power to do so. He decides that he can't place the burden on Woo-chi's shoulders alone, and goes to see Minister Oh.
The king asks Minister Oh to mobilize the army for him, and reveals his intentions to capture Ma Sook. Thankfully, Minister Oh would like nothing more than to get out from under Ma Sook's thumb, so he agrees, and says he'll even lead the troops himself.
They finally reach the motherload in the mine, and Kang-rim races to go get Ma Sook. With them gone, Woo-chi ushers all the workers out of there, and gets to work setting the explosives.
He and Mu-yeon exchange nods as the group heads inside. Ma Sook's eyes light up to see the sparkling wall of silver, and declares proudly that he'll do what Hong Gil-dong couldn't, and repay those so-called noblemen in kind for the way they were treated.
Kang-rim turns to Mu-yeon to ask if she isn't happy to finally reach their goal, and her face drains of color. Woo-chi rushes to cover for her, saying that she doesn't look well from the air in the mine, and offers to escort her out.
They're just about to make it out when Doong-gae, the double-crossing eunuch, recognizes him as Lee Chi. Wait, of all the faces, why'd you use Lee Chi's? Doggonit, couldn't you have borrowed someone else's face?
Immediately swords are drawn, and Mu-yeon panics.
Kang-rim's eyes widen, "Are you…?" And Lee Chi turns his head to face him.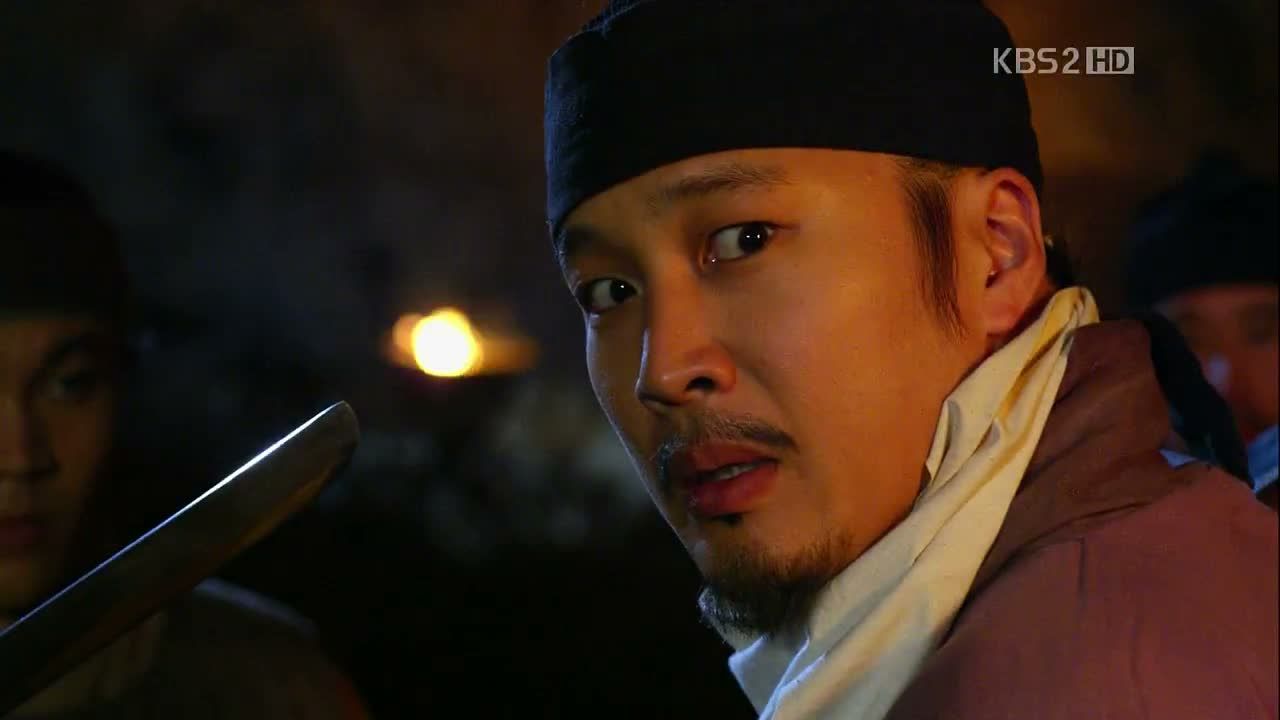 COMMENTS
Yay, I'm so glad to finally get a really great episode from this show. It's not that it was bad before, but more like light, fun fare that seemed like it wouldn't ever break out and do anything more or reach its full potential. I was happy enough with the comedy and the lighthearted superhero hijinks that I didn't need it to be anything more, but I connected with today's episode in a different way. The hero finally got someone to react to as himself; he spends so much time running around solving riddles and chasing the bad guys that we don't spend very much time connecting to him just as a person. It made all the difference to have Mu-yeon show that she loves him back, after watching him single-mindedly trying to save her for ten episodes without so much as a plan.
We even see him completely disregarding his promise to the king when he gives up his life to try and save Mu-yeon, but when she wakes up and can actually give us the emotional payoff for that sacrifice, it changes everything. Before, his quest seemed hopeless, maybe even selfish or a little obsessive, but when he gives up his life for hers, well there's no greater sacrifice, is there? I already wanted her to wake up mostly because I was tired of going in plot circles, but I really didn't know just how much I'd appreciate her being awake for the character connection alone. Once he's with her, I suddenly realized just how isolated Woo-chi felt as a character. Outside of his few scenes with Bong-gu or Hye-ryung, he's mostly alone and in disguise.
Of course I'm already annoyed at Mu-yeon for running off in the middle of the night without sharing her plan with Woo-chi, but I'll forgive her because it's not a terrible plan, to insert herself back in the lion's den as a double agent. Tense for us, good for the narrative. It's just that it would've been nice if she had formed a plan with Woo-chi so they could act together, because we waited ten friggin' episodes and now you're running off to be a lone ranger after being mad at HIM for trying to die without you. Hello. At least he's just as stubborn as she is so they're back to being in cahoots by the end, but still.
I actually do think the double agent tension is great for her, and I wouldn't mind it if they worked that plot into the story in a way where she could sneak away to see Woo-chi on a regular basis as herself, and be a spy in Ma Sook's camp. I just don't know if the jig is already up, given the cliffhanger.
The story is really coming together (I know. It took long enough.) and I'm enjoying the palace team working with Woo-chi. I especially want more Chan-hwi, and the more begrudging the bromance, the better. And this surprised me, but when they cut from Woo-chi and Mu-yeon's happy reunion to Hye-ryung sitting on her stoop alone, I felt a pang in my heart. I love her as a character, but the ouchies from her being left behind sort of caught me by surprise because I liked her antagonistic relationship with Woo-chi the best. But maybe I just like them together, even if they're fighting, because there are sparks there. Aaaaaand now I'm torn… which I suppose is a good place to be.

RELATED POSTS
Tags: Cha Tae-hyun, featured, Jeon Woo-chi, UEE