School 2013: Episode 4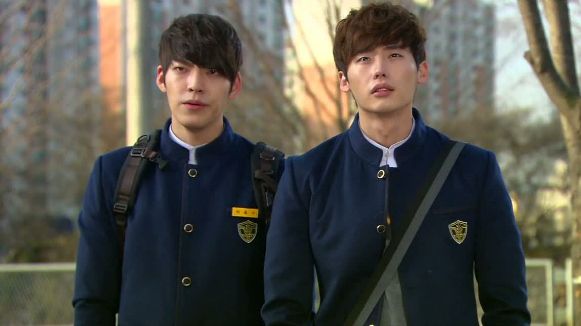 I'm so invested in this show. It hits all the right buttons for me—it's earnest and heartfelt, angsty in a relatable, not overly dramatic way, and tonally darker than you'd expect for a high school drama. The storytelling holds back in a really smart way too, making us curious about each character and taking its time to reveal them in bits and pieces, which if you're anything like me, has you hooked.
SONG OF THE DAY
"Beautiful Days" – J-min (School 2013 OST) [ Download ]
Audio clip: Adobe Flash Player (version 9 or above) is required to play this audio clip. Download the latest version here. You also need to have JavaScript enabled in your browser.

EPISODE 4 RECAP
The air is thick with tension, as new transfer student Heung-soo turns to Nam-soon with a sneer, "President?" Nam-soon looks even more pained than usual, if that's even possible.
I get the sense that he knew the you-are-class-president-my-ass derision was coming, but also that he'd get that reaction from Heung-soo if he were just sitting there breathing. I don't know what went on between these two before, but this ain't no you-stole-my-lunch-money kind of past.
Then the resident class bully Jung-ho saunters in and recognizes Heung-soo from the other day and starts to push him around. Should I be relieved for Nam-soon that Jung-ho has a new target for the time being? Nam-soon looks nervous about that too though.
Meanwhile, Se-chan is being questioned about his illegal tutoring business, which he says is already being taken care of. But they mean something else, something specific to a student here – they accuse him of privately tutoring Ha-kyung, against the rules.
He explains that no one student could afford his rates, and Ha-kyung was just a member of his last tutoring class at the academy. He asks who reported him, and the investigators refuse to disclose that information. Se-chan pointedly asks if Ha-kyung doesn't deserve the same privacy.
But it's all out in the open, and Ha-kyung sits nervously in the teachers' lounge, waiting to be questioned. In-jae tells her that Se-chan took care of it so she won't have to answer any questions, and tries to console her. But Ha-kyung is as closed-off as ever, and leaves without a word.
The mean girls gossip about her in the bathroom, and Kang-joo rushes to her defense. But Ha-kyung bristles coldly at the whole group, and snipes at Kang-joo to worry about herself. Gee, and you wonder why you don't have any friends?
Kang-joo walks back to class in a pissy mood, only to run into Heung-soo again. This time she challenges him to kick her shoe today, and he laughs as he kicks and trips her on his way out.
She shakes her fist, "I swear I'll kick you someday!" I hope it's his heart to the curb after he develops an embarrassing crush on you. It's only fair.
It turns out Uhmforce is the math teacher (and here I thought he was just the scary enforcer guy, ajumma perm notwithstanding) and he makes a point of calling Jung-ho and Heung-soo up to the board to solve some equations.
He's scary enough that Jung-ho reluctantly goes up, but Heung-soo doesn't budge. Uhmforce asks if he wants to be expelled from yet another school, and Heung-soo says he came to this school determined to graduate, "So don't mess with me." Dayum.
The whole class is stunned, and now Jung-ho looks like the dutiful little student, compared to the new badass in town.
The other boys chatter on about it from PE to lunch, calling Heung-soo "hyungnim" (because he's actually older since he squatted a year). One of them says he heard a rumor that he was some legendary jjang [meaning best, a title only the coolest baddest badass gets], not just at his school, but basically top dog in a whole city.
In-jae watches as Uhmforce talks to Heung-soo, who for all his defiance actually answers the teacher respectfully. They agree not to mess with each other, meaning Heung-soo doesn't cause any trouble, and Uhmforce stays out of his hair.
After Heung-soo leaves, Uhmforce smiles to know that he really does want to graduate. In-jae doesn't look satisfied at the graduate-quietly plan, or maybe she doesn't quite believe that he won't cause trouble?
Heung-soo saunters into the cafeteria, and all eyes turn toward him. Nam-soon silently hands Heung-soo his lunch and walks out. Hm, an automatic here's-my-lunch-before-you-bully me tactic, or a peace offering?
Heung-soo takes it with a snide laugh and sits down to eat alone. But Jung-ho and his lackeys come up to challenge him to a fight, itching to settle the new pecking order. It's kind of like watching the nature channel, where the dogs also have detention and math homework.
Jung-ho turns down Heung-soo's offer to just continue being the jjang—'cause you know, what's the point in being the alpha dog if you didn't beat your bloody way to the top? So Heung-soo suggests they take care of things outside of school and away from teachers.
Jung-ho makes a point of pouring his leftover lunch onto Heung-soo's tray before he goes, but he doesn't make it very far before Heung-soo stops him. He throws all the trays on the floor at Jung-ho's feet with a loud clang. "Watch where you're going." He walks out.
Kang-joo runs after Nam-soon to nag him about not eating his lunch (aw she's cute) and spends the rest of her day half mad at Ha-kyung and half trying to make up with her. But Ha-kyung doesn't make it easy, acting just as cold and condescending to her as she is to everyone else. Are you two even friends?
In-jae and Se-chan have another bickering match over how best to use their individual meetings with their students, and Se-chan tells her not to get so deeply invested in the kids. "Is school supposed to take responsibility for their lives?"
In-jae: "It might not be able to take responsibility for them, but it should be a place they can lean on." Se-chan: "Do you want to lean on me?" She gapes that he's crazy. "See, you don't like me, so why would you want to lean on me? Kids—they don't like school."
Back in class, Nam-soon silently puts a textbook on Heung-soo's desk. I am seriously dying of curiosity here. Heung-soo decides to test him, and suggests Nam-soon go buy him a snack too while he's at it, and Nam-soon heads out.
The class buzzes—is Nam-soon falling in line? He didn't even once cave to Jung-ho, but is he choosing to become Heung-soo's lap dog?
Nam-soon comes back to class and puts the snack on Heung-soo's desk without a word. Curiously, Heung-soo doesn't look especially pleased about it.
The class murmurs that Nam-soon is being pathetic to gain some protection, but clearly something else is going on here that only the two boys understand.
In any case, it's doubly annoying to Jung-ho, who hears belatedly that the defiant Nam-soon is now falling in line with Heung-soo.
Poor In-jae struggles as always to get the kids' attention, and Se-chan can infuriatingly get them to shut up with one soft-spoken warning from the back of the room. She says they'll start their one-on-one meetings with the students who didn't turn in their About Me homework, which is pretty much Jung-ho, his lackeys, and Nam-soon.
Jung-ho and his friends walk out right in front of her, and Se-chan just shakes his head at her wasted effort, screaming down the hall after kids who don't give a crap.
But thankfully good ol' Teacher Jo is there to play bad cop, and stops them in the hallway—would they like to clean the gym, or go back to their homeroom teacher? Hee. Back they go.
Ha-kyung gathers her things at the end of the day, only to find all her books scrawled with insults. Kang-joo tells her that she hopes she gets into Seoul University like she wants, even though it won't erase where she came from. Ha-kyung stews.
Nam-soon follows Heung-soo out of school, and once they're outside Heung-soo finally turns to face him, balking at Nam-soon acting like they're friends or something. "Do you want to go, or shall I?"
He says they can't possibly go to the same school. "Every time I see you I want to hit you. You should be the one to go. Running away is your specialty." Oooh that's telling.
They're interrupted by Kang-joo, who only sees that Nam-soon is carrying Heung-soo's bag like a puppy, and basically tells him not to live that way. Ha. She grabs the bag and throws it back at Heung-soo, and bravely tells him not to mess with anyone in their class. I like her.
Nam-soon tries to tell her that's not what this is, to no avail.
In-jae tells Jung-ho that it might be hard for him to graduate like this, and asks if he even wants to graduate. No answer. She asks if he has any problems at home, and he scoffs, "What, if I do, what'll you do about it?"
This time she doesn't have an answer. He walks out, and she chases after him, saying that she knows he's acting tough to hide his insecurities. He turns that around on her and says she's doing the same—acting tough to hide her weaknesses. Eee, they're both right on that score.
He adds that he's not acting tough, "I AM tough," and tells her she's the weakest in their whole class, so why would anyone listen to her if they're not afraid of her? Se-chan sneaks up behind him and asks what about him then?
Se-chan says he's tougher so by his reasoning, Jung-ho needs to listen to him. So far so good… but then he tells Jung-ho to just stop coming to school altogether because he doesn't do anyone any good and he's not wanted here.
Oy. One's got the right intentions but the wrong delivery, and the other's got the authority but the wrong message. In-jae shoos him out of there before Se-chan does any more damage, and SLAMS the door, leaving Se-chan blubbering, "What'd I do?" Ha.
In-jae looks through Jung-ho's record and sees a note from a past teacher, stating that it's likely Jung-ho's father beats him pretty badly. Yeah, I don't think it takes a genius to figure that much. She watches him go with a sigh.
That night, Ha-kyung stands outside her tutoring academy, unable to face the other students. She takes out her phone to call Kang-joo, but then she can't bring herself to do that either.
The next morning, Nam-soon stands outside the school gate, as Heung-soo walks up behind him, "You going in?" That's… not a friendly invitation, is it?
Heung-soo turns to leave, but Nam-soon says he'll be the one to go, and walks away.
Ha-kyung arrives outside school on the bus, but can't bring herself to face them either, and doesn't get off. But before the bus leaves, Nam-soon gets on, and they awkwardly make eye contact on the empty bus.
They sit on opposite sides, each staring out the window with a sigh.
In-jae texts them both wondering where they are, and worries most about Jung-ho who's running low on absences before expulsion. She asks Se-chan what he's going to do about him, suggesting that as the teacher, he has to apologize first.
She asks how he can hurt a student like that, and he in turn asks if protecting them is somehow going to give them fewer scars in life or a happy ending. He tells her that if she's not going to take responsibility for Jung-ho till the end, she shouldn't start because she'll get hurt too.
In-jae: "It's not that you don't want to take responsibility. You're scared, aren't you?" That seems to niggle at his conscience. Or he has something in his eye. We have yet to find evidence that he has a conscience.
In-jae tries to find out what's going on in her class from the other students, but no one will tell her why Ha-kyung and Nam-soon aren't here.
They ride the bus all the way around until it circles back to school, and this time Nam-soon gets up. He tries to get Ha-kyung to get off with him, but she's not one to easily give in. He finally convinces her to get off at the next stop as a favor to him since he doesn't want to go it alone. Aw.
They trek back to school and he asks if it was really worth it just to go to that stupid academy. He asks why she went in the first place, framing his face with his hand, "For the flower boys?" Hee.
She snarks that there aren't any at their school, that's for sure. The real reason is that their school isn't going to help her get into Seoul U, and he wonders what the big friggin' deal is about going there.
She says it's where everyone else in her family went, with a sigh, like it's more of a curse than anything. Ah, okay, that helps put it into perspective, if she's from some crazy high-pressure family.
She asks if Nam-soon is really that scared of the new kid. He nods. She scoffs, wondering what Heung-soo is that's got Nam-soon on the ropes.
"We were friends. Really good friends… once."
They reach the outer wall and Ha-kyung refuses to go in together, so Nam-soon leaps the wall first. As he walks onto the field, he sighs that school sure is far today.
He walks into class, and Heung-soo notes his presence with silent disapproval. It's so adorable that Young-woo comes up to say that he was worried, and Kang-joo nags him about not bringing Ha-kyung in with him.
Heung-soo steps out for a cigarette, and Nam-soon comes up and snatches it away, pointing up at the cameras. Heung-soo wearily tells him to go before he gets hit, and Nam-soon doesn't budge, "Just hit me."
Heung-soo sneers, "You're a good actor. You have everyone fooled. Do they not even know your real age? They think they're friends with you."
He figures Nam-soon is rattled, worried that he might blow his cover and tell everyone about their past. Nam-soon says it doesn't matter. But that's not what his face says.
Heung-soo: "Really? If they knew what kind of bastard you really are, would they still act that way?" He says they'll see, lording their secret, whatever it is, over Nam-soon's nervous head.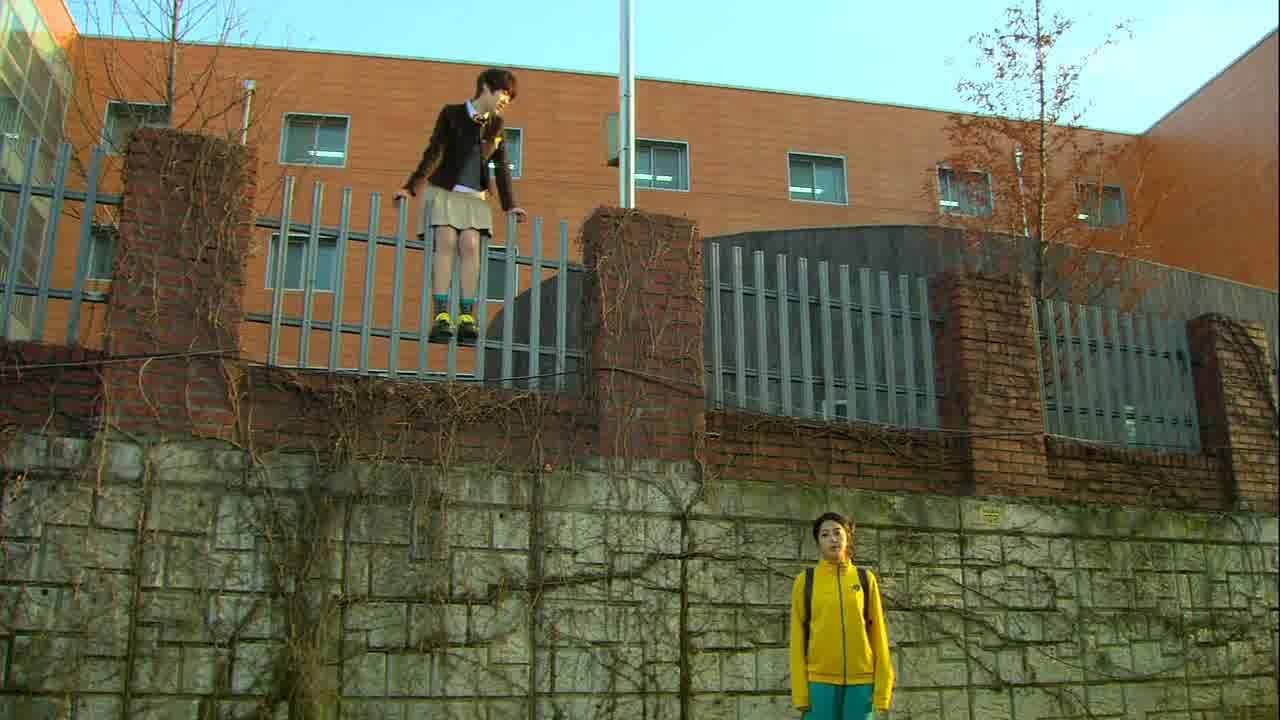 Kang-joo finds Ha-kyung still standing outside the school walls. She asks why she's not coming in, and Ha-kyung finally admits that it's because she's sorry, and she thought Kang-joo would hate her. Aw, so you really are friends.
Kang-joo leaps down, tearing her skirt in the process, and Ha-kyung's worry overcomes their awkward tension. Kang-joo throws her arm around her, saying she missed her nagging friend, and they laugh.
Kang-joo goes with her to the tutoring academy, and demands that her friend get a refund. Ha. It's adorable—she not only gets Ha-kyung's money back, but manages to make the academy feel like they lost the opportunity to advertise Ha-kyung's success story later, and they walk out arm in arm, with their heads held high.
Ha-kyung uses the money to buy them new school uniforms, and they run back giggling. They're so cute.
In-jae asks Nam-soon why he still hasn't turned in his About Me questionnaire, and he says he doesn't have anything to say. She asks about an irregularity on his record—he didn't graduate from junior high and entered high school with an exam, and she asks him why.
Whatever happened with Heung-soo must've happened then, because he clams up about it instantly. Thankfully for him, In-jae gets a call from Jung-ho's dad, so he's off the hook for now.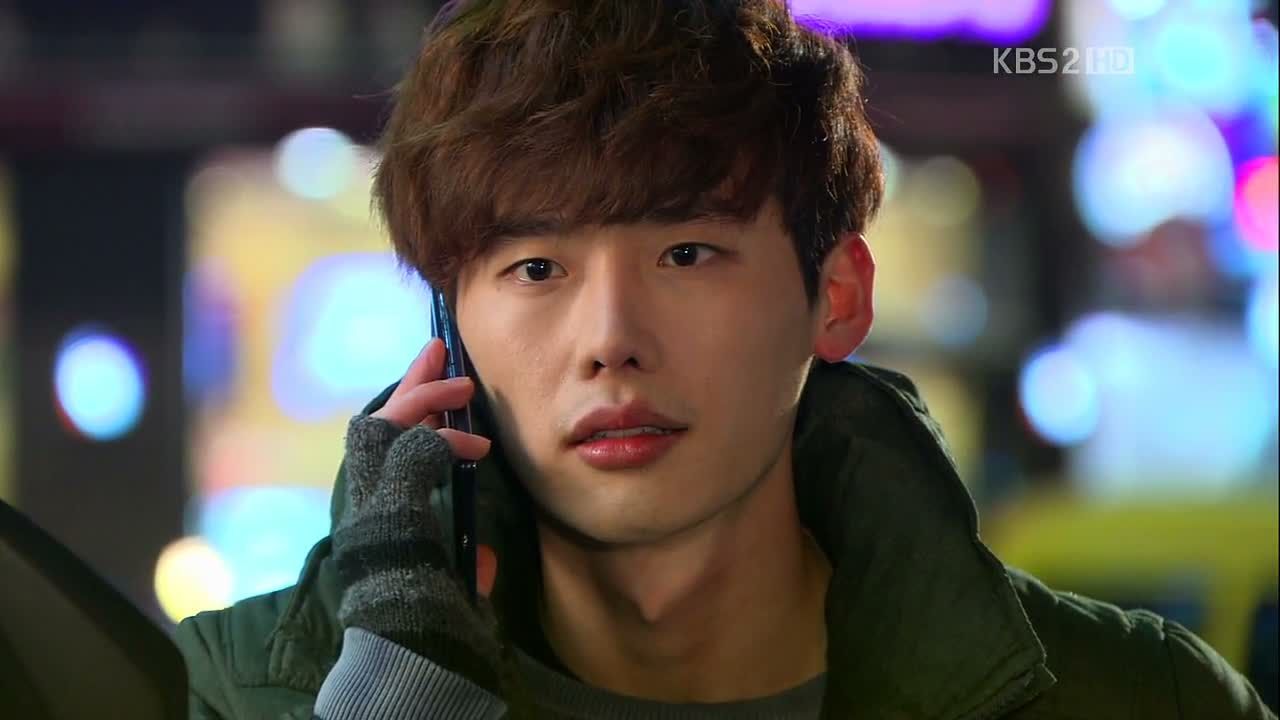 The other teachers worry about her heading to see Jung-ho's dad alone, since he's famous for throwing violent fits even when he visits school. Yeesh. It looks like Se-chan has a conscience after all, because he offers to go with her.
Ha-kyung and Kang-joo just play hooky the rest of the day, and Kang-joo asks how Nam-soon knew about her going to that academy, wondering why he'd be at a place like that. Ha-kyung asks in turn why she's so curious about Nam-soon… which makes ME worried that they both might end up liking him.
Nam-soon gets a call that night… from Jung-ho? He says he's with Heung-soo, and Nam-soon panics, asking where they are. Uh-ohs.
In-jae finds Jung-ho's house, but there's no answer at the door. She insists on waiting a while longer, and Se-chan sighs that she can't take responsibility for their lives. In-jae: "So because I can't take responsibility, I shouldn't stick out my hand either?"
He says that he worked at an amusement park once, and the moms who lost track of their kids always said the same thing—that they disappeared in the one second when they weren't looking.
"What I'm saying is, even mothers lose their kids." He leaves her there to wait alone.
Heung-soo shows up to meet Jung-ho, still not wanting to fight if he doesn't have to. That is, until Nam-soon shows up. Eek, I think you just made it worse.
Jung-ho says he called him here so that Heung-soo couldn't complain later that it wasn't an evenly matched fight 2:2, and Heung-soo just sneers. Suddenly he kicks the two boys, and Nam-soon runs over.
And then… Heung-soo sticks his hands in his pockets. Whaa? To just take the beating? But why? He gives Nam-soon this pointed look. Man, there is some seriously twisted water under this bridge.
Jung-ho tears into Heung-soo, and even his friend gets scared. He sees that In-jae is calling Jung-ho's phone, and he answers, terrified.
Jung-ho says he heard that Heung-soo has a bum leg. He grabs a nearby brick, ready to make the damage permanent. And it's then that Nam-soon gets in Jung-ho's way, to defend Heung-soo.
He fights back… and he's vicious. Oh crap. What did they just unleash? Nam-soon knocks Jung-ho to the ground and starts wailing on him, with this terrifying rage.
And behind him, Heung-soo smiles, "So you're not dead after all, Go Nam-soon."
Flashback to Nam-soon getting beaten, all those years ago, with Heung-soo looking on. Only when it stops, the two boys smile at each other. Heung-soo brushes the dirt off his shoulders and says he did well. Oh shit. This is Nam-soon getting jumped into a gang, isn't it?
In-jae and Se-chan rush to the field, just as the police arrive, a moment ahead of them. They look over at the boys, and there's Nam-soon beating the living crap out of Jung-ho. He sees Teach and freezes.

COMMENTS
Dude, it's worse than I thought. The chair incident made me think that Nam-soon maybe had some anger and violence issues, but the way he was wailing on Jung-ho, and the way Heung-soo smiled? They were like 13-year old Fight Club, weren't they? It's obvious from their few interactions at school that Heung-soo feels deeply betrayed and Nam-soon feels extremely guilty—over what, we don't know, but something tells me it's not as simple as Nam-soon just wanting out. Before the reveal, I was hoping the two boys would overcome their differences and be friends again, but now I'm terrified what having Heung-soo around will do to change Nam-soon, after all his effort to be better. Now I get why Heung-soo scoffed at him being class president, which seems so completely ass-backwards, from his point of view. My understanding from Heung-soo's reaction when Jung-ho asked if he was the Kyungkido jjang is that he might not be, which means there are only two possibilities: Heung-soo was and is lying about it, or it was Nam-soon. Eeeeeee.
The teachers, I continue to love from episode to episode, especially now that In-jae and Se-chan are forced to work together. I wished for the last three episodes that Ha-kyung's conflict was one I cared more about, but today's episode did a lot to make her more likable. At first I didn't get her militant thing about that academy and her seemingly pointless shame about what high school she goes to (which I get in theory but am also like, yeah get over it). But now that we see she has ONE friend in this world in Kang-joo, it makes her more relatable, and her confession to Nam-soon about her family pressure helps to motivate her obsession with getting into Seoul U. Now I feel like I understand her a bit more, and can get past her cold exterior. If she's got one friend she's nice to, I can forgive a lot. I also just love her and Nam-soon together, because they're both so damn lonely and adrift—I hope theirs will continue to be a very slow progression because I like their quiet understated dynamic.
I loved the slow reveal of Heung-soo's character—they waited to bring him in after we're introduced to Nam-soon and so firmly on his side, and just when you think Nam-soon couldn't have more enemies or couldn't handle one more bad thing in his life, Heung-soo shows up and makes his earlier conflict with Jung-ho seem like a cakewalk. It was a great tense introduction too, dropping enough hints that Nam-soon was acting out of character around this guy, making me so damn curious about their past.
It's a good wrench to throw into the class dynamic, and an even better conflict for Nam-soon, even though it terrifies me because I just want him to be a good boy and graduate and be happy. (I know, where's the drama in that? But! My heart! My heart can't take it if he's hurting!) My one tiny ounce of hope is in Heung-soo's seemingly earnest desire to do the same and just graduate quietly, despite the fact that they'd each do better at separate schools. In other countries. Maybe on other planets. I have a feeling he's going to drag Nam-soon down, which would make me hate him if he weren't played by Kim Woo-bin. Now I won't be satisfied till they're BOTH graduating like good boys. Bah. I'm in for a world of pain, aren't I?

RELATED POSTS
Tags: Daniel Choi, featured, Jang Nara, Kim Woo-bin, Lee Jong-seok, Park Se-young, School 2013