School 2013: Episode 6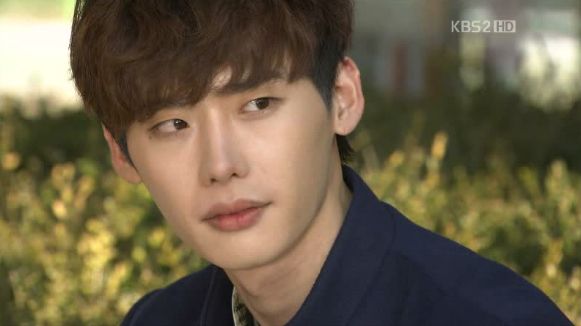 This drama breaks my heart every episode, but damn it, I always come back for more. It's because they manage to do that that perfectly hopeful, earnest kind of heartbreak so well—especially in those small moments between characters that you might miss if you blinked. All the characters feel real and fleshed out, and their problems so harsh, but universal all the same.

EPISODE 6 RECAP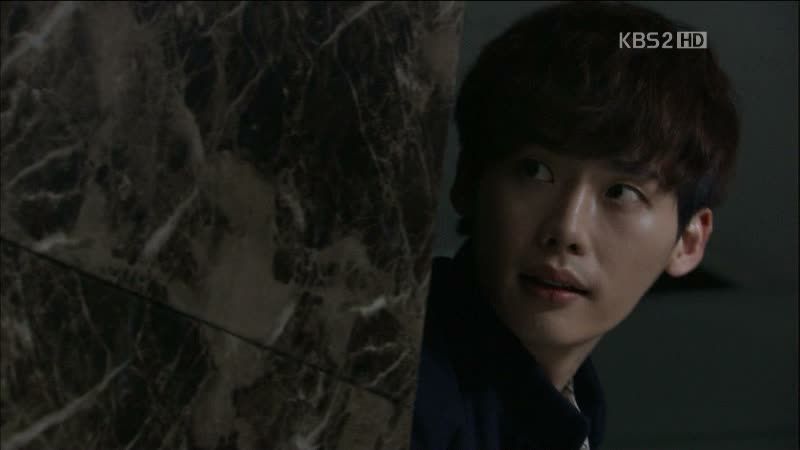 In study hall, Byun-ki shows off his super-powered go juice, bragging to the class that he's been awake for 36 hours straight. On energy drinks? Ugh, I cringe at the sugar overload. But Ha-kyung gets this look in her eye that does not bode well.
Suddenly the lights go out, and then we catch up with Nam-soon, who uses that moment to sneak up to the test storage room. He opens the door… Don't do it, don't do it, don't do it…
We cut back to the halls teeming with kids playing zombies (hee) and the lights come back on. Did he do it? He didn't, right? He runs out of school looking mighty suspicious, and jumps the fence.
Jung-ho and his boys are waiting for him, and ask for the test. Nam-soon reaches into his coat… and takes out his cell phone. He tells them he recorded their threats, so if they blow the whistle on the fight, he does the same about the test. Ohthankgod, you didn't steal it.
He walks away, muttering to himself that he really should've recorded it. HA.
It's D-day, and everyone is a jumble of nerves. Well, except the three boys whose fists are faster than their words. And of course, Mr. Go Juice Byun-ki has been awake for days… but crashes and falls asleep the second the test hits his desk. I don't know why, but this detail cracks me up: Heung-soo just marks all As all the way down his answer sheet, while Nam-soon marks all Cs. Match made in heaven, these two.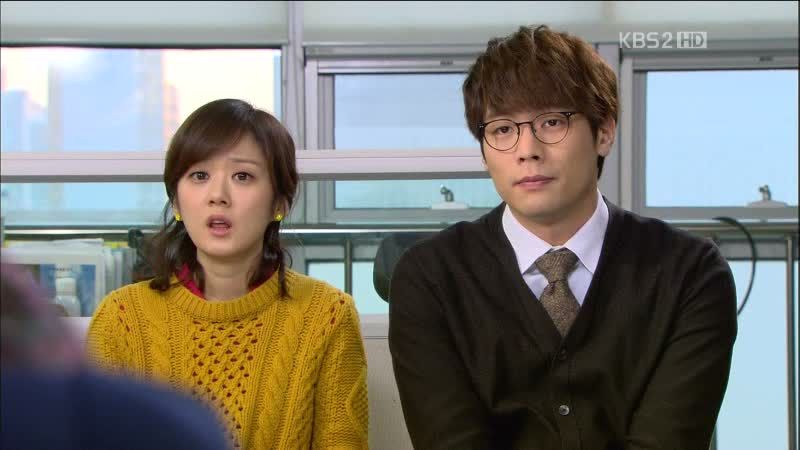 Halfway through midterm day, a few of the students catch Se-chan playing hooky, and he just smiles to himself, wishing everyday were test day. Says the teacher. But by the afternoon, things take a turn for the worse.
The teachers realize that one of the exams is missing from the total count, and the problem is, they have no idea if it went missing after the exam (so just an oversight) or before (theft and a security leak).
Se-chan asks the class if anyone's seen an extra test, and Nam-soon looks over at In-jae for just a split second. The teachers go over the security footage from the night of the blackout, but find nothing.
The students wonder who might've done it, but mostly worry that it'll mean they have to retake that subject. Of course it turns out to be Se-chan and In-jae's test, so they're told to write up a new test that night.
They stay late to rewrite a new exam, and In-jae asks if Se-chan is going to do it all by himself again. He chides her for not even reading the test the first time: "I made it out of both of our exams."
Her smile at that is so cute. He tells her to hurry up and toss out some new ideas, and it just gives me the warm fuzzies that they're actually working together on something.
They finally head out when they're finished, only to find Uhmforce in the parking lot, snooping around Se-chan's car. It turns out he's been doing some sleuthing, and found that Se-chan's car was parked here overnight, and has a black box camera.
They go back to the office to look at the recording at the time of the blackout. One student is seen walking past the car at exactly the right (or wrong, rather) time: Heung-soo. Crap. And also, that's not who I thought it'd be.
The next day, Uhmforce gets Heung-soo in his office, and assumes the worst: "A troublemaker can't help but always make trouble. It's habit." Aw, don't be like that. Also, can someone just check his test, where he indiscriminately marked all As? Would a test thief do that?
Heung-soo: "Suspecting a student you've already suspected once—that's habit too." Nice. I don't doubt that Heung-soo is capable of some heinous things, but I do think he's right about that sentiment.
In-jae and Se-chan are standing in the hall, and she asks with this clinging bit of hope, "It's not Heung-soo, right? It's not one of our kids, right?" Se-chan just says they'll find out either way.
The class buzzes with the news that Heung-soo is the thief, and Nam-soon's face goes white to hear it. He marches down to the office, and In-jae looks up at him in confusion. He just says, "I'm sorry," and goes inside. Oof, it's a crushing blow to In-jae.
He tells Uhmforce that it wasn't Heung-soo. "It was me." Urg, was kamikaze mission the only way you could think to save him? Heung-soo actually laughs out loud, and Uhmforce looks curiously back and forth between the two boys.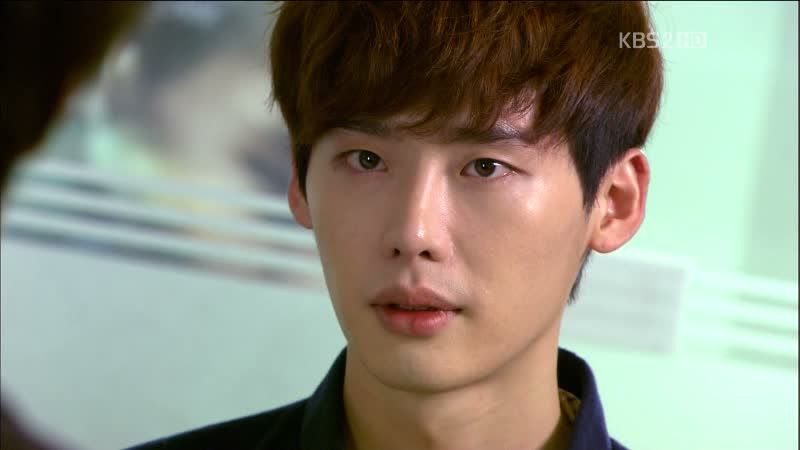 Nam-soon confesses that he was going to steal the test, but didn't. That gets the reaction you'd imagine, since Uhmforce isn't about to be forthcoming with the benefit of the doubt.
Nam-soon admits that it's his fault for planning to steal it, but he sticks to his story that he didn't actually take it in the end. Meanwhile, Se-chan remembers something. Please tell me you saw the culprit.
Uhmforce recommends handing Nam-soon over to the police, and In-jae can't argue this time. She just says she'll follow the principal's lead. But this time it's Se-chan who speaks up, and asks for one more day to figure things out. That catches everybody by surprise, including me.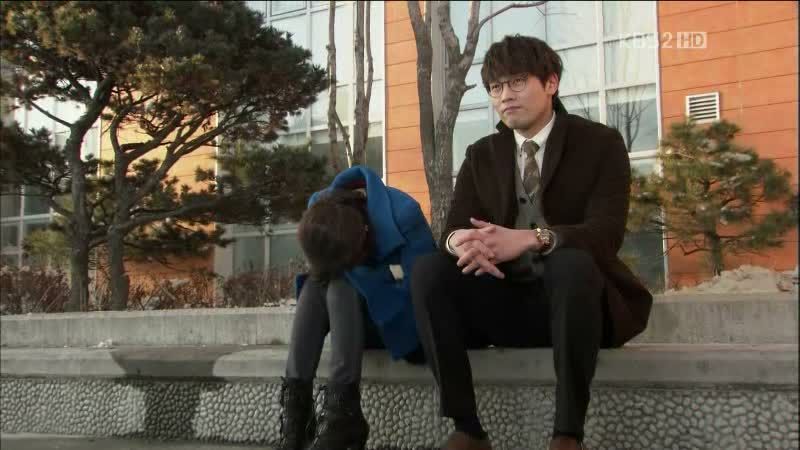 In-jae goes to see Nam-soon and asks if he's not guilty this time either. "But this time I can't take your side. I can't forgive you, for wanting to steal." But! You're the only one who trusts him, in the whole wide world! *tears*
Se-chan finds In-jae sitting outside, head buried in her knees. He says that there must've been a reason for Nam-soon's behavior. She vents at Se-chan, demanding to know what reason there could possibly be for this. He jumps, "What're you getting mad at me for?" Heh.
He calms down and adds, "There are things that might seem like nothing to us, but are to kids like the heavens are crashing down." Er? Is this… Se-chan… telling In-jae to be more understanding? What bizarro land did I step into?
He tells her about his conversation with Nam-soon that night of the blackout (ah, so this is the thing he remembered)—about his dilemma between doing something bad to protect someone or doing nothing and letting someone get hurt.
In-jae: "WHO? Who'd get hurt?" Se-chan sort of shrugs off the part where he ended the conversation there because he was busy. She gives him a death glare.
Se-chan: "See, see, you're gonna take his side immediately." Omg, it's so cute. She scowls, not wanting to acknowledge it because she's still mad at Nam-soon.
He actually gets up and says, "Let's save the kid first." I can't believe it—she's actually rubbing off on him. She's so mad that he has to drag her along, as they visit tutoring academies one after the other.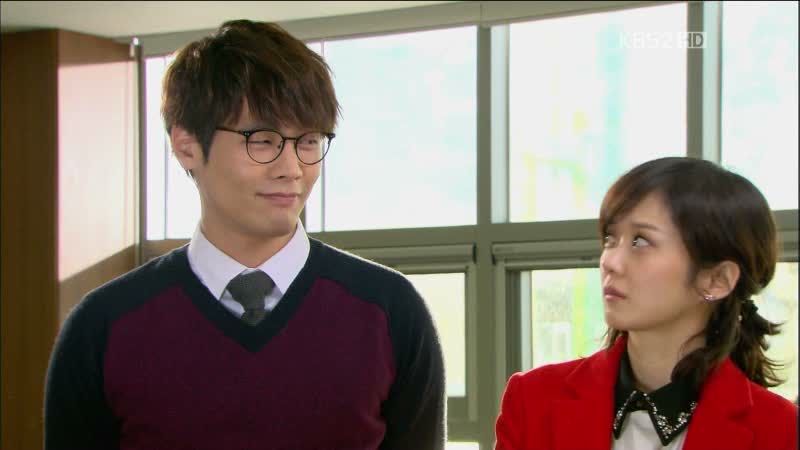 Ah, I see, it's like going through pawn shops to see who's got the stolen goods, and you can work your way backwards from there. In-jae starts out annoyed, but ends up pretty impressed at him. Does that mean they found the culprit?
They report to the principal in the morning—they found the test being distributed at an academy, and the culprit was a former Seungri High student who was caught in the act stealing a test from another school the next night.
They all sigh in relief that it was an outsider. Did… Se-chan just wink at In-jae? Heh, he did, and the look on her face is priceless.
She asks Nam-soon who needed protecting. No answer. Who did the threatening? Was it Jung-ho? He doesn't answer that either, but he turns to look at her, and she can tell that it was Jung-ho.
In-jae: "But still…" Nam-soon: "I know. I won't do it again." Yay, all is right with the world again. I swear, I can't take it when these two fight.
She adorably shakes her tiny fist at him, "If you do, you're dead." He cracks a smile and bumps his fist with hers, "Look at the size of that fist." Hee. He walks away, and she scowls, "You little thing."
In-jae announces Nam-soon's innocence to the class, and they're impressed that she proved he was framed. She gives the credit to Se-chan, and they actually oooooh and aaaah that he'd care.
I'm just glad that Nam-soon has a reason to be nice to him now. Hey, grudging obligation combined with the threat of gym cleaning can be the foundation of a lasting friendship. Sometimes.
Nam-soon waits in the hall for Se-chan and awkwardly stands there, shuffling his feet and hanging his head. He starts and stops a few times before he finally gets it out: "Th… thank… you."
Se-chan purposely pretends he didn't hear it, because he makes him say it again. I'm just scared that'll make it go sideways, but Nam-soon manages another "Thanks." Se-chan just peers at him, "So you know how to say things like that." Would it kill you not to be snarky?
Teacher Jo comes by to tell Se-chan that he did a good thing, and Se-chan just brushes it off like he tried to ignore the kids, but they won't stop clinging to him. Pffft. Yes, sure. That's the trouble.
Teacher Jo tells him in his wise way that ignoring the kids is not really an option for a teacher.
Ha-kyung and Kang-joo study in the library, and Ha-kyung takes a pill when she starts to get sleepy. Uh-oh. Jesse Spano Alert! Kang-joo asks—those aren't pills to help keep her awake, are they? Ha-kyung lies that they aren't. If she starts in on "I'm So Excited," you need to call the school nurse.
Nam-soon throws some school notes under his pot of ramyun at home, realizing that he still has the notes that Ha-kyung gave him. He calls her up and brings them to her at school, and she asks if he even read them.
He admits he hasn't, so she hands them back and orders him to follow her into the library. Is this your way of making a study date? They sit on opposite sides of the row of desks, and Nam-soon wakes up from his nap to find Ha-kyung dozing off too.
He smiles, "Even first place gets sleepy." He leaves her notes by her side and just lets her sleep, and goes home.
The day of the re-test, Ha-kyung looks even more frazzled than before, and some of the other kids snicker that she got an 85 on her math test. At lunch she takes another caffeine pill… combined with Byun-ki's Go Juice. Agh. She downs the whole bottle.
She barely makes it till the end of the day, and then as she walks out of the classroom with Kang-joo, she collapses in a heap. Se-chan happens to be standing right there in the hallway when it happens, and Kang-joo screams for Teacher to help.
But Se-chan freezes—this isn't just surprise. He stands there, unable to do anything. Flashback to Se-chan at a different school, carrying a girl on his back in a panic. He tells her to hold on for just a little longer… but her hand goes limp, as he's carrying her on his back. Did she die?
So he was a real teacher once. This must've been the thing that traumatized him and made him leave school.
Back to Ha-kyung, as more and more kids amass in the halls, waiting for Teacher to act. But he doesn't.
Finally, Nam-soon hears the commotion and comes tearing down the hall, and pushes Se-chan out of the way.
He piggybacks Ha-kyung to the hospital, and looks up at Se-chan on his way out, like WTF are you doing? The kids all murmur the same thing, and he continues to just stand there, shocked.
In-jae rushes to the hospital, and a few of the boys say that they're disappointed in Se-chan—he just stood there and did nothing, and Nam-soon carried Ha-kyung all the way here. In-jae says he must've just been shocked.
Ha-kyung wakes up, and Kang-joo hugs her in relief. Nam-soon smiles to see that she's okay and walks out without a word. Oh you silent hero types.
The doc comes in and warns her not to mix energy drinks anymore, and both she and Byun-ki hang their heads sheepishly. What about the caffeine pills? Hm, guess this is going to be a long-term conflict for her.
In-jae asks if her parents pressure her, and Ha-kyung says her parents are the type to leave her to study on her own. But their idea of "do well" is to do exactly as everyone else did in her family, and get into Seoul U. She breaks down as she says that she tanked on today's re-test.
In class the next day Se-chan gets the cold shoulder from the kids, and In-jae calls Jung-ho out of class to confront him about the test stealing. Oh no. Teach, don't you remember the thing about tattling and making things worse?
Jung-ho knows right away that Nam-soon talked, so then he announces it to the whole class, adding, "But didn't you really do it for Park Heung-soo?" He outs their friendship, which also outs his age, and the whole class gapes.
Thankfully Heung-soo isn't there. But d'oh, spoke too soon… he's standing in the doorway. Nam-soon follows him outside.
Heung-soo asks what he did because of him. Nam-soon: "I didn't do it because of you. I did it because of me." Heung-soo: "Are you that afraid of me?"
Nam-soon: "Yeah. I am afraid of you. I'm afraid of you more than anything else in this whole world, you bastard." But Heung-soo just walks away while he's still talking.
It's time for midterm test results to be handed out, and Se-chan doesn't much want to be the messenger, but In-jae makes him do it (with an evil smile to boot).
There are groans and cries from students who lost points here and there, kids who don't even look at their scores like Heung-soo and Nam-soon, or those whose hearts crash to their knees, like Min-ki and Ha-kyung.
Min-ki looks especially scared to go home that day, and apologizes to Mom for missing one question. ONE friggin' question, and you look like your dog died? She says it's okay—she already knows. (Dude, Mom, you're freaking me out.)
She says he got a perfect score on the test the first time anyway, and why does that statement make me worry? Min-ki looks at a closed door with a sigh. Hm.
A few of the kids stop Nam-soon to ask if he's really older than them, not really believing the rumors. He admits that he is, and suddenly it's stilted jondae and "hyungnim," heh.
They assume that Heung-soo is the bad guy and that Nam-soon is under his thumb, and adorably tell him that they're going to protect their hyungnim from the other hyungnim. Why are they so cute?
The next day, Min-ki's mom marches her army of moms into the school. She's up in arms about the re-test, and says she took it to be examined by a professor who deemed that there were two questions that were harder on the re-test. ARE YOU FREAKING KIDDING ME?
But that's not even the half of it. She says the school's standards are slipping and that she's worried for her child's safety, announcing to the other moms that a gangster transferred to this school.
That gets In-jae fired up, and she says that they shouldn't label a student that way. He's not causing any trouble or doing any harm.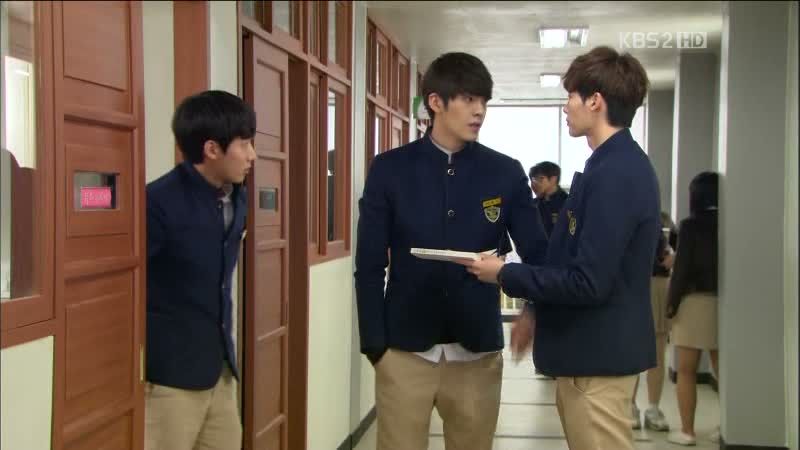 In the hall, Nam-soon catches up to Heung-soo and hands him another book. I love that he keeps trying. Heung-soo knocks it to the ground and refuses to take it.
Min-ki picks it up and offers it up to Heung-soo, not knowing he just stepped into the middle of an argument. In his defense, it's not like you two fight with many words.
But Heung-soo's just pissed at Nam-soon, and knocks Min-ki upside the head, "I said, get rid of it, you bastard." He doesn't hit him hard, but he does say it menacingly.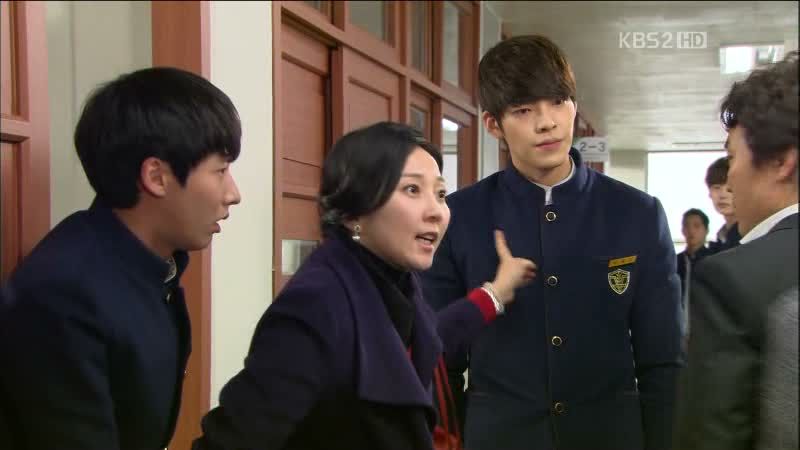 Suddenly there's a scream from down the hall. Oh shit, it's Min-ki's mom. She and a gaggle of teachers just witnessed the worst possible moment.
She comes running up, screaming that she said there was a gangster at this school, and she was right to worry, and hits Heung-soo in the chest. Yeesh. And poor Min-ki just shrinks back, willing himself to disappear.
Heung-soo broods on the roof, and Nam-soon comes to find him. Heung-soo asks, "If I'm a gangster, what does that make you? Will you stop pretending to be nice, to be sorry? It's not going to change anything. You disgusting bastard."
Min-ki comes home that day to find Mom caressing that closed door in their house. He gathers up the courage to tell her that he doesn't like it when she comes to his school, and tries to tell her that it doesn't matter what Heung-soo is.
Mom argues that he won't have time to study then, and Min-ki complains, "Stop it! That's why hyung—" and then she suddenly SLAPS him across the face.
She warns him not to speak of his brother, but it's too late, and Min-ki says this is why hyung never comes out of that room…. for two years now. What?
A violent scream comes from behind the locked door, and Mom runs to it to cry to her son that she was wrong so please come out now. She collapses in tears. Whoa. This family is fucked up.
Poor Min-ki. And even though he has every right to run right now, he's such a good kid that he goes over to Mom to say he's sorry and he'll do better. Augh.
The next day, In-jae decides to give the kids an anonymous survey about school violence, in the hopes that they'll alert them to any problems that exist. Se-chan sighs that it's a waste of energy, and kids aren't going to tell them anything.
But In-jae says they have to try, so they distribute the surveys. Everyone looks around nervously and hunches over their papers. I wonder if they'll just collect a bunch of blank pages.
In-jae and Se-chan head back to the office to give them a read. Uh-oh, the looks on their faces start to change… I guess they did write stuff down.
Next thing we know, Jung-ho, Heung-soo, and Nam-soon have been singled out to remain in class.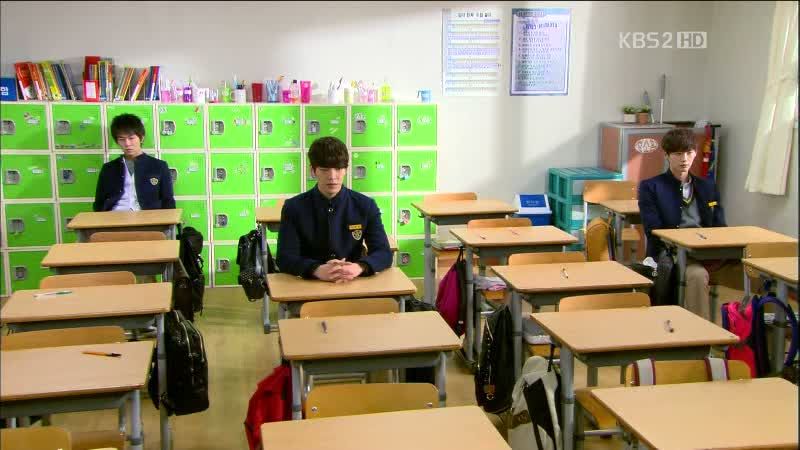 COMMENTS
Eek, the tension between these three is so intense. And can you imagine being teacher to even one of these kids, let alone all three? I suppose it's a good thing for the story that Jung-ho continues to be such a threat, but I want them to hurry up and establish some kind of hierarchy so I can stop having a nervous breakdown every time they share screen space.
I'm so relieved Nam-soon didn't steal the test—we would've forgiven him eventually, but it would've crossed a line, and especially one that In-jae would have a hard time recovering from. It sort of breaks my heart the way her hopes literally rise and fall with the kids, but that's what's so great about her. She just tries and tries and puts her hopes in them time and again, even when she gets crushed. I just love her friendship with Nam-soon, because I can feel her hoping and wishing for him to be a good kid, just as badly as we do. And it's no wonder that she's the one person he wants to do right by—she's the only one who bothers to put that much trust in him.
Their exchange where he teases her about her tiny fist and then she calls him a little thing (like you would to any kid) just got me in the heart. How fitting that they each see the other as tiny and needing to be protected. It kills me. He's bigger in size, and she's bigger in age, they take turns shielding each other from the bad stuff. Is there anything sweeter? Can she adopt him?
Se-chan's arc is starting to take an interesting turn—I think he's one step forward and two steps back, but we're starting to understand him a little more. I like that In-jae's optimism just will not be shut down, and so she sort of wins that battle with Se-chan because in the end his jadedness is less dogged than her sunny optimism. So we start to see signs of him letting her in little by little, and bothering to lift a finger when it comes to the students, and even convincing her to buck up when Nam-soon's almost-thievery breaks her down. Clearing Nam-soon's name felt like a huge step forward for him, but then it seems like he sort of retreated back into his shell after Ha-kyung's collapse.
I like that he's as much of a mystery as the students are, and that's something I'm really enjoying on this show. It's not mystery like cloak-and-dagger melodramatic stuff, but an approach that's kind of like a stand-in for school and real life—you think you know people, but you never really know. We're put in the same position as In-jae, who desperately wants to know these kids, but she only gets glimpses, makes tiny scratches at the surface, because each kid is a mystery.
It keeps the drama's narrative like a constantly moving puzzle, because in every episode we discover something new that changes the score, whether it's Min-ki's crazy stressful home life or Se-chan's trauma, which might explain why he tries so hard to keep students at arm's length. It's a great way to set up a world, because no matter whose story we move in and out of, I'm always invested and I'm dying to know more. They really make us feel like each character lives a full life outside the classroom, and we're only getting the very tip of the iceberg with the version of them that we see at school, that they're willing to show us. And that's just real, no matter what school or what classroom you walk into, and why I love this drama.

RELATED POSTS
Tags: Daniel Choi, featured, Jang Nara, Kim Woo-bin, Lee Jong-seok, Park Se-young, School 2013