School 2013: Episode 8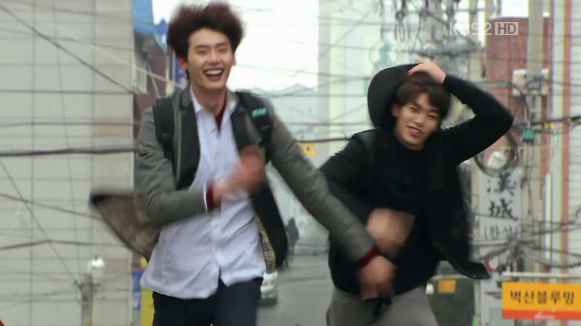 School may be in session even on Christmas day, but if Nam-soon isn't present, does it really count? Our hero leaves school and his bestie behind, but you know what they say about absence and hearts… truancy makes the heart grow fonder? Everyone gets a chance to miss Nam-soon, and you'd be surprised who makes the biggest showing when it comes to Operation: Recover Rebel.

EPISODE 8 RECAP
Nam-soon leaves school that night having turned in his notice to drop out. He stops at the gate to tell Heung-soo, "What I threw away wasn't school. It was you, you punk." You're gonna make me cry AGAIN, aren't you?
Nam-soon cries as he walks away, and Heung-soo stands there completely floored.
Nam-soon comes back to his dark, empty room and sits down with a sigh, taking us back to junior high…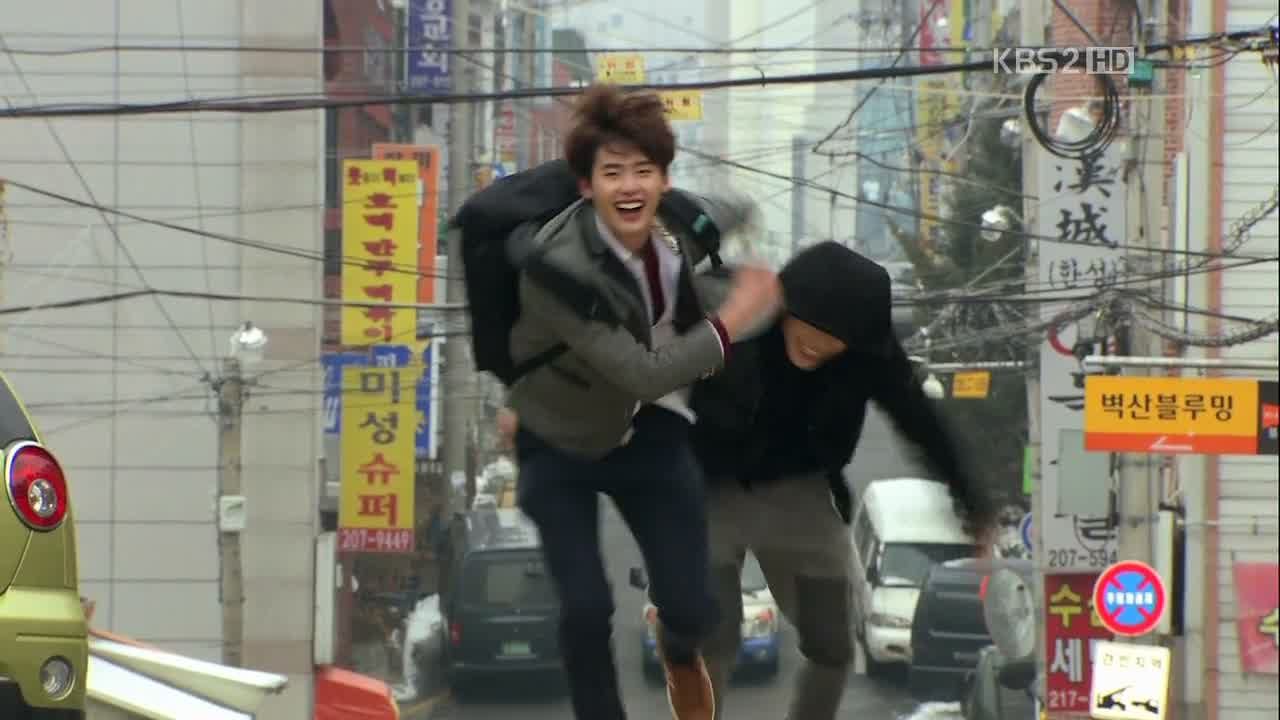 Nam-soon stands in a convenience store, berated and accused by the owner for breaking in and stealing. He empties the contents of his bag defiantly, insisting he didn't steal anything.
Suddenly Heung-soo storms in, throws a pocketful of wadded up bills on the counter for the cost of the broken window, and calls it even. The owner balks that what he wants is the boy's parents to come, and Heung-soo declares that he's his hyung, and drags him out. How cute.
Outside, Nam-soon just complains that he gets to be the hyung, and Heung-soo says he just got him out of trouble and his birthday is before his, so that's that. Nam-soon bows jokingly.
They run down the street play-fighting, and laughing, and smiling. Gah, they're so happy; these flashbacks gut me.
We come back to both boys in the present, each alone.
The next morning, In-jae finds Heung-soo at school and tells him that she's going to do what she can to get Nam-soon back, and asks if he won't waver (as in—you'll keep coming to school, right?).
Heung-soo says it really doesn't matter to him now whether or not Nam-soon is here, and it seems like he really does mean it. Nam-soon's gesture must've gotten through to him in some way.
The back of the class is conspicuously empty today, and both In-jae and Heung-soo feel a pang when Nam-soon's absence is noted.
Jung-ho and his boys saunter in late, and Se-chan says they must be itching to memorize poems, and then adds that one of the minions, Ji-hoon, has actually raised his grades. His friends give him guff and the class ooooohs. Oh the restrictions to keep up your rebel image.
Kang-joo catches Ha-kyung sneaking a text to Nam-soon, and wonders if she's changed and started to worry about other people. Ha-kyung scoffs that it's because she doesn't want to do all the extra work of class president. Yeah, you just keep telling yourself that.
Se-chan asks what trouble Nam-soon got into this time, and In-jae reluctantly shares the drop-out form with him. Se-chan: "You clearly can't accept this." In-jae lights up happily in agreement.
Se-chan: "He obviously filled it out himself and didn't even get a parent signature!" Ha. It's both helpful and not. Mostly exasperating, which In-jae is clearly used to by now. He says that's the extent of what a teacher can do.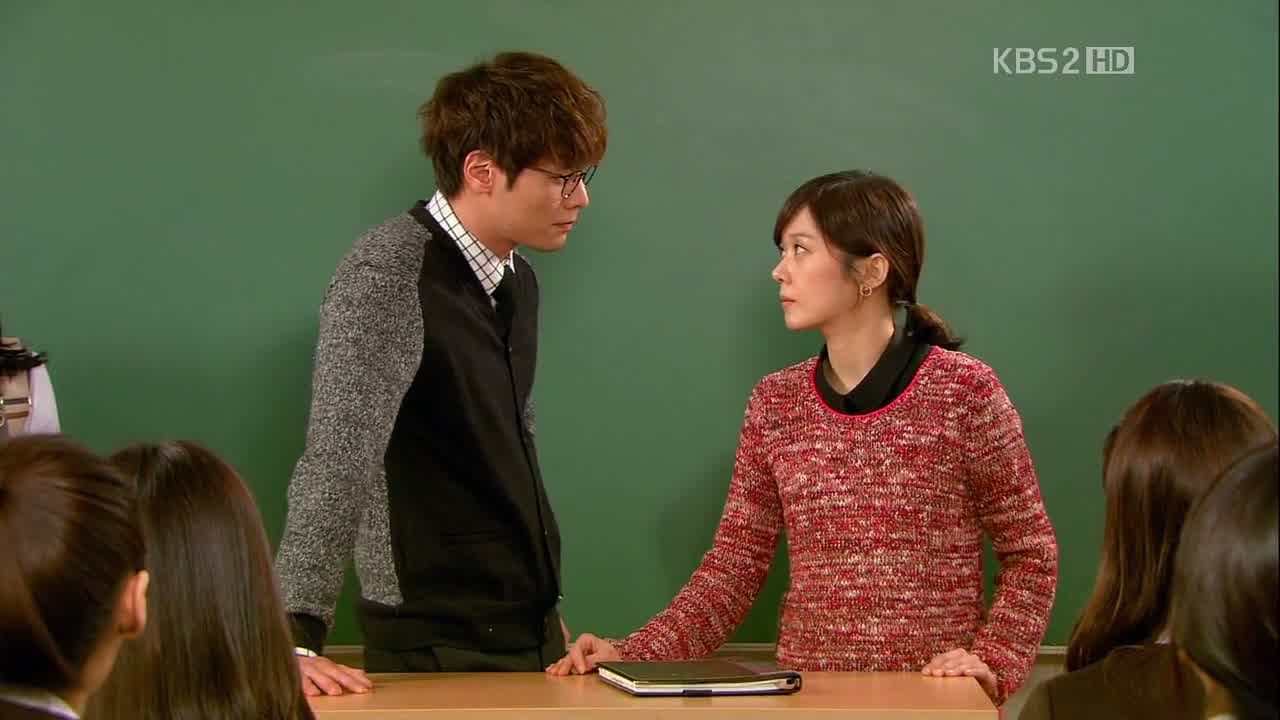 The next day another group of students is late, and Se-chan tells them that he's just going to start docking points instead of having them memorize poems. That gets In-jae riled up and they actually have a passive-aggressive bickering match in front of the class, heh. Adorable. Understandably though, the class is completely confused because they can't come to an agreement.
In-jae can't believe he'd just change the rules without consulting her, and he reminds her that she's the one who told him he could do whatever he wanted with the other kids if she could save Heung-soo. "So…I'm going to do whatever I want." In-jae: "How?" Se-chan: "Well." Smartass.
In-jae texts Nam-soon over and over, and Se-chan says she's doing it all wrong, and has to talk to him in person. But she's tried his house, and can't find him anywhere. Surprisingly, Se-chan actually bothers to ask the class if they know, and one of the kids has seen him "shooting guns on the corner." I hope you mean video game guns…
Ah, he means gas-filling guns. Se-chan pulls up and surprises Nam-soon. Yay.
Back at school, Jung-ho isn't satisfied without stirring up some trouble, and turns on the room's fans just to be an ass. Ha-kyung is the only one who isn't afraid of him, and orders him to turn them off. Her stare-down is pretty badass.
He doesn't budge, and when she goes to turn them off herself, Jung-ho grabs her by the arm. Urg.
It's then that Heung-soo gets up to do something about it, and flips the fans off. Jung-ho gets what he wants—Heung-soo's attention—and shoves him, itching for a fight.
Heung-soo's eyes flare up… oh no… oh no…
But thankfully Jung-ho's friends stop him and drag him out of class. Whew. Heung-soo just goes right back to his seat without a word and sticks his headphones back on. The class reels from the badassery, and someone finally putting Jung-ho in his place.
At the gas station, Nam-soon refuses to go with Se-chan, but Se-chan isn't about to be out-stubborned by anyone. He sits there, arms crossed placidly, while an entire line of cars honks and honks at him to move out of the way.
Finally Nam-soon's boss has to shove him to get in the car and go with Se-chan, just to keep his business running. Pffft, I love Se-chan's triumphant c'mere-finger at Nam-soon.
He drives back to school, but of course Nam-soon just starts walking away as soon as he's out of the car. Se-chan asks if this is his plan—to work minimum wage jobs for the rest of his life.
Nam-soon asks what's so different about going out into the world with a high school diploma anyway, and Se-chan points out that he already knows—it's the reason he dropped out (for Heung-soo, of course). He just tells Nam-soon to get his father's signature if he wants the paperwork to stick, and Nam-soon takes the form back with a sigh.
In-jae is happy to hear that Se-chan found him, only to snap when she finds out all he did was tell him to get his dad to sign off on his form. Heh. But they're interrupted when the principal comes by and introduces Ha-kyung's mom.
In-jae politely tries to tell her about Ha-kyung feeling pressured about her grades, and Mom doesn't seem the least bit concerned about it. What she is concerned about: In-jae and Se-chan's conflicting teaching methods.
The principal orders In-jae to fall in line and teach to the college entrance exam, but In-jae digs her heels in about her teaching methods. So the principal decides to pit In-jae and Se-chan against each other in a competition for the rest of the semester, to prove who can get the best results, both in grades and by student opinion. Gah.
Neither of them wants to do this, but they're also in complete disagreement too. In-jae argues that high school is most students' last chance, to really learn and engage. Se-chan agrees it's their last chance… to go to college. Impasse it is.
In-jae struggles to figure out a way to teach in a way that doesn't leave the bottom half of the class behind, but still engages everyone. She experiments day-to-day, trying group work and different assignments, stumbling through with trial and error. The kids are brutal about her class being boring or worse—a waste of time. Yeesh. Kids can be so mean.
Se-chan firmly believes that you have to teach to the smart kids and let the rest fall by the wayside, and In-jae asks if he doesn't know the saying, "There's nothing worse than a teacher who doesn't care." Se-chan counters that a teacher who can't teach is worse. Problem being, of course, that they're both right.
Uhmforce asks about Nam-soon, so this time In-jae takes a turn and finds Nam-soon at the gas station. It's rather funny how many hoops Se-chan had to jump through to have the same conversation that In-jae gets to in about five seconds.
She says it's the last time she's asking: "Are you really not going to go to school?" Nam-soon says no, so she relents—if he comes back tomorrow with a properly filled-out form, she'll accept it. Her only condition is that he show up in person, and get his father on the phone for her to speak to.
Jung-ho is starting to lose some ground as the bully, with Heung-soo around. When he orders a few kids to do his bidding as usual, they stammer nervously that they won't, all the while looking sidelong at Heung-soo.
Jung-ho fumes and swears he's going to knock Heung-soo down a peg, but his friend points out that it doesn't much matter, with Nam-soon in the picture. Sure, let's just fan the angry guy's anger flames. That sounds like a great idea.
Heung-soo broods outside with a cigarette, and Ha-kyung comes by to tell him to stop posturing, calling him a grade-schooler. Ha. She snags the cigarette out of his mouth and tells him to get Nam-soon back at school.
He lies that it has nothing to do with him, and she scoffs that any idiot can see he's the reason why. She says that Nam-soon might not have much reason to come to school, but he doesn't have much reason not to either… except for Heung-soo.
She guesses they've fought enough, and pretty much orders him to quit being a big baby, and make up. Hee. He sneers that she's being pretty fearless, and she corrects him: "I'm not. You don't scare me." Dude, the kids were right. She's the biggest badass of them all.
In-jae peers nervously into the office and has an adorable freakout, wondering if she played it wrong, and what if Nam-soon calls her bluff. But when Se-chan asks if she's asking him to save her, she glares and heads inside.
She tells Nam-soon to give her Dad's phone number, and he nervously complies. Oh no, your move, Teach. She fumbles with the phone… and pretends she misdialed. Ha. She tells him to do it again. How many rounds do you think this'll last?
Thankfully, Se-chan interrupts them and asks to steal Nam-soon. I love that he points out the amusing fact that someone who came to quit school managed to put on his uniform.
Nam-soon follows him out, only to find Heung-soo standing there in the hall. He tells them both to follow. Nam-soon starts walking the other way, and it's only when Se-chan threatens to hit him until he follows that he reluctantly shuffles over.
He stands them both in the middle of the gym… and brings out two mops. HAHAHAHA.
He tells them to clean the whole place, and it cracks me up that Nam-soon calls him out for copying Teacher Jo. Se-chan gives a little nod to shush him. So. Great.
Heung-soo is the first to walk away, but Se-chan hilariously runs ahead of him, tells them to figure it out themselves, and pretends to lock the door. He's actually just holding it shut from the other side, but he does consider actually locking it, heh.
Nam-soon pounds on the door and tries to shove it open, but Se-chan says they're trapped in there until this business is sorted out. Finally Nam-soon caves and sighs through the door, "Fine. I'll come. I'll come to school."
Se-chan immediately opens it with a huge grin, "You're so easy." HA. He tells him it's school tomorrow; there's no running away childishly, and Nam-soon counters that threatening people is childish too. Touché.
Outside, Nam-soon tells Heung-soo not to worry—he won't come to school. But Heung-soo tells him to just come back, since the teachers aren't about to give up and he's tired of being bothered about it. Uh-huh, sure.
Nam-soon still refuses, and Heung-soo asks if he's really trying to make up for his leg with dropping out. Nam-soon: "It's not like that."
Heung-soo: "Throw me away? Don't fool yourself. It's been a long time since you've thrown me away, you bastard. It was done when you ran away three years ago."
He tells him to stop pretending to be a person, and just go to school and be the shameless asshole that he is. Boys. You sure do make it sound inviting.
Unsurprisingly, Nam-soon just walks away. Heung-soo is left standing there, calling out, "Answer me!" But there's no answer.
The other kids see him from the window and call out too, but Nam-soon doesn't turn back. Jung-ho shoots up at the mention of Nam-soon, and storms out with lackeys in tow. Heung-soo notes it… and is that a tinge of worry I see?
Jung-ho goes to claim his motorcycle only to find out that the hyungnim who had it sold it for another, and orders his minion to steal the key to this one. Ruh-roh. That's a plan-hatching look in his eye.
He steals the bike, and then calls Nam-soon's messenger service for an errand… to pick up the bike and drive it back to the owner. Oh noes. The gangster owner? Who will think that Nam-soon stole it when he sees him? ARGH.
Jung-ho orders another lackey to tell Heung-soo about it, so he can trap them both at once. Ji-hoon, the kid who's actually starting to do better in school, is looking notably reluctant at every turn—perhaps this is more trouble than he's interested in getting into?
Meanwhile, the principal tells Class 2 that for the next period, they can choose between In-jae and Se-chan's classes, which will be held simultaneously. It sucks to be put in that position, and they stress about the choice. She then tells In-jae and Se-chan about it after the fact. Oy.
Ji-hoon tells Heung-soo about Jung-ho's plan, but he delivers the news with genuine worry—if Nam-soon is caught "stealing" that bike, he won't survive that beating.
Heung-soo sits in class trying to ignore Nam-soon's empty seat…
In-jae and Se-chan march down the hall and brace themselves for the verdict.
Nam-soon arrives at the pool hall to deliver the bike, not knowing at all what he's about to walk into. Suddenly Heung-soo shows up (YAY!) and warns him to run—Jung-ho stole that bike and if he's caught… but it's too late, and they're surrounded by angry gangsters.
Ruuuuuun! Heung-soo pushes his way through the side with fewer guys, and Nam-soon runs right behind him. But guys, why are you running up?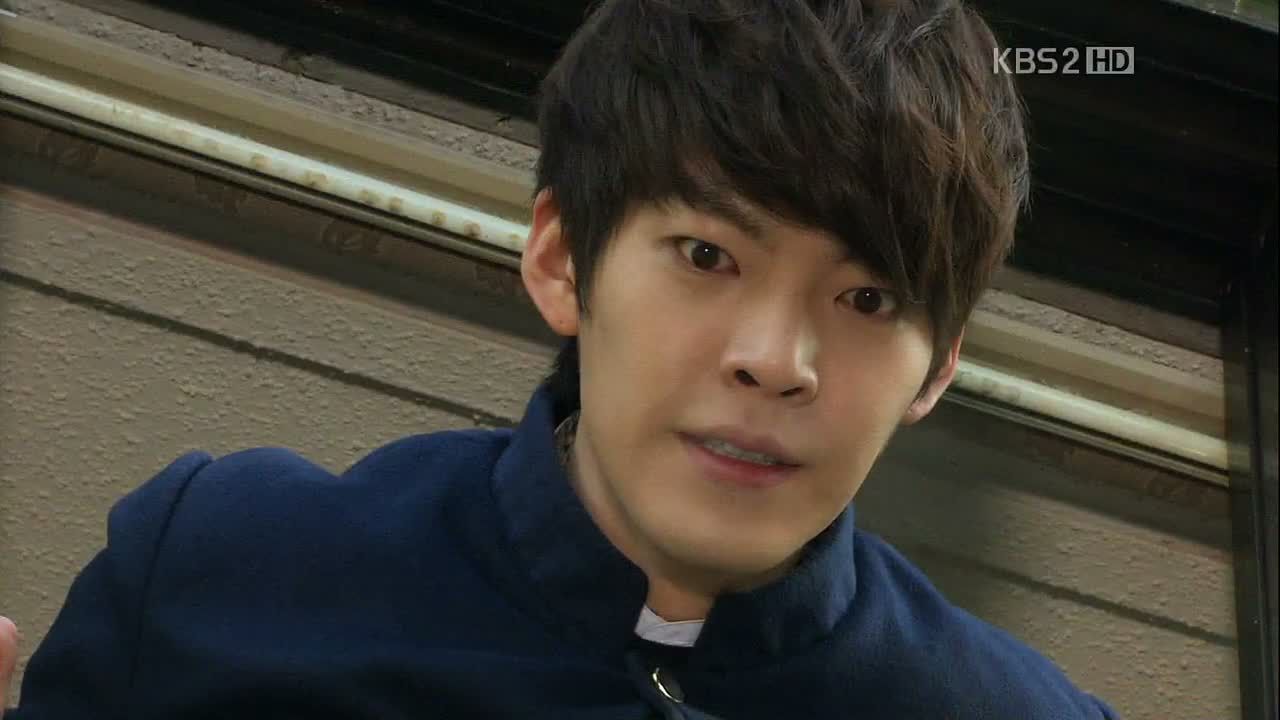 In-jae and Se-chan each arrive in their classrooms, and their jaws drop…
The boys run through the pool hall and Heung-soo yanks open a window. He puts a foot on the sill, ready to jump out, but then looks down. Eeeee, that's a mighty long way to fall.
Nam-soon just shouts at him to hurry, as the gangsters close in on them. But Heung-soo is frozen there, stuck between the jump and Nam-soon.

COMMENTS
Aaaack! Thanks for the Christmas Cliffhanger. You couldn't give me one nice ending wrapped with bows and hugs, could you? You had to rip my heart out and then hang it over a second-story ledge, didn't you? This show, how it guts me. It's bad enough that the pair of bad boys are so lonely and lost (such a sucker for it, can't stop my heart from bleeding); but the flashbacks? I can't handle them. They're so happy. SO HAPPY. And now they're not. And it kills me.
I'm annoyed with the principal for causing another rift between In-jae and Se-chan when they're finally starting to figure out a begrudging way to work together, and I really hope that they're both gaping at the end because both rooms are empty and all the kids are protesting having to choose between Mom and Dad. Because that's just mean.
How much do I love that Se-chan recycled Teacher Jo's gym-cleaning lesson/threat, only in a really botched, half-assed, uh-I-don't-know-you-figure-it-out way? I know it's baby steps with him, and he'll never admit to actually caring, but his concern for Nam-soon seems to be considerably more than he's shown for any other student so far. He must be reacting to Nam-soon's stubbornness because it's so like his own—they're equally childish and equally sharp (and they both cave to In-jae in much the same way). I noticed too that Se-chan always says things like, "Nam-soon doesn't like me," which seems dismissive on the surface and yet oddly like he's a little annoyed and hurty-feely about it, when he's supposed to be the grown-up. It's adorable.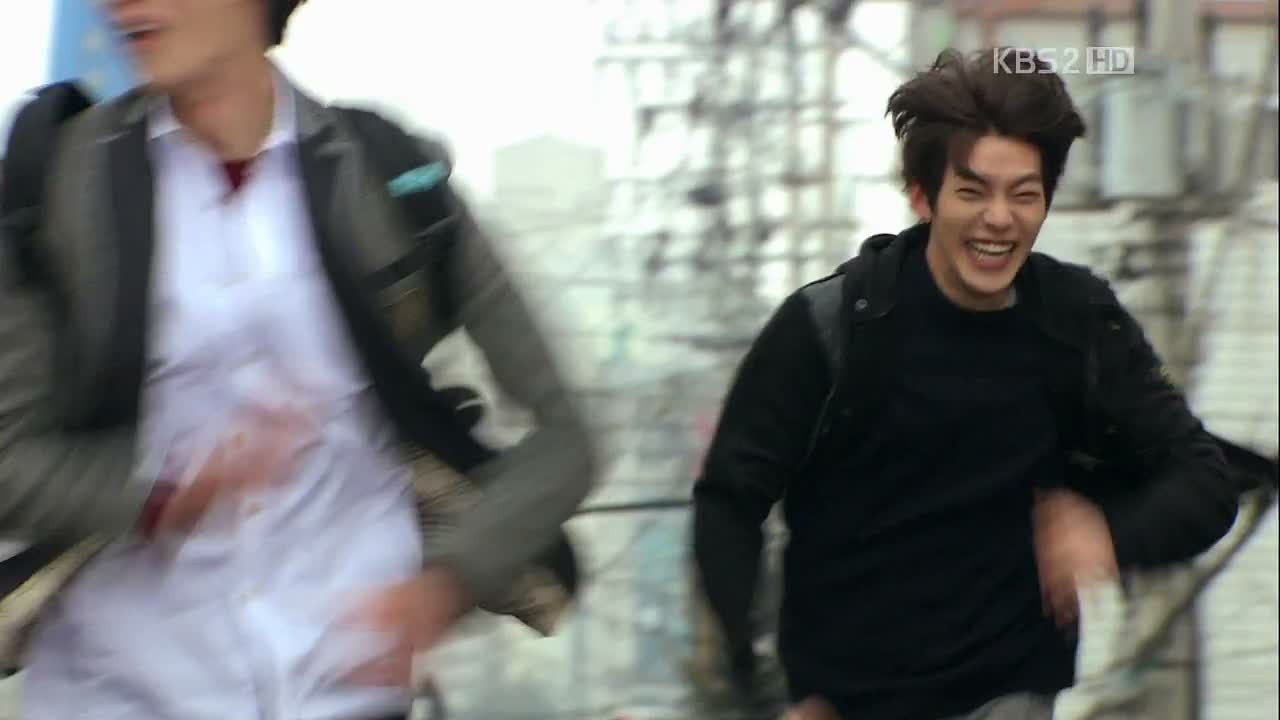 But Ha-kyung wins this episode. There's just nothing better than having a bunch of boys walk around acting like they're the Reservoir Dogs, and then watch her cut them down to size with her smartypants brain.
I really love shows that feature a different kind of primary love story (father-daughter, best friends, etc.) and what's great about this show is that it's filled with them. What carries the narrative is a whole collection of non-romantic relationships—student-teacher, best friends, parent-child, boys jockeying for power, colleagues with different ideas about how to teach. They're all rife with conflict, and more importantly, backed with characters that are layered and complex.
There's room for romance, but it's the last of the concerns, and the reliance on these different kinds of conflicts is really refreshing. Because it turns out that you can have your heart broken a-plenty by a bromance if it's written to be as compelling as any love story about two people who belong together, torn apart by Fate, acts of stupidity, or their own goddamn pride. I'd have locked the door and thrown away the key. Just sayin'.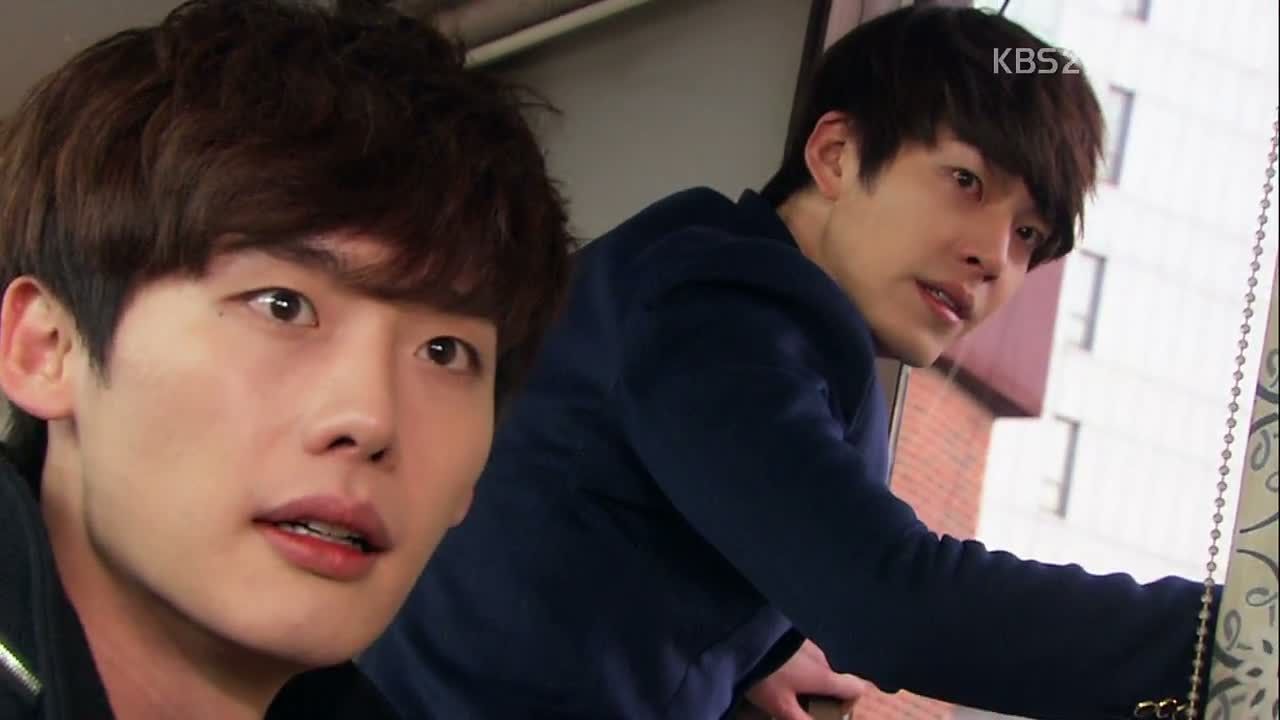 RELATED POSTS
Tags: Daniel Choi, featured, Jang Nara, Kim Woo-bin, Lee Jong-seok, Park Se-young, School 2013