Flower Boy Next Door: Episode 7
It's another emotionally stirring episode, sandwiched among the moments of cuteness, of course. A misunderstanding gives way to some harsh truths, and Dok-mi and Enrique show that sometimes knowing a person's true nature can become a weapon to inflict pain, as much as a bond to bring people together.

EPISODE 7: "Pride and Prejudice and Misunderstanding"
Jin-rak and Enrique get ready to duel up on the roof, and exchange steely glares. I love Jin-rak's extra pathetic moment as he thinks to brandish a rainbow-colored broom as a weapon, and can't even do that.
He starts in on this speech about how he's not one to care about the formalities of a hyung-dongseng relationship and tells Enrique that he'll speak plainly. Enrique matches his gaze… and then glares up at the sun for making him squint. Ha. He clip-clops his feet in excitement, "So…whaddja wanna talk about?"
Jin-rak sighs, deflated, and says that he doesn't care much to pretend he likes people he doesn't. This time Enrique picks up on his meaning pretty quickly and pouts. "You don't like me either, huh?"
Suddenly Jin-rak finds himself being the reassuring one, "You're not a bad guy." He uses the word nom and then quickly adds that it isn't a bad word (and it isn't necessarily, because he's the hyung). Enrique beams, "Hyung, you're an okay nom too!" Hahaha. Okay, that time, it was a bad word. Hee.
Downstairs, Dong-hoon stands awkwardly between two ex-friends, still passing the boxes that Do-hwi brought back and forth. He suggests that Dok-mi should maybe go check on the two boys on the roof, trying to explain that they have an ill-fated connection she doesn't know about.
Do-hwi huffs that the boxes are filled with their memories, and turns to take her bruised ego home, when suddenly two men dressed in black show up to knock on Jin-rak's door.
Dong-hoon asks cautiously why they're here, and they say they're here to serve papers because Jin-rak's going to be prosecuted for fraud and illegal money lending. Everyone freezes.
Do-hwi sneaks up to the roof and witnesses the boys shouting angrily and pointing fingers at each other.
But when we get close, it's just Enrique confronting Jin-rak about his feelings for Dok-mi. He calls him out on the confession he witnessed from afar, and Jin-rak sputters that it wasn't a confession, not like some totally bulldozy one-sided, "I like you! Date me!"
He says one shouldn't have to confess at all, given enough time. Oh sweetie. Enrique laughs, "How would anyone date if nobody confessed?" Jin-rak: "You don't need to confess. If you take lots and lots to time to slowly get to know each other fully, carefully, then at some point…"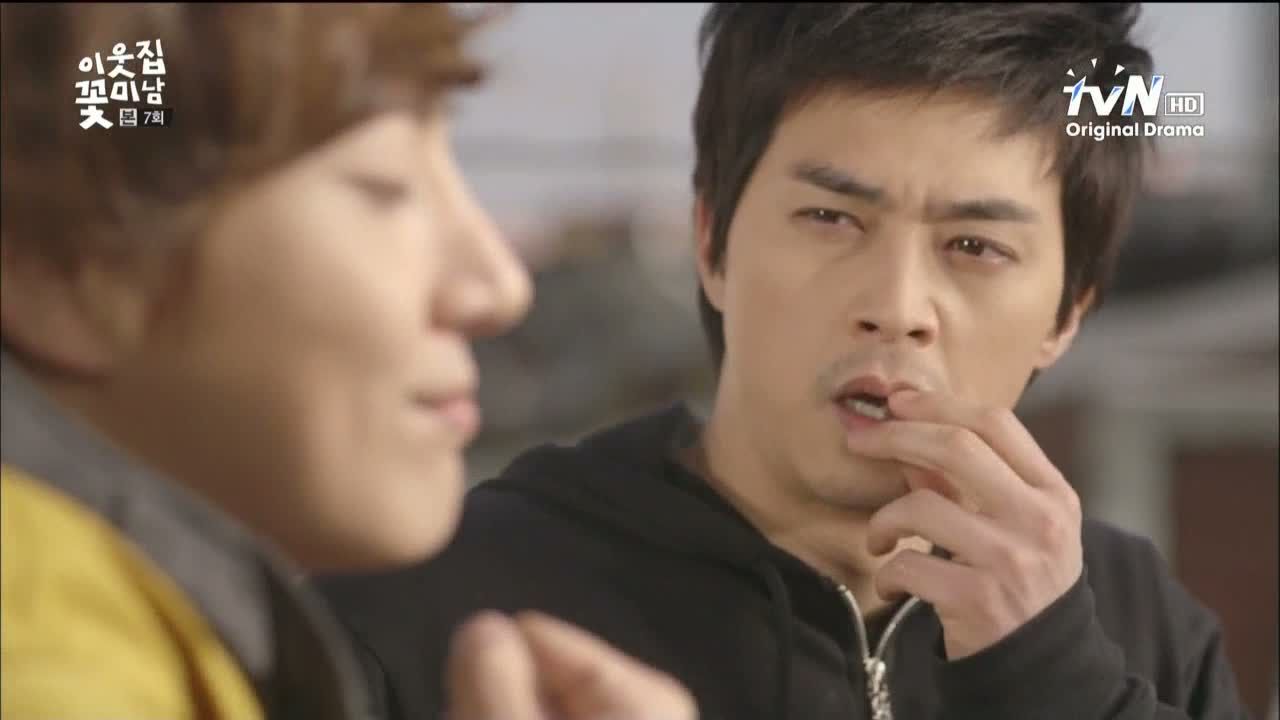 Enrique: "At some point, someone ELSE will confess first: I love you, Go Dok-mi-sshi!" Jin-rak gasps, freaking out that Enrique has already confessed. He doesn't see why, and Jin-rak finally flips his lid, screaming WHY: Why is he barging in and disrupting Dok-mi's life then?
Enrique says Dok-mi herself is like a placid lake—no amount of shaking will change that. Besides, he goes back to Spain in a month. Jin-rak runs with the metaphor, asking if he's going to make waves until then, and Enrique assures him that no amount of waves will shake Dok-mi. Curious that he never says he doesn't like her.
Enrique: "You've watched her for that long and you still don't know her as well as I do?" Now it really does turn into a competition, as Enrique asks if he knows what Dok-mi's dream is, that she raises plants, that she likes travel documentaries.
What Jin-rak has to offer: "Do you know how many times a week she goes to the post office? Do you know how much she likes trash?!" He realizes that one didn't come out right.
Finally Do-hwi runs up to the boys, screaming for them to stop. Of course she's disappointed to learn that Enrique and Dok-mi aren't a couple, and tries her best to convince them that Dok-mi must like him.
And then she somehow thinks it's okay to tell them the story of their first love. She says that she and Dok-mi were friends, but then in high school they fell in love with the same teacher. (This is from Do-hwi's perspective, so we have no idea if Dok-mi ever once shared her crush, though from what we've seen, she didn't.)
Jin-rak interrupts her to ask what the teacher looked like, eager to know Dok-mi's taste in men. Do-hwi lies that he looks just like Enrique.
And then she tells the twisted version of the story—that she was the favored one, but Dok-mi crossed a line with Teach, and when rumors spread, he had to leave. (It's also seeming more and more that Teach is the one who had the inappropriate crush on Dok-mi.)
She says that Dok-mi didn't speak a word to anyone, the rest of high school. The boys are unsurprisingly sympathetic towards Dok-mi, and don't pass any judgment. They wonder why Do-hwi came upstairs and told them a story they never even asked about (ha), and she remembers the scary men who came looking for Jin-rak.
She adds that she really does want to make amends with Dok-mi and be friends again like before, and the boys turn in unison, "There is a way…"
Downstairs, Dong-hoon imagines Jin-rak's criminal past, complete with cartoon prison striped jumpsuit and mean-looking mugshot. The men grab hold of his phone when he gets a text, but let him go when they read: "Oppa, where did I leave my underwear?"
Suddenly Dok-mi comes back out of her apartment and confronts the men—do they have proper identification? Does Jin-rak know he's being indicted? Did they go through all the proper channels? She raises her phone to check with the police, and Dong-hoon stands behind her with a huge grin.
Later Dong-hoon demands to know about Jin-rak's shady past, and he insists it was just one tiny mistake he made way back when, and it's all over now. He wonders why those men left so easily though, and Dong-hoon tells him about Dok-mi's outburst, declaring that she's clearly got a hidden past too.
Jin-rak beams as romantic music swells. "You mean… she trusted me?" He totally swoons.
Dok-mi rapid-edits the rest of Enrique's book, even with him hovering over her shoulder in panda gear. She's ready for him to pack up and leave, but he reminds her she has a meeting at 3 o'clock.
The security guard comes knocking, surprised to see Enrique opening the door, and takes them to Ryu's cooking-class-turned-apartment-meeting. There, Enrique eggs Jin-rak on to talk to Dok-mi, and the two boys are so busy signaling each other that they don't notice that she sees the whole exchange.
Then Do-hwi joins the class as planned, acting the part of the friend who wants to reconcile, and Dok-mi is forced to endure the class with her. Gah.
Ryu starts in on this speech about how paella is meant to be shared and symbolizes friendship and forgiveness, though it all gets lost in translation when he trusts Enrique's Japanese skills. His version: "It's very tasty."
The group of neighbors gathers at the table to share the meal, and even Dok-mi looks at the scene with a smile. Enrique catches it, and she quickly goes back to frowning.
After the class, Enrique latches onto Jin-rak to whisper that he'll make up an excuse to invite him over.
But when he goes inside and tries to talk to Dok-mi, she just ignores him and continues to work. He brings up her trauma in high school. (Eeek, bad move! Bad move!)
He says that Seo-young went through something similar when she was young and lost her parents—she didn't speak for years, but then one day she called out to him and hasn't stopped talking since.
Dok-mi fumes with angry tears brimming in her eyes, as she listens to him rattle on about her problems as if he knows what he's talking about. Augh, I know he means well, but I really wish he'd shut up and stop digging his own grave.
He says that judging from Dok-mi's life inside this apartment, she still hasn't recovered. He uses another soccer analogy, to say that if it's a goal you can't block, you shouldn't, and tells her to make up with her friend.
Dok-mi finally snaps and throws all his stuff back into his suitcase and tells him to get out.
"Do you think that because you memorized a few lines from a psychology textbook that you know a person? Do you know what your most common search words are? Enrique who mouths off. Enrique the Arrogant King. Enrique the plagiarist. Enrique's private life. They're all hollow shells. You act like you know everything in this world. Well leave me out of it. Don't act like you know who I am!"
He reels, but fires back, wondering what Dok-mi's keywords might be. He muses that she hates such things, because she doesn't want to be judged—she's so scared of it that she hides. He says that someone has watched her for years though and her keywords are: Woman who receives packages at the post office.
"Not a hollow shell. But there's no warmth of life. Why do you put up those travel pictures, when this house is your entire world?" She spits back that she doesn't need warmth, and orders him out of her apartment—and her world.
He looks back at her with pained eyes and grabs his stuff and heads toward the door. He turns back to add, "I don't care about keywords made up by people who don't know me. But you know me, even if just a little. Hollow shell? That was harsh."
He says he'll accept that she spoke harshy to cut him off harshly, so he'll give in and stay away. Oof, that was rough on both sides. I feel beat up.
He knocks on Jin-rak's door with tears in his eyes, and cries that he gives up. Jin-rak doesn't understand a word he's saying, but Enrique just says that he doesn't know anything anymore, and he at least feels better knowing that Jin-rak is around, and leaves Dok-mi in his care. He trudges away, head hanging.
Inside, Dok-mi sits down at her desk, and despite her threats to quit, she goes back to reading Enrique's autobiography. She underlines a passage:
When rejected by the person you love most, when betrayed by the person closest to you—that's when self-abasement begins. You hide in a space that's all your own, and close your heart. I can't just pass by people like that.
Enrique comes back to Tae-joon's apartment, surprised to see him home. He says he's finished up his work there, like he's packing up to go somewhere. Seo-young is there too, and they set up a new big screen tv just for Enrique, and Tae-joon apologizes for the fight.
But Enrique is still just focused on Dok-mi's words, and asks if they know his keywords. He says that he has a son, according to the internet, and he's basically trash—just a hollow shell.
They remind him that he doesn't care about stuff like that, but he says that's how one woman sees him. Seo-young realizes the important part of that statement isn't the keywords but the woman, and asks who it is, excited that he might have a crush. But he just sits dejectedly and tells himself not to think about it. He looks out the window over at Dok-mi's apartment with a sigh.
Dok-mi gets back to her work in progress, and today she writes:
To that woman, a scar was like falling into deep water. The onlookers who don't know the depth of that scar just wonder why she can't swim out. There are so many people who belittle a stranger's scar. She didn't want to hear such empty words. At least one person… from one person…
Enrique's book gets ready to come out, and Dok-mi sighs at the proof of the jacket cover, with her name on it. She looks over at the panda hat he left behind.
Meanwhile Enrique goes to a fan signing and then a strange incident happens on his way to meet the book editor.
A masked person runs up from behind and snatches his phone and takes off with it. He chases for a while, until the thief actually collides into a stopped car. He jumps back to see that it's an ajumma, and stops chasing, figuring she can have the phone.
Dok-mi meets her editor sunbae about Enrique's book, and runs out as soon as she hears he's on his way. They cross paths at the door, both halting, but neither able to say a word.
Inside, Enrique hears that Dok-mi wants her name taken off his book, and the editor explains that as an aspiring writer, it makes sense she'd want the first time to be on her own work.
He sighs, remembering her dream to be a children's author, and realizes that he made another mistake.
He heads home with dinner for three, though Seo-young and Tae-joon seem to be in the middle of a fight. She just screams that this has nothing to do with Enrique, but we have no context for the outburst.
At the same time, Jin-rak comes face-to-face with the men in black from the other day. Jin-rak says that if things don't work out he'll just have to go back to being Oh Jae-won, but that'll be bad for them. Hm, cryptic. The mysterious man hands him a mysterious envelope.
He stops short at the sight of Dok-mi, and tries to explain when it's clear she wasn't really asking. He grabs her wrist to ask if she'll listen to something he has to tell her, which is when Enrique walks up.
She pulls away and Enrique just walks past them without a word. Dok-mi says she's tired today and asks to just go inside.
Then suddenly Seo-young comes running out in tears, without a jacket on. Enrique asks what's wrong, and she blurts, "You knew, didn't you?! About Oppa going to the island?"
He realizes she found out about Tae-joon preparing to leave, and reminds her that she's known about his dream all along. (I'm supposing it's to be a country doctor somewhere on a tiny island?)
She wails, "What does that matter? What am I supposed to do?!" She starts pounding on his chest, crying over and over, "What am I supposed to do?"
She breaks down, and he pulls her into a hug, which aaaauuuugh, is SO UNFAIR to him.
He holds her as she cries, and looks over at Dok-mi, who's been watching this whole time. She starts to grow increasingly upset as she watches, and then runs toward them.
She grabs Enrique's arm and pulls him away… towards her.

COMMENTS
Omo! Awww, is it to save him from having to comfort the girl who broke his heart? How cute. I love that she saves him! It could be a jealous outburst, but I think it's her empathy at work more than anything—she sees how much he's hurting, and in fact she's the ONLY one who knows he's been hurting because of Seo-young all this time. It's one of the many things he hides underneath that happy talkative exterior that he's only shown to Dok-mi, and I think it's the first time she's stuck her neck out for anyone, at least since high school.
It's so nice to get the reversal right away, after seeing how vulnerable they were to each other's barbs and biting accusations. Yes, opening up to someone is dangerous because you leave yourself exposed to judgment, to criticism, rejection, and pain. But that's only one half of it—the half that tore them up in the fight.
But the other half is that someone out there in the world knows you. Gets you. Sees you for you. It's the thing that both Enrique and Dok-mi are terrified of, but also want desperately—for people to stop seeing the misunderstanding, the misrepresented versions of them out there in the world. Whether it's lies on the internet or lies in high school, they're the same in making them feel misunderstood and alone.
It's why Dok-mi has always chosen the safe route, in locking herself away. No one can misjudge her again if she's not out in the world. But Enrique's right in that it also isn't living, because then she never opens herself up to the possibility that someone will know the true her. He does seem to have a leg up in that respect. He knows that you have to take the risk to gain the reward. What I like about their story is that it doesn't even really matter what the misunderstanding is (not like a traditional melodrama Big Misunderstanding that drives the plot). Enrique doesn't see her any differently even when he's told that Dok-mi had an affair with her teacher. The point isn't that he learns the truth about what happened in high school, but that they each choose to rise above their own fears and let someone in. And that's a journey worth getting invested in.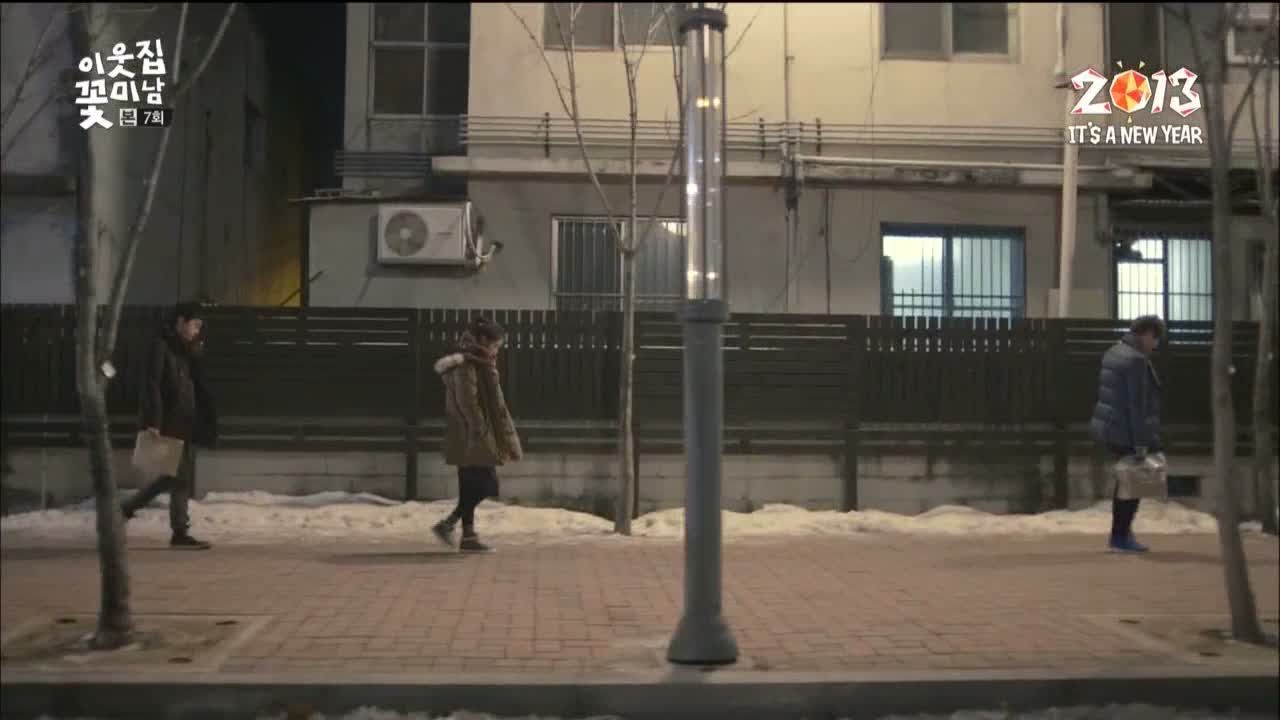 RELATED POSTS
Tags: featured, Flower Boy Next Door, Kim Ji-hoon, Park Shin-hye, Yoon Shi-yoon