School 2013: Episode 12
Things accelerate in this episode, which is much appreciated since I thought last week was spinning its wheels in place a bit. It wasn't entirely at a standstill, but it was slowing down and I was feeling it. This episode brings things back into action in a big way, with some glimpses of hope in sight for some characters and major shake-ups for others.
Extension update: School 2013 will NOT, thankfully, be getting any additional episodes and has decided to end with Episode 16 as initially planned. The finale will air on Monday, January 28, and a special will air on Tuesday.
SONG OF THE DAY
Toxic – "질려!!" (Sick of it) [ Download ]
Audio clip: Adobe Flash Player (version 9 or above) is required to play this audio clip. Download the latest version here. You also need to have JavaScript enabled in your browser.

EPISODE 12 RECAP
Se-chan tells In-jae that she's the teacher he'd wanted, but failed, to be. She asks, "Why are you asking me to do what you couldn't do yourself?" He also stopped getting up after he fell; why does he insist she get back up? She asks if it's because it'll make him feel better that there's somebody still up. She walks out, and this time he doesn't stop her.
Now the class feels bad for making In-jae feel bad, which would make me sympathetic if… okay, it doesn't make me sympathetic. Granted In-jae wasn't the sharpest teacher but in this they've made her their scapegoat for their poor life choices. And when she asked for brutal honesty, they served it up with a side of spite. Let's just say this class is starting to get on my nerves.
But this class isn't mature enough to feel bad themselves, so the students turn the blame onto Jung-ho for more scapegoating. Not excusing the fact that Jung-ho was a terrible disruption who probably should've been expelled already, they'd rather pretend he was the one who made them act like assholes. Better than feeling like assholes.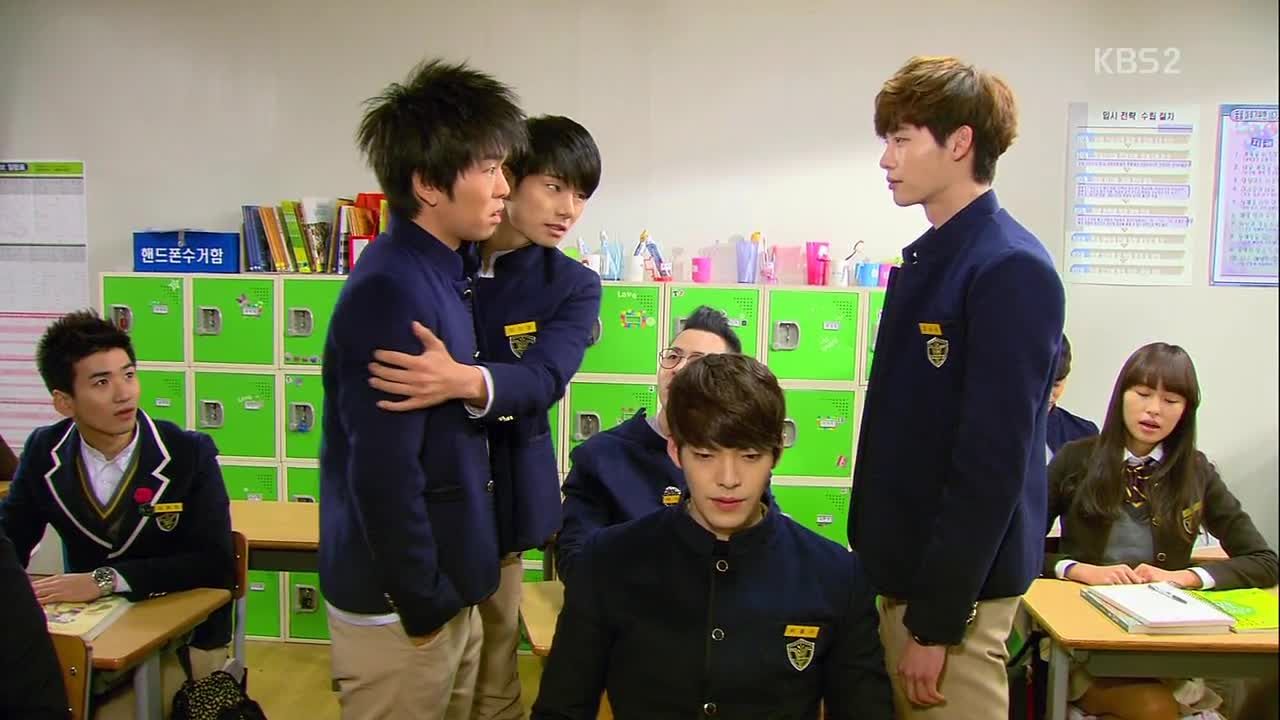 Jung-ho gets up menacingly to confront the head bitch Kyung-min, the girl whose potential redemption arc comes too late for me to stop thinking of her as head bitch. Everyone tenses, and a voice from across the room shouts angrily, "OH JUNG-HO!"
It's Nam-soon, which is a relief. No, it's worse. No, it's a relief. Ack, can't decide. He steps in, eyes blazing, and everyone tenses even more now that the inevitable jjang clash is here.
Then Nam-soon asks, "Didja turn in your answer sheet?"
Ka-dunk. All the tension defuses, just like that, because Jung-ho's so confused he doesn't even know if he's supposed to feel insulted.
Everyone starts breathing again, and I love the little smirk that plays on Heung-soo's face—the one that says, "Atta boy." Jung-ho starts to challenge Nam-soon, asking if he's mocking him, but Yi-kyung thankfully pulls him out of the room. Phew.
Se-chan runs into Jung-ho and Yi-kyung on their way out, and tells him to go back to class quietly. This is Jung-ho's last warning, because there's nobody around to clean up his messes now that In-jae's gone. Jung-ho glowers, but goes back to class.
In-jae's desk is empty in the morning, and Se-chan starts to text asking if she's coming. He erases that message, then writes a comment on the cafeteria menu, then ditches that too.
Class 2's atmosphere is chilly when he calls class to order. The students hesitantly ask, "What about Teacher Jung?" It's clear they don't actually want her to be fired, but Se-chan just asks, "What about her?" He doesn't say it with bite, but there's bite.
He pulls aside Kang-joo and Ha-kyung to ask why neither of them have entered the essay-debate competition. Kang-joo says she doesn't plan to, and leaves.
Ha-kyung asks if he's curious to know why neither of them signed up, and I admit that I half want him to cut her down and say no, why should I care? It's because these students—like students everywhere, really—took for granted that there was a teacher out there who genuinely wanted to know. It's why Jung-ho didn't come back to school until the teachers told him to (although it seems he does want to stay in school, deep down), and why Ha-kyung now stands around after being dismissed, all, Don't you want to pry? Aren't you interested in my teenage angst?
Se-chan says that Kang-joo must have a reason, as though he has zero interest in pursuing the matter. She says that In-jae would have asked, and he tells her he's not In-jae, "So you'd better abandon those expectations."
I'd like to think that Se-chan is being a hardass on purpose, rather than just reverting to his former ways. Maybe he's forcing them to face their guilt. Maybe losing their one champion is what they need to realize she was their champion, till they chased her away.
In-jae oversleeps and awakens into automatic I'm-late-for-work panic mode. Then she recalls why she's not late and trudges back to her phone to check her messages. There's one from Ji-hoon ("Are you not coming to school?") and a cutely misspelled one from Young-woo ("When are you coming, Teacher?").
Then she clicks on Se-chan's name, and a whole string of texts pop up. They're the most trivial of messages, asking where to find certain forms or who to ask for things. The one last one pops up, from Nam-soon: "Teach…"
Time for evaluation sessions regarding the students' futures. Kyung-min pulls in lower grades than hoped for, and Se-chan isn't one to sugar-coat the truth. He says that her chances for college admissions are slim (for the schools she wants, that is).
Kyung-min leaves feeling pissy, and the other students all gripe about Se-chan's poor bedside manner. I don't think he's trying to be abrasive on purpose, but it does seem that that part of his personality comes out a lot more without In-jae's mitigating influence. He's gotten used to it, and he even asks a question to her empty desk before realizing she's not there.
So Se-chan drops by her apartment that night, asking if she really means to quit. He passes along Uhmforce's message to submit her paperwork properly in person.
In-jae agrees to do so, and he deflates a bit. But he tells her he isn't trying to keep her just to make himself feel better: "It's just, if we go together…" He trails off, and asks that she not ignore his messages anymore.
In-jae writes her resignation letter, then starts writing notes about the current situation with the kids: Ji-hoon's study plans, Kang-joo's hurt feelings about the competition, how to smooth Jung-ho's return…
Everybody seems on edge in the morning, including Uhmforce who snaps at Se-chan to submit paperwork and takes Jung-ho aside to assign him to two weeks of school clean-up duty. Se-chan lights up when In-jae walks in the door, but she's come with letter in hand and submits her resignation.
Uhmforce tries the tough love angle, telling her she's irresponsible for leaving her kids and Se-chan in the lurch. He won't accept the resignation until they've found a replacement. He adds that her that he's the most hated teacher in school, but that if every teacher quit because they were disliked by students there'd be none left in the country.
The kids get wind of In-jae's return and wonder how they'll face her now. The late students sneak into class trying to escape punishment, till one realizes that today she wasn't plagued with In-jae's annoying text messages about running late: "It feels pretty empty, now that nobody's waiting for us."
Jung-ho gets to work sorting trash for his punishment, and Yi-kyung cutely joins him with a trash-picker in hand. Aw. He also tells Jung-ho to apologize to Ji-hoon first, because their rift isn't going to just heal itself. Inasmuch as I don't think romanticizing bullies is productive, I do believe there's a decent kid inside Jung-ho, and I consider his loyal sidekicks as evidence of that. Yi-kyung and Ji-hoon are good kids, and if they're so insistent that a good friend is buried under that hard facade, at least I'll have hope that they're right.
In-jae shows up and praises Jung-ho for actually doing the punishment, and he says it's just for today: "I might not tomorrow."
She hands him his cell phone and starts on the advice, which he points out isn't her business since she's quitting. She concedes that he's right, but says he still weighs on her mind. Jung-ho: "So keep coming to school. If I attend, why can't you?" Haha, does the bully actually have the most persuasive argument?
In-jae hands her journal to Se-chan, which contains her notes about the students. That tips him off about Kang-joo's anger about the essay competition, and he assures her that they'll conduct things fairly. If she and Ha-kyung both opt out because of their personal issues, they're both losing out.
Kang-joo bursts out that he's just worried that his precious top student might miss a great transcript-booster. After all, people tend to favor the good student and consider the other students as mere accessories. Se-chan's so flabbergasted that he gapes and says she's working one mighty inferiority complex. Kang-joo answers that yes, she does feel inferior. She's also not doing the competition.
Nam-soon approaches Min-ki to ask him to take over as class president, since the kids are more likely to listen to Min-ki, a good student. Min-ki declines the position, but he agrees to support Nam-soon's appeal to bring In-jae back, since he doesn't want her to quit either.
Nam-soon seeks out Kang-joo as another supporter and finds her sitting outside moping. She asks if he sees her as Ha-kyung's accessory, which he scoffs at. But he does suggest that Kang-joo go easy on Ha-kyung, who's up to her eyeballs in the pressure of making it to Seoul U.
In class, the mean girls are busy launching hate-missiles at Ha-kyung, who tries to pretend she doesn't hear. It bothers her, though, to hear them sniping about how Kang-joo refuses to participate in the rigged competition meant to bolster Ha-kyung.
Kang-joo comes in to ask for a moment, but Ha-kyung's feeling peevish already and insists she say it here, in front of everybody instead of gossiping behind her back later. Kang-joo reaches for her shoulder and Ha-kyung, who's packing up her pencil case, whirls back—slicing her hand with the metal ruler in her hand.
Ha-kyung freezes and the students yell in shock. Nam-soon steps up to wrap Kang-joo's bleeding hand, chiding Ha-kyung to be more careful.
Heung-soo comes upon Ha-kyung fiddling with her cell phone, not sure how to handle the aftermath. He tells her to send it off already—better to react right away when something happens, as he well knows.
She rattles off the message: "Kang-joo-ya… are you very hurt?"
In-jae returns from the hospital with Kang-joo, asking how this happened. Kang-joo says that it was an accident and asks her not to punish Ha-kyung for it, which gets In-jae saying wryly that it's funny given that they were just fighting.
But Kang-joo knows how Ha-kyung feels, even if she does have too much pride that she can't just say sorry and settle things easily. In-jae points out that saying sorry is a difficult thing, which provides Kang-joo the segue to blurt her own apology for not joining in to protest In-jae's departure.
She says she wanted to raise her hand, but she'd been feeling peevish (about the test scores), and she's regretted it ever since.
They're called to a meeting with the vice principal, because Ha-kyung's mother is at school to "settle" this matter. Kang-joo assures them that she's not very hurt and that she'll explain it all to her mother at home, but Ha-kyung's mother wants to cover her ass and get Mom's agreement in person. How can she know that Kang-joo's mother won't take this to the police and demand the school open a disciplinary hearing?
Kang-joo bristles, saying her mother won't do that, and Ha-kyung's mother asks Kang-joo to write up a contract promising as much.
Ha-kyung has been sitting silently in growing mortification, and finally has had enough. She stalks out, and In-jae finds her in the hallway in tears.
Kang-joo starts writing her promise not to raise an issue over this in the future, but Se-chan tells her to stop and return to class. Writing an agreement couldn't prevent a lawsuit if she really wanted, anyway. Mom says in her sweetly bulldozing way that it's better than nothing. Kang-joo signs.
As Mom leaves, she tells Ha-kyung to run along back to class now that everything's finished. That does it, and Ha-kyung bursts out, "What's been settled? What's finished? I don't even know how hurt Kang-joo is right now, and I haven't been able to apologize, and haven't heard from Kang-joo that she's okay. So what's finished about it? If we leave things and finish it now, how will we make up and be friends again?"
In-jae sends the girls to the nurse's office and orders them to both take a nap for the next hour. Ha, the boys get heavy labor and the girls get naps? Though I suppose ordering the boys to nap wouldn't have the same knack at bonding that shared animosity toward Se-chan does.
Lying in their cots, the girls look askance at each other until Ha-kyung asks if Kang-joo's okay. Ha-kyung doesn't okay herself and apologizes—for the hand, for the competition, for everything.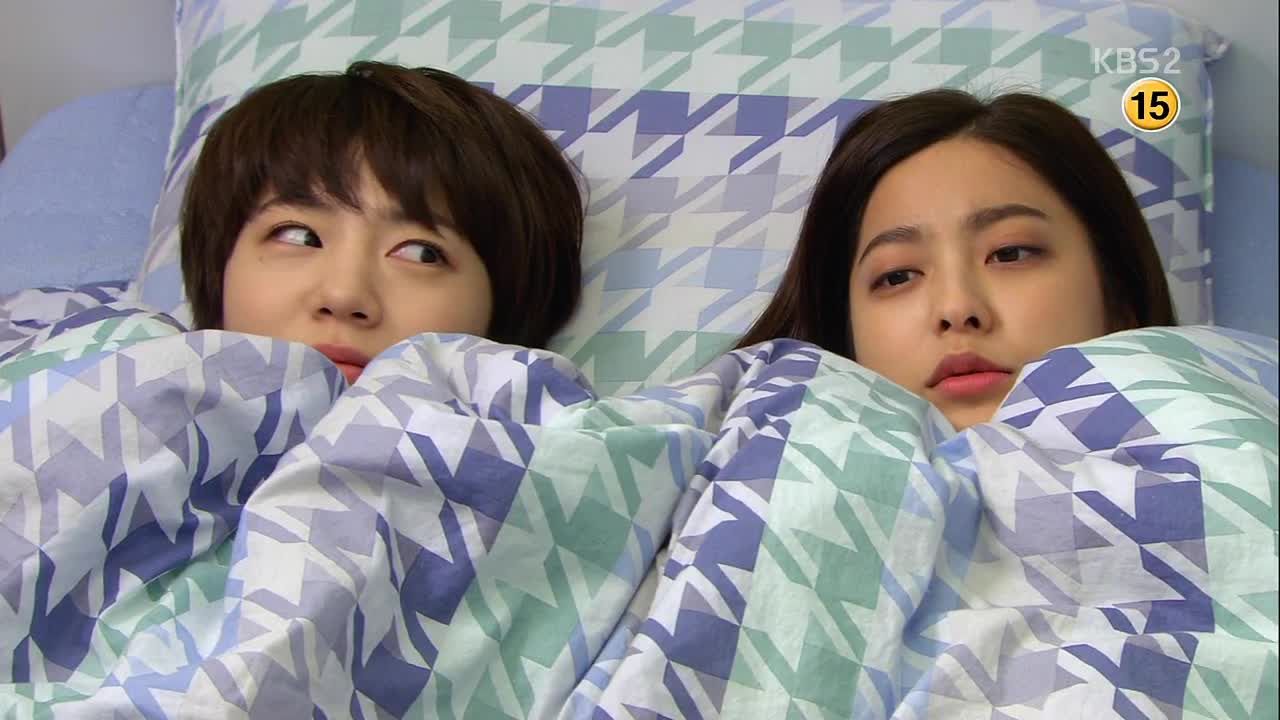 Kang-joo cuts her off and tells her to just be like she normally is, 'cause this meek version is totally cringe-worthy. Then Kang-joo shoves her way into Kang-joo's bed, and as they huddle under the covers, she asks if Ha-kyung likes Kang-joo or Seoul U more. Ha-kyung: "Of course you! And I'm not going to Seoul U because I like it—I just have to go."
Kang-joo says that she likes Ha-kyung more than college too, and like that they're all made up.
At lunch, Nam-soon plops his tray in front of Heung-soo and sends him this dorky smile, which is awesome on its own but made even better for the fact that Heung-soo returns it. But it's not long before Heung-soo sighs in dissatisfaction that this is "surprisingly awkward," and Nam-soon admits that he feels it too.
Heung-soo tells him to move to the other table, but Nam-soon shakes his head. "You said we were in the process of working it out. Then we should stick it out."
I guess the cafeteria is going to be our symbolic battleground today, because as our two minions Yi-kyung and Ji-hoon are doing their own bromancey thing, Jung-ho bypasses their table to join… the jjangs.
The air goes tense and Heung-soo and Nam-soon both look at him warily. Is he picking a fight?
Then Jung-ho says, "If I'm going to attend school properly, I'll have to take my place behind you." Wow, he just ceded pecking order to the bigshots, and in front of everybody too. Jung-ho even gives each jjang a piece of lunchmeat, to their surprise.
As lunch comes to an end, Min-ki decides this is the time to make their appeal and calls the class to order. Nam-soon steps up and asks if they're all okay with leaving the In-jae situation as is. Has anybody changed their minds?
Students admit that it feels like Mom's left the house. Min-ki says he's in support of bringing her back, but there's an unexpected backlash—the mean girls retort that Min-ki's mother was the main force in getting rid of the teacher. She went around calling the other moms to her cause, a revelation that makes his face fall.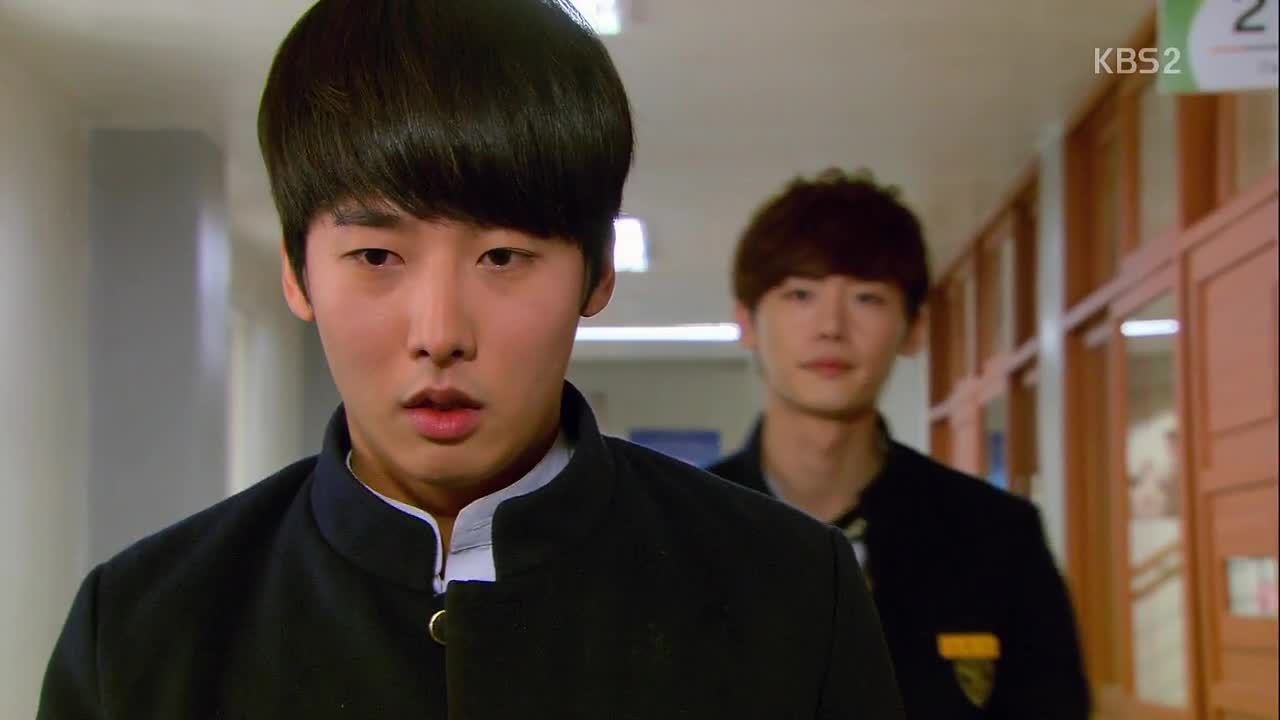 The tide turns against Min-ki as well, like it's his fault his mother is crazy. He walks out of the room reeling, dogged by comments of "Are you going to your mommy? Run along!"
Nam-soon follows him out, and Min-ki confesses, "At times like this I wish I didn't have a mother." Maybe the wrong person to say that to, since Nam-soon asks back, "What about when you eat food your mother cooked for you?" Min-ki admits that he doesn't feel that way then, but apologizes for not being much help.
The next day, Min-ki's mother prods him to take one last look at the sample essay prompts, pointing out one question that'll probably come up. He wonders who her source is that tells her everything ahead of time and tries to defend In-jae, saying she's the reason he's able to get through school as it is. Mom says that In-jae only says sweet things that kids like to hear that do their futures absolutely no good. Se-chan's bitter words, on the other hand, are better in the long run.
In-jae gets caught peeking into Class 2's window, and tries to pull the "I was just passing by" excuse. (She's no longer their homeroom teacher, which means she's just the teacher for literature period.) The students crowd around, not giving her a chance to escape, and start chatting up a storm.
She's looking for Min-ki but is told he's not around. Turns out that Min-ki is in fact in the room, but didn't want to face her: "I'm too sorry to see her."
The kids are let out while the school preps for the competition, with the exception of a few: Jung-ho has clean-up punishment, and Nam-soon and Heung-soo aren't excused till they turn in their homework. Nam-soon hands in his stack of hand-written papers, only to have Heung-soo smugly say, "Those are mine."
Ha, Nam-soon shoots him this wide-eyed look, but did he forget their deal? Nam-soon grudgingly agrees that it's Heung-soo's homework, which means he's stuck at school for clean-up. Heung-soo sends him a smirk and gets excused.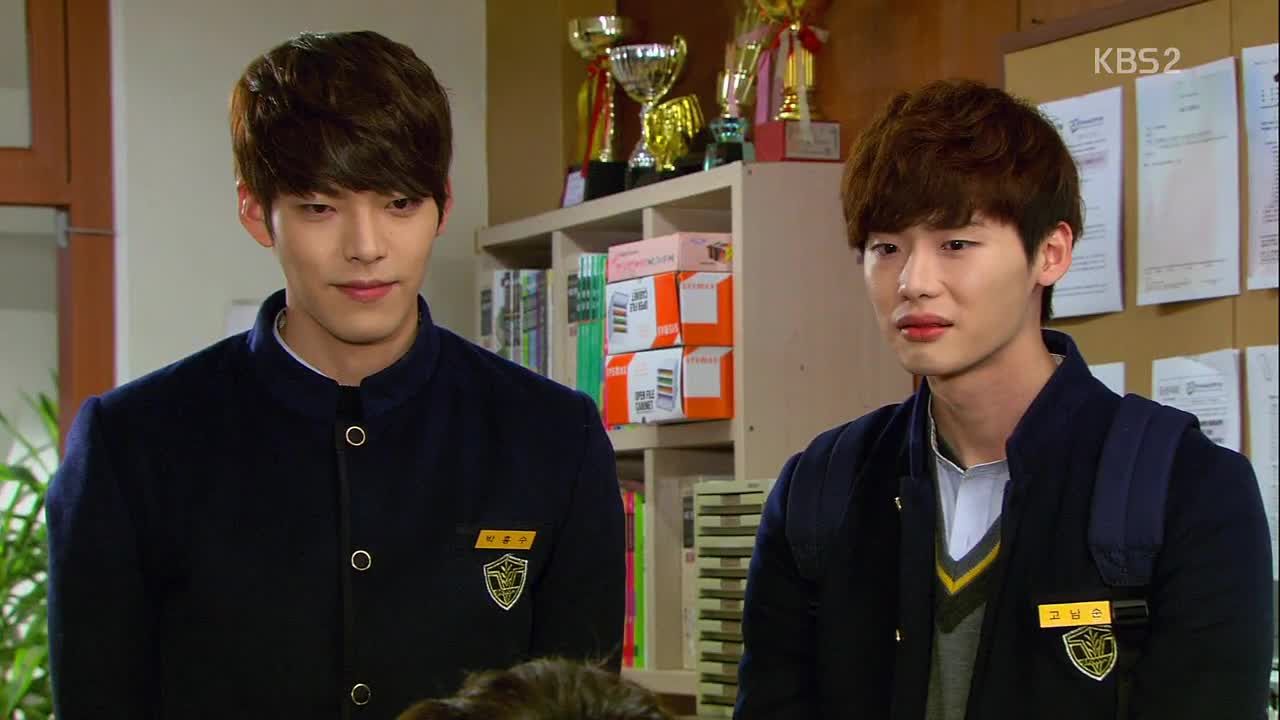 As Heung-soo collects his bag, he overhears Jung-ho take a call from his ex-hyungnim and arguing that he doesn't do that kind of stuff, and that he could get expelled. He ends with, "Then I'll pay you back!"
Kyung-min approaches the teachers nervously to ask if she can still apply for the competition. Her grades aren't strong enough to secure college admission on their own, so she's decided to try widening her college-entrance methods. Se-chan points out coolly that if she's going to take that approach, she should have started last year and worked consistently in one area. That's how all the other kids do it.
Kyung-min asks how they're expected to decide their future in their first year of high school. Se-chan: "That's why I'm telling you, this is ridiculously hard."
In-jae shoots him a disapproving glare and chases Kyung-min out, who's blinking back tears. Kyung-min says she knows her grades are middling, but Se-chan shouldn't be so harsh. In-jae says he's trying to motivate her and steel her nerves for the hard work ahead, but Kyung-min retorts, "What more impetus do I need? I sit in class and everybody's competition, and those others don't even get sleepy. What more motivating do I need?"
Kyung-min wipes a tear and admits that taking out her anger on In-jae makes her strangely feel better. Yes, or you could get a punching bag. Just a suggestion.
In-jae smiles, though, and starts to say, "Then come to me whenever—" until she remembers she can't make that promise.
In-jae suggests that Se-chan take it easier on the kids when discussing their grades, because the students feel as though their entire lives are judged based on those marks: "That includes the question of whether they feel they're people worthy of living."
Se-chan says that such gravity is necessary to prod them to study. In-jae argues that studying is like art or music—to a certain extent, talent is involved.
Min-ki's mother brings him dinner at school before the competition, and sneaks him the answer sheet for one last cram session. Min-ki tells her dully that he knows what this is all for, and that she's trying to secure him a promising future: "But Mom, I don't want it. The life you're trying to give me—I don't want it."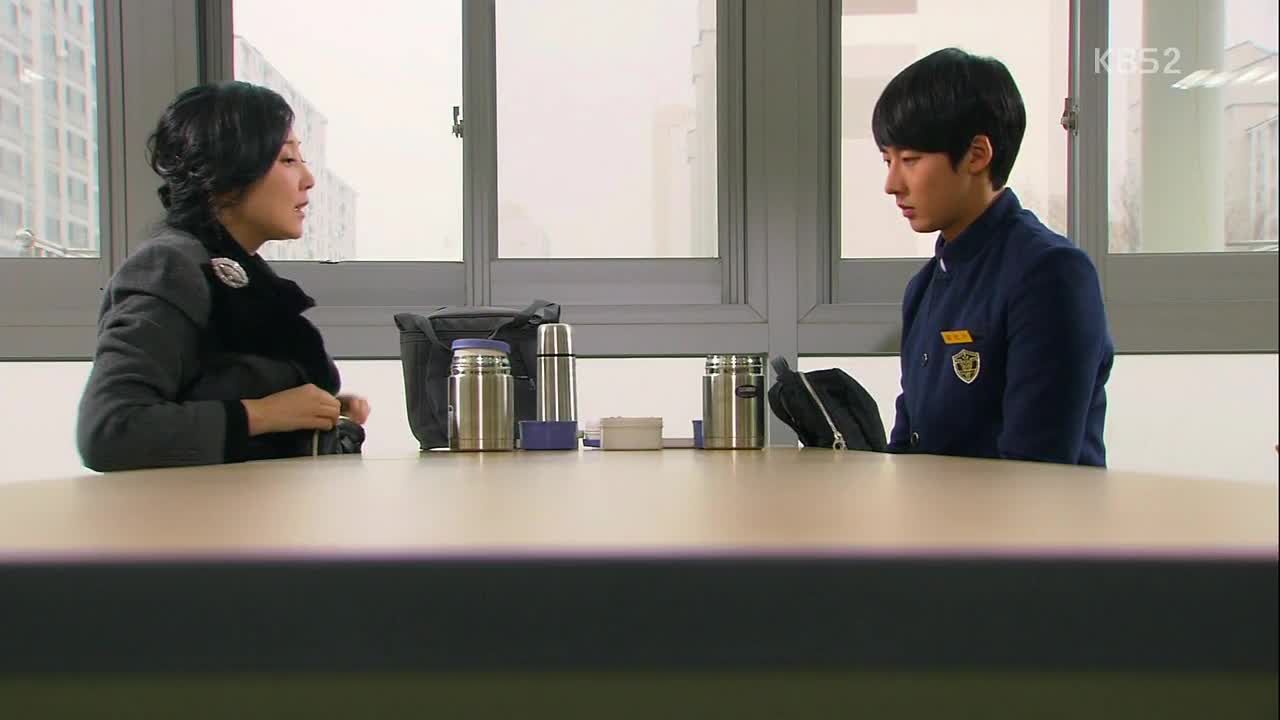 Mom argues that she's just sweeping the path in front of his feet—is that so wrong? She's experienced the harsh realities of this world, and there's no way she's going to leave him out in the cold without doing everything in her power to protect him and ease his way.
Min-ki returns, "You only give me the answers! And those answers you give me don't feel like mine. But tell me, Mom—are those answers even correct?"
She says with certainty that he'll know in ten years, after he's gone to law school and become a judge and realized Mom was right.
That answer just makes him look even more empty, if that's possible. He asks, as though the realization has just dropped, "Are you… going to be like this until then?"
Both Kang-joo and Ha-kyung turn up for the competition, as does Min-ki, which relieves me somewhat. I'd been afraid he'd go off and do something drastic. Not that he still won't.
Heung-soo, meanwhile, is out in town when he sees Jung-ho being pushed along by gangsters. He senses something dire about to go down and rushes out after him, which, aw.
Jung-ho ends up back at school, lurking in the hallway as In-jae locks up the students' electronic devices, to be held till the competition is over. Nam-soon spots him hovering, while outside Heung-soo strolls by as the hyungnims gloat that Jung-ho's gotta steal those computers and phones for them. He owes them too much money otherwise.
Heung-soo finds Nam-soon and fills him in, and together (aw) they go looking for Jung-ho in the empty classroom.
The competition prompt is handed out, but In-jae belatedly realizes she forgot to arm the security system and heads back to do so.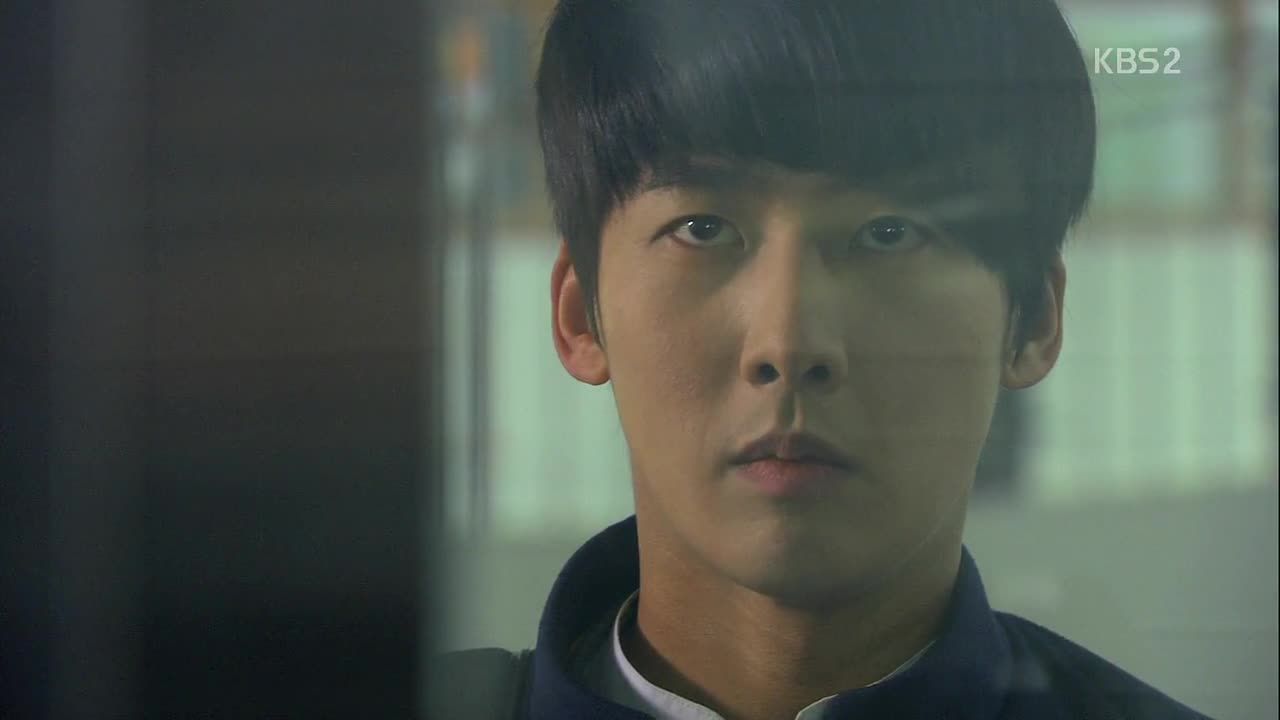 Min-ki takes a look at the prompt, and one glance confirms that it's exactly the same stuff as the one his mother prepared. With a sigh he walks out, leaving his materials on his desk. That means Kyung-min notices the papers left behind, and she's immediately suspicious.
Min-ki hurries out toward the entrance… and then stops. Ack! Why are you looking up? Don't go up!
Grimly, he presses the up button on the elevator. Up he goes.
Kyung-min accuses Se-chan (who prepared the prompts) of distributing them beforehand, slapping down Min-ki's papers. Se-chan flips through them in shock while the students start grumbling.
Nam-soon and Heung-soo make their way to the cabinet in the teachers' office, and confirm their fears: It's empty. Jung-ho already got here. They head out… and set off the alarm.
All the while, Min-ki takes the long, grim climb up the stairs to the rooftop.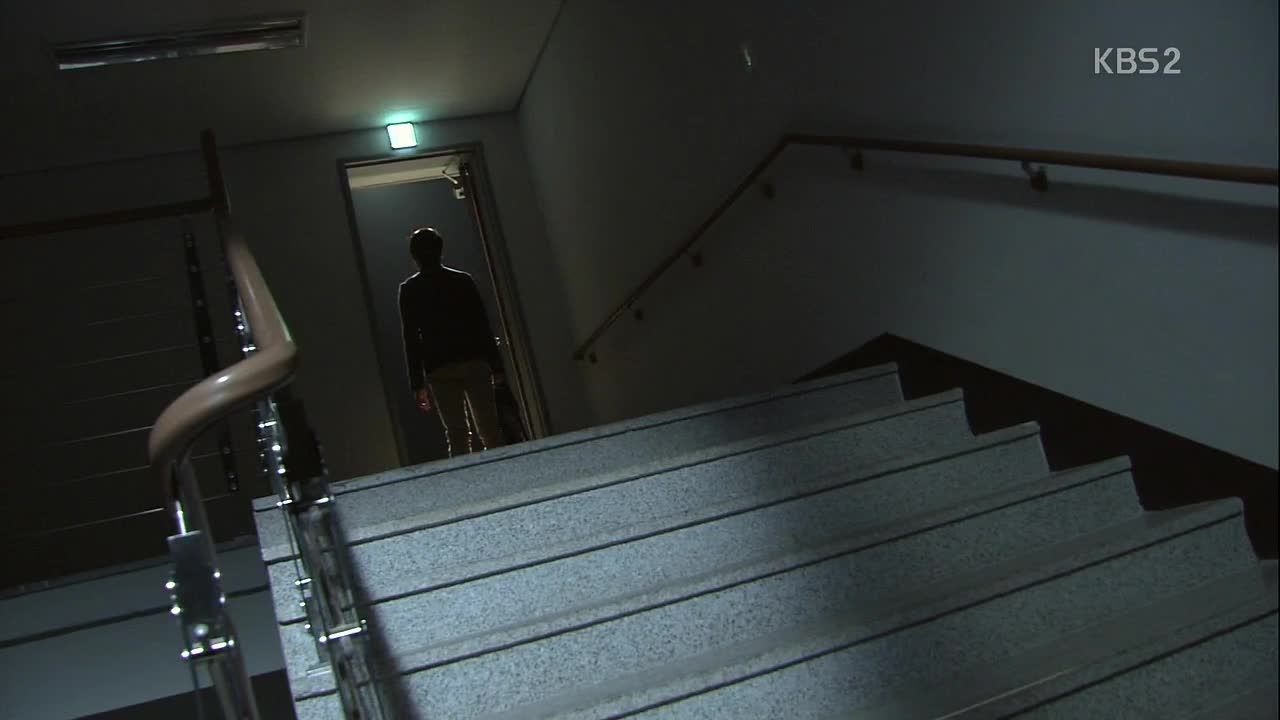 COMMENTS
Ack! No, Min-ki, step away from the ledge! Life is better than one pushy mom, I promise.
Sigh, Min-ki is so tragic. He's the classic case of the model student who does everything right, who's kind to his mother and well-mannered and totally smart. But he's also totally powerless, rendered so by the one person who loves him most and thinks, ironically, that she's doing the best for him. When it finally dawned on Min-ki that this meddling may not ever end, I felt a stab of fear for him, because he must have felt so grim. It's one thing to think of yourself enduring for two more years until college, but it's another to realize that your entire future is filled with this bleakness. It's why I hate that he's going up to that roof, but understand what drove him there.
You would think that after driving one son crazy she'd back off, but I suspect Mom is so guilt-stricken that she feels she has to cling to her denial—otherwise she'll just break. She has to pretend that all is fine and well and that there is no flaw in her plan to build the perfect son, and in that sense Min-ki has become her salvation as much as he is her puppet. It's why Min-ki can't die—he can't, do you hear me?!—because otherwise it's just too tragic. What will Mom learn if she drives two sons away? She has to find a way to back down, and in order to do that Min-ki must live. Yes, my logic is airtight and in no way flawed! Got it?
The thing about this class is, I do like the students when they're on their own (most of them, at least), but the Class 2 pack mentality all but has me tearing out my hair. I admit to feeling a perverse sense of satisfaction at their belated reaction to In-jae's departure, though they didn't feel nearly enough hurt to make it worth it, in my opinion.
In-jae has frustrated me too, but despite her bumbling efforts to try different methods and engage all her students, I was still rooting for her. She's more than just a teacher who cares, she's the only teacher who cares. In Korea, the homeroom teacher is the one who actually has responsibility for the class—it's the opposite of the US, where the kids travel from period to period to their different classes. In Korea, the students stay in one classroom and the teachers come in and out to teach their subjects. So the homeroom teacher becomes the one in charge, the home base. And in that respect In-jae did her best; I don't blame her for falling short when her best wasn't good enough, because she tried.
That's the thing about In-jae that always kept me on her side, even when her actions seemed dumb or pointless. No, she wasn't the most effective educator, but teaching a subject is only part of the job. And it's a reality that kids sometimes need prodding and persuading—to do what you want them to do, sometimes, but honestly often it's to do what they want to do. It's just, they have too much adolescent pride or baggage holding them back from themselves, and In-jae tended to put that first, above her personal desires as a teacher.
It's gratifying that her methods, flawed as they are, do actually get through. She doesn't have a magic solution and I'm not saying nobody else could get through to these kids, but what matters is that she does. I loved the cafeteria scene where Jung-ho willingly humbles himself and bows to the almighty pecking order—and since Jung-ho's the one voluntarily stepping down, he actually gets to keep his pride somewhat. He's come a long way to being able to actually take this step without feeling insulted by it. Embarrassed, maybe, but not mocked or degraded.
RELATED POSTS
Tags: Daniel Choi, featured, Jang Nara, Kim Woo-bin, Lee Jong-seok, Park Se-young, School 2013