First stills from Song Seung-heon's When a Man Loves
MBC's next Wednesday-Thursday drama When a Man Loves has started shooting, and here's our first look at the four leads doin' their thing. We've got Song Seung-heon (Dr. Jin) as the revenge-getting two-timing gangster, Chae Jung-ahn (Queen of Reversals) as his wife, Shin Se-kyung (Fashion King) as the other woman, and Yeon Woo-jin (Arang and the Magistrate) playing his rival. Would it be wrong to watch this drama entirely for Yeon Woo-jin? *weighs pros and cons*
The melodrama from the director of Arang and the Magistrate and the writer of Equator Man stars Song Seung-heon as a world-weary gangster, but the drama itself is less about his gangsterhood and more about his many loves. It's being called a romance melodrama, with a story that revolves around the four leads' intertwining love lives, and how their courses can change entirely based on one moment of fevered passion. Based on the number of times they use the words "passion" and "fever" in the story descriptions, my expectations are going to an R-rated place. Too bad it's not on cable?
The scenes in the stills below are from Shin Se-kyung and Yeon Woo-jin's first day on set when their characters met for the first time, and then across town where Song Seung-heon and Chae Jung-ahn had their first scene as a cold and distant married couple. The four characters will start out in very different places, but eventually be sucked into a pretty complicated love square.
Song Seung-heon plays a gangster with a painful past, and Chae Jung-ahn is the ex-wife of his old mob boss, whom he marries after his death. Shin Se-kyung plays a hardworking young woman who comes from a poor family (Why does she always play the exact same character?) and Yeon Woo-jin is a confident young man who's used to winning at everything, who starts out on good terms with the hero. The problem is when Song Seung-heon falls for Shin Se-kyung, which will create rifts between him and his wife (obviously) and his friend-turned-rival Yeon Woo-jin, who's also in love with Shin Se-kyung. I'm gonna go ahead and call this show When a Man Loves a Woman Who's Not His Wife, Bad Shit Happens.
When a Man Loves follows Level 7 Civil Servant and premieres in April on MBC.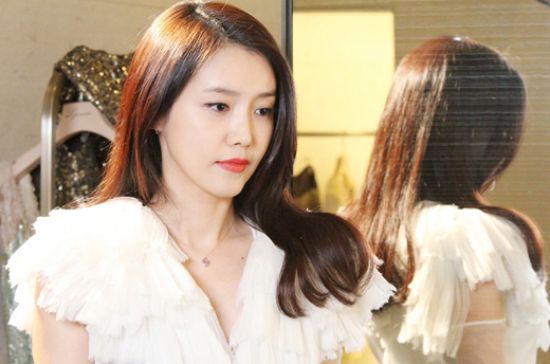 Via My Daily
RELATED POSTS
Tags: Chae Jung-ahn, Shin Se-kyung, Song Seung-heon, Yeon Woo-jin