Flower Boy Next Door: Episode 10
Sparks of all kinds go off left and right in this episode—the romantic kind, the combative kind, and the kind that sting and burn. Our heroine is forced to face her demons, while the boys race to be her knight in shining armor… except they're so busy fighting each other for the honor that they don't even notice their Rapunzel is slipping out of reach.
SONG OF THE DAY
Park Shin-hye – "Pitch Black" for the OST [ Download ]
Audio clip: Adobe Flash Player (version 9 or above) is required to play this audio clip. Download the latest version here. You also need to have JavaScript enabled in your browser.

EPISODE 10: "If you want to know the enemy, don't look with my eyes, but hers!"
Facing the departure gate, it finally dawns on Enrique that he's been grasping at straws for a reason to stay—someone who'd need him at the company, a deal that couldn't be done without him. But now he knows: "I didn't need those things. I can leave whenever I want."
Seo-young argues that his stuff is already on the plane and it's about to take off. She tells him that everything that seems so dire now will fade as soon as he gets back home.
Enrique: "No. The reason I can't leave is with me—It's still okay, I can stop here, I can leave anytime—I was fooling myself like this. But you know me. Once I start a game, I have to see the end no matter what. I can't end it here." She relents, telling him to follow his heart to that end then, and not to give up like she did. She boards the plane, leaving him behind.
Enrique rushes back, now armed with Seo-young's phone. He tries calling Dok-mi, but she's busy buying flowers and misses his call. He grows more and more incensed as he thinks about Do-hwi, and then Jin-rak, who is now a con artist and evil webtoon plagiarist in his eyes.
Jin-rak is still stuck at the meeting with his editor, who seems to have taken a liking to Dong-hoon. She wonders if he hasn't slept because he looks so tired, and tells him that she's not going to allow herself to sleep more than four hours a night until she's 35. Ha, well that explains the constant dark circles and raging anger.
Jin-rak gets a call from Enrique, whose face darkens as he says he doesn't really care that much about the plagiarism, "But why did you hide your identity? I don't like people who can't be honest. I can't have someone who isn't honest… by Ajumma's side. So leave her side. Until you do, I won't return to Spain."
Jin-rak jumps up and rushes out to the party, frantic about getting there before Enrique. "Because I was first!"
Dok-mi arrives at the party, and we catch up to the scene that closed the last episode, as Do-hwi introduces their old teacher with a nasty smile. Dok-mi drops the flowers in her hand in shock.
The two boys arrive at nearly the same time, or at least appear to in split-screen, both muttering simultaneously about this sinking feeling of nervousness.
Inside, Dok-mi sits nervously as Do-hwi catches her up on what Teach has been up to. He turns to her and asks if she's still writing, remembering the play they wrote when she was in high school.
She's near tears and growing increasingly agitated, which no one seems to notice. She finally speaks: "You're all… fine. You all ask me without a care. You're all… so cruel." It seems to jab at Teach, while Do-hwi just scoffs like the evil snake that she is.
Dok-mi blinks back her tears and gets up, staggering to the door. The room grows fuzzier with each step, and she starts to fall…
But Enrique is there to catch her. "Ajumma, ajumma." A tear trickles down her cheek as she looks up at him and thinks to herself, "You left. Why are you here?" And then she faints in his arms.
Do-hwi then comes running up feigning concern… and then we see that it's Jin-rak holding her up, not Enrique. Omo. Did she imagine him as Enrique? Omo.
Jin-rak screeeeeeams, "What the hell did you do?!" He carries her out and rushes off to the hospital, leaving the entire party standing in the street. Enrique arrives just then and demands to know what happened.
Do-hwi just wails that she doesn't know why everyone's blaming her. Uh, because you're basically the one standing over the dead body with the knife in your hand and looking guilty? Hypothetically. For instance.
Enrique growls that he's like a dog with a bone when he wants to get to the bottom of something, and demands to know what the hell she did, back then and now. "What did you do to make a person shut herself away so completely?!"
Dok-mi wakes up in the hospital, a little embarrassed and insisting that she's fine. Jin-rak doesn't let her off the hook so easily, and asks what happened back in high school. He says that Do-hwi's version of the story sounded not quite right, and wonders if he hasn't stood by and watched her long enough to merit that much trust.
Enrique arrives just then, and sees them together. He stands behind a curtain, as Dok-mi starts to tell Jin-rak (in vague terms) about waking up famous one day. She went to school not knowing what rumors were circulating about her and didn't know how to handle it, or even how to run away.
"Why do people hate other people? Why do they treat them differently? Why do they want to step on the weak? There must be people who aren't like that. Where are all those people? I thought if there were just one person like that, it would be nice. Since then, being alone was always more comfortable."
She cries while saying the words, and Enrique cries while hearing them from behind the curtain.
Jin-rak thanks her for opening up to him, and offers up a pathetically cute confession in exchange that he was a loser in high school too. It's pathetic because it's sort of like telling a person who got hit by a car that you have a paper cut, but it's cute because he means well by it.
She starts to get up, when Enrique shows himself. Dok-mi immediately thinks back to her hallucination and smiles to see that he really didn't leave. Aw. He challenges Jin-rak to confess anything else he's hiding, and they exchange charged looks.
He rushes over to Dok-mi and apologizes for insisting she make up with Do-hwi, and speaking too quickly before even knowing the whole story. "But the one person who's one your side… isn't Oh Jin-rak."
When it's time to check out and pay the hospital bill, Jin-rak stands off to the side, pitifully emptying his pockets and sighing to himself, as Enrique pays the bill. Dok-mi promises to pay him back.
The two boys walk ahead as Dok-mi trails behind, and they finally have it out. Enrique says that he can't leave Jin-rak by Dok-mi's side, and Jin-rak in turn calls him out for liking her.
They go back and forth in a round of over-my-dead-body, and Jin-rak swears that even if it's not him (to stay by Dok-mi's side), it won't be Enrique. Enrique of course says the same—he can't let it be Hyung.
They're so busy having their shouting match over Dok-mi that by the time they turn around, she's long gone. Pwaha. Serves you right.
She walks home on her own, thinking back to the moment she saw Teacher tonight, and then back to high school, when he weaseled out and named her as the one who was obsessed with him and left the school.
She heads to a realtor to start looking for a new apartment, and says that it doesn't matter where; she'll go wherever the security deposit is cheapest.
Enrique finds her on her way back home, and she asks why he returned. He can't quite bring himself to tell her the truth, so he puts on his happy face and says it's because of his book… and then admits he came because he was worried about her.
She tells him that she played his board game and did what it told her to—she opened her door and stepped outside but this happened. "You don't need to worry anymore, because I'm not going to throw the dice again."
He says that her teacher was 28 at the time, (ah, so it must've been Teach who told him what happened) and that he was so scared of losing his job that he thought of himself first before protecting Dok-mi. Years later he realized how terrible that was and gave up teaching.
He tells her that her teacher came today because he wanted to apologize to her, and asked Enrique to tell her so. But Dok-mi counters coldly that she doesn't want an apology—are those words supposed to make her feel better? I know, right? Even I'M angry at that measly apology. So you quit teaching, boo hoo. Ass.
Enrique tries to get her to overcome the problem using another soccer analogy, but it has the opposite effect of making her shut down completely. She says, dripping with cold sarcasm, that he's right and she's all better now, and walks away. He sighs, knowing it's a flat-out lie.
Jin-rak waits and waits in the hallway, and eventually goes home.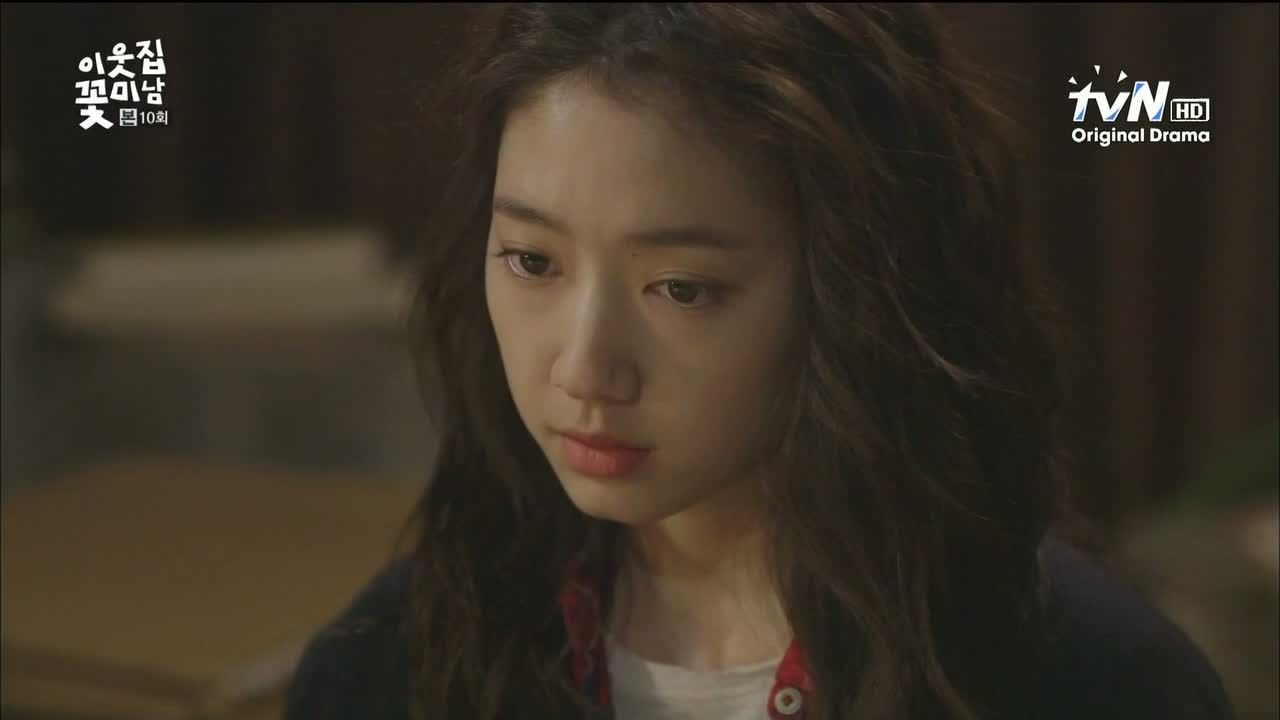 Inside, Dok-mi opens up Enrique's board game and holds the dice in her hand. Enrique opens up the USB drive from Jin-rak and finds a picture of a notebook—proof that he didn't plagiarize Zombie Soccer. And Jin-rak puts away the notice of his debt case.
Dok-mi writes more of her work in progress:
That woman's door did not open for a long time. Invitations began to pile on her doorstep, two, then three. A person who came close like a new breeze, a person who blocks a gale like a shelter from the wind. For the first time, that woman grows afraid of her own desire to open her door.
Dong-hoon is still moonlighting as a flower boy designated driver, and has an unfortunate accident when he backs up into another car. Suddenly his webtoon editor arrives at the same club and barges her way in.
It turns out he called her, not wanting Jin-rak to know about any of this, and begs her to co-sign the contract that he'll repay the cost of damages to the other car. She hems and haws, but eventually signs, and they share a cute little moment looking into each other's eyes.
Dok-mi heads out the next morning and hands the security guard ajusshi an envelope. He's in the middle of catching the neighbor ajumma from falling, which Dok-mi mistakes for a public display of affection and leads to awkward looks all around.
Enrique gets all riled up watching his team lose at soccer, screaming that he can't trust a soul in this world, like they personally betrayed him or something. He furiously draws a sketch of Jin-rak's plan (to woo Dok-mi), which basically involves watching her from a distance for a long time.
He declares that he'll just do the opposite then, and say that he was the first to take her to the beach and the first to storm into her apartment… and then buries his face in embarrassment: "Why does it all sound so childish?" Because it is?
But then to his utter surprise, Dok-mi shows up at his doorstep. She's here to repay him for the hospital bill, but he looks at it with an evil eye, knowing that the second he takes it, she'll zoom away. Hee. But she asks to come inside. His eyes widen and he nods eagerly.
At the same time, the security guard and ajumma knock on Jin-rak's door to tell him that Dok-mi returned the settlement money from their protest because she's moving. The ajumma says everyone in the neighborhood knows that Jin-rak likes 402 (aw) and they all sigh in sympathy as the news sinks in.
He thinks back to the only request he ever made—for Dok-mi to just remain where she is.
Enrique rattles off this story about how he ran out from the airport, and then stopped at a Chinese restaurant. (That's why you were late? Pffft.) He says he always racked his brains choosing between jajangmyun and jjampong, and so decided to try the dish that combines the two flavors.
But what he found was that it didn't taste the same at all—he likes each separately, but not together. Was it because of the lost anticipation of choosing one and missing the other? He says resolutely that from now on, he'll think about it carefully and choose one or the other.
Dok-mi interrupts his rambling to say thank you, which we know is a goodbye. She thanks him for everything he's done for her, and says that when she thinks of the ocean, it'll make her smile and give her strength.
She says she feels bad that he's only ever done nice things for her and she's never done anything for him. He pouts that it's like she's saying thanks but it sounds more like I'm sorry, and tells her to be nice to him from now on.
He thinks of something right away, and asks her to come with him to his book signing tomorrow, and wear a dress on the red carpet. He giggles to himself in excitement, but realizes it's asking a lot of her, so he just asks her to come along.
She says in response: "[He's/You're] a good person…" Enrique blushes, thinking she means him. But she finishes: "Oh Jin-rak-sshi." *gasp* What?
She says that she feels comfortable enough with Jin-rak to tell him about herself. His face falls, "So you chose… between jajangmyun and jjampong. You thought about it carefully, right?" She doesn't answer.
She leaves the envelope of money and heads to the door. He reaches over to open the door for her, and they end up face-to-face. He raises a finger to touch her forehead and their eyes lock.
Enrique: "When I looked at you, I strangely used to think I could hear your voice. But now… I can't hear anything. I don't know. I really don't know." Augh, puppy. He opens the door and she walks out.
Dong-hoon checks their webtoon stats online and gapes to see their average rating as 1.5, with a total of 11 votes (including the two of them, sadly). Jin-rak barely hears him, he's so depressed about Dok-mi moving away.
The doorbell rings and he flings the door open angrily, jumping in shock to see Dok-mi at his door. She asks him to go to a Van Gogh exhibit with her (like a date?), and he beams. "I love you! I mean, not you! I love Van Dok-mi! I mean, Van Gogh!" Hahaha. You're such a spazz.
But around the corner, Enrique has overheard the whole exchange and pouts that he likes Van Gogh too. Waah, I don't think I can handle it if his heart gets broken.
It's the day of his book signing, and though he puts on a happy face, all he can think about is Dok-mi and Jin-rak making time with Van Gogh. He finishes the signing and takes his camcorder on a tour of the city, and picks up two stalkers in the process. One looks like his ajumma stalker anti-fan, and the other looks a lot like Seo-young from behind.
He's bobbing along down the street when suddenly the ajumma stalker jumps out and pushes him down, into oncoming traffic. What the?
The car comes to a screeching halt. Eep, did he get hit?
At the art gallery, Dok-mi grabs a pamphlet and gets a paper cut, drawing blood in the same spot where she had pricked her finger trying to close her curtains and keep Enrique out.
Enrique lies in the street as people start to gather around him. Suddenly he sees Dok-mi looking down at him, crying with worry. Is it really her? Is it a vision?
He smiles as he looks up at her, and the realization sinks in. He thinks to himself: "I've fallen in love."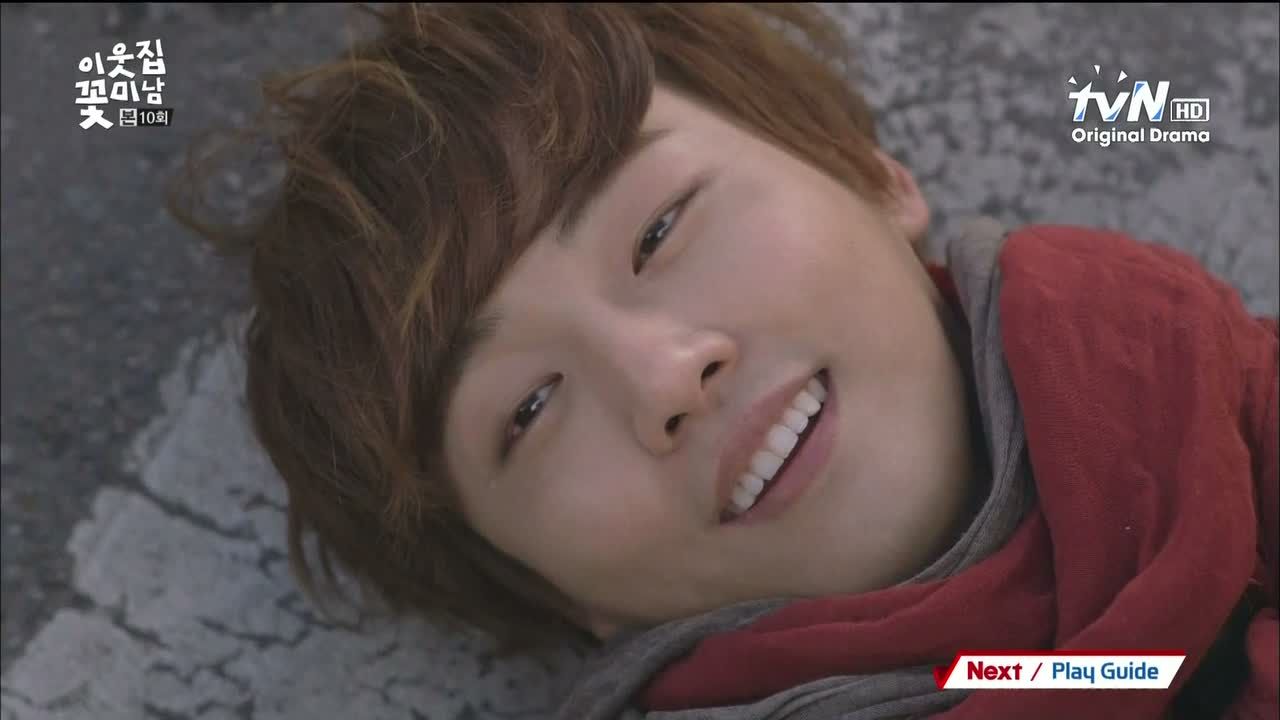 COMMENTS
Awwww. What a great episode for Enrique. Yoon Shi-yoon has been doing a fantastic job all series long, but he really brought out the full spectrum of Enrique's character in this episode. He's outwardly such a bright bubbly chatterbox that when he quiets down to show a moment of sincerity it hits that much harder, and cuts that much deeper. That sharp contrast has always been there, but it did wonders in this episode when he went from riding high on Dok-mi's thank you and then sinking when he thought she chose Jin-rak over him.
I do believe that Dok-mi means what she says about Jin-rak being a good person, but I think she's saying that for the boys' benefit, not because she's chosen her noodle dish, so to speak. But even still, the fact that Enrique suffers heartache thinking that she's made her choice—that in itself hurts like hell.
But despite what they say to each other outwardly, we see in the episode's theme that they're still on the same wavelength, just on mute for the time being. I love what each of them hallucinating the other in a moment of trauma conveys so simply, without needing explanation: I wish you were here. It finally takes that kind of shock to make Enrique realize that he's not just feeling jealous or protective or feeding his curiosity and his I-have-to-see-how-it-ends nature, but falling in love. The question is how much Dok-mi realizes about her own feelings, if at all.
My concern isn't that Dok-mi is running off with Jin-rak, but that she's going around saying her goodbyes, intending to lock herself away for good. It was so nice to have her knocking on both boys' doors for a change, and I'd hate to see her retreat back because of Do-hwi's nasty stunt. She was doing so well, but now she's back to shutting down and everything she's saying right now feels like goodbye. I hope that rather than having the boys save her in some way, she'll decide for herself that she wants to open her door and come out into the world. And if that reason happens to be because she falls in love, all the better.

RELATED POSTS
Tags: featured, Flower Boy Next Door, Kim Ji-hoon, Park Shin-hye, Yoon Shi-yoon