A deadly virus has hit varietyland that rids the world of all happiness and laughter and throwing it into raging pandemonium. It's up to our Running Man agents to save mankind and procure the last remaining vaccine.
But wait – there's always a twist. Just like how there can be several strains of a virus, a copycat could pin you as the original carrier.
EPISODE 140. Broadcast on April 7, 2013.
On this bright clear day, Mr. PD delivers frightening news of a fatal viral outbreak in varietyland: the Anger Virus. The good news is that our cast isn't infected (yet); the bad news is that once you catch it, you lose your ability to laugh forever. Eek.
I love that they collectively guffaw in disbelief at today's Virus parody theme. They're told the staff has already fallen ill (Kwang-soo: "Is that why [the VJs] aren't smiling?") and even typically jolly VJ Kwon-ryul keeps a straight face.
They're the last healthy civilians remaining and today, it's every man or woman for themselves. It's their job then to be the last person standing and cure the epidemic by bringing laughter back into the world.
So time to save the world! No biggie, right?
Mulling over the virus's existence in their cars, Jae-suk comments that it must be true since there's no one outside. "And it's 9AM!" he adds. Meanwhile, Kwang-soo throws himself into this reality, trying his best to keep his anger symptoms at bay.
They race to their first location (a rest stop) and are immediately told to stay in their cars since this place is a high-risk area of the virus. Annoyed, Jae-suk fires at Myuk PD: "I'm getting the Anger Virus because of you!"
Each member will need to pass a qualification to fight the virus. They're sent out to buy various food items, armed with the only effective defense weapon: helium gas. Keke.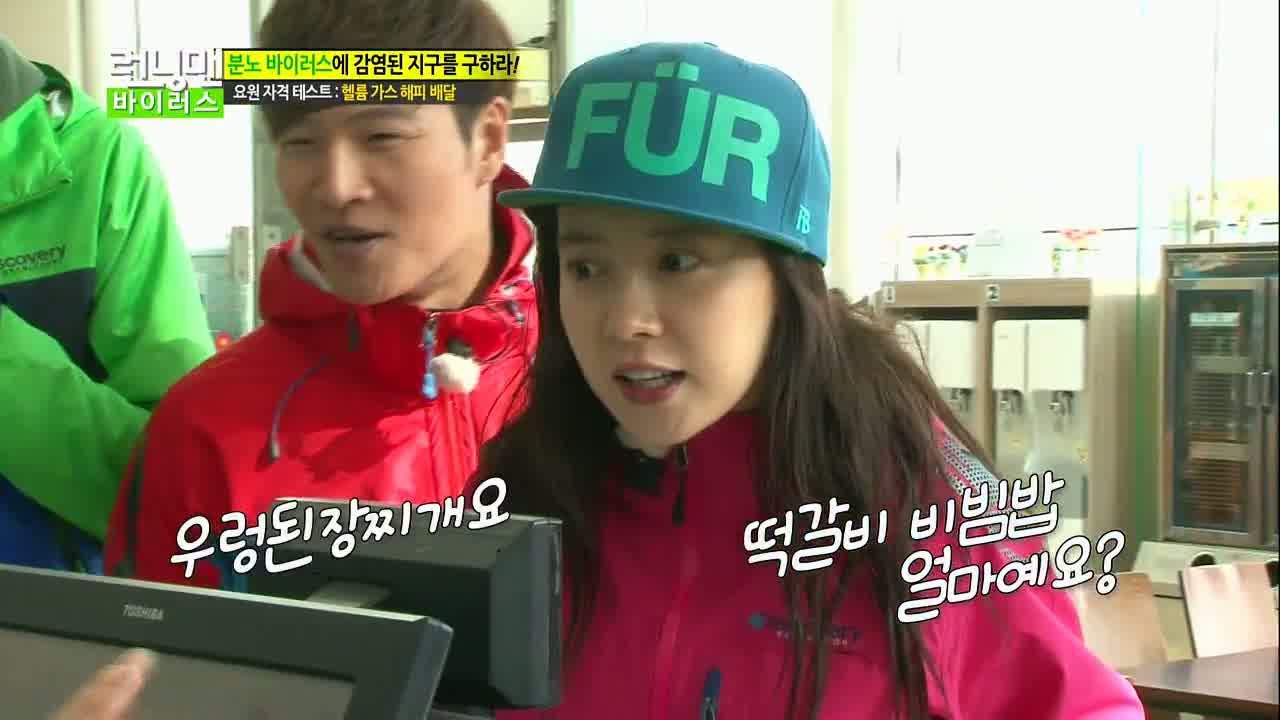 This is variety at its best – everything just sounds funnier in a high-pitched voice and now everyone's voices squeak like chipmunks. Except for Jong-kook, whose squeals makes me think of his "mosquito voice" (when singing) that so many people have teased him about over the years.
Aw, poor Suk-jin barely makes it to the counter before his voice drops down to his normal register. But I'm in stitches watching everyone else order their items in a rushed high-pitched "happy voice" and run back with a mixed normal/heliuminated voice combo. Heehee.
Some of the members show promise, like Gary who zooms in silently. But alas, his vocal cords return to normal too soon like the others.
Then there's Spartakooks who waits for his food in silence, saving his voice until he needs it. We know that Kwang-soo's variety character can't pass up an opportunity to mess with his hyung, so he jokingly tries to cancel the order. It doesn't work.
Ah, so Jong-kook's strategy is hold his breath and then "recharge" with helium gas just before running back to Myuk PD with his item. That plan works brilliantly and the others flock around him, left astounded at this feat.
So they all adopt this simple yet effective approach that works like a charm nearly every time. At this rate, if Kwang-soo doesn't get movin', he's gonna come in dead last. And then he actually does. Aw.
Not only that, Kwang-soo has now fallen victim to the virus as an infected carrier, unable to laugh anymore. He's promptly dragged away to be quarantined. Kwang-soo's last words: "I'm so angry!!" Hahaha.
Ha, I love how the cast is so keenly aware of how ridiculously immersed the staff is about "the virus." They groan when Myuk PD tells them that they must hold their breaths until they're safely in their cars. It's cute how Jong-kook tries to get his other castmates into it like, We have to save the world guys! to which they respond, Mmmk.
Anyhow, they head out to a research facility which houses the last laughter vaccine available on the planet. Our agents will need to procure this to save humanity before their enemies do. As if this world wasn't bleak already.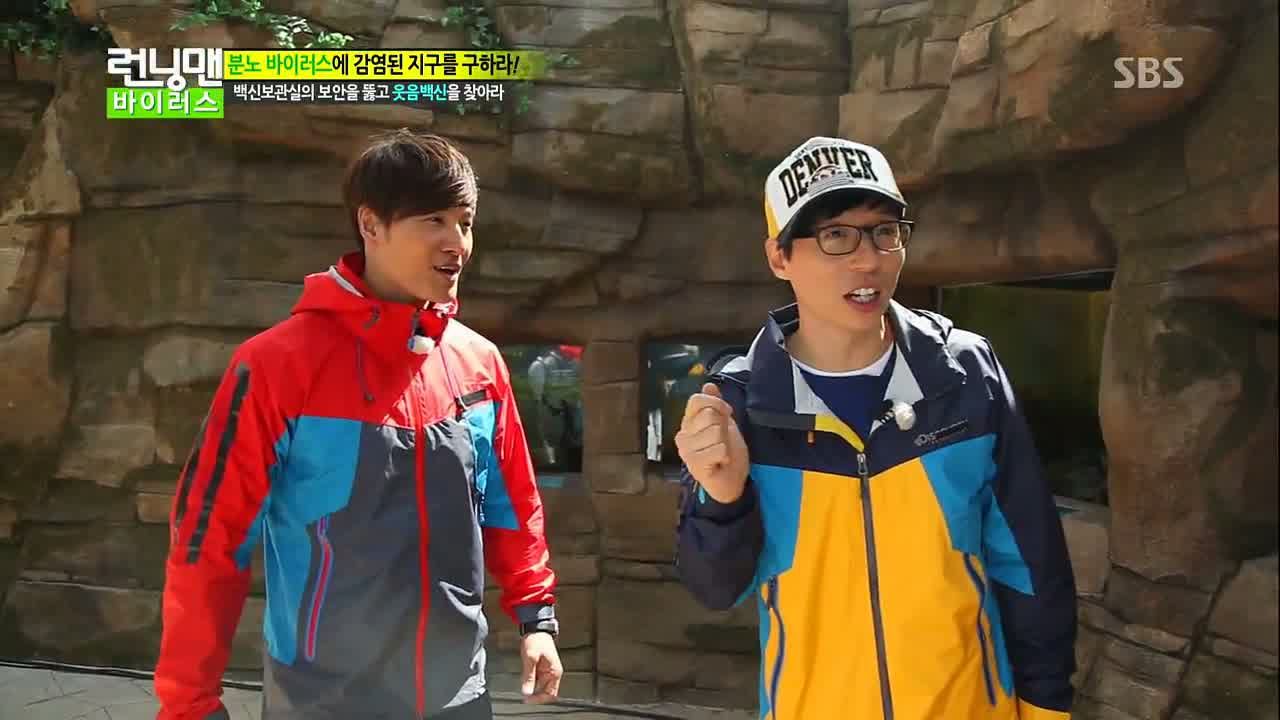 Swiping an ID card to get security access won't be easy, especially since the mat hyungs get spotted by the scientists and chased by security guards right away. But never fear; Jong-kook has a theory – what if they need to rip off the scientists name tags?
Jae-suk takes this all in and belatedly responds, "That's exactly what I was thinking!" Haha.
The more we look around this place, the more this theory starts to makes sense. Haha has already jumped on this train and immediately approaches a group of scientists. He manages to tear off a name tag and pluck the ID off of the "dead" scientist before the security guards arrive.
One by one, the members take down the scientists and take off before they're caught. Interestingly, it's Suk-jin who finds the lab first and he gathers his fellow agents to surround the place.
Er, is that a smart plan when only one person can win today? Then again, even though most of the agents have an ID card on their person, they all keep it hidden from each other.
Jae-suk, did you just knock on the lab door? Exasperated, Suk-jin answers, "Do you expect them to open the door if you knocked?"
Haha waits until everyone leaves to sneak up to the door. But before he can test out his ID card, the others return. It's like a mad rush of agents who run to the door, all trying out their ids.
Unfortunately, the alarm blares and in the aftermath, they all share astounded looks saying, You had one too? Hahaha, are we really all that surprised that you would try to deceive each other?
Gary gets caught as soon as he acquires a name tag. But what's funnier is how he gets dragged away by the security guards and for a split second, all you see is his head float outside of the tent flap. Teehee.
In any case, it seems that only certain scientists have security clearance to the lab. Temporarily kicked out the research facility, the mat hyungs and the Monday Couple strategize a new plan.
Haha returns with a few more ids and notices that they're all different colors. Hm. So he tests out the gold one and… the door opens. But he's barred by another door that requires a password to gain entry.
So he tries out a few of his trademark phrases ("The power to turn back time!" "Be my last love!") and needless to say, they don't work. Haha makes a run for it with the security guards hot on his tail.
He does manage to slip away for a few minutes but he's soon apprehended and dragged outside of the research facility.
Meanwhile, infected rage-filled Kwang-soo kicks and screams at the scientists as he's dragged inside on a gurney. His blood boiling, he grabs Nurse Maknae FD's wig (which falls off, ha) while trying to resist being held down.
He undergoes a battery of tests to evaluate how serious his condition is. It cracks me up how Kwang-soo tries to keep in character while he tries to fight his ticklish reflex. Like when Nurse Maknae FD tries to tickle his feet with a feather, he rages, "I'm so angr…ha…ha…"
He throws a fit on the table (Maknae FD has to use a toy mallet to calm him down, heh) about how he wants to appear on TV too. The Hulkified green bags under his eyes is a nice touch.
But just then, the speakers announce that Jong-kook has been infected. What in the what?
Haha ushers the Monday Couple inside as he hurriedly explains that Jong-kook has been hit with a water gun. And sure enough, as we see Spartakooks being dragged away into quarantine, his name tag splattered with green water.
They react with shock, but this declaration makes me immediately suspicious of Haha, especially since he insists that he doesn't know who took Jong-kook down. Then how are you so sure that it was a water gun?
Ji-hyo presses Haha for more information, who wonders if this means the return of Yoomes Bond since water guns and green liquid are trademarks of the character. She adds that it's already April, nearly a year since Yoomes Bond's last appearance. "I even watched that episode again so I don't get tricked this time around!"
Wait, does this mean you're not suspicious of Haha? He seems way too casual about all of this.
Speaking of whom, Jae-suk is nearly out of breath after another failed attempt at accessing the first lab entrance. When he runs into Ji-hyo, he casually asks her about Jong-kook's elimination.
The water gun is news to him and when he asks, "Who told you that?" she jumps back in fear. Convinced that Jae-suk is armed, she doesn't dare step forward even though he insists that he didn't eliminate anyone. Though I will say her Jae-suk = water gun = Jae-suk line of logic makes sense.
Jae-suk points out that it's a virus they're fighting – why else would the speakers say that someone was "infected"? Ji-hyo fires back that they can't be sure, to which Jae-suk finally yells, "Yoomes Bond isn't that kind of person! He wouldn't take a cheap shot like that!" Hahaha – it sure says something when you have to defend one of your variety personas like that.
He reasons that someone is trying to frame him, running around tainting his character name. Anything is possible at this point.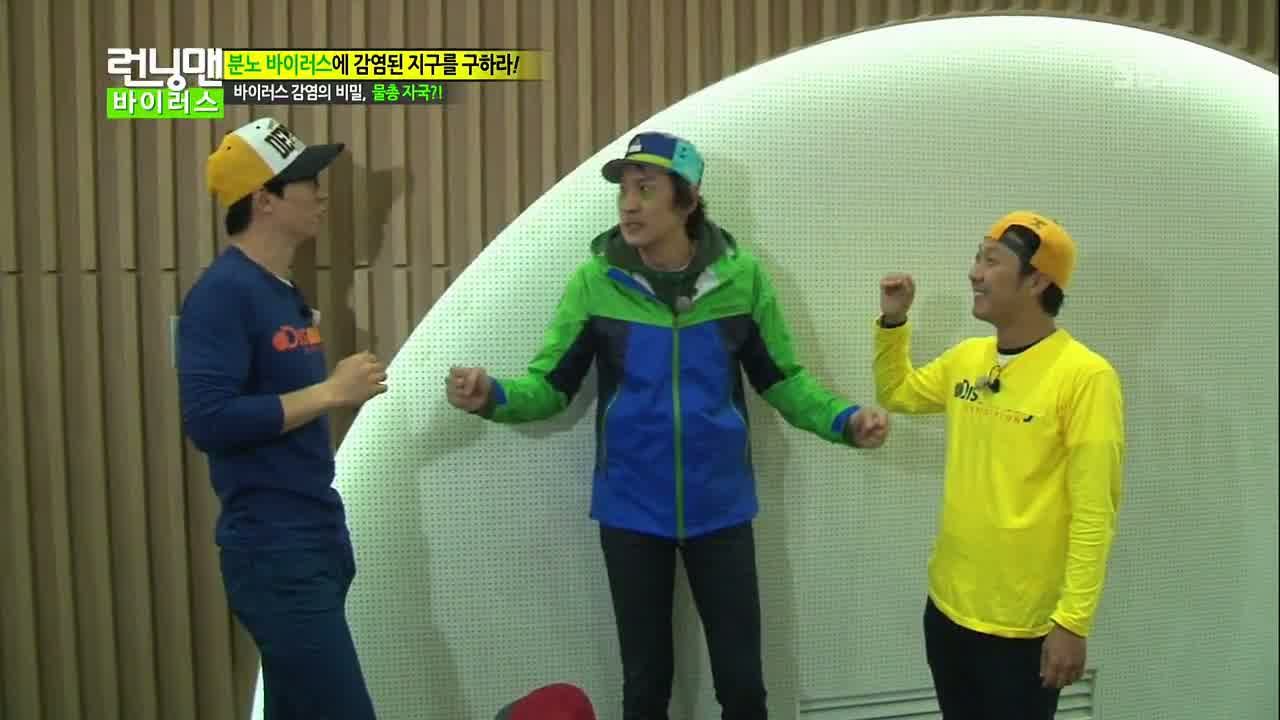 To his luck, Haha finds a file that contains a riddle whose answer is the necessary password: What has six faces and twenty-one eyes?
Kwang-soo's prognosis isn't good and he refuses to believe that his condition is untreatable. So he escapes out of quarantine and makes a run for it. He fully throws himself into his character when he runs into his hyungs in his rage-filled state.
I love how perplexed they are over this unexpected turn of events and are like, Uh, what are you doing out here? When he tries to explain that he escaped and now has no idea what to do, they respond, "Then just go back in!"
They do entertain themselves by trying to point out whenever Kwang-soo momentarily breaks out of character ("You just smiled!"). Haha tries to casually ask about the riddle but Jae-suk is sharp enough to know that he's found something, so he shares with the class.
Now that Kwang-soo is constantly running away to evade capture, I'm starting to think that he might have been better off if he remained in quarantine. He takes his anger out on a lone staff member in charge to blast air just behind the door.
Furthermore, his loud shouts of fury is likely to draw attention, so Ji-hyo figures that she's better off leaving him behind. But poor Kwang-soo just wants to know what's going on so she fills him in. "Don't you think we'll win if we take out the one behind the water gun?"
Elsewhere, Jae-suk stumbles upon another file that contains another riddle of a list of letters in some kind of order. At the same time, Haha cracks his ("It's a die!") and gains entry into the lab.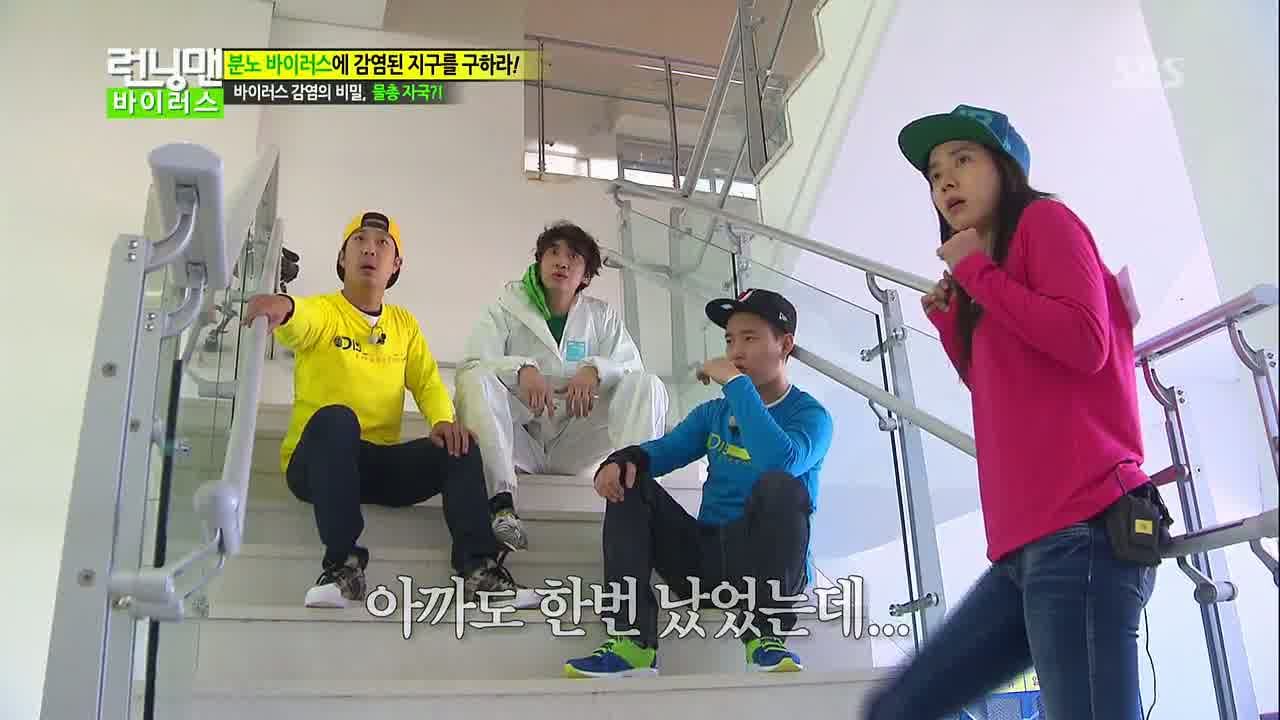 Another agent has fallen ill – this time it's Suk-jin. Kwang-soo joins the others and despite his scientist get-up for a disguise, he still doesn't understand what's going on. But just then they hear sounds of birds. Surely it can't be mere coincidence, right?
Haha's line of logic is an interesting one: Birds prey on bugs and a grasshopper is a type of bug. So then it's possible that the sound warns the others that Jae-suk is about to complete some part of his mission. That's… pretty vague, but let's roll with it.
"Jae-suk is the reason why you can't laugh anymore!" Haha shouts dramatically. "And the only person who can save us… is me."
Jae-suk runs into Gary in the greenhouse and casually tosses out the same question about who eliminated Jong-kook. Gary immediately steps backward in suspicion just like Ji-hyo did. Ha, as if I needed any more proof to show that the Monday Couple is meant to be.
Then Jae-suk uses the same argument with Gary about how Yoomes Bond would never do such a thing. Gary is still suspicious but they part ways for now.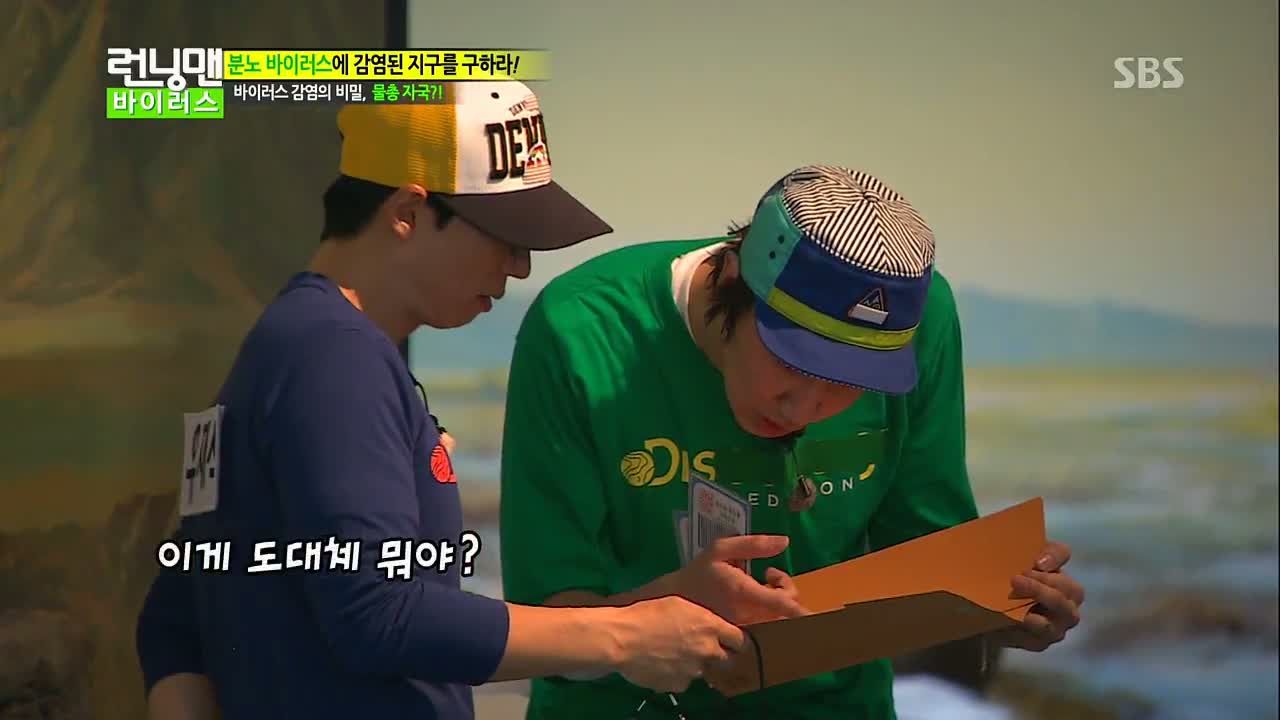 Aw, poor Kwang-soo gets hit with a blast of air nearly everywhere he goes. Is the staff trying to rile him up on purpose? He runs into Jae-suk and puffs up with pride about all the name tags he's collected, only to be told that the first door is just the beginning of his problems.
That statement makes a ping on Kwang-soo's suspicion radar but Jae-suk distracts him by showing him the riddle. Kwang-soo reads intently until he gets interrupted by Myuk PD who reminds him that he's infected with the virus.
Annoyed, Kwang-soo barks: "He's been telling me to do that all day!"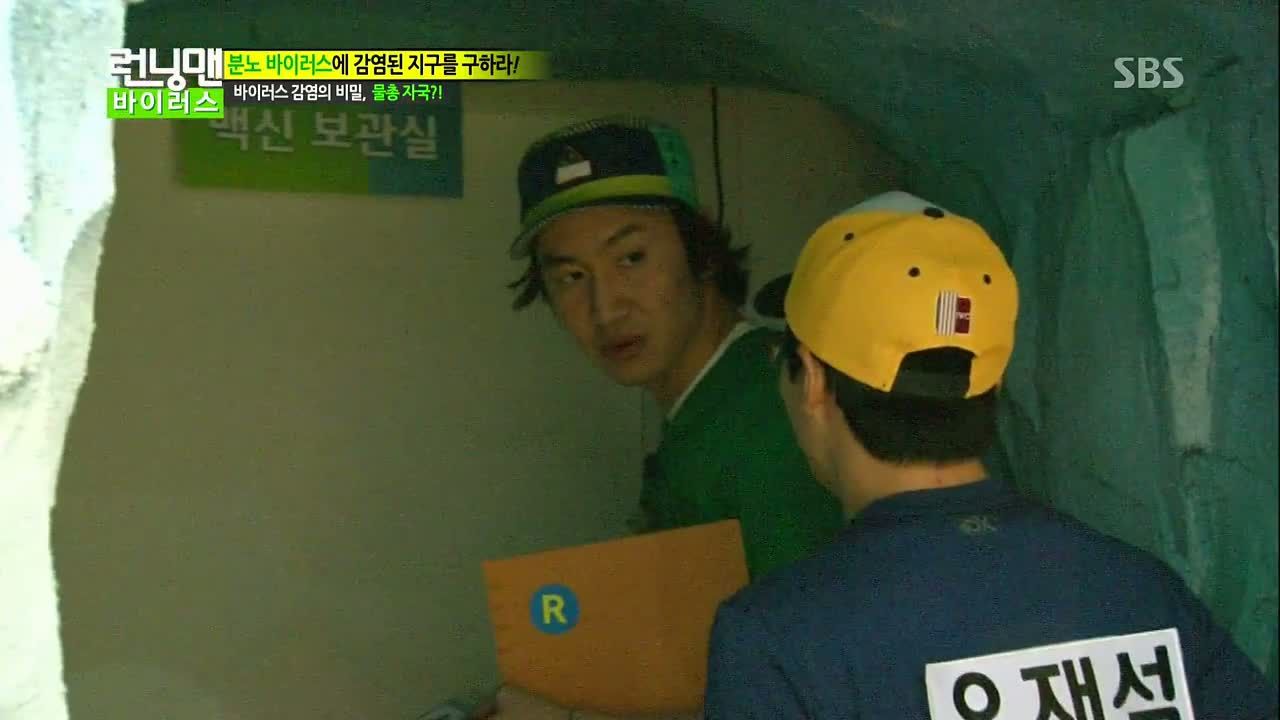 I'm nearly positive that Jae-suk has reached for something in his back pocket. Thankfully, Kwang-soo is suspicious as well and he's careful to turn his back towards Jae-suk, trying his best to keep his tone as light as possible as he tries out his name tags on the door.
And then Jae-suk takes out a tiny water gun. Oho, so Haha and Ji-hyo were right after all!
It's too bad that Kwang-soo realizes that he's been "infected" just moments later. Now, he's REALLY angry *stompity feet*.
Even with the epic return of Yoomes Bond, something seems off – why is he complaining that everyone else is moving as a collective group? Who are you looking for?
We roll the clocks back two hours ago when Jae-suk receives the mission and is pulled away by Nurse Maknae FD. Just like the last two times, he meets Jo PD in a hidden secret room.
His face reads Oh man, again?! when Jo PD refers to him as Yoomes Bond and he isn't happy to hear that someone has been running around tainting his good name by infecting others with the Anger Virus. Thus, it's his job to find the imposter and take him (or her) out.
But this mission won't be easy because he runs the risk of either being eliminated by his copycat via water gun or if his bracelet is taken away from him. How much do I love that the wall of water guns makes a reappearance?
With this in mind, we know that Jae-suk eliminated Kwang-soo, but what about the others? Ah, and the flashbacks teach us that it wasn't him.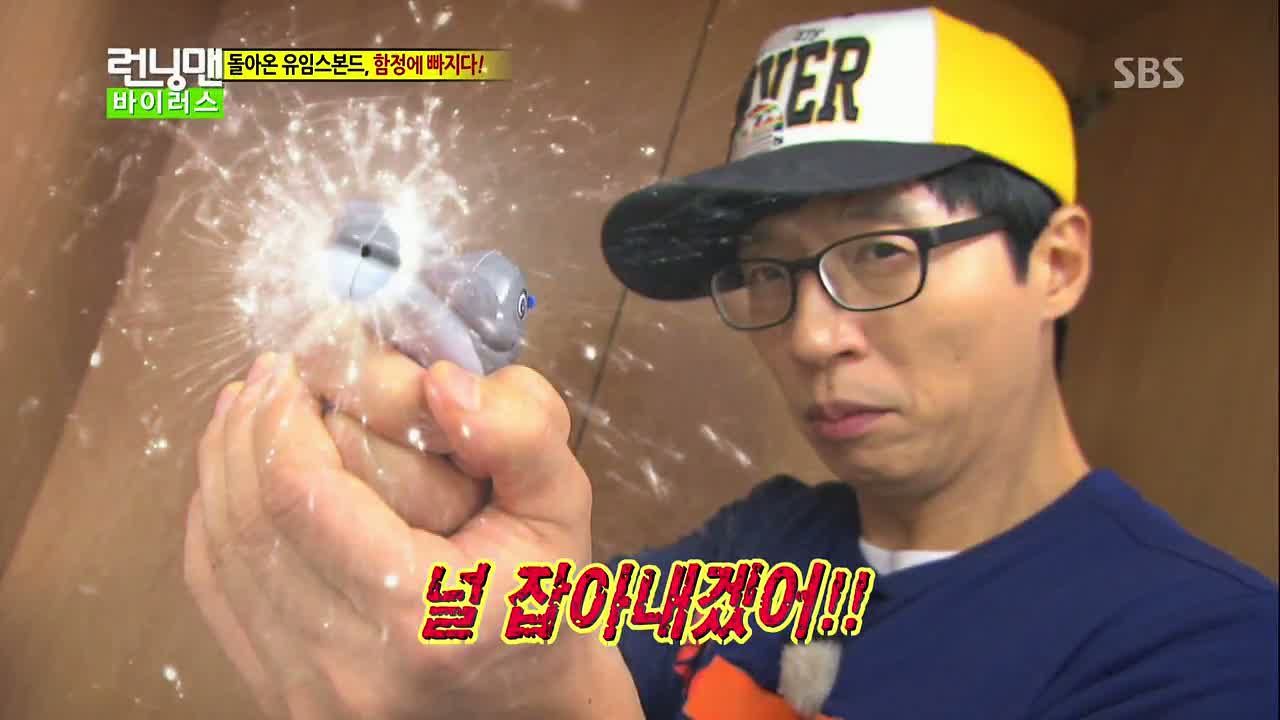 Now the real battle between the real Yoomes Bond and the fake begins. Jae-suk literally hits himself over the head when he figures out the answer (the letters link up to the first letters of numbers in English).
He enters the lab but what do you know – the vaccine is gone.
Jae-suk runs into Haha and Ji-hyo, who both still suspect him to be Yoomes Bond. He allows for Haha to inspect him but before he does, Ji-hyo suddenly pinches Haha's butt. "I thought there was something in your pocket!" is what they all say.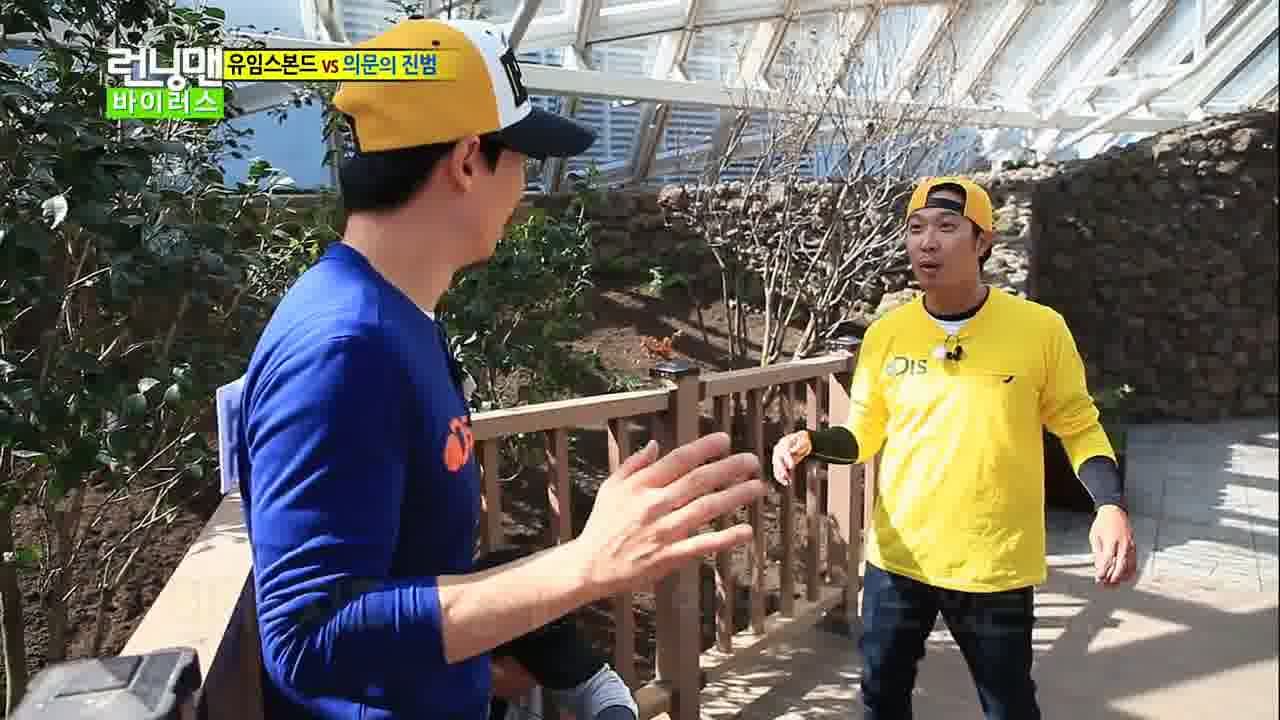 Haha and Jae-suk are both rightly suspicious of each other but it certainly seems like Haha has the upper hand, accusing Jae-suk for just washing his hands. "You think Harok Holmes will fall for this?!" Hahaha.
Jae-suk makes a move towards his back pocket, which is enough for the others to make a run for it.
He slips away and a minute later, a lightbulb goes off in his head. He deduces that it must be Haha because he was the only one who claimed to have seen the eliminated become infected.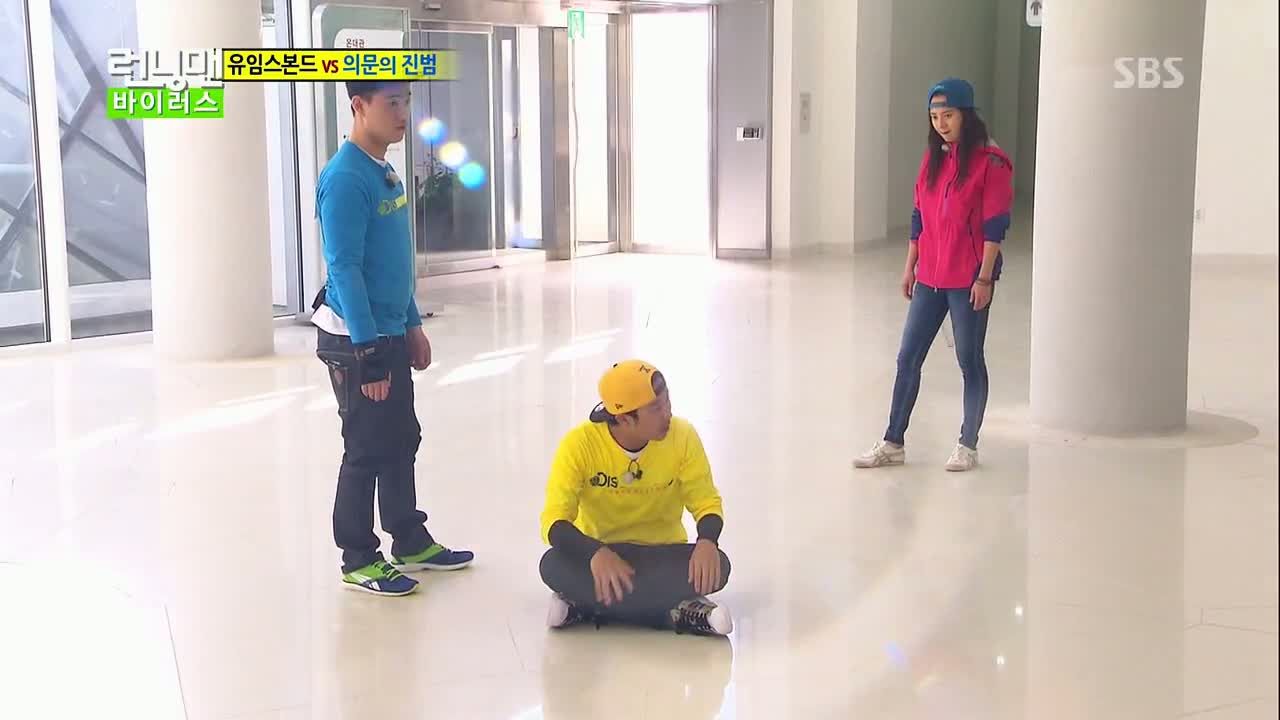 Now it's a matter of warning Ji-hyo, who is currently backing away from Gary and Haha. The Monday Couple suggests that they all show each other their ankles to prove their innocence. Funnily enough, Haha proposes that he sits out and "supervise" them instead.
They pick up on his suddenly defensive mood and give an exasperated sigh when he spouts off that they're responsible to bring back laughter into the world.
But their entire exchange is observed by Jae-suk and they immediately retreat at the sight of him. Jae-suk shouts that the real culprit is amongst them, adding that the vaccine is now missing.
Jae-suk points the blame at Haha and shows the others his bracelet-free ankles. Then he argues that while the others' announcements reported that they've fallen ill whereas Kwang-soo's elimination eerily passed by in silence.
But they zero in on the fact that he has a water gun on his person and now Jae-suk admits the (half) truth: it's his job to eliminate one of them.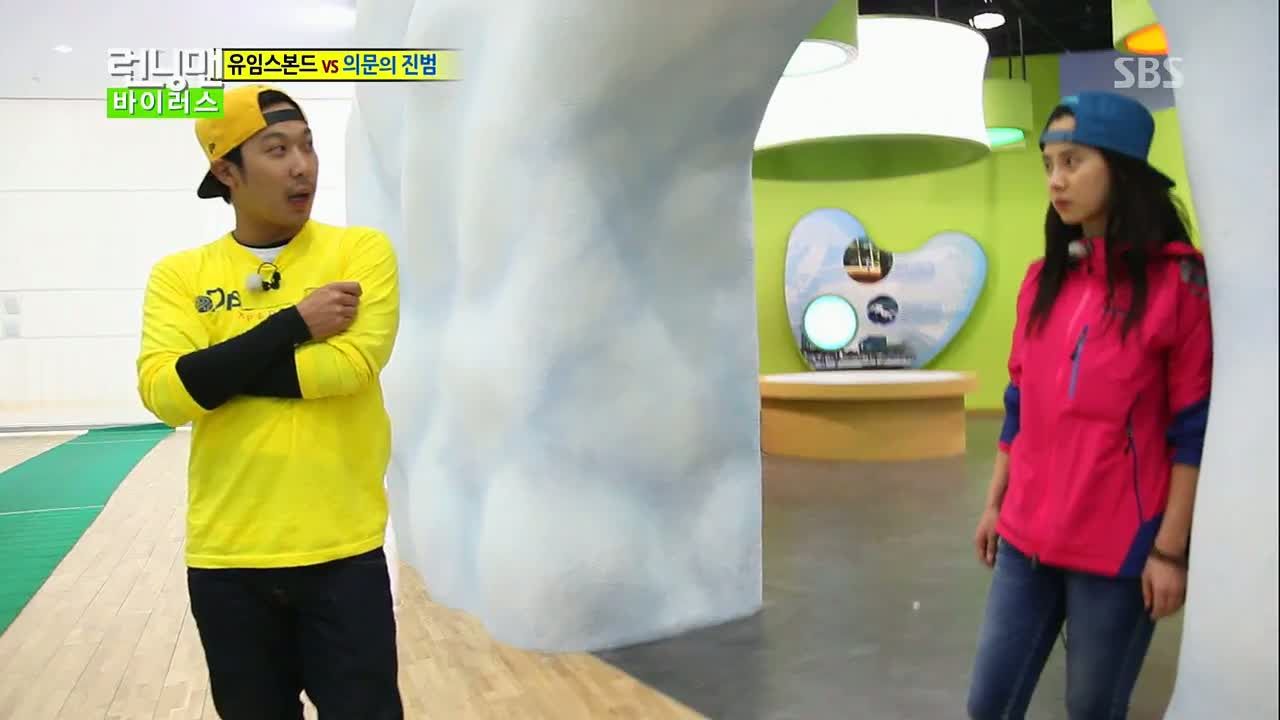 Unfortunately, the security guards show up to break up this party. Jae-suk manages to get away with Gary, who fills his hyung in on why he too suspects Haha. Now the question is – how did Haha manage to eliminate the others without a water gun? Or does he have one?
At the same time, Haha circles around Ji-hyo, arguing that the Ace is plenty capable of eliminating her fellow agents. Unable to trust each other, they decide to part ways.
In quarantine, Kwang-soo wonders about the sound of the birds. He knows that he's a carrier of the virus and that the sound only played whenever he was with Ji-hyo. Wait a minute – did I just get this all wrong?
Sure enough, Ji-hyo stealthily takes out her tiny water gun and shoots Haha in the back. She quickly stows it away before he notices and walks away, none the wiser.
The truth hits him too late when he's dragged away by the security guards. He looks at his green-tinted name tag and burns with rage. So then what exactly did happen?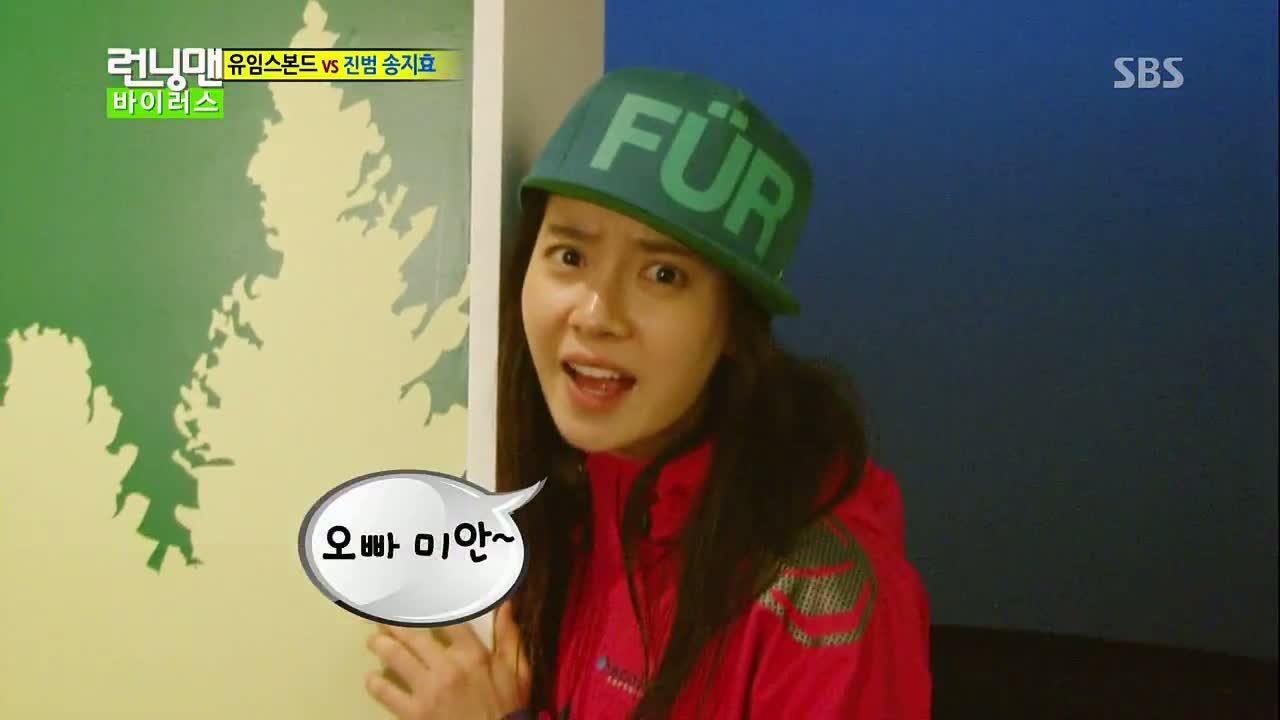 Five hours ago. Ji-hyo receives word from the mysterious IAG aka International Angry Group (ha) with a special mission. Given all the tools to access the laboratory, it's her job to rid the world of its remaining happiness.
So Ji-hyo breaks into the lab before anyone else and swipes both the vaccine and a copy of the Anger Virus. Then she eliminates both Spartakooks and Suk-jin and mouths an apology to her castmates at the camera.
In order to frame Yoomes Bond for the crime, she plants the seed of doubt so that all arrows point to Jae-suk. Ah, so she was the one who deceived Haha, not the other way around.
We already knew that Ji-hyo is an awesome actress, but I still can't help but be impressed.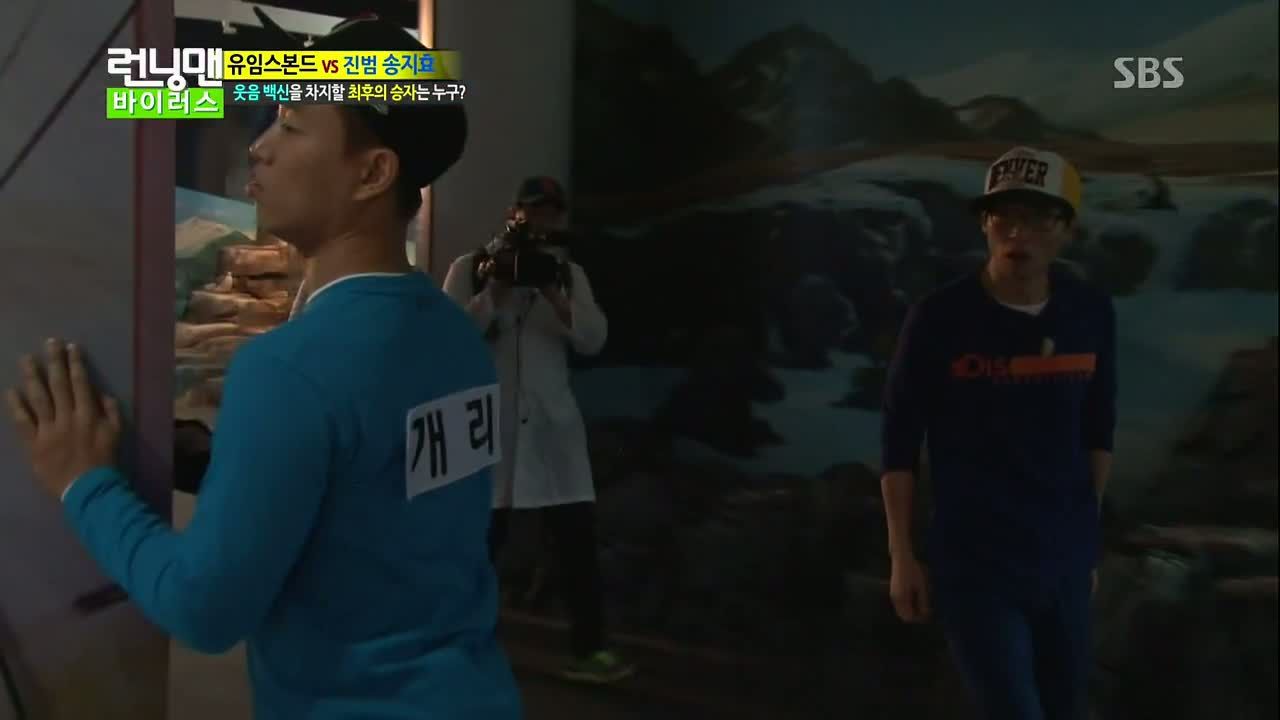 This means our boys are left utterly confused at the announcement of Haha's elimination. So then Jae-suk shoots Gary's name tag before running off and the latter is dragged away.
Jae-suk is convinced that the Monday Couple is trying to frame him, recalling how they once attacked him in the Zombie Special. Perhaps it's because we don't hear Gary's elimination announced over the speakers but it's safe to say that the Ace did it all on her own.
He tries to remain in the shadows as Ji-hyo cautiously approaches the room, looking for Jae-suk. If there's one thing he can rely on is his keen sense of smell when he's nervous (he caught a whiff of her perfume last time).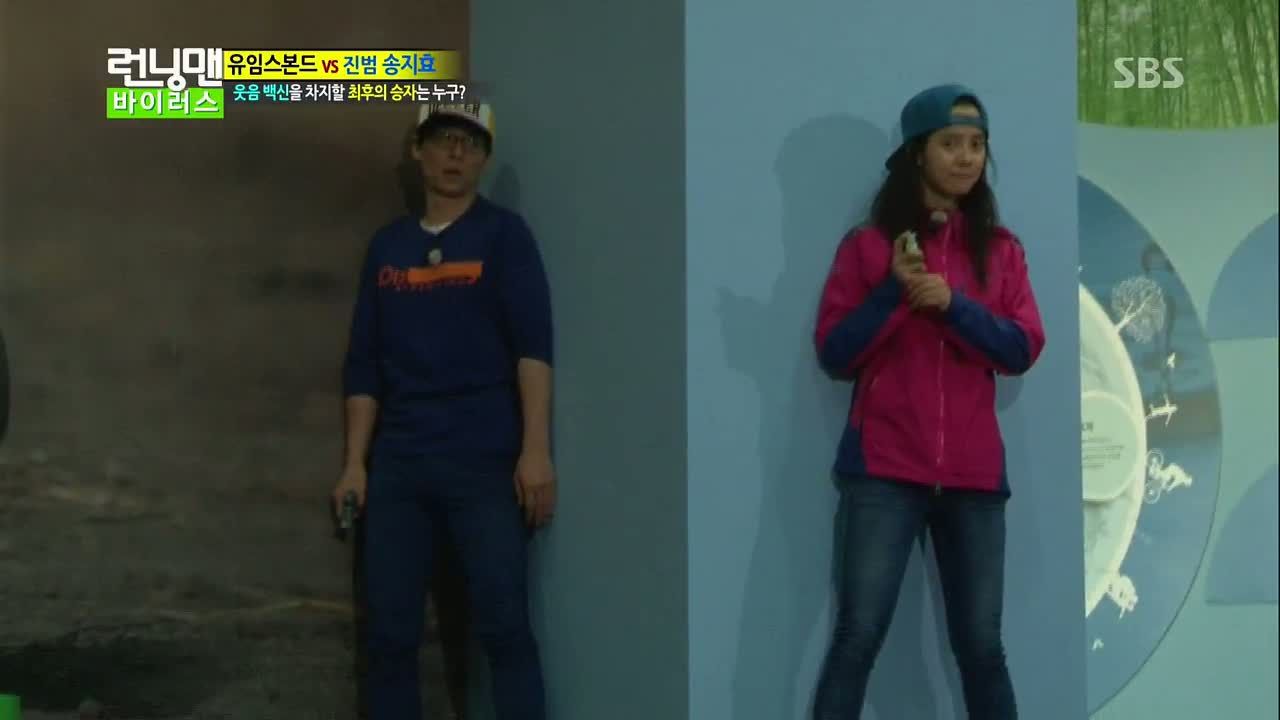 Ji-hyo rounds the corner with her little spray in hand and steps forward, unaware that Jae-suk is right behind her. She whips around when he attacks, but it's too late and her name tag is already spattered with green.
Jae-suk hilariously accuses her that the Monday Couple were in it together as she's taken away. He doesn't believe her when she insists repeatedly: "It was just me! Gary doesn't know a thing!"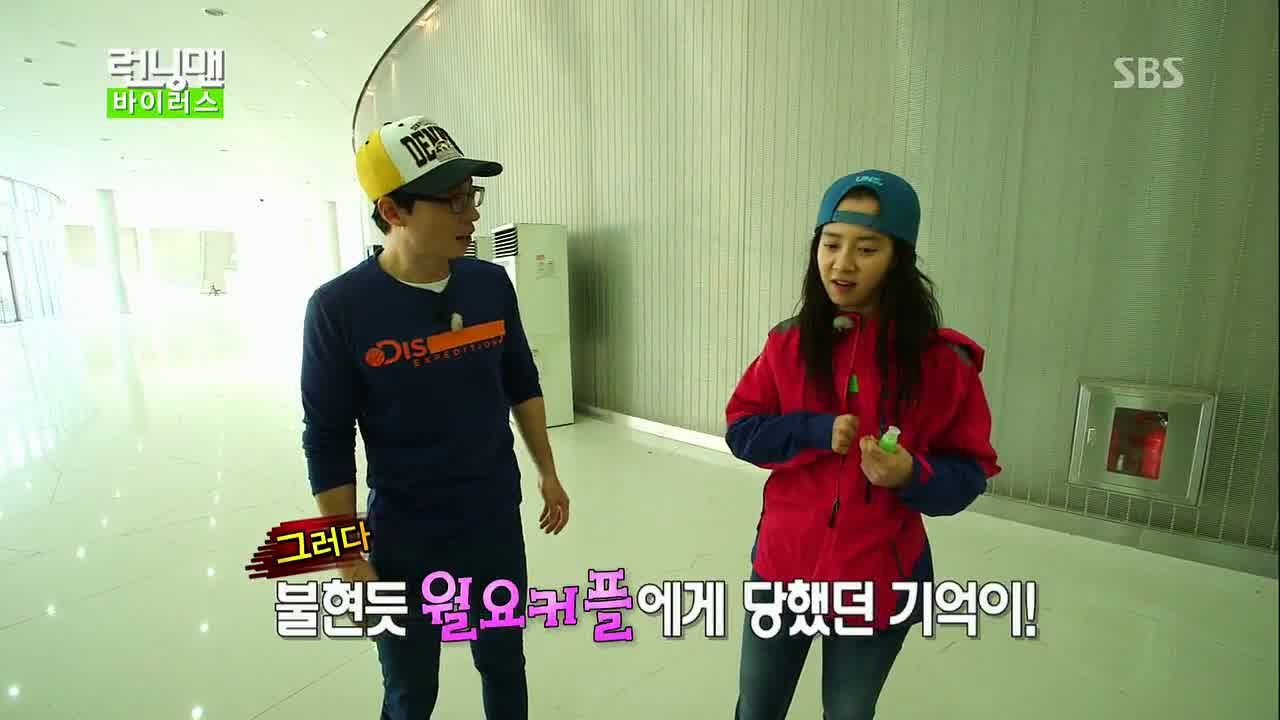 She gripes that SHE was the one who did all the work – is it fair that Jae-suk can just swoop in like that and take credit? She cries, "I was the one who set the table! Is it enough for you to sit down with your spoon like that!"
Jae-suk hands over the vaccine to the deliveryman waiting outside. But his job as Yoomes Bond isn't quite finished yet, since he needs to make sure it doesn't fall into the wrong hands again.
So he too gets on the motorcycle and rides off into the sunset.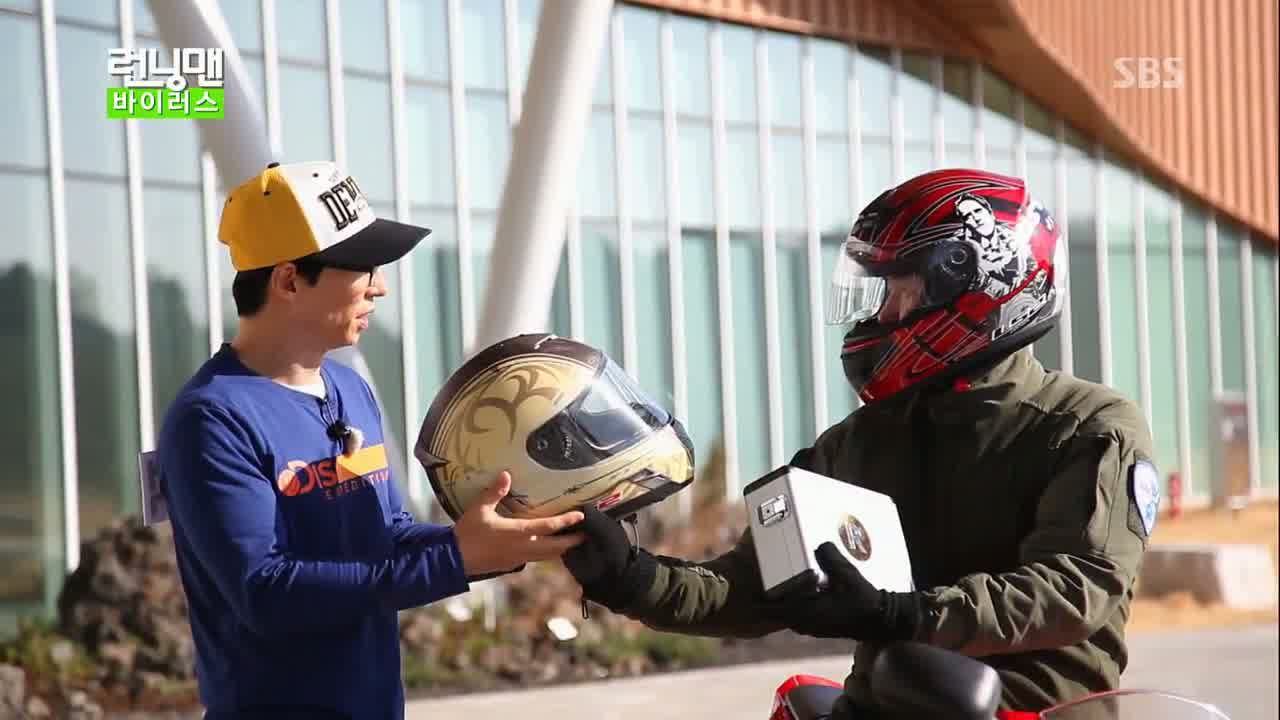 RELATED POSTS
featured
,
Haha
,
Ji Suk-jin
,
Kang Gary
,
Kim Jong-kook
,
Lee Kwang-soo
,
Running Man
,
Song Ji-hyo
,
Yoo Jae-suk