Barefoot Friends logs perilously low ratings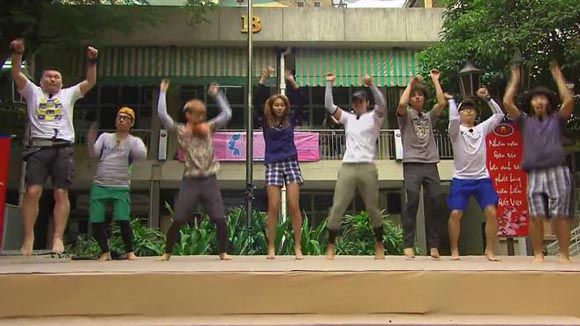 javabeans: New Sunday variety show Barefoot Friends premiered to lowish numbers three weeks ago, but the real test was whether it would be able to climb up from its initial 5.6% numbers to challenge Dad! Where Are We Going?… but instead the numbers have dropped. Yesterday's Episode 3 pulled in a frankly shockingly low 2.9%.
girlfriday: That is dismally low.
javabeans: I would hate for Kang Ho-dong to get another show cancelled so soon after his comeback, but let's be fair: I've seen all three episodes and I see why people are zoning out. It's got a great cast, a confusing non-premise, and a lot of boring filler "missions."
girlfriday: For one, it takes halfway into the THIRD episode to even get the entire cast together in the same city, which is a confusing way to launch a show.
javabeans: Also, they spent three episodes on the same trip. Even if you disregard the fact that I think they miscalculated by going abroad for the premiere, that's a long time to spend on one event.
girlfriday: While I understand the purpose of travel shows, I also don't watch variety for the traveling part. I watch it for the crazy personalities and the spontaneous moments that come out of whatever game/mission/race is the backbone.
javabeans: Plus, the show is apparently not even billed as a travel show. So why focus so much on the traveling? Their producers call it a variety show that'll depict real lives while the cast undergoes lots of suffering (the variety-suffering kind), but then you set up this premise of forcing celebs to work, and then you basically give them outs at every opportunity.
girlfriday: I know. There's no actual suffering going on.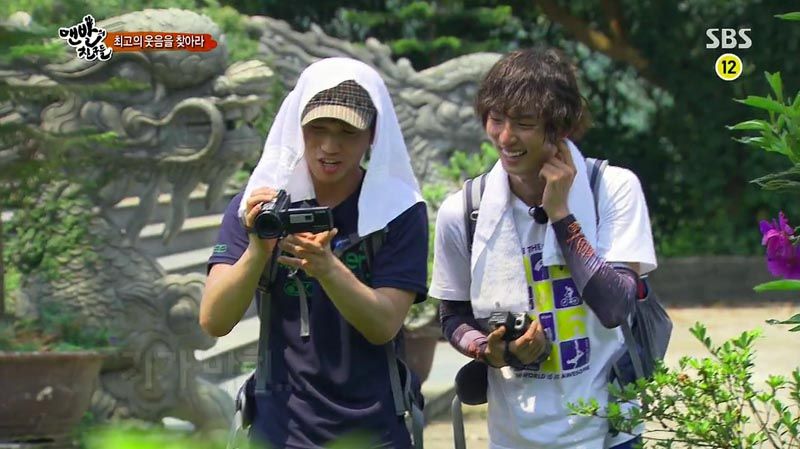 javabeans: I feel like Barefoot Friends is the show people think they're going on when they do 1 Night 2 Days, when they're all, "I thought we would suffer a little on camera, and then you'd turn the cameras off and we'd eat!" So there are no stakes because although they're TOLD they have to earn their food and sleep on their own, they're still given translators and local guides and rules and help.
girlfriday: The thing is, the same show could have stakes if it were done differently. Set up with different rules. Framed as a team vs. team thing. Something that keeps it from trying to be a documentary when it's clearly not.
javabeans: This is where I'll argue that they misstepped by going to Vietnam for their first episode, because it both was too much and not enough at the same time. There was so much to do that I felt at numerous points that we were zooming past any chances to tease out the funny interactions, because the guys had some lame and pointless mission to take photos of people smiling, for instance. The best parts were the random funny bits along the way, like Hyun-joong and Ho-dong giggling their heads off about corny puns. I was rolling when Hyun-joong died laughing at Ho-dong for calling the Sahara the Ohara, because in Korean "sa" is four and "oh" is five and he got mixed up, and Ho-dong barked at him, "Don't you laugh at me!"
girlfriday: Or when the cast reunited fiiiiiinally, and got to compete for who suffered more.
javabeans: And the cyclists were groaning about their sore unmentionables from the bike seats, and the other team was like, "We had to fish!"
girlfriday: Yes. They could've separated for the afternoon, done separate missions, and met for dinner. That would've saved us like two episodes' worth of unexciting screentime.
javabeans: There was a great blink-and-you-miss-it moment when Shi-yoon was exclaiming about how hard his mission was (which was great because he actually sucked it up really well at the time), and he actually gets teary-eyed recounting it.
girlfriday: Yeah like he gets a little too invested in his retelling, and actually starts to cry. Ha.
javabeans: I think the main "event" of Episode 3 is a perfect example of what the show's fatal flaw is: There's much ado about nothing. The eight members come up with this idea to do this flash mob dance (which, by the way, was SO NOT a flash mob on a base conceptual level)—
girlfriday: I KNOW. There was a stage. Hello.
javabeans: And they invited everyone ahead of time! How is that spontaneous? They spend all afternoon telling people to come to their barefoot flash mob, and then instead of just breaking into dance, UEE gets up on stage and starts performing to the crowd, and then the others join in, and you're thinking, This is fun, they're all dancing, but what is the point again?
girlfriday: The much ado about nothing is a good way to put it, because I think that's why Ho-dong's other show, Our Neighborhood Variety Sports, is doing well, for exactly the other reason — it's small, unpretentious, and allows you to get invested in something without having to sell it.
javabeans: It felt like the producers of Barefoot Friends got really excited about their show and left the planning meeting one step too early, like where they decided the actual premise of it. Because I no longer think, "Hm, I don't know what the premise is," but rather, "Oh, they forgot to come up with one." There's a great cast, strong personalities, and… no purpose. In fact it would have been better to just focus on their moments as buddies and skip the fancy voyaging. I felt like I was watching one of those really dull soap operas where I only care about one loveline, and therefore sit through a lot of boring stuff just to get glimpses of what I want. In this case, the good stuff is the cast members being funny and joking around and insulting each other.
girlfriday: But those moments are too few for an hour-and-a-half show.
javabeans: I won't give up on the concept just yet, but they would have to retool the concept and keep it in Korea for it to work, I think. Losing the stress of trying to communicate and convert money and navigate a foreign city gives them much more room to be free and comfortable.
girlfriday: Sadly I don't think the show knows that yet. They're headed to Indonesia next, which means more of the same.
javabeans: Ack. Then no, I won't be watching, because I've had my fill of secondhand embarrassment.
girlfriday: The real question is will anyone in Korea be watching, because if it doesn't get higher numbers soon, it'll get cancelled in no time. No one ever said variety was easy.
Via My Daily
RELATED POSTS
Tags: conversation post, Eunhyuk, Kang Ho-dong, Kim Hyun-joong, UEE, variety shows, Yoon Shi-yoon