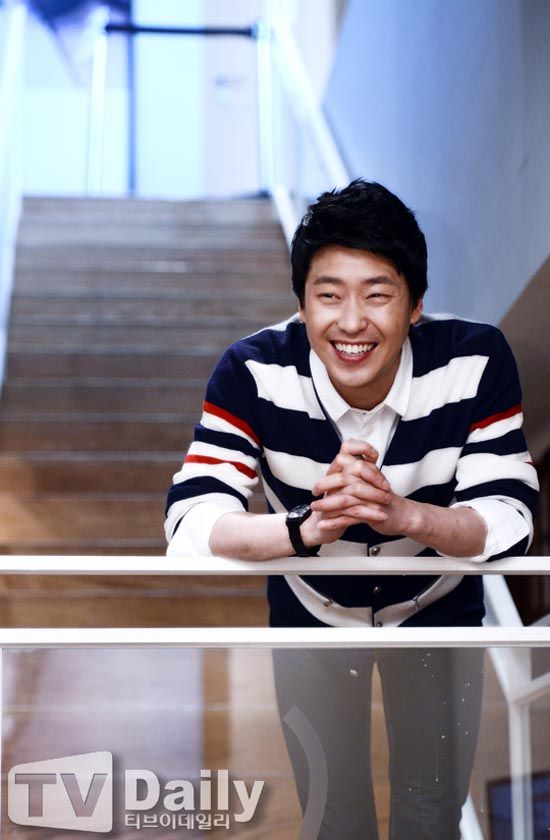 Eom Ki-joon just finished up a drama—May 4 was the finale of OCN's The Virus—and rather than taking a break he's headed immediately back to work for more performances, this time onstage, with some time to answer questions and take interviews like this one.
Or rather, we can say he's continuing the stage performances instead of starting, because as it turns out he'd been doing a musical concurrent with drama filming, like a crazy person. While The Virus was still ongoing, he was juggling the role with one in The Three Musketeers, which continued. Now that the drama's over, he's added a new musical to the roster and is busily rehearsing for Monte Cristo, which will run from June 7 through August 4.
He seems to think the schedule is normal, because he's always done two things at once; this schedule didn't seem particularly difficult to him. He explained that his characters, Lee Myung-hyun and D'Artagnan, have polar opposite personalities, which makes the juggling easier: "If they were similar in personality, because I would have to express small differences within the larger similarity."
"I did both the musical and the drama, but I wasn't biased toward one or the other. When I shoot the drama I'm only about that, and when I act in a musical I go all-in into that moment. I have a personality that is able to fall out of character right away. When filming ends, that's really it for me."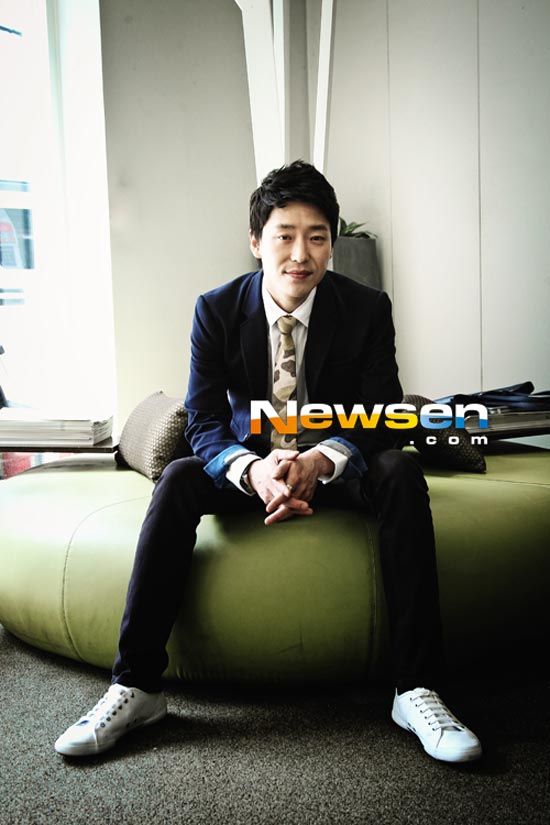 Eom Ki-joon's a seasoned stage veteran, his debut coming at the age of 20 in the stage play Richard III. Now 37, he's been acting almost half his life, though it hasn't really been till the past decade that he's been known to the public, thanks to his transition to television and film.
Speaking of which, The Virus had him playing CDC scientist racing the clock to find a cure for a plague-like disease. Admittedly the show didn't do as well as it may have hoped (I think the concept was great, but the execution fell flat), and it sounds like the work environment was tough as well.
Eom said, "In this drama, there was so much physical action. Many of my roles till now have been static, and since this was my first time encountering so much action it was difficult physically. On top of that, there were a lot of Lee Myung-hyun scenes. It was like I was pulling things along largely by myself."
He explained being drawn to the character, who clings to his work. Eom felt there was more there, that his change was precipitated by his daughter's death, and found the development of the character appealing. Though he does admit that his main thought upon wrapping the show was, "I was cold and hungry." (The drama had lots of nighttime shoots and the cast weren't given snacks, so he had to make his own ramyun in between shots, he explains.)
With an ending left open, does he see the possibility for a Season 2? He joked, "If they feed us…" Then he added, "It would have to depend on the script. If a Season 2 were to come out, it would have to have something even stronger than Season 1. In the case of The Virus, the episodes didn't just wrap up stories but were written to unfold over the show till the end, so if the script is strong and exciting, then Season 2… I'd do it."
Eom Ki-joon has played a range of characters, but I'll admit to falling in line with the majority, thinking his real personality is reflected in his often-uptight characters: "Because I've played a lot of characters who are curt and prickly, people think that's what I'm really like. But I'm more like my character Lee Myung-hyun from The Virus, or D'Artagnan in The Three Musketeers."
"I try not to take characters who overlap with each other. I tend to reach for roles that I haven't done before, or challenges I need. In particular, it's more fun to do villain roles. The appeal of an actor's profession is that we get to experience living various lives. We can do kind deeds whenever we want to, but aside from acting, when would I be able to act so wickedly? It's fun to do all those evil deeds we can't do in real life while acting the villain."
For instance, he played a revenge-obsessed killer in the SBS drama Ghost and an emotionless psychopath in the movie Man of Vendetta. His chilling performances had people marveling at how well he suited the villains, and he said, "I've heard that I look sharper and more piercing without my glasses. That's why I wear them." Ha. Call it image control?
He hasn't been hit with much (if any) acting criticism, generally earning favorable reviews, though on the flipside he hasn't really had hit projects. "I don't pay too much attention to viewership ratings. The project came to me and I chose it, so I don't feel regret if the ratings come out low. It's enough to me that I was happy while filming and liked the people I worked with."
Asked about his dating and marriage thoughts, Eom said, "It's been a little while since I dated… I do want to marry at some point. I'd like to next year." Hm, does that mean he's got someone in mind? After all, he allows that even with his busy schedule, he "makes time for life."
His ideal type has been touted by the media as being Park Bo-young and Moon Geun-young, which is true but which got twisted up a bit by the press. He explains that he chose them both because he likes their acting, and with a guy who seems so whole-hearted to his life as an actor, I can believe he meant it more as an intellectual pick:
"I saw Moon Geun-young acting, and she really has a strong spirit and energy. She's younger than I am, but I thought I could learn things from her." That was before he got cast alongside her in the stage play Closer, which had him initially incredulous to hear of the casting. "Naturally I thought it was a lie. So I thought that if she did it, I would too, and it really happened. I didn't calculate anything and just said okay right away."
"There are some actors I really want to act with, to see how I measure up, and she was one of them. And now Geun-young-sshi and I have a comfortable oppa-dongsaeng relationship and we have drinks together."
So then the ideal changed recently: "I saw Werewolf Boy, and Park Bo-young was so good in that. That day my ideal type changed to her. I really want to act with her at least once. Since there's a fair age gap between us it's frankly too much to think we'd be co-stars, but I'd be happy playing her uncle."
But how about his real-life ideal type? "A woman I could lean on. I have a bit of a mischievous personality, so I'd like someone who could tolerate that and understand me. And it would be nice if she were smarter than me too."
"After I marry, I'd like to just live happily. I want to be a person who can live for that person."
He admits that he's not particularly interested in romance projects—"I'm satisfied with the genres I'm trying now"—though he did allow, "But maybe I do stay away from romance projects too much."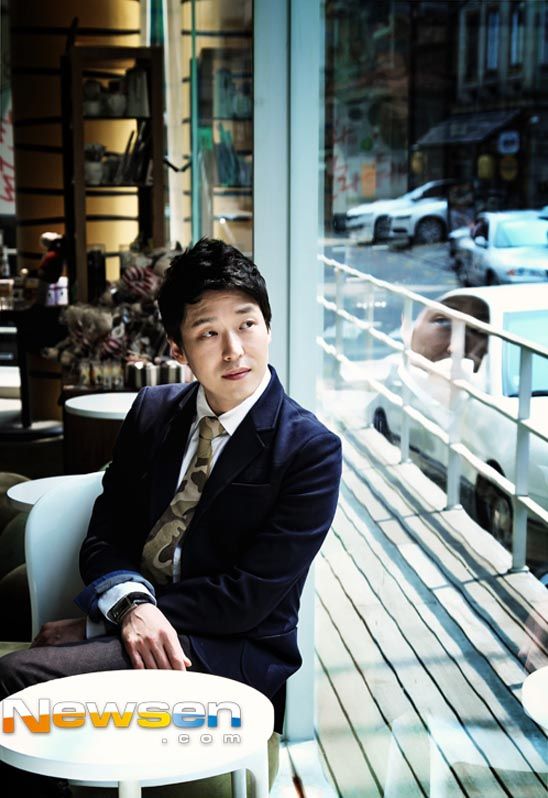 Variety programs? "I have zero thoughts of doing variety. Nobody mentions it to me, and I've done it a few times and found that I really couldn't melt into that atmosphere. But the biggest reason I won't do variety is because I think it might interfere with my acting. If you think about it this way, acting is tricking the audience while acting as someone else, not myself. But if I go on variety and the viewers see my real personality and real self, I feel like they won't be able to accept the self I portray in a drama."
He added, "Even doing interviews is awkward and embarrassing. And getting my picture taken. It's completely different from acting in front of a camera."
Asked about dreams for the future, he said, "I can't quite call it my dream, but I want to keep acting on stage and TV through to my sixties. And as time passes, I'll become someone's uncle and father and grandfather. I want to keep acting, regardless of types of roles, for a long time."
"There are a lot of people who want to act but aren't given the opportunity and unable to shine their lights. It's really important not to let down your guard. If you keep digging away at that well, one day you will get your recognition. If your light is seen at a younger age you'll be able to take on more types of roles, but is that so important? If you don't rush and take your time waiting, the day will come when your hard work is acknowledged."
Via Newsen, TV Daily, TV Daily
RELATED POSTS
Eom Ki-joon
,
interviews
,
The Virus