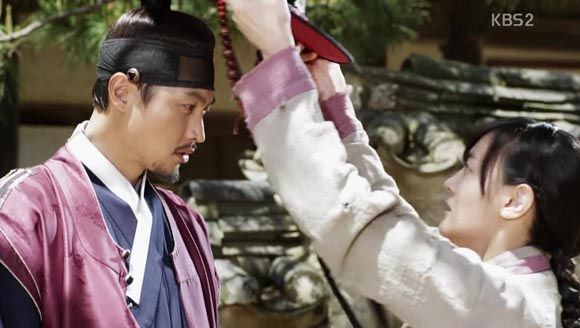 Probably my favorite episode to date. There are lots of feelgood moments in this hour, which in itself is enough to put a smile on my face—especially with some great Jung-hwan and Woo-young moments. (Have you noticed I love Jung-hwan? You might not have noticed. I don't say it every sentence.) But in addition to that loveline, which crackles with chemistry, we also get a constant stream of payoffs (okay, maybe it's a trickle)—so that while our characters are constantly finding themselves beset with problems, at least they're new problems. We're on a forward trajectory here, and while neither Good nor Evil has been able to score a triumphant win (we're saving that for finale week), we have enough little victories to keep the good guys buoyed by hope and discovery. A little romantic interlude on the side? That's just gravy. Yum.
SONG OF THE DAY
Shim Gyu-sun (Lucia) – "담담하게" (Calmly) [ Download ]
Audio clip: Adobe Flash Player (version 9 or above) is required to play this audio clip. Download the latest version here. You also need to have JavaScript enabled in your browser.

EPISODE 11 RECAP
Won gets to the secret boulder and finds the damning letters Do-saeng left behind. Meanwhile, a band of assassins led by Do-moon races to the same spot. Thankfully for us, all that Do-moon finds there is an empty box.
Jung-hwan's boss flips his lid to hear that the death-row criminal escaped again and berates both Jung-hwan and Gon-oh. This boss does happen to be in the pocket of our evil ministers, but you can't exactly argue the point.
Gon-oh throws Jung-hwan under the bus by saying that Jung-hwan let Won get away (thereby answering one question of how he was able to escape); he was prevented from pursuing.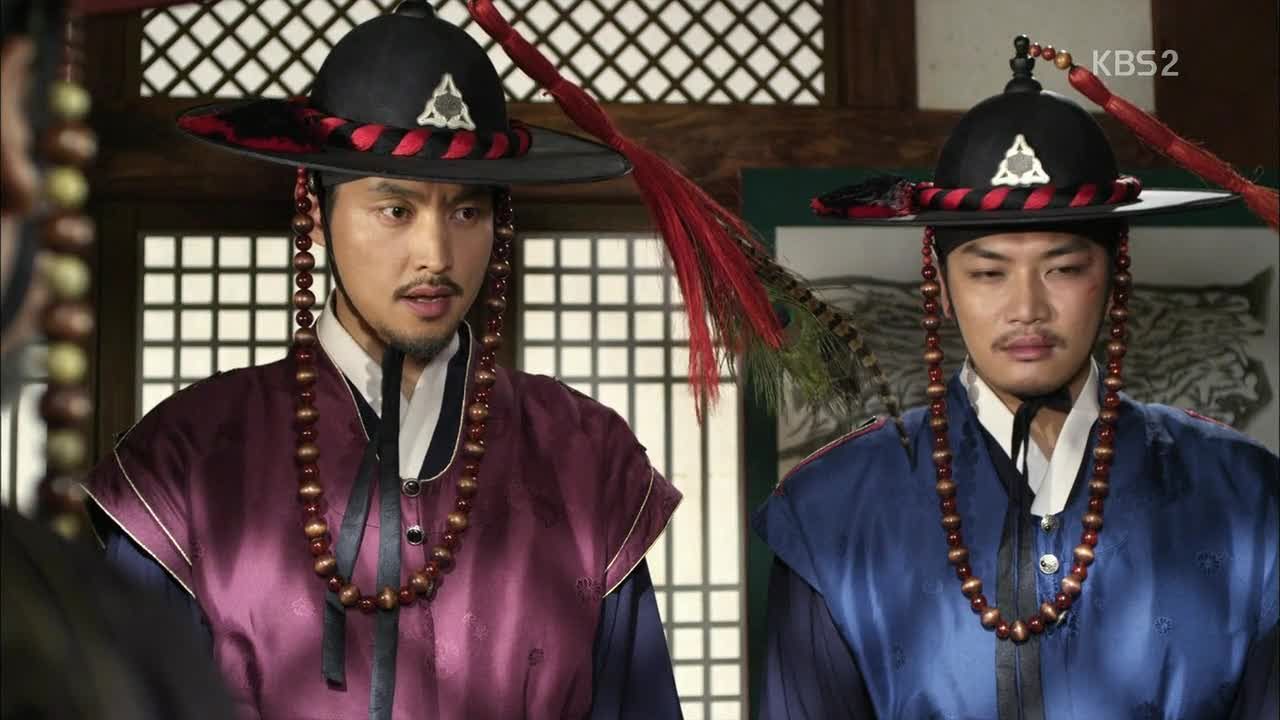 Jung-hwan argues that he stopped Gon-oh because he would have killed him—and since Gon-oh's acting suspiciously rogue about killing a criminal secretly before he's scheduled to be killed by the state anyway, he's going to investigate this. Unfortunately, I think the baddies have the edge in this argument because Gon-oh lies that he was only fighting Won's violent escape efforts.
Won makes it back to the bandit camp, clutching his precious evidence close, only to have them ripped out of his hands by the bitter Number 2 bandit. He's got a name, but until/unless he's more prominently featured I'm just calling him Number 2. On the upside, he shows no interest in the letters; on the downside, he threatens Won at knifepoint to haul ass out of this camp.
Gon-oh tortures Woo-young for information that she legitimately doesn't have, but that doesn't stop him from slapping her bloody. She asks for Jung-hwan instead, saying that at least he isn't so stupid as to not understand her words, but Gon-oh sneers—what, does she mean to lift her skirt for him? He says with new understanding (albeit wrong understanding) that getting into her skirts must be why Jung-hwan let Won go.
Woo-young has heard nothing of this and sits up in disbelief—Jung-hwan let her brother escape? Gon-oh thinks she's hiding his whereabouts and brandishes his sword at her, and I really don't doubt he'd use it, to hell with the consequences.
But Jung-hwan interrupts, no batting an eye when Gon-oh says that this interrogation was authorized by higher-ups. Jung-hwan points out that he's a higher-up and sends Gon-oh out. He loosens Woo-young's ropes, tells her a doctor will see her, and leaves. It's all very quick, but every scene between these two contains a frisson of energy that always leaves me wanting more. MOAR.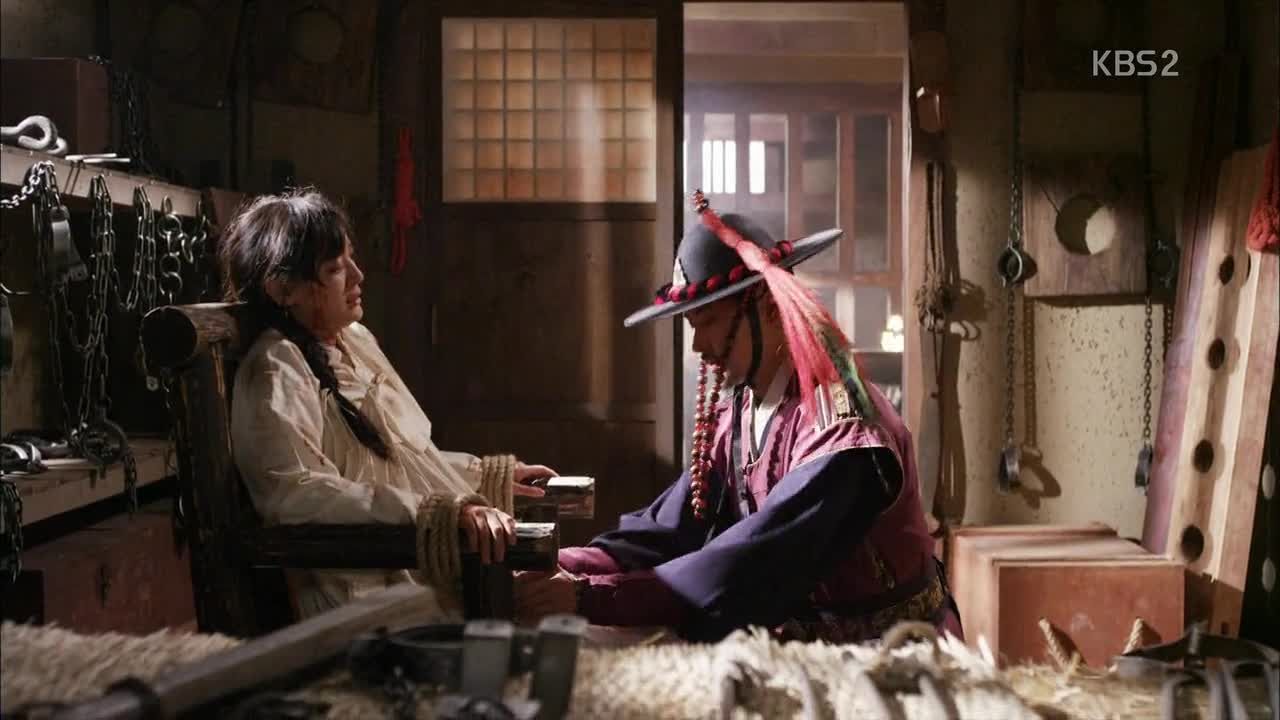 The Council of Evil is furious to hear of Won's escape, and then panicked at the news of the crucial evidence going missing. Assuming that Won took it, they gulp to realize their lives are in his hands. Vice Premier Kim is so enraged he almost sticks a sword through Gon-oh, but is held back at the last moment.
Won's hope is restored with Do-saeng's letters in hand, but there remains the question of how to get it to the prince, who is still under the impression that Won betrayed him. He tells himself he can't put Da-in in danger again and searches for other options.
Da-in is called in to treat Woo-young, and as Jung-hwan takes her to see the patient, Woo-young calls him back to thank him. She's weak and injured but musters as much conviction as she can to thank him for seeing that Won was innocent and letting him escape. Da-in gasps to hear the news, then breaks into a brilliant smile and thanks him as well, thrilled that her evaluation of his character was right after all.
Jung-hwan is uncomfortable enough with the heaps of praise, and that's before Woo-young takes his hand in hers to thank him some more, and then Da-in takes his other hand, and this is hilarious and adorable. Big bad policeman is no match for two pretty ladies overwhelming him with hero worship. He averts his eyes awkwardly and leaves in a hurry, looking at his hands.
It also renews his conviction to determine whether Vice Premier Kim bears the cut on his hand, to confirm whether his suspicions are leading him on the right track.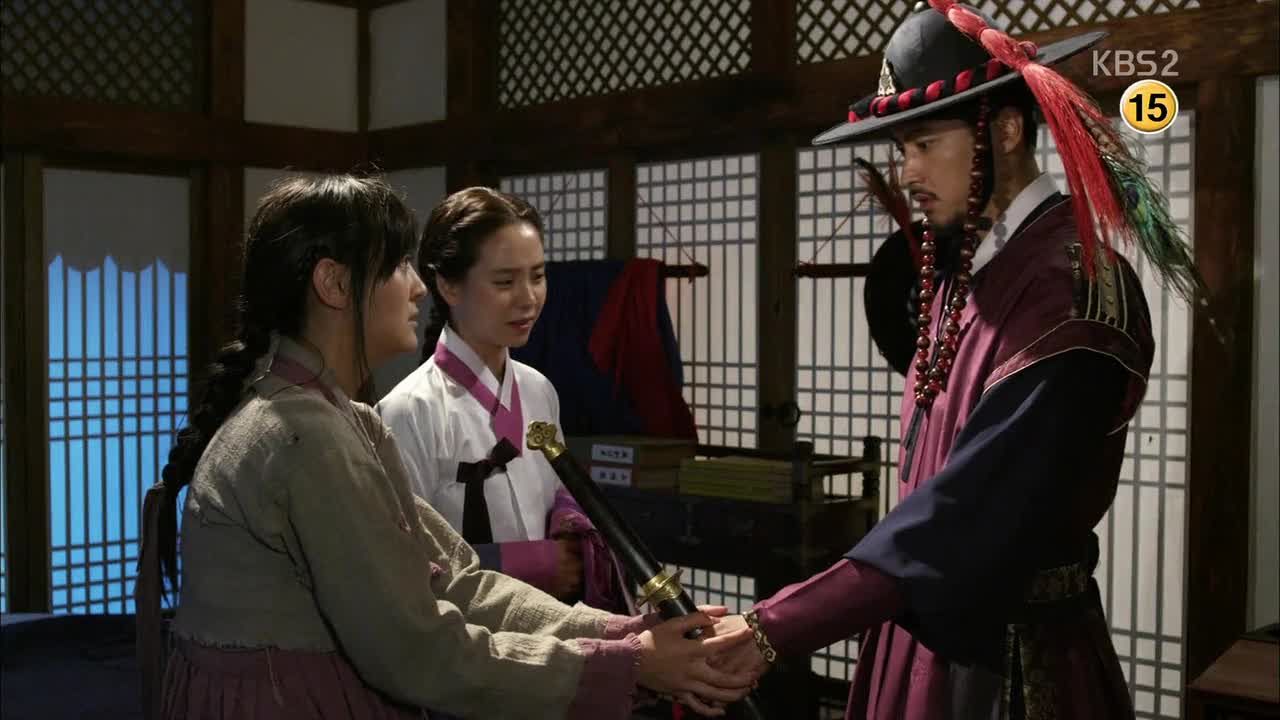 Merchant Jang sits Da-in down for a drink, sighing at her stubbornness that has led to so much of his troubles. He asks about her talk with the queen, and Da-in realizes that he knows a lot more than he should… which triggers the suspicion that he's got a hand in this murder case. He sighs that he hadn't wanted to drag her into this, and that his support of the vice premier was strictly driven by survival instinct as a merchant.
Da-in is stunned and argues that people's lives are on the line, then asks hesitantly about the peony flowers. He tells her, "You will have to obey the queen's peony flower messages too, from now on."
Thinking of how the queen wanted to use her as a tool against the prince, and how the prince guessed she'd made a deal against him, Da-in wonders aloud to Won, "What must I do now?"
Won pesters Keok-jung to help him convey the letters to the prince, which Keok-jung flatly denies. That is, until So-baek comes bouncing up offering to do whatever it is he's planning, saying that wherever Horse Thief goes, she goes. She's so cute in a dim way. Of course that gets Keok-jung bristling and he insists that he'll do it after all, which makes Won very happy and So-baek pouty that she wants to join in.
Then Rang comes sidling up to Keok-jung and notes that he likes So-baek, doesn't he? It's written all over his face. Keok-jung denies it immediately, but self-consciously rubs a hand over his face anyway. Hee.
Both bandits end up taking up the mission, which starts by pulling Woo-young aside while she goes about her duties. It's a good thing they're watching, too, since she has unknowingly picked up a tail in the form of a shifty police officer, undoubtedly one of Gon-oh's underlings. They're able to pull her away from his watchful eye and deliver her to Won for a secret meeting.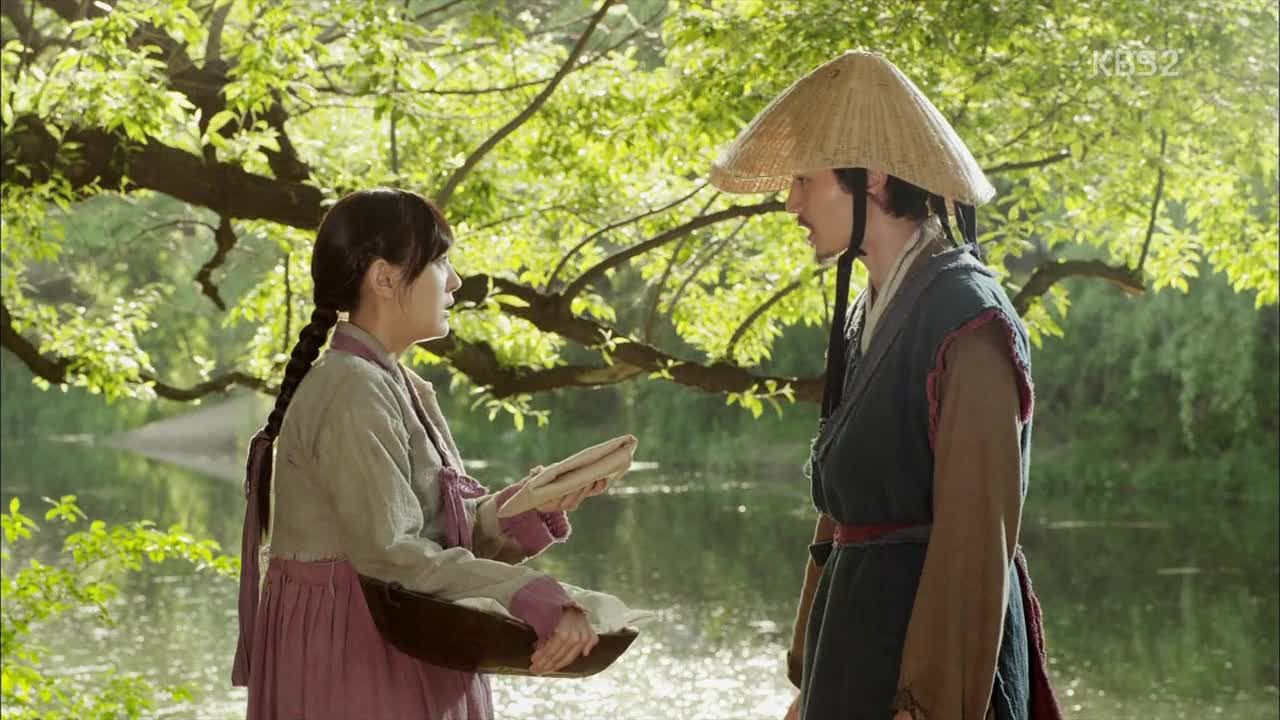 Woo-young fidgets anxiously, worried for his safety, but he's got more important matters: He hands her a wrapped bundle containing the letters and asks her to get it into Jung-hwan's hands. His life depends on that, and nobody else is to intercept them. He belatedly registers the scars on her face and neck, which she tries to brush aside as healed, thanks to Da-in's care. She also notes that Da-in was so relieved to hear of his escape that she shed tears over him.
Won thinks of Da-in all the way back, recalling not only Woo-young's comments but also Jung-hwan's. Poor dense guy, having to be told repeatedly by others what's plain to see. When So-baek asks about it, he just thanks her for helping, and Keok-jung pointedly says they don't need the thanks, but he does want Won to ensure that she doesn't keep tagging along.
Woo-young delivers the letters right away, thank god (I was worried about all the potential obstacles that might prevent it), and Jung-hwan reads the incriminating testimony with widened eyes. Woo-young hovers nervously, asking if it's true that these letters will clear Won's name as he said.
Jung-hwan hushes her with the warning that she was being watched, and she leans in close to whisper that she shook off her tail and met her brother privately. He said he was safe but didn't elaborate on his whereabouts, and Jung-hwan guesses that the bandits were with him.
Full of hope, Woo-young says that this proof will clear the way for both her brother and for Jung-hwan, and he wryly comments that she must be feeling better after her torture if she's worrying about his welfare. Oh, or maybe another reason.
Woo-young asks one last time, half-afraid, whether she can really trust him—he'll help her brother, won't he? Jung-hwan curtly says no, he has no desire to help Won; he'll just do his job. Potayto, potahto.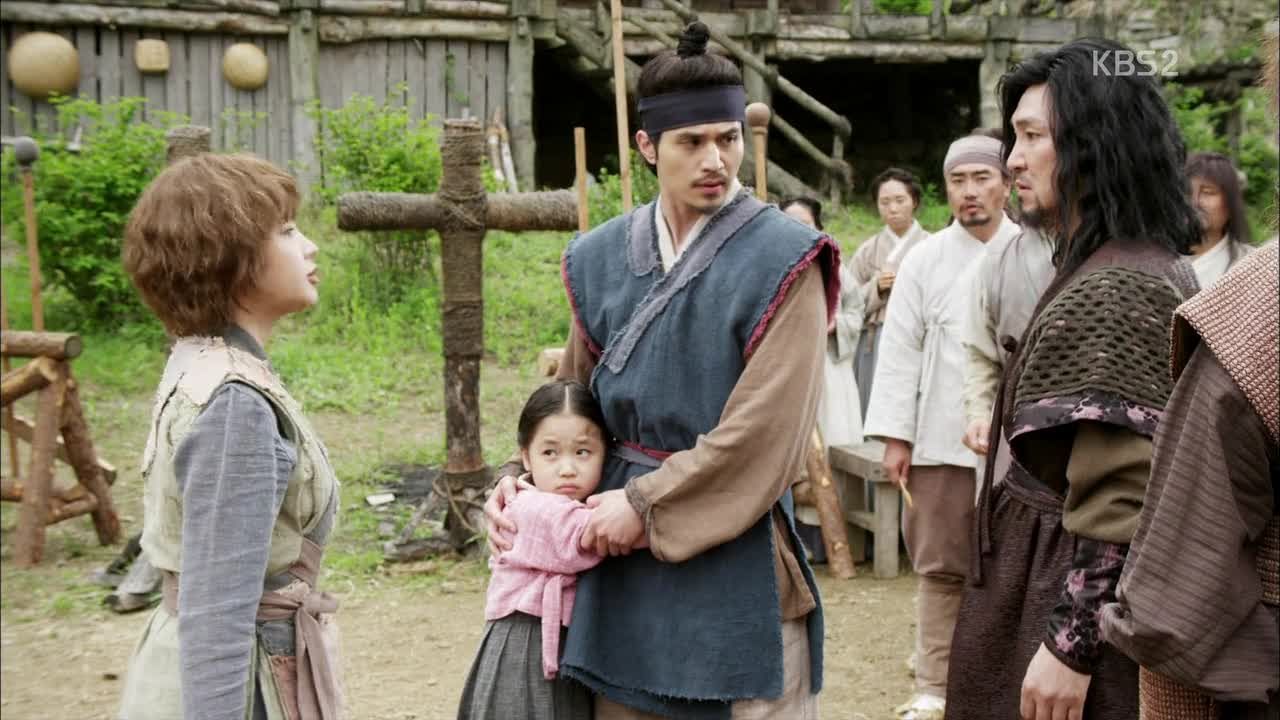 Rang and Won join the food line just in time to hear disgruntled Number 2 picking a fight about their meager food supplies being stretched by the mooching "guests." He snatches the gruel from Deok-pal's wife, which is better than the slop he has to eat, not agreeing with Geo-chil's point that the recovering patients need the nutrition. There's enough of a point to Number 2′s tirade that the other disgruntled bandits start nodding along, and Rang is so scared that even when Geo-chil offers her the food, she shakes her head no and won't eat it. Aw.
Keok-jung steps in and gives Number 2 a well-deserved punch, growling that you don't talk like that to a child, and they glower back and forth. It's particularly sensitive since you can sense Geo-chil has been favoring Keok-jung (and even passed over Number 2 once in favor of Keok-jung instead), and the power balance has been growing uneasy. So Number 2′s been brewing for a fight for ages and this is just his opportunity to take a stand and demand that all outsiders get the hell out.
Won knows he has to do something to defuse the hostilities, and he offers to work for his keep—he'll earn enough for himself, Rang, and Deok-pal's wife. The others eagerly accept the offer since they could use his medical talents, and Number 2 turns out to be a serendipitously prescient nickname because So-baek points out, "Didn't you say your asshole was all torn up?" LOL.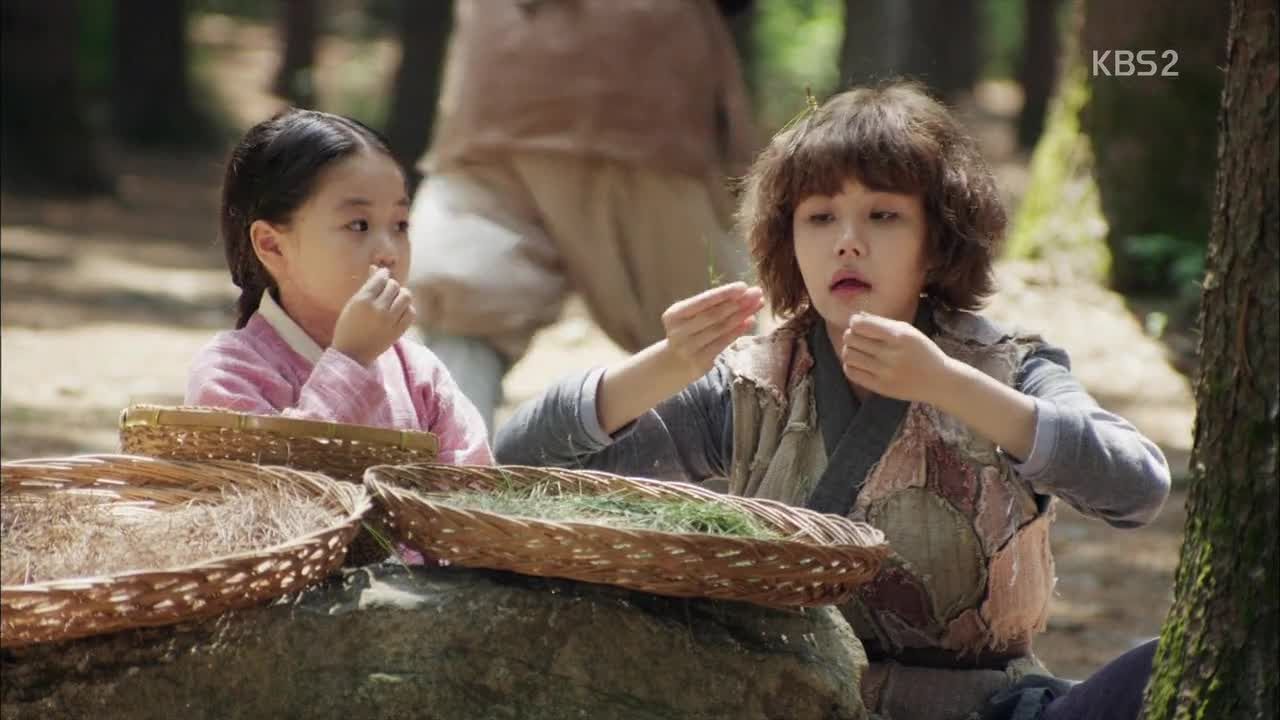 Turns out that the bandits are suffering a whole host of digestion-related ills, and they could use some doctoring. So Won sends them out to collect plants and herbs and issues directions on how to prepare their food better. He distributes tonic as well, and for now the trouble appears to have died down.
Chun-bong's secret society is not happy with the way things are progressing, being forced to continue lying low until the time is right. Chun-bong states that there is one answer: public sentiment. Move the public, and they can swing into action.
Da-in arrives at the prince's courtyard to deliver her daily dose of his medicine, and finds him in the middle of a training session with his right-hand man. At one point Lee Ho's sword slices the top off his opponent's wooden staff, and in one smooth motion he knocks the broken piece through the air… sailing right into Da-in's medicine, which goes falling to the dirt. That was pretty cool, and also totally intentional.
Da-in visits the queen to say that Lee Ho doesn't trust her, and that he in fact is outright suspicious of her. Why did the queen order her to this post? Queen Munjeong reminds her that she never told her that the prince must be brought down immediately. The prince is still smarting from the betrayal of his closest friend and his rejection of a mother he'd wanted to trust. Thus the queen has decided that Da-in is perfect—as the woman to soothe Lee Ho's hurts. He has shown that he wants to trust her by letting her privy to secrets, after all.
The queen orders, "Steal the heart of the prince who has nowhere else to place it. Once he comes to trust you, then stick a knife into his heart. If you disobey my words, I will stick that knife in the heart of your father."
Do-moon finds Da-in mulling over her dilemma and urges her to not disobey her father, who's very worried for her welfare. But she asks, "But what if he is in the wrong?" She points out that Do-moon should be stopping Merchant Jang, but he says in his sadly resigned way, "I do not have that power. And I do not have the courage to defy the man who is like a father to me." He's rather tragic, isn't he? He's also just like Merchant Jang, knowing right from wrong but choosing to keep his head down to protect his neck rather than insist on justice, like Da-in.
Jung-hwan looks through the royal hospital books for records written by Do-saeng, confirming that the handwriting matches that of the incriminating confession letters. He also requests prescription notes bearing Vice Premier Kim's signature (since hospital matters fall under his purview as minister). They match with the prescription note in Do-saeng's evidence pile.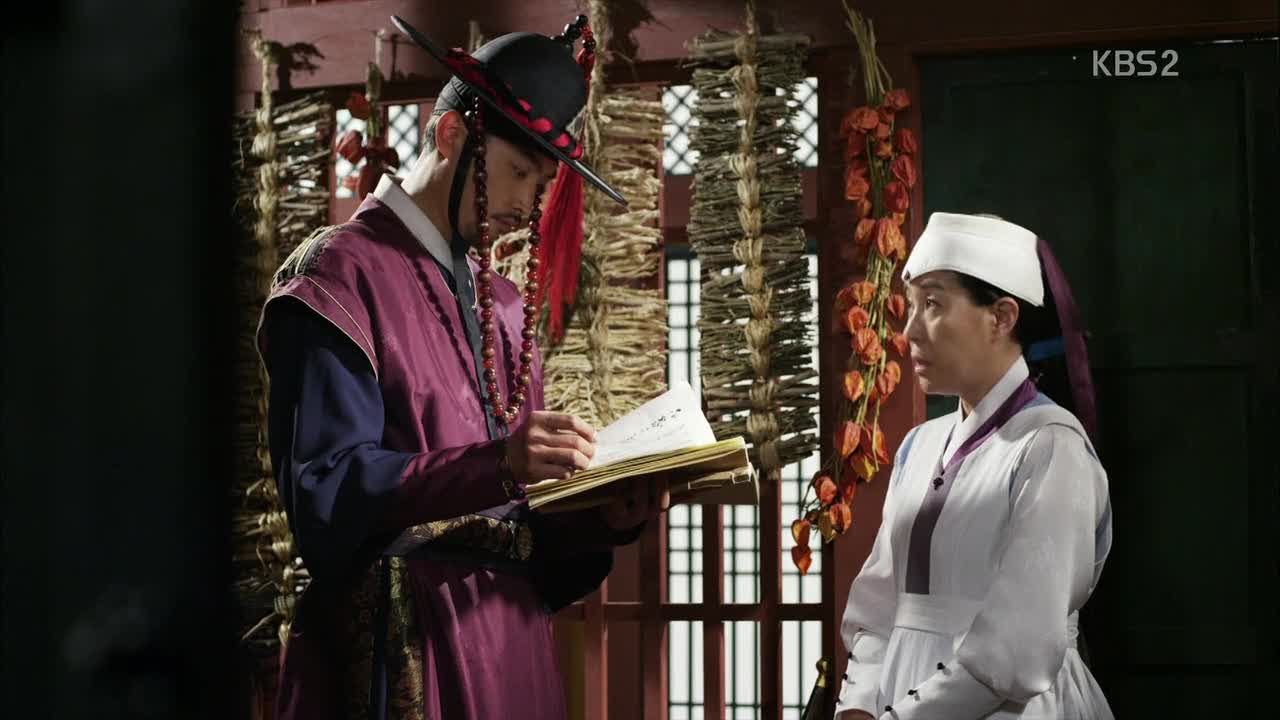 I love that he's sharp enough to know he's being watched while he converses with Jang-geum, and he calls out purposely to be heard: "Hey, rat! Pass along this message: The more you persist, the more madly I'll try to find the truth!" The eavesdropper reports to Gon-oh and informs him of the direction of the investigation.
That is enough to tip Gon-oh off that Won passed along evidence to his sister, who gave it to Jung-hwan. The ministers freak out, and Vice Premier Kim growls that Jung-hwan is digging his own grave. Or… it could be yours. Just sayin'.
Before they can counterstrike, Jung-hwan comes charging in, and today he's been smart enough to bring along his boss, who's a minister and therefore not easily manipulated. Jung-hwan won't be deferred any longer and requests to see Vice Premier Kim's hand again while his boss waits expectantly.
Vice Premier Kim unwraps his hand, playing along with the demand—and triumphantly shows the brand-new burn scar he bears. You sly mofo. Jung-hwan simmers at being thwarted again, but he walks out even more convinced than ever that Kim is guilty. It's just that he's lacking that nail in the coffin to pin it on him.
Queen Munjeong is pleased that Vice Premier Kim circumvented suspicion with the burn, but the written confession and Kim's prescription are new threats to her peace of mind. If Kim wants to live, he'd better get rid of those worries.
Life at the bandit camp lightens up, with improved health all around thanks to Won's advice. He begins taking sparring lessons from Keok-jung, which Geo-chil assures Rang is not the same thing as fighting (bad, never to be participated in), and is really just martial arts (good for self-defense and loftier purposes).
When Won tumbles to the ground from a blow, Rang goes stomping right up to Keok-jung and levels him with a mighty glare: "Ajusshi, you're a coward! I know you're saying you're teaching Father just so you can hit him! You're just taking out your temper because the So-baek that you like is on an errand for him right now!" Haha. Keok-jung barks that he's not, and tells Won he won't teach him anymore. Hmph.
So-baek returns from Won's errand and tells him that she met Woo-young, who passed along the letters safely. In gratitude, he grabs her shoulders, which sets her heart pounding. Then So-baek teaches Won some grappling moves, and Keok-jung jumps in before they get too handsy with each other. And knees Won in the gut. Ha.
Days pass and Won continues training, improving slowly but surely.
Jung-hwan is revoked further access to Do-saeng's medical files, but he figures he's seen enough to confirm his suspicions. But there's a greater obstacle in store for him: Gon-oh smugly informs him that he's been fired. Gah! You knew it was coming, but it still sucks to have the good guys' advantages always cut off at the knees. Ack, I worry for Woo-young more than I worry for him, since he's plenty badass on his own.
Not cowed, Jung-hwan tells Gon-oh to be a good lapdog and not get himself thrown away till he's reinstated. That little face slap he delivers is pretty satisfying, though not nearly hard enough. Gon-oh follows him out to demand "it," and Jung-hwan obliges him by taking off hat and belt to allow the search. There's nothing to find, so he calmly stands there and waits out the patdown.
Jung-hwan pulls his layers back on afterward, turning to find his hat held out to him by Woo-young, who has just heard of his dismissal. Scared, she asks it's because of her brother and his messages. Jung-hwan just calmly tells her that he's got it safely hidden away.
Then he gives her the instruction to wait for things to quiet down, then find the package in the library that he's marked with a particular label. Naming the meeting place where she's to find him, he heads off.
Woo-young calls him back, taking his hat and placing it back on his head. As she ties the strings for him, she explains that he may have been dismissed, but he's still the dogged investigator.
Rewind, replay.
The fraudster prisoner turns out to be pretty resourceful and lock-picks his way into the library… ack! He smells opportunity like the rat fink bastard he is, and locates Jung-hwan's stash. Gahhhh. I guess it's better than the bad guys getting their hands on it, but it's irritating anyway since he's such a scumbag. He's been made a government slave, and armed with these letters as blackmail he smells freedom on the wind.
Rat Fink Fraudster starts reading the letters, and his eyes widen. Not because it contains important state secrets, but because, "This is my meal ticket!" Just his luck that Crazy Eyes Stepmom overhears him talking to himself (seriously, dramaland perps—talking out loud about your underhanded secret schemes tends to put a whole damper on the secret thing), and she grabs for the papers. Woo-young sees them arguing, but doesn't realize what they're reading and goes on her way.
Thus she's empty-handed when she meets Jung-hwan at the appointed spot. She assures him that at least Gon-oh hasn't found it either since he's still tearing his hear out trying to find it, and only now connects Rat Fink's shifty behavior with the missing papers.
Rat Fink and Crazy Eyes slip out from police watch, which effectively makes them both fugitives. He makes a break for it, but she's a terrible escapee and wanders the streets wondering if she should just return to the station (since being a runaway is likely to get her killed). Jung-hwan finds her pretty easily and demands to know where Rat Fink went.
That night, Rang tells her father that she isn't getting any better, is she? No matter what medicine she drinks or the needles he places, he isn't lighting up with fevered hope like he did the first time he used that banned book, and Da-in didn't react that way either. She interprets this to mean she's not getting better (sharp kid), and Won hurries to assure her that she'll start improving very soon. He says he must have left out something in her treatment, and thus he'll get that book back and make her all better.
Aw, put that way you can't blame him for venturing back into the dangerous world again. He declines So-baek's offer to accompany him and she deflates… only to perk up when Keok-jung informs her that they have errands to run in that area too. Aw, you big teddy bear. You'll never admit it but you totally care.
Gon-oh reports to Evil and Eviller with good news and bad news: Jung-hwan's fired, but no-go on the letters.
Jung-hwan scours the seedy side of town for Rat Fink and hears that he's one step behind; the guy was already here. Thankfully he's wise to the officers he's picked up on his tail, and he breaks into a run while Gon-oh scrambles to follow. It's a simple matter to lose them, though Gon-oh scratches his head to know why Jung-hwan would be after an escaped slave. Don't think too hard now; you might break yourself.
Won splits up with the bandits once he's in town, assuring him that he's learned to protect himself now. But it's a bad night to be on the town, because he finds his path blocked with officers. He's spotted by Gon-oh and darts down the alleyways, managing to take down one officer only to get tripped in turn. Gon-oh advances…
…and gets knocked to the ground by a flying kick. Aww yeah, Jung-hwan to the rescue. Yeah, I fist-pumped into the air.
And then he grabs Won's hand (take a moment to take that in) and yanks him to his feet, and off they go running together. Once safe from pursuers, Jung-hwan fills Won in, and it's a teeny bit satisfying to have Won berate him for losing the thing he risked head and tail to entrust in his care. Jung-hwan barks defensively that he'll get the punk, okay?
They know Rat Fink is on his way to cash in the goods with Merchant Jang, and Won heads there immediately with the bandits. They see Rat Fink being escorted in, and Won recognizes this as Da-in's house. He decides he'll have to go in.
Rat Fink sits smugly as Merchant Jang reads the documents, but he's not quite stupid enough to have brought the whole bunch. He retained Do-saeng's confession—the one that names Merchant Jang and Vice Premier Kim as conspirators in the poisoning. He promises to hand over everything and keep his mouth shut forever if Merchant Jang can deliver on his end of the deal. Yeah, I can think of one way your mouth will stay shut forever.
Won and the bandits climb over the wall and land in the yard. Aw, they came with. See, Keok-jung will moan and groan all he likes but he's got your back in the end. Too bad they come face to face with Do-moon, and Keok-jung tells Won to go while he holds him off. So-baek recognizes this as the guy who beat Keok-jung last time and growls that tonight she'll avenge that wrong. Aw, there's a whole lotta feelgood going around tonight.
Won darts around the fight and begins looking for Rat Fink, and crosses paths with Da-in. He asks where Merchant Jang is and bursts into the man's room, one step too late to find the fraudster. Won launches himself at Merchant Jang and demands the papers, not buying the excuse that Merchant Jang kicked out the con artist immediately.
Won grabs Jang's throat, throttling him in rage while Da-in tries to break up the fight. Merchant Jang grabs a dagger and takes a swing, but Won is stronger and turns the knife back on Jang. He demands those documents immediately—or Jang dies.
Da-in pleads for him to stop, and Won finally looks over at her and sees her tears.

COMMENTS
I know not everything in a drama is symbolic, and sometimes that goat is just a goat, but I totally cheered at the Won–Jung-hwan handclasp. They've been working toward the same goal for a few episodes already, but as Jung-hwan said earlier, he wasn't doing this to help Won. Helping Won just happens to be the side effect of him doing his job.
So when he extends that hand, it feels pretty damn satisfying. Especially since these are two guys who don't spend much time in the same space even when they are working together—it's like two leaders finally joining forces. The bad guys are a united front and backed by a queen, so our good guys could use all the help they can get.
I don't really expect Do-moon to join forces with them, but OH MY GOD would I love for him to. (I don't know if I could take that much rugged manly-man energy all concentrated in one spot—Won, Jung-hwan, Keok-jung, and Do-moon?—but on a purely superficial level that would be a whole lotta eye candy. Which is extra nice since it's not every drama that comes along where the standard of male beauty can't be described as "I could break him.") But I can see the door being cracked open with his conversation with Da-in, where she expects him to resist the dark side and he tells her he doesn't have the courage. It sort of explains why he's sort of terrible at being the badass assassin, despite the fact that he has all the goods to be the ultimate warrior. At every crucial point, he falters. We could chalk it up to him just being human and making mistakes, but I think it's a lot easier to make those missteps when your heart isn't in it.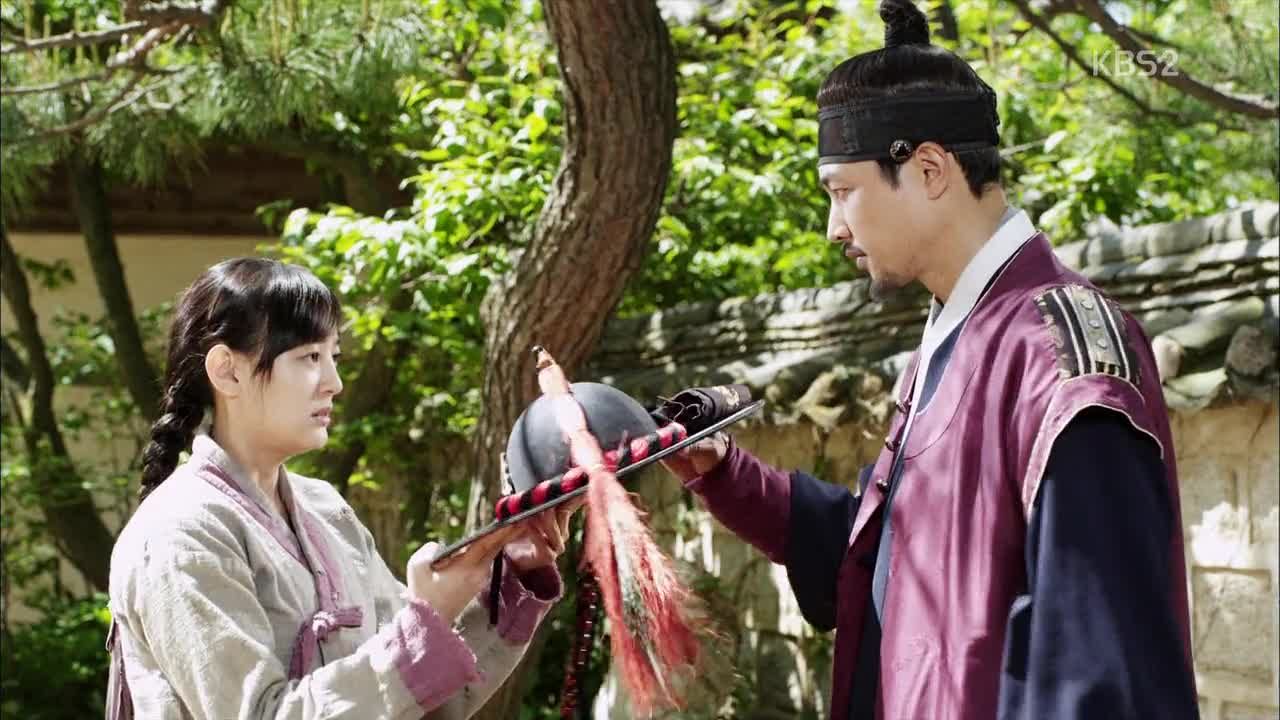 I'm totally loving the romance line between Woo-young and Jung-hwan, if you hadn't noticed, which is way more compelling than any of the other romantic relationships in the show. Part of that is actor chemistry, I think, though a lot of it is due to the fact that it's just a very dynamic conflict between them, ever changing and shifting as they work their way toward the truth and justice and all that heroic good stuff.
The Won and Da-in pairing works on paper, and on an intellectual level; I have zero problems with that romance and will be happy to see it travel the expected course and culminate in a happy ever after, with little Rangie as the cherry on top. What makes it a lot less exciting, though, is its static nature. Won is essentially the same guy he was at the start (just more desperate and maybe with a few extra judo chop skills) and Da-in is largely unchanged. Their strengths and decency of character have stepped up to the plate to propel them, which makes them good and heroic and all, but we don't see them wrestling with dilemmas or doubts or inner turmoil. It's all externally motivated turmoil.
Woo-young and Jung-hwan, on the other hand, are constantly circling each other and revising their opinions and making discoveries about each other, as well as discoveries about themselves (mostly how they feel about the other).
I do have a fondness for So-baek and Keok-jung as well, though less emotional attachment to them. What I do like is that it's a reversed dynamic of sorts, not just because So-baek is tomboyish but because her personality is usually the one found in our traditional male lead—sort of dumb about his emotional responses—while Keok-jung is the sensitive one. Plus, theirs strikes me as a bromancey type friendship, except for the part where Keok-jung totally lurves her. Well, even dense and emotionally blind heroes eventually wise up, right?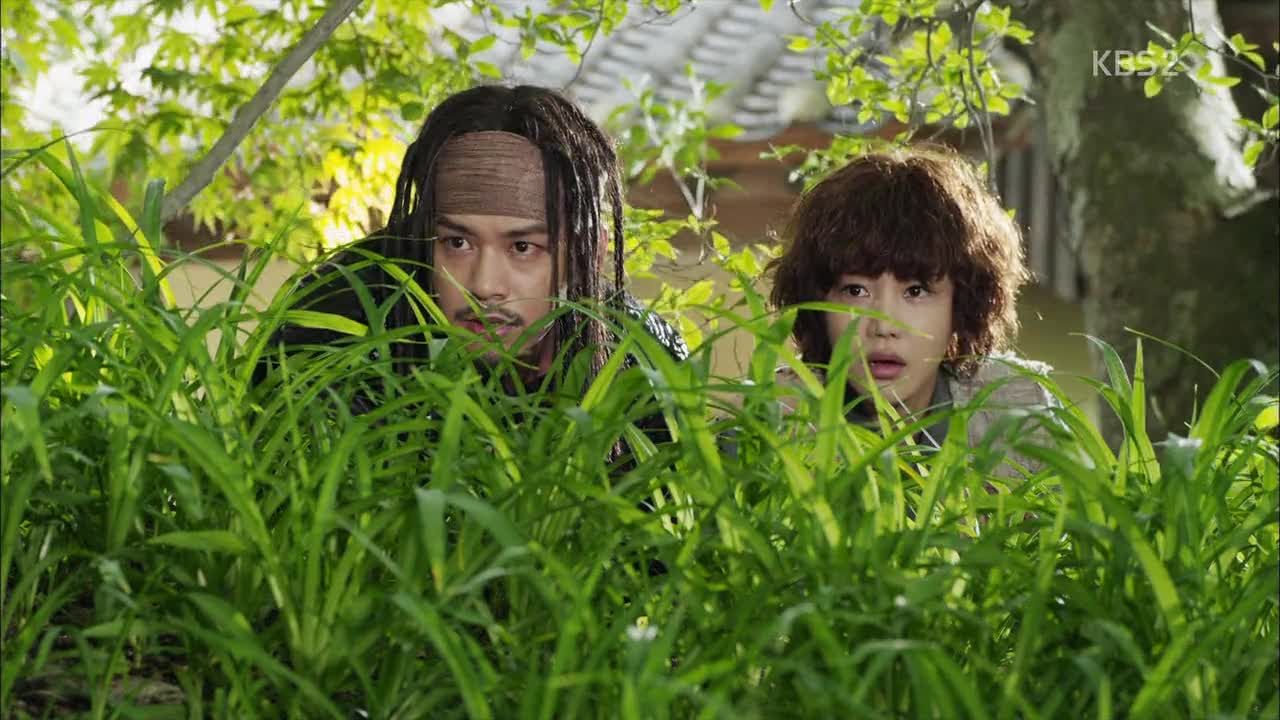 RELATED POSTS
featured
,
Im Seul-ong
,
Lee Dong-wook
,
Mandate of Heaven
,
Song Ji-hyo
,
Song Jong-ho
,
Yoon Jin-yi